Best Miniature Primer – The Best Model Primer for Painting Miniatures
This post may contain affiliate links. We may earn a small commission from purchases made through them, at no additional cost to you.
Are you wanting to paint some plastic or metal miniatures and are looking to find the ideal primer? Each primer works differently, depending on the product and the surface you will be using it on. On the surface, all primers work the same and are used as an initial coat to prepare the surface of unpainted plastic, resin, or metal. Primers are also applied to stop the paint to be applied afterwards from being absorbed by the material you are working on. Another benefit of primers is they create a smooth work surface, covering up and filling in any imperfections.
What is a Primer?
Primers are used as a foundation before you begin painting. You will require a good primer to ensure that further applications of products do not result in any problems. A primer is a product that is utilized to coat a surface that has not yet been painted. You will use the primer to ready the surface for the necessary modeling paint to be applied.
Regardless of the type of material you are working on, whether it is resin, plastic, or metal, you can create a universal surface to work on by applying an initial primer coat. If you are someone who enjoys using cosmetics and make-up, you will already have a good idea of the importance of primer. In make-up application, a primer is applied to the skin to stop any make-up from being absorbed into the skin. Primer also ensures that you have a smooth surface to work on.
Through applying a primer, you create a surface in which you will have more control over the result, whether you are working with make-up, an artistic medium, or with acrylic paint. If you are going to be painting miniatures, you will require a primer that is going to give you a solid foundation.
Best Primer for Metal and Plastic Miniatures
If you are working with plastic miniatures that are 28 to 35 mm in scale, we recommend a spray-on primer. If you are working with bigger miniatures, however, you can use any primer. The main goal of a primer is to ensure that you have a thin, even surface that is ready to be painted on.
When you apply your primer, you want to ensure that you in no way obscure any details. To do this, make sure that your initial layer of primer is very thin. Select a primer that is not too thick, so that you will be able to apply thin coats with ease. Thus, a spray primer is an ideal solution for smaller miniatures, as it makes it simple to apply thin layers to the model.
Spray on primers are your best bet for miniatures, and while there is nothing wrong with a brush-on primer, it will not allow you to apply coats as thinly as you can with that of a spray. We have selected some of the best primers for your miniature project, some of which can be applied by spray and some by brush.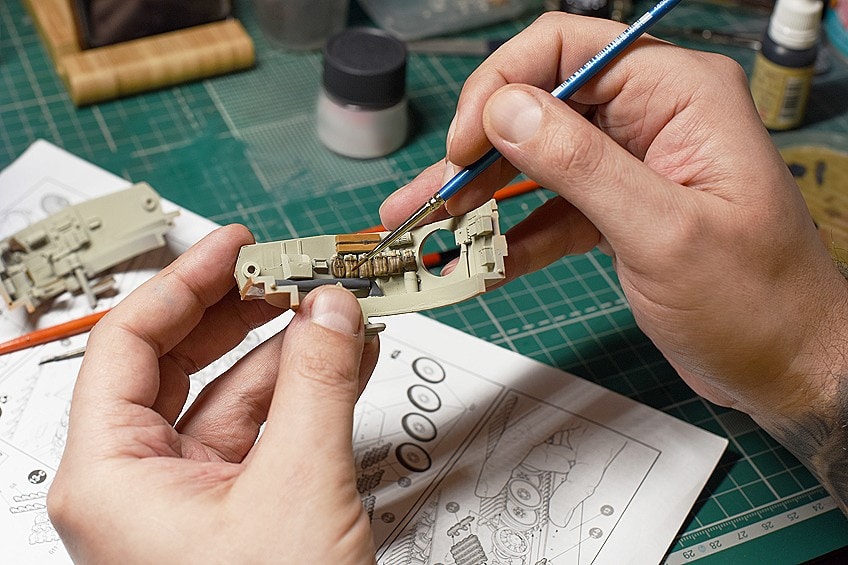 Best Overall: VALLEJO Acrylic-Polyurethane Surface Primer
Vallejo Surface Primer is an amazing product to use for modeling jobs and miniatures. This primer is available in an assortment of colors, but we recommend going with the grey as it is the most versatile color.
Surface primer can be cleaned easily using water

Apply with airbrush or brush

Great for priming miniatures
View on Amazon
It can be thinned out using water to be applied with an airbrush, or it can be applied as is with a brush. When it is used in an airbrush, the primer gives thin coats and dries quickly. It leaves a smooth surface, making it ideal for working with pewter or plastic miniatures.
Pros
Great value for money
Can be applied via brush or airbrush
Available in several colors
Quick-drying
Cons
Needs to be thinned for used with an airbrush
May require multiple coats
Premium Pick: GAMES WORKSHOP Citadel Spray Paint
This is quite an expensive primer that has been designed to act as a base coating for plastic, metal, and resin miniatures. This product offers an excellent black color to provide a matte, unicorm base over your models.
Base coating for plastic, resin and metal miniatures

A fast way to get a uniform base of color onto models

Fantastic black paint color
View on Amazon
You will be able to spray paint your miniature with this product quickly and with hardly any fuss. This product is optimal for miniatures due to its thin spray, which means that there is little to no build-up in more detailed parts of your model.
Pros
Matte black base coat
Thin spray
Quick to dry
Easy to apply
Minimal odor
Budget-Friendly: LIQUITEX Gesso Primer
The Liquitex Neutral Gray Gesso is available to purchase for only $9. It is a gesso, which is an alternative to the standard primer and can be used on miniatures. Gesso is known to be used as an undercoat before painting, with either acrylics and oils. It is a compound that is fairly hard and is formulated with either a glue-type substance or plaster. It is recommended that you sand between multiple coats.
Fluid in nature

Reduces viscosity of heavier paints and gels

Long-lasting and non-cracking
View on Amazon
This primer will take roughly 24 hours to dry, which means that you will require some patience before you can apply any paint. Gesso may be prone to developing bubbles, but it makes up for this by being a flexible material that will last a long time without yellowing. The best way to apply this gesso is by using a brush. You will therefore have to be careful that you do not compromise any of the finer details.
Pros
Thinner than most types of gesso
Inexpensive
Long-lasting
Will not yellow over time
Cons
Long to dry
Prone to bubbles
May not capture finer details
Why You Should Use Primer for Miniature Painting
There are two main purposes for primer:
Primer offers an undercoat to which the paint color can be applied.
Primer ensures that the paint will adhere to the miniature.
In addition to these purposes, primer also fills in small scratchs and holes so as to provide a level and even surface. If the surface is not smooth, the paint may not adhere to it. Primers also offer a colored undertone, although its thicker consistency means that it can be easy to lose details on the surface of your miniature.
Primer Makes Acrylic Paint Stick
Even if you have cleaned your miniature thoroughly, whether it be made of plastic, resin, or metal, you will find that acrylic paint does not adhere well to it. Through the use of primer, you can create a surface that the paint will bond to, especially the likes of a metal surface. If you choose not to use a primer, your acrylic paint could potentially chip or flake off the surface with ease.
Primer Fills in Small Imperfections and Scratches
Primer plays an important role in filling any imperfections and small scratches on the surface of your miniature to ensure that you have a uniform surface to apply your paint to. This is a great feature of primer, particularly as most miniatures become dented or scratched due to wear and use. Primer is even more beneficial in filling imperfection and scratches when used in other applications, such as on automotive parts.
Miniatures have fine details that are present thanks to small markings on the surface of the material. Higher quality miniatures tend to have finer details and be more textured. If you are using a high-quality primer, you will be able to apply thin coats to the surface of the miniature without compromising the finer details in any way.
Primers Provide a Colored Undertone
While the primer is created to be applied under the paint, the substance isn't clear in color. Primer has an opaque color that you can either use to your advantage or fight against. Grey, black, or white are the most common primer colors, but you will be able to find primer in almost any color you can think of. White primer is the go-to for most hobbyists, while some will use grey as a compromise should white not be available.
When choosing which primer color to use, it is very much up to you. We suggest that you take into consideration the paint colors you will be using, and whether they will be mainly dark or light colors. If you choose not to use a light undercoat, the lighter spaces of your piece may end up looking fairly drab. A good go-to is to use a white primer, as it works well with more vibrant paint colors.
Use Less Primer to Achieve Sharper Details
Do not apply your primer too thickly, as it will compromise the details of the miniature. As mentioned, the higher-end miniatures tend to have finer details, and you would not want to damage such intricate pieces by applying the primer too thickly.
How can you ensure that you have applied sufficient primer? A miniature that has been cleaned, whether it be made of plastic, resin, or metal, normally will have a shiny surface. Apply your spray primer in an area with good lighting so that you will be able to see the light reflecting off of any spots of the miniature that still need to be primed.
You should use a matte or flat primer, as it is nonreflective. Apply your primer by spraying short bursts while holding the miniature roughly a foot from the spray can (this is roughly one third of a meter). You will only have to apply enough primer to cover the reflectiveness of the miniature.
Application Types
How you go about applying primer to your miniatures can significantly impact the results. The main aim is to apply your primer as evenly, consistently, and thinly as possible, without compromising any of the miniature's fine details. You want to create a smooth surface that the paint will be able to adhere to with ease.
Brush-On Primers
You will find there are many projects where you will be unable to use a spray-on primer, as you always require a well-ventilated area to apply an aerosol spray. Circumstances may arise where you will be required to use a paintbrush to apply your primer. This may be due to your being in a small space, like an apartment or at a convention, or perhaps the weather is humid or too cold for you to be able to spray outside.
The brush-on approach is favored by some hobbyists, but you will require more patience and skill should you go with this application option. Using a brush to apply primer will give you thicker layers. We recommend that you take your time with this application method, and that you use a flat-headed brush.
Airbrush Primers
If you choose to apply primer using an airbrush, you will be able to apply even, thin coats with great ease whilst avoiding air bubbles. Many primers can be purchased airbrush-ready and can be used in a standard sized airbrush at around 25 to 30 psi.
You may be required to thin out your primer, particularly if you have chosen a brush-on primer, which is thicker. You are looking for a consistency of primer that is similar to milk. To thin primer, you can use one part airbrush thinner or water to approximately three parts of primer.
Spray-On Primers
Another easy application for primer is via aerosol spray cans. You can purchase general, industrial primers or miniature-specific primers. The general industrial primers are very affordable and can be bought in big quantities.
You will not get as thin an application when using aerosol spray cans as you would with airbrushing, where some cheaper spray can options can result in a grainy surface. You can sand down industrial primers once they have dried, something which you aren't able to do with miniature specific primers. This sanding down allows you to create a smooth surface before you begin applying paint.
These negatives mean that you should only be looking to use an aerosol spray can primer for miniatures and large set pieces that do not have intricate finer details, as this form of spray application covers larger areas at a cheaper price point.
Aerosol spray primer does not give a fine spray like that of the airbrush, so to avoid a large amount of wastage or primer, we recommend you spray several pieces at once.
Best Tips for Priming Miniatures
There are a number of tips and tricks to help you prime your miniature surfaces for paint. Before you can apply the primer, however, you must ensure that the surface of your miniature is completely clean and dry. You may also need some help on selecting the best primer shade for your project.
Preparing the Surface for Primer
The primer's main purpose is to adhere well to the miniature, which means that it is mperative that you have cleaned your miniature sufficiently before you begin the application of the primer.
Miniatures are made using molds, where one fills the mold with a liquid plastic, resin, or metal. They are then allowed to harden through cooling. Once set, the miniature needs to be removed from the mold. To allow this to happen with ease, the mold is initially coated with a lubricant to aid mold-release.
Mold-release lubricant is similar to a non-stick spray you would use in a skillet, and it ensures that the miniature can be removed from the mold with ease. This does mean, however, that your miniature will be covered in an invisible, thin layer of lubricant. This lubricant negatively impacts the application process of glues, primers, and paint.
It is therefore important to begin any miniature project by thoroughly cleaning the figures. You can clean them by using soap and water. It is very important to start with this cleaning process.
What is the Best Color Choice for a Primer?
We recommend you stick with the neutral colors, such as black, grey, or white. You can purchase a variety of colors, but those that are different from the basics can be quite pricey. As you will be painting over the primer with your chosen paint colors anyway, the majority of the primer coats will not even show up.
The go-to colors for primers are black, white, or grey, the selection of which will depend on your eyes. Are you someone who prefers highlights or shadows? Do you like to darken something when you paint it or lighten it up? It is very much a personal preference, as the primer color you end up selecting only has a minimal impact on the final paint job's color.
Priming Your Miniature
If you have chosen to use an airbrush or spray can, ensure when using the devices not to be too close to the miniature. If you are too close, it can result in 'spider-webbing' or splattering caused by the spray pushing the primer onto the miniature's surface. Start by using the spray away from the miniature and use short, quick sprays over it from a minimum of 6 inches away.
Always begin by prepping your miniature before you begin applying primer. Using mild soap and a toothbrush, give the miniature a quick clean. As the majority of miniatures are made in casts, they are often coated in a releasing agent. If the miniature is still coated in the releasing agent, the primer and the paint will not adhere to its surface.
If you are using a rattle spray can, weather can play a role. If the weather is extreme, very humid, or freezing cold it can impact your results.
Never apply thick coats of primer onto a miniature; always use thin coats. This is to ensure that you in no way detract from the fine details of the piece.
Allow each layer to dry before applying a new coat. It can take between 30 minutes and an hour to dry sufficiently.
Larissa Meyer is a 32-year-old mother and creative spirit since childhood. Her passion for painting and drawing has led her to train as an illustrator and pursue a career as a freelance graphic designer. Larissa is a talented artist who is able to master a wide range of styles and techniques to bring her artistic vision to life.