How to Seal Acrylic Paint on Wood – Best Clear Wood Sealants
This post may contain affiliate links. We may earn a small commission from purchases made through them, at no additional cost to you.
When painting a wooden surface with acrylic paint, it is important to finish it off with a sealant. A sealer will ensure you achieve the perfect finish, and will also protect your surface from everyday wear and tear and damage from the elements while increasing the durability of the paint. This article will provide you with some recommendations for sealants that can be used on acrylic paint, and our tips and tricks to applying acrylic paint sealer to your wooden surfaces.
Different Types of Sealers
The best sealant is determined by what your project requirements are, as well as your needs and personal preferences. We have put together a table to assist you in determining which is the best sealant for your project.
| | | | |
| --- | --- | --- | --- |
| Sealer | General Purpose | Finish | Properties |
| Water-Based Polyurethane | Outdoors, usually on stained wood | May yellow over time | Durable |
| Furniture Wax | Not for items that are used frequently | Flat finish, with a soft sheen | Easy to apply, water-resistant but wears easily |
| Glaze or Varnish | Functions as a strong topcoat | Glossy, with a clear or yellowish tint | Durable |
| Acrylic Resin Varnish | Preserving topcoat | High gloss, makes colors pop | Durable |
| Acrylic Polymer Varnish | Preserving topcoat | Matte | UV and dust protection and prevents yellowing |
| Mod Podge | Versatile glue and sealer for indoors | Dries clear, smooth, with matt or gloss finish | Durable, quick-drying |
| Polyvinyl Acetate (PVA) Glue – Watered Down | For a wood panel canvas, alternative to mod podge | Dries clear | Waterproof but not durable |
| Polycrylic | Usually for interior use | Clear with gloss, satin, or matte finish | Durable |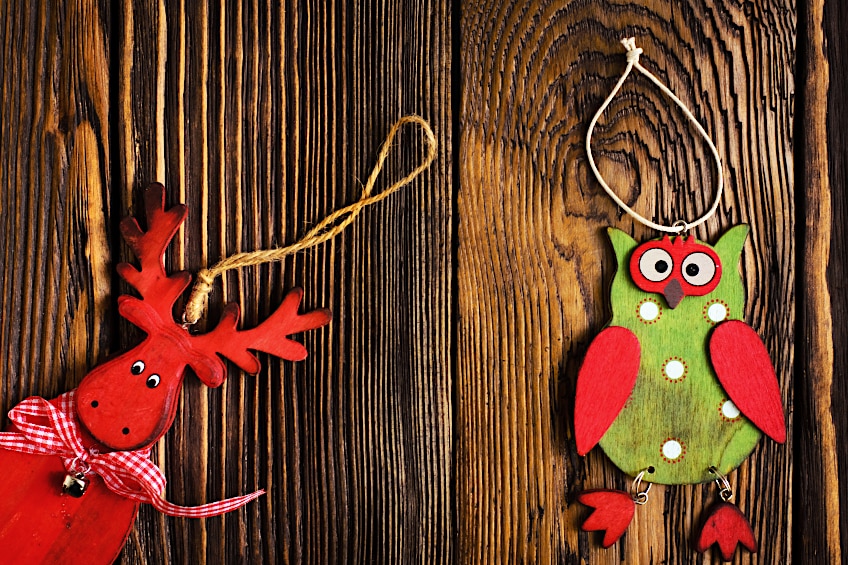 What to Look Out for When Choosing a Sealant
When choosing a sealer for your acrylic painted wood project, there are several important factors you will need to take into consideration.
Non-yellowing
Finish (matte or glossy – select your preference)
Brushstrokes will not chow
Self-leveling
Simple to clean up
Water-based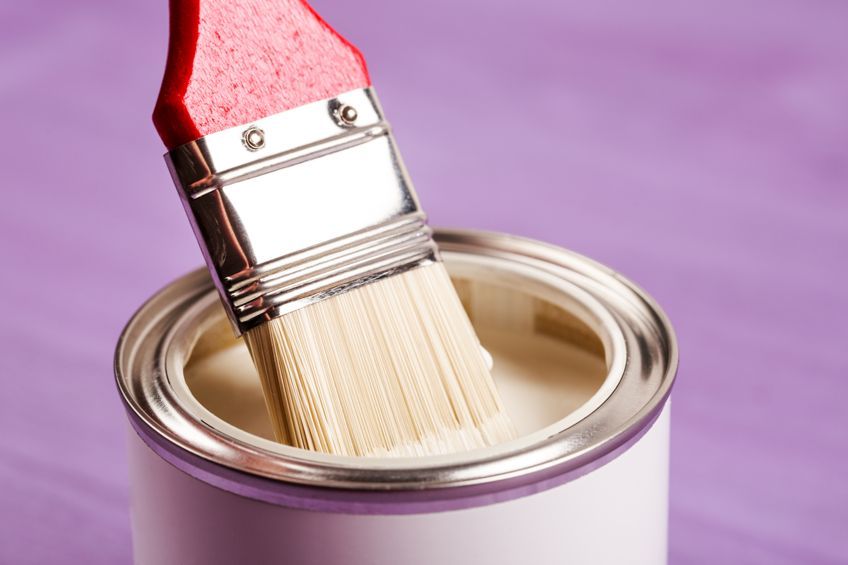 Recommended Acrylic Paint Sealers for Wood
You may still feel uncertain when it comes to selecting a sealant for acrylic paint. The assortment of options can seem a little overwhelming.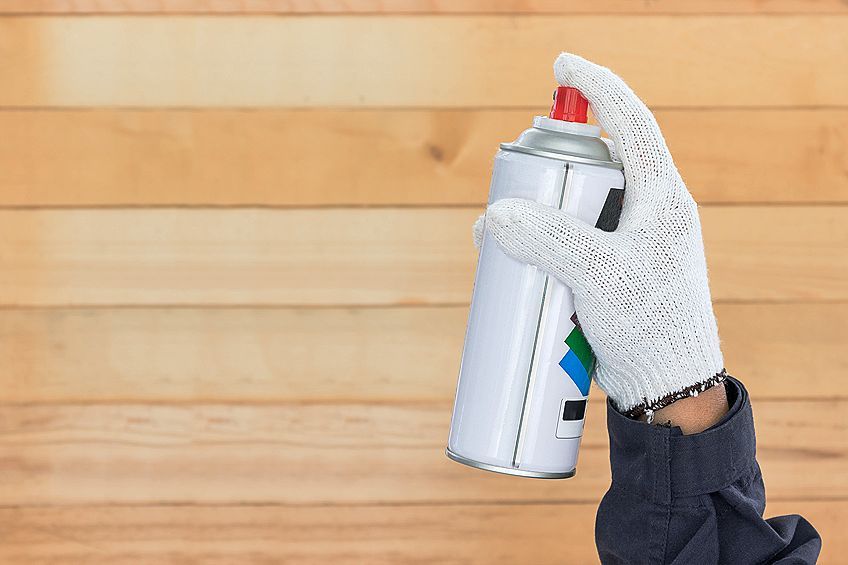 Best Acrylic Varnish: LIQUITEX High Gloss Varnish
Liquitex is a well-known, trusted brand that makes an assortment of brushes, mediums, and colors. This product is the perfect finishing medium that can be used to varnish acrylic-painted wooden surfaces. You can purchase this product in an assortment of finishes, such as matte, gloss, and satin. This product can be purchased in a spray-on format, or a brush-on version, use whichever option you feel more comfortable working with.
Low-odor, permanent, durable, and water-based clear drying medium
Resists humidity, heat, and ultraviolet light induced discoloration
Interior and exterior use on spray paint, heavy body, and soft body
View on Amazon
PROS
When dry the product is water-resistant
Non-yellowing
Lightweight spray
Clear when dried
Non-toxic
Can be used for both outdoor and indoor
Great leveling properties
Best Acrylic Sealant Spray: KRYLON Acrylic Spray Paint Crystal Clear
This is another option for a clear sealant for wood that offers you a protective, non-yellowing, and durable finish. This product is perfect for finishing all interior DIY wood projects. You can use polyacrylic varnish on both painted and stained wood surfaces. The product provides you with a layer that protects the surface from chips, alcohol, scratches, and water. This varnish is easy to clean up, thanks to it being water-based.
Moisture-resistant, smudge-proof, and color contrast enhancing
Touch-dry in 10 to 15 minutes and fully cured in 2 hours
Suitable for paper, wood, metal, glass, plaster, ceramic, and plastic
View on Amazon
PROS
Simple to clean up
Dries quickly
Low odor
Clear when dried
Non-yellowing
CONS
Not great for use on outdoor items
How to Use Different Sealants on Acrylic Painted Wood
If this is your first experience sealing acrylic paint on wood, or you are relatively inexperienced with sealing acrylic paint on wood, then the tutorial that follows will be useful for your next project. We have put together details on different types of sealants and assisted with guidelines on how they can be utilized for sealing acrylic paint on wood.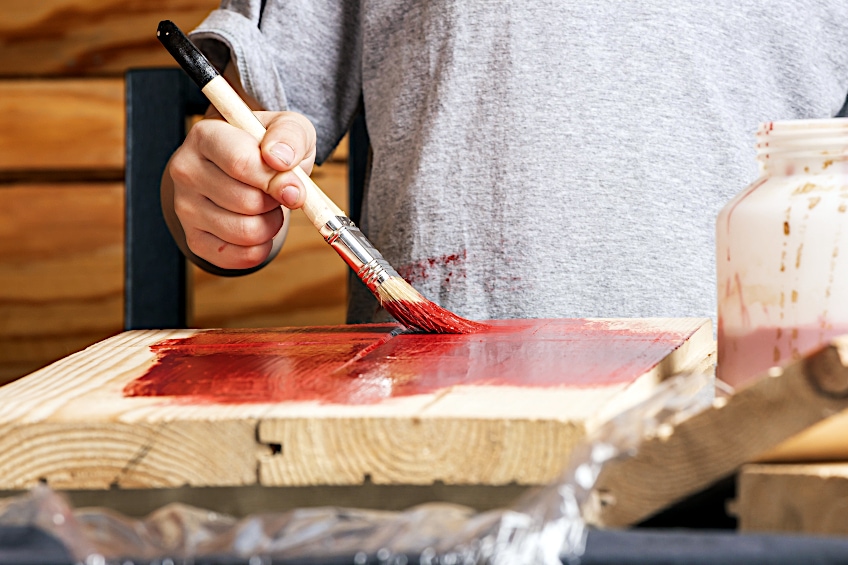 How to Use PVA Glue as an Acrylic Paint Sealer
PVA glue is a wonderful option to use for sealing painted wood, as it is affordable and can be purchased with ease as it is readily available. PVA glue is not waterproof, it does offer a level of water resistance as a seal on acrylic painted wood or any other wooden surfaces. You will need to water this product down before using it as a seal for acrylic paint. To use PVA glue as a clear sealant for wood you can follow these steps:
Mix two parts of PVA glue with one part water.
Ensure the mixture has been stirred thoroughly.
Apply a coat of the mixture to the acrylic painted wood surface, this can be done using either a sponge or a soft brush.
Allow one hour for the diluted PVA glue layer to dry.
Apply the second layer of the mixture, and then allow it time to dry (it should be dry overnight).
You will be able to handle your painted object in the morning.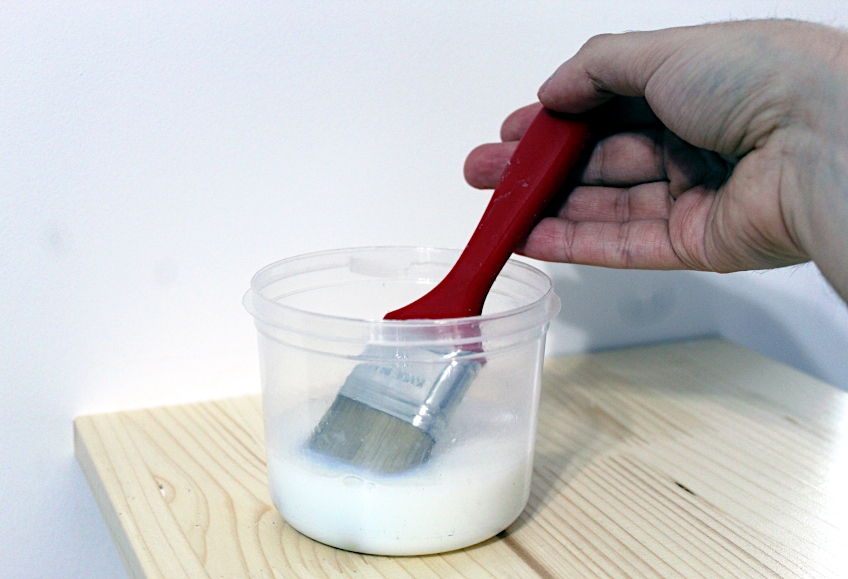 How to Use Polyacrylic as an Acrylic Paint Sealer
This is the perfect option as a sealer for use on indoor furniture that will go through extensive wear and tear. Polyacrylic provides you with protection from moisture damage, UV, and mechanical damage. It is imperative that you only use a water-based polyacrylic, as opposed to a solvent-based polyacrylic. To use Polycrylic as a sealer for acrylic paint follow the following instructions:
You will need to protect your work surface from any potential spills or drops, so place down an old sheet or some paper.
Use a microfiber cloth to wipe down the dry acrylic painted surface to get rid of any dust.
Use a high-quality roller, acrylic sealant spray, or brush you can then apply the polyacrylic sealer.
You need to apply the product in thin layers, allowing one hour drying time between each application.
You can handle the item within 30 minutes and only use the item once again, 24 hours after you have applied the final coat.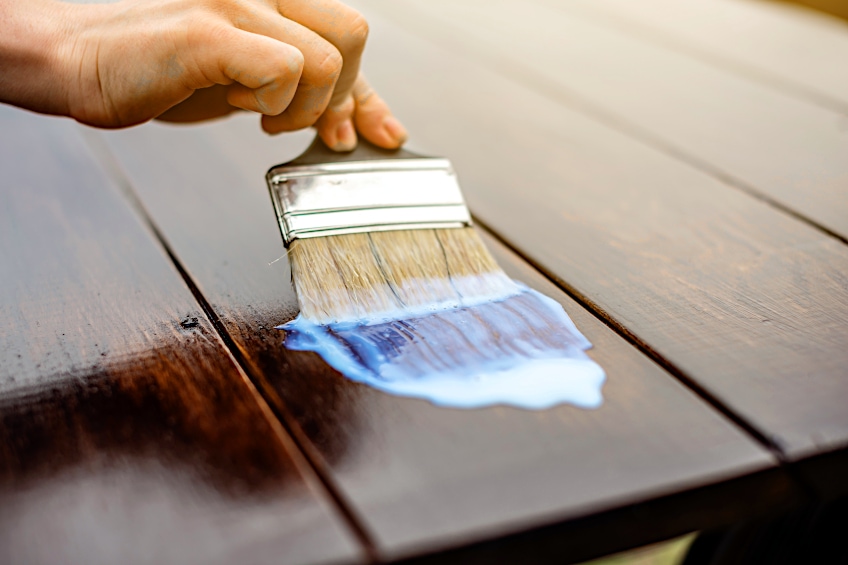 How to Use Polyurethane as an Acrylic Paint Sealer
If you are wondering how to seal acrylic paint on wood for outdoors, then this is a great option. You will get a protective layer from a polyurethane sealer, which in sealing painted wood will protect it from any outdoor elements. You will also receive protection from scratches and chips.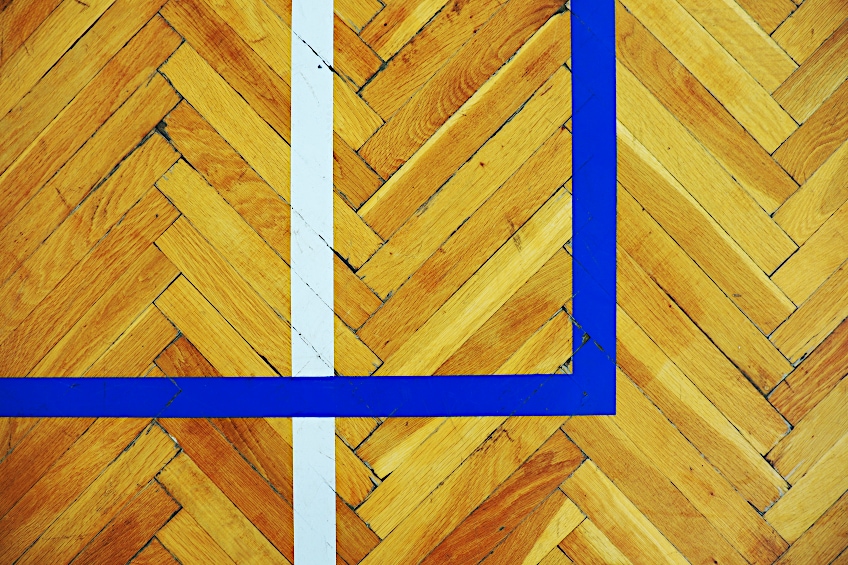 When applied the polyurethane may appear milky, but once it has dried it will be clear. You once again want to use a water-based polyurethane, as a solvent-based product will damage your painted surface. What follows are the steps you should follow to apply polyurethane as an acrylic paint sealer.
You need to ensure you are working in a space with good ventilation and will have to lay down a tarp or some old newspaper to protect your work surface from mess or drips.
When your acrylic painted surface is completely dry, you can use a microfiber cloth to wipe down the surface and remove any dirt or dust.
Open up your can of polyurethane and mix it well. Do not shake the can as this will result in bubbles forming on the painted surface. You will need to shake the can if you have chosen to use a spray.
Apply an even, thin coat of polyurethane sealer in a liquid or spray form.
Allow six hours for the coat to dry.
When you are sure it has dried completely you will need to lightly sand down the coat, and then you can apply a second layer.
If you want to ensure an extra durable finish you can then add a third coat, keep in mind you will need to wait between four and six hours between each layer application.
When you have applied the final layer, you will need to wait 24 hours before you can use the item outside.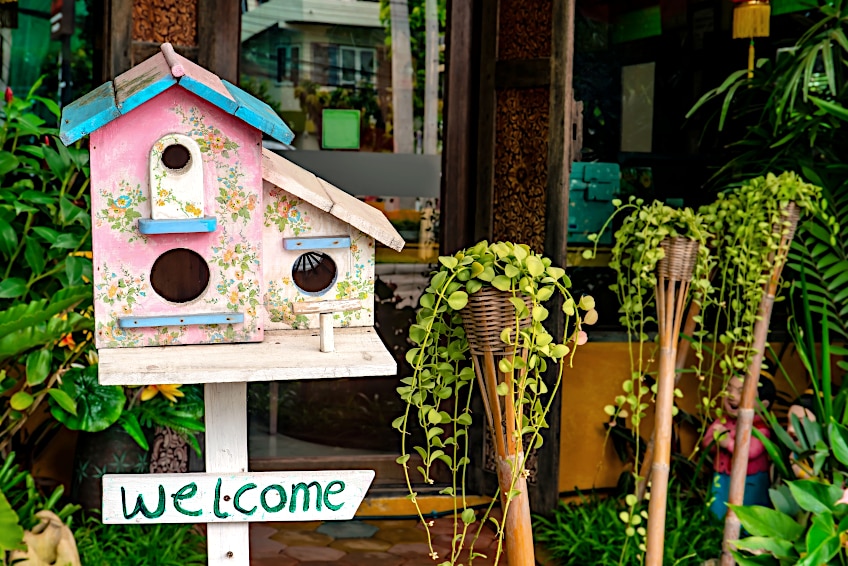 How to Use Mod Podge as an Acrylic Paint Sealer
Mod Podge is an amazingly, versatile substance, that is both durable and fast drying. It is understandably a popular choice for crafters and DIY-ers alike. It makes a great sealer for acrylic-painted wood as it is compatible with acrylic paint. If you are applying the Mod Podge to a wood surface or a canvas, we recommend using a brush-on Mod Podge sealer as opposed to a spray-on version. We have put together a list of the steps you will need to follow when sealing your acrylic painted project using Mod Podge sealer.
You will need to ensure that your acrylic painted surface has dried completely.
The Mod Podge needs to be applied in an even, thin layer using a foam brush.
The drying time takes between 15 and 20 minutes.
You can apply your second layer, once the initial layer has dried.
We advise applying at least two coats of Mod Podge.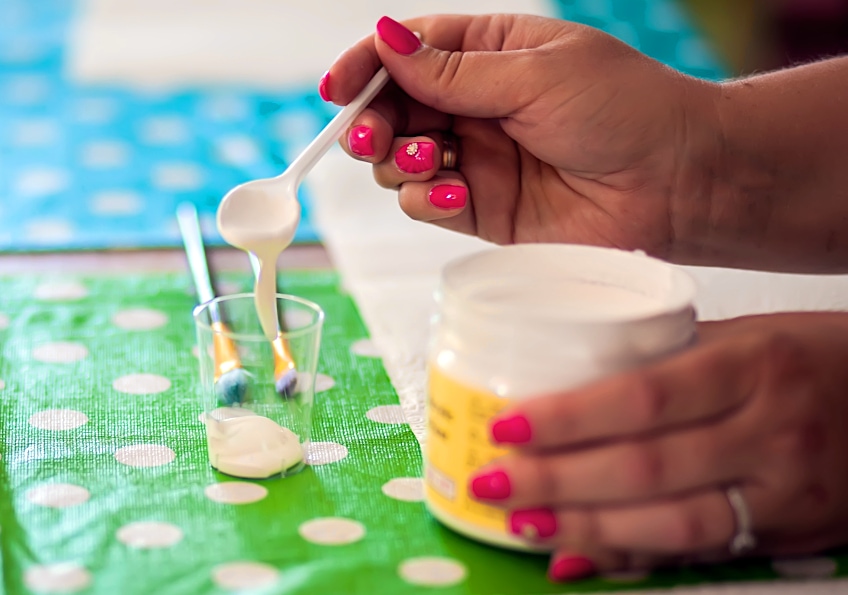 How to Apply Sealant to Acrylic Paintings
Artists will agree that it is imperative to seal your acrylic painting, for a few reasons. The first of which is a topcoat that will add a layer of protection to your painting from fading, dust, dirt, and discoloration. In addition, a sealant will ensure your painting is water-resistant. Another reason is that a sealant, in particular a glossy finish, will add a level of brightness to your acrylic colors, which can normally appear matte and dull when left unsealed. Finally, an acrylic painting can have come bumps and unwanted textures once it has dried. A great self-leveling sealant can assist with the problem.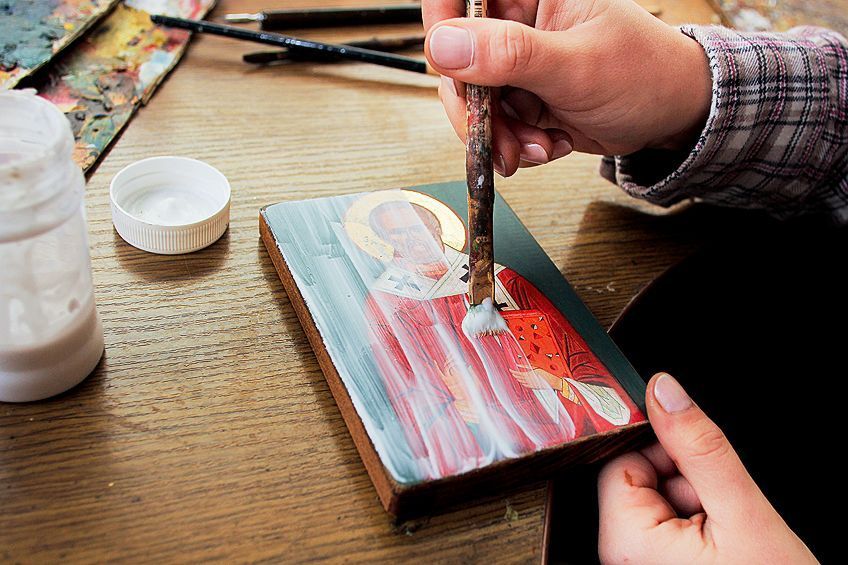 We have put together the steps to follow if you are new to applying a sealant to your acrylic painting. Once your painting has cured you can apply your protective topcoat as follows.
Drop a small portion of polycrylic in one corner of the painting.
Working from corner to corner spread the sealer across the painting.
Use consistent, light pressure when spreading the sealer with a foam brush.
Ensure that you have evenly coated the sealant across the entire surface of the painting.
Between each coat application you will need to thoroughly clean and dry your foam brush.
The painting will require between two and four coats of sealer.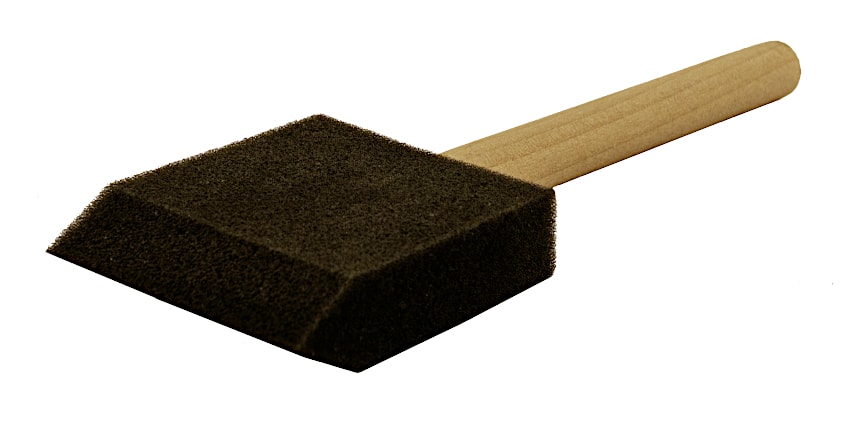 Tips and Tricks
Are you working with a budget? Then instead of using standard finish or varnish, you can use some watered-down PVA glue.
Consult the product's label to see how it needs to be prepared, the label will advise if it should be stirred or shaken.
To ensure adequate durability, we recommend using a product with a high gloss finish.
You can use a roller or a sponge brush to avoid visible brush strokes.
You will achieve the best results by applying your sealant in thin layers.
By using a gloss finish you will make your piece pop and will preserve the colors.
When using a matte finish, you will avoid any glare.
Before you begin applying your sealant, we recommend applying some of it to a test piece to ensure that the product will provide the results you are looking to achieve.
Allow sufficient time for curing, depending on the sealant you have used, it can take up to three weeks to cure.
If you are working with an acrylic paint sealer spray you will need to hold the can at least 10 to 12 inches away from the surface. Apply the spray in an even, side-to-side motion.
If you want to ensure that your acrylic painting on wood is long-lasting then you have to apply a sealer. Applying a sealer will enhance the finish of your painted item or furniture piece while adding a layer of protection. As you will have realized after reading this article, the process of applying sealer is quite easy. There is an assortment of different products you can use as a sealant, and which one to use is entirely dependent on your preferences and needs. We hope this article has convinced you of the importance of applying the sealant to your acrylic-painted wooden piece and assists you in selecting the correct sealant for your preferences and needs.
Frequently Asked Questions
Can I Use Acrylic Paint Sealer Spray Indoors?
This is not the best option. Certain acrylic paint sealer sprays consist of dangerous gases and fumes. You should prepare your workspace outside when working with a sealer spray to ensure adequate ventilation. You should always consult all the instructions and warnings on the product's label before you begin applying the sealer.
Is Acrylic Paint Waterproof on Wood?
Unfortunately, acrylic paint is not waterproof. There is the risk of water damage for any item that is painted with acrylic paint, and there are other potential risks. You want to choose a waterproof acrylic sealer for crafts that will be exposed to the elements.
What is the Difference Between Polyurethane and Polycrylic?
Polyurethane sealants are significantly more durable than polycrylic sealants. You can therefore use polycrylic sealant for items that are indoor furniture, surfaces, and trim. Polyurethane is ideal for use as a waterproof acrylic sealer for crafts and outdoor projects. It will last significantly longer than polycrylic and will withstand extreme weather conditions.
Can I Use Mod Podge to Seal Acrylic Paint?
You can use Mod Podge as both a protective sealer and as a glue. It will work on practically any porous surface. When used as a sealer, Mod Podge offers a great protective finish, ideal for acrylic painted wood, decoupage, fabrics, and any other paper projects.
What Is the Hardest Clear Coat for Wood?
When it comes to toughness and durability polyurethane is your go-to. If you are uncertain about how to seal acrylic paint on wood for outdoors, your best option is polyurethane sealant. It provides you with a stunning clear coat that will protect your painted surface from any extreme weather and harsh wear and tear.
How Long Will the Sealer Last?
It all depends on which sealer you have chosen to use and how often the item you have applied the sealant to, is used. On average an acrylic sealer should last about one to three years. If you are looking for a sealant that will last longer, we suggest using an epoxy or Urethane sealant which can last from five to ten years.
Larissa Meyer is a 32-year-old mother and creative spirit since childhood. Her passion for painting and drawing has led her to train as an illustrator and pursue a career as a freelance graphic designer. Larissa is a talented artist who is able to master a wide range of styles and techniques to bring her artistic vision to life.