Acrylic Paint on Fabric – How to Paint Acrylic on Fabric
This post may contain affiliate links. We may earn a small commission from purchases made through them, at no additional cost to you.
Painting on fabric with acrylic paint is indeed possible! However, you'll need a few tips and tricks to help you get started. You will just need two special ingredients: A Liquitex fabric medium or GAC-900 fabric medium to get the process started. It is a common misconception that fabric paint is the only way to paint on fabric, where in fact most fabric paints are made from acrylic paints that have been combined with a fabric paint medium.
What is a Fabric Medium?
A fabric medium will allow you to turn your acrylics into fabric paint. Acrylic fabric paint is a liquid acrylic polymer emulsion that you can combine with acrylic paint so that it molds to the fabric. This makes it more flexible, so that the acrylic paint stays on the fabric even when washed.
An acrylic fabric medium assists with making the acrylic paint flow more easily onto the fabric. It also helps to prevent the acrylic paint from bleeding into the fabric if diluted with water. Fabric mediums can also give acrylic paintwork on fabric a watercolor effect, as the colors are able to easily blend on the surface of the fabri, making the artist's job an easier one.
In addition to this, it gives the artist much more flexibility and versatility when it comes to painting techniques, as it does not rely on solely a paintbrush technique. It also provides the artist an opportunity to work with an extended color palette, especially when it comes to textile paints, which are usually available in only a limited number of colors.
One particular example of a technique that can be applied to painting on fabric is called an "airbrush" technique. This can be achieved by mixing and diluting the fabric-acrylic solution with a little bit of water.
One of the best benefits of mixing a fabric medium with acrylic paint is that it gives the fabric more flexibility, preventing the surface of the fabric from becoming dry and stiff. This also helps improve the durability of the acrylic paint on the fabric, because the fabric medium ensures that the paint is less likely to crack and peel off of it.
When determining how much fabric medium needs to be added to the acrylic paint, you should determine the purpose for which you are going to be using the fabric. For example, are you going to be using it for:
Clothing, in which case you'll need a great deal of flexibility to ensure that the paintwork is long-lasting;
Furniture, where the paint needs to be able to withstand a fair amount of wear and tear;
Or for tapestry-related projects, which require less flexibility and therefore less fabric medium?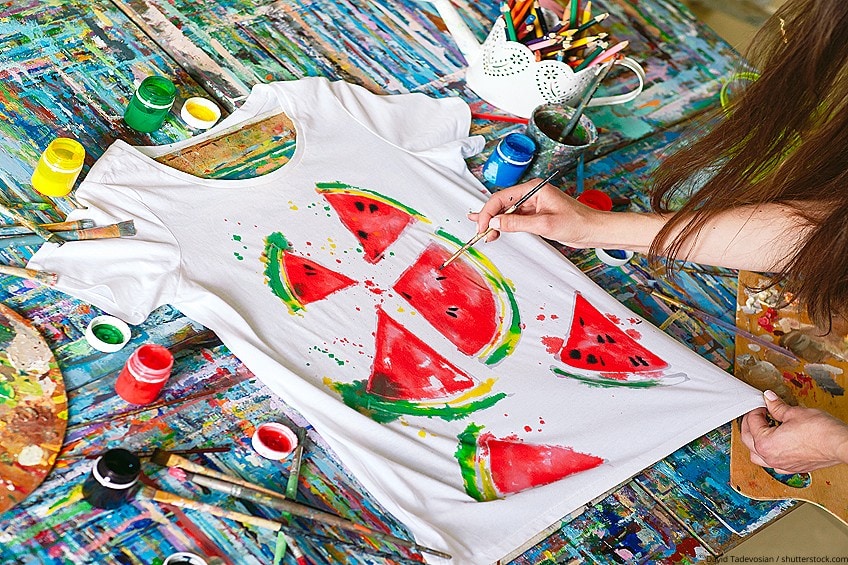 The Best Products for Painting Acrylic on Fabric
We have chosen the very best products available on the market from which you can select one that suits your needs. These acrylic mediums are all of excellent quality and are arranged according to the best overall product, a more premium option, as well as a cost-effective pick for those on a budget.
Best Overall: GOLDEN ARTIST COLORS GAC-900 Acrylic Series
The GAC-900 series is renowned for its top-quality product, offering exceptional value for money. This is a heat-setting medium that can be used in combination with acyrlic paints to apply to fabric and clothing.
Heat-setting medium for modifying acrylic paints on fabric

Suitable for brushing, airbrushing, or screen-printing

Provides a soft hand and increased launderability
View on Amazon
This product can be used for brushing, airbrushing, and screen-printing, and will allow for the paint to remain soft and easily laundered. It is easy to use and has received many positive reviews on all online avenues.
Pros
Easy to use
Can be used with normal brushing, airbrushing, or screen-printing
Cons
Fabric may remain stiff from the paint.
Premium Pick: LIQUITEX Professional Acrylic Medium
This is a premium, high-quality product that will allow you to paint acrylic paints onto fabric. The medium itself is of a medium consistency that will allow for smooth and complete coverage. It is comprirsed of an acrylic polymer and high resin solids.
Liquitex is known for its high-quality artist products
Easy to process and dries to a silky gloss
Very good cell formation without air bubbles
View on Amazon
Using this product will result in even layers, and will allow for colors to flow together in an attractive way. You can mix this medium with a soft body acrylic color so as to help it to dry smoothly and evenly.
Pros
Easy to use
Self-leveling
Top-quality
Thicker consistency allows for smoothe and complete coverage
Cons
Strong odor
May cause cells to stretch and break
Budget-Friendly: ANGELUS Soft Fabric Medium
This cost-effective option is ideal for softer materials such as the inner lining of one's shoes. This product needs to be heat set, but once this has been done you will be left with a soft piece of painted fabric.
Ideal for fabrics such as liners of shoes

Mix with Angelus Acrylic in a 1:1 ratio

Needs to be heat set
View on Amazon
You can mix this medium with acrylic paint at a simple 1:1 ratio, and you should ensure that you apply it a few layers so as to allow for the best coverage. To heat set it, simply go over the surface with a heat gun set to 300 degrees Fahrenheit for approximately five minutes.
Pros
Budget-friendly
Simple mixing ratio
Easy to use
Keeps the paint soft
Cons
Needs to be heat set
Small container
Advice for Before You Start Painting Acrylic on Fabric
Before you can begin painting acrylic on fabric, you must wash the fabric beforehand. This will remove any undue residue on it, ensuring that the surface is clean and smooth.
Place a covering underneath the fabric to stop it from sticking to the surface.
For clothing, and in particular stretchy clothing, insert cardboard into the sweatshirt so that the fabric forms a flat smooth surface with no creases.
Test paint on a sample of the material to see what effect the acrylic paint has.
You can add Liquitex fabric medium to the acrylic paint and adjust the consistency by adding a little distilled water bit-by-bit, being careful not to overdilute the mixture. The mixture can be applied to the following fabrics: Cotton, cotton-poly blends, woven, knitted, felt, terry cloth, silk, and more.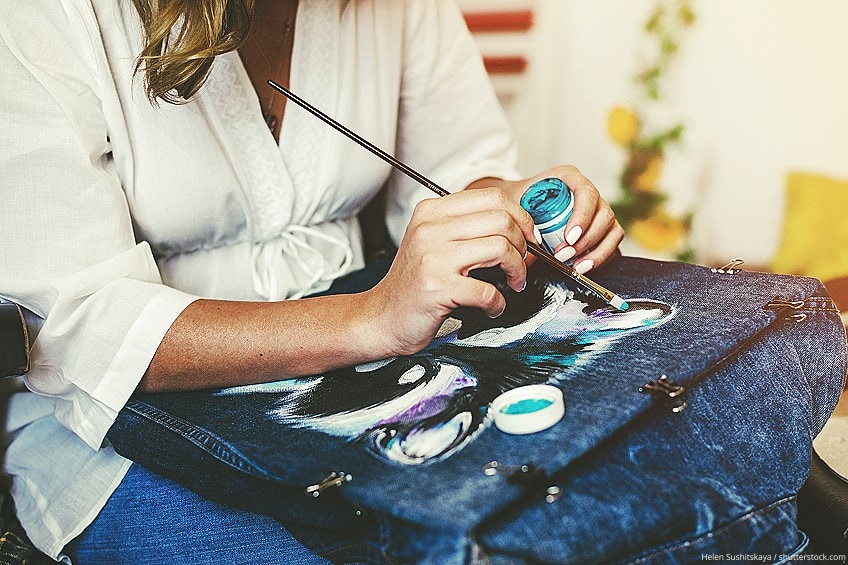 Painting Acrylic on Fabric Without a Medium
If your project does not require a fabric medium, you can use these tips to help you improve the flexibility and adhesion of the acrylic paint to the fabric.
Dampen the fabric with some water. This will ensure that the transfer of wet paint to wet fabric is an easy one.
Roughen up the surface of the fabric with a bit of sandpaper or something that has a little abrasiveness to it, as this will help to improve the adhesive quality of the fabric.
Make sure that the paint is not too thick before applying it. This will ensure that an even layer of the acrylic paint is applied to the surface of the fabric.
Instructions for Painting on Fabrics
You can place a cake decorator tip on the end of a tube of heavy body acyrlic, which has a thick and buttery consistency that is similar to that of oil paints. You can then squeeze the tube to apply the paint to the fabric. As with cake decorating, you can adjust the size of the nozzle to achieve the outcome you are after.
Combine the acrylic paint with a fabric medium to adjust the thickness of the paint. Materials that are more tightly woven like silk and cotton will achieve the best color results. To soften the edges of the fabric, use a flow-aid additive or, alternatively, a hot wax resin for harder edges. The wax can be removed by dry cleaning the material.
For a watercolor effect, you could try the following:
If your acrylic paint is too thick, you can use your fabric medium to distill it a bit with water so as to get the right consistency.
Light-weight fabric works best if you want a watercolor effect.
You are able to apply many layers to the surface of the fabric without the colors from the previous layer showing through.
Setting My Acrylic Paint on Fabric with Heat
Applying heat to your fabric is a nice final touch to set the paint in place on the surface of the fabric. You can apply heat to the fabric using an iron. Be sure to wait at least 24 hours for the paint to dry and an additional four days before you attempt to wash it. Here are some steps to help you get started:
Do not use steam on the fabric, so turn off the steam setting. As an extra precaution, you can empty all the water out of the iron.
Set the iron on medium to high. For more delicate fabrics, put it on a lower setting.
Start ironing, being careful not to leave the iron too long in one place on the fabric. Failure to do so will result in scorching or burning it.
Try to iron on the fabric turned inside out. This will help to avoid the iron sticking on and ruining the paint.
Ideally, you should iron the fabric for 3 – 5 minutes on the reverse side. You might also find it easier to iron it section-by-section, doing so quickly to avoid scorching whilst also allowing enough heat into the garment so that the paint sets properly.
Frequently Asked Questions
How Can I Clean My Fabric After Painting?
When laundering your fabric, it is better to wash the fabric by hand or set it on a gentle wash to ensure that the fabric lasts longer and that the color stays as vibrant as ever.
What Type of Fabric is Best for Acrylic Paints?
The best type of fabric for acrylic painting is that of 100% cotton with a tight weave, avoiding off-white or cream colors as these can dull the paint. You can also achieve great results by painting silks, rayons, and a range of other fabrics.
What is the Difference Between Acrylic and Fabric Paints?
Acrylic paint is significantly thicker than most fabric paints, which can result in the paint flaking off and feeling quite stiff on the material. You can make a fabric paint out of an acrylic paint with ease, however, simply by using a fabric medium as a paint thinner.
Larissa Meyer is a 32-year-old mother from Michigan and creative spirit since childhood. Her passion for painting and drawing has led her to an education as an illustrator and a career as a freelance graphic designer. She has a Bachelor of Fine Arts in Illustration and a degree in Graphic Design. Larissa is a talented artist who is able to master a wide range of styles and techniques to bring her artistic vision to life. Her greatest passion is currently fluid painting and epoxy resin art. Larissa's love for art and her knowledge and experience in illustration make her the perfect Creative Director for our fluid-painting.com team. She is the creative head of our team and shares her passion and knowledge with our community through articles and tutorials.
As a mother of a 2-year-old daughter, Larissa also understands the importance of fostering creativity in early childhood. She uses her experience and knowledge to help other parents inspire their children and develop their artistic skills as well.
Learn more about Larissa Meyer and about us.