Best Alcohol-Based Markers – Choosing the Best Alcohol Brush Markers
This post may contain affiliate links. We may earn a small commission from purchases made through them, at no additional cost to you.
There is nothing worse than having a pool of ink on the surface of your page, mocking you as it refuses to dry. This is the bane of any artist's existence and apart from being infuriating, it tends to ruin your artwork as well. Ultimately, you could end up covered in ink as you attempt to manage the mess, and in the worst cases you could end up ruining the paper that you are using along with your clothes. There is a simple answer to this problem, and this comes in the form of alcohol-based markers. Alcohol markers come in many forms, and this article will provide you with all of the necessary information.
Types of Alcohol-Based Markers
Since alcohol-based markers have been introduced, they have never failed to dry quickly. This has resulted in praise from recreational and professional artists, as these people are convinced that alcohol markers are some of the best products in the industry. The best alcohol-based markers are available in a variety of shades and will adapt to any form of artwork you are doing.
The best alcohol-based markers will not end up soaking through your paper or smudging all over your artwork. You should not have to worry about replacing a table whenever you start with a new piece of work. Look for something that appeals to you, whether it is the variety of colors that are provided or how good they feel in your hand. This is where you will need to take your art into account, because if your work is vibrant you will need a set of markers that is capable of providing a broad color palette.
This is why we have compiled this guide, as it will help you to find what you are looking for without wasting any money. This way, you will easily be able to choose a set of alcohol pens that will change your artwork forever.
The Best Alcohol-Based Markers
Selecting the best alcohol-based markers should not be a complicated process. Instead, it should be one to look forward to, especially as an artist. When looking for the best markers there are particular criteria that you should follow in order to prevent you from buying cheap alcohol-based markers. We have compiled eight of the best alcohol-based markers to make it easier for you to select the perfect brand for your artwork.
COPIC Sketch Markers
Copic markers are available as a 12-piece set and are viewed as the best blendable makers by artists around the world. This is due to the unrivaled consistency, presentation, and overall quality that you will get when using these alcohol pens. These non-toxic markers are easy to vouch for as they are vibrant and will present a smooth, permanent color.
What makes these markers so special is that they blend seamlessly and can be used on any type of artwork or paper, which makes it much more appealing. We recommend Copic markers if you tend to use thin lines on drawings, as they dry incredibly quickly and leave no room for smudging to occur. We have also discovered how easy they are to use when trying to recreate a specific shape and texture, as the ink is easily absorbed when used with most types of paper.
Packaged in a clear plastic case

Refillable markers and replaceable nibs

Alcohol-based ink is permanent and non-toxic
View on Amazon
Pros
Smudges and smears are no longer a problem, as the ink dries quickly;
The tip of the marker will always deliver a great result regardless of the angle that it is held;
Blending is simple due to how well the colors are designed.
Cons
The color choices included in this set are limited.
ARTIFY ARTIST Markers
If you are looking for alcohol markers that are available in a wide range of colors, then Artify's artist markers are for you. These markers are known for their high-quality ink and tips, both of which are paired to provide you with a smooth finish. These art markers are easy to use and most artists enjoy using them due to how easily they blend. What stood out to us is the addition of a white pen – something simple that is usually overlooked – as this will allow you to produce high-quality masterpieces on differently colored paper.
40 vibrant colors with a unique white color

Marker pen's triangle handle design makes it easy to grip

Dual tips allow artists to create various styles
View on Amazon
Thicker lines tend to be an issue with alcohol ink pens, but with Artify, there is no need to worry about this as they are manufactured with a dual-sided shape. The wide range of colors and the ease of blending will bring you nothing but happiness as you create unique artwork. One of the major selling points is that of the chisel tips, as these are damage-resistant and have proven to be quite durable, and unlike cheap alcohol-based markers, these will last you a long time. The only issue with these alcohol ink pens is that they tend to bleed when used on the wrong type of paper.
Pros
The white pen will allow you to explore more creative options;
We believe that these are the best option for beginner artists;
Artify Artist provides an extensive range of up to 40 colors with great packaging;
Drawing is promoted with the dual-sided chisel design.
Cons
There are a variety of grey shades that limits the range of colors that are provided;
Using the incorrect type of paper will result in slight bleeding;
There are a few colors that lack overall vibrance and are not very impressive.
CALIART Dual-Tip Markers
Caliart's dual-tip markers are the first choice for many artists due to the wide range of colors that are provided with the pack. The carrier case provided is equipped with a zipper, which means that your markers will be kept safe. It is all about efficiency, as the pack also allows you to carry it around with ease. Due to it being stored in an upright position, each marker is labeled on top, and this makes it easy for you to identify what color it is without having to empty the pack. All you need to do is open the pack, and select the color you want.
40 vibrant and permanent alcohol-based markers
Dual tips and round pen holder
Color-coded caps and attractive carrying case
View on Amazon
Caliart markers also have the best range of colors, as you will find that there are colors that are similar to one another, which allows you to easily recreate shadow effects. Furthermore, you can also select colors that are not too intense. Each marker is designed with two tips: one tip will have a chiseled edge and the other has a fine tip. They are also broad which makes them easier to grip. The tip variations are popular with artists that are fond of calligraphy and complex designs. Like Artify markers, the ink of these markers does tend to bleed, so using thicker paper is advised.
Pros
These markers will give you the best bang for your buck as you keep using them;
The vibrant colors are popular with most artists;
The mild scent makes them more bearable to use over long periods.
Cons
The cap does tend to fall off when trying to place it on the other end;
The range of colors does tend to be limited as most of them are similar to the next.
DARICE STUDIO Markers
Darice Studio is a brand that has been deemed one of the best in the art industry for many years and to this day, it is still highly rated. The markers come in a range of sizes and, regardless of this, even the smallest markers perform above the standard regarding overall creativity. These markers are the best choice if you are using rough paper, as they are made with a dual-sided design. The tip is known for producing brilliant thin lines and the chisel tip will make it easy for you to draw thick and thin lines.
48-piece set
Dual-tipped markers
Marker pens formulated with no-roll design
View on Amazon
If you are keen on creating pop-art, then the Darice Studio 71 48-piece set will add plenty of excitement and intense artwork that pays homage to the older art styles. There are also no signs of bleeding or smudging when using these markers and they will keep producing exceptional color even after many hours of use. Each marker is color-coded, and this makes it easy to identify, saving you from having to throw open the case to find what you are looking for.
Pros
These markers are an excellent alternative to the more expensive ones;
They have a fine chisel tip and a dual-sided design;
The consistency of the colors makes it easy to draw fluid lines on coarse paper;
The colors blend very well.
Cons
The pen nibs may fray or dry out more quickly than desired.
SPECTRUM NOIR Triblend Markers
There is no need to pay an arm and a leg for good markers and Spectrum Noir has provided markers that are inexpensive and provide a vibrant color palette that is perfect for recreational and professional artists. Most sets of markers can easily provide you with up to 48 colors, but if you are a simple artist that does not need five shades of blue, then this one is for you. These markers are available in packs that consist of 24 colors and are capable of being blended, which will give you an advantage. These alcohol-based markers are also capable of drying quickly, and this means no more fanning.
24-piece set with 72 colors
Fine bullet nib for precision
Three color shades in each pen blend seamlessly
View on Amazon
While there may be only 24 markers within the set, each individual marker has three different color shades (a light, medium, and dark), which allow for seamless blending and coloring. Thus, you have 72 colors to work with in this set. The markers possess a fine bullet nib to allow for detail and precision. Within each marker are three individual chambers for each ink shade, each of which feed through the nib when it is in use. The pens allow you to switch between each shade with ease, allowing for perfect blending and gradation.
Pros
These markers can be used on all types of paper and the ink does not bleed or smudge;
There are a range of color shades to choose from;
The colors are easy to blend and can result in a vibrant finish;
Most markers are refillable which is convenient for most artists.
Cons
It does not feature a dual-sided design, where most artists prefer a chiseled tip.
YOSOO Finecolor Sketch Markers
If you are looking for a bargain, yet you refuse to compromise on the quality of the markers that you need, then Yosoo's basic 24-color set is the best product out there. These markers are easily stored in a fabric bag that is also easy to carry around. The affordability paired with the quality that you are getting will leave you in awe.
If wet ink is a concern, then these markers are a no-brainer as you will have no issues with smudging or bleeding. This set comes with acid-free ink markers and they are designed with two edges that will make for a seamless transition of line thickness when drawing.
Fast drying, acid-free, and non-toxic

Comes with handle bag for easy transport
Assorted artist-quality colors
View on Amazon
Pros
The quick-drying ink means that there are no issues with smudging or bleeding;
The colors are vibrant and they look great on any type of paper;
Each marker is equipped with two edges, which is a huge benefit.
Cons
There are no disadvantages to using this product.
CHAMELEON DELUXE Set
If quality is what you are after, then the Chameleon Deluxe 22-piece set is for you. These pens are of professional standard, making them well-suited for art projects and graphic designs. The set is also equipped with a chamber that is meant for mixing, and this is something that other brands do not generally provide. You will also receive rich and light colors, and this will make it easy to get rid of tonal breaks. These markers can also be seen as alcohol brush markers due to the two nibs that are added to them, the other being a bullet nib. If you use markers for long periods, this one will be great due to its underwhelming odor.
Ideal starter kit
Double-ended pens blend multiple tones
Long-lasting and non-toxic
View on Amazon
Pros
The markers are almost odorless and this is great for those that are sensitive to pungent smells;
The markers work exceptionally well on paper;
Each pack contains high-quality alcohol brush markers that are great for drawing and shading.
Cons
The case is not ideal for those that are generally on the go, so you will need to buy a separate case that is easy to transport;
This deluxe set of markers only includes 22 pens, which can be limiting if you require a wide range of colors.
ARTEZA Everblend Art Markers
Most customers prefer Arteza as a brand due to its providing arguably the best alcohol-based markers. These markers are viewed as reliable and have been tested on the market by various industry pundits. Arteza provides markers that produce extremely vibrant and pigmented colors in an extensive range of colors, and this is the main advantage that it has over other brands. To make it easy for you to find the right color, the markers are labeled with the name of the color. Each set of markers comes with a blender, which allows you to blend various shades and create better and more vibrant art.
60 highly pigmented alcohol-based markers

Double-sided with fine and chisel tips
Lightweight, portable case
View on Amazon
The ink is capable of being used on a diverse range of surfaces, including plastic, metal, and wood. Just like any high-quality marker, these are equipped with dual-tips, and this will make it easy for you to switch between thick and thin lines. The chiseled tip allows for both thick and thin lines to be drawn, and each tip is replaceable and can be used for prolonged periods without requiring the marker to be replaced. Buying a new tip is cheaper than replacing a marker, and this is the logic behind these replaceable tips.
Each case of markers contains 72 colors, which is a huge variety, and they can be blended to create more shades. The case is also portable, which will make it easy for you to get from point A to B if you are on an artistic excursion. The general design of the markers is also what makes them great, as the triangular shape makes them easy to grip and will stop them from rolling off the table. The only downside to these markers is that they do not come with any skin tones.
Pros
It is an excellent brand for beginners;
The triangular design makes for a good grip;
The replaceable marker tips are cost-effective and will keep you using them for longer;
The colors blend easily;
The brand is popular due to its unique range of colors;
The ink does not bleed.
Cons
There are no skin tones that come with the rest of the markers;
The colors on the markers tend to fade easily.
The Contrast and Assessment of Alcohol-Based Markers
Before you can set out and buy your first case of markers, you need to know what to look for. The factors that you will need to keep an eye out for will be discussed below. After this, you will be an expert at finding what you need.
Color
The marker that you choose for your art should stand out on most types of paper because art is meant to stand out. If art fails to draw attention, then this is simply due to the color not being bright enough, and there is not a single person who wants to look at dull artwork. Your responsibility is to ensure that each color blends seamlessly; if you fail to blend them properly, your options of art exploration will be limited. The markers that you choose should meet your expectations as an artist, and most experts recommend a pack of 12 markers or more, as these will provide a wider variety of shades.
Tips
The design of the tip is often an afterthought for some novice artists, but they play a vital role when it comes to the evaluation of markers. A dual-sided marker is easier to use and it makes art much easier to handle. A chisel tip is usually the best option as it gives you the ability to draw thicker lines. Any high-rated marker should be produced with a durable tip that can be used for long periods. If the marker that you use is not durable, try to avoid buying the same brand next time. A durable marker means that you will have more art sessions.
Drying
Smudges and smears are the worst things that could happen to your artwork, and this comes down to the quality of your marker. Alcohol-based markers are great as they dry quickly and will prevent you from accidentally ruining your artwork or your table. Any marker that fails to dry quickly is not worth it – you need one that dries almost instantly.
Ingredients
As the name suggests, alcohol-based markers are made with dye and isopropyl alcohol. The dye that is used during the manufacturing process plays a significant role in the performance of the marker. It is best to spend a bit more on a marker that has been made with better dye than to try and get alcohol-based markers cheaply. Superior dyes will produce richer colors that will blend much better. While it can be almost impossible to look at a marker and determine the quality of the dye that was used, the best thing to do is to check out user reviews.
Ink Flow
The ink flow of a marker is something that must be considered when choosing one, as a marker that has a bad ink flow will ruin your work. This is because it is messy and it will spill ink all over the page or book that you are using. A consistent ink flow is what you would want, and it should not dry easily.
The Benefits of Alcohol-Based Markers
There are several benefits to using alcohol-based markers, such as their quick drying time, their blendability, the fact that they are refillable, versatile, and are also replaceable.
Quick-drying: Due to alcohol evaporating so quickly, the ink that is used in these markers will dry almost instantly once it hits the surface. These markers do not smudge or smear, which means that your artwork is at less risk.
Easy to blend: Alcohol-based markers are capable of adding a unique tone to each piece of art as a result of how well they blend. The markers are capable of generating vibrant tones that can make any drawing pop.
Refillable: Alcohol-based markers are refillable, which is great news if you have a particular color that finishes more quickly than others. This is possibly one of the most cost-effective solutions for extending the lifespan of your markers, as it is cheaper than buying a new set.
Works on all surfaces: Whether it is glass, wood, cardboard, metal, plastic, fiberglass, or stone, alcohol-based markers can transform any surface into a work of art. Furthermore, they will also last a long time, making them the best permanent markers.
Replaceable accessories: The nibs that are placed on alcohol-based markers can be replaced if they are frayed before the ink inside the marker runs out.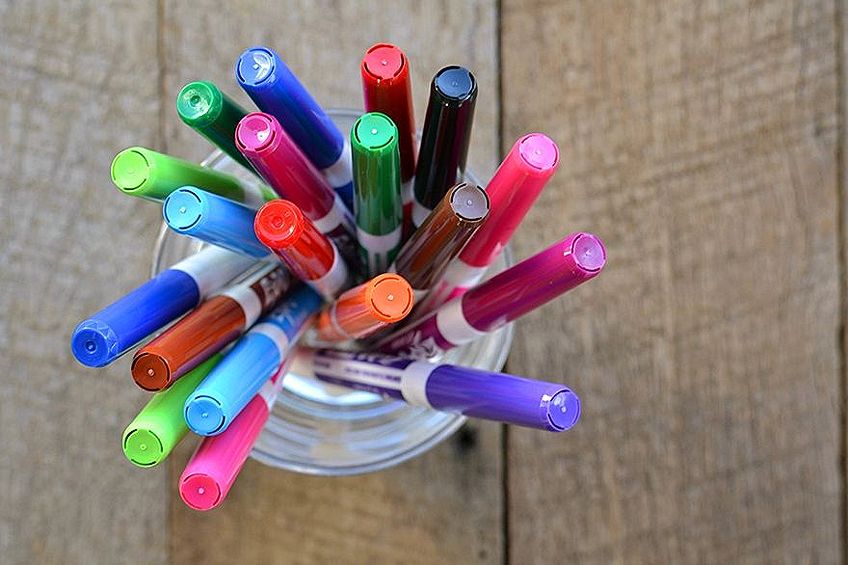 Frequently Asked Questions
Are the Top-Rated Brands of Alcohol-Based Markers Easy to Identify?
While there are a variety of brands, most artists prefer using Copic markers. This brand manufactures markers that are refillable and have been used by many people over time. More common brands include the likes of Sharpies and Prismacolor, with Sharpies being alcohol-soluble and waterproof. It is best to spend a bit more for a quality product than to try to get alcohol-based markers cheaply.
What Is an Alcohol-Based Marker?
An alcohol-based marker is a type of marker that is manufactured with a special type of ink that has been blended with alcohol. This results in the ink drying significantly faster than standard non-alcoholic ink due to the alcohol evaporating quicker. These markers are what you would want if you are looking for consistent results.
How Do I Use Alcohol-Based Markers?
An alcohol-based marker is used the same way as any other marker, except that you will just have less stress regarding smudging and bleeding. The tip of the marker will determine your experience and it is best to buy one that suits your style. Alcohol-based markers are generally made with two tips; a bullet tip and a chisel tip, and this makes them great for drawing. If you find that your marker is going dry, setting the tips in alcohol for 24 hours will work wonders, but make sure that the caps are on. These markers are usually available in sets and come with a blender. The blender can be used to blend colors, which can be done by rubbing it on the area.
What Is the Best Paper for Alcohol Markers?
The best paper for alcohol markers is a non-coated paper due to how smooth it is. It also prevents the nibs of markers from fraying easily. Alcohol-based markers are known for bleeding through thinner paper, however, so it is recommended that you place a sheet of paper behind the one that you are drawing on. This will prevent the bleeding from going all the way through.
Where Are the Best Alcohol-Based Markers Found?
It is not very difficult to find the best alcohol-based markers, as you can find them almost anywhere. They can be found at book stores or online stores such as Amazon, Lowes, Walmart, and Home Depot. These retailers have excellent reputations, and you are more than likely going to find the markers that you are looking for at those stores.
Are Alcohol-Based Markers the Best Markers for Artists?
Alcohol-based markers are the only markers that a professional artist would consider using as they pose little to no risk of ruining their artwork. Even novice artists are leaning toward alcohol-based markers as they have proven to provide no issues when it comes to drawing. These markers are the best when it comes to quality and they are one of the few products that will deliver on the manufacturer's promise. They are much more permanent than other markers and they also do not fade easily.
How Should I Care for My Alcohol-Based Markers?
Due to the cost of alcohol-based markers, it is recommended that you provide proper care for them. This will save you a lot of money further down the line and it will extend the lifespan of the markers. Start by using a damp cloth (preferably cotton) and wipe off any ink stains and smears from the body of the marker once you have finished using it. It should also become a habit to replace the cap of the marker once you have finished using it, as this will prevent the ink from drying. Storing your markers in a horizontal position when they are not being used is also a good idea. Avoid leaving your markers in direct sunlight and store them in a cool and dark area. Sunlight harms the ink and it will cause the colors to change, and you would not want that.
Are Sharpies Alcohol-Based?
Sharpies are alcohol-based and they are one of the most popular brands due to their universal use. Sharpies can be found in most classrooms, workshops, factories, and so on. So, are Sharpies alcohol-based? Yes, they are.
Larissa Meyer is a 32-year-old mother from Michigan and creative spirit since childhood. Her passion for painting and drawing has led her to an education as an illustrator and a career as a freelance graphic designer. She has a Bachelor of Fine Arts in Illustration and a degree in Graphic Design. Larissa is a talented artist who is able to master a wide range of styles and techniques to bring her artistic vision to life. Her greatest passion is currently fluid painting and epoxy resin art. Larissa's love for art and her knowledge and experience in illustration make her the perfect Creative Director for our fluid-painting.com team. She is the creative head of our team and shares her passion and knowledge with our community through articles and tutorials.
As a mother of a 2-year-old daughter, Larissa also understands the importance of fostering creativity in early childhood. She uses her experience and knowledge to help other parents inspire their children and develop their artistic skills as well.
Learn more about Larissa Meyer and about us.