Best Sprayer for Lacquer – Deciding on the Best Varnish Spray Gun
This post may contain affiliate links. We may earn a small commission from purchases made through them, at no additional cost to you.
Are you wondering how to spray lacquer and where to get a lacquer sprayer? Well, we have put together a list of the best sprayer for lacquer products and a short guide on how to spray lacquer to make things easier for you. Lacquer spray guns that work properly should be able to manage both a lacquer as well as a sealer. This is great for all your do-it-yourself projects around the house. The best sprayer for lacquer must be able to spray varnishes like nitrocellulose lacquer, shellac, and more. Getting yourself a lacquer sprayer is the best way to provide a smooth finish to your projects.
Varnish and Lacquer
Many use the word varnish and lacquer interchangeably, as they are remarkably similar. However, the two are not quite the same, as there are definite differences between the two. Let us have a look at what a few of these differences are:
| | |
| --- | --- |
| Varnish | Lacquer |
| Transparent and glossy hard coat with no color | Contains shellac that provides a high sheen, contains pigments, and can add color to natural wood |
| Three types: solvent, drying oil, and resin | Solvent-based, containing volatile organic compounds (VOCs), plasticizers, dissolved nitrocellulose, and pigment |
| Only ranges from semi-gloss to low sheen | Can add a gloss of choice, so you can choose one that suits your project from a wide range |
| Less durable | More durable, as it contains plasticizers which creates a hard and durable coat. Also protects from water and acid damage |
Various Styles of Lacquer Spray Guns
The varnish spray gun and the regular spray paint systems are remarkably similar, which is why you should understand the differences. You also need to figure out what type of lacquer sprayer best suits your needs. Some lacquer spray guns are designed to work exclusively with lacquer, whereas others can be used with a variety of varnishes. Their design encompasses wider nozzles and also works at higher pressures.
Since lacquer is quite sticky and is different in consistency to paint, the higher pressure helps it move through the gun. The wider nozzle also helps to spray the lacquer more evenly for a smoother finish, also helping to prevent the formation of bubbles.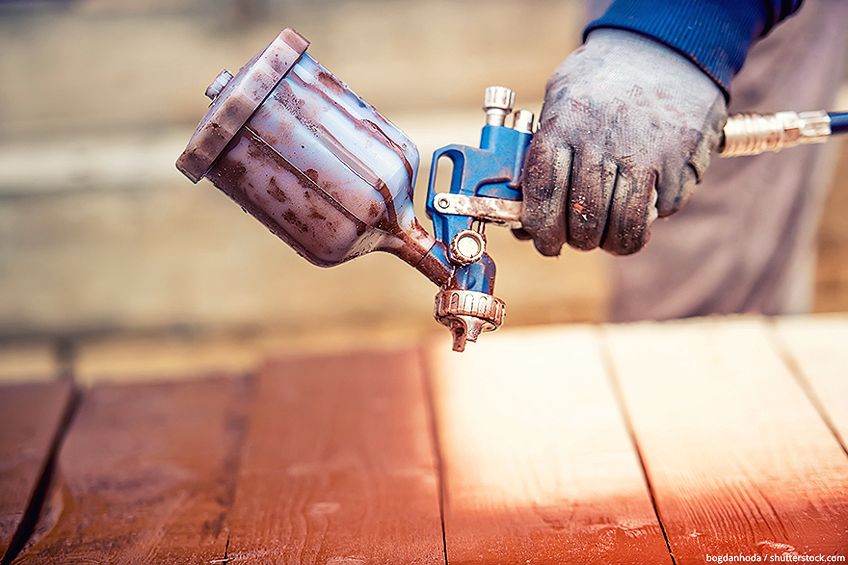 Some spray guns are designed to be used for both lacquer and paint. These spray guns have different nozzles that can be attached and pressure gauges that can be adjusted accordingly. The interchangeable components make the sprayer easy to work with, and you should find it simple enough to paint stains, lacquers, and paints. The main advantage of this is that you do not have to purchase separate systems to do a single job, as you will have the one spray system to do them all. There are also a few different sprayers available:
Low-volume low-pressure (LVLP)
High-volume low-pressure (HVLP)
Low-volume low-pressure (LVLP)
Airless spray guns
The high-volume low-pressure sprayers move large volumes of air that then create a high pressure using an air compressor. These are considered superior-performance sprayers and are the most widely used sprayers in the industry.
The low-volume low-pressure sprayers are not as widely used, as these are more for entry-level users. The output is not strong when compared to the HVLP systems. However, these sprayers are cheaper and are easy to use.
The airless spray guns compress the lacquer and paint, and not the air, as they spray. This method is perfect if you are looking for a smooth and even finish, as they do not create any bubbles. However, they are not the first option if you are simply doing a small, quick job around the house.
Best Sprayer for Lacquer Products
Using lacquer spray guns can be difficult, as application needs to be done properly and carefully. You need to apply many layers, and this requires a lot of control on your part. To get that smooth and even finish, you need to work diligently and be consistent, as the lacquer can settle rather quickly. You will also need to purchase the correct equipment.
There are many different types of lacquer spray guns and you need to get the one that suits your needs. In general, a good lacquer sprayer must be able to manage the sticky, adhesive quality of a lacquer substance. The lacquer sprayer must then apply an even and smooth coat without forming any bubbles. Lacquer provides a protective layer over your surface and gives it a nice, shiny finish.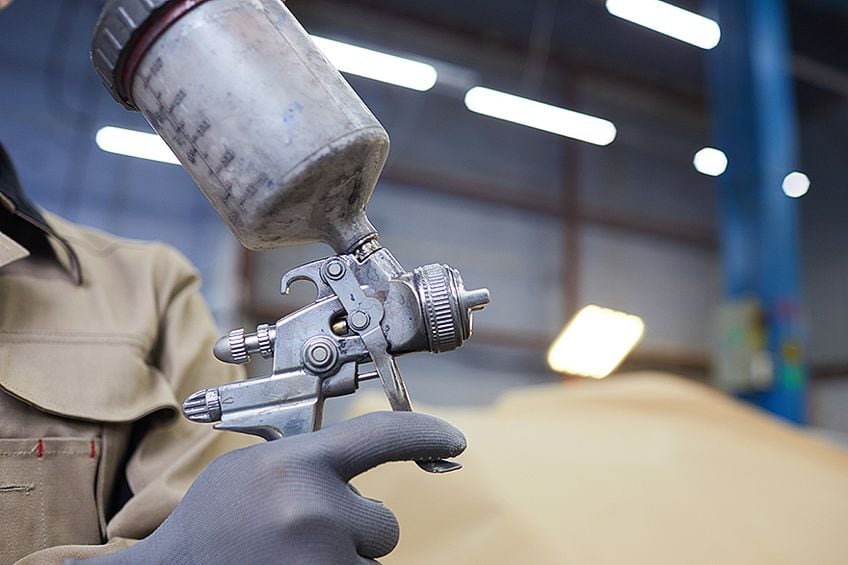 Best Premium Sprayer for Lacquer: FUJI Semi-Pro Gravity HVLP Spray System
The Fuji Semi-Pro Gravity Spray System is best for spraying lacquer with HVLP and is perfect for beginners. The lacquer sprayer is affordable and provides an excellent quality polished finish. You will be able to complete all your do-it-yourself projects with ease. The sprayer system comes with a sprayer and gravity-feed cups, all of which can handle continuous use with little maintenance.
This lacquer sprayer can easily change materials from paints to polyurethane and heavy materials, as it has adjustable pressure control. The 1400-watt motor provides sufficient power to operate the spraying system. You can easily apply thicker coats and produce a smooth finish with the Fuji spray system.
Quality, professional-grade spray paint system and accessories

Powerful 1400 watt two-stage motor for spray painting many surfaces

Convertible spray gun for added versatility with rear spray pattern control
View on Amazon
PROS
Powerful motor
Offers superior quality
Can do a wide selection of projects
CONS
System is expensive
Not the best choice for professional jobs
Overall Best Sprayer for Lacquer: GRACO Magnum Project Painter and Sprayer
The Graco Magnum Project Painter is a sprayer that is best used for bigger projects, as the spray gun can take up to five gallons of lacquer. Thus, there is no need to go about refilling the sprayer for larger jobs. You do, however, need to keep the system clean as it utilizes pressure to pull the lacquer through the sprayer. You should clean it before filling it with lacquer every time you want to use it. You can clean the sprayer simply connecting it to your garden hose, as there is a hose adaptor included.
The settings on this varnish spray gun are adjustable, and you can check the pressure as well as the flow, which is crucial when using lacquer. The motor can provide 2800 pounds per square inch (psi) and can spray about 0.24 gallons per minute. The system works well with many sizes of tips, a 0.013 tip being the first choice for lacquer. This lacquer sprayer can spray around 50 gallons per year and is extremely easy to use.
Fully adjustable pressure to give you ultimate control of paint flow

Stainless steel piston pump allows you to spray paint at high pressure

Extra storage compartments provide space to store the spray gun
View on Amazon
PROS
Adjustable flow and pressure
Powerful motor
Can hold a large volume of material
Easy to use and light to carry around
Simple to clean
CONS
May have issues with overspray
Should not be used for professional jobs
Best Budget Sprayer for Lacquer: INGERSOLL Rand Edge Series Gravity Feed Spray Gun
The Ingersoll Rand Edge Series Sprayer is a more affordable gravity feed system that can be used by beginners without problems. The lacquer sprayer can be used for applying stains, paint, lacquer, and other finishes. You can use the sprayer for painting your deck or your house, and it is also great for furniture restoration projects.
You have plenty of control over the system with the adjustable knobs. The spray system also has an air adjustment valve so you can control the airflow, which is essential in limiting the excess lacquer you are not using while working. The sprayer is easy to handle and has a non-drip cup that will help eliminate any messes.
Comes with a non-drip cup to prevent paint from spilling or dripping
Fluid and spray pattern adjustment knobs for precision painting
Suspension hook for simple and convenient storage
View on Amazon
PROS
Includes an adjustable air valve
No mess with the non-drip cup
An affordable option
Easy to use
Able to use high pressure
Includes a suspension hook
CONS
Cannot be used for all types of paint and lacquer
Known to break easily
What to Consider When Purchasing a Lacquer Sprayer
Are you looking to purchase a lacquer sprayer? Then you should read on to find out what you need to know before heading out to the store. Understanding what to look for will help you to choose the best sprayer for lacquer that is suited for your project.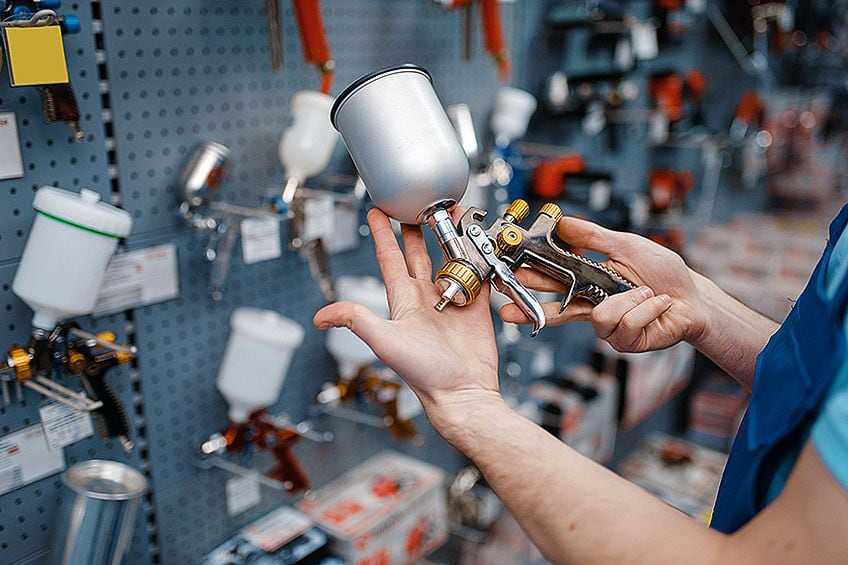 Lacquer Sprayer Pressure Grade
This is an important factor, as the lacquer sprayer should be strong and provide a high pressure. The strength of the sprayer is essential because of the viscosity of the material you will be using. The high pressure will help to spray the thick lacquer more evenly.
Lacquer Sprayer Capacity
Sprayer systems come in varyious sizes, so you should know and understand the size you will need for your project. Smaller jobs will require a smaller sprayer that is easier to use and handle. Larger jobs will require a larger sprayer that can manage bigger volumes of lacquer. This makes it easier to finish a spray job without having to refill all the time.
Affordability
When it comes to buying and spraying lacquer with HVLP, you will need to do a bit of research and understand what your project requires. You can read online product reviews and read up on the specifications of each product. Once you have read up on various sprayers and compared them, you can make a decision that best suits your needs as well as your pocket.
Cleaning Process
You should choose a lacquer sprayer that is easy to clean, which means it should be simple to dismantle and put together again. Cleaning all of the sprayer pieces is important and should not be a difficult process. Cleaning needs to be done properly and will therefore take some time. The cleanliness of your sprayer will ultimately affect the outcome of the spray job.
Lacquer Sprayer Nozzle Size
You should read the manufacturer's directions and information on the nozzle sizes or tips. The correct nozzle size is important if you want to spray a specific material like lacquer. Larger nozzles are best for things like a primer as well as other thicker substances. Smaller nozzles are best for thinner materials such as lacquer. When you are making use of a turbine machine, it is best to use a 1.5 mm tip. This does not need much pressure to propel the paint. The nozzle size is essential for the best outcome for your project.
A few Tips When Purchasing
You will require control when spraying lacquer in order to spray evenly and smoothly onto a surface.
Avoid choosing an airless sprayer, as it can be messy and can waste lacquer when using it. Rather opt for the compressor spray guns or the HVLP systems.
Also avoid the suction feed spray guns, as they require lots of power. Go for a gravity feed sprayer that will not affect the atomization.
Look at tip sizes, as more power is required when spraying lacquer. Tips ranging around 1.3 mm are best. However, when spraying lacquer with HVLP, a 1.5 mm tip can be used. The reason is that the system uses low pressure to push the lacquer through.
You might have to spend a bit more on a lacquer sprayer than other regular spray guns. The correct varnish spray gun is essential for best results, so make the right choice.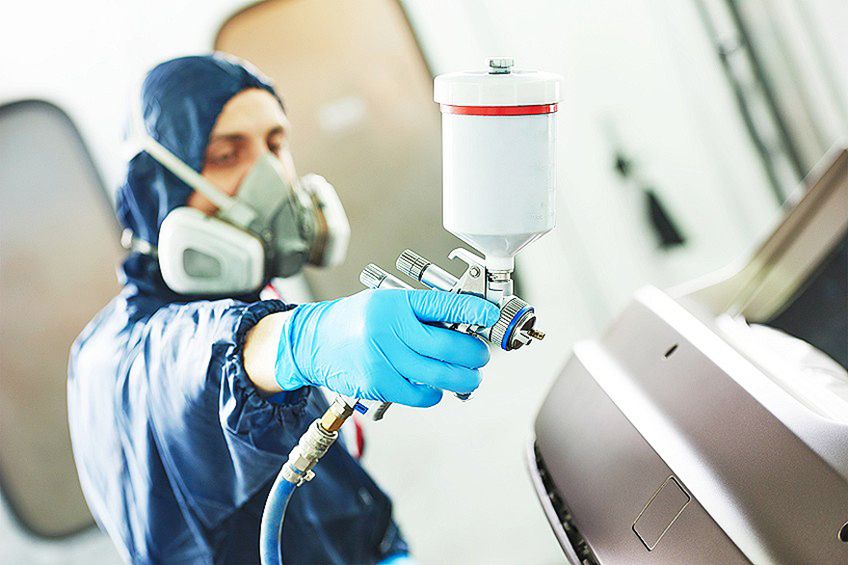 How to Spray Lacquer
Spraying lacquer with HVLP is similar to using regular spray paint guns. The thick and sticky lacquer needs high pressure to be effective when spraying. The lacquer moves from the pressure feed of the sprayer and is forced through the nozzle. The pressure feed creates a vacuum that pulls the lacquer from the spray gun into the tube, which is then sprayed out of the nozzle. This is done at a high velocity and the lacquer is sprayed over the surface. The application comes out smooth because of the even distribution, which is accomplished by the pressure and the velocity of air that is being compressed.
Does Lacquer Need Sanding?
Some sanding is needed between each coat of lacquer, as it is best to apply thinner coats than a single thick layer. Begin by applying your first thin coat so the next coat can grip better and prevent any dripping. Keep on applying coats as needed, being sure to sand each time before the next coat. Your working area should be dry with as low a humidity as possible, as the lacquer dries fast. Also, the work area should be well-ventilated, as lacquer usually contains volatile organic compounds (VOCs). A well-ventilated space allows the flammable fumes to disperse more easily. In most cases, it is best to use a respirator mask for safety.
When spraying lacquer, make sure that you keep moving the sprayer around so that an even layer can be achieved. Sand the coat and apply another layer, trying not to spend too much time attempting to even out an area – this could create a patchy look in the end. You are always bound to have some imperfections when doing smaller projects, so keep moving and try not to focus too much on trying to fix little issues.
Short Guide on How to Spray Lacquer
Lacquer is a popular choice as a finish, as the application is easy and it dries quickly. You can opt for spraying lacquer with HVLP or using a spray gun that is attached to a compressor or turbine. You can also attach a new spray gun to your own air compressor. Here are a few steps when using a lacquer sprayer.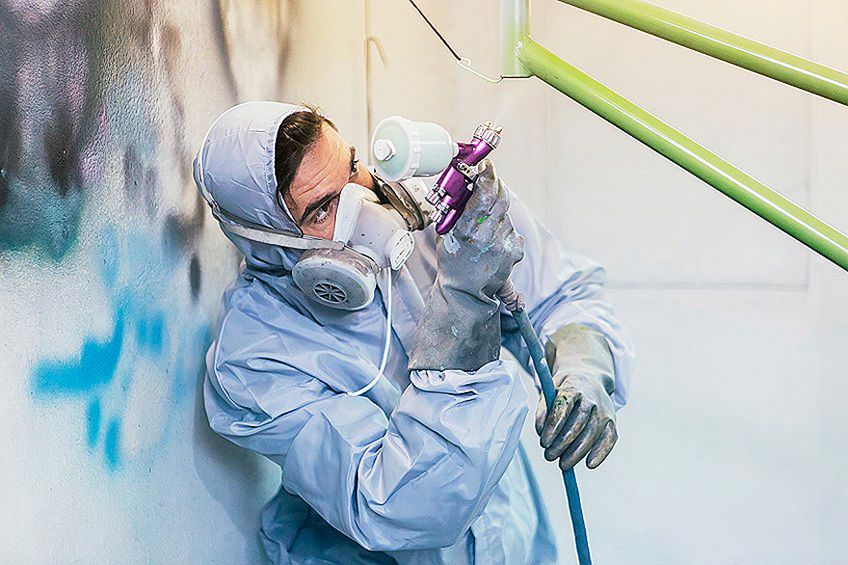 Fill the Spray Cup
Spraying lacquer can be problematic, as the spray lacquer is sometimes difficult to find. You must use a pre-catalyzed lacquer, which will save you from always adding a catalyst each time you want to work. Remember to check the expiry date on the pre-catalyst before you buy it.
You can begin by filling the cup three-quarters full of lacquer and then add a quarter of lacquer thinner. Apply the first sealing coat to your surface. This coat seals the wood fibers, making it easier to apply thicker layers as you carry on. You need to stir now and again if you are using a satin lacquer, as it can collect at the bottom.
Adjust the Lacquer Sprayer
You will notice there are two knobs and the sprayer tip, all of which are adjustable. The knob at the back controls the air pressure that flows to the tip. The next knob controls the flow, and the tip controls the spray fan width and angle of the spray.
Spray the Lacquer
You can first get some cardboard on which to test your sprayer, where you can adjust the settings to suit your needs for the actual project. Work quickly, making sure that you do overlapping strokes up and down and back and forth. For the first thin sealing coat, hold the sprayer near the surface. You can then apply thicker or full-strength lacquer coats that build up to the final layer. Take extraordinary care when it comes to areas that are exposed to wear and tear. Remember to sand between each coat.
Clean Once Done
Always make sure that you clean your sprayer once you are done before storing it. Take the leftover lacquer and place it into a labeled container. Take some of the lacquer thinner and pour it into the cup, swirl this around and adjust the airflow knob down. You can then spray until it flows clean.
Frequently Asked Questions
What Lacquer Is Best to Use?
There are a few different choices made from urushiol, which is purchased from China and is made from tree sap. This type of lacquer is hard-wearing but not user-friendly, and is best used for indoor projects. The solvent-based nitrocellulose lacquers dry fast but do contain dangerous and flammable VOCs. Similar to this is that of the acrylic lacquers, which also dries quickly and comes in vibrant color choices. These can be applied to projects that need a less durable coat.
Is There a Difference Between Varnish and Lacquer?
Yes. A varnish is a hard, clear, and glossy finish that has three coating options of drying oil, a solvent, or a resin. Lacquers are solvent-based and have VOCs, plasticizers, dissolved nitrocellulose, and color pigments.
How Often Should I Clean My HVLP Sprayer?
It is important to keep your equipment clean and ready for use. So, be sure to clean after you have used the sprayer each time before storing it.
Does the Air Filter Need Changing?
The air filter should be cleaned each time after working with a spray gun that utilizes a turbine. A clean filter makes sure that there is enough airflow for proper color atomization and also allows the motor to cool down.
When Should I Change the Motor Brushes?
These should be changed each year, or after you have used the motor for 600 hours. If you do not change them regularly, this could lead to motor failure. These brushes all fall under the accessories and spares for the HVLP system.
Larissa Meyer is a 32-year-old mother and creative spirit since childhood. Her passion for painting and drawing has led her to train as an illustrator and pursue a career as a freelance graphic designer. Larissa is a talented artist who is able to master a wide range of styles and techniques to bring her artistic vision to life.