Best Gravity Feed Spray Gun – Reviewing Top Pneumatic Paint Sprayers
This post may contain affiliate links. We may earn a small commission from purchases made through them, at no additional cost to you.
How can you save time on a do-it-yourself paint project? One of the more popular ways is to use an air spray gun. Not only does a paint sprayer do the job in less time, but it can also do it more efficiently. One special type of air spray gun is the gravity paint gun. This simply means the paint cup that holds the paint is situated on top of the spray gun. To help you choose the best gravity feed spray gun, we have put together a basic guide.
What Is a Gravity Feed Spray Gun?
When referring to a spray gun, it is a general term as there are various kinds available. The general description includes a spray gun with a trigger, once the trigger is applied, the compressed air atomizes the released paint which moves through the nozzle. Two of the more common types include the siphon and gravity spray gun.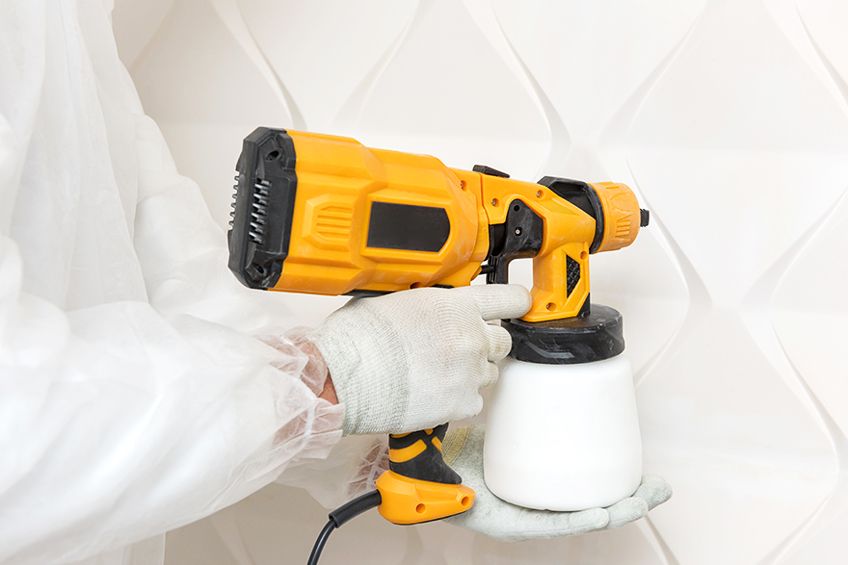 Both of these perform a similar function by spraying paint onto surfaces, the difference is in the way the paint is dispensed. Siphon feed spray guns are the most well-known and have a paint cup placed at the bottom of the spray gun. Enough pressure must be produced so that the paint is sucked up into the spray nozzle.
These were widely used and popular in the autobody repair industry.
A gravity feed air spray gun came after the siphon spray gun and is considered easier to work with. They also waste less paint when spraying and cleaning them is a little easier. There are two main types including the High Volume Low Pressure (HVLP) Gravity Feed Spray Guns and the Low Volume Low Pressure (LVLP) gravity paint gun. You can also use the term pneumatic paint sprayer, as the paint sprayer uses compressed air to spray the paint. This means you will need a compressor or a turbine to apply the paint with a gravity paint gun.
A gravity feed paint sprayer has a paint cup placed on top of the air spray gun. Gravity then helps to drive the paint into the spray gun. The gravity or pneumatic paint sprayer offers quite a few advantages.
The Advantages of Using a Gravity Spray gun
The first advantage of a gravity feed paint sprayer is the fact that it uses less air pressure and will give you a high-quality finish. Since they produce less overspray, clean-up is easier. When using less air pressure, you also use less paint, so you do not waste as much as other paint sprayers. This also provides more control over the whole process, without the paint flying everywhere. Below are a few more advantages.
Offers a more controlled system that provides an even spray and a finer finish
Offers good-quality paint cover
Requires less air pressure than a siphon paint sprayer
Painting is done a lot faster than other methods
Less air pressure ensures there is less overspray, which means less clean-up
Widely used and support and training is easy to come by
Saves money as you use less paint
HVLP gravity feed spray gun can complete larger projects in a shorter time
LPLV (Low-Pressure Low Volume) is a lightweight and affordable option, great to use for do-it-yourself projects at home. Can be used for precision work
The Disadvantages of Using a Gravity Spray Gun
There is also a small number of drawbacks when using a gravity spray gun. So, depending on the job you want to do and if you are going to be using the paint sprayer regularly, you will need to decide if it is what you are looking for. Below are some disadvantages for both the HVLP gravity feed spray guns and the LVLP (Low-Pressure Low Volume) spray guns.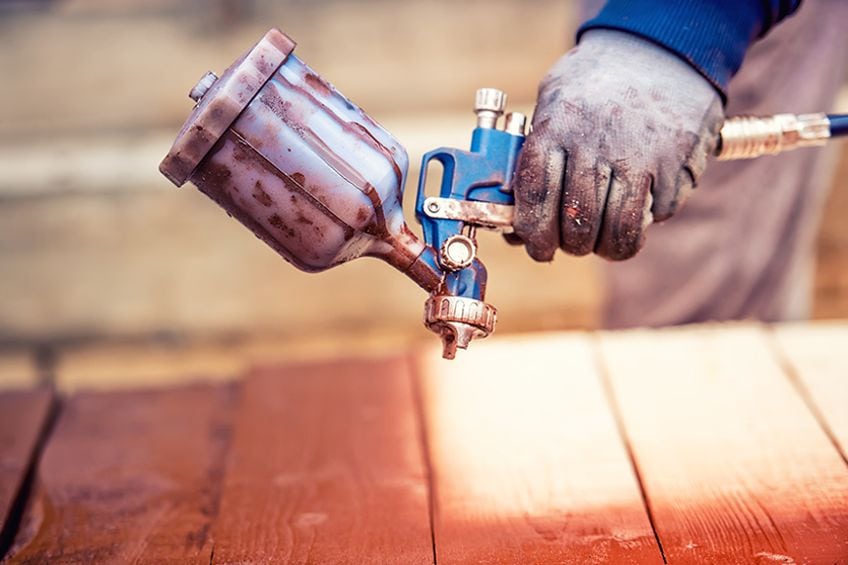 The Cons of HVLP (High Volume Low Pressure) Spray Guns
Prone to clogging and then spraying an uneven pattern
Should not be used with thick paints, you will have to thin paints
Might take longer to clean the spray gun as you will have to disassemble the nozzle, clean the cup and filter inside
Has a shorter hose and you may need to carry everything around
Overspray is more, which wastes paint
The Cons of LVLP (Low Volume Low Pressure) Spray Guns
Again, thicker paints cannot be used unless they are thinned
You will need to refill paint more often
Has no real power and takes longer to complete painting
It can take time to learn and operate the sprayer effectively
To say one paint sprayer is better than another is difficult, as they all have pros and cons. However, a professional might choose the siphon-feed spray gun for what it can offer. The gravity feed paint sprayer, on the other hand, is better for smaller jobs and is best for novice painters.
The Differences Between an HVLP and LVLP Gravity Feed Spray Gun
Air spray guns might be similar in appearance and perform a lot of the same functions, but there are a few differences. The HVLP (High Volume Low Pressure) spray guns are perfect for thinned paint, for example, spraying latex paint with a gravity feed gun. It performs faster than the LVLP (Low Volume Low Pressure) and can be used for spraying cabinets, furniture, and walls.
The LVLP (Low Volume Low Pressure) is good for detailed applications, which makes it a better option for more professional painters. Many professionals prefer using the LVLP (Low Volume Low Pressure) for automobiles as it provides a finer and smoother finish. Next, is a table showing you the differences more clearly. Note, cfm describes the cubic feet per minute and psi indicates pounds per square inch.
| | | |
| --- | --- | --- |
| | HVLP Spray Guns | LVLP Spray Guns |
| Ease of Use | Easier to use and widely available | Requires time and practice to learn |
| Best Used by | Best for Beginners | Professionals |
| Price | Fairly expensive | Cheaper |
| Paint Overspray | Lots of oversprays and more paint is wasted | Very little overspray, so more economical |
| Type of compressor | Needs a stronger compressor preferably with a turbine | Can make use of a lot smaller and cheaper or regular compressor |
| Operating Pressure | Higher: 20 cfm at 50 psi | Lower: 5 cfm at 10 to 25 psi |
| Fan Spray Pattern | Wider | Smaller |
| Transfer Efficiency | 65 to 70 percent | Up to 80 percent (less paint flying around) |
When Is a Gravity-Fed Spray Gun the Best Option?
Gravity-feed paint sprayer systems are ideal for small projects, it will take you some time to do larger surfaces as it is much slower than the airless paint sprayers. The paint cups also tend to be smaller, so if you paint a larger area, you will be re-filling many times. Thinner mediums are also better for gravity spray guns. Thicker paints such as latex or primers can also be used, however, you will need them to get the proper viscosity that will work. Some of the more well-known applications for a gravity spray gun are as follows.
Applying finishes to furniture
Painting molding, gutters, and trims
Doors, cabinets, shutters, and walls
Automobile applications
Painting appliances, shelves, and pipes
Guide to Purchasing the Best Gravity Feed Paint Sprayer
If you are a seasoned professional with knowledge and experience, it is a little easier to know what to look out for when purchasing hvlp gravity feed spray guns. However, if you have just begun to use a paint sprayer, things can seem a bit confusing and intimidating. You will need to consider several things like the cup size, the type of pressure gauge, or what type of spray pattern does the paint sprayer produces? In the end, you will need to select a spray gun that does the job you want. Let us have a look at a few more important factors when it comes to purchasing the right gravity paint gun for you.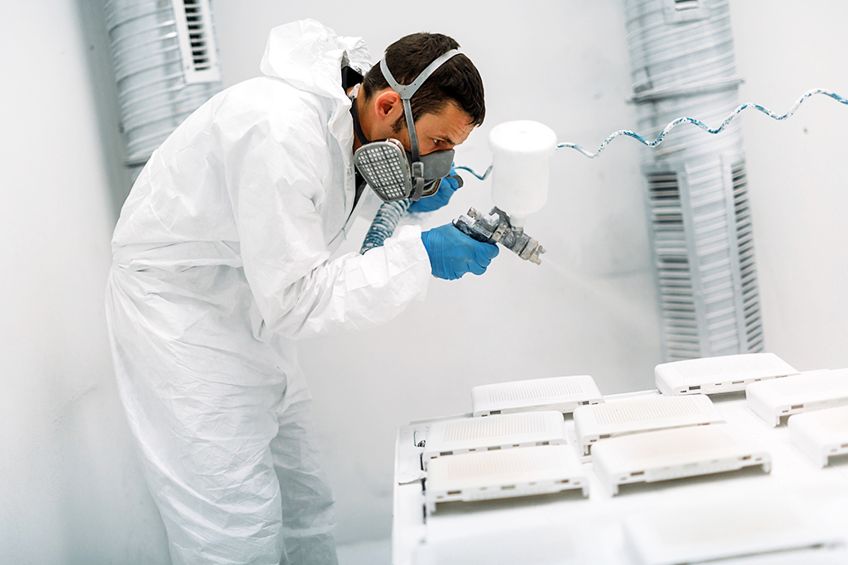 Gravity Feed Paint Sprayer Features
Always consider the different features and choose a paint sprayer that suits your requirements. Have a look at the design, is it easy enough to move around or will it tire you out easily as you work for longer periods. Also, choosing a paint sprayer that can be customized can help you save on future projects. More features to look out for include:
Trigger action: Dual-action where you push down for air and back simultaneously for paint, a single action does this in one movement
Mixing systems: Is it an internal or external mix? This is the mixing of the air and paint either inside the nozzle or outside the spray gun
Feed type: Gravity feed or siphon feed
Flow rate: High Volume Low Pressure or Low Volume Low Pressure
Bleeder-type paint sprayers: These provide a continuous flow of air while the turbine or compressor is on. Versus the non-bleeder option which only releases air once the trigger is pulled
Adjustable Settings
You need to look at paint sprayer systems that allow you to adjust the settings like the air pressure or flow. This will help to make the spray system more versatile, and you can use it on different projects for adjustable precision painting. The best feed type is a combination of HVLP and standard.
Nozzle Size
The spray gun can come in various size nozzles, and some will provide you with various sizes in a set. Sizes can be from 1.0 mm to the larger 2.0 mm. The correct nozzle size is important for the type of job you are doing. The smaller more precise painting will require a smaller nozzle and, vice versa, a larger area needs a larger nozzle.
The fluidity is also affected, thinner and thicker paints will react differently.
Cup Size
The larger the cup, the less maneuverability you will have and if you work for a long time, it may tire your hands. However, the bigger the cup, the more paint you have, so you do not waste time refilling. So, it is up to you how you feel and what the paint job involves. The different sizes vary from 600 CC, which is 0.6 liters or 20 fluid ounces, and 1000 CC, which is one liter or 33 fluid ounces.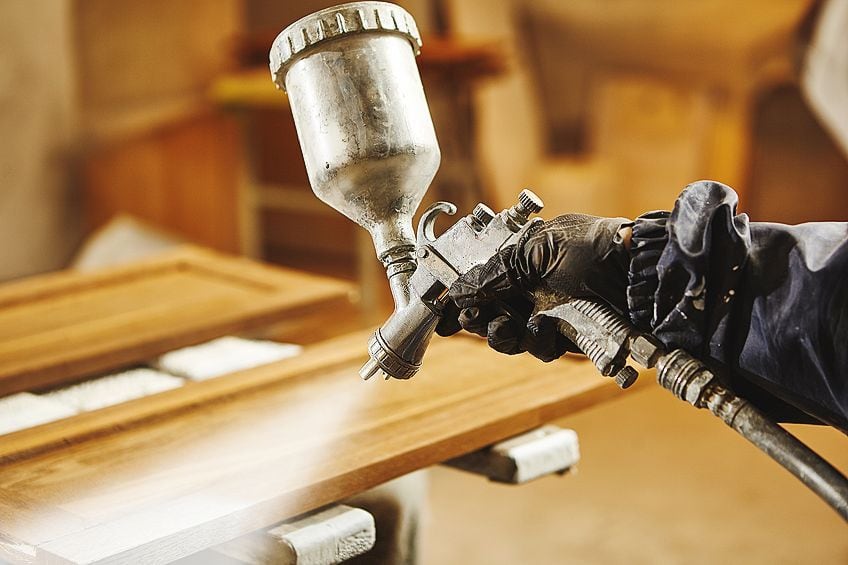 Price
Makes sure you look around and read reviews to find the best gravity feed spray gun. You do not want to purchase a low-quality product that will not last and does not provide a good finish. There are expensive options and more reasonably priced options available. What you buy will depend on your needs but choose wisely and do some research and do not go out and buy the first option you see.
Considering a well-known and popular brand can also be a way of choosing something worthwhile.
Ease of Use
The handle needs to be comfortable to hold for long periods and consider a non-slip grip so that you do not accidentally drop the sprayer. Again, the weight of the air spray gun should be considered. A heavier paint sprayer might provide a little more control, but over a long period, it will become uncomfortable to work with.
Our Recommendations for the Best Gravity Spray Guns
When taking into consideration the popular brands, there are quite a few options available to you. You can choose anything from a gravity paint gun to an entire pneumatic paint sprayer system with a turbine or compressor. Below are a few choices from the best overall gravity spray gun to the best budget-friendly option.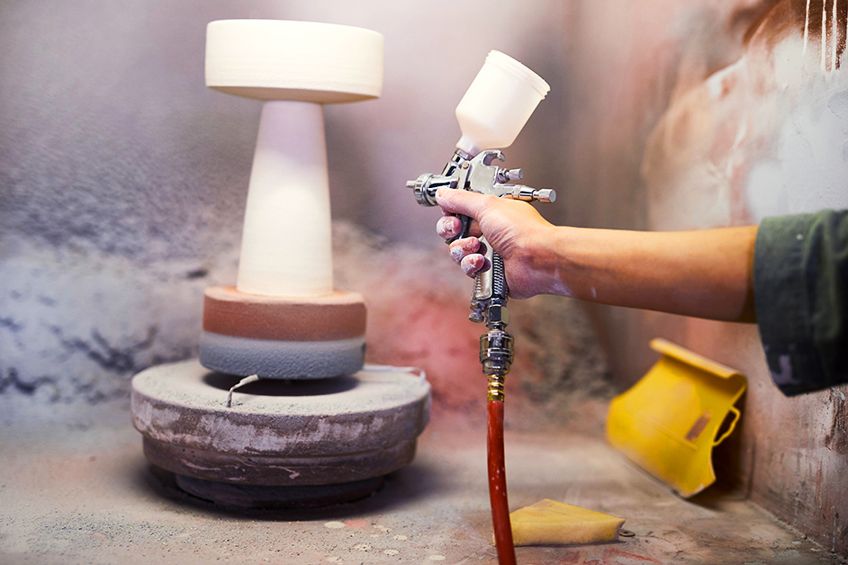 Best Overall Gravity Spray gun: NEIKO Gravity Feed Paint Sprayer
The Neiko air spray gun has a steel body that is resistant to rust, a brass cap that provides durability, and a steel nozzle. The air spray gun can be used on a variety of household projects, can be used for metallic base coats, primers, on walls, and can be used as an automotive spray. The sprayer is versatile and can spray everything from latex paint to water-based paint as well as oil-based paint. You also get a regulator and metal-air gauge, so you can determine the amount of air pressure. To help with clean-up, you also get a cleaning brush and a wrench to help with disassembly.
One-piece all-steel gun body with a rust-resistant stainless steel nozzle

The gun uses three adjustable valve knobs for precise paint application

The set includes an aluminium cup, metal air gauge, and cleaning brush
View on Amazon
PROS
Rust-resistant steel body
Versatile
Has adjustable valve knobs for better precision painting
Can handle multiple mediums
Comes with a cleaning brush and wrench for easier clean-up
CONS
You cannot buy sets of nozzels
You need an air compressor
Some consider the spray gun a bit heavy
Best Budget-Friendly Gravity Spray gun: PNTGREEN HVLP gravity feed spray gun
The PNTGREEN gravity spray gun is a lightweight and affordable option for those who want an entry-level spray gun. The product offers good quality and will save you money on paint, as its transfer efficiency rate is 86 percent. The product comes with two nozzle sizes of 1.4 mm and 1.8 mm. This is a great option if you are looking for a spray gun to help familiarize yourself with the whole spray painting process.
Efficient spray gun with a 230-260mm spray width and 86% transfer

Suitable for almost every type of paint you could want to use
Lightweight and affordable spray gun made with quality materials
View on Amazon
PROS
An affordable option
Great for beginners
Lightweight
Offers a good-quality smooth finish
Comes with two different nozzle sizes for various applications
CONS
Cleaning the spray gun is time-consuming
May be susceptible to clogging as well as leaking
Best Professional HVLP Gravity Feed Spray gun System: FUJI
The Fuji HVLP gravity feed spray gun system is a good choice to use around the house and in the workshop. Perfect for spraying walls, ceilings, cabinets, furniture, fences, and doors. The system offers a two-stage spraying system that has a non-bleed feature as well as fan control so you can adjust the spray pattern size. The system comes with a 25-meter hose that is flexible enough to move around quite easily, so you will not have to move the unit too much.
Professional non-bleed Spray Gun with Adjustable Pattern Fan Control

1.3mm Air cap set installed with a 400cc lightweight gravity cup

Hose with an air control valve to reduce overspray and bounce back
View on Amazon
PROS
Produces minimal overspray
The sprayer can handle thicker paints like latex
The lightweight gravity cup holds enough paint to cover most larger projects
Consistent spray pattern with the two-stage turbine
Has stainless steel components (nozzle and needle)
Professional quality painting
CONS
If you use it only occasionally, the price might be a bit expensive
Can be noisy
Requires practice to use efficiently
Basic Guide for Using a Gravity Feed Paint Sprayer
When using a gravity feed paint sprayer for the first time, it can be a bit difficult. You should practice handling the paint sprayer and you will learn to produce the best finish. Before you even start to use the air spray gun, you will need to prepare the paint itself. There are spray guns that have filters, however, many do not which is why you need to run the paint through a filter yourself. This helps to lower the risk of clogging.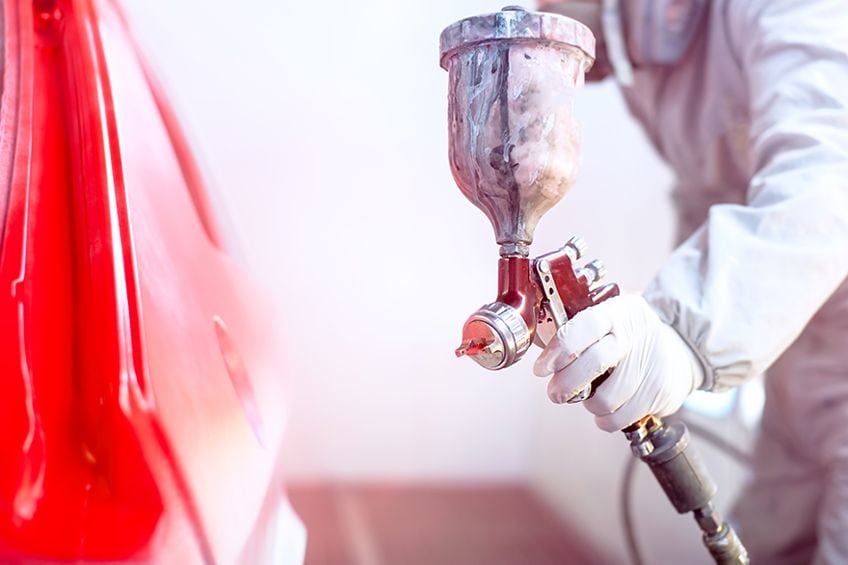 Always read the product instructions when it comes to thinning the paint. Each system can be different, so it is best to check, however, the highest level for paint thinner is 20 percent. Do not go over this percentage. You will need an air compressor or turbine, and this should then be connected to your gravity spray gun. Set the air pressure to the specific spray gun specifications. Next, add paint to your cup which is attached to the top of your spray gun. You will then need to switch the compressor on to activate the system.
Always test out your air-spray gun on a separate surface like a piece of cardboard before painting your actual surface.
When testing the sprayer out and you notice clots of paint, this will not produce a smooth coat and you might need to add more paint thinner. If you observe thin lines appearing at the top or bottom of the cardboard, the paint might be too thin, and you will need to thicken the paint. Once you have achieved the correct levels and spray patterns, you should be able to get a smooth and even application. Move the spray gun in a smooth, sweeping motion, and apply thin coats. You can always pass over a section more than once. Several thinner layers are better than thick coats to achieve an even finish.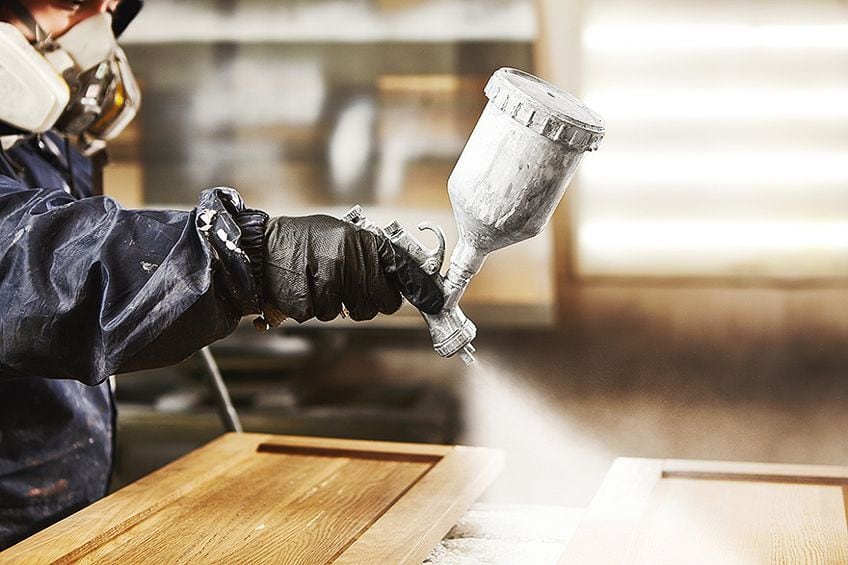 How to Clean a Gravity Spray gun
So, the spray painting project is done and now you are left with an air spray gun that is full of paint. You might be thinking that the fun is over, and the hard work is now looming in front of you. However, if you follow the steps for cleaning an HVLP gravity feed spray gun, it should not be that difficult. Cleaning your spray gun is important, as you want it to last a long time.
Just like most things, you need to apply good maintenance for the best results.
The first thing you need to do is to make sure you start the cleaning process as soon as possible. You do not want the paint to dry as this will make the job more difficult. Any paint that clogs the spray gun, will affect the spray gun if used again and if not cleaned properly, the spray gun will not function properly. Begin the cleaning process straight after you have finished painting, once you have learned the clean-up process, the next time it must be done, it will be much faster and easier.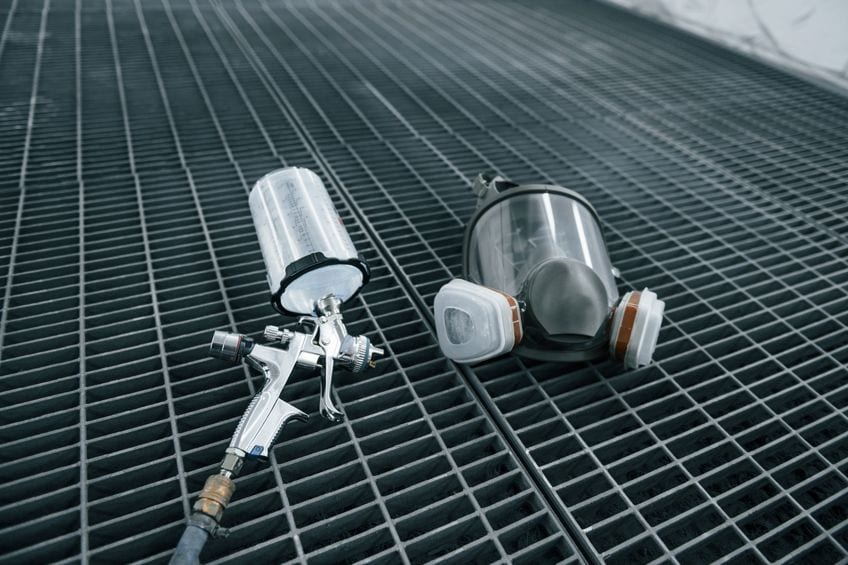 Disassembly of the spray gun is not complicated if you do a little research on your specific gun. You should be able to get information from the user instruction manual, or you can have a look online where there is plenty of resources. Each spray gun is made differently, and you will need to familiarize yourself with the components. Careful not to damage any of the parts as reassembly will be difficult or impossible.
When cleaning, try to keep the more delicate and smaller parts separate from the larger parts.
Material Needed for Cleaning
When cleaning your air spray gun, you will need a few things to complete the process. Some of these items should already be available, or you can purchase a cleaning kit, which should have everything you need. Some of the gravity spray gun products also come with cleaning brushes and even a wrench to help with disassembly. Some of the things you will need for cleaning will include the following.
Warm water and soap
Protective gear: Goggles and gloves
Thinner for paint
Rags and paper towels
Cleaning brush
A plastic bucket
Toothpicks
Wrench
Taking the Gravity Paint Gun Apart
Remove the paint holder from the spray gun body and leave it to dry. You can then take the paint gun apart. Unscrew the air cap and carefully unscrew the paint needle. This is spring-loaded, so hold it in place or it will spring out. Take the wrench and unscrew the inside section of the air cap. As you disassemble, place the smaller spray gun parts separately from the larger ones.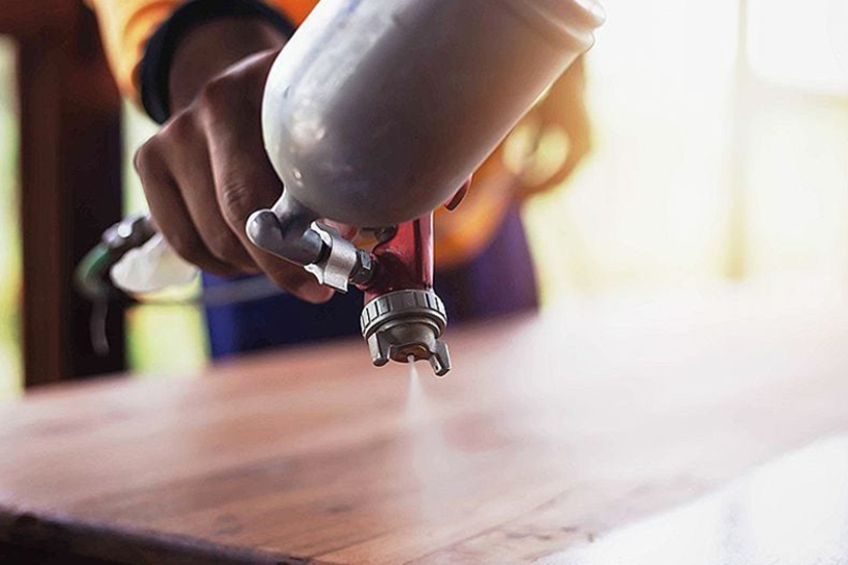 Cleaning the Paint Cup
The cup will have a lot of paint on it, so this will need to be cleaned thoroughly. Fill the cup with cleaning solution and replace the cap, shake, and pull the trigger. Face the paint sprayer towards your bucket so that the paint can spray into it. This will also allow the paint cleaner to run through the paint gun to loosen and remove most of the paint. Take your rag or paper towel and dip it into the paint cleaning solution, use to wipe the inside of the cup. Wear gloves for safety purposes.
Make sure to also clean the inside of the cap.
Cleaning the Spray Gun Parts
Once everything has been taken apart, you can now submerge all the parts in a cleaning solution or paint thinner. You can also use soap and water for this process. The important thing is to handle the parts carefully, you do not want to damage anything. So, take the larger parts like the gun body and the cap parts and submerge them in a bucket together. The smaller and more delicate parts like the needle in a separate container.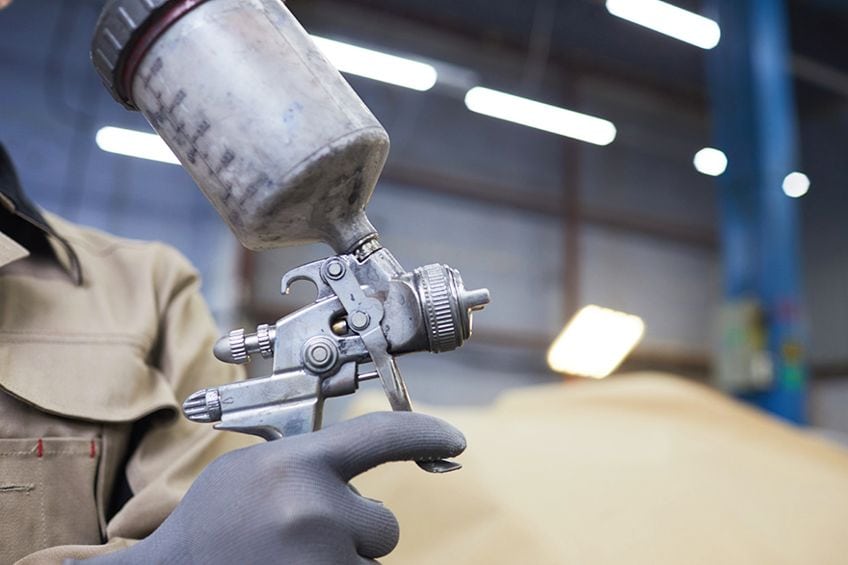 Once it has all soaked for a few minutes, you can remove everything from the cleaning solution and place it onto some paper towels. Now you can use the brush as well as the toothpick to get all the stubborn paint off. You can use the toothpick carefully for smaller grooves and ridges. Take a rag with some cleaning solution and wipe the spring and fluid needle gently until properly cleaned.
Assembling the Spray Gun
The last step is to put everything back together. Your first step is to place the spring and needle back into their proper place. Replace and screw the inner cap then the outer back on. Take the paint cup and place it back onto the body of the spray gun. Once you have done the entire cleaning process once or twice, it should become easier and faster the next time you have to do it.
Our Tips and Tricks for Using a Gravity Spray Gun
Using a gravity spray gun is a learning process and proper technique may take some time to perfect. Once you have learned the basics, picking up a few tips and tricks can help you to produce the best finish possible.
If you do not want to mess on other surfaces, tape them off before starting
In order to reduce the overspray, use the correct air pressure
To ensure the spray gun works consistently, it is important to maintain the paint spray gun properly
For an even coat, hold the paint gun at a constant distance
Put on protective gear like gloves, glasses, and a mask
To check your spray pattern, first, tryout out your paint sprayer on another practice surface
To make working and cleaning your spray gun easier, try to learn all you can about your paint sprayer
Ensure the compressor or turbine is grounded properly
Always apply light and even layers
There are many advantages to owning and using a gravity feed spray gun. Not only can you use this piece of equipment to paint a variety of surfaces, but it is also very easy to use and clean. After reading our guide, you should feel more comfortable choosing the right gravity paint gun for your unique job, and how to use and clean it efficiently.
Frequently Asked Questions
Are Gravity Feed Spray Guns the Best Choice?
A gravity feed paint sprayer uses less pressure when spraying, which does make it easier to use. This also means there is less paint wasted when spraying. There are also quite a few advantages to using a gravity paint gun. However, a gravity feed paint sprayer will not handle larger jobs as effectively as other paint sprayers. So, it depends on your project and preferences when choosing a paint sprayer. One is not necessarily better than another, it is more about choosing the features that suit your needs.
What Makes a Gravity Feed Gun Different From a Siphon Feed Spray Gun?
The main difference is the method the paint is fed into the paint gun nozzle. The gravity feed paint cup sits on top of the spray gun, while the siphon-feed paint cup fits in at the bottom. The siphon feed spray gun needs quite a lot of air pressure to suck the paint up, while gravity and air help with the gravity feed spray guns.
Do You use More Paint When Using a Paint Sprayer?
When using the best gravity feed spray gun, the amount of waste should be less than other paint sprayers, as more paint reaches the surface and there is less overspray. However, when spraying paint, you might need to buy more paint when compared to using a brush or roller. You do get a better finish and the painting is done much faster with a paint sprayer.
Are you Able to Spray Latex Paint with a Gravity Paint Gun?
Spraying latex paint with a gravity feed gun is possible. You will need to use a nozzle size that is 2.0 mm or more for the latex paint to move freely through. Anything smaller will clog the nozzle and you will not get a smooth finish. You might also have to thin the latex paint for it to work with a gravity spray gun.
Larissa Meyer is a 32-year-old mother and creative spirit since childhood. Her passion for painting and drawing has led her to train as an illustrator and pursue a career as a freelance graphic designer. Larissa is a talented artist who is able to master a wide range of styles and techniques to bring her artistic vision to life.