Best Paint Sprayer for Furniture – A Furniture Paint Spraying Tutorial
This post may contain affiliate links. We may earn a small commission from purchases made through them, at no additional cost to you.
Spray painting your furniture can be a fun and cost-effective way to modernize your living room aesthetic. This exercise can seem quite daunting if you lack the experience, but with some practice and knowledge of the fundamentals, you will soon be on your way to reviving more than just the odd chair and table. While you can also use aerosol spray cans to achieve similar effects, we will be focusing on the use of spray guns to get the perfect finish on your furniture!
Why Spray Paint Your Furniture?
Whether you find yourself looking at your old, worn-out living room sets, or at your local second-hand store eying that antique chair that would look simply divine in your living room, the next thought that pops into your head is often a romanticized idea of what it might look like if you were to bring them back to their former glory. Spray painting is a great way to breathe life back into these items, but this task can seem quite daunting to those with no experience or familiarity with these tools.
However, with a bit of practice and some foresight into the advantages, you might find yourself asking why you ever considered painting any other way.
Advantages of Spray Painting Your Furniture
There are plenty of advantages to spray painting your furniture, and we are sure your trigger fingers are itching to get started, but you should know just how much of a leg-up you are getting by choosing to use a spray gun instead of a brush or one of those antique rollers. So, here are some advantages of using this 21st-century technology.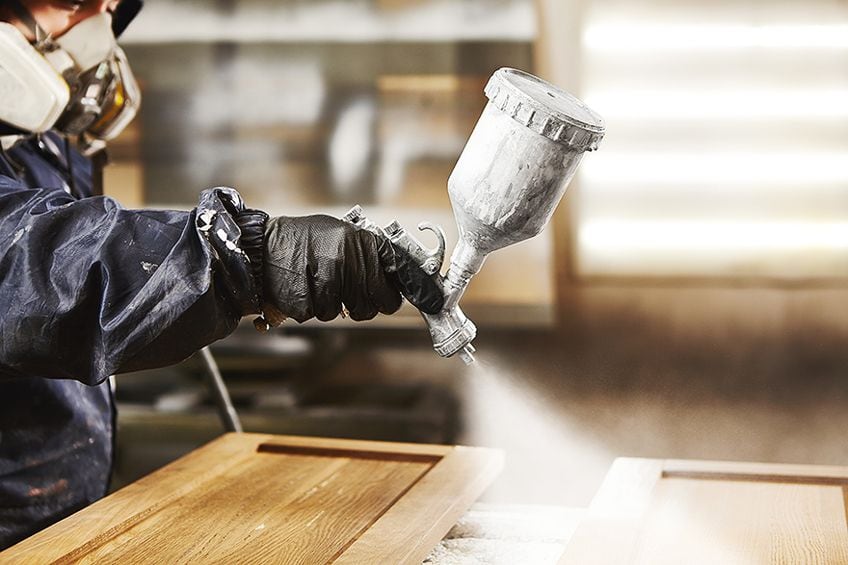 Speed
If you have ever repainted something, whether with a roller or a brush, you know it can be quite time-consuming and exhausting. Spray painting not only limits the range of motion needed to apply paint to a surface but also allows you to cover a greater surface area in a shorter span of time. This means that not only is the application process less strenuous on your body, but it also greatly reduces the amount of time and attention you would devote to complete coverage.
Eliminates Brush Strokes
The finish is ultimately what sets a good restoration apart from a bad one. Brushstrokes can absolutely ruin an otherwise perfect paint job, and getting rid of those pesky streaks can be a nightmare, especially if you are on a deadline. Spray painting removes brush strokes from your list of worries completely by ensuring an even application of paint. This will allow you to focus on the finishing touches without having to inspect every nook and cranny of your project.
Versatility
There exists a paint for every conceivable occasion. Finding the right paint in the perfect color and consistency can prove to be quite the headache though, and these days, who really has the time? Paint for spraying is usually water-based, although you may still need to thin the paint out before using it in your spray gun. Oil-based paints can also be used, provided they are thinned out, in order to provide a more durable finish.
Durability
We think that one of the most disappointing sensations is watching the paint peel off a project you have poured your heart and soul into. This can be demoralizing and an eyesore, but you can simply apply several coats of spray paint as well as a sealant to ensure that your masterpiece is protected through the harshest of conditions. You can get away with skipping the sealant if you are using oil-based paint, as it is more durable and longer-lasting. Regardless of whether your furniture is being used frequently or is exposed to foul weather, your passion project's finish will stand the test of time!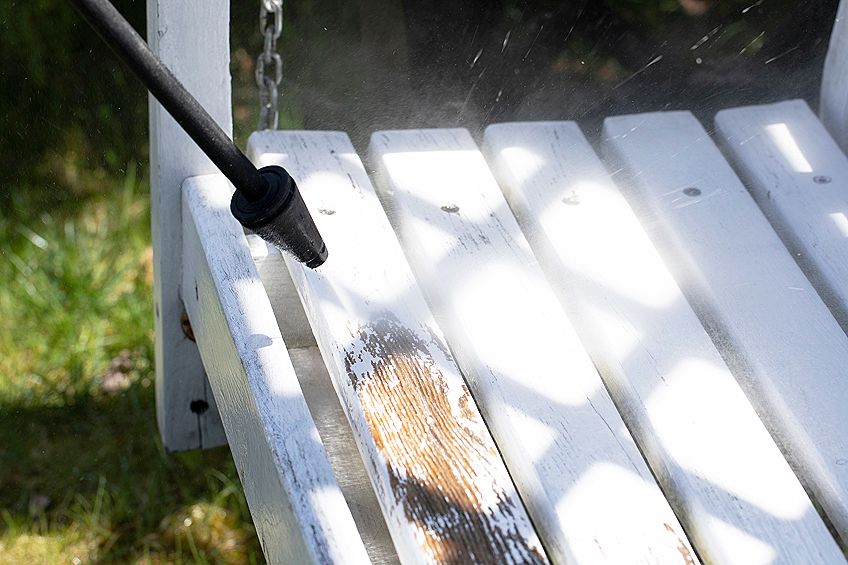 Drying
If you need to paint a variety of surfaces in bulk, we highly recommend using water-based spray paint. Even if your only experience in painting is making a fun card for your mom in kindergarten, you know that waiting for something to dry can be a drag especially if you are crunched for time. Your paint will, however, dry more quickly regardless of whether it has a water or oil base, as the spray gun will distribute the paint in thinner, more even layers than the likes of a brush or roller.
Getting Those Hard-To-Reach Places
Brush painting can be challenging enough when painting something as simple as a door. Painting things with many crevices and facets can take forever, especially when trying to maintain coverage and consistency across those different surfaces. Using a spray painter takes all these problems off your hands – not only do you avoid developing carpal tunnel from trying to reach these places, but the coverage and consistency are vastly improved.
Tidying up
Picture this scene in your mind: You are covered in paint blotches, there are rollers and trays strewn about all over the place and their bristles have become hard during the celebratory coffee break you took when you finished the job. Despite your optimism, your work has only just begun as you begrudgingly start cleaning off your tools and decide where on earth you are going to store all the unused paint. If you had have used a spray painter, the only clean-up would have been cleaning out your sprayer and popping it away while marveling at your latest creation.
Pros and Cons of Furniture Paint Spraying
We have already covered most of the upsides to spray painting your furniture above, but there are some drawbacks to this method of painting as well, so let us weigh up some of the pros and cons. We have taken it upon ourselves to create a short summary below so that you can decide whether using a sprayer is the right move for your next project.
PROS
Faster than using a brush
Leaves no brush strokes
Clean up is virtually non-existent
More consistency
Dries much quicker
Far more versatile
Can be used to apply paint to a variety of surfaces
Durable for both indoor and outdoor surfaces
CONS
Blockage in your nozzle can cause splatter
Can be expensive in large volumes
Your trigger finger can cramp up if spraying for long periods of time
Spray paint is toxic if inhaled, so precautionary measures need to be taken
What Kind of Furniture Can Be Spray Painted?
There are several surfaces to which spray paint can be applied. However, there are different paints for different applications and different preparations needed for specific purposes. Let us have a look at the various types of furniture that spray paint can be applied to and how to prepare them.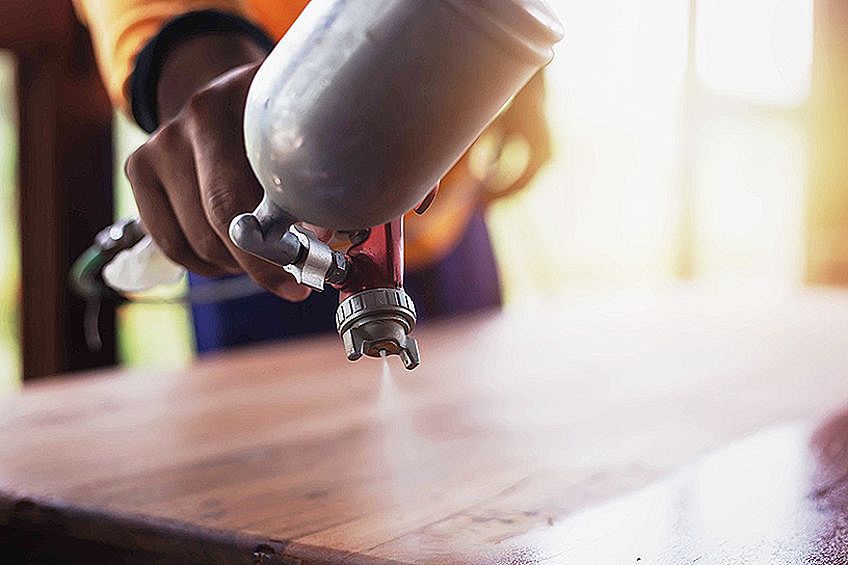 Painting Re-Upholstered Furniture
You are forgiven if you think this sounds like a silly idea. However, painting your re-upholstered furniture is in fact possible despite sounding ludicrous, and is quite a common means of breathing some life back into your old, faded coverings. We would not suggest trying this out on thin or tattered material, though – this process typically works best on materials that simply need a fresh coat of paint. Keep in mind that if you are not doing this yourself, it can be pricey to get it done professionally.
Ceramic Objects
Spray paint is perfect for a variety of ornate decorations. Whether you are thinking about restoring garden ornaments or ceramic pieces to brighten up your interior, spray painting is the superior choice when it comes to spicing up these furnishings. Ceramic is quite brittle, so be careful not to apply excessive pressure when you are sanding and priming these pieces. Also, remember that ceramic has a natural shine, so a finish with a higher sheen is what you should aim for when restoring this type of furniture.
Wood Furniture
Arguably the most common surface to be spray painted, wood is the easiest type of furniture you could choose to recondition with some spray paint. It is easily prepared and takes to both water- and oil-based paints quite well. You are also spoiled for choice when considering the primer, color, and finish. You are limited only by your imagination; however, you should research the type of wood you will be working with, as some techniques work better than others when certain consistencies and grains are used.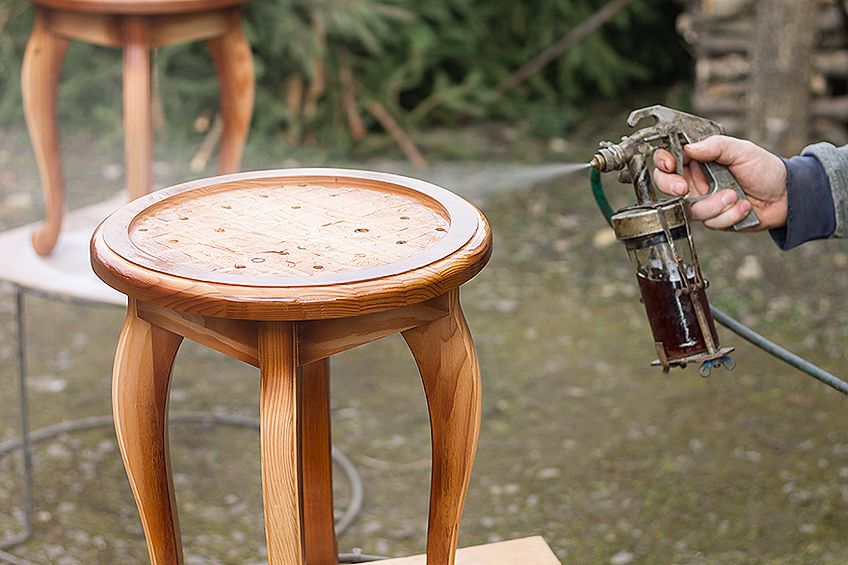 Metallic Surfaces
Do you have a family heirloom that you have been wondering what to do with? Has it seen better days, but you are unable to bring yourself to toss it to the curb? Well, if you are willing to get your hands dirty with some sandpaper, primer, and your trusty paint sprayer, you will soon have a neo-retro piece of furniture that you can be proud of. You have a wide variety of colors and finishes to choose from, so you should have a solid idea of what look you are going for before you begin.
Glass Objects
Should you be feeling a bit more ambitious, you can bring ornate glass pieces back to life by using spray paint as well. You would need a powered sprayer in this instance, especially if the object is small or quite brittle. Simply give the glass a good wash and let it dry off completely. Once dry, give it a once over with some rubbing alcohol and go at it with your sprayer. As with most furnishings, a few even coats are what you are aiming for, and remember that glass spray paint must be identified as such on the label! Otherwise, you will need to apply a suitable primer beforehand.
The Best Paint Sprayers for Furniture
There are multiple things to consider when purchasing a paint sprayer for furniture. Will you be spraying large objects? What type of feed suits your style? Is it easy to store? Are parts readily available? What are the reviews of this sprayer like? You might have even more questions than the above-mentioned, so we have taken it upon ourselves to track down the best high-volume low-pressure (HVLP) paint sprayers for furniture available on the market.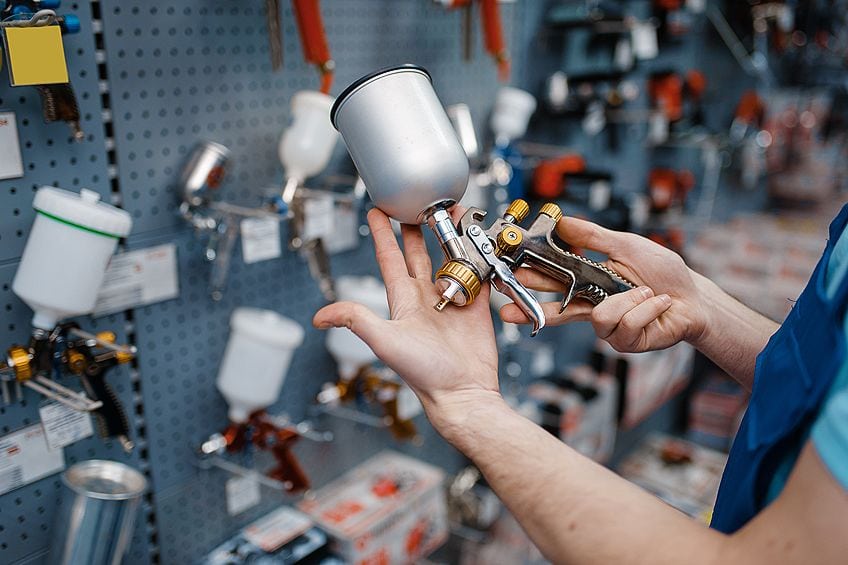 Premium Option: HOMERIGHT Finish Max Paint Sprayer
Whether you are a spray painting veteran or a newbie, it always helps to have a tool that is reliable, simple, and most importantly, easy to use. The HomeRight sprayer ticks all of these boxes and so much more. As you can see, this sprayer is a complete unit with no secondary feed attachment, providing a simple design that is easy to work with. It comes with a range of attachments (for spray pattern adjustment) to suit your needs and its tank is just perfect for mixing colors in both low and high volumes.
An easy-to-use electric paint sprayer that applies a smooth finish

Easily adjustable settings on air cap and material flow control knob

Simple to set up and comes with a viscosity cup for easy measuring
View on Amazon
As with any sprayer designed as a singular unit, it can get quite heavy if you are going to be holding it for long periods of time. This being said, this product is objectively the best paint sprayer for furniture and does its job quite well for its price, especially if you are doing light-to-moderate work on a few chairs, tables, or kitchen cupboards.
One noticeable drawback that is virtually unanimous among reviews is that it can be a bit loud, but if you have ever used an electrical sprayer before, you are probably anticipating the noise of the little 400w motor. We feel that the noise is a small price to pay for what is arguably the best paint sprayer for furniture in this price range. In fact, if weight was not a factor, the only upgrade on our wish list would be to make it wireless!
PROS
Electronic
All-in-one unit
Easy to use
Reliable
Multiple sprayer attachments
CONS
Can get heavy if held for long periods
Can be loud due to electronic impeller
Best Value for money: WAGNER SprayTech Control Spray Max Paint Sprayer
Coming in strong is the impressive Wagner Control Spray Max model, offering the best value for your money when it comes to spray painting furniture. Although this sprayer is not an all-in-one unit like HomeRight, its extra size is used to house a two-stage HLVP turbine.
Uses HVLP

technology to atomize paint and provide a smooth finish

Powerful two-stage turbine allows you to use different paint materials

Customize your paint flow by using the pressure control dial
View on Amazon
The effects of this turbine are instantly noticeable, ensuring consistent pressure throughout the application process, which might leave you feeling a bit spoilt if you are used to a lesser machine. You can also select between three spray patterns at your leisure while taking comfort in the fact that pressure will not be affected.
This sprayer is designed to do anything you ask of it, whether you are refurbishing the dining room table or giving your deck chairs a new coat for the summer. Allowing you to fully customize the paint flow, this product will leave you feeling confident when furniture paint spraying. And, with a 20-foot hose, the size of your project is virtually irrelevant. We feel that this product has irrefutably earned the title of one of the best HVLP paint sprayers for furniture.
PROS
Two-stage turbine
Consistent feed pressure
Three spray patterns to choose from
Robust and powerful
Can tackle projects of all sizes
CONS
20-foot hose can get a bit tricky in confined spaces
Not compact and requires storage space
Not easy to carry around
Most Versatile: REXBETI Ultimate-750 Paint Sprayer
The Rexbeti Ultimate-750 paint sprayer is yet another fully-electric sprayer on our list. Like the HomeRight paint sprayer above, this is also an all-in-one unit, except that it has an even more powerful 500w motor to ensure even coverage and minimal splatter.
An electric paint sprayer with high power and a precise spray pattern

Extra-long power cord and lightweight body allows for easy handling

Regulate your paint output by adjusting the flow control knob
View on Amazon
Have you ever reached the end of the piece you have been spraying for what feels like forever only to discover that your canister is empty? It is frustrating, to say the least, but thanks to the 1000ml container on the Rexbeti, you will never have to worry about running dry before you reach the end of your project. The sprayer also comes with three different nozzles and three different spray patterns to choose from.
This sprayer is perfect for beginners who are looking to cut their learning curve in half thanks to the comfortable ergonomics of the Rexbeti and its six-foot power cord, which allows you to move freely in tight spaces without being tripped up by or limited by cord length! In our opinion, this means that the Rexbeti is the best paint sprayer for furniture in its class.
PROS
All-in-one unit
Can fit in hard-to-reach spaces
Adjustable spray patterns and interchangeable nozzles
No hose to be wary of while moving about
Ergonomic grip and design
Large paint canister
Instantly usable "out of the box" with virtually no setup required
CONS
Can be heavy when held for long periods
Sound of a 500w motor can be distracting
Cleaning will have to be done more regularly
What to Look Out for When Buying a Paint Sprayer for Furniture
Choosing a spray paint gun for furniture can be troublesome for even the most experienced craftsman. There are many factors you should take into consideration when deciding which furniture paint sprayer is right for your personal or professional use, so we have listed a few common attributes for you to consider before you hit the check-out button.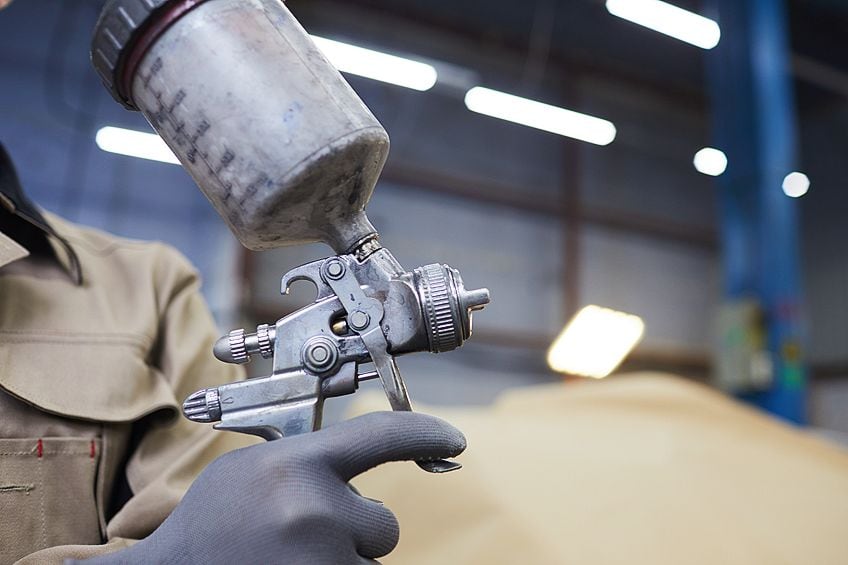 How the Paint Is Supplied
You might remember our second recommendation in our furniture paint sprayer assessment, the Wagner Control Max. This sprayer is equipped with a two-stage turbine to keep the feed pressure consistent throughout the application process, which is an invaluable feature for hobbyists and business owners alike.
Why do we ask? Well, a pressure-feed consistency ensures an even application of paint while reducing splatter and orange peel (concentrated areas of paint), which ultimately makes it a lot easier for you to reach your desired finish.
There are three ways paint can be fed through to your nozzle. Your setup could be gravity-fed, siphon-fed, or pressure-fed, depending on the make and model of your choosing. Each supply method has its advantages and disadvantages depending on what kind of work you intend to do. So, in the interest of giving you the most comprehensive guide to choosing which furniture paint sprayer is right for you, let us have a look at them.
Gravity-Feed Configuration
This is one of the most commonly used feed configurations for furniture paint spraying. A gravity-feed configuration is characterized by the paint canister being positioned on top of the paint sprayer; this means that the weight of the paint in conjunction with the canister facing downward feeds the paint into the body of the sprayer without the need for air pressure.
This is a good thing as this means that all of the air pressure is devoted only to atomizing the paint. This is great if your work environment has a lot of space, and when paired with a compressor instead of a turbine air feed, this configuration is extremely versatile.
Getting this set up into small spaces can be challenging, and with gravity doing all of the work, if you needed to invert the sprayer for some reason you would have an inadequate supply of paint to your nozzle. There are, however, attachments that can be purchased to pressurize sprayers with this configuration.
Siphon-Feed Configuration
This is a common configuration due to these sprayers being readily available. A siphon feed configuration is characterized by the paint canister being attached to the bottom of the body of the spray gun. The obvious problem with this configuration is that gravity is not assisting you in feeding your paint to the nozzle, so how does the paint get to the nozzle for atomization?
Well, as per the name, this configuration pressurizes the paint canister by siphoning air from the body of the gun. This forces the paint upwards so that it can be atomized and applied to the surface of your choosing. In older iterations of this configuration, the canister was not pressurized but instead relied on a vacuum effect from the paint inlet to draw the paint upward for atomization.
Even though this method is no longer used, these are still referred to as siphon-feed configurations. Siphon feeds are great and can prove to be pretty versatile in the right hands and with enough practice. These are typically used by hobbyists and provide great value for money, whether for personal or commercial use.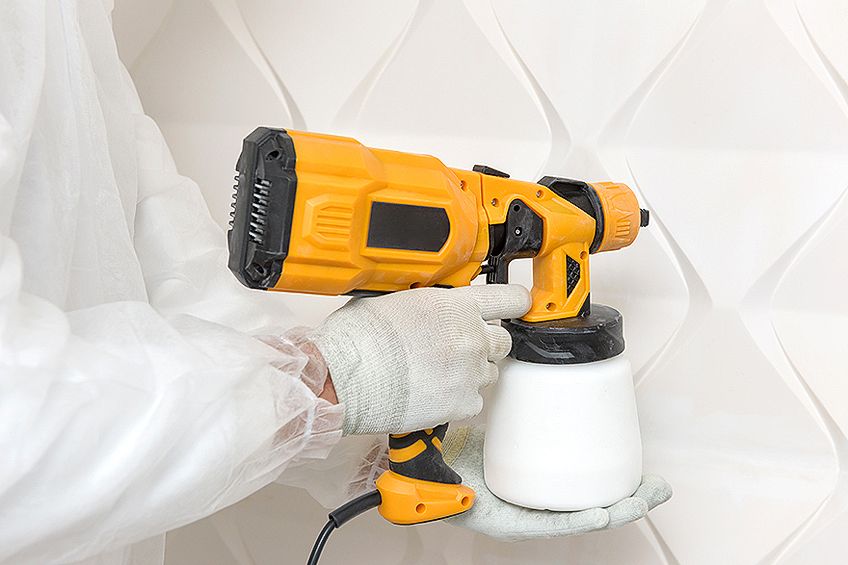 Pressure-Feed Configuration
This is a less commonly seen configuration due to the complexity of the setup. These sprayers can be pricey depending on the brand and quality of the machine, although their most common application is high output work environments where speed and efficiency are the names of the game. The pressure feed configuration is characterized by no canister being attached to the body of the sprayer.
The air source, whether it be a compressor or turbine, feeds into an independent canister which then feeds the pressurized paint into your sprayer nozzle for atomization. This configuration has a number of advantages that the previous two do not.
One of the most obvious advantages being that the sprayer's center of gravity as well as the consistency of paint atomization is not dependent on the position of the paint canister.
You also have the advantage of being able to reach small spaces without the hindrance of a canister rubbing up against surfaces, obstructing your view, or upsetting the balance of the sprayer in your hand. So, what's the catch? Well, maintaining and cleaning this configuration can be time-consuming and exhausting, although when considering furniture paint spraying, this sprayer is the "crème de la crème".
Air Supply
Choosing an air supply is a lot like choosing between an electric stovetop and a gas cooker. They both have their respective advantages and disadvantages, and what you end up going with really depends on what kind of cooking (or in this case, painting) you are going to be doing the most.
Compressors
A compressor configuration for your air supply is best if you already have one laying around for things like clean-up or other tools. Compressors are great because they have a certain amount of air ready to go when you need it – all you need to do is plug in your sprayer and you are ready to go.
On the other hand, compressors can be expensive and tend to take up a lot of space, especially with the size of the unit you will need to supply a spray paint gun for furniture. They are also comfortably portable, although those with a smaller capacity do have wheels attached to them.
Turbines
Turbines are great if space comes at a premium in your work environment. They are easy to store and cart around, especially if your work requires some running about. Although they are powerful and supply consistent air pressure, their storage capacity is nowhere near that of commercial compressors.
The forced induction of the turbine produces dry air, so there is no need for you to compensate for this with a moisture damper in your sprayer. You should, however, also consider the fact that pressure from a turbine cannot be adjusted due to it not having pressurized air "on tap" like the compressor.
Tutorial on How to Spray Paint Furniture
So, you have chosen a spray paint gun for furniture and want to get your hands dirty. We have taken it upon ourselves to provide you with a short tutorial detailing the practical fundamentals of both preparing your workspace and furniture. So, without further ado, let us get right into how you will be restoring your first piece of furniture!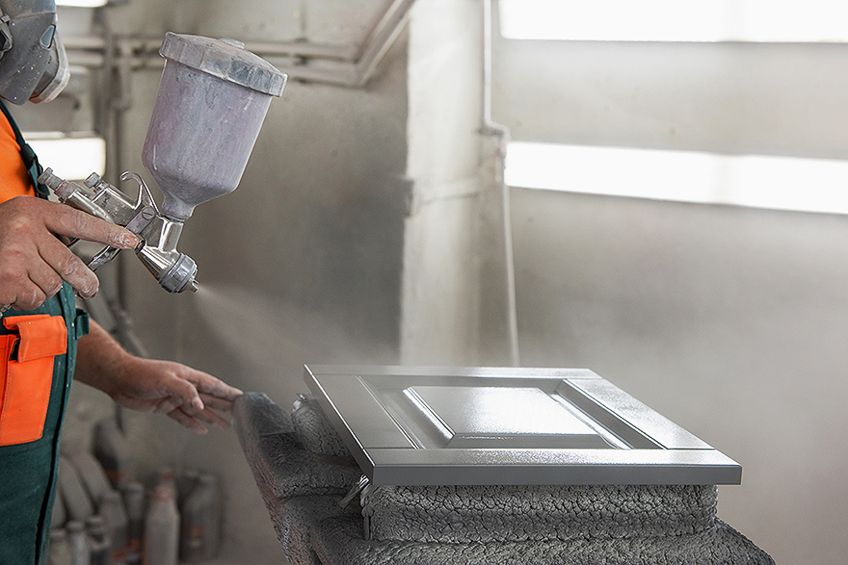 Preparing Your Workspace
Knowing where you will be working and preparing your workspace is of utmost importance. Ensure that you have chosen a well-ventilated area if you are working indoors and ensure (regardless of whether you are indoors or outdoors) that you have covered your work area to catch any stray paint. Once you have prepared your space, ensure that you have everything you need. For your convenience, we have prepared a list for you to keep in mind:
Make sure that you wear a respiratory mask.
Ensure that your air/electrical lines are free of obstructions.
Check that you have a microfiber cloth on hand for cleaning.
Have your power sander and sanding paper on hand.
Check your stock of primer and paint colors.
Make sure that you are using a spray paint gun designed for furniture.
Preparing Your Workpiece
You should start by sanding down your workpiece to the best of your ability If it is your first time you could miss some spots, but you do not need to worry too much about it. As we covered previously, if you have a power sander, it will save you a lot of time on large objects like tabletops and cupboard doors. Once all the major work is done, you can tackle those edges and hard-to-reach places with some sanding paper.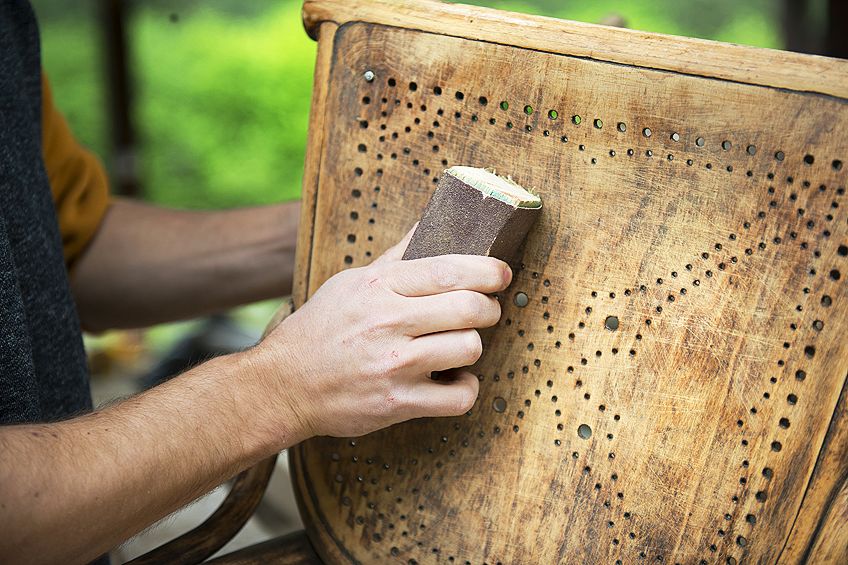 Clean off your workpiece using a vacuum and cloth, after which you begin to apply your primer. Primer helps the paint to bond to the wood surface, ensuring that no paint runs or flakes during the application process. Using consistent, long strokes and working from the bottom of the object up to the top will ensure that you get optimum coverage over your workpiece.
Painting Your Piece
Once you are sure that your surface is clean and that there are no stray pieces of wood on your workpiece, it is time to get to the meat of it. Ensure that your primer has dried and that you are happy with the paint color you have selected. You can then begin with your first coat. Start in one direction and move from left to right (or vice versa), making your first pass with consistent trigger pressure in one seamless motion. Do not hesitate, and once you have completed your first coat, allow it to dry.
Once your initial coat has dried, patiently repeat the process until you are satisfied with the finish you have created. Make sure that you provide enough time for each layer to dry, and once finished, you have the option of adding a clear coat. A clear finish will not only give your workpiece a beautiful sheen but will also protect it from damage. When applying a clear topcoat, the same "spray, dry, and repeat" principle applies.
Tips and Tricks for Spraying Furniture
So, you have decided to pull the trigger (pun intended) and start your first project. Well, there are a few tips and tricks you should keep in mind when taking your maiden voyage into this practice, and we have listed a few below for your consideration. Enjoy!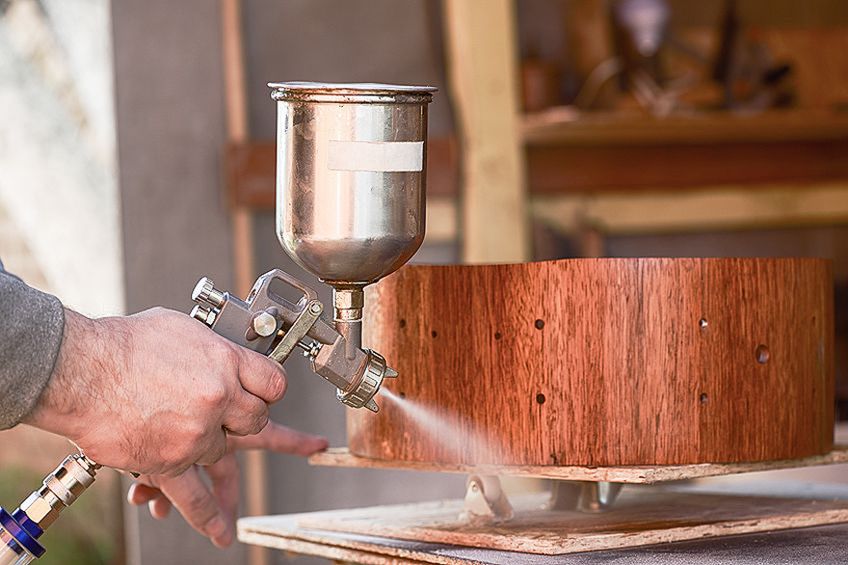 Always Prepare Your Surfaces
You might be in a rush to get started, but we suggest you lower that trigger finger and take a minute to prepare your furniture before you unleash your wrath. Whether it be glass, ceramic, wood, or canvas furniture, always take the necessary steps to the sand and prime your surfaces before applying your first coat.
The absolute last thing you want is having to start from the beginning, and paint stripper is not exactly the most fun thing to work with. Preparation is key, so ensure that you take your time with your priming coats and do more than one layer.
The Importance of Sanding
When working with wooden surfaces, sanding is extremely important to the bonding process. You should always sand your workpiece down to the best of your ability so as to ensure that your primer and first coat take well to the wood. There are a few tips you should keep in mind when sanding your workpiece.
When sanding large surfaces, it would be in your best interest to invest in a power sander. Not only will this save you some elbow grease, but it will greatly reduce the time you spend sanding down larger objects like tabletops. This does not mean that sanding paper is completely useless though – you can use sanding paper to tidy up edges and places where the power sander would have a hard time reaching.
Slow and Steady Wins the Race
Now that you have the fundamentals of preparation down you should practice spraying effectively. It is easy to assume that the technique is all in the wrist, however, for a more consistent coating, you should move your sprayer with your entire forearm. Utilizing this range of motion to its maximum improves control and consistency, and will also allow for better control of your trigger finger to avoid inconsistent density in the application process.
Whether you are applying primer or your first coat, ensure that you are at a comfortable distance from your workpiece. Start spraying from one direction (left or right – whichever you are most comfortable with) at a consistent speed and trigger pressure, allowing some time for each coat to dry.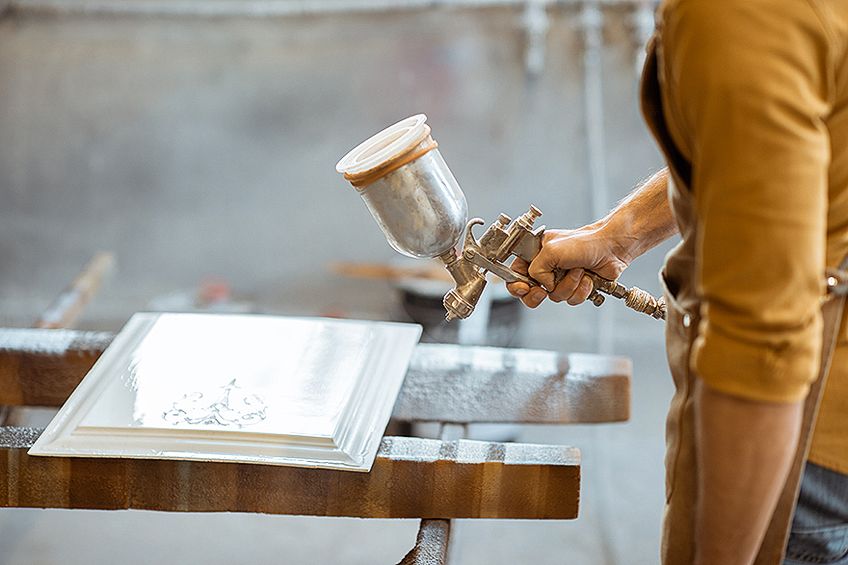 So, Should You Buy a Paint Sprayer?
The answer to this question is purely subjective. Objectively, a paint sprayer is an extremely versatile tool that can end up paying for itself pretty quickly if you end up using it enough to justify owning one. However, this does not necessarily mean that you will regret owning one should you only use it on the odd occasion.
In essence, most paint sprayers (by design) are aimed at those who need to spray large surfaces often and who do not have the time to be fiddling around with brush strokes or streaks from a paint roller, although this certainly does not mean that its value would be lost on a hobbyist looking to take their craft to the next level.
Ultimately, the choice is yours, but we feel that there is a paint sprayer out there for everyone!
Frequently Asked Questions
Do Paint Sprayers Use More Paint?
Paint sprayers do use more paint, a rough estimate being that they use around 30% more paint than conventional brush and/or roller application methods. This could come as a shock to you if you thought you were going to save on some paint, however, the time you will save using a paint sprayer to refurbish your workpiece should compensate for the increase in paint usage.
Do Paint Sprayers Make a Mess?
All of us remember the first time we were given paint for the first time as kids, and subsequently, we might remember the mess we made while exploring this seemingly miracle substance. Using a paint sprayer for the first time can be similar to this, minus anyone trying to eat the paint. Getting used to spray patterns and developing your muscle memory for both consistency and trigger pressure can take a few tries, so it can get a bit messy if you are a beginner.
Do Paint Sprayers Need Special Paint?
This is entirely dependent on the type of sprayer you have or intend to get your hands on. Paints come in different consistencies for different applications, which means that if a paint is a bit too thick, it might not agree with your paint sprayer. If this happens, your air source and spray gun could fail to atomize the paint, leaving you with quite the clean-up job. Always check which paints are recommended for your paint sprayer.
Larissa Meyer is a 32-year-old mother and creative spirit since childhood. Her passion for painting and drawing has led her to train as an illustrator and pursue a career as a freelance graphic designer. Larissa is a talented artist who is able to master a wide range of styles and techniques to bring her artistic vision to life.