Best Acrylic Paint – Looking at Different Acrylic Paint Sets
This post may contain affiliate links. We may earn a small commission from purchases made through them, at no additional cost to you.
When it comes to using acrylics, there are many different brands and recommendations to go on. In this article, we will cover the best acrylic paint sets as well as the best cheap acrylic paint for both beginners and professionals. Stick around for some great product recommendations, as well as the pros and cons for each brand.
What Is Acrylic?
First, let us cover the basics. Many people know acrylic as an easy-to-use water-based paint medium. This is true for many reasons, being that water-based acrylics are easier to use as they can easily be cleaned up. They also do not contain nor require the use of harsh chemicals or toxins while painting. This medium can be used with water or with acrylic paint mediums to change its consistency and color transparency.
Another reason to use acrylic paint for beginners is because of its texture. Acrylic paints are thicker than watercolors and are therefore more durable. Unlike oils, they will not leave a residue or a mess, and they dry fairly quickly. To maintain your artwork, these paints can be sealed with a varnish or fixative much the same as oils, not only to protect them but also to add a glossy shine.
Acrylic paints also come in a variety of color pigments, making them great for blending and color mixing. They are readily available online or in your local art shops and can be found in entry-level or more professional artist quality ranges, depending on your budget and needs.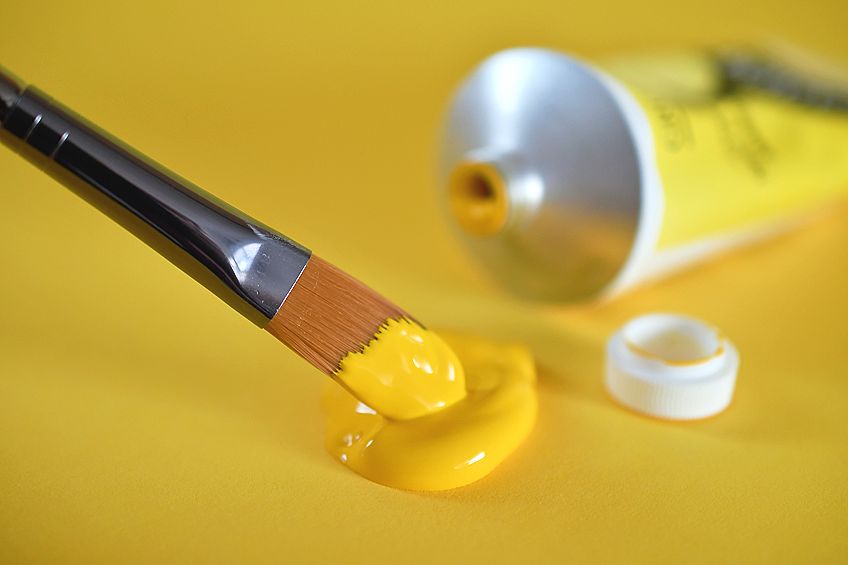 The Different Acrylic Paint Grades
When looking for the best acrylic paint, you will have a choice between two different grades. These grades of paint refer to the overall level of quality that the paint has to offer. Acrylic paint sets are suitable for all levels of artists, and the grading system should be considered when finding the right paint for your needs.
Student-Grade Acrylic Paint
Student-grade acrylic paint is cheaper and better suited for beginners. There are many different acrylic paint sets that are available in a student-grade. This is the type of paint that kids or new artists would choose. So, what makes acrylic paint student-grade?
The first thing is that these paints have less pigment and are mixed with a lower quality binder. This means that the intensity or strength of the color is not as powerful. This is particularly true when the paint is mixed with other mediums. Not only is there less pigment, but the pigment used is also of a lower standard. Generally, this means an artificial pigment that may not be the exact shade you are after. Student-grade acrylics tend to dry a little bit darker too.
Often, student-grade acrylic paint sets contain fewer colors as well. This type of paint is really just for getting started and teaching you the basics of acrylics and how they work.
Artist-Grade Acrylic Paint
Artist-grade acrylic paint, also known as professional-grade acrylic paint, is more expensive. As you can guess, these sets of acrylic paint are better suited towards more experienced or serious artists. What makes artist-grade acrylic paints stand out are the same factors applied to student-grade paints.
First of all, there is great pigmentation. Artist-grade paints contain a much higher level of pigmentation. This means that the paints have brighter, more vibrant colors. Not only this, but the pigments used are of a much higher quality, as natural pigments are often used. This means you get a more even, realistic, and bold coloring from the paint. The paints also use a better binder, which helps to enhance the colors. This provides a smoother, more enhanced consistency. The pigments are also much finer, which offers a superior color coating.
Artist-grade paints are also more durable and lightfast. They have a higher level of resistance to the environment which results in a longer lifespan. These sets are also generally available in a wider range of bold colors. Basically, professional acrylic paints have a higher level of purity and are manufactured with higher-quality processes. This does make them more expensive, however, which is why they are more appealing to serious artists.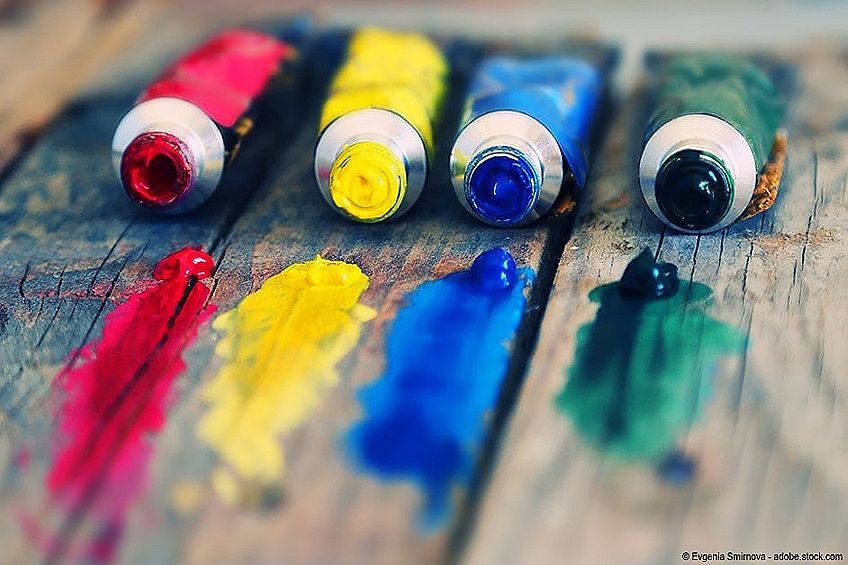 Pros and Cons of Acrylic Paints
There are a lot of different things to consider when choosing the best type of paint for your project. Acrylic paints are an incredibly popular medium for many reasons. However, there are still a few drawbacks to using acrylic paints. We have uncovered some of the main benefits and disadvantages of using acrylic paints below.
PROS
Acrylic paints are water-based, which allows you to thin them with water. Thus, there is no need to use harmful chemicals.
Acrylic paints can be easily cleaned up with water, which means that again, no chemicals are required.
Their mostly non-toxic formula is safer to paint with, which also makes them more suitable for all ages.
Acrylic paints are incredibly versatile and can not only adhere to a wide range of surfaces, but can also be mixed with all kinds of other mediums to get unique textures and looks
Their consistency is easy to work with.
Acrylic paints are durable and long-lasting.
Acrylic paints are generally quite affordable.
This type of paint dries very quickly.
When acrylic paint dries, it becomes water-resistant.
Acrylics hold their bright, vibrant colors for a long time.
CONS
Acrylic paints are difficult to remove from your clothes.
Once acrylic paint has already dried on your brush, it can be difficult to remove.
Often, acrylic paint will dry to a slightly darker shade.
Some acrylic paints can still contain toxins.
Many artists prefer the effects of oil-based or watercolor paints.
The Best Acrylic Paint Recommendations
In order to find the best paints for you, we will look at some various product recommendations and define the benefits of each one.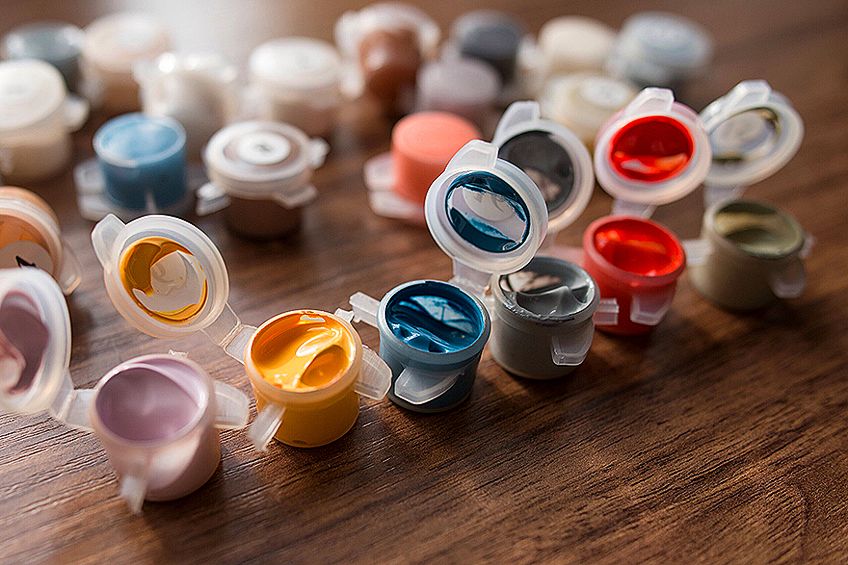 The Best Acrylic Paint Set: CALIART Acrylic Paint Set
As far as acrylic paint sets go, this one is a winner. Caliart put together this set of 24 basic acrylic paints suitable for beginners, kids, students, and professional artists. These acrylics glide on smoothly and have no strong smell. The bright colors blend easily and dry quickly, allowing you to keep layering without much time wasted. This set would be perfect for wet techniques like alla prima. Because of the thickness of Caliart paints, they are perfect for adding texture and using painting knives and other tools for added effect.
Premium

paints that glide on smoothly, dry quickly, and stay beautiful

Colors are of a high quality with rich, vivid, and non-toxic pigments
Creamy consistency allows for high coverage and easy blending
View on Amazon
This versatile range of acrylics can be used for paper, canvas, wood, glass, and outdoor surfaces. Packaged in a sturdy box for easy storage, this set also includes a color chart for quick reference. There is a wide range of color hues within this set, with varying shades of red, orange, yellow, and green. The set also includes a Gray, Titanium White, and Lamp Black. Caliart's acrylic paints come in an easy-to-use squeeze-top bottle so that you can better control the amount of paint you are using. This is what makes this a great painting set for beginners and even kids to use.
PROS
24 bright colors
Easy to use
Creamy consistency and thick texture
Safe to use
Can be used indoors and outdoors
Affordable
CONS
May need to use water or an acrylic medium to thin paint
May need a sealant or varnish for outdoor durability
Best Cheap Acrylic Paint: GOTIDEAL Acrylic Paint Set
Gotideal is offering this amazing set of cheap acrylic paints for beginners or experienced artists. This set contains 48 rich, heavy-bodied color options, ensuring top quality at an affordable price. This set by Gotideal has a creamy and consistent texture, allowing smooth and easy blending and colors that will not fade over time. These paints are suitable for use on various surfaces, including wood and ceramics. They can also be applied easily using a spray brush for better coverage.
Artist-grade acrylic paint set made with quality raw materials
Heavy-bodied with a good consistency for easy mixing and blending
Large selection of colors, with Lemon Yellow, Pthalo Blue, and more
View on Amazon
Being heavy-bodied, these paints will require the use of some water or an acrylic medium for easier blending and application onto your canvas or other chosen surface. However, if you plan on creating thicker and bolder techniques like impasto, then these paints are perfect as is. The color pigments are naturally opaque, but they do take on more of a translucent glow when water or a paint medium is added. These paints are ideal for use by professionals, beginners, and even kids due to it being non-toxic.
PROS
48 top-quality colors
Affordable
Heavy-bodied
Non-toxic
Brighter colors that last longer
Easy to use and clean up
CONS
Not easily spreadable without water or paint medium
Not suitable for use on fabric; will wash off
Best Painting Sets for Beginners: LOOMINI Painting Kit
This all-inclusive painting set for beginners contains more than just your basic acrylic paints. Loomini has created the perfect starter kit of acrylic paint for beginners, so all you need to worry about is having fun! With your purchase, you will receive 24 bold paint colors and 15 brushes in various shapes and sizes, conveniently packaged in a secure and professional zip bag.
Comprehensive painting set designed for use by all artists
Includes a cotton stretched canvas and beechwood tabletop easel
Acrylic paints are richly pigmented, versatile, and non-toxic
View on Amazon
2]
There is also a stretched canvas well as your very own tabletop easel! This nifty little easel has four level adjustments so that you can decide on the most comfortable position while painting. It also has a three-sectioned drawer to store your paints, brushes, and other acrylic painting tools. The best part is that when you are done painting, you can fold everything up in your easel and use it to store things safely and neatly.
Loomini has taken away all the hard work of product hunting with this neatly packaged and easy-to-use kit. They are now also adding in a free sponge and stainless-steel painting knife! This range is safe to use and hassle-free, allowing you the comfort of getting all your acrylic basics in just one simple purchase.
PROS
43-piece acrylic painting set
Includes every tool you will need to get started
Zip bag and foldable easel allow for easy storage
15 different brushes allow for various techniques and detail
CONS
Only one canvas included
No acrylic medium included, although water can be used
The Best Professional Acrylic Paint: LIQUITEX Basics Acrylic Paint Technique Set
Liquitex is famous in the acrylic artistry world, and for good reason. This set of basic acrylic paints is perfect for texture building and heavier techniques. Six basic colors allow for easy blending and color mixing. In this set, you will receive red, blue, yellow, black, and two tubes of white. This will allow you to mix and build on your own colors. This acrylic is thick and will need a paint medium or some water if you would like a thinner consistency. It also provides a smooth, satin finish to your work.
Paint is thick, creamy with satin finish, and has a good pigment load

Acrylic colors glide on smoothly, dry quickly, and stay vibrant

Product is ideal for those learning color theory and color mixing
View on Amazon
Because of their thick texture, Liquitex Basics are great for loading pigments and layers as they will retain your brush strokes and peaks. Included in this nine-piece set is a tub of modeling paste and a painting knife to assist you with your heavier techniques. Your modeling paste will dry hard in order to be carved or sanded when adding different textures. Liquitex has also included a booklet with some easy-to-do techniques and painting tips. Whether you are a beginner eager to start mixing colors or you are looking for professional acrylic paint, this is the set for you!
PROS
Thick paint that is great for texture
Modeling paste included
Paint knife included
Affordable
Two tubes of white to last longer
CONS
Only basic colors included
If using for other methods, the paint will need thinning
Now that we know what acrylic paint sets and ranges to look out for, there are few things you may want to research before officially getting started with your painting.
What to Look for When Buying Acrylic Paints
Before we skip ahead to the good stuff, we need to look at some important factors when purchasing our paints. As with any other project, there are certain requirements you will need to consider in order to get the best results out of your project.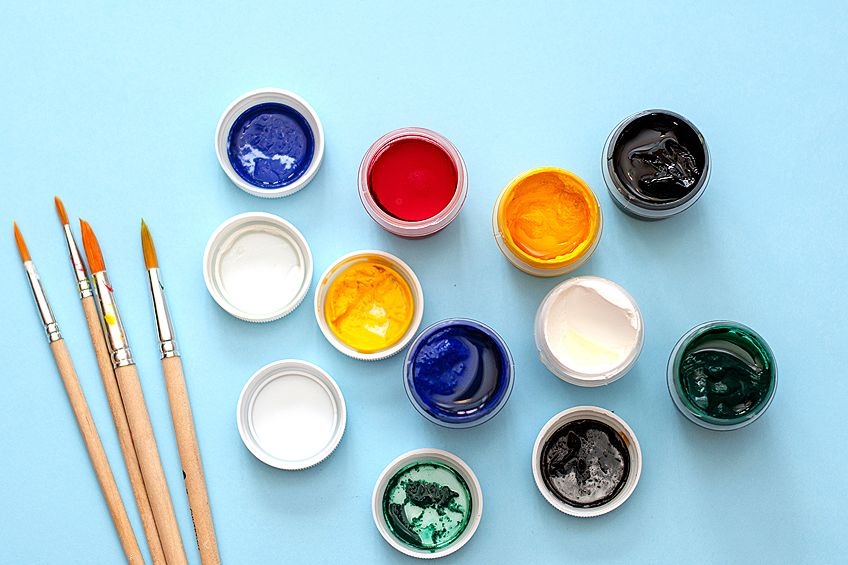 Color Options and Transparency
Just like the quality may vary when you purchase different brands, so will your color selections and saturation options. Many acrylic paints are opaque and quite thick, with only water or a painting medium able to alter this. Many brands also only offer selected color options when purchasing a set, allowing you to make your own color combinations and effects using only the basic acrylic paints.
Paint Uses
Another important factor when looking for what type of paint to use would be the surface you would like to use it on. Most acrylics can be applied to many surfaces, making them the go-to option for people when doing quick DIY or crafts at home. However, being water-based, not all acrylic paints are suitable to every surface or condition, meaning that most acrylics will work better indoors unless otherwise stated.
Consistency and Thickness
Some acrylic paints are so creamy that they seem more like oils. Others are a bit firmer and need some liquid to be activated and made more workable when blending. For this reason, it is a good idea to decide on the techniques you want to use before purchasing your paint. The thicker consistency acrylics are best used for textures, bold strokes, and even carving. They will also leave a shine over your work. The thinner and more transparent acrylics will have an effect like watercolor, and will have more of a matte look when applied onto your canvas.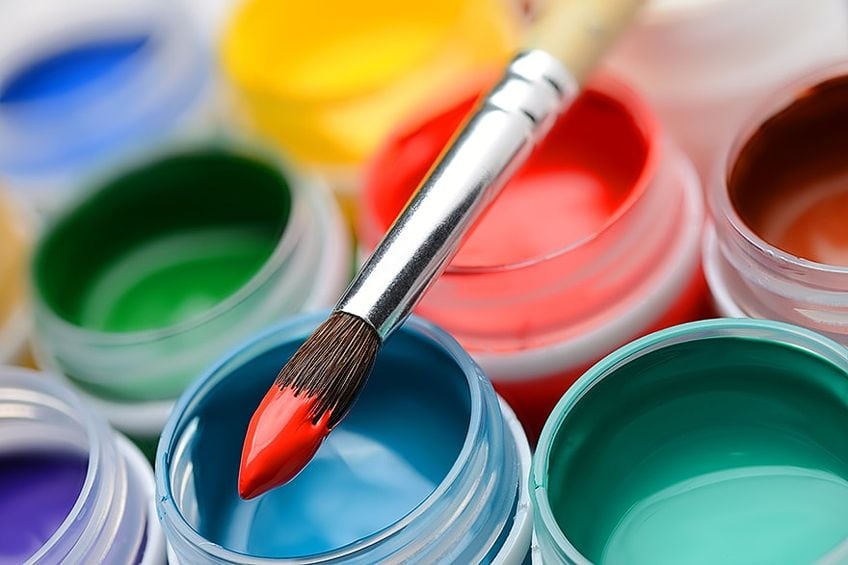 Lightfastness Rating
Lightfastness is a rating that tells you how likely it is that your paint will be affected by light conditions. This is applicable where artworks or items that are painted with your acrylics will be left in the sun. The scale of lightfastness starts at poor and goes all the way up to excellent. Most brands have this scale in plain view on each tube according to each color. If you are going to paint something outside, then you would want to choose a paint that has a high lightfastness rating in order to prevent fading or sun damage. Even when using a varnish or sealant, your paint color will still fade if the lightfastness is of lower quality.
Drying Time
Although acrylic is a fast-drying and waterproof paint medium, some brands do dry slower, allowing you more time to work on things. The nice thing about acrylics is that they can often be reactivated and added to with the help of a little moisture. Using a spray bottle filled with water may come in handy when painting with acrylics. You can spritz it directly onto your canvas or your paints and then mix it in to make them more fluid.
Most brands will tell you on their packaging whether they are quick-drying or if they have added something in order to extend your drying time. If you cannot seem to find a long-drying acrylic option, you can also purchase a paint retarder or fluid medium to allow for more workability and easier blending at home.
Learning to Paint with Acrylics
Here are a few guides to basic acrylic painting that beginners will find useful. These will discuss techniques, colors, tools and everything else you need to know to become an experienced acrylic artist.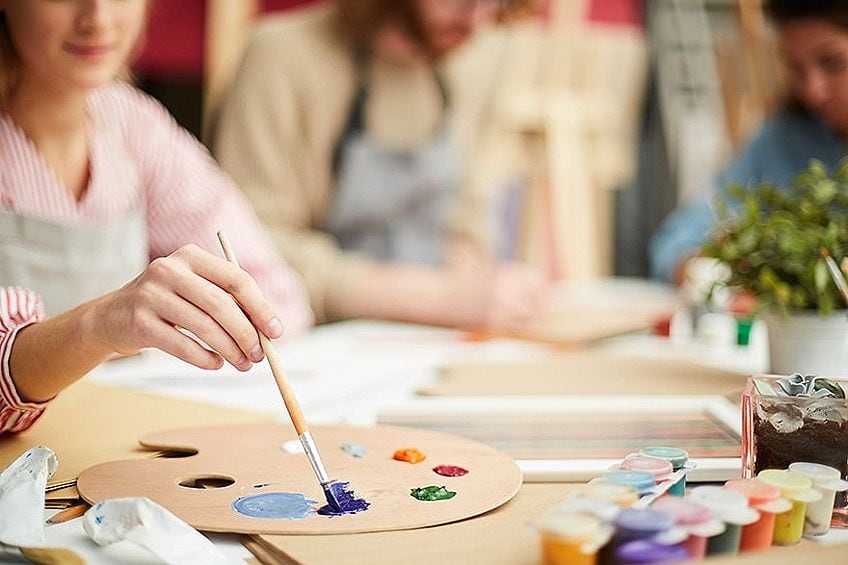 Acrylic Paint for Beginners: Learn to Paint in Acrylics with 50 Small Paintings
This illustrated paperback contains all the information you need to know about acrylic paint for beginners. Including 50 small paintings and tutorials, you will be able to learn all the tricks and techniques of this art form at your own pace. This paperback will allow you to take your time and fully immerse yourself in the world of acrylic paints, thus allowing you to feel comfortable in your materials and techniques before taking on a large piece of work.
Each technique is demonstrated with the creation of a mini painting
Includes an overview of painting fundamentals and illustrated steps
Get a complete course in acrylic painting built up from key techniques
View on Amazon
This book includes the fundamentals of painting as well as individual lessons, which enables you to perfect each technique before moving on to the next. Following each and every tutorial will give you a result of 50 of your own beautiful paintings that you can keep forever. The subject matter of these paintings varies widely, allowing you to become familiar with the likes of abstracts and basic color mixing to that of painting figurative subjects, such as a landscape or a flower.
PROS
Easy to use
Illustrated
Covers the foundation of acrylic painting
Use at your own pace
Cheap
CONS
Only discusses acrylic painting
Paperback option only
Too basic for experienced artists
The Best Guide to Basic Acrylic Paints: Painting in Acrylics: The Indispensable Guide
This hardcover and fully comprehensive guide to acrylics was written by realist artist Lorena Kloosterboer. Here, she walks you through basic acrylic paints, techniques, tools, and surfaces. Lorena also explains priming, prepping, and sealing your surfaces once you are done in order to better preserve your artwork. You will learn exciting color mixing and blending techniques, airbrushing, pouring and other famous methods used by professional artists for centuries.
Learn the technical acrylic secrets of a professional painter
Provides a comprehensive guidance for painters of all experience
Begin with the basics and progress to more advanced techniques
View on Amazon
This beautiful guide will keep you interested and eager to learn more. Including a navigation side bar for easy reference and appendices for product recommendations, this guide offers everything one may need when painting with acrylics. It may be overwhelming for true beginners, however, as Lorena goes into great detail on the painting tools and materials one would need to achieve the best results. So, while it may be more of a challenge, starting out with this guide will certainly give you a broader overview than any other beginner's guide to acrylics would.
PROS
Fully comprehensive guide
Hardcover
Includes detailed information on techniques, materials, and tools
Also available in paperback option
Included illustrations
CONS
Very technical; may be overwhelming for beginners
Acrylic Paint Comparison Table
Before going out and choosing the best acrylic paint set for your project, you will need to understand what sets this type of paint apart from the others. We have put together a basic comparison table below to better understand acrylic paint.
| | | | |
| --- | --- | --- | --- |
| Properties | Acrylic Paint | Oil Paint | Watercolor |
| Toxicity | Acrylic paint is water-based, which makes it generally non-toxic. This type of paint is safer to use than many others and is suitable for children. | Oil paint contains solvents and often has a high VOC count. This is one of the more toxic types of paints to use. | Watercolors are water-based which makes them safer to use. This type of paint is generally non-toxic. |
| Lightfastness | Acrylic paints have a good level of lightfastness and should maintain their vibrant colors for a very long time. | Oil paints are the best when it comes to lightfastness. Their colors are very long-lasting and non-fading. | Watercolor paints are not as lightfast as other types. There is a risk of fading colors over time. |
| Durability | Acrylic paints have a good level of durability. Once dried, they should not crack, peel, or flake. | Oil paints are the most durable. They can stick to surfaces for a very long time without being damaged. | Watercolor paints are very thin. They are generally only used on paper. Dried watercolor paints can be ruined by water. |
| Versatility | Acrylic paints are incredibly versatile. They can be used on most surfaces and mixed with all kinds of other mediums. | Oil paints are fairly versatile. They can only be mixed with other oil paints and should be used on surfaces that have been prepared for oil painting. | Watercolor painting is rather limited to paper and cardboard. Watercolor paints can be used alongside other mediums for unique effects. |
| Colors | Acrylic paints offer many bright, bold, vibrant colors. | Oil paints offer highly pigmented colors that many artists prefer. | Watercolor paints offer very unique coloring effects that you cannot achieve with other paint mediums. |
| Cleaning | Acrylics are water-based, which makes them easy to clean. All you need is water and a bit of soap to clean your brushes or spilled paint. | Oil paints require the use of solvents and chemicals to clean them. | Watercolor paints are very easy to clean up with just water. |
| Ease of use | Acrylics have a very forgiving nature and appealing consistency. This makes them a great choice for kids and beginner artists. | Oil paints are difficult to work with and are often preferred by more experienced artists. | Watercolors are easy to work with and can be enjoyed by all artist levels. However, mastering the different watercolor effects can be very difficult. |
How to Use Acrylic Paint – An Easy Tutorial
One of the major benefits of acrylic paint is that it is such a user-friendly medium. Acrylics are easy to use and can be enjoyed by all kinds of ages and artists. This versatile medium can also be applied to a wide range of different projects. Here are the basic steps to take when using acrylic paint.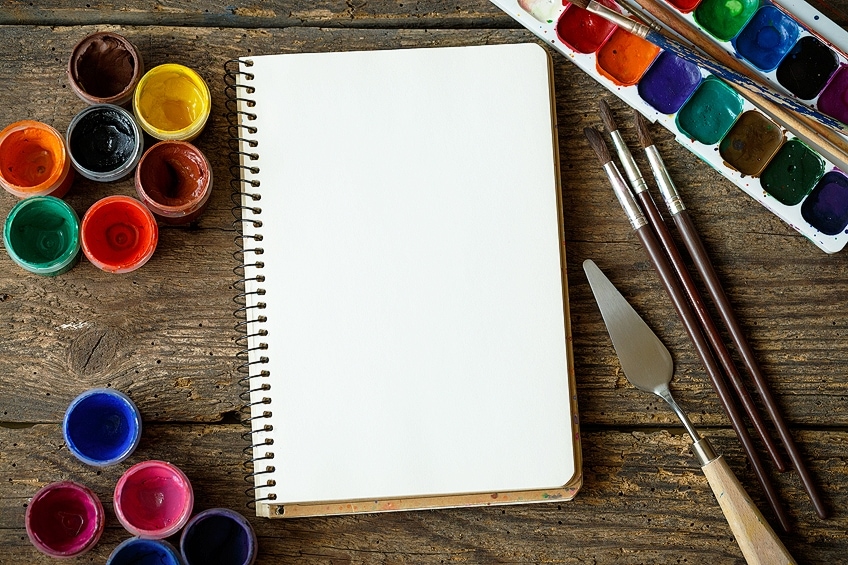 Gather Your Equipment
Before you start painting, you will need to get everything ready. Basic acrylic paints do not require loads of tools to work with. Here are the materials you will need to have ready before you get started:
Acrylic paint: Of course, the first thing to have ready is your paint. This can be in a set of your choice with whatever colors and consistencies work best for you.
Brushes: You will need paintbrushes in order to paint. There are many different brushes available, each one with a unique size, shape, and made from different materials. Having a range of brushes is best as this allows you to achieve the most effects. However, if you are only beginning, you may only have one or two brushes. If this is the case, it is a good idea to get a round brush in a small or medium size. Smaller brushes are good for details, and larger brushes can paint broad strokes.
Palette: This is used for mixing your paints on.
Palette knife: A palette knife helps you to mix colors efficiently and it can even be used to apply the paint to the canvas. Palette knives are cheap and essential for acrylic painting.
Your painting surface: You will need something to paint on. Usually, artists will choose a canvas. However, acrylics can also be used on paper, plastic, glass, cardboard, wood, and more.
Water: Acrylic paints are water-soluble, so you should always have a jar of water ready for cleaning your brushes.
Paper: We recommend keeping a piece of test paper available. This can be used for testing out the paint color and consistency before you apply it to your canvas.
Prepare Your Canvas
We are going to assume that you are working on a canvas. However, this step applies to any work surface. We recommend applying a layer of gesso to the canvas first, which is important before you start painting. Gesso will help the acrylic paint to adhere better to the surface. This helps the paint to last longer and look better.
Prepare Your Colors
Once the surface is prepared and ready, it is time to start painting. First, you will need to mix together your paint colors. Preparing the colors is done on the palette using a palette knife., You will need a basic understanding of color theory to do this. When mixing colors, make sure that you mix enough for the amount you need. Otherwise, it can be difficult to mix the exact shade again.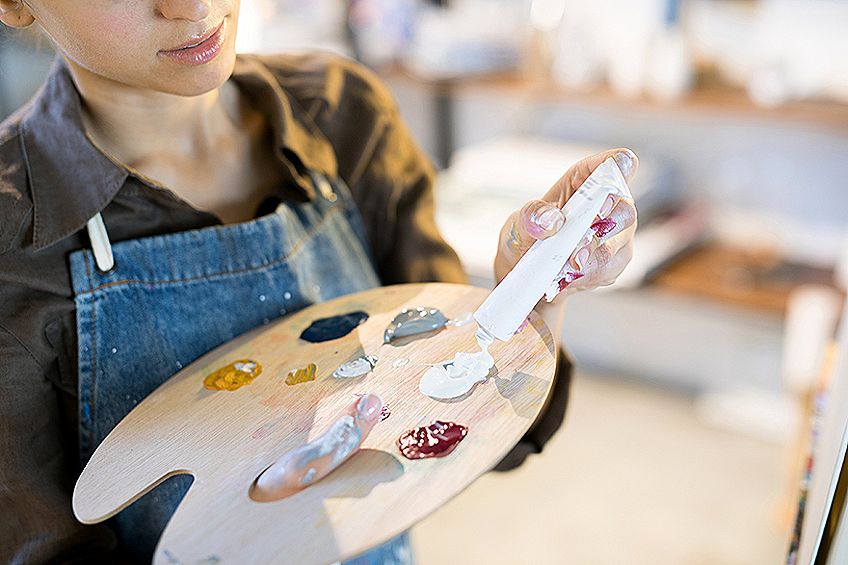 Start Painting
Now is when you let your creativity loose and start creating art. You can play around with different styles of painting and using different consistencies. Some artists like to wet their brushes first, some do not. Try a method that works for you. Just remember to clean your brush before using a new color. This can be done easily with your jar of water.
Leave the Paint to Dry
Once you have finished painting, you will need to leave the paint to dry completely. Luckily, acrylic paint is rather fast-drying, so this is not a long process. Always ensure that the paint is completely dried before you touch or handle the painting.
This is also when you can clean up your work station. As mentioned earlier, acrylic paint cleans up easily and only requires water and a bit of soap. Make sure that all of your brushes are cleaned properly, your palette is cleaned of any excess paint, and that all of your paints are sealed and airtight. If you messed acrylic paint on your clothes, you should try to remove it while it is still wet.
Apply a Fixative
This is an optional final step. Most people will leave their finished acrylic paintings as is because this type of paint is very durable. However, you can apply a final coat of fixative if you would like to enhance the painting's durability even further.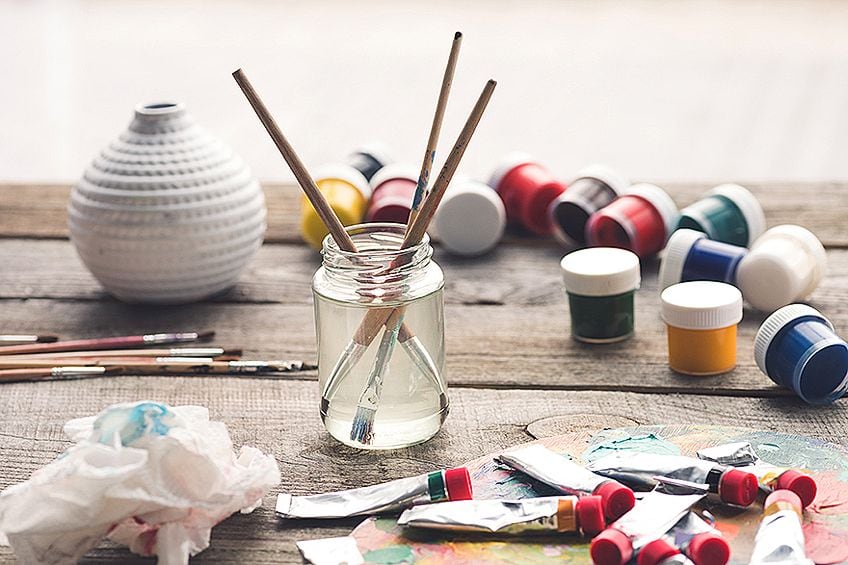 Tips and Tricks for Acrylic Painting
Acrylic paint is certainly easy to work with and very forgiving. To achieve the best acrylic paint finish though, there are a few special tips and tricks to follow. This will help to make the painting process much easier.
If you need to take a break from your painting, then cover any colors you have mixed. Once acrylic paints have dried, they cannot be turned back into usable paint again. An easy way to keep paint from drying is to cover your entire palette in plastic wrap. This is good for short breaks. Otherwise, you can scrape out your individual colors into airtight containers. As long as the paint is kept airtight, it should not dry.
To keep your paint from drying while you work, you can apply a mist of water. Simply take a spray bottle and fill it with water. Apply a gentle mist every now and then to keep the paint wet. This allows you to enjoy a longer working time.
Put attention toward caring for the brushes while you paint. Make sure that you clean them properly after each use and that they dry properly when you are done. Brushes can be expensive, but proper care will allow you to enjoy a long lifespan from them.
Acrylic paint can easily be thinned out with water for different effects. We recommend using a very thin layer of paint for undercoats, and then painting thicker layers of paint on top of this.
We have already mentioned that some acrylic paints can dry to a darker shade. For this reason, you may want to mix your paints slightly lighter. We also recommend using a piece of test paper to get a good idea of how your paints will look when dry.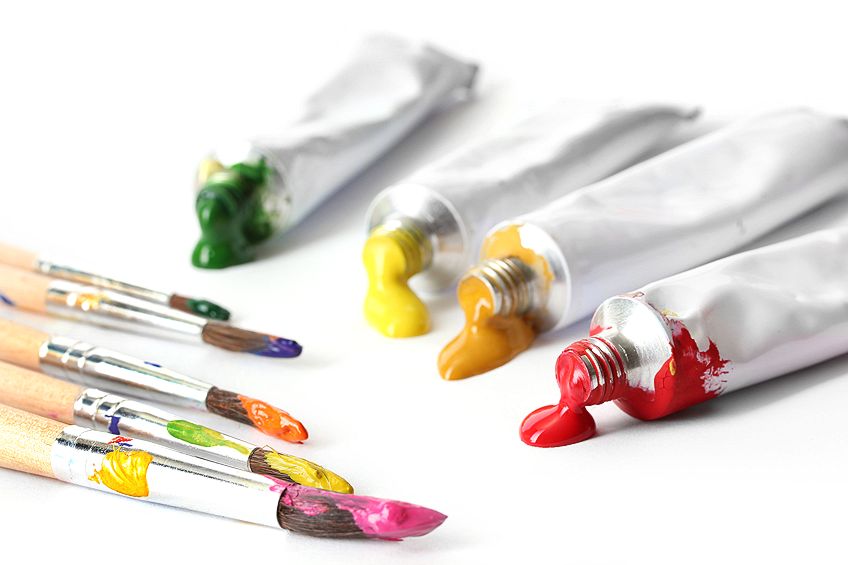 Frequently Asked Questions
What Is the Best Cheap Acrylic Paint?
Acrylic paints come in entry-level ranges, which are cheaper than professional artist quality. The best option when looking for a cheap acrylic paint is to try to find a set that includes the colors or tools that you need. As far as paints go, there are many cheap acrylic options available.
What Are the Basic Acrylic Paints?
Most acrylics come in a set of five or six basic colors. These usually include your primary colors, as well as green, black, and white. The idea is to blend and mix your own colors to expand your painting palette.
Is It Worth Purchasing Acrylic Paint Sets?
Getting a set of paints is always beneficial. A set will last longer and will give you more value for money. In fact, many acrylic sets for beginners also come with other painting tools such as brushes, canvases, and even an easel. The quality of the set will depend on the brand and what they are including.
With all of these great recommendations, you should now have the basics of acrylic paints covered. Being a beginner, student, or professional, we hope you found some useful product tips and resources for the best acrylic paints.
Larissa Meyer is a 32-year-old mother and creative spirit since childhood. Her passion for painting and drawing has led her to train as an illustrator and pursue a career as a freelance graphic designer. Larissa is a talented artist who is able to master a wide range of styles and techniques to bring her artistic vision to life.