Best Art Markers – Reviewing Some of the Best Markers for Artists
This post may contain affiliate links. We may earn a small commission from purchases made through them, at no additional cost to you.
If you are an artist, you already know that the best tools and equipment are important. Using high-quality art supplies does not just ensure that your artwork is of good quality – they also last longer, work better, and get the job done the first time! While sometimes it is not always possible to have the best of the best, ensuring that your primary tools and materials are of high quality is important for us all. It is no different for artists and enthusiasts who use professional markers in their art! Sometimes, choosing the best art markers can be confusing and overwhelming. With so many art marker brands around, how do you know which to choose? Fret no more! We have compiled this extensive article filled with information and recommendations to help you make the right decision. Read on to learn which artist markers and pens are best for you and your unique needs!
Things to Consider When Choosing the Best Art Markers
When selecting which drawing markers to use, you will notice that there are many art marker brands available. There are also many different types of pens, each with its own specialty. But, just as there are plenty of options, there is also plenty to consider! When choosing the best markers for drawing, things like longevity, ink quality, nib type, and pigment solution should all be factors in your decision-making. Let us get into more detail.
Life Span
Longevity is important, especially if you are spending a large amount of money on the best art markers. So, naturally, you would want them to last longer than just a couple of months. When we consider the life span of artist markers, both the nib and the ink are factors. The pricier markers can be refilled with ink, which could be a better long-term investment than a marker that does not allow ink refills. Some art markers also allow for replacement nibs, which is another long-term economical factor you should be thinking about.
Ink Quality and Consistency
The quality of your ink should be a priority. If you skimp on this and purchase cheap art markers, you will likely have pens with cheap, low-quality ink. Poor-quality ink with bad consistency will be difficult to blend, and may also bleed through your paper. Overall, your completed artwork can end up a disaster! A good way to test ink quality is to check for any visible overlap on your paper. If you notice this in your strokes, the ink is more than likely of poor quality. Another issue with low-quality ink is streaking and the inability to create a smooth finish.
Another factor to take into account is how fast the ink dries. If it dries too fast, blending will become an issue, but if the ink dries too slowly, you may end up smudging your artwork accidentally.
Just as important is the consistency of the ink. Should it be too thin, it may pool onto your paper because it flows too quickly from the nib. If the ink is too thick, you may end up with clumps of darker pigment or snags on your page. You want to find artist markers that release the correct amount of ink with a good consistency.
Ergonomic Design
Often overlooked, the design of your professional markers is an important consideration. Perhaps you use markers for illustrations, which means you will be holding your pen for a long and extended amount of time. This is why choosing a pen that is comfortable to hold is very important. There are many options available – some pens are designed in such a way that they fit inside your hand more ergonomically, and others have indentations to help with grip.
Pigment Solutions for Artist Markers
There are generally two types of pigment solutions used in drawing markers. Most artists tend to prefer pens that are alcohol-based because they last longer and blend better. That said, pens with a water-based pigment solution are less toxic and a better choice for adolescents and young children. Unfortunately, water-based markers can fade quicker.
Water-Based Pens
If budget is a factor and you have no choice but to buy cheap art markers, it is better to purchase ones with a water-based pigment solution. These markers are often more affordable than alcohol-based ones, so you may be able to afford higher quality than if you opted for cheaper alcohol-based pens.
With water-based markers, the pigment is based in a water-soluble solution. Sometimes, this solution is purely just water, but it can also be a mixture of water and glycerin.
One major plus when using a water-based marker is the lack of odor and toxins, which makes them ideal for children. Sadly, the pigment tends to be less vivid as they are not as saturated as their alcohol-based counterparts, and they also tend to fade as time goes on. Another disadvantage of this pigment solution is that should any water come into contact with your artwork, the ink may bleed.
Alcohol-Based Pens
The best markers for drawing will always be those with an alcohol-based pigment. They do come with a higher price tag, but good quality is worth the extra spend. The biggest advantage of these markers is that they blend beautifully. This is thanks to the alcohol base, which helps the pigment of the ink sink deeper into the fibers of the paper. This means that artist markers with an alcohol-based pigment will have bolder colors that last a lot longer.
Should you be searching for the perfect pen for coloring in, you will most certainly want to purchase pens with an alcohol-based pigment.
Of course, alcohol-based markers do have a few disadvantages. They may last longer, but they can bleed through a paper that is on the thinner side. Therefore, it is a good idea to use high-quality paper. These pens also emit quite a strong odor as a result of their alcohol base and are considered to be more toxic.
The Various Types of Professional Markers
There are quite a few types of art marker brands on the market, all with different types of inks and various kinds of nibs. Each kind has its own unique properties that will affect your artwork differently. You should be certain of what kind of pen you will need for your artwork before you make your purchase, as every type of marker will result in a different effect, which could make or break your art.
Fine Liner Marker Pens
Most of us have used finer liner pens somewhere along the line. These markers are perfect for finer detailing thanks to their thin nibs and bright, vibrant colors. Fine liner marker pens are a poor choice for shading or coloring in large sections, however, because most of them have a very thin nib of 4 mm or less. If you are on a tight budget, it is recommended that you skip purchasing fine liners and instead choose something that is more versatile.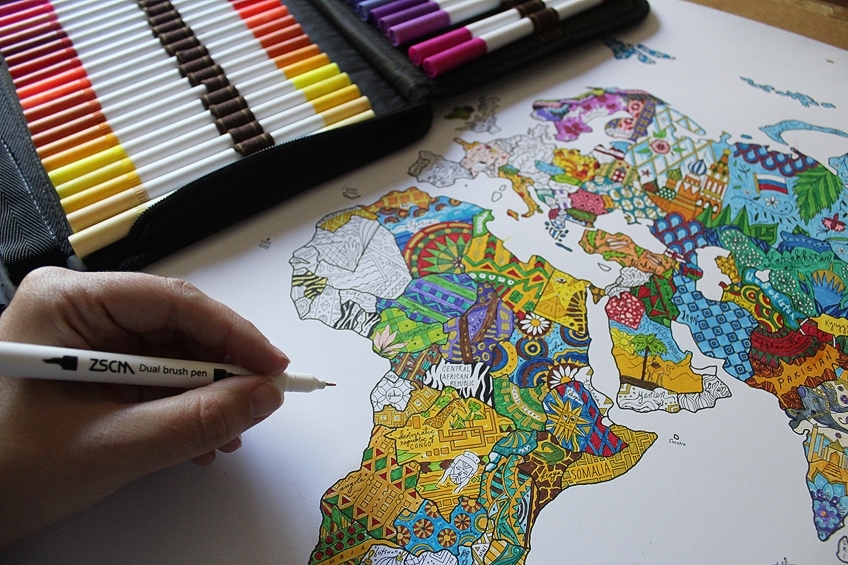 Gel Marker Pens
Similar to the fine liner, gel pens also have thinner nibs and are less versatile. The nib of these artist markers allows the ink to be dispensed through a ball-point tip. Gel pen markers are often available in a beautiful range of colors and various effects. They are suitable for coloring in small areas and work very well for detailed sections or for lettering. Just like we mentioned above, if you are on a budget and need to color large areas, we suggest skipping gel pens in favor of finding something more suitable and versatile.
Brush Nib Marker Pens
If you are looking for the best artist markers with versatility, then you will definitely want to purchase brush nib markers. This type of marker actually soaks up ink that comes from the barrel of the pen. As the nib soaks up the ink, it then dispenses so that you can smoothly write or draw on a sheet of paper.
Usually, the tip of a brush nib marker pen has a diameter of 6mm, which makes them the ideal pen for both finer line work, detailing, and also for shading.
Painterly strokes are also possible thanks to the flexibility of the nibs. This allows for larger areas to be colored easily. Often, the more professional marker pens of this variety come with a dual-tip, one being for finer lines and the other being a brush tip. Most artists will find that these markers are the most versatile and the best value for money artist markers available.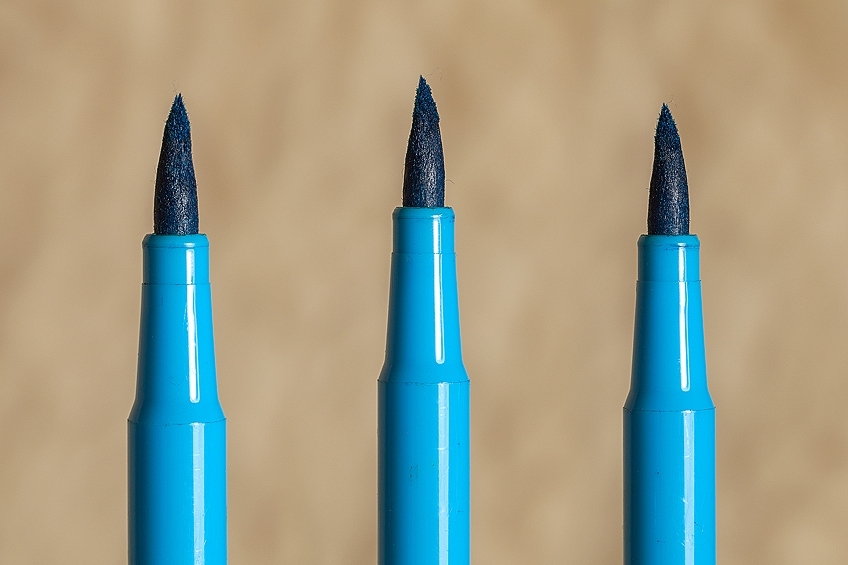 Best Art Markers: Our Recommendations
You may know exactly what to look for, but without testing your art markers, it can be tricky to make an informed choice, especially since there are so many markers available on the market. To make this process easier for you, we have tried and tested many artist markers and created a list detailing which markers work best. Our comprehensive list can be used by everyone, no matter how inexperienced or advanced you are as an artist.
We have also created three sections to make our guide even easier to use, covering fine liners, gel markers, and of course, dual-tip brush markers.
Best Fine Liner Artist Markers
Fine liner markers have beautiful, vibrant colors that are long-lasting. These pens have fine nibs, making them ideal for detailing. Below, we have listed the best fine liners available on the market. Remember, fine liners are not an ideal choice for those on a budget that need more versatile artist markers. That said, if budget allows, fine liners are an incredible addition for any artist!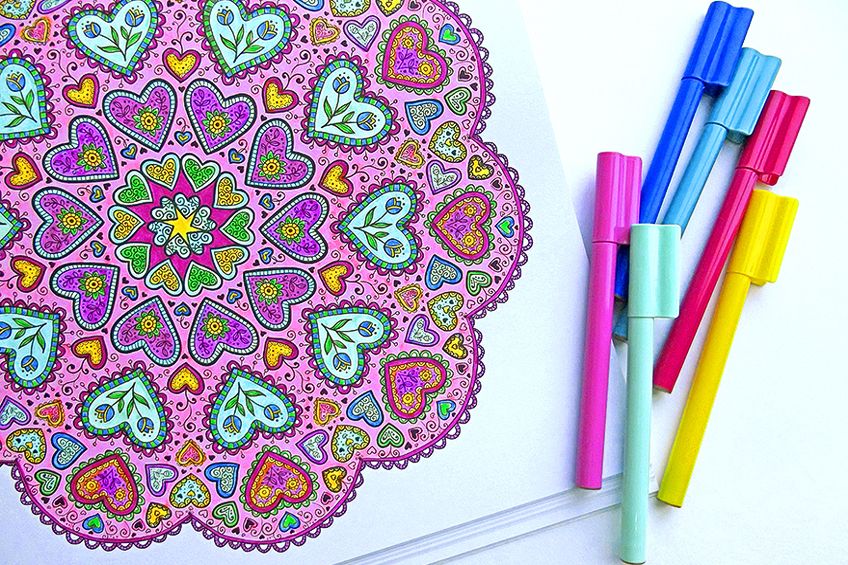 Best Overall: PRISMACOLOR Premier Illustration Marker Set
All artists should buy this art marker set by Prismacolor to add to their tools. They have a range of bright and vivid colors, a handy 5 mm nib, and acid-free ink that stays permanent. There are also other nib sizes available in the Prismacolor range, which makes this art marker set that much more amazing. The fine professional markers are great for the tiniest of details like eyelashes, brows, and other small bits. Unwavering lines with minute details are guaranteed by these fine nibs.
These fine liner pens possess extended tips that are extremely strong to allow for prolonged use. Any artist that needs professional markers that last will adore these pens, as they go on and on!
Richly pigmented ink creates powerful, vivid works of art

Ink is acid-free, lightfast, water-resistant, and will not bleed

Fine point is ideal for creating crisp details and technical applications
View on Amazon
The color and pigmentation of the ink are fabulous. No fading into the background will happen, even with delicate strokes. There will also not be any bleeding through the paper, as the ink dries extremely quickly and stays bright. Smudging will no longer be an issue, even if you use your left hand. In fact, you can even run your fingers over the ink straight away without it creating any streaks.
This ink applies like butter, rolling onto the page smoothly and evenly so that even beginners can appreciate the ease of use. Though these artist markers release ink fast and evenly, they do not create splashes of ink on the page like some other ink markers. The only issue with these professional markers and their fast-drying ink is the pen may dry up after a time, although it usually just takes a good shake to get the ink flowing again.
PROS
Bright colors
Hard and long nibs
Fine, sharp lines are easy
No bleed-through into the paper
Steady ink supply
No smudging or streaking
Budget-Friendly: CRAYOLA Fine Line Art Marker Set
A more reasonably priced set of art markers can be found in this Crayola art marker set, perfect for tight budgets. Both professionals and beginners can use this set to up their art game. A huge spread of rich, luxury colors offers design without obstacles. With a fine 1.0 mm nib that is hard and keeps going forever, these pens are the bee's knees for creating fine and pretty lettering or adding finishing touches to sketches. As with most fine line pens, they are not suitable for shading big areas.
When adding color to a piece, these markers will not create streaking, blotches, or other unnecessary inconsistent parts. The ink dries fairly slowly and evenly, and will therefore not leave some areas darker than others. When dried, the colors remain vivid and permanent. With these fine liner artist markers, the ink will not bleed through robust paper, even with the strong saturation of color.
An assortment of 40 rich and relaxing coloring tools

Fine tip markers contain vibrant ink that lasts

Non-toxic art supplies for artists aged 12 and older
View on Amazon
This is one of the best art marker brands on the market, and it is affordable too!
These pens do, however, dispense their ink quite fast, meaning that you will need to work quickly to stop any pools. This is not ideal, especially if using very thin paper, as some bleed-through will happen. A thicker and stronger paper should solve any of these issues, so we would recommend making sure of the paper strength beforehand. Even with these issues, this fine line artist marker set by Crayola is a very reasonably priced option for those artists on a budget.
PROS
Reasonably priced
A huge 40-color spread
Vivid colors
Sturdy and delicate nibs
Waterproof and permanent
Robust paper will not have bleed-through
CONS
Can create pooling from the fast ink supply
Could bleed through thin paper
Premium Pick: STAEDTLER Triplus Fineliner Pens
At the high end of our list of the best artist markers is the Triplus series of fine liners by Staedtler. Even though they are of such high quality, they are still very affordable, offering great value for money. These pens are not as permanent as some of the others as they are water-based, meaning that they could run if wet. These pens have extremely fine nibs that are 0.3 mm wide, allowing for the tiniest of details. Additionally, the nibs are set in metal, and are therefore very well protected.
Fineliner with superfine, metal-clad tip

Ergonomic triangular shape for relaxed and easy writing

Dry safe – can be left uncapped for days without drying up
View on Amazon
The Staedtler fine liners have a very ergonomic design. A triangular-shaped shaft is made to fit comfortably in your hand, meaning that you can use them for long periods without any pain or discomfort. Their form includes an intelligent mechanism that helps to keep the ink from drying out. The ink also dries very quickly, which means that you will not get any smudges on your paper. This does have a downside, however, in that it is harder to blend because it dries so fast.
This art marker brand has great color consistency, resulting in fewer dark patches and less streaking.
Some artists feel that these markers do not have as much pigment as others, while some have mentioned that the ink can be slightly darker than the label shows. We feel that despite these suggestions, these pens are a brilliant choice for artists that need long-lasting, vivid, and fine markers.
PROS
Not too expensive
Fine and strong nibs
Dependable color
Very little bleed
Great shape
Large range of colors
CONS
Colors can be darker than the label
Colors may fade over time
Less pigment than some other art marker brands
Best Gel Pens
Gel pens are not considered the usual artist markers but, like fine liner pens, they can be extremely useful. The following reviews are of products that are perfect for adding that something extra to a piece, and they can also be used in coloring books. Gel pens come in various colors and special effect types like glitter and metallic.
Best Overall: ARTEZA Gel Pens
The Arteza gel pens are very reasonably priced and have a very broad range. This art marker set includes 60 colors across seven different types of ink, full of inspiration for everyone. It comes in a strong cardboard box and refill cartridges are available as well. With a medium-point 0.8 mm nib, these gel pens are great for crafting, creating beautiful lettering, coloring books, or adding delicate details.
The pens have a triangular barrel for their design, which makes for an ergonomic and comfortable fit in the hand. Grooves on the side of the pen also help with grip and precision, and the clear barrel allows the user to see the remaining ink level. These pens are very vivid and bright, available in seven different types of ink and a large range of colors. The special inks include metallic, glitter-neon, pastel, neon, glitter, and rainbow (where the ink changes color as the pen is used).
Beautiful assortment of 60 unique colors with different effects

Comfortable triangular-shaped barrel for accurate drawing

Acid-free and non-toxic ink doesn't smear, fade, or skip
View on Amazon
Arteza's rich pigments and vibrant colors are great, and will not cause any bleed-through. These artist markers are safe and non-toxic, as well as long-lasting.
This art marker brand says that the pens can be used over 100 times each before they run out. Easily replaceable cartridges mean that you can change out the empty ink and continue working. The nib works very smoothly and no pooling or feathering effects will affect your drawing. This artist marker set has a lot of pens in it, making it great for professionals.
PROS
Many different colors and inks
Super rich pigments
Very reasonably priced
Non-toxic and acid-free ink
Refills are available
Fast-drying and long-lasting ink
Medium-point nib
CONS
A lot of very bright colors, which may not appeal to some users
Budget-Friendly: SAKURA Gelly Roll Classic Ice Cream Smooth Gel Pens
This range of classic gel pens is considered one of the best of Sakura's many artist marker sets, including fluorescent moonlight gel pens, glitter stardust pens, and metallic gel pens. The ink is opaque in some of the pens, which is impressive as this allows it to color over black lines.
The nibs of the pens have a medium 0.8 mm point, although some of the brand's other sets also offer larger and smaller size nibs. The medium point nib is great for doing fine details and creating sophisticated letters. The ink runs smoothly from the ballpoint and it is not likely to bleed through, smudge, or create any feathering.
The original Ice Cream Smooth gel ink invented by Sakura

Archival quality ink is chemically stable, waterproof, and will not fade

No smears, feathers, or bleed-through on most papers
View on Amazon
This art marker set by Sakura has an excellent range of vivid colors, including green, pink, black, royal blue, orange, brown, red, purple, and burgundy – all of the color foundations needed to be creative with your art. The ink in these gel pens is water- and fade-resistant, as well as stable chemically, and will apply smoothly to most types of paper.
These are some of the best art markers out there, as the ink has a very smooth consistency that does not pool, and it also dries fast, preventing any smudging (even if you are left-handed)!
The set is very reasonably priced, providing great value for such an impressive set. Artists that need reliability with a smooth and well-pigmented gel pen for sketching and lettering should check out these Sakura Gelly Classics. They are considered great markers for artists.
PROS
Great color variety
Very smooth
Medium-point 0.8 mm nib
Reasonably priced
Well pigmented
Fade- and water-resistant
Chemically stable ink
Fast-drying
CONS
Smaller range of colors
Not great for shading
Premium Pick: SHUTTLE ART Unique Colors Gel Pen Set
When you need some high-grade gel pens, this art marker set comes very highly recommended. As a professional art marker set, it is extremely extensive, including 120 different colors and seven different types of ink. This art marker set is considered to be one of the best drawing markers, although it is a bit more expensive than others.
The large variety of colors in plain ink are extensive, and then there are also the special inks, which include matte ink, metallic ink, glittery ink, and a great range of pastel colors. This art marker set gives one such creative freedom because of the vastness of the collection. It is safe for children as it is non-toxic and acid-free. The ink also will not dry up or become crusty, meaning that it can be left for any amount of time.
Includes 120 unique colors with seven different color types
Vibrant inks are long-lasting with durable tips for smooth writing
Non-toxic and acid-free with cute and convenient packaging
View on Amazon
These gel pens have a beautiful design that is sleek-barreled with a bullet-shaped medium-point nib of 0.8 to 1.0 mm. The bullet nib is great for adding sophisticated details to finish a drawing or for outlining fine calligraphy.
Because the nib is very fine, shading or coloring is not recommended with these pens. A great case keeps the massive set of artist markers organized and protected. When left for a while, the ink may take some time to flow easily again, so we would suggest that they get stored upside down with the ink on the ballpoint. Also, some of the neon and pastel colors are not as vivid as other inks in the set.
PROS
A massive variety of colored inks
Very reasonably priced
Fine nib is great for calligraphy and finer details
A great case
Ergonomic, comfortable design
CONS
Ink can be sticky after a time and needs to be agitated to flow again
Pastel and neon colors are not as vivid
Best Dual-Tip Brush Markers
The markers covered in the article so far aren't great for shading or coloring large sections. We have therefore collected the three best brush art marker sets that are ideal for sketching, coloring, and large-scale drawings. Only dual-tip brush markers have been included, as these are much more versatile and offer great value.
Best Overall: PRISMACOLOR Premier Double-Ended Art Markers
A very reasonably-priced art marker set is that of the Prismacolor brand, which is of high quality and is often compared to the more expensive Copic art marker brand, which we will cover below. There are, however, several differences to the Copic set, even though they are easy to compare. A well-known international brand, these dual-tip Premier markers by Prismacolor have received great reviews from a lot of artists. These drawing markers can be purchased in various sets, from six up to 200 pens. We are reviewing the 24-pen art marker set because it has all of the colors needed for both professionals and beginners alike.
Dual-ended markers featuring both fine and brush tips

Dye-based ink formula for rich color and superior blendability

Single source of ink guarantees color consistency at both ends
View on Amazon
Supplied in a padded black carrier case, these artist markers are kept horizontally, both prolonging their life span and making them securely portable. They are attractively designed to be sleek with dual-tip versatility for drawing and coloring. A thicker round shaft rests in your hand easily and the cap fits well and will not slip off. A straight line on one end shows the fine nib side and a wavy line on the other end indicates the brush nib side. Both use the same ink in the barrel, which guarantees consistency of color.
One of the top selling points of the Prismacolor art markers is the great saturation of color they provide.
The pigmentation is very dense, which means that one will sometimes get bleed-through on thin paper. The ink can also take a bit of time to dry, so smudging is possible if you are careless. The Prismacolor markers blend very well and apply color as smoothly as butter, leaving no streaks. This allows you to build color easily without breaking your paper.
PROS
Vivid, bright colors
Vibrant color saturation
Easy-to-use dual nibs
Easy to blend
Ergonomic design
CONS
Could bleed through thinner paper
Ink takes longer to dry
Budget-Friendly: ARTIFY Alcohol-Based Art Marker Set
Do not feel bad if you cannot afford the best art markers, as this set of markers by Artify is great for those artists on a budget. And thankfully, these are also very high-quality art markers, giving everyone an affordable option. Artify offers an alcohol-based, very high quality, and super affordable drawing marker. This large set of 40 reasonably priced art markers is supplied in a clear, strong plastic case that is perfect for organization and storage.
The selection of colors has everything that beginners or professional artists would need for coloring. Skin tones, earthy tones, and bright primary colors mean that any artist will have plenty of options to choose from without having to compromise their color selection. The labels also match the ink colors exactly – a fact that should be very well appreciated. These color pens also have great blending capabilities as a result of their alcohol base, allowing the colors to blend seamlessly into each other.
40 vibrant colors with a unique white color

Marker pen's triangle handle design makes it easy to grip

Dual tips allow artists to create various styles
View on Amazon
Even though these art markers cost less, the quality and design are fabulous, making them some of the best markers for artists. They have a strong, rounded shaft, which slides easily into your hand and allows you to color for long periods without tiring yourself or your hands. Their ergonomic size – just the right width – is also great with a good length for perfect control.
Artify's smooth application of ink is consistent in both nibs, making these art markers perfect for creating fast lines with no gaps. Addditionally, the markers will not create any blotches or pooling.
A fine point brush tip is available on one side of the Artify marker, which is both durable and can flex, making it perfect for intricate details and creating sketches. A more chiseled nib on the other side of the marker is better for shading bigger areas and creating blends of colors. There has been a small issue noted with these markers and that is that they can leak a bit, but this is a problem that is easily fixed by storing the Artify pens in an upright position, ensuring that the cap is properly tightened.
PROS
Reasonably priced
Very high quality and value
Perfect for beginners
Easy to blend
Huge set of colors
Strong, durable carrier case
Great ink
Comfortable design and shape
CONS
Could leak if not closed properly
Premium Pick: COPIC MARKER Sketch Marker Set
Copic Marker is considered the best art marker brand, with the highest quality available. They offer the best markers for artists and are very expensive because of their prestigious and reputable pens. Like anything though, good quality costs more and will show in your work. Beginners would probably be wise to steer clear of these until they are more adept, especially if just working with coloring books.
These art markers have very high-quality ink, which is what makes them so sought after. These are some of the best professional markers available for artists at the highest level. There will be no pooling or blotching of ink on the paper, as the ink applies as smoothly as possible and stays fluid for a while. These markers are also refillable, meaning that you could save money in the long run. The refills are quite pricey but will top up your markers about five times, so they are still good value for money.
Packaged in a clear plastic case

Refillable markers and replaceable nibs

Alcohol-based ink is permanent and non-toxic
View on Amazon
The overall design of these artist markers is very good. The pen is shaped like an oval, which is different from the usual round shape. This also stops the markers from rolling off the table. The shape, being so different, will take some getting used to after using round-shaped markers. The markers themselves are stored in a see-through plastic case, making storage and portability easy while allowing you to see the colors at a glance.
The markers have dual tips, with both a chisel style and brush style nib.
The brush nib is softer and more flexible while the chisel nib is better for detail. Both nibs apply ink very smoothly onto paper with no issues of catching or unwanted lines. The nibs are very strong and can offer extended periods of use while remaining soft and keeping their springy touch. The nibs are also replaceable if they get damaged, so these pens are made for keeps – you will not have to go out and buy new ones.
Another massive feature of this art marker set is that they are easily blended when you are using them to draw. The pigments are alcohol-based, meaning that they can be blended over one another very easily, being one of the main reasons that professional artists love these markers more than most others. This artist marker set offers a good range of 12 colors, with all of the basic foundational shades needed. You can also always purchase additional Copic Marker pens individually as in a set.
PROS
Best quality ink
Strong, replaceable nibs
Ergonomic oval design
Dual tips
Ink is refillable
Easily blendable
CONS
Pricey
Limited value in the color selection
As you can see, there are many options of art markers available to suit every artist's desire! No matter your budget or your skill, there is the perfect art marker set for you. We hope that our simple break-down of products above will help you make the right choice, and help you to choose the perfect professional markers for your artistic needs!
Frequently Asked Questions
Which Pigment Solution Is Best for Artist Markers?
Water-based pigment markers are generally more affordable than alcohol-based markers because their colors fade more easily. They're also not water-resistant and do not blend as easily. Most of the professionally used markers have a pigment base that uses alcohol.
What Is the Best Way to Use Artist Markers?
Artists, illustrators, and designers like to create bright, vibrant work that cannot always be achieved with coloring pencils or paints. A lot of artists use artist marker sets to write beautiful calligraphy or work on large areas of coloring and shading. These art markers are highly regarded by a lot of artists since they apply color very smoothly and are easy to blend the colors.
Do I Need to Use Professional Markers for Artists?
As a professional artist that likes to make vibrant and beautiful sketches as well as colorful illustrations, you would need art marker sets that could bring your artworks to life. Normal coloring markers like highlighters do not in drawing smoothly onto paper. The well-formulated artist marker brands are good for blending colors, as well as drawing smooth lines with durable nibs in brightly pigmented colors. The best artist marker sets also have nibs that can be replaced and ink refill options, which add longevity to the set.
Can I Use Sharpie Artist Markers for Professional Drawing?
Sharpie markers are great for drawing on many surfaces as well as being a long-time established brand. Some are also refillable and their nibs can be replaced if they break, adding more advantages to this well-known art marker brand. Some Sharpie pens do have heavily saturated inks which will bleed through some normal paper types, so you will need to find options that were designed for normal paper before putting them to use.
Larissa Meyer is a 32-year-old mother and creative spirit since childhood. Her passion for painting and drawing has led her to train as an illustrator and pursue a career as a freelance graphic designer. Larissa is a talented artist who is able to master a wide range of styles and techniques to bring her artistic vision to life.