Acrylic Paint on Metal – How to Paint Metal with Acrylics
This post may contain affiliate links. We may earn a small commission from purchases made through them, at no additional cost to you.
Acrylic paint is quite popular because of its versatile properties. You can use your acrylic paint on a lot of surfaces. However, some surfaces require some sort of preparation so that the acrylic paint can stick easily. Metal is one of the surfaces that need a lot of preparation before applying acrylic paint on it. This article will elaborate further on how you can use acrylic paint on metal.
Is Acrylic Paint Suitable for Metal?
You can only effectively use acrylic paint on metal when you have prepared the surface first. Acrylic paint is suitable for many projects and makes the art of painting much more enjoyable. This means that acrylic paint is suitable for patio furniture, fence, screen doors, stools, shelves, cabinets, wall décor, and garage doors, and so on. This is because the paint is quite affordable and it does not require a lot of tools and equipment for application.
Best Acrylic Paints for Metal
Rust-oleum brand provides most of the top-rated acrylic paints for metal. These paints can be categorized into three groups, thus the best overall high-performance enamel spray, the best universal spray (containing the paint and primer in one), and the best rust protector.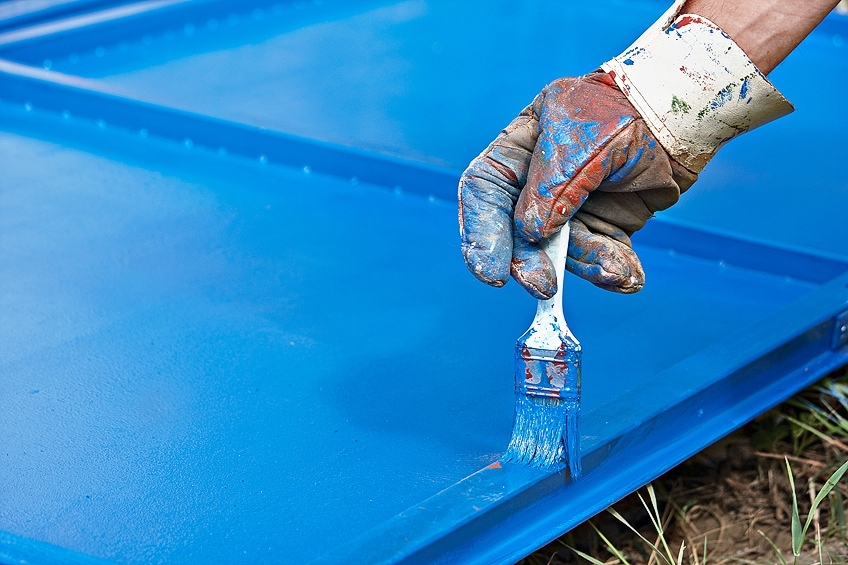 Best Overall: RUST-OLEUM Professional High-Performance Enamel Spray
This spray paint enables protection from wear and tear, including other environmental factors. It is highly effective and attractive, and offers a smooth, superior surface finish. This spray has a high level of resistance to rust, abrasion, fading, and so on. The spray bottle comes with a spray tip that is flexible enough to spray from any angle with much ease.
You can use this enamel spray paint either indoors or outdoors, as it is suitable for both ferrous and non-ferrous metals. It dries very quickly, making it suitable to touch in just 15 minutes. It provides an amazing and glossy reflective finish. In addition to metal, the product is also ideal for wood and masonry.
Provides rust protection and a tough attractive finish

High quality, durable oil-based formula

Consistent, corrosion-resistant color in spite of the elements
View on Amazon
Pros
Great value for money
Strong adhesion qualities
Very easy to use
High levels of durability and sheerness
Offers a 50% fast coverage
Can be sprayed from any angle
Dries very fast
Cons
Finish is not always consistent
Best Universal: RUST-OLEUM Universal Hammered Spray Paint
This product is a two-in-one combination of paint and primer. Apart from metal, it is suitable for a variety of surfaces including wood, vinyl, plastic, and so on. It has an oil-based formula and strong adhesive properties. It dries very fast and you will be able to touch it in only 30 minutes. It is rust-resistant and can enhance the durability of the surface. This universal hammered spray paint also has the ability of hiding marks and imperfections from the surface. Note that you have to shake the bottle of paint for a minute before using it.
Works on virtually any surface

Oil-based formula with excellent adhesion p

Prevents rust and corrosion for enhanced durability
View on Amazon
Pros
Suitable for both indoor and outdoor use
UV-resistant
Offers superior coverage
Highly durable
Works on a variety of surfaces
Best Rust Protector: RUST-OLEUM Stops Rust Protective Spray Paint
This is a beautiful spray paint that has been specifically designed for both outdoor and indoor use. You can spray it from any angle with great ease, and it is even suitable for hard-to-reach areas. It comes with a tip that is comfortable enough for the finger, thus you can spray it very easily with no problems of finger fatigue.
Weather- and corrosion-resistant coating

Excellent resistance to abrasion, fading, and chipping

Flat finish minimizes surface imperfections
View on Amazon
Pros
Offers superior coverage
Prevents rust
UV-resistant
Withstands weather and other elements
Resistant to chipping, peeling, and cracking
Highly durable and corrosion-resistant
Cons
Not suitable for beginners
Tutorial Guide on Painting Metal with Acrylic Paint
Before you begin the process of painting, ensure that you have read and understood the manufacturer's instructions on the type of paint you want to use. This will enlighten you on how you should prepare your surfaces first before applying the paint. The following is a short tutorial guide on how you can apply acrylic paint to metal.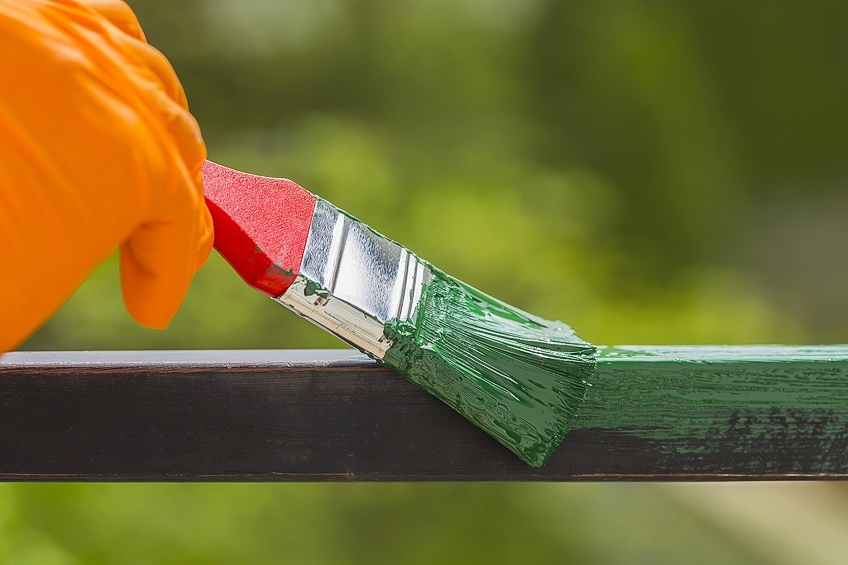 How to Prepare the Metal Surface
Always clean your metal surface in preparation for the painting process. Cover all the areas that you will not be painting with masking or painting tape. For example, doorknobs, door hinges, or any other fixtures that should be paint-free during the process. Make sure that you tape every place well so that they will remain paint-free.
Wear protective clothing while removing rust or any old paint. Make sure that you put on a protective mask, especially if you are dealing with dust. You can opt for a wire brush to use in stripping down layers of old paint from the metal. Keep a damp cloth nearby so that you can use it in wiping off dust and dirt particles as you do your project.
Use fine-grit sandpaper to clear any old paint and residue from the surface. Use an old rag to wipe the surface clean. You can dispose of the rag after use. You can use soapy water to wash the surface clean and leave it to dry. Sandpaper is the best choice to get rid of any uneven surface portions, thus making it smooth.
Wipe it again with a damp rag that is clean. Always ensure that you thoroughly clean the surface so that your project will not be compromised in any way. Proper cleaning will also enable your paint to stick to the metal. You can also use a detergent mix to ensure that all oils have been properly wiped off the surface. Alcohol wipes also work very well when cleaning the surface and they make the process a bit faster. Then, leave it to dry again.
How to Prime the Metal
For this process to work effectively, you have to apply a primer. Opt for a primer that is highly compatible with acrylic paint. Make sure the primer has been specified for metals. Using the wrong primer will not produce your desired and expected results.
Choose a primer that is suitable for the paint you will be using. It is best to buy a universal bottle that contains the paint and primer in one bottle. When buying a primer, choose a product that you can apply with ease. Primers come in a variety of containers that include spray cans, buckets, or cans. Your choice of container will also determine the type of tool you have to use during the application. You can use a brush to apply primers that come in buckets and cans.
Begin the process by applying two coats, being sure to wait until the first coat is dry before applying the second one. It is very important to stick to the manufacturer's recommended drying time. Once your surface has dried completely, you can begin the process of applying your paint.
It is advisable to put a double coat of primer when dealing with a metal surface. This is because the metal surface is mostly prone to oxidization. Two coats of primer will ensure that your surface is protected from wear and tear and from being exposed to chemicals. A double-coat primer also enables your paint to stick well to the surface. You can opt for the primer below for better results.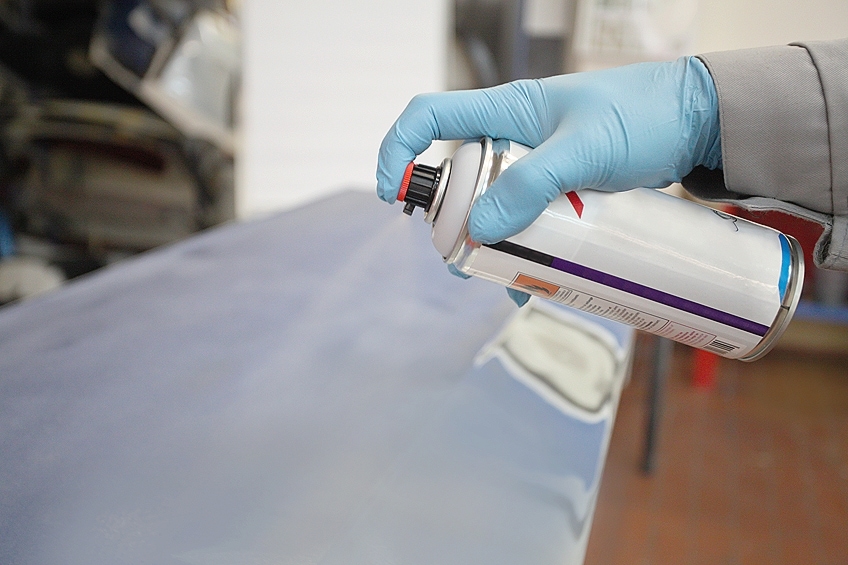 RUST-OLEUM Flat White Clean Metal Primer Spray Paint
This bottle of metal primer can protect both your indoor and outdoor metallic surfaces from rust. You can apply it directly over rusted metal or you can use it on any painted metals to enhance durability and protect the surface from corrosion.
Weather- and corrosion-resistant primer

Oil-based formula provides a durable protective coating

Creates a flat, white finish that can be covered with any topcoat
View on Amazon
Pros
Great value for money
Very easy to use
Comes in proper packaging
Cons
Runny and watery
Dries slowly
How to Paint and Seal Acrylics
For the painting process, you can use interior or outdoor acrylic paint. Begin the process by applying two coats of paint. Wait until the first coat has dried properly before painting the second coat. If you are using colors, then paint on top of the first coat of acrylic paint when it has dried properly. The following are important points to note when painting:
Make sure that you shake the can very well to thoroughly mix the paint inside before you begin painting.
To avoid drips, spray the paint from a distance of 8 to 10 inches from the surface. Make vertical and horizontal sweeps while spraying the paint.
Multiple light coats with the proper drying time in-between are better than one single thick coat. This is because a single thick coat can run easily.
You should allow a drying time of at least 48 hours for the project to completely dry before using it. If you opt for exterior acrylic paint, then there will be no need to seal it after painting. Regular acrylic paint on an indoor project, however, will require an arylic spray sealant to protect your project. If you do not want to use a spray paint, you can also opt for using acrylic paints in an airbrush.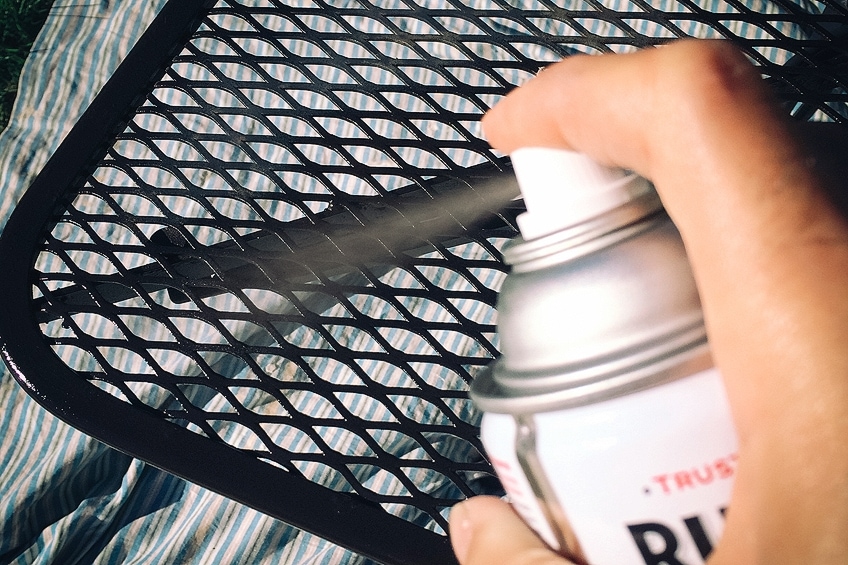 U.S. ART SUPPLY Acrylic Paint Jar Set for Airbrush
This set comes in 24 colors, giving you a variety of shades to choose from. These acrylic paints are very strong and vibrant and can cover a larger surface. The product is non-toxic and highly durable. The acrylic paints can give a smooth consistency because they are water-based. The water-based feature also enables the paint to dissolve in water easily, thus allowing for a quick and easy mix and blend. They come in a variety of colors, such as yellow mid, vermillion, cobalt blue, ultra blue, and many more.
Outstanding airbrush flow characteristics

High-quality, non-toxic, and lightfast pigments

Set of 24 different opaque colors
View on Amazon
Pros
Easy to use and clean
Suitable for beginners
Great value for money
Quality packaging
Cons
Paints have no name labels
Requires an airbrush for use
Tips and Tricks When Using Acrylic Paint on Metal
Always wash your brushes whilst they are still wet with paint, because acrylic paint is water-soluble.
If you want different colors on your project, make sure you paint the first coat of acrylic with another color and leave it to dry before applying the next coat.
Always wear protective clothing or old clothes when working with acrylic paint so that you do not mess up your clothes.
Acrylic paints have strong smells and a lot of people react to them. Ensure that you wear a face mask when working on your project. You should also work in a well-ventilated area, because rust and paint particles are harmful to health.
Conduct thorough research before purchasing an acrylic paint so that you choose a product that is most suitable for your project. You can also opt for a primer from the same brand to save yourself from the stress of checking the compatibility of the paint to the primer.
The proper use of a primer can help you in protecting your surfaces from rust.
Make sure the final coat of paint takes at least 36 to 48 hours to dry completely. If you are likely to come into contact with the painted surface, then do your project in an isolated area where you will not damage the painted surface.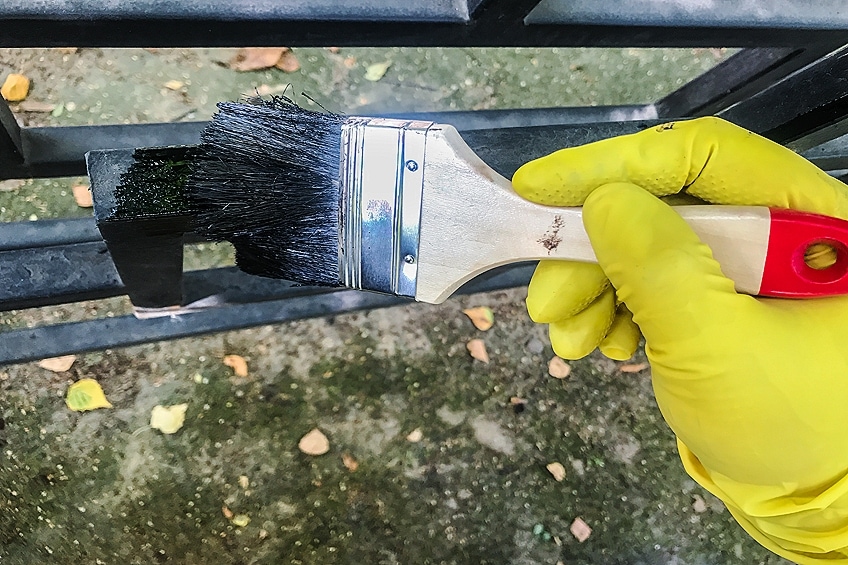 Frequently Asked Questions
Can You Use a Brush When Painting Metal?
You can use a spray paint that has been specified to be used with metals. For example, the Rust-Oleum brand produces "all surface" paints. Depending on your preferences, you can opt for a brush or roller to use for painting. You can apply many coats to the surface, but make sure that you allow the coats to dry before applying new ones on top.
What Is the Most Suitable and Toughest Paint for Metal?
The toughest paint that is suitable for metals is the Rust-Oleum High-Performance Enamel Spray paint. This product is used for commercial applications. The product is strongly resistant to rust, thus leaving an amazing, colorful surface.
Is Acrylic Paint Waterproof on Metal?
It is advisable to waterproof your paint even though acrylic paints are known to be tough. You can waterproof your acrylic paint by using a varnish, which is a special type of acrylic gloss.
Can I Paint Old, Shiny Metal Without Sanding?
It is advisable to sand your surface first before starting your process. This is because the shiny metal surface will not allow the paint to sit well on the surface. If you want amazing and professional results, then ensure that you properly sand the surface until it is smooth and even.
What Is Better: Two or Several Coats of Primer?
You can either apply two coats or more coats depending on your preferences. More coats of primer will give an amazing and even surface, but too many coats of primer can make the paint soft.
Larissa Meyer is a 32-year-old mother and creative spirit since childhood. Her passion for painting and drawing has led her to train as an illustrator and pursue a career as a freelance graphic designer. Larissa is a talented artist who is able to master a wide range of styles and techniques to bring her artistic vision to life.