Best Marker for Metal – Looking at the Best Pen to Write on Metal
This post may contain affiliate links. We may earn a small commission from purchases made through them, at no additional cost to you.
Not all markers are the same, and some will easily wipe off of a metal surface. In most cases, marking metal with a pen means you want it to stay there, so choosing the right metal marker is important. This especially true in various industries, where using a metal marking pen is an everyday occurrence. Making sure you have the right metal marker will save you time and money so that you can focus on your project or job at hand. A permanent marker for metal is also versatile and can usually be used on different surfaces besides metal. To get a better understanding of paint markers for metal, read further to find out.
Why Do People Use a Permanent Marker for Metal?
Markers are a popular and common item in many homes and businesses. The reason for this is because many marker pens can be used on different surfaces including metal, fabric, pottery, wood, plastic, stones and rocks, terracotta, and clay. Paint pens are also easy to use, can be applied smoothly, and dry fast.
Many of the permanent marker for metal products have non-toxic formulas, come in a variety of vibrant colors, and are resistant to abrasions, fading, and water. So, they are perfect for artists and are perfect to have around for any arts and crafts projects. For example, writing on metal to create signs for weddings is a popular application.
Many industries also require a pen to write on metal, especially for labeling and marking components. Metal pipes, bolts, and even car parts might need to be labeled and require a good metal marking pen. Paint markers for metal are also great for labelling and marking tools so that they will not get lost or stolen easily. Paint markers for metal, in general, are oil-based and contain xylene and toluene, which are toxic. So, they do give off a certain amount of volatile organic compounds (VOCs) and should be handled with care.
Features vary among the different markers, especially those used for industrial purposes. Some are designed to come off with water and soap, where others are water-resistant. Some work better on non-porous surfaces and others have been specially designed, such as markers that can withstand high temperatures, those that are solvent-resistant, and more.
So, if you are looking for a pen to write on metal in a certain industry, it is best to understand what type of marker would be best.
Types of Paint Markers for Metal
When considering paint markers, three main categories usually come up. There are the oil-based paint markers, the acrylic-based, and the permanent markers. Each one of these markers contains basic ingredients that help deliver the paint or ink to a surface.
Permanent Markers
The word permanent might be a contradiction, as even though some markers are labeled permanent, they are not lightfast. The label should say that the marker is archival and, therefore, will not fade. Permanent markers are made up using a hollow plastic pen that is air-tight. Inside is a length of porous material that protrudes from one end of the marker. This sponge-like material is saturated in ink and, once it is exposed at the tip and evaporates, more is siphoned up to the tip.
The ink has three components: color or pigment, solvent, and resin. The permanent markers are water-resistant and can be applied to a variety of surfaces together with metal. They come in many different colors and have different tip sizes and shapes. The more popular permanent markers do not give off any odor and are non-toxic.
Paint Markers for Metal
As the name implies, these markers use paint and contain solvent, resin, and pigment components. The solvent helps to keep the pigment fluid within the marker, the pigment provides color, and the resin helps to bond the paint to the surface. Paint markers also come with various size tips and different types of nibs. Acrylic nibs are best used on rough surfaces, while polyester tips are the best choice when it comes to metal surfaces.
Paint markers are the best choice to use on non-porous surfaces like metal or rocks, but can also be used on surfaces like paper and canvas.
As mentioned, most paint pens contain toxic components that can have a distinctive sweet smell. Paint markers also take a little longer to dry when compared to permanent ink markers. To remove marks from paint markers, you can try using some paint thinners or acetone. For artists, paint pens can also be used for blending and layering colors, which is something that permanent ink markers cannot do. There are two main types of paint markers: acrylic or water-based markers and oil-based paint markers.
Acrylic paint markers or pens have a pigment dissolved in water and, once applied to a surface, will not be waterproof. For example, if you use these markers on rocks, you will need to apply a sealant. Acrylic-based markers work best on lightly colored surfaces and plastics and will give you a nice, shiny finish when dry. They are also great to use on t-shirts, glass, and ceramics.
The markers should dry to a permanent finish on paper, textiles, and other surfaces that are porous. Also, on surfaces like ceramics, you can place them in the oven to set the paint. Overall, this choice of paint marker is safer to use, especially when children are involved.
Oil-based paint markers have pigments suspended in oil and are the best choice for applying to metals. They can also be used on other surfaces like plastic and ceramics. These markers are water-resistant and are more difficult to remove once dry. Since the markers are oil-based, they are thicker and need to be activated, which is why you have to shake these pens before using them. The oil-based markers also take longer to dry than the water-based variety, however, they do not need to be sealed.
Selecting the Best Marker for Metal
There are many marker pens available, so you will need to know what you should be looking for when making a purchase. Maybe you only need one color, or perhaps several? Whatever you intend to do will determine which marker you choose. Below are a few guidelines to consider.
Type of Material Used
As mentioned, paint markers for metal are the best options, and these come in two forms: water-based and oil-based. The water-based paint pens are easier to work with, do not smell, and have finer tips. They are also easier to remove, however, you will need to let the paint dry to avoid any smudging. Oil-based paint pens are the most popular choice to use on metal surfaces but are a bit more difficult to use. They also have an odor, but they do provide excellent resistance to smudging and adhere strongly to the surface.
Metal Marker Colors
You can get a set of markers that have a variety of colors, which is great if you are going to use all the pens. There are also options where you have only yellow, white, or black options, and this is fine if you are only going to use the pens for labeling. You can even find metallic color options available on the market, which are perfect for art pieces and calligraphy.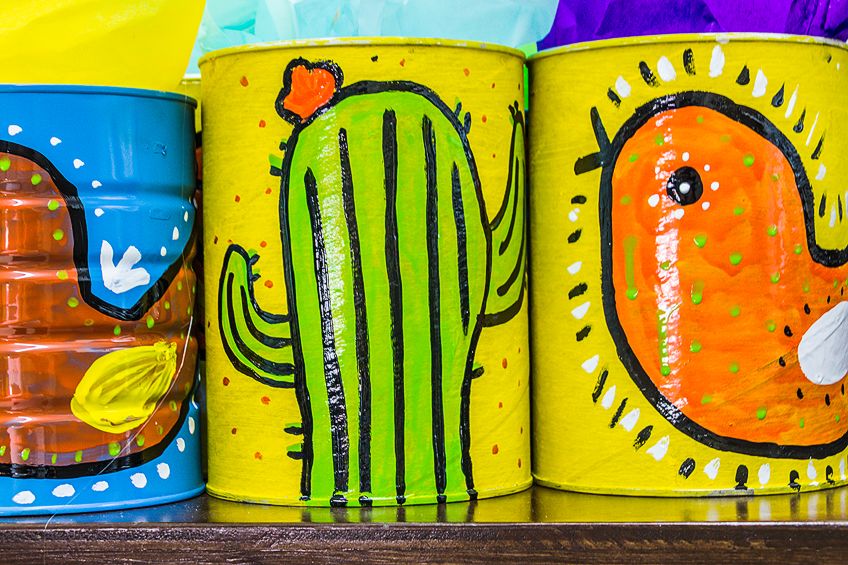 How Permanent Is the Marker?
Permanent markers for metal differ in how long-lasting they are. Some options provide permanence, and these are also resistant to water and fading and will dry quickly. However, if you want to be able to write on metal or another surface and then remove it afterward, there are less permanent options available.
Metal Marker Prices
This is, of course, a vital part of the decision-making process, and choosing a paint marker will depend on how much you can afford to pay. Paint markers tend to be more expensive than your permanent ink pens, however, they can be seen as an investment. If you look at it this way, you will be spending a little more on good-quality markers that last a long time, rather than just going for the cheapest option available.
Weather-Resistant Markers
Sometimes, you have a project that is going to be outside and exposed to sun and rain. Therefore, you have to make a choice of marker that will be able to hold up against such conditions. For example, think about the metal on a bicycle – if you want to label or mark the metal surface, you need a marker made to last in outdoor conditions. You might also want to consider a marker that dries quickly and that will not smudge in order to avoid making a mess.
Best Marker for Metal
When applying to a metal surface, it is best to use a marker that suits your needs. Do you need something that is durable and will not wipe off, or something with a variety of colors? Below are a few choice products that are recommended for a variety of applications, from marking auto-parts to creating colorful gifts.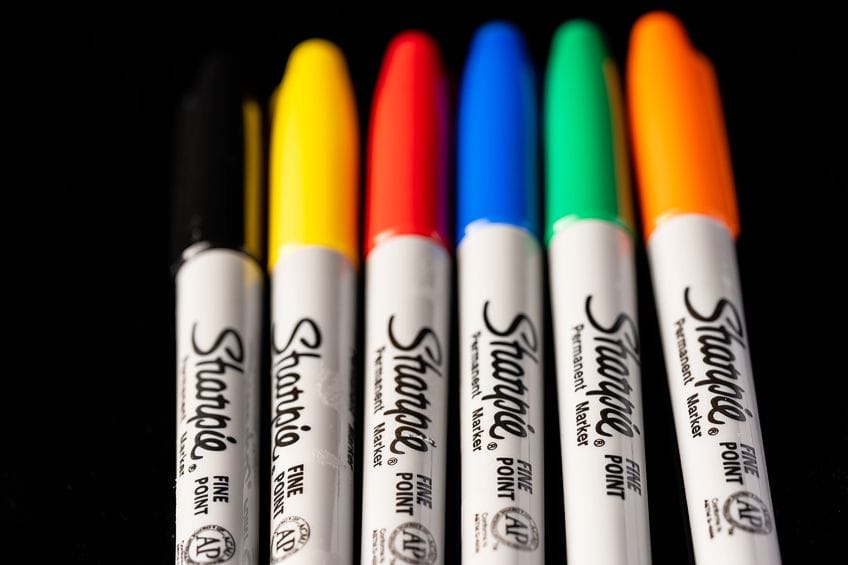 Best to Use on Stainless Steel: FORNEY Paint Marker
This oil-based marker by Forney can be applied to a variety of surfaces including metal, plastic, ceramics, cement, glass, wood, and lots more. The color is vivid and easily visible without fading, even in different weather conditions. You can buy these markers in a range of individual colors, and the marker will also last for a long time once applied. The precision valve offers you control over the amount of paint that comes out. There have been some issues with the nib falling out, so remember to ensure that the cap is on when you shake the marker.
Oil based paint markers for permanent marking on most surfaces

Intense, highly visible, quick-drying colors for inside and outside use

Precision valve regulates paint flow for use on metal, glass, and more
View on Amazon
PROS
Offers a vibrant and visible color
Can withstand various weather conditions and can be used on outdoor projects
You have control over the amount of paint used
CONS
Issues with a loose nib
A bit more expensive than other paint marker options
Can be a bit difficult to use for first-timers
Best White Acrylic Paint Marker: FLYMAX White Paint Marker
The Flymax white paint marker dries quickly and is safe to use. The marker provides long-lasting color and can be applied to different surfaces including metal, plastic, ceramics, leather as well as glass, and wood. Not only is the marker non-toxic but is also water-resistant, odorless, and lightfast. These specific markers have fine tips for more detailed precision work.
White acrylic paint marker pen dries quickly with long-lasting color

Extra-fine tips are easy to use and allow for precision control
Ink is safe, leak-proof, and non-toxic, making it ideal for use by all
View on Amazon
PROS
Dries quickly
Lasts long
Easy to use with smooth application
Non-toxic
CONS
Does not work well on an uneven surface
The fine tip might not be what you are looking for
Best Affordable Craft Markers: SHARPIE Oil-Based Paint Markers
The Sharpie oil-based paint markers are water-resistant and should last a long time without fading. The brand is well-known and popular due to their consistently high-quality and affordable products. The oil-based markers are designed with a non-toxic formula that can be applied to a variety of surfaces. The application is smooth, and you can get the markers in different sizes, from bold and medium to extra fine. The set includes five vibrant colors, including red, blue, black, yellow, and white. Perfect for shading and lettering, these are a great all-round paint marker set.
High-contrast colors create opaque, glossy marks that stand out

Quick-drying oil based ink resists fading, smearing, and water

Fine point lays down precise, highly visible lines
View on Amazon
PROS
Vibrant colors
Non-toxic formula
Water- and fade-resistant
Long-lasting
Cost-effective
CONS
You will need to activate the markers for use
May have a slight smell
How to Use Paint Markers for Metal
There are a lot of ways you can write on metal, from etching to lasers and paint markers for metal. There are also different types of metal markers, and most of them are as simple to use as any other pen. Paint markers, on the other hand, require a little more effort. The material inside the marker is quite thick and needs to be activated. Most good-quality products should have instructions on how to use the marker, either on the packaging or inside with the markers, or both.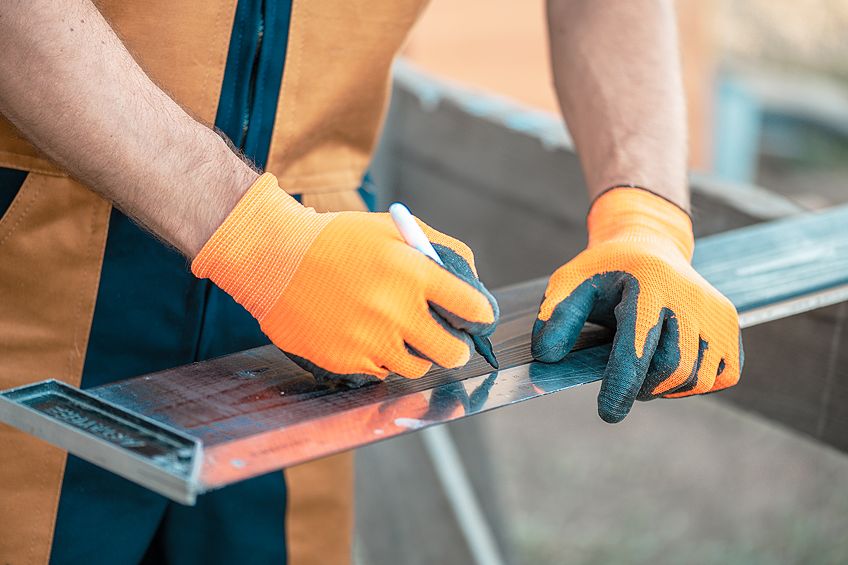 Always shake the marker before using it – with the cap on – especially if you have not used the marker in a while. You should hear the ball inside moving around, helping to dissolve the pigment. Remove the cap and, holding the marker upright, press the marker nib down with your finger or the back of your cap. This releases any trapped air. Place the cap back on and shake again. Remove the cap and place the nib onto a piece of paper and pump the marker up and down until you can see the color filtering down onto the nib. When the flow is constant with no breaks while drawing, the marker is ready to use.
Always check the marker out on a piece of paper before using it on your main project. This will prevent any overflow or uneven applications.
After applying the marker, wait a few minutes for everything to dry so that no smudging occurs. You can use different colors or simply stick to your basic black and white colors. Remember to replace the cap once you have finished using the marker, making sure that you hear it click into place. Store your metal marking pen horizontally, as this helps re-mixing the pigment again easier. Also, never store the marker with the tip facing down. The pigments inside will accumulate near the valve and this might clog the opening.
Keeping Your Paint Marker From Clogging
Paint markers for metal are versatile and fun to use. They come in a variety of brands and colors, however, most of these can develop the problem of clogging. If you do not look after your markers, they will not last as long as they should, and you do not want this happening. So, to help you, here are a few maintenance guidelines to make sure you get the most out of your paint markers.
Clean the tip: Once you are finished with the marker, run it along a piece of spare paper to dislodge anything stuck to the nib. You can also do this occasionally while working with the marker, which can also help to remove any dried paint that might be stuck on the tip.
Storage: Preferably, keep markers stored horizontally or flat in a container. If you do place them in a cup, make sure the marker is standing with the cap up and not down.
Extreme temperatures: If you store the markers in too hot or cold environments, clogging can become a problem, or the material could become too runny. Keep your markers somewhere where it is cool, dry, and dark.
Caps: Make sure that the caps are securely placed back onto the marker. If not, the tips can dry out.
If the tips dry out: You can try to wipe the tip with a solvent for an oil-based marker and water for a water-based marker. However, do this carefully and be patient, ensuring that you do not pump the marker too much.
Metal Marker Tips
To get the best out of your paint markers for metal, you should always follow a certain process when using them. We have already discussed how to prevent the paint markers from clogging, but what else can you do to ensure a seamless experience every time?
Always shake the marker before use, for at least one minute.
When pumping the ink out on paper, do not overdo it and do it gently, as you do not want it coming out too fast or overflowing.
You can layer colors as long as the paint is dry before adding another coating.
If too much paint comes out and you are left with a small puddle, you can absorb a lot of this with a torn-off piece of paper towel. Gently dab the access away while it is still wet.
Fill in large areas by working from one end to the other using a medium tip, trying to keep the marker in wet areas as you work.
Clean the tip by swiping and dabbing it onto an extra piece of paper.
Practice applying the correct pressure for a consistent flow of material from the pen.
Store pens horizontally and away from sunlight.
If the nibs are too dirty and dry, it might be time for some replacement tips.
You might consider using a razor blade to remove any dried material you do not want.
Do not try to open the marker in order to add a liquid – it will be better to get new markers, as this will only make a mess.
Frequently Asked Questions
Why Use Paint Markers for Metal?
Metal marker pens are usually a great, versatile product. You can easily use them on metal and other surfaces like plastic, glass, and more. The markers can also offer resistance to water, fading, and weather. You can use them for arts and crafts as well as for labeling metal components.
Is There a Special Way to Use Paint Markers?
You can use the normal permanent markers as you would any pen, but a paint marker usually needs to be activated. This is because the paint pigment needs to be mixed properly before you can use it. Instructions should come with your paint marker, but generally, you have to shake the marker before using it.
How Should You Care for Your Paint Marker?
Looking after your paint marker is easy and necessary if you want them to last a long time. Remember to replace the cap if you are not using them so as to stop the nibs drying out. Store them in a cool, dry, and dark place, and preferably lay them flat while storing or keep them upright in a cup or storage container.
What if the Paint Marker Has Dried up?
You can try soaking the tips overnight in alcohol or thinners. Wipe it off and see if they will work again. If not, you will need to get some new markers.
How Long Can a Paint Marker Last?
Once the markers have been opened and used, provided you take good care of them, acrylic paint markers can last for one to two years.
Larissa Meyer is a 32-year-old mother and creative spirit since childhood. Her passion for painting and drawing has led her to train as an illustrator and pursue a career as a freelance graphic designer. Larissa is a talented artist who is able to master a wide range of styles and techniques to bring her artistic vision to life.