Acrylic Pouring Medium Guide – Which is the Best Paint Pouring Medium?
This post may contain affiliate links. We may earn a small commission from purchases made through them, at no additional cost to you.
The Acrylic Pouring technique is becoming increasingly popular in the art world. The pouring medium is of enormous importance for an attractive result. This medium influences the flowability and crack-free drying of the acrylic colors. In the following post we would like to go into more detail about the different pouring mediums, explain their advantages and disadvantages and help you with many tips and tricks to create beautifully cast paintings. Furthermore we show you where you can buy the suitable pouring medium.

What is a Pouring Medium?
By adding a pouring medium, a thinner and therefore more flowable consistency is achieved in the acrylic paint used. Therefore, it can be seen as an essential factor to obtain a good result when using acrylic pouring.
The Properties of a Pouring Medium at a Glance:
The viscosity (consistency) of heavy inks is reduced without simultaneously thinning the ink.
It enables easy spreading of the paint on the canvas, as the color gradient is improved.
When an acrylic pouring medium is added, the color, opacity and texture of the colors are retained; water would dilute the pigments.
It gives you more time for the actual acrylic technique, as it prevents the colors from drying out.
The slower drying process prevents cracks caused by drying too quickly.
You may now wonder if you could not simply use water to dilute the paint and make it flow better. This would be the cheaper option, but is still not advisable. By adding water, you change the texture of the paint, which means that opacity and brilliance of color are lost. In addition, the acrylic paint can no longer adhere properly to the canvas, as the binders it contains are also thinned.
With a smooth painting surface, however, good adhesion is extremely important. Another argument against the use of water is the fact that acrylic paint and water cannot be mixed completely. The coloring may thus become uneven. Furthermore, water, unlike a pouring medium, does not prevent the paint from drying out quickly. Thus there is a risk of cracking in the paint.
For these reasons, water should only be used to dilute the ink in very small quantities or better not at all.
How the Pouring Mediums Differ
In fact, there are some significant differences between the different pouring mediums.
Consistency
The knowledge of the consistency of the chosen pouring medium is decisive for the choice of the paint used. If the pouring medium is very thin, it is more suitable for inks with a slightly thicker consistency. A thicker pouring medium, even if it is diluted with a little water beforehand, should be used rather for thinner acrylic paints.
Gloss Level
In some pouring mediums an additive is incorporated to increase the gloss level. These products have the advantage that an additional varnish for the final treatment is not necessary. The additive enables a uniform degree of gloss, regardless of the acrylic paint used. In addition, the colors are shown to their best advantage with such a casting medium.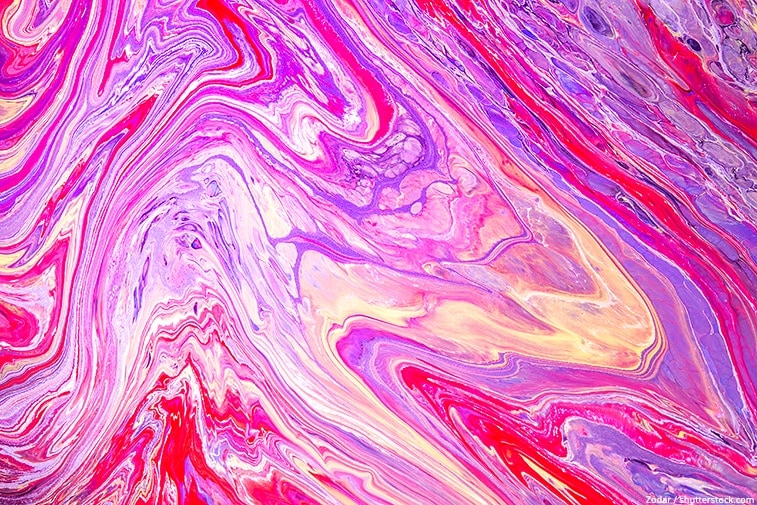 Surface Hardness
Some pouring mediums, when dry, can be soft or even somewhat sticky. These have the disadvantage that under certain circumstances objects can stick to the canvas. If one wants to remove them, damages are practically unavoidable. Moreover, on surfaces that have a low hardness, fingerprints can appear very quickly. If you want to avoid these problems, you should choose a pouring medium that dries very hard. However, this is also quite inflexible in its structure.
Flow Behavior
Some pouring mediums can be easily and wonderfully evenly distributed in the ink and thus contribute to excellent flowability. With other pouring mediums, mixing is extremely difficult. Under certain circumstances you may get an uneven result and the flowability is present but far from optimal.
Color Protection
Some pouring mediums offer the acrylic paint better protection against fading than others. One reason for this is that they provide better UV protection. This is because UV light causes the colors to fade. Another reason that acrylic paints change or radiate less brilliantly is the acid content of the pouring medium used. A higher acid content has a negative effect on the color.
Drying Time
There are major differences in the drying time between the different pouring mediums. On the market there are products that dry completely overnight. Other products, on the other hand, require up to a week until only the surface has dried as far as possible.
As you can see, there are really significant differences between the different pouring mediums. It is best to ask for advice on which medium is suitable for your purposes. If necessary, you can also mix different pouring mediums with each other that have relevant properties for you.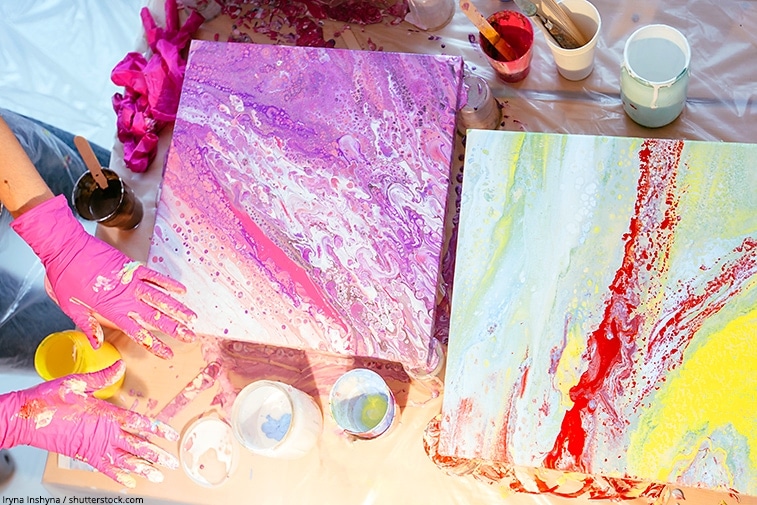 Find the Best Pouring Medium
If you are looking for a suitable pouring medium, then you are spoilt for choice between countless articles on the market. Often these are identical products, only the manufacturer name on the packaging is different. However, there are also some very good pouring mediums which have really unique properties and we can highly recommend them.
To give you a small overview of the different products and their properties, we would like to present you some of the best products on the market.
Tip: You can also mix the products together to get the best result and the desired properties.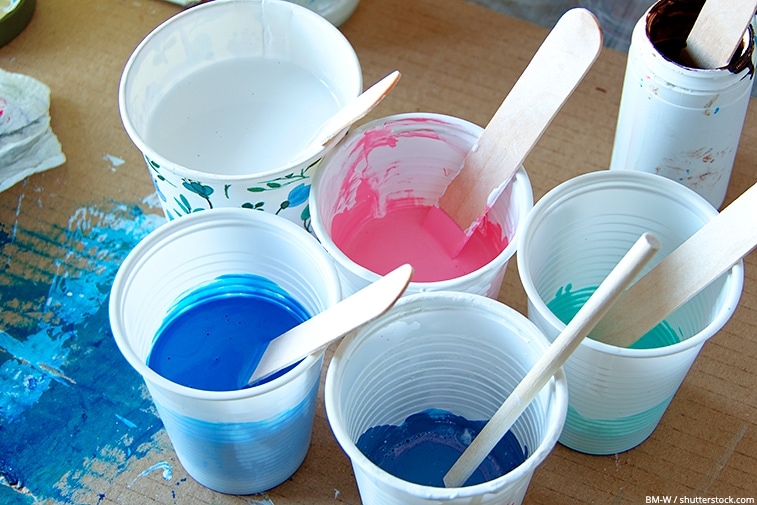 Floetrol Pouring Medium
What is Floetrol? Strictly speaking, Floetrol is a pouring medium alternative. Originally, Floetrol was not developed explicitly for acrylic painting. Basically, Floetrol is a medium that improves the flowability of all types of paint and thus makes them more economical. In addition, the agent allows the paint to flow better and thus forms the basis for an even surface. In short: even if not developed for this purpose, Floetrol is an optimal acrylic pouring medium. You can also get Floetrol in some DIY stores, but we recommend buying the product online, because in most cases it is cheaper.
Improves the flow properties of water-based paints
Very popular alternative pouring medium
Matt finish, perfectly mixable with other pouring mediums
View on Amazon
Pros
Since it is not a special pouring medium, Floetrol is quite inexpensive compared to a professional pouring medium. An absolute plus point for acrylic pouring beginners, but which professionals also like to use.
Nevertheless it delivers almost the same quality as a special acrylic pouring medium.
Floetrol can easily be removed with soap and water.
No muddy color tones due to excellent color separation.
Tidy cell formation.
Hardly any air bubbles are formed during drying.
Cons
If Floetrol is stored for a longer period of time it tends to form lumps. These do not look very nice on a painting. You can avoid this problem by pouring the product through a fine sieve before use.
Since Floetrol dries matt, you may get a non-uniform surface gloss when combined with different acrylic paints. However, a varnish or top coat will quickly remedy this.
Liquitex Pouring Medium
The Liquitex Pouring Medium is a professional acrylic Pouring Medium of artist quality. The product was one of the first of its kind on the market. It was especially designed for acrylic painting and contains an acrylic polymer with high resin strength.
Liquitex is known for its high-quality artist products
Easy to process and dries to a silky gloss
Very good cell formation without air bubbles
View on Amazon
Pros
The colors are still rich and radiant even after drying.
The Liquitex Pouring Medium leaves a very beautiful and even surface gloss. Therefore, a subsequent, final treatment with varnish is not necessary. A longer durability is nevertheless given.
The Acrylic Pouring Medium remains flexible even during drying, so that no cracks appear.
A very good cell formation.
Hardly any air bubbles are formed during drying.
Cons
Since it is a product specially developed for this purpose, the price is correspondingly high. For a fabulous result, however, you should invest in this high quality.
The removal of Liquitex Pouring Medium is quite difficult due to the resin components contained. Therefore you should wear gloves when using it.
Solo Goya Pouring Medium
The Solo Goya pouring medium also offers an excellent price-performance ratio. In our opinion, you get the most bang for your buck with this Acrylic Pouring Medium.
High quality water-based acrylic pouring medium
Low viscosity, for an optimal consistency for acrylic pouring
Suitable as transparent high-gloss varnish and will not change color of paint
View on Amazon
Pros
Nice surface gloss after drying.
As the consistency is relatively liquid, no water needs to be added.
The surface is already dry after about 12 hours.
Cons
Is not suitable for thin acrylic paints due to its already very liquid consistency.
U.S. ART SUPPLY Gloss Pouring Effects Medium
This U.S. Art Supply Pouring Medium mixes very well with acrylics and dries to a beautiful glossy finish. The ease with which this medium flows makes it very attractive for beginners of the acrylic flow technique. The main benefit however is that this medium does not affect the color of the paint at all.
Non-toxic clear gloss medium with acrylic polymers
Adjust viscosity and create cell effects with less cracking and crazing
Will not reduce drying time, color intensity, or paint adhesion
View on Amazon
Pros
After drying has a very nice surface gloss
Flows very easily with a good consistency
Does not affect colors of paint
Cons
Does not adhere as well to surfaces as other mediums
Make Your Own Pouring Medium
Making the required pouring medium yourself is the cost-effective alternative to buying a finished pouring medium. Usually vinyl glue or PVA glue is used for this. This provides very good results at a reasonable price. Since the consistency of vinyl glue is somewhat viscous, it is recommended to add a little water.
Pros
The surface is beautifully shiny after drying.
Vinyl glue shows an impressive color separation.
It is also suitable as a varnish for final treatment.
It forms very beautiful, large cells.
Cons
As the vinyl adhesive is very viscous, a larger amount of water must be added for a good consistency.
Pouring Medium Recipes:
Recipe 1
1 part Floetrol
1 part Liquitex Pouring Medium
1 part acrylic paint
Recipe 2
2 parts vinyl glue
1 part solo Goya Pouring Medium
1 part acrylic paint
½ Part water
Recipe 3
1 part Liquitex Pouring Medium
1 part vinyl glue
1 part acrylic paint
some water
Conclusion on the Different Pouring Mediums
It is not possible to say conclusively which Acrylic Pouring Medium is really the best. Every artist will have a product that he or she prefers to work with, as well as those with which he or she does not want to work at all. You can only find out which medium is the right one for you by trying out the different products. Also, the technique you want to use decides which medium is the right one for you. If you use a technique where no cells are to be formed, you do not need a pouring medium that ensures a high cell formation.
General Information About Pouring Technique
In what Proportion Must the Pouring be Mixed?
The question of which ratio between acrylic paint and pouring medium gives the ideal result cannot be answered in a generalized way. One reason for this is that the consistencies of the same products can be completely different between different manufacturers. This applies to both the acrylic paints and the pouring mediums.
You must therefore approach the perfect mixing ratio step by step. As a starting point, we recommend first mixing the pouring medium and acrylic paint in equal parts and then testing the consistency. A good consistency is achieved when the mixture flows like viscous honey. If the mixture still seems too viscous, add some more Acrylic Pouring Medium and mix it in again evenly. It is also possible to add water. However, it should not make up more than 20 – 30 % of the mixture. Repeat this process until the desired consistency is achieved.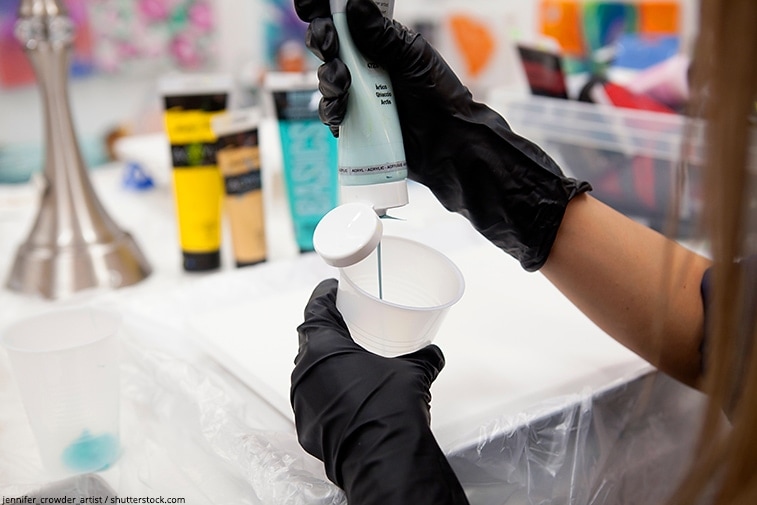 If the mixture is too viscous, there is a risk that cracks may appear in the surface during drying. If it is too thin, on the other hand, the resulting cells quickly appear undefined and washed out. There is also the danger that the paint will simply flow off the painting surface.
As you can see, a good Acrylic Pouring result begins and ends with the right consistency of the pouring mixture.

Get Beautiful Cells
Acrylic Pouring paintings get beautiful patterns and impressive effects by creating cells. In the following, we will give you some useful tips to make sure you get the best possible cell formation.
Perfect Cell Formation Through Additives
After you have mixed the acrylic paint and the Acryl Fluid Medium, and achieved the desired consistency, you can choose between several additives for reliable cell formation. Silicone oil or hair oil have proven to be particularly effective. These two additives are described in more detail below. The additives can be added to any color except white. Just two drops of the selected oil are sufficient. Add these to your mixture and mix everything together again thoroughly. Note that the oil must actually be added to the mixture. If it is applied to the painting afterwards, no further cell formation is to be expected. Afterwards you can start pouring your Acrylic Pouring painting.
After you have finished pouring your painting you should go over your work with a Bunsen burner or a hot air dryer. Then pan the canvas until you are satisfied with the result.
Silicone Oil or Hair Oil?
As already mentioned above, we would like to go into the above-mentioned additions in more detail here. With silicone oil there are quite clear differences in the consistency (viscosity).
Silicone Oil with Low Viscosity (thin Consistency)
Forms few but very large cells. Sometimes there are more in the individual cells.
The paint flow is very fast.
Makes for very strong color gradients.
Silicone Oil with High Viscosity (thick Consistency)
Forms small, sharply delineated cells.
The paint flow is relatively slow.
The color gradients are relatively small.
For us, the Ballistol silicone oil in the spray can has proven to be very effective. It forms many beautiful cells. These range from small to medium in size. By tilting the canvas they can even be enlarged.
Hair Oils
Even with the addition of hair oil you can create beautiful paintings with proper cell formation. Before buying, however, you should study the list of ingredients. In the first place "Dimethicone", a silicone additive, should be listed here. This is quite often used in cosmetic products.
The addition of hair oil causes the formation of medium to large cells in large numbers. Fascinating effects are caused by smaller cells which are formed in the large cells.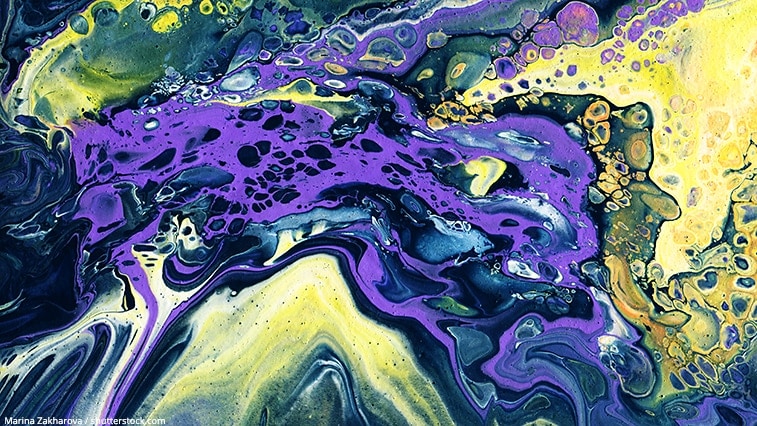 Larissa Meyer is a 32-year-old mother from Michigan and creative spirit since childhood. Her passion for painting and drawing has led her to an education as an illustrator and a career as a freelance graphic designer. She has a Bachelor of Fine Arts in Illustration and a degree in Graphic Design. Larissa is a talented artist who is able to master a wide range of styles and techniques to bring her artistic vision to life. Her greatest passion is currently fluid painting and epoxy resin art. Larissa's love for art and her knowledge and experience in illustration make her the perfect Creative Director for our fluid-painting.com team. She is the creative head of our team and shares her passion and knowledge with our community through articles and tutorials.
As a mother of a 2-year-old daughter, Larissa also understands the importance of fostering creativity in early childhood. She uses her experience and knowledge to help other parents inspire their children and develop their artistic skills as well.
Learn more about Larissa Meyer and about us.