Best Airbrush for Models – A Guide on Airbrushing Miniatures
This post may contain affiliate links. We may earn a small commission from purchases made through them, at no additional cost to you.
There is a wide assortment of airbrushes available in the market, and it can be daunting to know which one to use. You may wonder which is the best option for working with detailed miniatures and scaled model buildings. The vast number of copycat models that are also available to buy makes this process all the more difficult. This guide offers you insight as to what you as a scale model builder should be looking for. We offer you a comprehensive list of the best airbrushes available on the market for miniatures and models.
Airbrushes for Modeling
It is important to note that not all airbrushes are made equally, as different models have different capabilities, with each offering their own attributes and features. An example of this would be that of an illustrator's airbrush, which is designed for use with ink, and therefore would not handle paint well. As someone working with models and miniatures, you will require an airbrush system that works well with enamel and acrylic paints.
You will also be interested in the price level of the airbrush you are purchasing, looking for the best value for money. Thankfully, there are many decent options on the market, allowing you to be able to buy a decent airbrush model for under $200. There are three particular brands on the market, which you as a user should familiarize yourself with, being Paasche, Iwata, and Badger. Other manufacturers include Grex and Harder & Steenbeck, which are both growing in popularity.
Best Airbrush to Use on Models and Miniatures
The wide variety of airbrushes available for purchase can become overwhelming if you are not sure as to what you are looking for. We have taken the leading products and provided a detailed review of each, including a list of pros and cons so as to help you with your decision.
Budget-Friendly Option: NEO Gravity Feed Airbrush
Beginning with the more affordable option, manufactured by IWATA, the Neo CN Gravity Feed Dual-Action Airbrush is a great option if you are not looking to spend too much, but still wish to purchase a quality airbrush. This product is from a reputable manufacturer, giving you the opportunity to buy a good airbrush without having to turn to a knock-off option.
Performs well at lower air pressures, aiding greater detail

Unique needle and nozzle combination for finer detail spraying

Includes interchangeable large and medium funnel-shaped cups
View on Amazon
The Neo airbrush is perfect for a beginner looking to learn how to use an airbrush. You will be able to spray fine to medium lines, which is exactly what you will require as a modeler. This airbrush also gives you the option of exchanging your paint cups from small-sized to large.
The Neo airbrush is very user-friendly and easy to maintain and clean. It is ideal for beginners, making it the ideal model if this is your first time working with an airbrush on miniatures and models.
Pros
The airbrush can be used with several different paints and other mediums.
It is easy to use.
These airbrushes are designed to perform well at low pressures for fine details.
The paint cups are interchangeable and come in a medium and large size, allowing for more efficient spraying.
This product is affordable.
Cons
The separate parts can be difficult to dismantle and clean.
Best Price-Performance Ratio: IWATA-MEDEA Revolution Airbrush
Iwata's range of Revolution airbrushes are the ideal blend of value, quality, and performance. Selling for just under $100, the Iwata Revolution airbrush can be viewed as one of the best options available for an all-round airbrush, ideal for modelers.
A dual-

action, top-feed airbrush with ergonomic handle design

Large nozzle/needle combination for spraying of thicker

paints

Redesigned trigger mechanism and easy assembly
View on Amazon
This product is in actual fact a dual-action airbrush and is perfect for users of all levels. We can even recommend this model to a beginner who is looking to get confident in using a dual-action trigger. The 0.5mm needle and the large nozzle make this model perfect for providing an assortment of lines while using thicker paints. You will be able to switch between water-based and solvent paints with ease, as this model comes with solvent-proof PTFE packaging which is replaceable.
If you are looking to make an airbrush purchase that will last as long as possible, this is the model to go for. We recommend that you also purchase an additional set of nozzles and needles that will allow you to tackle very fine lines, as you will then be able to handle any miniature or model project with this airbrush.
Pros
This is a dual-action airbrush.
Its combination of a large nozzle and 0.5 mm needle allows for easy spraying of thicker, heavier paints.
The ergonomic handle is comfortable and easy to hold.
You can use both water- and solvent-based paints due to the replaceable solvent-proof packaging.
This product is easy to use and great for modelers of all levels of experience.
Cons
The model does not disassemble fully, preventing any deep cleaning.
The Pro's Choice: IWATA-MEDEA High Performance Airbrush
If you are looking to buy the absolute best model on the market, and if money is not a factor, then the Iwata High-Performance Plus C Airbrush is the way to go. To be honest, this model is more airbrush than most modelers require, but it offers precision work and is of top quality.
Dual-purpose handle for precise control of paint flow

Secure and centered nozzle due to larger threads

Gravity-feed cup for mixing custom colors and quick changes
View on Amazon
You will require precision when painting a miniature or model, as you will be working with very fine details, for which this airbrush model is ideal. The airbrush as a whole has been designed to ensure that the user is comfortable and can use the item for long lengths of time without feeling any fatigue, while also offering extreme precision.
The Iwata High-Performance Airbrush is a professional-grade model, ensuring its durability and high-quality build. This model is the absolute best on our list in all respects. If you work with this particular airbrush after using other models, you will immediately notice the difference. While this level of the model is not necessary for everyone, this is the best option for a professional.
Dual-purpose, cutaway and pre-set handle for easy clean up and precise control of paint flow

The gravity-feed cup is useful for mixing custom colors and allows for quick color changes
Pros
Each product is hand-tested to assure quality and precision.
These airbrushes are self-sealing, thus eliminating the need for applying messy sealants.
The nozzles are made of steel alloy, making them more durable and resistant to chemicals.
This is a very quick airbrush.
It is a dual-purpose airbrush with a cutawat handle, allowing for easy cleaning and high-precision.
The gravity-feed cup allows for quick color changes and for mixing your own unique shades.
You can rely on this airbrush lasting a long time.
Cons
This airbrush is expensive.
You will need to purchase a professional airbrush cleaner to ensure that it is properly cleaned.
Complete Model Airbrush Kit: VIVOHOME Airbrush Set
If you are looking to purchase not just the airbrush gun, but a compressor as well, we suggest that you buy the Vivohome Airbrush Set. This is an 11-piece set, which is very affordable. You will receive not only the airbrush but also a good compressor. This particular compressor is light and powerful, offering the user a great spray pattern from the airbrush gun. This kit is therefore perfect for model making.
3 different multipurpose airbrush guns included: Spray, Inflat, paint and do airbrush jobs

Low noise, oil-free compressor with

1/5HP, with air filter water trap delivers 23-25L/min airflow and 0.8cfm air volume

Comes with a compressor-mounted airbrush holder that holds two airbrushes;
View on Amazon
You will receive three different airbrush guns in this set, allowing you to airbrush both filigree details and even primers. The oil-free compressor comes with a pressure gauge, a pressure regulator, and an air filter. During use, the device is very quiet and it gives you the option to retrofit it with a larger air tank if required. This will give you the option to work noiselessly over an extended period of time.
Pros
This is a powerful airbrush set with a great price-performance ratio.
This product offers great spray pattern.
The kit includes a big selection of materials, including the airbrush, a connection hose, the compressor, as well as three different nozzle sizes and matching needles, ensuring versatile operations.
The compressor is low-maintenance, thanks to it being oil-free.
The airbrush is light and easy to use (as it only weighs 3,6kg).
If you wish, you can upgrade the unit by adding a larger air tank.
The compressor is quiet when in use.
Cons
It requires tools to take apart, although these tools are included with the kit.
Taking it apart can be difficult.
Different Types of Airbrush Guns for Model Painting
The results an airbrush will give is dependent on a number of factors, such as how the paint feeds in and out of the nozzle, the control of the airbrush, and the way the paint atomizes or combines with the air before landing on the relevant medium.
The effects of an airbrush will depend on how the airflow and paint are released by its button or level, which in turn determines the level of control the user will have when painting miniature figures or models.
During the manufacturing process, an airbrush can be created with an assortment of different styles of paint feed, control, and atomizing methods. What follows are the explanations of each, as well as which airbrushes are best for scaled model builders. However, you must remember that at the end of the day, the decision rests upon your personal preferences.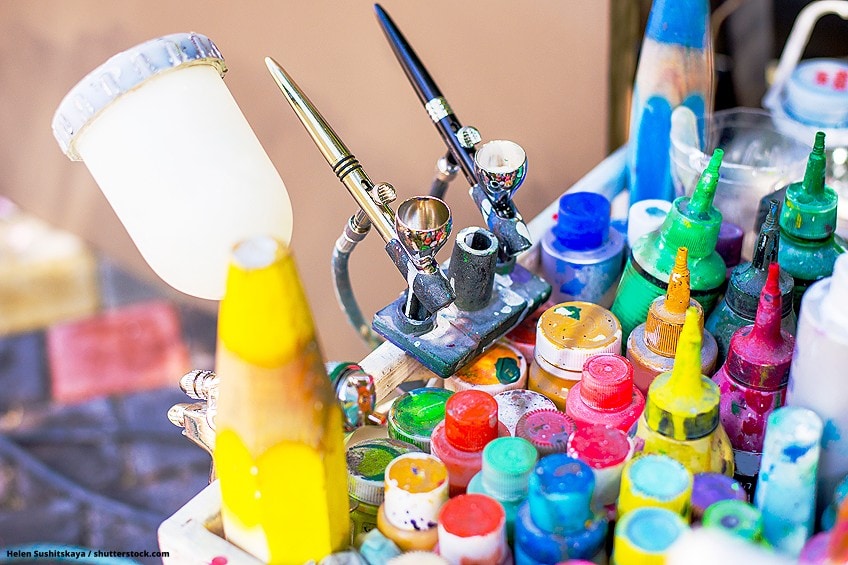 Internal vs External Atomization
The process of the airbrush mixing the paint with the air is known as atomization, and this can happen either internally or externally. Where the atomization takes places will have an impact on the final finish of the paint.
External Atomization
If you use the external atomization option, the paint will not enter the airbrush, but will rather flow along the outside of the nozzle. The paint will mix and atomize with the air as soon as the air exits the nozzle. This method gives the user a flat finish to the paint. If the finish is not as smooth as one might like, you can improve it by testing out different paint mixes until you get a finished texture you like.
Internal Atomization
Internal mixing or atomization is when paint enters the chamber of the airbrush and mixes with the air here. This method provides the user with a smoother finish that is a lot finer, which is ideal for model builders.
Dual-Action
The dual-action airbrush lets the user control the paint flow and the air with the button/trigger. The initial step of pressing the trigger down ensures that the air flows through the airbrush. You would then slide the trigger back to let the paint begin to flow through. The further you push down or back, the more the flow of air or paint will increase, respectively. This offers continual adjustments, although the user will need to practice to perfect this process.
Single-Action
When using a single-action airbrush, the user is able to control the airflow simply by pushing a button or a trigger. To adjust the paint-flow, you will be required to adjust the needle depth in the nozzle. You will have to stop the flow of paint first before you can make your required adjustment. This can be a bit of a hassle every time, although it is a good option for beginners as it allows the user to learn how to handle the airbrush gun.
Siphon Feed
A siphon feed airbrush has the paint bottle connected to the bottom of the unit, which then feeds a into tube attached to the container holding the paint, thus allowing the supply to connect to the mixing chamber. The air can then go through the tube to the mixing chamber, allowing it to siphon in the paint.
The siphon-fed airbrush enables the user to have a large volume of paint stored, which is great if you are tackling a large project, such as a battleship. However, this type of airbrush tends to use more paint and will take a little longer to clean up.
You will need to take into consideration the volume of paint and the quantity of working air pressure that is required for coating large spray areas with speed. You will require a cup size of 0.9 ml up to 15 ml.
Gravity Feed
A gravity feed airbrush literally uses gravity to move the paint into the airbrush. It does this by placing the paint cup at the top part of the airbrush. This version requires a lower working air pressure, which is advantageous when you are painting details and fine lines on miniature figures.
One negative is that the cup size is relatively small for storing paint. So, depending on the size of the project you are tackling, you may have to refill the cup several times, which can be cumbersome.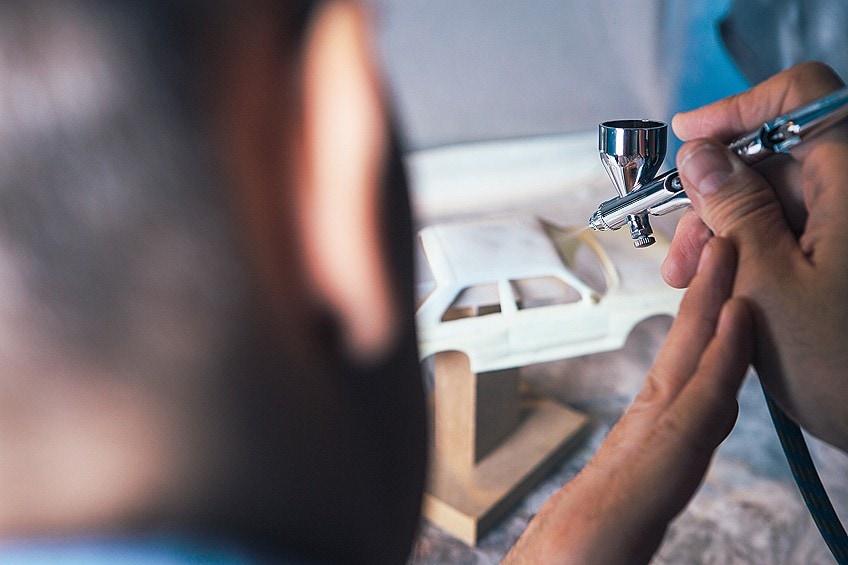 Important Parts for Miniature Airbrushing
You will require more than just an airbrush gun to create an airbrushed masterpiece. There are a lot of additional accessories and important parts needed to ensure the perfect cover and finish.
Needles of Different Sizes
The size of the needle on your airbrush has a great impact on the flow of paint. If you are looking to create fine lines, you will need to use a smaller needle, which is also great for tiny details on small models. If you are looking to paint larger items, fine needles are not ideal as they are known to clog, so you will have to thin out your paint before using them. The ideal needle size for painting miniatures is 0.2 to 0.5 mm. If you are just beginning with using an airbrush, we recommend you purchase a needle that is 0.3 mm as your first option. You can build up a supply of differently sized needles to allow for variety within your work.
Airbrush Nozzles
The nozzle of the airbrush has a direct impact on the spray effect pattern you will achieve. The majority of nozzles you will receive in kits have a needle which you can use in conjunction, but you can choose to buy the nozzle separately as long as it is compatible. If you have a long nozzle, you can expect to produce a narrow spray line, which is ideal for spraying precision lines. A short nozzle, on the other hand, gives a wider spray pattern that will allow the user to cover a much larger area.
Heavy Nozzle: This is the best nozzle if you are working with thicker paints like glazes and latex.
Medium Nozzle: This is the go-to for most airbrush users, as it gives great results when working with any thinned-down paints.
Fine Nozzle: This is ideal when working with watercolors and thinner paints.
We recommend that you buy yourself an assortment of nozzles and corresponding needles to use when you are working on different styles of miniatures.
Airbrush Compressor for Models and Miniatures
The compressor is the part that ensures the airbrush receives a consistent flow of air. It ensures a consistent flow of the correct pressure, and is one of the most important parts when using an airbrush.
You can cause your finished items to have imperfections if you do not have consistent pressure. Always take the psi (pound per square inch) into consideration when selecting your compressor, as this sets the maximum volume of pressure you will be able to achieve. If you are working with painting models and miniatures, you require a psi of at least 30.
Beginning with Airbrushing Models
Once you have assembled the relevant supplies and equipment you require to airbrush your miniatures, you will need to decide where you will be working. We suggest that you create a designated area where you can store your supplies and do work on ongoing projects, which will aid in ensuring your work is consistent.
Once you have determined where your space will be, you can set up a DIY painting station. There are painting stations available to purchase, with a variety of options available online. Alternatively, you can custom-make something to suit your requirements. Ensure that the space has good lighting and has sufficient surface area to store your supplies and organize your paints.
Once you have your workspace set up, it is time to buy your miniatures and the required paints. Always look at the paints you already own first and see if any of them will work for your new project, as this is a great way to save money. You will have to purchase any paints you do not already own or are running out of.
We recommend purchasing a good amount of miniatures and models so that you have plenty of items with which to use your airbrush. If your working area does not have enough good lighting, you may need to purchase an additional lighting source.
Now that you have a thorough understanding of airbrush tools, paints, and what to do, you can begin working on your own airbrush model or miniature!
Frequently Asked Questions
What Psi is Best for Airbrushing?
Your compressor should begin with a 30 psi when you start airbrushing. Some applications may require a higher psi, although this will depend on the material being airbrushed.
Do You Need a Particular Kind of Paint for Airbrushing?
Typically, you should use paints that are labelled as airbrush paints. These are very fluid with a thin consistency, making them ideal for spraying.
Does Airbrushing Require Ventilation?
Most airbrush paints are water-based arcrylics, meaning that they are less toxic than solvent-based paints. However, you should always ensure that you work in a well-ventilated space. You can also wear a respiratory mask to protect yourself against any fumes.
Larissa Meyer is a 32-year-old mother and creative spirit since childhood. Her passion for painting and drawing has led her to train as an illustrator and pursue a career as a freelance graphic designer. Larissa is a talented artist who is able to master a wide range of styles and techniques to bring her artistic vision to life.