Best Glitter Pens – Looking at the Best Sparkly Gel Pens for Coloring
This post may contain affiliate links. We may earn a small commission from purchases made through them, at no additional cost to you.
When it comes to glitter pens, there are so many beautiful color and medium options available. These include gel, glue, or paint-based gel pens. They also come in various colors like neon, pastel, or metallic and glitter pens. For those interested in sparkly gel pens, this article will explore these options and provide you with some great product recommendations for each one.
Glitter Pens
Using glitter pens can add a sparkle to any workbook. They are great additions to projects, kids' craft homework, or even when using them for journaling and card making. Glitter pens are mostly used as accents to highlight certain areas of your work, but they can be used on their own as well. That is why these pens make great complementary mediums when combined with other pens or colored pencils.
Some gel pens are meant for coloring and therefore can be used over the entire design or workbook. These do not come out too thick and therefore will not oversaturate your page. However, there is always a slight risk of smudging or smearing if you are not careful when using any sort of gel pens. Then, there are also certain glitter pens that can be used on surfaces other than paper, including use on outdoor surfaces. These are often not made with a gel base but rather a paint or glue one for added durability. Although these options are suitable for outdoor use, many can still be washed off and will need to be sealed to protect them long-term.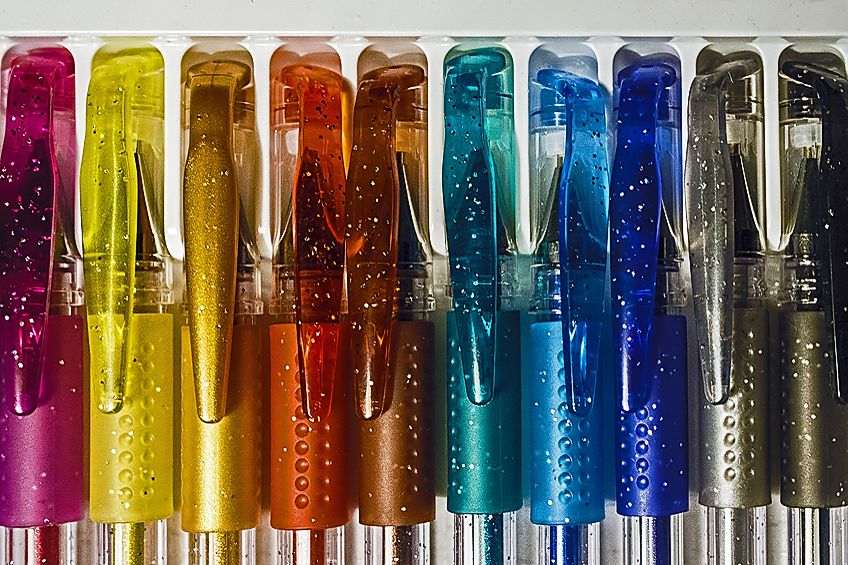 Let us take a look at the different types of glitter pens sets typically available on the market.
Glitter Gel Pens
These are the colorful gel pens that we all know and love. They come in many different color varieties and are often refillable. These pens are made with a rollerball point and water-based gel ink, which contributes to their thick and more opaque texture. This is what allows your pen to glide so smoothly over your paper, allowing for more control and finer lines and details. The reason for their popularity is their pop of color on darker surfaces when compared to other pens. The neon and pastel color options work particularly well on black paper or cardboard. Gel pens come in pastel, neon, glitter, metallic, or even glow in the dark varieties.
Glitter gel pens are made using a combination of glitter that is suspended in the gel ink within your pen. These are wonderful for children's projects or crafting as they will not only add sparkle, but they are also super easy to use and non-toxic. Different ranges of glitter pens come in different qualities and consistencies. Thus, some pen options may have more glitter than others or have colors that are lighter than others. Some ranges have a mixture of neon and glitter combined so that you can use your glitter gel pens on darker surfaces too.
PROS
Smooth flow
Various color options available
Show up on various surfaces
Will not bleed through your page
Safe, non-toxic to use
Fun for kids and adults
Affordable
CONS
Not all ranges are refillable
Some are not meant for coloring, so can look scratchy
Not all sparkle pen options will show on darker backgrounds or surfaces
Glitter Glue Pens
These are colorful tubes of adhesive mixed with glitter. Glitter glues are a fun and easy way to jazz up school projects or Christmas cards. They usually have a fine point where the glue comes out, allowing you to control how much you apply by pressing on the tube. Glitter glues are relatively easy to come by and are very affordable in terms of quick project add-ons. They are used more as an accent rather than for doing a whole picture.
The disadvantage to using glitter glues is definitely their drying time. Depending on the thickness of your application, they will need to be left for a few hours if not a full day before they are dry enough to touch. Because this is essentially a glue product, if you touch them before that, you will smudge and ruin your piece. Glitter glue dries to a very hard and permanent state, much like glue does. Be careful not to add too much glitter glue when working on paper so as to avoid it soaking through your page.
PROS
Cheap and easy to find
Different glitter colors available
Application can be controlled
Easy and safe for kids and adults
Can be used on many surfaces
CONS
Takes a long time to dry
Not for coloring
Only for small details, outlines, or accents on crafts
Will wash off outdoor surfaces
Glitter Paint Pens
These are made using a paint base, usually acrylic with a mixture of glitter and color pigments. Glitter paint pens are a great way to decorate external surfaces or surfaces other than paper by adding some sparkle. Although these glitter pen options can be used outdoors, their acrylic base makes them vulnerable to moisture and they can be washed off surfaces with water.
When using these gel pens for coloring, they are brilliant for outlines and small bursts of glitter. These outdoor options will also be less inclined to fade, and are made for being left out in the sun. Being a liquid, these pens may run out faster than your gel options, so they will not be ideal for larger projects or coloring on an entire page.
PROS
Washable for easy cleanup
Can be used on indoor and outdoor surfaces
Acrylic base is safe for kids too
Easy and fun to use
Comes in different color options
Will not fade outdoors
Affordable
CONS
Not water-resistant or waterproof
Need a sealant after they have dried
Not good for coloring on paper, but will work well spread over canvas
The Best Glitter Pens
Below, we will look at some of the best glitter gel pens sets and recommendations available on the market, as well as how they can benefit you.
Best Neon Glitter Gel Pens: TAOTREE Glitter Gel Pens
These glitter gel pens from Taotree are perfect for producing fine and smooth lines with more control. The tips are a fine point, making it easier to do hand lettering and bulleting. This set includes 32 pens in total, with 14 being neon and 18 being sparkly gel pens, so you can add a sparkle to every project. There is even a black glitter option that shows up well on different backgrounds.
More benefits of this glitter gel pen set from Taotree include that they contain around 40% more gel inside them to last you longer. Their fine point allows the ink to flow easily and smoothly onto your page, meaning no scratching or repeated coloring over areas. Add all this to the comfortable grip support and non-toxic formula and it is easy to understand why these glitter gel pens have such a great rating with artists and hobbyists around the globe.
32 vividly colored glitter gel pens, including glitter and neon options
Pens last longer with 40% more ink and will not smear, fade, or skip
Fine point tip helps to produce fine lines and makes your artwork pop
View on Amazon
PROS
Amazing colors
Neon and glitter options
More ink inside so they will last longer
Grip means better control
Non-toxic
Good for coloring
CONS
Glitter may not last too long on your paper once applied
Best Gel Pens for Coloring: SOUCOLOR Glitter Gel Pens for Coloring Books
This stunning glitter gel pens set from Soucolor contains 60 different gel pens, including 21 glitter neon gel and 39 plain glitter pens, making your crafting options endless. These glitter gel pens are great for coloring, paper, cardboard, or canvas. They are easy to use for kids or adults and are non-toxic. This glitter gel pen set includes 60 pens with a refill for each, as well as an adult coloring book, and a convenient carry case with zip.
Each gel pen has a rubber grip so that you can color comfortably for hours. They have also included more ink in their pens so that they will last you a while before you need to use those handy refills. Soucolor has also ensured that your sparkly gel pens will not smudge or smear, as they dry really quickly.
Super value and premium quality set of gel pens with matching refills
Each pen is fitted with a comfort grip for easy and comfortable use
Smooth and precise color application with no smearing or skipping
View on Amazon
PROS
60 colors
Refills for pens
Glitter and neon options
Carry pouch with zipper
Dry quickly
Includes coloring book
Affordable
CONS
Not for use on glossy paper
May bleed through paper if too thin
The Best Metallic Gel Pens: ARTEZA Metallic Gel Pens
Arteza has done it again with these beautiful metallic gel pens. This set includes 14 metallic colors with a triangular grip, making it easier to hold and obtain more accurate results. This range glides on smoothly with no skipping or the need to redo layers, and the gel dries quickly, leaving no room for smears.
The great thing about this set from Arteza is that they came with a replaceable core. So, you can purchase the replacement gel inks separately and never have to throw your pens away! The colors are darker than the usual neon glitter options on the market, which means they will work better on lighter paper.
Beautiful assortment of 14 unique metallic pens for coloring

Comfortable triangular barrel for accurate writing and drawing

Acid-free and non-toxic ink does not smear, fade, or skip
View on Amazon
PROS
14 metallic colors
Smooth and easy to use
Quick-drying
Replaceable core
CONS
No rubber grip for comfort
Will not show up on darker paper or surfaces
The Best Sparkle Pens: ARTISTRO Glitter Paint Pens
If you are looking for some sparkle then these are the pens to use. Artistro has created these fabulous glitter paint pens using acrylic paint, glitter, and ink so that they can be used on a variety of surfaces. These are designed with a thin tip so they will not bleed through your paper, but they will also work well on canvas, rock, wood, or glass.
These pens provide a smooth paint flow and ink coverage, allowing you to create a glittering masterpiece quickly and easily. Artistro Glitter Paint Pens are also odorless, non-toxic and washable, so they can be removed from your hands or your surfaces too. This set includes 12 sparkling glitter pens that are easy and fun for kids as well as adults.
Premium marker pens with vivid, highly pigmented acrylic glitter ink

Smooth coverage and ink flow with an extra-fine tip for detailing

These odorless, non-toxic markers can be used on a range of surfaces
View on Amazon
PROS
Washable
Can be used on different surfaces
Not too thick that they will bleed through your paper
Affordable
CONS
Will wash off if used outdoors and not sealed
The Best Gold Glitter Pens: YOOHO Flysea Gold and Silver Glitter Paint Pen Set
This pack of silver and gold glitter pens from Flysea includes three pens in each color. These are metallic, acrylic paint pens that are made using oil-based ink for lasting coverage. They provide a strong color and will not bleed or have a strong smell. These markers are also fadeproof and suitable for use on different surfaces, although they are not waterproof.
Flysea has ensured these silver and gold glitter pens are perfect for fine lines and details. They also work great on wood, ceramic, plaster, or even metal. Being of an oil base, these markers do take much longer to dry, so it is best to leave your project for at least 24 hours to ensure it is completely dry. If you choose to use them on ceramics or glass, the items will need to be sealed by baking them so as to prevent being washed off.
Acrylic paint pens are made with high-quality and high-purity oil ink

Strong covering force, fade-proof, non-bleeding, and non-toxic

Smooth application and thin tips for your fine line and detailed art
View on Amazon
PROS
Can be used on different surfaces
Strong color
Will not fade
Affordable
CONS
Washable
Not waterproof for outdoors
May require sealing or baking
Glitter Gel Pen Tips and Techniques
Now that we know the best glitter pens recommendations, we can take a look at some tips and techniques for using gel or glitter pens for different projects.
Coloring with Glitter Pens
Glitter pens are used more for detailing, outlining, writing, or smaller accents. It is not ideal to color an entire picture using sparkle pens and it will use them up much faster. Below, we are going to look at some helpful tips for using your glitter gel pens.
Glitter Pens for Outlines
If you are using your glitter pens for coloring, then you can add in some great outlines and details. Try starting with the thinner lines or smaller details. First outline those in your chosen color of glitter. Then, you can softly color in tiny areas you would like to add some glitter detail to.
Remember to start with smaller areas first. Glitter or gel pens can also be used with other mediums. So, you may like to try outlining everything using your sparkle pen and then coloring in with colored pens or pencils to add different textures and colors.
Layering with Glitter Gel Pens
As we said before, these pens can be used with other mediums. They are great for adding light, glittery layers over your other gel pens or colored pencils. Many glitter pens can also be used as a layer over certain paints or markers as well. They will probably not work when used over an oil-based medium, as the gel in your pen will not be able to adhere to the page properly.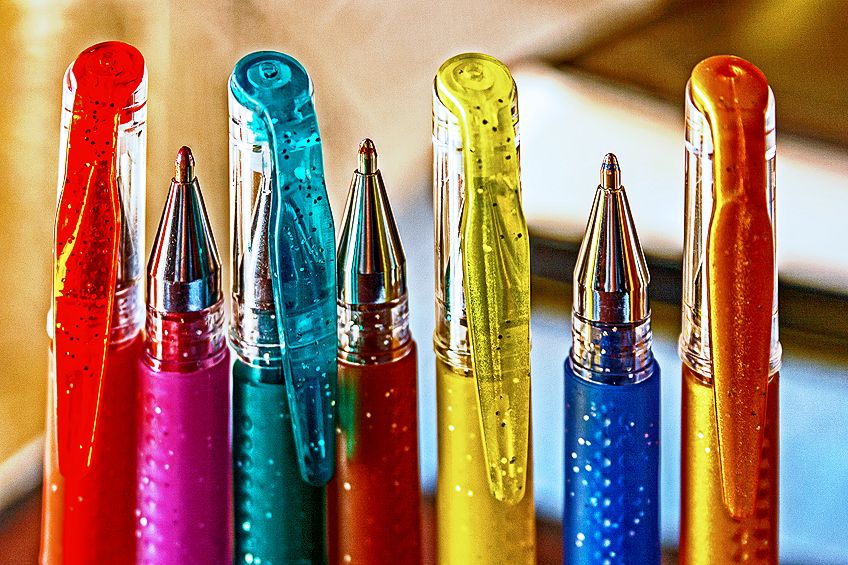 Coloring In
Focusing on the smaller details on the page, start with coloring in something like a butterfly or a flower. This will give you an idea of what the colors look like on your page too. Using glitter pens for eyes or details in someone's hair can create beautiful effects and highlights that make your work stand out. This way your glitter will not be the main focus of the picture either, but it will certainly draw the eye.
Try choosing one color and filling in all the areas for that color first, then move onto the next one. This way, you can also see what colors go together and enjoy planning and color mixing as you go along.
Blending with Your Sparkle Pens
Many people may not be aware of this, but some gel pens can be used for blending your colors too. The way to do this is to use a normal gel pen that has no problem with producing gel on your page. Allow it to pool a bit for easier blending. Be careful not to leave this too long as the ink will dry quickly.
The next step is to use a glitter pen to move the wet ink around on the page and blend it where you need it. If you find it difficult to move the ink the way you need it, a cotton swab, old toothbrush, or paintbrush may work well too. These will also add in some rougher textures to your colors or blocks that you may find useful.
Other Techniques for Using Glitter Pens
If you have already placed color on your page using another medium, then here are some great techniques to explore with your glitter pens.
For a more subtle addition, you can use your pens simply to add a sparkly outline.
You can color over the other medium completely using your glitter or gel pen options.
You could try using different strokes and patterns over the base color, making it show up in random spots on the page. You can do this by using short strokes for hair, eyelashes, or even feathers to add depth.
Techniques that could work well with a glitter pen medium also include hatching or stippling. These would be used for adding in different textures and color elements to your picture.
You can also use different colors over the previously laid ones in order to slightly alter them. You should only do this if you have a lighter color as the base.
How to Use Glitter Gel Pens for Coloring
Whether you are using a design from a coloring book that you have purchased or if you prefer to print your own images to color in, these tips may be useful.
Picking Your Paper
When coloring, the first factor to consider is your paper. Some adult coloring books come with a thicker paper which helps with certain mediums. Luckily with gel pens, the thickness of the paper is not a big factor, as they are light on the page, but the type of paper could be the difference between a vivid piece or a flat one. Gel mediums require a surface they can easily stick to.
So, experimenting with different papers could be worth your while.
Some say using sticker paper works well as the surface is very smooth, but not highly absorbent. This means that your gel pens may take a while longer to dry, but the color difference will certainly be more noticeable. This paper allows for a longer-lasting hold without the worry of your pens bleeding through or fading over time. It may be useful to print some designs you like onto this and other types of paper and see what the results are for yourself.
Your Design
The area you would like to color in is pretty important too. If you are using gel pens or glitter gel pens, these should be used only for smaller areas of color or outlines. If you would like to do the entire piece in gel pens, getting a set for coloring will be beneficial for doing the rest of your picture. The first thing to look for when picking your design is to notice how much detail there is. If the image has a mass of empty space, then using gel pens would be time-consuming and a waste of your medium.
Another factor to consider is whether the detailed areas are too small for your pen. Not all gel pens come in a standard size, some tips are bigger than others. If you choose one that is too large for the area you are coloring, this will lead to smudging and your colors bleeding into other areas. It is also important to try to avoid pages with thick and very dark black outlines. This makes it harder to add your own colors over them.
Adding Color
When working with any medium, the key to adding colors and making them stand out is to start light. Starting with lighter tones allows you to build and change colors as you go along. By adding color to the lighter parts of your image first, you avoid the risk of darker colors that cannot be covered up, and you allow for any mistakes to be covered up easily with a darker color later.
When starting with a dark background, you will find it very difficult to add in lighter elements and tones later as the dark colors will keep showing through. This rule changes though if you are planning on blending. They say that in this instance, you may want to start with a dark color in order for your lighter color to be added, altering it later.
When starting with any new medium, it is always helpful to check your colors on a separate piece of paper before you start working with them. This is because not all colors will come out the way they look on the package or the cap. Some will dry to be lighter or darker than expected. When using glitter gel pens or other glitter mediums, this is especially true. The glitter can alter or even hide the true color of the ink.
Avoiding Smudging
Although gel pens do not take a long time to dry, their gel medium makes them susceptible to smudges. This is especially apparent when coloring and laying down lots of pigment over an area. This is what makes them good for blending work.
When working with gel pens, there is a risk of smearing the colors with your hands. If you are right-handed, it is best to start or move from the left of the page to the right, and vice versa if you are left-handed. This is to avoid accidentally wiping over your page and smearing the ink. Another great trick would be to use a piece of paper to lay over the wet area and protect it until it is dry completely.
Now you know the different types of glitter pens available and what they are used for. We hope you enjoy your projects and have fun finding the best glitter pens that work for you.
Frequently Asked Questions
What Are the Best Glitter Pens?
Glitter pens come in different ranges. There are glitter gel pens, glitter paint pens, glitter glue, and metallic pens. These can all be used on paper or cardboard for crafts, but only the paint and glue options would work for other surfaces. The best glitter pens for you would depend on what you would like to use them for.
What Are the Best Gel Pens for Coloring?
While glitter gel pens are fun to use, they should not be the only option when coloring. Using standard gel pens like their neon or pastel varieties will provide better coverage for coloring, techniques, and even layers and blending. Some great brand options would be Chromatek Pens, Soucolor, or Arteza. They have many different gel pens and glitter varieties available to choose from, no matter your project requirements.
What Would You Use Glitter Gel Pens For?
Glitter gel pens are best used for outlines, writing, cards, calligraphy, or other craft projects. They do not show up well on darker backgrounds and are not ideal for covering larger areas. Glitter gel pens are fun and easy to use for kids and adults.
Larissa Meyer is a 32-year-old mother and creative spirit since childhood. Her passion for painting and drawing has led her to train as an illustrator and pursue a career as a freelance graphic designer. Larissa is a talented artist who is able to master a wide range of styles and techniques to bring her artistic vision to life.