Best Oil Paintbrushes – How to Choose Your Next Oil Brush Set
This post may contain affiliate links. We may earn a small commission from purchases made through them, at no additional cost to you.
When it comes to painting with oil paints, there are a few things that may make or break your painting style. The materials you use must be the right choice according to what you want out of your painting. These materials include the surface you are painting on, the primers needed, the oil paints (of course!), and finally, the oil paintbrushes that you use to paint with. This is a tutorial based on the best oil paint brushes that are available on the market. We will cover what to look for in your oil brush, what to look for when choosing oil paintbrush sets as well as some techniques on how to use the various sized and shaped bristles of the paintbrushes for oil paint.
Different Types of Oil Paintbrushes
The best oil paint brushes are determined by the style of painting you wish to create. The bristles need to be oil brush-worthy, meaning, can they work with oil paints, or are they more suitable for other paints like acrylics or watercolors?
The material that the bristles are made up of is the deciding factor here. Let us take a closer look at the different paintbrush bristles so we can determine which are the better oil paintbrushes.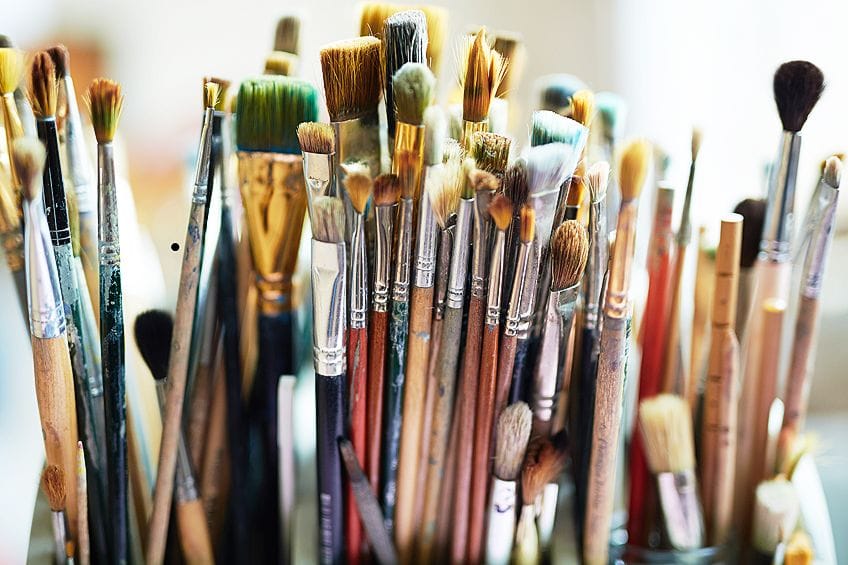 Natural-Haired Oil Paintbrushes
Would you believe it if we told you that a bristle brush that has naturally derived bristles… from pigs! They are referred to as" hog's hair paint brushes and they are amazingly absorbent in comparison to the synthetically made brush for oil paint.
If you like working with the impasto technique, these paintbrushes are the best for you because they hold a lot more paint than other brushes. They are perfectly suited to the rough surface, so if you are painting on a piece of wood that has not been sanded down enough, these are your best bet.
Another natural-bristle oil brush is one where the bristles are made from the hair of squirrels and weasels, in particular, for their tails, and they are called sable brushes. These oil paint brush sets are the best if your painting has some smaller details that will be hard to achieve with a bigger brush, the bristles are fine and sharp, making the tiny lines and shapes easy to manage.
Synthetic-Haired Oil Paintbrushes
Natural brushes are not exactly the most favored amongst animal lovers, and they most definitely are not a vegan option. If this bothers you, then you can always switch to a synthetically made oil paint brush set. The softer bristles might come from the natural bristles, but the synthetic ones are far hardier and can withstand some rough painting, or being transported around.
Synthetic brushes are the best oil paint brushes for a smaller budget. The natural bristles are much more expensive, so if you are not looking to spend an arm and a leg, then we recommend synthetic oil paintbrushes.
Comparison Table for Natural Versus Synthetic Oil Brushes
In terms of oil paint brushes, you will find the perfect option to suit your artistic needs, so understand that you are not limited. Today, artists are spoiled with the amount of choice they have to choose from. There is an abundance of brushes that come individually or with a brush set. Here is a table that compares the different options so you can make more informed decisions for yourself.
| | | |
| --- | --- | --- |
| | Natural-Hair Oil Brush | Synthetic-Hair Oil Brush |
| Cost | Expensive | Budget-friendly |
| Durability | More delicate | More durable |
| Material | Animal hair: hog's hair, weasel, ferret, or squirrel | Nylon, polyester, or blend |
| Uses | Best for oil paints holds more paint | Best for acrylics and watercolors |
Choosing the Right Oil Paint Brush Set
It might seem a bit overwhelming to decide on the best type of oil paint brushes because there are so many varieties to choose from. Besides the bristles being an important factor, many other things should be taken into consideration before you choose any old set. Let us take a look at some of these factors.
The Paintbrush Shape and Size
The larger bristles are destined for the bigger spaces, and fill in colors onto the surface you are painting on. If it was not obvious for you, the smaller brushes are designated for the fine detailing. The brush sizes range from 000 up to 20.
If you are wanting to create the finer details on your painting, we recommend using brush sizes 6 and down. Anything up from six would be better for the filling in of shapes and colors of your painting. The bristles are also shaped differently.
Flat brushes are great for impasto or impressionist style artworks, and rounded brushes are better for patterned and detailed artworks.
The Structure of an Oil Brush
The best way to truly understand how a paintbrush works, one should first understand how they are made. We are logical enough to understand that the bristles are attached to the stick of the paintbrush. The ferrule is the aspect that keeps the bristles intact and attached to the paintbrush.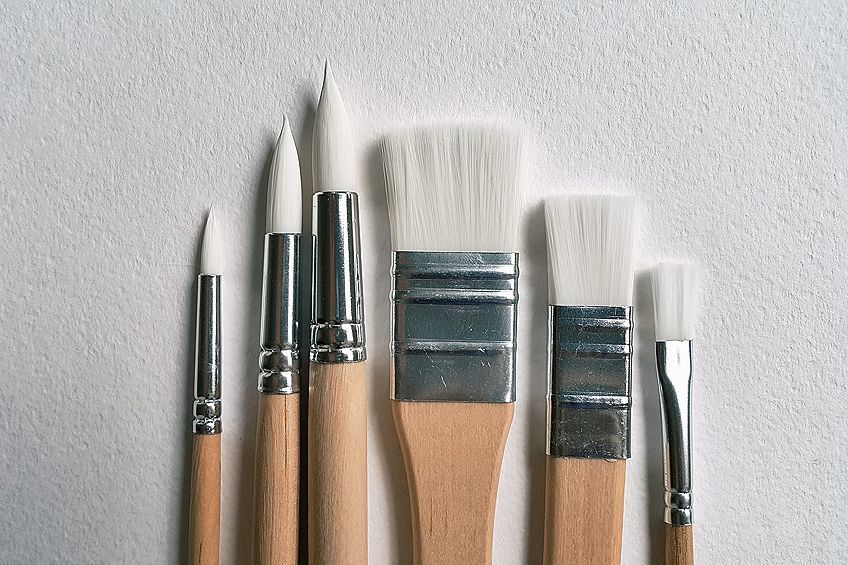 It is usually made out of metal and wraps around both the brush handle or stick and the bristles altogether. This is what determines the longevity of your brush. If the ferrule is not attached securely, then the bristles will easily fall out or become skew.
But the length of the paintbrush stick is also important because the long one is better for softer strokes and, of course, the shorter ones allow for more controlled and stronger strokes.
Quality of Oil Brushes
Were you ever one of those children who would run a new paintbrush over their face, as some would with a feather, and appreciate the smoothness of the bristles? This brings us to our next point. If the bristles are not bouncy, they are not of good quality. This means that when you press down to make a brushstroke, do the bristles bounce back? Or, do they simply move back into their normal place a bit disjointedly?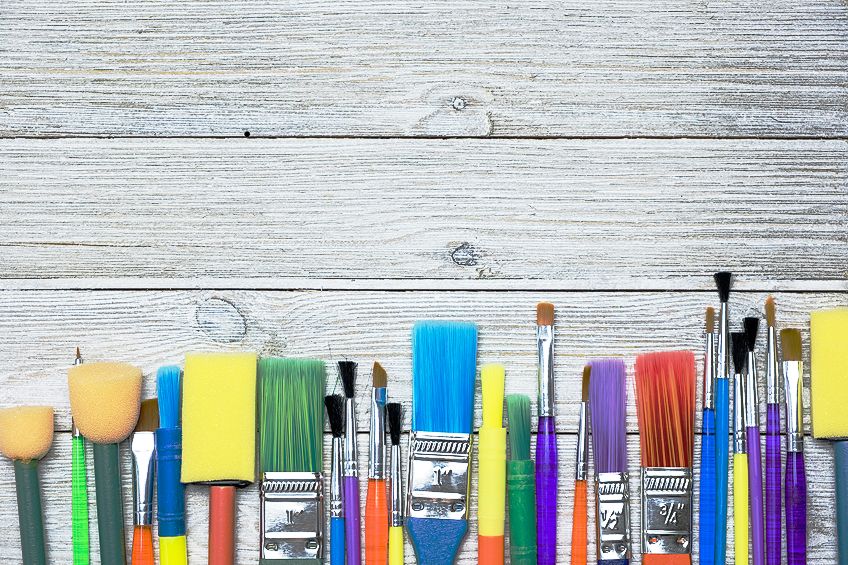 Another thing is the amount of paint that the bristles can load and hold onto. The different brushes (natural or synthetic) are big definers in this part, but the quality of how they were manufactured is, if not, more important.
There are many options to choose from, so you just need to try them all out as your painting style progresses, so will your understanding of the different brushes.
Cost of Oil Paint Brushes
Of course, the better-quality brushes will be a bit more expensive than the lower-quality brushes. But when it comes to synthetic brushes, the cost is much lower regardless of the quality. If you are working on a budget, then rather stick to the synthetically made brushes.
The Best Oil Paint Brush Sets
When choosing the best oil paint brushes, you might not know where to start in terms of the different brands that you can choose from. Here are a few of the brushes that we would recommend.
Top All-Rounder Oil Brush Set for Beginners: ARTIFY Paint Brush Set
Artify has a paintbrush set that is inclusive of up to 15 different sizes. This allows you to create just about any type of artwork with just one purchase. This set offers a lot of versatility and they can work with acrylic paints, watercolor paints as well as oil paints.
Durable brush set with soft bristles
High-quality nylon materials used to minimize hair loss
Easy to clean and can be washed whenever
View on Amazon
You will also be pleased to hear that there is a palette knife as well as a couple of sponges included in this kit, so you will not have to go out and buy more equipment, and your artwork will have a lot of variety to be explored from.
The design of these brushes is extremely strong, so no loose hairs from the bristles will fall out as you are painting, which might ruin the aesthetic of your artwork. The glue that is used in the ferrule is strong and water-resistant, so it can be soaked for a couple of days in water without standing a chance of loosening its grip from the handle of the paintbrush.
PROS

Bristles are hardy and can withstand vigorous strokes
Simple to clean up
The set includes a sponge for dabbing the paint, and a palette knife to distribute the paint onto your palette or directly onto the painting.
Bristles shapes and sizes are varied
Come packed in a box to allow for easy transport
CONS
Only for newbies, not suitable for professionals
Variations of Oil Paint Brushes
We will now take a closer look at all of the various shapes of paintbrushes that you can use while oil painting. Along with all of the different types of brushes you could use and their description, we have added the brand that we would recommend so that you get the best experience out of your painting, by using the best brushes.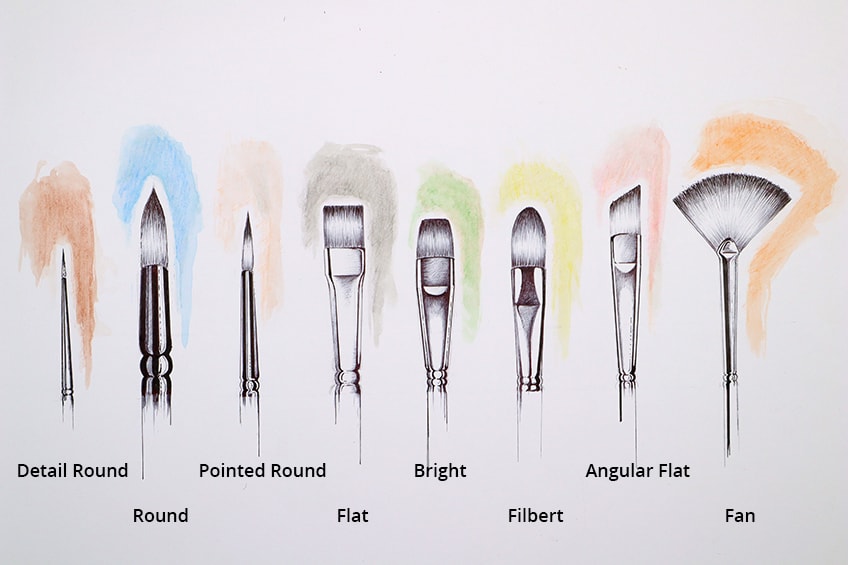 Rounded Oil Brush
If you think of a brush, we bet the first image that comes to mind is the rounded paintbrushes. Their tips can be rounded but pointed at the same time, and they hold a lot of paint in their deep bellies. This helps when you are painting those small aspects that need fine details and small crevices filled in.
You can maneuver the brush as you are painting to allow the line to interchange between thick and thin lines. This is usually a twisting motion, as well as how much pressure you apply with the bush. These paintbrushes are the most suitable option for watercolor paints because of the amount of paint they can hold, but some oil paint artists make use of them as well.
Top Pick of Rounded Paintbrushes: PRINCETON Select Artiste Rounded Paintbrush
If you like to paint with oil paints, acrylic paints, or even watercolor paints, and you like the effects that rounded paintbrushes offer, Princeton has a great selection of paintbrushes that allow for the exploration of many different painting styles and techniques. There are a variety of bristle shapes and sizes, but most are made from synthetic materials.
A variety of synthetic and natural hair
Can be used with acrylic, oil, and watercolors
Brushes work perfectly for both decorative and technical painting
View on Amazon
PROS

Suitable for multi-media artworks
Not costly
Will last long
Strong ferrule
Able to blend nicely
Perfect for creating highlights
Flat-Tipped Oil Brush
Brushes with a flat top typically have bristles of short to medium length with a sort of rectangle shape at the tip of the brush. This brush allows you to explore a number of different techniques and the style of your art will be varied. These include impasto, blending your colors, blocking in colors on large spaces, finer details, and strong lines.
Typically, these brushes are used for the underpainting part of your artwork, as well as for the background, and they come in a variety of sizes that allow you to use them for the smaller aspects of your paintings.
Top Choice for Flat-Tipped Oil Brush: PRINCETON Select Artiste
We do love how versatile a paintbrush with a flat tip can be, and how they all have so much freedom with your painting techniques because of said versatility. Our favorite brand for flat-tipped paintbrushes is Princeton because they have catered for every artist's needs. They are top quality and made so that thy bristles will not stick out in funny angles after a few uses. They are long-lasting and durable, not to mention very affordable, so beginners can practice their painting with ease.
Incredibly durable and dependable paintbrushes
Bristles are designed using a variety of synthetic hair
Can be used with acrylic, oil, and watercolor paint
View on Amazon
PROS

Long-lasting and durable
Not expensive, and worth to cot
No visible brush marks left
Work for a variety of styles and techniques
Suitable for mixed media
CONS
More suitable for beginners than professional artists
Fan-Shaped Oil Brush
As the name implies, this is a type of flat brush that consists of a thin layer of bristles spread out into a fan shape. You can use this type of brush for those feathered effects that make realistic lefts of trees from a distance, or the tall grass growing on fields. They can also be used to blend colors and smooth outlines, like smoothing out the edges of clouds in the sky.
Top Choice for Fan-Shaped Oil Brush: AMAGIC Fan Brush Set
Moving away from our Princeton brand, we now have Amagic, a brand that is just as reputable as Princeton. These brushes have a variety of sizes to choose from, and they are typically made using the hairs from hogs, which makes them a soft and naturally crafted brush. It is suitable for most types of paints, but mostly for oil paints. On top of all this is that their naturally made bristles make it easy to clean.
Incredibly versatile and can be used with almost any kind of paint
Durable brushes that have anti-shedding bristles
Easy to care for and reshape after cleaning
View on Amazon
PROS

Not expensive
Top-quality professional-grade brushes
Made from the hair of hogs
Different sizes to choose from
CONS
Overcleaning and overuse may damage the bristles
Filbert Oil Brush
These are quite similar in use as the flat-ended and round-tipped brushes. Their handles are particularly long, typically, and they allow for the softer strokes which smooth out the edges of the subject matter, and the background of the painting.
If you use the filbert brush on the flat side for flattened stokes and then turn it to its side for the finer detailing and fading effect. This is done by gradually releasing the applied pressure until the brush lifts off.
Top Choice for Filbert Oil Brush: DAINAYW Filbert Paint Brush Set
If you have not heard of the brand Dainayw, then allow us to intrigue you with their amazing range of oil paintbrushes. They make some of the best oil paintbrushes on the market, and they come in various sizes too! They are hardy brushes, with ferrules made of chrome-plated brass. The grip of this paintbrush is easy to handle and comfortable in your hand and they can use with many types o paint, from watercolors to oil paints to acrylics.
Suitable for both beginners and professionals
Secure chrome plated brass ferrules
Easy to care for and reshape after cleaning
View on Amazon
PROS

Worth every penny
Cleans easily
Able to be set back to their original shape
Strong and long-lasting
CONS
The handle is poorly painted
Rigger Oil Brush
These are the perfect brush for the very small details in your artwork. Rigger brushes are often referred to as liner brush because it has longer and much narrower bristles than your average brush. You can use this type of brush when you are painting the branches of a tree, the tall grass on a field, and much more.
You will find that this painting works better with smooth and thin paint, so we recommend adding some thinning agents to the paint for the optimal effect.
Top Choice for Rigger Oil Brush: DA VINCI Oil Paint Brush
These brushes are German-made and are a great option, particularly for oil paint. Their bristles are made from sable hair and they are very easy to clean and set back into shape during the painting process and when you are drying the brushes out after use.
High capacity for holding color
Brush bristles have plenty of elasticity
Handles manufactured from sustainable wood
View on Amazon
The handle of the brush is wooden, sourced sustainably, so our nature lovers will get a kick out of Da Vinci's oil paintbrushes. Another benefit is the amount of paint these brushes can be loaded with, even after using them many times.
PROS

Long-lasting bristles and hardy ferrules
A large variety of shapes and sizes
Highest quality
Bright Oil Brush
The handle of the brush is quite long in comparison to some other brushes, and the ferrule is flat, unlike the typical rounded ferrule. Because the handle is shorter, it is suitable for the more controlled brushstrokes. The only downside to these brushes is that the bristles have a tendency to curve to the side, but mostly, they are a perfectly decent pain brush to start learning with.
This makes it the perfect option for beginners who have yet to develop their steady hands.
Top Choice for Bright Oil Brush: WINSOR & NEWTON Hog Bristle Brush
With bristles that are naturally made using the hair of Chinese hogs, Windsor and Newton have manufactured some brilliant oil paintbrushes. Being specially designed to use with oil paints, they make a perfect choice for any oil paint artist, beginner or seasoned, no matter your skill background.
Made out of finest Chinese hog bristles
Can be used with both oil and acrylic paint
Suitable for creating sharp edges with control
View on Amazon
PROS

Long-lasting
Well made
Top Quality
Not expensive
Suitable for newbies
CONS
Suitable for beginners only
Bristles can stick out or fall out of the ferrule after some use
Mop Oil Brush
In contrast to a wash brush, a mop brush is a larger and round brush, and it is an excellent choice for covering larger areas. You can soften the sharp edges of your painting before the paint dries, to create a feathered look and they are perfect for creating those glazed effects, as well as softening the brush strokes that are left after you paint before they dry so they are no longer visible.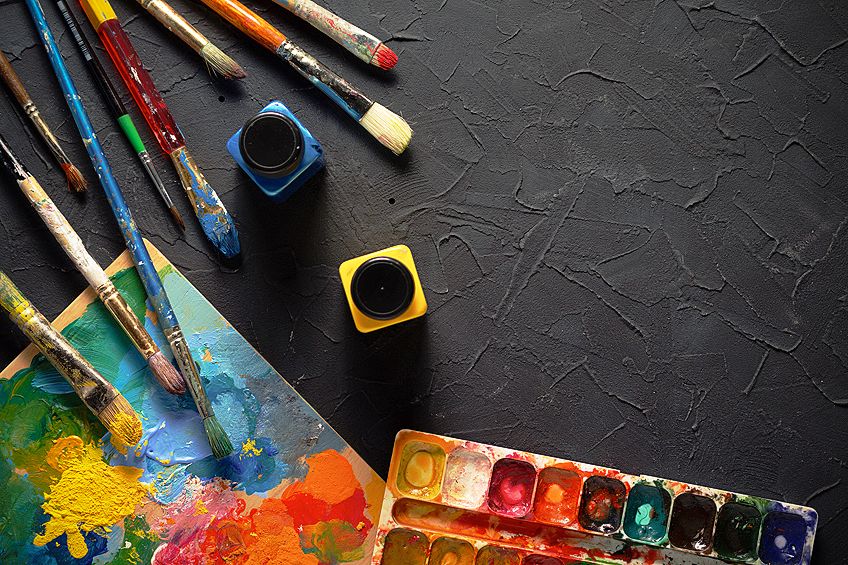 Top Choice Mop Brush: PRINCETON Paint Brush
Princeton is a versatile brand, and have created a nifty set of paintbrushes that come in a variety of shapes and sizes. They are also suitable for other painting mediums like watercolors and acrylics, so you are not limited to working with oil paints with this set. They are well made and the ferrules are strong enough to hold onto the bristles for a long time.
High-quality and affordable brushes
Perfect for both decorative and technique painting needs
Can be used with acrylic, oil, and watercolor paint
View on Amazon
PROS

Worth the cost for the efficiency
You can set the bristles back into shape once you are finished painting
Top-quality paint brushes
Perfect for blending colors and softening brush strokes
CONS
Cleaning the bristles can be tricky
Palette Knives
You will never cease to be amazed at the usefulness of a palette knife, and your painting kit will not be complete without one. You can use it to distribute the thick oil paints onto your palette for mixing colors to your perfection, or directly onto the canvas. You can also use it to make chunky effects with the paint. These tools are particularly easy to clean as they are made of metal, but they must be dried so they do not rust.
Recommended Palette Knife for Oil Painting: CONDA Palette Knife
If you are on the hunt for the perfect palette knife, then the brand Conda, has manufactured the perfect set. You can buy these individually but they come in a set that has a variety of sizes as well. You can play around with the various palette knives so that you can find which works best for you. There is no limit to exploration, so you can have some fun with these guys.
Stainless knife blade resists all wear and corrosion

Great assortment for mixing, spreading, scumbling, and more

Ergonomically designed handle adds increased comfort and grip
View on Amazon
PROS

Not too expensive
Well-made with high durability
Used to distribute paint onto the palette for mixing or directly onto the canvas
Can be used in place of a paintbrush
CONS
Not as strong as the first impression
Must be dried so they do not rust
Will not get the same effect that brushes give
Caring for Your Oil Brush
If you want to keep your oil paint brushes in a good shape for the longest amount of time then you will need to learn how to care for them properly. One cannot simply leave the brushes full of paint to dry and cake onto the bristles, ruining them forever. Nor can one leave them soaking for days on end in a jar of water? There are various things you can do to keep your brushes in top-notch condition, and here are a few to try out.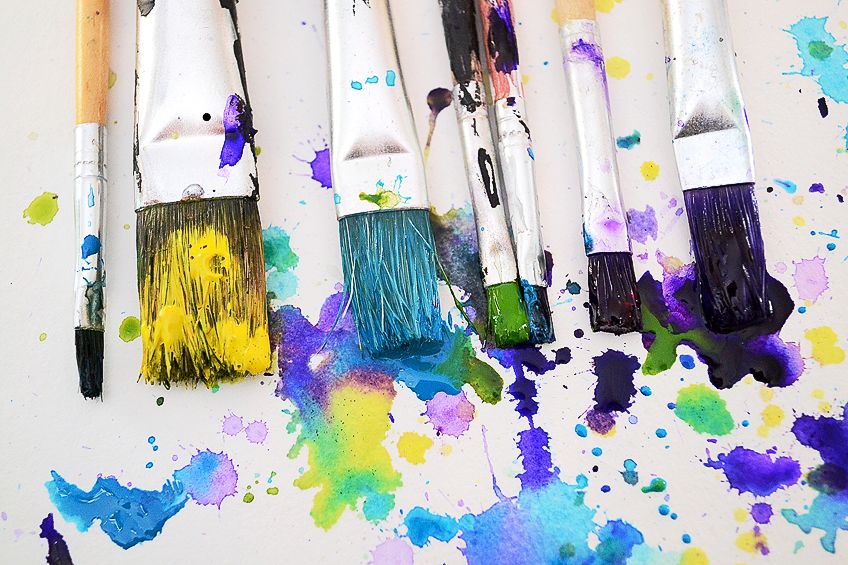 Cleaning Oil Brushes
As oil paint is, of course, oil-based, it can be very hard to clean using only water. Even soapy water will not be sufficient. The best way to clean oil paint from your paintbrush is to use mineral spirits like turpentine, and for you to do so immediately, and not to wait one moment for the paint to start drying as this could ruin the paintbrushes bristles. Below we have listed all the equipment you will need to clean your paintbrush properly.
Tissues or paper towel
Specially designed soap for cleaning oil paint
Some containers
Paint thinner like turpentine
Paintbrush cleaner
The first step in the process is to remove as much of the paint that is left over from the painting from your paint bush. Use the paper towels to gently squeeze the excess paint from the bristles, and dab the brush until you think most of it is gone. Fill one of the containers with the paint thinner and set the brush, bristles down, into the solvent. Allow the brush to soak up the solvent for the paint to thin out and wash off the bristles.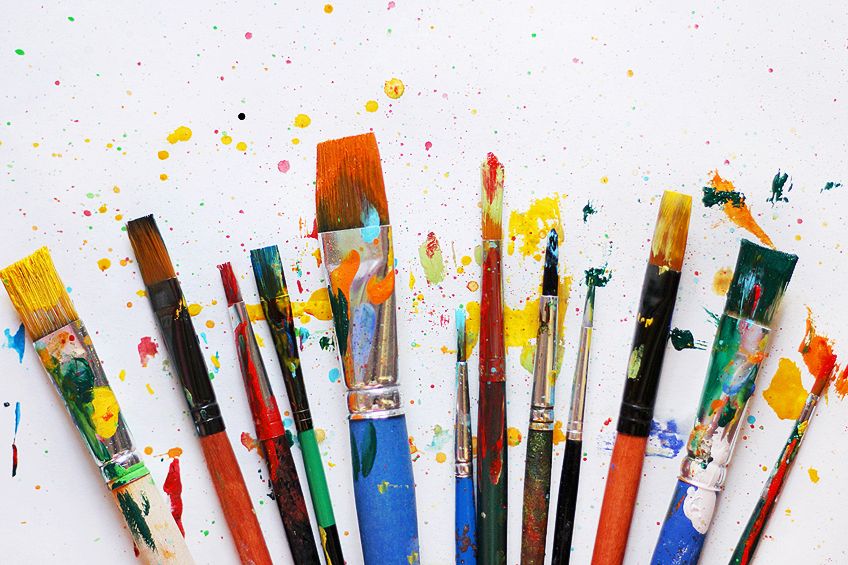 Once that is complete you can fill the second container with water and the specially designed soap for cleaning oil paint from paintbrushes. Make sure you get into the bristles, and the edge of the ferrule as paint tends to gather there. Make sure you are working gently because the bristles can easily be damaged by cleaning too vigorously. When you can see that the paint is gone, you can then rinse it under some water that is slightly warmed.
Before the water dries from the bristles, set the bristles back into their original shape. The various painting techniques tend to make the paintbrush bristles stand out at odd angles, and this can lower the quality of your brushes' condition. Set the brush to dry on some more paper towels, and then you can facilitate their reshaping further by smoothing some linseed oil onto the bristles. This keeps them moisturized, and the bristles will last longer and feel softer.
We always recommend using some protective gear when working with solvents, but even the paints can have toxic chemicals in their formulas.
Sensitive skin will benefit from working with gloves when you are cleaning the oil paints from paintbrushes using solvents. Your protective gear should include a pair of durable gloves, as well as a respiratory mask so that you do not breathe in the fumes. A window should be opened wide to allow clear ventilation.
Storing Your Oil Brush
Once your paintbrushes are dried properly, they can be packed away safely until you need them again. There are some professional paintbrush holders that you can find at paint supply stores, but you can also use jars or cups to set the paintbrushes into, bristles pointing upwards. Do not leave your paintbrush facing downwards because the bristles will get flattened and fall out of shape.
Final Suggestions for Using Oil Paint Brushes
For your benefit, we have some final suggestions and reiterations for you that you can make use of. These will ensure your painting experience is smooth and efficient.
Keep the damaged brushes that have managed to get split bristles regardless of your care efforts. They can provide a unique texture to your artistic style.
The paint will harden onto the bristles if you forget to clean them. Oil paint takes longer to dry than most paints, but you should never leave the brushes unwashed for more than one day
Use a palette knife to distribute the paint directly onto the canvas. You can also use it to mix colors on your palette.
A palette knife can also be used for the painting instead of a brush. This is because they are able to create chunky and textured effects.
Use different brushes when adding in another medium.
Do not overlord the paintbrush. If the pain reaches the ferrule, it will collect in the base of the bristles, making it hard to clean.
Frequently Asked Questions
Can You Use Synthetic Brushes With Oil Paints?
Although there are various types of brushes with synthetic or natural bristles, natural ones are the most preferred when painting with oil. This is because they hold more paint than synthetic bristles.
What Types of Oil Brushes Are There?
There are various shapes and sizes when it comes to oil paintbrushes. There are flat-tipped, and rounded bristles, there is the mops brush and the bright oil brush, and there is a fan-shaped brush and the filbert-shaped brush. Each brush offers a different technique, adding more versatility to the world of painting.
How Do You Store Oil Brushes?
When storing your brushes, you must make sure they have dried before they are packed or stored away. You can also just leave them facing upwards in a jar so that the bristles do not get damaged.
Do Oil Paint Bushes Come in Different Sizes?
Each brand will have a variety of sizes of brushes to choose from. They can be bought individually, but they also come in paintbrush sets that are occasionally equipped with a palette knife as well.
Larissa Meyer is a 32-year-old mother and creative spirit since childhood. Her passion for painting and drawing has led her to train as an illustrator and pursue a career as a freelance graphic designer. Larissa is a talented artist who is able to master a wide range of styles and techniques to bring her artistic vision to life.