Thinning Acrylic Paint for Airbrush – The Easiest Methods
This post may contain affiliate links. We may earn a small commission from purchases made through them, at no additional cost to you.
Acrylic paint is a great medium for your airbrush, as it is safe to use and comes in both transparent and opaque forms. You do not have to worry about acrylic paint giving off any smells or harmful fumes, which is great as you can work with it indoors with limited ventilation. Also, they are a water-based product. As an artist, acrylic allows you the flexibility to create an assortment of textures and to layer your paints. It is very simple to mix your acrylic paints in order to be used in an airbrush, which we will explain how to do in this article.
Why Thin Your Airbrush Paint?
Even if the paint is marked as airbrush paint, this does not mean that it is 100% perfect and ready to use in an airbrush. Your airbrush paint may need to be thinned out before you can use it in your airbrush. If you choose to use it as is, you may have to continually adjust the airbrush while using it in order to get a consistent spray.
Normally, by taking the time to thin your airbrush paint before using it, the airbrush will provide you with a more consistent spray pattern. This is because using paint is too thick when used as it is. That being said, every paint is different and there are some which are okay to use straight from the bottle.
Your project and particular brand of paint you have chosen to use will be the ultimate decider as to whether you will need to thin the paint out at all or leave it as is. For the majority of the time, you will see the benefit from reducing your airbrush paint through thinning it, and the positive impact that this has on how your airbrush operates.
What Happens if You Do Not Thin Your Airbrush Paints?
There are certain brands that can be used straight from the bottle in the airbrush, but keep in mind that you may require a higher psi (pounds per square inch) to get the desired spray pattern, should you use the paint without reducing it.
The majority of paints, should you choose to use them in an airbrush without first thinning them, will result in the clogging of the airbrush, as well as giving an inconsistent spray pattern. The paint will also overwork the airbrush's compressor, as the need for a higher psi is required to move the thicker paint through the airbrush system.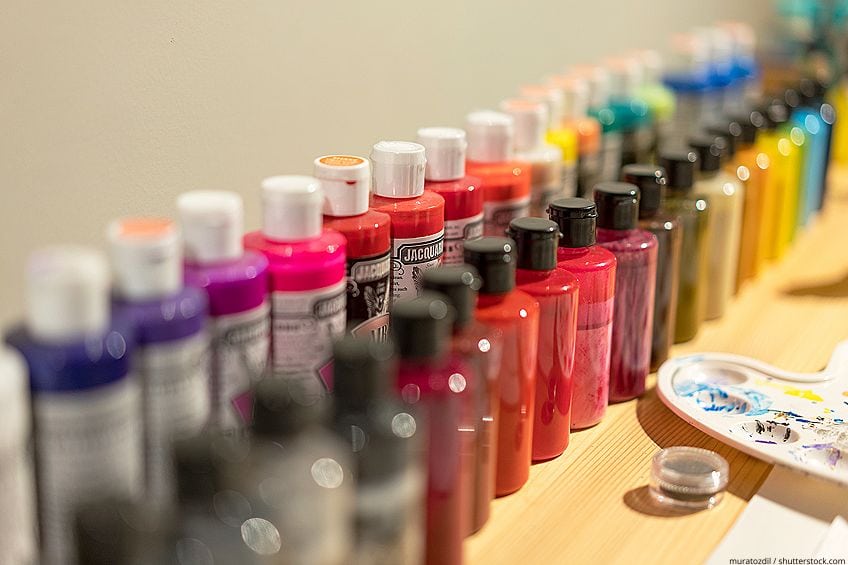 Thinning Acrylic Paint
When thinning acrylic paint, you are aiming to achieve a consistency that is similar to milk. We recommend using an artist's reducer or distilled water to thin the paint.
There are many elements that you need to take into consideration to determine the correct consistency for your airbrush so that it can atomize the airbrush color correctly. These include the size of the needle, the size of the liquid nozzle, the type or make of airbrush you are using, and of course the air pressure you use.
Remember also to consider the overall size of the airbrush nozzle. Thicker paint will spray with more ease through a 0.5 mm nozzle as opposed to the likes of a 0.2 mm nozzle, provided you are using the correct air pressure.
Be careful when reducing paint, as excessive thinning can compromise the colors and may cause the paint not to adhere well to the surface you are spraying on. It is a good idea to consult the manufacturer's technical datasheet; that is, if the manufacturers have one available. One should experiment to determine what the correct consistency is for your particular project, and how much thinning you may require.
The question remains: do you use an extender or a thinner? While extenders are often sold by the paint's manufacturers, they do not always make the paint thinner, and instead simply cause the paint to become more transparent.
How Finish Impacts Thinning Ratios
Acrylic paints offer you a variety of finishes, from pearl and candy colors to those that are transparent and opaque. How much thinning a paint requires is greatly impacted by the finish of the paint you are using.
Transparent paints allow the light to shine through them, whereas opaque paints block the light completely. Opaque paints tend to be of a slightly thicker consistency, as the paint needs to be thicker so as to provide the necessary pigment coverage. Thus, these paints will need to be reduced more so as to achieve the right consistency for airbrushing.
If you are working with paints that have a transparent finish, on the other hand, you will only have to reduce them slightly. One of the reasons for this is that transparent paints are a lot thinner than opaque paints. If there is any type of finish that claims that it does not require thinning before use with an airbrush, it is more than likely a transparent paint.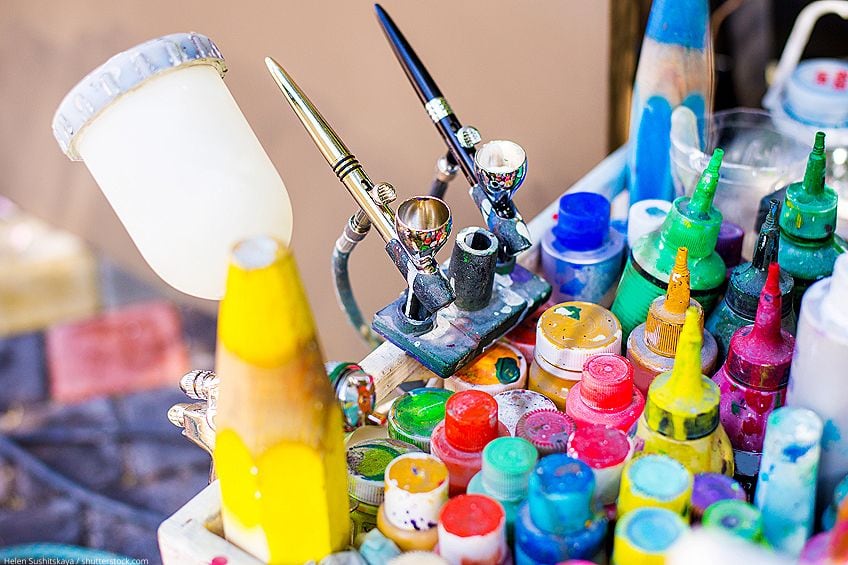 The Best Acrylic Paint Thinners for Airbrush
There are a variety of ways in which to reduce your acrylic paints, from using a manufactured product or acrylic medium to using distilled water or making it yourself. We will go through the best ways in which you can reduce your acrylic paint for use in an airbrush.
The Manufactured Reducer
The bulk of paint manufacturers offer paint thinners on the market that have been specifically formulated to work with their brand of paint. If you want to achieve the best results, we recommend that you select the same brand as the brand of paint you have chosen to use. As long as you then follow the instructions for combining the paint and the thinner, you will be guaranteed no problems.
You will probably have to do a bit of research to determine the exact thinner that has been manufactured for the paint that you have selected to use. You can consult the technical data sheet (TDS) which is provided by the manufacturer. In addition, please see some well known options below:
VALLEJO Airbrush Thinner
This paint thinner is made by the same manufacturer as Vallejo Paint, which is a reputable brand that is well-known for producing top-quality products. This product is no different, and will dilute your water-based paints without any risk of color loss. The durability and overall consistency of the paint will also remain the same when using this paint thinner.
200 ml plastic bottle

Ideal for model air and liquid acrylic paints

Dilutes without loss of color
View on Amazon
For airbrush applications, the suggested thinner-to-paint ratio is 1:4, although you may need to experiment a little to achieve the effect you want. This paint thinner is ideal for model air and liquid acrylic paints, although it has been found to work with a variety of other mediums as well. It is easy to apply, quick to dry, and emits a low odor.
Pros
Will not dilute the color, durability, consistency, or adhesion of the paint
Quick-drying
Low odor
Smooth and easy application
Good value for money
Cons
Works best with water-based paints.
Ammonia-like odor.
Acts as a drying accelerator, which can cause clogging
Expensive
CREATEX COLORS High-Performance Reducer
This is a premium reducer that will thin your water-based paints quickly and effectively. This reducer can be mixed in any ratio, depending on your desired viscosity and transparency of the paint. This prduct will work best with any Createx Colors paints.
A premium water-based reducer

Mix with paint in any ratio you need
Non-reactive, quick-drying, and improved flow
View on Amazon
You can also use this product as a paint cleaner when it is combined with the brand's 4030 Intercoat. This reducer offers a specialized blend of mild solvents that will allow your airbrush colors to atomize and flow smoothly and evenly.
Pros
Allows for shorter drying and curing times
Allows for improved paint flow and minimal tip-dry
Can be mixed at any ratio
Water-based, making it easy to clean
Hardens paint and increases adhesion
Cons
Does not work well with other paint mediums
Airbrush Acrylic Medium
You can also use an airbrush acrylic medium to thin out your airbrush paint. What is great about acrylic mediums is that they can be used on their own or, alternatively, combined with one of the options we have listed above.
You will notice that the acrylic medium is normally a lot thinner than the acrylic paint on its own, which means that it is ideal to use, as it has no impact on the composition of the paint.
You need to be careful that you do not experience under-binding of the acrylic paint when you use only the reducer (either store-bought or just water). Under-binding is something that happens if the paint has been reduced too much, and results in the paint being unable to provide you with the correct finish. This is because you have impacted the actual bind that holds the pigment particles together.
If you have caused under-binding to occur, you will notice that your acrylic paint does not seem to bond with the surface that you are painting; instead, it can be wiped off with ease or begin to flake. You can prevent under-binding from occurring by adding an acrylic medium to your paint once you have added the reducer.
You can use either of the following options:
GOLDEN ARTIST COLORS Golden Airbrush Medium
This acylic medium has been designed specifically to work with other Golden Artist Colors (GAC) products, although it can be used to reduce most other acrylics and gessos. This product will work to create a paint solution that has the right viscosity for airbrushing.
Blends with minimal effort

Decreases clogging and tip build-up during spraying

Works with any GAC mediums and gessos
View on Amazon
This particular acrylic medium is great because it decreases the amount of clogging and tip build-up, thus making the airbrushing process that much easier. This product is easy to use, as you can simply squeeze some of the medium into your paint and mix, without having to worry as much about ratios.
Pros
Reduces clogging and tip build-up
Easy to use
Excellent quality
Good value for money
Cons
Your color may lose its vibrancy
LIQUITEX Professional Airbrush Medium
Liquitex offers a liquid medium that is made with an acrylic polymer, and is specially formulated to be used in thinning acrylic paints for airbrushing. You can also use this medium in paints for normal brushing as well, provided that your paints are water-based. In fact, this product will work with any acyrlic, watercolor, or gouache paint.
A liquid medium incorporating an acrylic polymer

Specially formulated to thin acrylic colors for airbrushing

Can also be used when working a regular brush
View on Amazon
This is a ready-to-use product that offers a great choice for creating color washes or certain watercolor techniques. This product will maintain the key properties of the acrylic paint even at high diluting ratios, and will increase the durability of the paint once it has dried. This medium will not yellow, is water-resistant once dry, and will improve the adhesion of your paint to its surface.
Pros
Easy to use
Thins the paint without diluting the particles
Increases durability and adhesion
Prevents yellowing
Water-resistant when dry
Great value for money
Cons
Has a sheen to it, which can be annoying when using a matte paint
Homemade Airbrush Thinner
Did you know that it is possible to make your own airbrush cleaner and reducer? The airbrush cleaners and paint thinners can be quite pricey, so your own homemade option may be the way to go. They are very simple to make, and there is a great likelihood that you will have all the necessary ingredients required available at home.
You can choose from an assortment of recipes, should you wish to make your own paint thinner and airbrush cleaner. The suggested recipes that follow are ideal for water-based paints, and should not be used with solvent-based paints:
Recipe 1:
For every 50 ml of paint, you will require 1 drop of glycerin
2/3 distilled water
1/3 isopropyl alcohol (99%)
Recipe 2:
5 drops of glycerin
1 cup rubbing alcohol (you can use 99% or 91%)
4 cups distilled water
Recipe 3:
75% distilled water
25% Fantastik All-Purpose Cleaner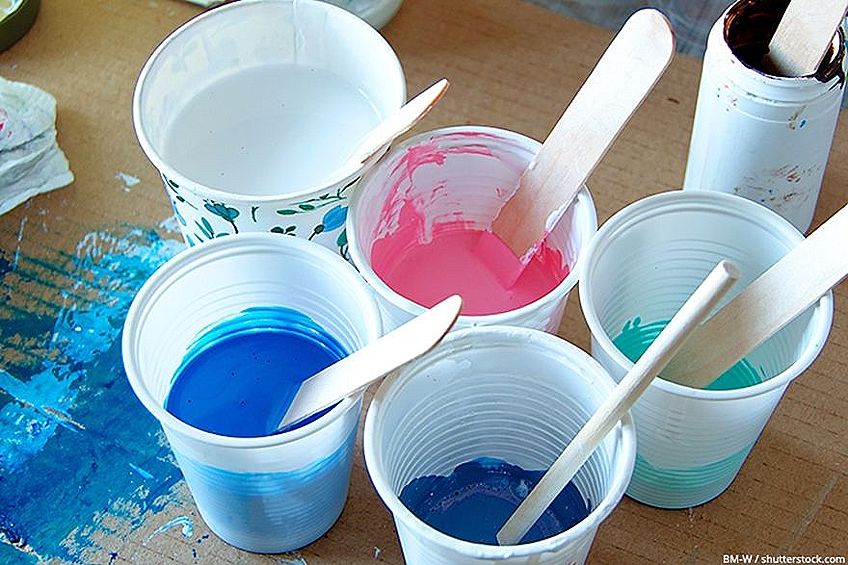 Distilled Water
Another option to thin your paints is to use distilled water. Keep in mind that distilled water is not as effective in thinning paint as a homemade reducer or a store-bought reducer.
When you use any a store-bought reducer or a homemade reducer, they include ingredients that assist the drying time and fluidity of the thinned airbrush paint. Water on its own will not add these properties.
If you are looking to cut costs, then water on its own is a suitable alternative to use as a thinner for airbrush paint. You will, however, have to use distilled water and cannot simply use ordinary tap water. Tap water has a variety of impurities that can negatively impact the composition of the paint.
How to Thin Acrylic Paints
It is simple enough to reduce your acrylic paints, where most thinning products come with a set of instructions. However, if you are using water or rubbing alcohol to reduce your paints, you may require some additional assistance. We have included some basic directions on thinning your acrylic paint for airbrushing in a number of ways.
Thinning Product
Your best option is to buy acrylic paint that has been specifically formulated for airbrushing. The majority of acrylic paints that are manufactured specifically for airbrushing come with an acrylic airbrush thinner. Alternatively, you will be able to purchase a thinner wherever acrylic airbrush paint is sold. You will need to mix the paint and the thinner as instructed by the directions you receive in the package.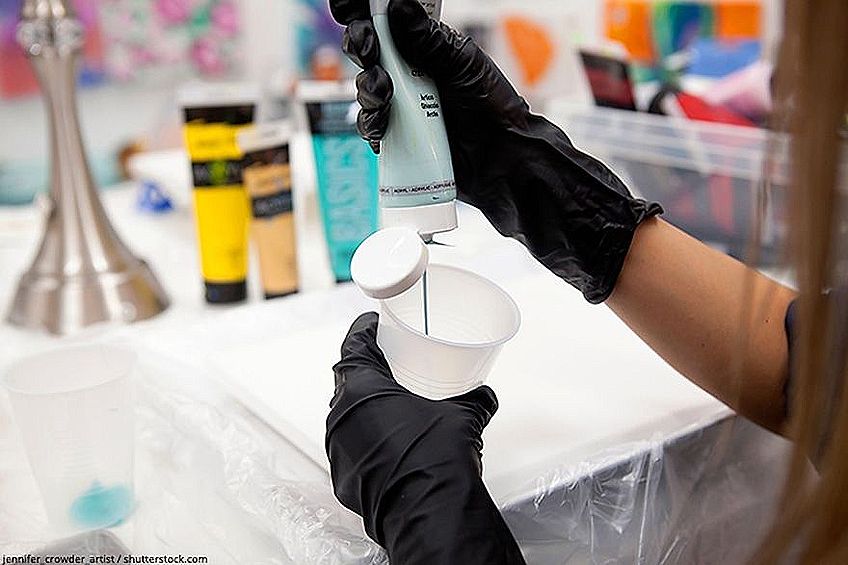 Water
To thin your acrylic paint with water, you will require a 50:50 mixture of acrylic paint to water. You must mix it thoroughly – the best way to ensure this is to have the mixture in a lidded container that is tightly sealed, and then to shake it with vigor for at least a few minutes. Alternatively, you could place the mixture in a generously sized mixing cup and whip the mixture using a mini whisk. You will be able to purchase a mini whisk from the homeware section of your local department store.
Rubbing Alcohol
You can use Windex or rubbing alcohol to thin out your acrylic paints. This is available to purchase from your local hobby store, craft store, or even Walmart, and is quite an inexpensive product. This is an effective alternative for thinning your paints for airbrushing. When thinning your acrylic paint, use a 50:50 mixture of Windex or rubbing alcohol to acrylic paint, and then spray it through the airbrush.
Metallic Acrylic Paint
You can airbrush with metallic acrylic paints, as long as you use one of the above methods to thin out the paint. The need to thin metallic paint is often determined by the size of the metallic flakes in the paint. Cheaper craft store acrylics tend to have smaller flakes and can be used with ease. You will need to whisk or shake the thinned paint mixture often, as you will notice the pigment flakes tend to settle at the bottom of the container.
Warning When Thinning Acrylic Paint for Airbrush
When using acrylic paint with an airbrush, sometimes a build-up of paint can form at the nozzle, clogging the device. This kind of clog can result in the paint splattering. You can use water to flush through the nozzle from time to time so as to avoid any potential buildup.
When using an alcohol-based solvent to thin out the acrylic paint, the alcohol will give off odors and fumes. You must work in a well-ventilated area if you choose to use an alcohol-based solvent.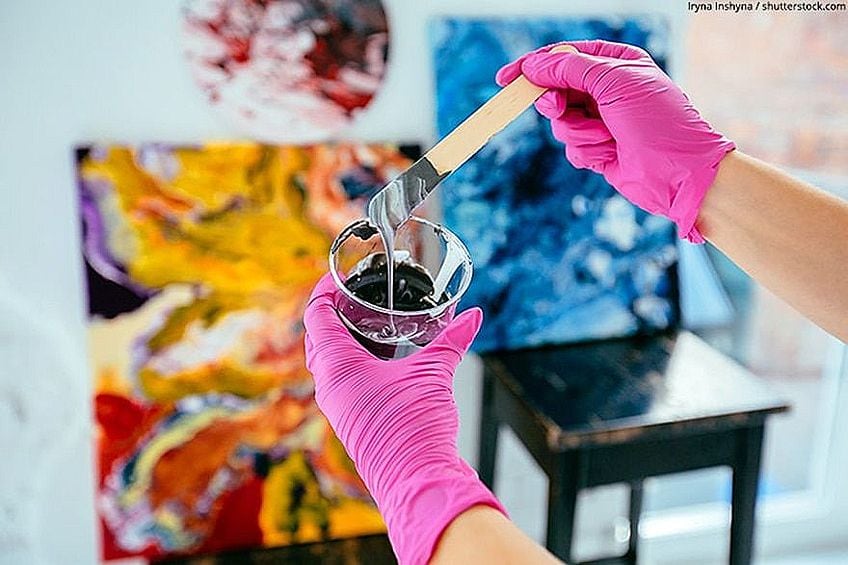 How to Thin Solvent-Based Paint
If you have chosen to use a solvent-based paint (also known as an oil-based paint), we highly recommend that you only use the reducer that has been specifically recommended and formulated for use with the particular paint you are using. When reducing solvent-based paints, there is a lot more room for error should you be using mismatched chemicals as your chosen reducer.
There are of course some alternative options available, although this is all dependent on the make of solvent-based paint you have chosen to use. However, as there are so many different paints available to purchase, it is not easy to advise as to the exact chemical composition you should be using for your particular solvent-based paint. It is therefore up to you to do the necessary research on the paint you have selected before turning to an alternative reducer option.
It is important to remember that solvents contain chemicals, and that certain chemicals can actually work against each other, resulting in them being harmful to your health and negatively impacting the finish of your paint. We highly recommend you consult either the Technical Data Sheet (TDS) or the Safety Data Sheet (SDS) for a clear and complete breakdown of the paint you have chosen to use. Alternatively, a web search may provide you with the answers you are looking for.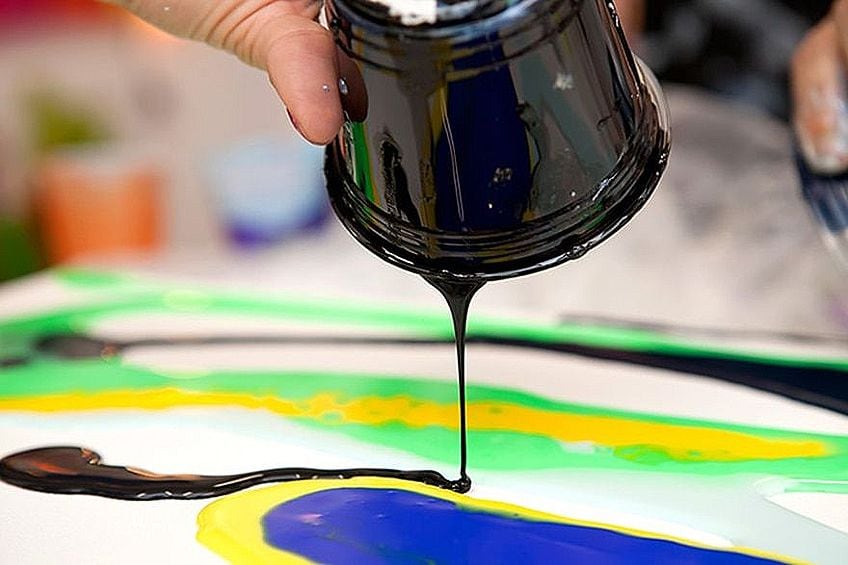 Frequently Asked Questions
Can You Use an Airbrush Cleaner as an Alternative Thinner?
Yes, you can use certain airbrush cleaners as a thinner. Please make sure that you are working in a well-ventilated area and that you are wearing a mask when working with this product.
Is Paint Thinner the Same as Airbrush Thinner?
Company-manufactured paint extenders do not normally make the color thinner, but can make the product more transparent. On the other hand, airbrush thinners actually thin the paint. You can also use a flow improver, which increases the flow of the paint and helps you to avoid the tip drying out.
How Thin Must My Airbrush Paint Be?
Different colors and brands will have various thicknesses, and will require different thinning ratios. A good rule of thumb when thinning paint for an airbrush to begin with a paint to thinner ratio of 1:1, which you can then increase as needed. It is always best to aim for thinner paint as opposed to thick, as you can always apply multiple coats.
Larissa Meyer is a 32-year-old mother and creative spirit since childhood. Her passion for painting and drawing has led her to train as an illustrator and pursue a career as a freelance graphic designer. Larissa is a talented artist who is able to master a wide range of styles and techniques to bring her artistic vision to life.