Types of Easels – Tips for Finding Your Ideal Easel
This post may contain affiliate links. We may earn a small commission from purchases made through them, at no additional cost to you.
The old saying "manners maketh a man" stands true today and by the same token, so do the types of easels used by the artist "maketh the artist." Buying an easel for drawing, from a large easel to a small easel, can be alarming because there are so many types of easels to choose from. Sadly, this critical piece of equipment is often overlooked until the artist becomes more experienced or has to prove that they are serious about their craft. Like there are many art mediums, so are there many types of easels for the budding artist right through to the professional. In this article, we will look at the different types of easels, ranging from wooden easels to table easels for painting, and will explain in more detail the best easel for drawing and how this vital piece of equipment will be almost life-changing for any professional or newly fledged artist.
Everything You Needed to Know About the Art Easel
The question "what is an easel" and how does an easel work?" can be quickly answered in a few sentences. An easel is a support structure that stands on its own. It allows the artwork to be placed on a ledge so the artwork is at a vertical or slight diagonal angle to the artist. Wooden easels are the most common type available, and there are many benefits to using art easels when painting or drawing masterpieces. Working on an easel allows the artist to view the artwork at the correct angle and to avoid standing or sitting in an uncomfortable forward-bending position. The angle of the artwork can also be altered to reduce runs or dripping when working with fluid materials, or to ensure that the artist can achieve correct proportion and perspective.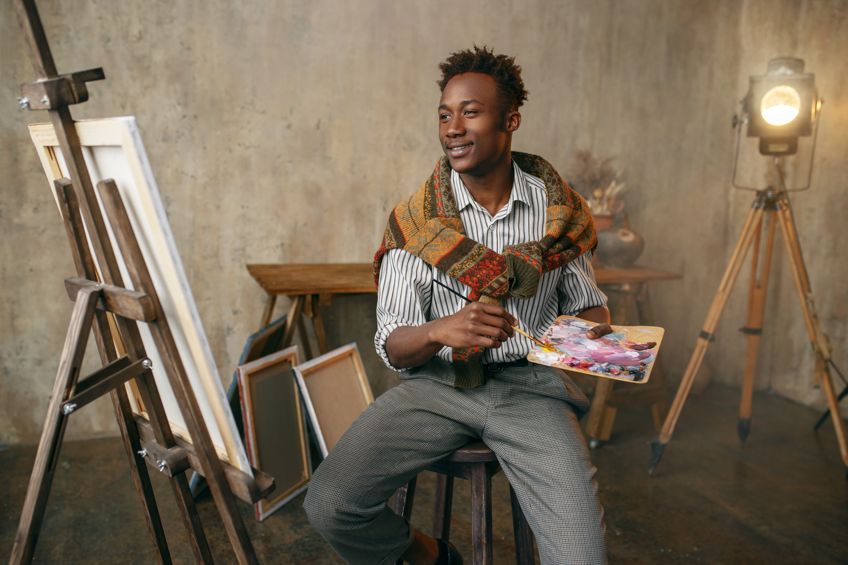 If you are new to the art world and do not want to spend a lot of money on something you don't even know you will carry on doing, then starting with an A-Frame or H-Frame easel will be the type that you should look at. For the more advanced artists who want to paint in a studio or art room, not only should you consider yourself fortunate to have such a space, but you are lucky enough to consider choosing a high-quality H-Frame that will work for you. Even a single mast easel will do the trick for your a beginner's needs. The range of easels, from tabletop easels for painting right up to giant or large easels, is available for artists of any caliber.
What Can an Easel Offer Me?
Buying your very first easel can be confusing, and there are a few things that should be considered, even before venturing out to the shops. Planning is key. Look at what you have already created. Look at the size of your work. Consider what type of artist you are and what medium you use to create art pieces. Consider whether you like to sit when painting or whether you enjoy standing when creating art, and also consider the space that you have to make your art.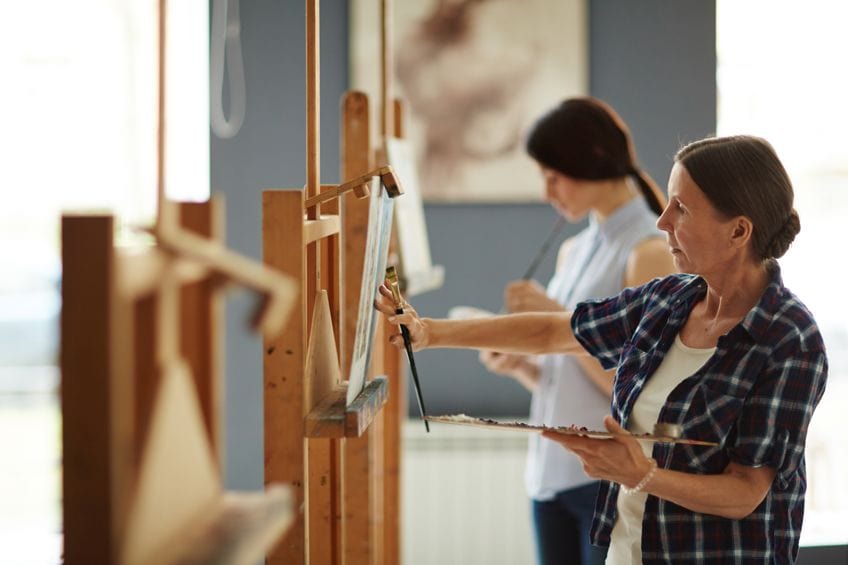 These considerations will determine the best easel that will work for you. Just as we are all different, each easel is, too. Depending on the artist's needs, each type of easel will offer something different for the artist. It is the artist who has to decide what is the best thing that an easel can offer to create the best art possible.
While some artists maintain that an easel offers freedom, other artists could benefit from painting on a flat surface. Using an easel provides freedom of movement and is not restricting when having to create with more emotion where arms flay. For energetic artists, a sturdy easel will be a requirement rather than a lightweight model. For the artist who wants to express art on a bigger scale, a giant or large easel should be considered rather than a table easel for painting.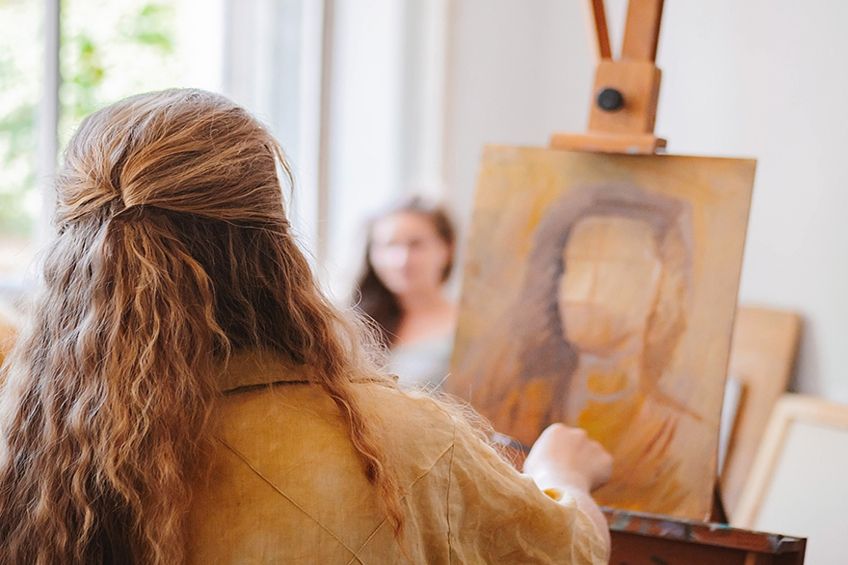 The Space for an Easel
The space or area where you will be placing your easel should be taken into consideration. The outdoor artist will ideally want an easel that is easy to pack up and carry and will be sturdy when placed on uneven ground. The lightweight easels are ideal for painting outdoors. The artist who paints in a studio will have space for a sturdy easel, but if art is created in a spare bedroom, for instance, the artist would also want to choose an easel that is easy to pack away after use. If you have limited space in your home, you may need to look at the tabletop easel for painting which is compact and easy to move from point to point.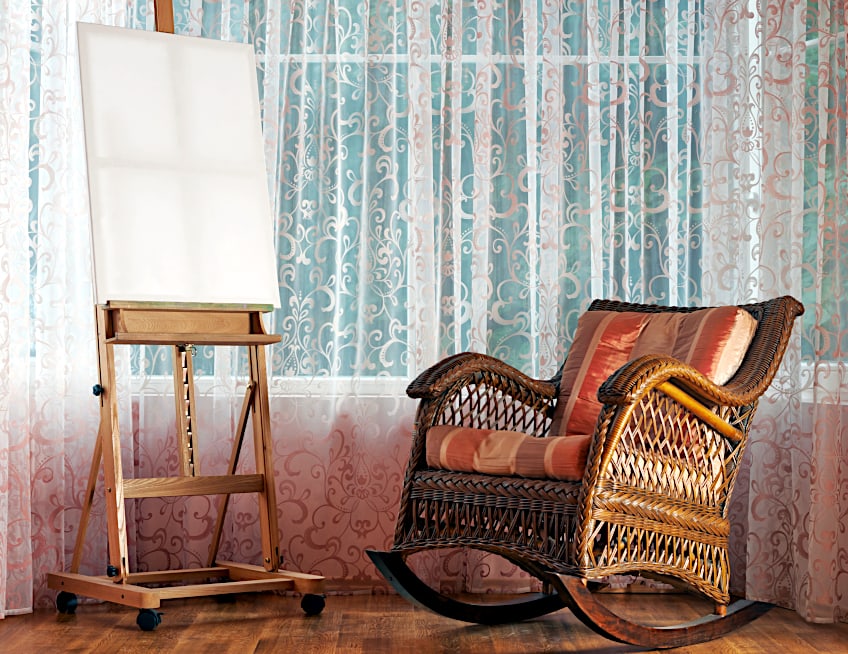 The Size of the Easel
An easel can hold varying weights. Most easels will hold surfaces up to a certain height, and the size of the artist's paintings would have a direct impact on the actual types of easels that can be considered. The height is the primary consideration when choosing an easel, but the weight should also be uppermost in the artist's mind. The majority of art easels are made to carry a fair amount of weight, but weight restrictions should be known for the art that is produced. The heavier studio easels are a great easel to use if the artwork is going to be heavy.
An artist who works on smaller surfaces but prefers to stand and paint will look at the ideal easel that will accommodate a small surface but also be able to extend high enough so that the artist can create an art piece at a comfortable height and distance.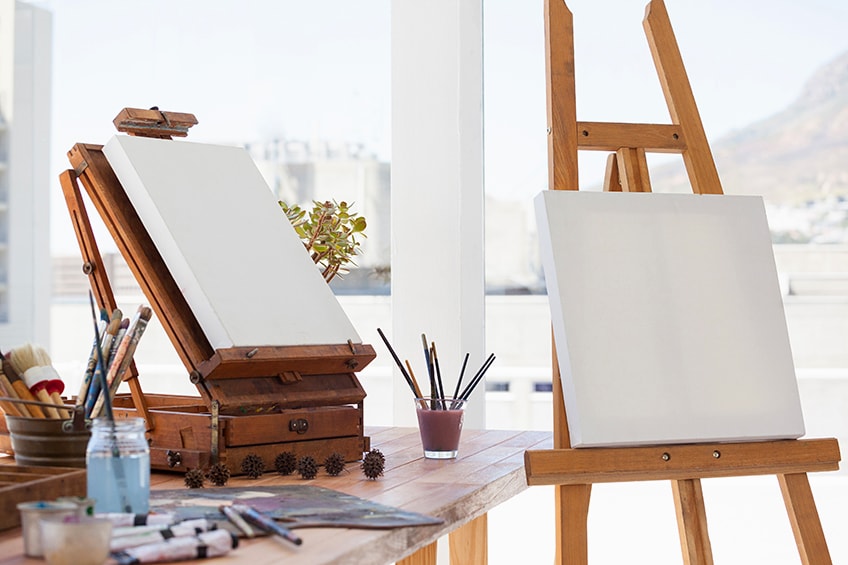 Types of Easels
There are a wide variety of art easels to choose from. We will look at a few of the different types of easels and list them so that you will be in a position, as an artist, to choose the best type of easel for you. Before purchasing an easel, there are many things to consider, such as the most comfortable position for you when you paint and what products you are using when you paint or draw. The size of your art should also be considered, as this will have a direct impact on the size of the easel you should purchase.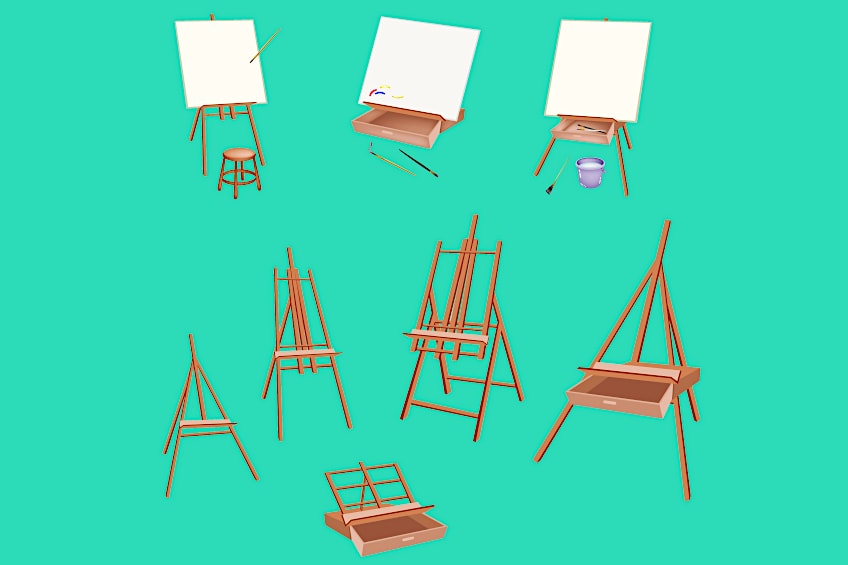 Outdoor Easels
Outdoor easels are also referred to as portable easels and are usually small and do not weigh a lot and making them easy to carry and easy to store away when not in use. Some of these easels are sold with a bag which is excellent for the artist who wants to sit out in nature's garden and paint.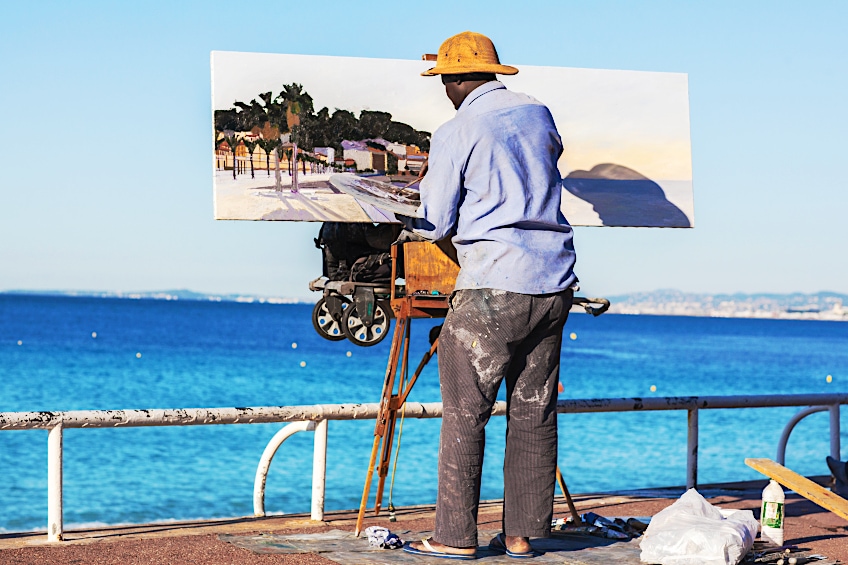 The advantage of the outdoor easel is that because you can create art in nature's garden, you can get a different perspective of what you want to paint. The environment outside is a natural medicine for the creative mind, your creative senses will come alive, and you will also be able to breathe fresh air while creating. The disadvantage is that it is a temporary studio, and the elements of nature can interfere with the masterpiece.
The A-Frame Easel
The A-Frame easel is the ideal easel for the up-and-coming artist who is just starting their journey in the art world. This A-Frame easel is not very large and is moved quickly. It will not require a lot of space to store it when not in use.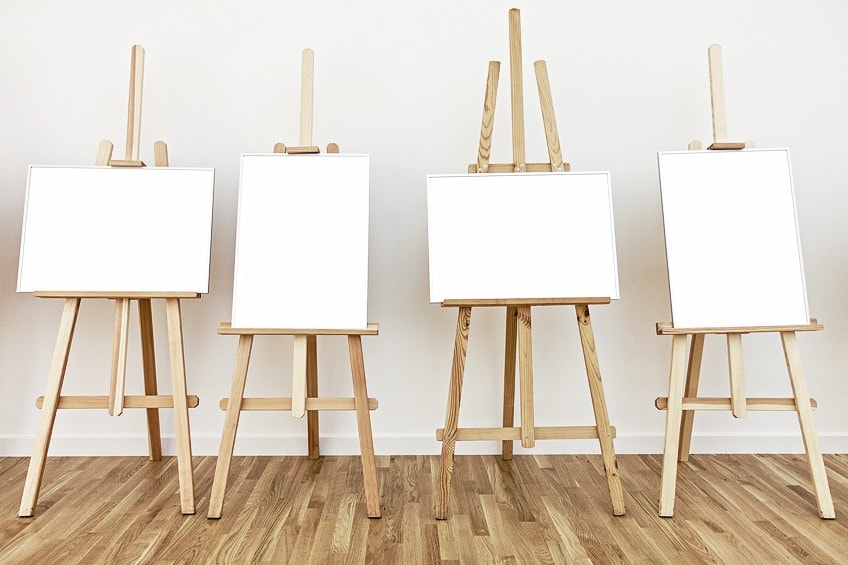 A typical A-Frame easel is a three-legged structure that looks like an "A" when it stands up. There are two legs at the front of the structure and one at the back. These types of easels are suitable for all levels of artists, and because they are cheaper than most, they are usually the first choice of an easel that a new artist would choose. The A-Frame easel can only handle small to medium-sized canvases to be placed onto the easel, and there are no built-in storage pockets where art supplies can be stored.
The advantage of using an A-Frame easel is that it is the ideal size easel for smaller paintings. It is light, so almost anybody can move it around. This type of easel is also much cheaper than the other types of easels. The disadvantage of the A-Frame easel is that it is such a lightweight easel and not as sturdy as other easels and could fall over if set up on an uneven surface.
The Display Easel
In many homes, setting up a display easel has become very trendy of late. Instead of hanging pictures up on a wall, more and more people who have large houses are opting to display their expensive pieces of art on a display easel. This has become the more classic way to showcase art. The advantage of these types of easels is that they are beneficial when displaying lots of art, such as in an art gallery where walls are often already filled up with art pieces. The disadvantage of using these types of easels is that they are not very sturdy and usually have to be put into corners where foot traffic is minimal.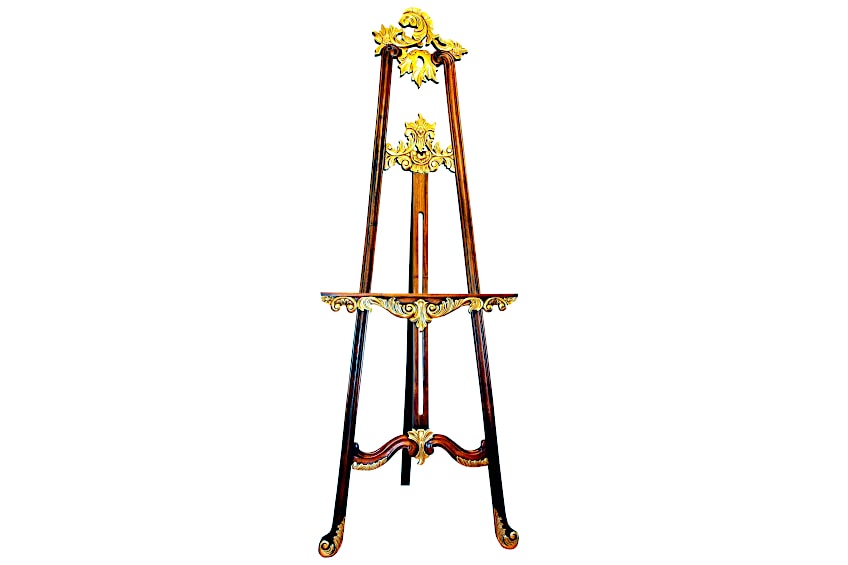 Tabletop Easels for Painting
The tabletop easel for painting is exactly that! It is an easel that is placed on top of a table or flat surface, and the artist can sit down and create their art pieces. The tabletop easel is an art easel that is for paintings or drawings. Because it is so compact, the easel can be moved and stored very easily. It is the ideal easel to purchase for little children who want to try their hand at becoming a professional. There are three types of tabletop easels, namely A-Frame, H-Frame, or single-mast designs. A single mast design is a type of easel that has one support structure behind it in the center of the easel, where a canvas will rest.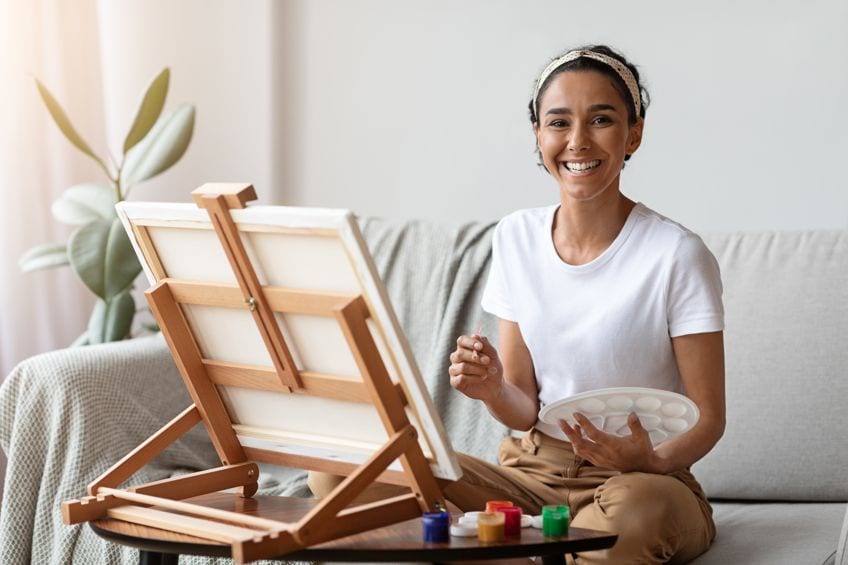 The advantage of this tabletop easel is that the artist can sit down when creating their masterpiece. The disadvantage of the tabletop easel is that it is made specifically to fit on top of a table or flat surface and will not stand easily if placed on uneven surfaces such as grass.
The H-Frame Easel
Most art studios that offer art lessons for beginners will stock the H-Frame easel as it is a popular choice when many artists need to work in smaller spaces. The H-Frame easel is suited to almost all levels of artists, from the beginner to the professional. The H-Frame easel can have smaller canvases as well as larger pieces resting on it and a ledge attached to the easel, which is used to store unused paintbrushes or drawing pens.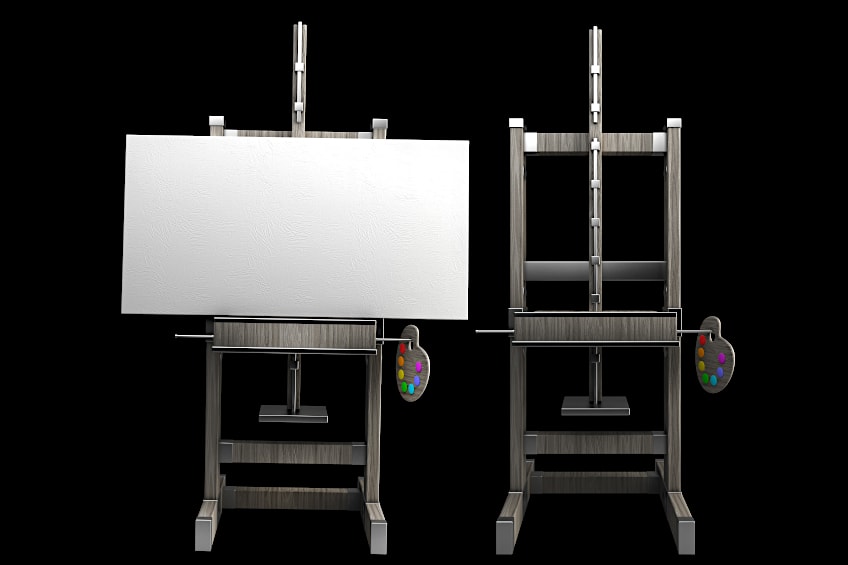 The advantage of the H-Frame easel is that It's very sturdy, and to make it easy to move around, most types of H-Frame easels have wheels at the bottom of the legs to move around. Because the H-Frame easel is so sturdy, the canvas will not move around once painting commences. The disadvantage of the H-Frame easel is that it is significant, and even though it may have wheels on it, the bulkiness of the easel makes it uncomfortable to move in confined spaces.
The Large Easel
The large easel, commonly referred to as the giant easel, is only for those artists who are working on substantial pieces of art. The size of the art is usually between 85 inches and 120 inches. The large easel can support very heavy canvases and are more expensive than other types of easels. These types of easels are not stocked as regular items in art stores and would have to be specially ordered.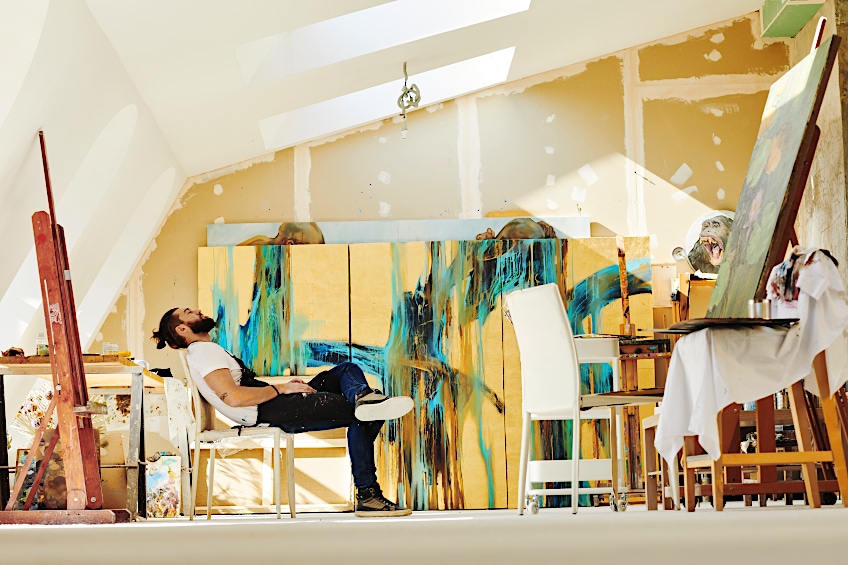 The advantage of using a large easel is that the artist is free to express their emotions on an enormous surface. The large easel is sturdy and can handle quite a bit of extra weight that other easels won't usually carry. The disadvantage of using a large easel is that it can be too high to reach and will necessitate steps to reach the top of the canvas once it is placed onto large easels.
The Convertible Easel
This is the ideal easel for the artist who wants to paint standing but then, at some point in the painting process, wants to change position so that the artwork is lying down on a flat surface. The technique used by an artist will play a big part when choosing this type of easel. The convertible easel is made to handle both small and large pieces, and it also has a storage pocket to store art supplies. The convertible easel can hold a relatively high canvas.
The advantage of the convertible easel is that it has an adjustable canvas holder, and the frame is sturdy and usually in an A-frame shape. It allows an artist to paint at different angles, and these types of easels are in art studios, just like the H-Frame easels. The disadvantage of these types of easels is that they need a lot of space to change from a vertical to a horizontal position and is much more expensive than a typical H-Frame easel.
The Single-Mast Easel
The single mast easel is the ideal easel for beginner artists as it carries the smaller canvases very easily. It is very easily moved from place to place and is suitable for a studio that caters to the person who is just starting on their art journey. The single mast easel can handle paintings up to at least 72 inches tall, and the easel price ranges from $42 to $600. The advantage of the single mast easel is that it is great for young artists who are working on a tight budget and does not have a lot of space in which to work. The disadvantage of the single mast easel is that it is not as sturdy as the H-Frame and A-Frame easels, and they also do not have any storage pockets for supplies. Another disadvantage is that these types of easels do not fold away easily when wanting to store them.
A French Easel
A French easel is a tabletop easel for painting. Just like the A-Frame, it also has three legs but also has storage pockets and can be moved relatively quickly. Storage pockets on the French easel make this particular easel an attractive buy as it can store paint brushes as well as canvases. The French easel is the ideal easel to look at for small paintings or drawings. The French easel is shaky, so the table surface must be very even to avoid falling over.
The advantage of the French easel is the storage pockets attached to the easel and the easy maneuverability of the easel when wanting to move it from area to area. The price of these types of easels is also very affordable. The disadvantage of the French easel is that it lacks stability and can fall over easily if not placed on a proper flat surface.
In a nutshell, it is safe to say that purchasing an easel takes great thought and great care. For anybody starting in the beautiful world of creating art, there can be nothing more frustrating than not having the ideal surface to work on. Investing in the correct type of easel takes just as much thought as investing in a vehicle. You want it around for a long time, and not only should it take you where you want to go, but it should also be reliable. The trick to choosing a suitable art easel takes time. Assess what it is you want to achieve. Consider what type of artist you eventually want to become, and the rest should fall into place. Choosing the correct easel could put you on that great road to success, and we hope that the information outlined in this article will assist in this quest.
Frequently Asked Questions
What Is an Easel Definition?
An artist's easel is a type of stand designed to hold the surface material on which an artist draws or paints at a comfortable angle. While simple easels hold an artwork at a set angle, professional types will allow for the angle at which the artwork is held to be adjusted to various degrees. Sometimes the artist can sit and paint using a tabletop easel for painting, but in general, most artists do prefer to stand and create their art. Decorative easels can also be used to display completed artwork. Rather than hang a piece of artwork on a wall, it has become very trendy to place artwork on display easels in a home.
What Is Important When Choosing the Best Easel?
The type of easel that you purchase should provide the most convenient support structure for your artwork type. If you work in a studio, find an easel suited to the size of your space that will allow you to move freely around your artwork, and model (if using one) rather than remain sitting in one position. Easel prices range from the cheaper wooden easels or small easels for beginners, to large sturdy easels for professionals or artists who work on a very large scale. If you are planning on painting from life or work outside of a studio, find a portable easel that is easy to carry and will survive continuous setting up and taking down.
What Is the Average Easel Price?
On average, easel prices can range up to $200. If you want the convenience of portable or table easel for painting, you can expect to pay at least $15 for an entry-level model. A wobbly, non-adjustable, or inappropriately sized easel can seem like a small sacrifice in the short term, but will prove to be very disruptive in the long-term, so it is better to invest in the easel that best suits your needs.
Larissa Meyer is a 32-year-old mother from Michigan and creative spirit since childhood. Her passion for painting and drawing has led her to an education as an illustrator and a career as a freelance graphic designer. She has a Bachelor of Fine Arts in Illustration and a degree in Graphic Design. Larissa is a talented artist who is able to master a wide range of styles and techniques to bring her artistic vision to life. Her greatest passion is currently fluid painting and epoxy resin art. Larissa's love for art and her knowledge and experience in illustration make her the perfect Creative Director for our fluid-painting.com team. She is the creative head of our team and shares her passion and knowledge with our community through articles and tutorials.
As a mother of a 2-year-old daughter, Larissa also understands the importance of fostering creativity in early childhood. She uses her experience and knowledge to help other parents inspire their children and develop their artistic skills as well.
Learn more about Larissa Meyer and about us.