Milk Paint vs Chalk Paint – Difference Between These Paints
This post may contain affiliate links. We may earn a small commission from purchases made through them, at no additional cost to you.
It may be the first time that you are hearing about milk and chalk paint. Although these paints are different in several ways, they paint actually have many of the same qualities and produce similar results. You can also use both types of paint on the same type of surfaces, Both of these paints are fantastic for breathing new life into wooden photo frames, doors, and furniture. The significant difference between chalk paint and milk paint is in the price and elements that are used to make the paint. The following article will give you a better idea of milk paint vs chalk paint.
What Is Milk Paint?
It is fairly likely that you will not have heard about milk paint before. Although it is relatively unknown, milk paint has been available for many years. The base of milk paint is the casein protein found in milk and cheese. The casein is combined with limestone, clay, and pigments to create milk paint. Milk paints are available in a couple of ways. You can buy milk paints already mixed and ready to use or you can get them in powdered form, to which you would simply add water.
It is important to be aware that some paints that are labeled as "milk paint" do not actually contain casein. To ensure you are purchasing the real deal, we suggest reading the label carefully.
There are many benefits to using milk paints, including the fact that they are non-toxic, safe, water-based, and easy to clean. You can use milk-based paint on a variety of items and materials including, wood, walls, and even glass. When the paint is dry, it has a vintage whitewashed effect. You can enhance this effect further by sanding some areas very gently removing a little paint.
PROS
No primer is required
Water-based therefore easy to clean
Provides a soft matte, old-fashioned effect
The raw powder has a good shelf life
Milk paint is cheaper than you may find chalk paint to be
Odorless and environmentally friendly
Quick-drying time
Comes in a variety of colors
CONS
It must be used on the same day as you mix it
Brush marks may be visible
To ensure there are no lumps it must be mixed well
The paint may crack on some surfaces so it is best to use something to bond the paint
Some Popular Milk Based Paint Brands
There are many brands of milk paint available, but if you have never heard of milk paint before, you may need some examples. Here are some of the most popular milk paints.
FolkArt Milk Paint
The Real Milk Paint Company
The Old fashioned Milk Paint Company
Rust-Oleum Milk Paint
General Finishes Milk Paint
Miss Mustard Seed Milk Paint
These paints create a soft and non-shiny finish that you can then manipulate further by sanding lightly. The paint is durable and is suitable for most materials. Untreated wood is a wonderful surface to work on and does not need to be primed before beginning your project. On certain surfaces, you may need to use a primer before applying the paint to help it to adhere. Only mix the amount of paint that you will need and use it on the same day, as the paint does not last very long.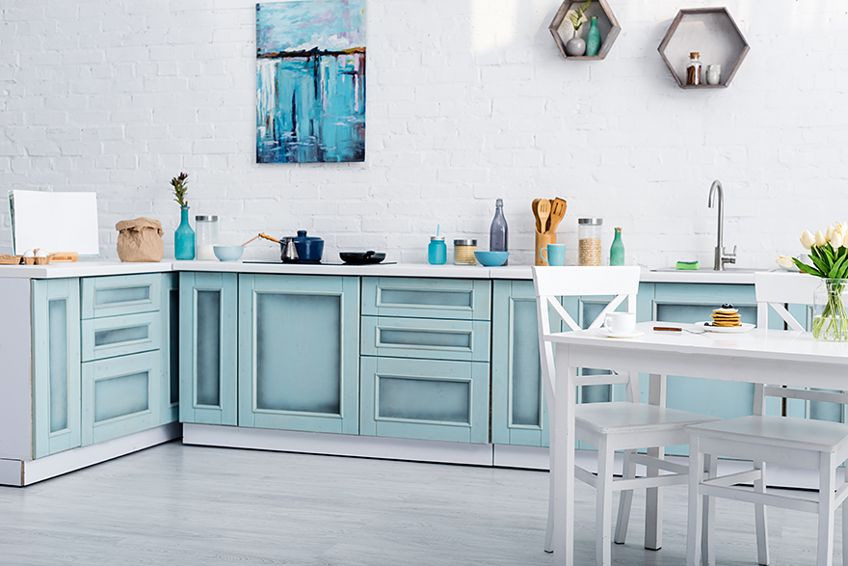 How to Paint with Milk Paint
Milk-based paints are usually in powder form that you mix with water in the ratio of one to one. If you want an old, flaked appearance you can paint your item straight away just like that. For a more even, sleek finish on items that do not absorb the paint like glass or metal you will need a primer to bond the paint to the surface. Powder-based paints can come out quite lumpy, so a great tip is to use a mixer to even out the paint and make it glossy without the lumps. If you use the correct ratio of powder and water your mixture will not be overly thick or too watery.
Let your mixture rest for up to thirty minutes to bring out the color in the powder. You can then go ahead with the chosen project as a primer is not necessary. It is, however, advised to lightly sand the wooden surface to create a worn finish. The more you sand the greater texture you will create. After sanding, clean your item to get rid of any residual dust and dirt.
Apply the milk paint with a non-synthetic paintbrush, you can also do this with a roller or spray for larger surfaces. Allow the coat to properly dry for at least half an hour, you can then see if it needs another coat. Remove any bumps with a knife and then take rough sandpaper and sand your work in a single stroke with the grain of the wood. This paint lasts well on most items, and if the item is not touched too often then you do not require a sealant. If you use the item a lot, a sealant will protect the paintwork and make it last longer. An oil, polyurethane, or wax type of sealer can be applied.
The Best Traditional Milk Based Paint: OLD FASHIONED Milk-Based Paint
Traditional milk paint is free of toxins and environmentally friendly. It comes in several color variations and has a chic, non-shiny result. It is old-fashioned paint, therefore you mix the powdered paint form along with water to create a suitable mixture. The paint is versatile, however, best used on absorbent materials such as wood.
This milk paint is non-toxic, environmentally safe, and safe for children
Old fashioned milk paint is available in twenty unique and stunning colors
Milk paint powder can be mixed with water to create a smooth paint
View on Amazon
PROS
Non toxic
Weathered results
Quick drying time
Simple to apply
Environmentally friendly and odourless
CONS
It may become flaky
Must be combined properly with water to avoid lumps
Better for vintage styles rather than more up to date styles
Tips for Using Milk Paints
Milk paint is relatively unknown, and as a result, you may have some difficulty quickly adjusting to using it. Here are some of our best tips to help you get to grips with milk paint, and help you create the most beautiful pieces of art.
Allow the water and powder mixture to rest for up to 20 minutes, this will allow it to mix properly.
Be aware of the ratio of powder to water. In general, it will be one part powder to equal part water. This can be adjusted depending on your end goal.
You may need a primer and sealant, depending on your surface.
The paint does not last after mixing, so just make the amount that is required and try to use it the same day.
Make sure your surfaces are properly cleaned before you begin painting.
Wood is really the best medium for Milk paint, as it absorbs the paint readily and you can always sand it to create different effects.
We advise using a sealer if your project is going to be used often or is outdoors.
If you are going to spray the paint, be sure to make the mixture and put it through a strainer first.
Should you choose to sand your item, think about where normal wear may occur, this could be seats, armrests, and areas most touched.
You may want to try layering colors for a well-worn type of look.
When sanding the dry paint, do so gently so that you do not get down to the raw wood.
When testing your paint, put on an item try to do this where it will not be visible.
After sanding, always wipe away dust with a damp cloth.
Apply your paint in small areas as it is very quick-drying.
Be sure to clean brushes with soap and water to keep them in good working order or condition.
What Is Chalk Paint?
Chalk Paints are a combination of color pigment, talc powder, and calcium carbonate. Much like milk-based paint, chalk paint can be used on quite a few different surfaces. It is popular for its chalky, matte results and weathered look.
One difference between chalk paint and milk paint is that chalk paint can be used immediately whereas milk paint has to be combined with water.
Chalk paint is slightly more expensive and does not go quite as far as milk paints do. Chalk paint is suitable for use on all the same surfaces as milk paint. Chalk paint is popularly used for household items and revamping furniture. Like many things, there are pros and cons to painting with chalk paint. The following list will help you decide if chalk paint is your best option.
PROS
A primer is not required
It is more viscose than milk paint, so fewer layers are necessary
Simple and safe to use, even on treated surfaces
Lasts longer than milk paint
Fast-drying
Brush marks will not show
Odorless and can be used inside
CONS
Costs slightly more compared to milk paint
Might be difficult to find the exact color you want
A thick coat may mask the grain of the wood
This paint needs a sealer to protect it
May in some cases have toxic additions
Some Popular Chalk Paint Brands
Chalk paint comes in a variety of colors but it may be difficult to mix or purchase the exact shade you require. Chalk paint is more viscose than milk paint, so has a more even surface coverage. It is also quick-drying, odorless, safe, and environmentally friendly. Here are some of the most popular brands of chalk paint that you can try out.
Retique It
FolkArt
Rust-Oleum
Annie Sloan
The Spruce by KILZ
How to Paint with Chalk Paint
Chalk paint is very versatile but is most often used for reconditioning furniture for a new look. This paint comes ready to use and is very easy to paint and work with. You can paint straight onto your surface as long as it is free of dust and dirt. It is not necessary to get rid of any finishes on the surface. As this paint is water-based just like milk paint, it is very easy to clean. Simply work over paper or a plastic sheet to minimize any mess. It is a good idea to clean the surface of your object with soapy water before painting. Let this dry properly before you begin. Should you wish to leave some parts of the furniture without paint then you can tape those spots with masking tape to keep them protected.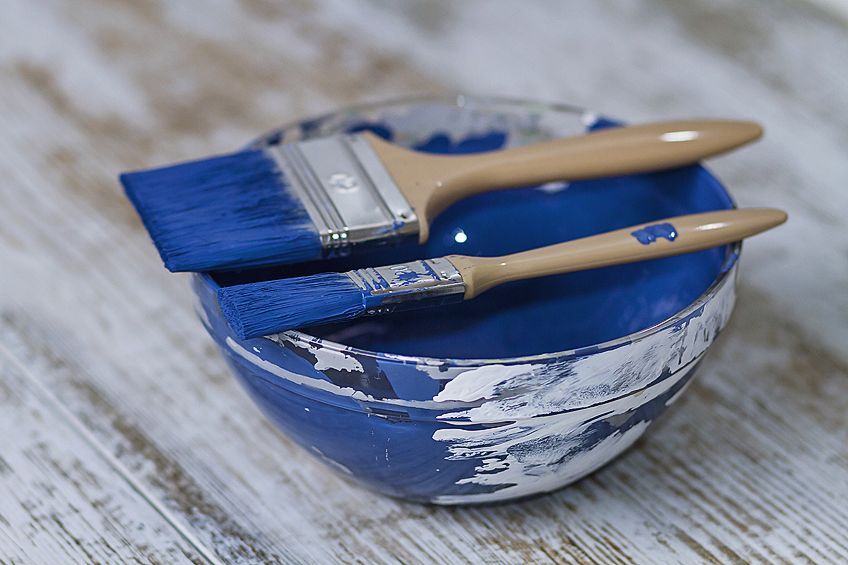 Now that your surface is clean and dry, you can simply begin painting! Paint your surface with one coat and allow it to dry for half an hour. Once you have done this you can then see the outcome and decide on whether it needs another coat. To get a weathered effect you can lightly sand areas of the surface. Use gentle sandpaper for this. If you end up sanding too much, simply wipe the dust away with a damp rag and paint your item again. Once you are happy with the finished effect you can paint on a sealant.
A lot of chalk paint will come with a sealant when you purchase it. With a brush, simply apply the wax sealant to your project. Brushes are quite specific for this and are a bit heavier towards the handle, they are also more round. When the wax has been brushed onto a spot, use a soft cloth to go over the wax and get rid of any extra, unwanted sealer. Do this in small sections or areas until the whole surface is covered. Instead of a brush, you can also use a cloth to put on the wax and then clean off the excess with a separate cloth.
You have the option of doing another layer of wax, should you do this the first layer will need a few weeks to dry properly. This applies especially to outdoor furniture that you have painted and sealed as drying outside will take more time.
With chalk paint, a nice technique is to layer a few colors on the surface; this makes it appear old and weathered. Start with your first layer of paint and allow it to dry. After this do a second coat in another color, once this is dry you can gently sand areas to bring out the color of the first coat.
The Best Traditional Chalk Paint: FOLKART Chalk Paint
This brand of paint is wonderful for a perfectly matte and chalk-like finished product. It can be easily and successfully used on a variety of surfaces and is simple to weather and sand. This is a well-known product and little preparation is required before you begin your project. It is also available in a range of different colors.
Chalk paint is available in a variety of different colors for every need

Great for wooden furniture, cabinets, walls, glass, metal, and more

This package contains one 16oz bottle of home decor chalk paint
View on Amazon
PROS
Simple to apply
Long-lasting
Various color options
Can be used on various materials
No need to prepare or alter surfaces before use
CONS
Might require two coats of paint
It is a bit thicker, therefore, takes longer to dry
Milk Paint vs. Chalk Paint
We have covered the main differences between chalk paint and milk paint. Both types of paint are water-based, odorless, easy to use, and clean, as well as odorless. Both variations have their own pros and cons but can be a better choice than oil-based options. Here is a brief summary of the two different paints.
| | | |
| --- | --- | --- |
| | Milk Paint | Chalk Paint |
| Price | A cheaper option | More costly |
| Primer | Not required | Not required |
| Ingredients | Limestone, clay, coloring, and protein from milk | Coloring, talc powder, and calcium carbonate |
| Finished Result | Sleek matte. It can flake sooner than chalk paint | Chalk-like, matte, consistent surface. Easy to create a weathered look |
| Surface | Good particularly on wood which absorbs the paint, it can also be used on jars, walling, plastic, and metals | Is suited to many different surfaces like wood, plastics, metals, and even material |
| Viscosity | More thin so often needs a few coats | A more thick paint usually needs fewer layers |
| Color Varieties | Combine with water and create the palette you require | Can be difficult to create exact colors |
| Type Of Product | This is a powdered paint that you combine with water or there are ready mixed varieties too | This is already mixed and ready to use |
Milk paint and chalk paint are both great options for revamping pre-loved furniture, picture frames, and other DIY projects. Hopefully, you now know how to use both types of paint, and you can decide which is the best paint for your own unique project.
Frequently Asked Questions
Do I need to Prime Surfaces Before I Use Milk Paint?
You do not need to sand or prepare your surface before painting, however, it will give you a better adhesion and textured outcome. You will need a bonding product for certain types of surfaces including glass and metal.
Which Is Better, Milk or Chalk Paint?
Either paint can be successfully used to age wood. Chalk paint gives a more chalky appearance, whereas milk paint appears more natural on the item.
Is Sanding Required When Using Chalk Paint?
You do not need to sand surfaces beforehand with this type of paint. It works very well on porous materials such as wood. You can simply paint the item as long as it is wiped down and dried first.
Is it Necessary to Seal Milk Paint?
You do not have to seal your project, however, if it is quite a well-used item then it is probably a good idea. You can use a suitable wax for this which will protect the surface.
Larissa Meyer is a 32-year-old mother and creative spirit since childhood. Her passion for painting and drawing has led her to train as an illustrator and pursue a career as a freelance graphic designer. Larissa is a talented artist who is able to master a wide range of styles and techniques to bring her artistic vision to life.