Acrylic Paint on Glass – A Guide on Painting Glass with Acrylic Paint
This post may contain affiliate links. We may earn a small commission from purchases made through them, at no additional cost to you.
Acrylic paints are some of the most versatile art mediums, allowing you to use them on almost any surface, including glass. These paints are of a thicker consistency than watercolors and are easy to work with. As easy acrylic paints are to use, however, you will need to do some preparation before applying them to a glass surface. These paints are ideal for both beginners and professionals, and will elicit beautiful results on glass when applied correctly.
Can You Use Acrylic Paints on Glass?
You can use acrylic paint on glass in addition to a wide variety of other surfaces. The best type of acrylic paint to use on glass is that of an enamel paint, as these durable paints work best on smooth surfaces.
Before you can paint your acrylics onto a glass surface, however, you will need to make sure that the glass is free of any dirt, oils, and other impurities. Applying a primer will ensure that the acrylic paint is able to stick to the surface of the glass. Once you have finished painting, you can apply a sealant or varnish to protect your work and help to prolong its lifetime.
Acrylic paints are so popular due to their fast drying time, ease of use and application, long-lasting properties, versatility, water-resistance, low toxicity, and easy clean-up. These paints can be used with several different mediums and will always produce excellent results.
Will Acrylic Paint Stick to Glass?
While you can use acrylic paint on any glass surface, this does not mean that it will adhere easily. It is best to provide a base to which the paint can stick once applied to the glass. As you will be using an enamel-based paint, it is ideal to prepare the surface with an enamel-based primer.
These primers can be applied via a spray or a brush, and will take between 24 and 72 hours to adhere fully to the glass surface. Once dry, the surface should feel somewhat rougher, which will increase the adhesion between the primed surface and the paint.
You do get acrylic paints that have been formulated specifically for glass, in which case you do not need to prime the surface. However, priming the surface is always a good idea for a long-lasting piece of art.
Selecting the Most Suitable Acrylic Paint
When painting glass with acrylic paint, you will need to ensure that you use the right kind of paint for this project. You will need to decide between a washable or permanent acrylic paint, depending on your needs. However, most people that use acrylic paint on glass will do so to create a permanent piece of art, which means that they will want it to be as long-lasting as possible.
Enamel-based acrylic paints are the best for lasting effects, of which there are many different types that will produce different finishes. Most enamel paints take longer to dry than water-based paints, but these will result in a much more durable finish. There are a number of factors to take into consideration when selecting the best acrylic paint for your project.
Transparency
The transparency or opacity of the paint is important, as the more solid the color, the brighter and darker it will be. The choice between a more solid color and a translucent one will depend on your personal preferences and what you want to achieve with your design. Opaque colors will completely block out the light, whereas transparent colors will allow the light to shine through.
Lightfastness
Lightfastness refers to the permanence of a pigment when it is exposed to sunlight. A lightfast paint will be more resistant to fading and the negative effects of the sun's UV rays. Colors that are not lightfast and that fade with time are known as fugitive colors.
Consistency
You should never mix two products together that have opposing consistencies, as otherwise you will be left with a painting that lacks cohesiveness. It is best to use paints that have a similar consistency. You can test whether a paint is thin or thick by squeezing two small blobs of paint onto a surface and seeing how they blend together.
Finish
The finish of a paint refers to the final texture or look of the surface once it has dried. You can get finishes that are matte, glossy, or frosted. Your decision is based entirely on your own preferences, as the finish will depend on the overall look that you want to achieve. Frosted finishes are lovely on glass, whereas too glossy a finish may cause the glass to become too reflective.
Use glossy enamel acrylics for a thick coat and an opaque finish.
Frosted paints will give you a thinner coat that is lighter, with just a touch of color.
You can use a crystal gloss enamel for a finish that falls in-between glossy and frosted paints.
Alternatively, you can combine the acrylic paint with a gesso to achieve a completely opaque, matte finish. You will see the best results by using this combination on bottles, glasses, and other abnormally-shaped pieces of glass. This type of finish will look a lot like a canvas if it is painted onto a flat piece of glass.
For a stained-glass effect, you can use glass liner and water-based acrylics or glass paints. You can also use lead for the liner so as to draw a dark and solid outline over the glass. You can then color the outlines in with transparent colors so as to mimic the effect of a stained-glass window. We suggest tracing the outline of your design in marker before using the glass liner, as this will be easy to remove should you make any mistakes.
Best Acrylic Paint for Painting on Glass
You should always opt for the best possible products when painting on glass with acrylics. You will require a top-quality enamel-based acrylic paint for this project, some of the best of which we have listed below.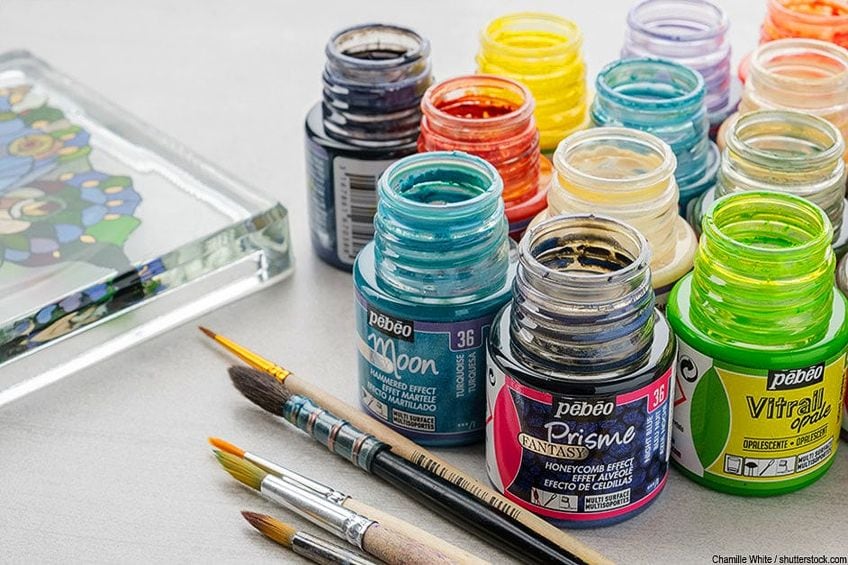 Best Overall Product: FOLKART Acrylic Craft Paint Set
This set of 12 acrylic paints will leave a satin finish behind on your glass surface as well as surfaces such as wood, canvas, fabric, paper, ceramic, and more. These paints are water-based, non-toxic, and can be used on both indoor and outdoor surfaces.
Premium water-based, non-toxic paint

Perfect for all craft painting techniques

Can be used on indoor and outdoor projects
View on Amazon
Enjoy the wide range of vibrant colors, including Aqua, Bright Pink, Cardinal Red, Classic Green, Daffodil Yellow, Licorice, Lime Green, Look-at-Me Blue, Perfect Purple, Pure Orange, Real Brown, and Whicker White.
Pros
These paints are of an excellent quality.
You can use this paint on both interior and exterior surfaces.
This set boasts a wide range of bold colors.
These paints can be applied to multiple kinds of surfaces.
The paint is non-toxic and water-based.
Cons
Some customers have found that their paints were dry upon opening.
The paints may be suitable for the outdoors, but they are not lightfast.
You may require a paint thinner due to the thick consistency of the paints.
Premium Pick: ARTEZA Outdoor Acrylic Paint Set
This paint set offers a wide range of rich, vibrant colors including the likes of Electric Yellow, Shocking Pink, and Olympic Blue. These pigments provide a smooth, rich finish that will resist fading over time.
Exciting selection of rich, vivid pigments

Perfect for indoor & outdoor use

Scuff-resistant and self-sealing
View on Amazon
You can use this paint indoors and outdoors, as they are scruff-resistant and self-sealing. These water-based paints are ACMI-certified, meaning that they are completely non-toxic and safe to use. The paint itself possesses a high viscosity, thus aiding in its durability.
Pros
The set contains an impressive range of rich, vibrant pigments.
This paint can be applied to many different surfaces in addition to that of glass, both indoors and outdoors.
The paint is certified non-toxic.
Once dry, the paint is resistant to scruffs and will seal itself automatically.
Cons
The paint is thicker than advertised and may need to be thinned.
These paints do not provide the best coverage.
Budget-Friendly: INDIVIDUALL Premium Acrylic Paint Set
Despite the low price, these paints offer a professional-grade product with vivid colors and a smooth consistency. This paint is formulated with an extremely high pigmentation, which means that a little bit can go a lot further, especially by diluting it. Made in Germany, you can expect a product of a high quality when ordering this paint set.
The set itself includes eight vibrant colors, including white, black, pink, orange, yellow, green, blue, and red. You will be able to create your own unique colors with ease by blending these base colors together. The colors are made so as to be long-lasting, which means that your artwork will maintain its vibrancy over the years.
Pros
A small amount of paint will go a long way due to the high level of pigmentation.
Although simple, the colors are extremely vibrant and bold.
The colors are long-lasting and will blend well.
This paint is easy and simple to use.
You can use this paint on most surfaces, including glass.
Cons
The paints are not of the best quality.
The set consists of a small selection of basic colors.
Choosing a Paintbrush
It is pointless choosing the right kind of paint if you are not going to apply it with the correct paintbrush. The type of paintbrush or applicator that you use will create different effects, depending on what it is that you want to achieve.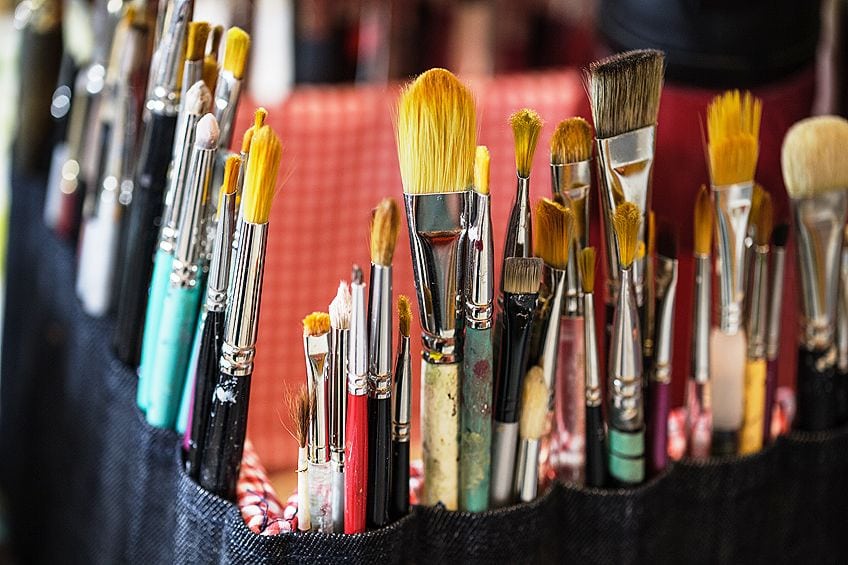 Brushes with synthetic bristles are not ideal as they tend to leave behind brush marks. This can be desirable if you want to achieve a more rustic aesthetic. These brushes are also best used for small, intricate designs with a lot of detail.
Brushes with natural bristles provide a smoother and more even finish, which is great for applying base coats.
Sponges provide a textured finish over the glass surface, which can offer an even and slightly frosted look.
Paintbrush size is also important. Small, narrow paintbrushes are ideal for delicate work, whereas broad, flat brushes are best for covering large areas and coats.
What Kind of Glass is Best for Acrylic Painting?
There are not individual categories for different types of glass, although every glass piece will have a different coefficient of expansion (COE). This refers to the rate at which the glass will expand and contract when cooled or heated. This is important to take note of when baking your glass piece.
Thick glass is much stronger than thin glass, although the latter is more flexible. Glass such as that used in dinnerware is a great choice for acrylic painting, as the fact that it is so thin allows for more flexibility in its COE.
Thicker glass such as bakeware, on the other hand, is not as flexible and may burst during expansion. You should note here that while thinner glass is more flexible, this means that it is more sensitive to fluctuations in temperature.
When performing DIY acrylic paint on glass projects at home, it is best to stick to smaller items, as larger items will require a professional kiln or oven.
Materials Needed for Painting Glass with Acrylic Paint
You will require a variety of materials for painting on glass with acrylics. These include the following:
A piece of glass – This can be any piece of glassware, pane, or statue.
Rubbing alcohol and some cotton balls or paper towels – This is for cleaning the surface properly before applying paint.
Paintbrushes – We suggest getting a variety of different paintbrushes so as to achieve multiple effects. You can also use a sponge for covering large areas in a solid color.
Palette – This is for you to squeeze and mix paint on, although you could also use a plate.
Design or pattern – This will be that which you are painting onto the glass. You will not need this if you are painting free-hand, however!
Acrylic enamel or glass paint – These paints are ideal for painting on smooth surfaces such as glass, and will provide a durable and long-lasting finish.
Clear acrylic medium – Using a clear medium or paint thinner will help you to achieve a thinner consistency should you require it. Water is not recommended for reducing paints that are going to be applied to non-porous surfaces like glass.
Masking tape – You can use this to mark off areas of glass that you do not want to get paint on.
Glass outliner – You will need this if you want to create the effect of stained-glass.
Glass paint markers – These are great for small, intricate details and for writing text.
Sealant or varnish – You can seal your glass pieces to make them last that much longer. However, you cannot apply a sealer to pieces that will come into contact with food or drink, as most sealants are not food safe.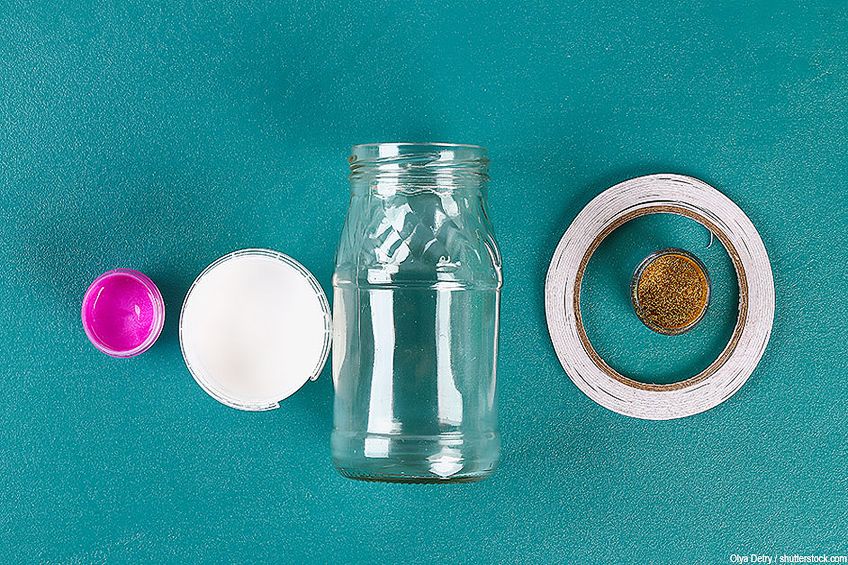 Instructions for Painting on Glass with Acrylics
There are a variety of techniques you can use when painting glass with acrylic paint. You can paint your design freely by hand, or you can make use of a stencil. You need only brushes and sponges to create an acrylic glass masterpiece. We have provided directions as to how you can go about painting your glass surface for the best results.
Preparing the Glass Surface
Will acrylic paint stick to glass that has not been prepared sufficiently? No, it is not likely. You need to ensure a suitable base on the glass for the acrylic paint to adhere to. You need to do the following to prepare your glass surface for painting:
Wash your glass piece with soapy water, similar to how you would wash your dishes. Allow the piece to airdry.
Wear latex gloves to block your hands' natural oils from getting onto the glass surface. Use rubbing alcohol to wipe down the surface gently with a cotton ball or paper towel. You can also use white vinegar for this. Allow the surface to airdry once again.
Use tape to mark off any parts of the glass that are likely to meet your mouth. While most acrylic paints are non-toxic, it is best to avoid painting over areas that will come into frequent contact with the mouth, as it can cause the paint to chip off more quickly. You can also use tape to cover any spaces that you want to avoid getting paint on.
Use a broad paintbrush to paint a base coat over the glass. Lightly dip your paintbrush into your chosen paint and cover the entire glass surface, using smooth and even strokes.

For an opaque effect, paint a couple of layers of gesso as your base coat.
If you simply want to add decorative designs to an otherwise clear piece of glass, you can skip these final two preparatory steps.

Allow your base coat to dry for a minimum of one hour. Your base coat must be completely dry to the touch before you can apply any additional paint coats, otherwise the added colors can bleed into the first coat.
Painting on Glass with Acrylics
Once your glass surface has been sufficiently cleaned and primed, you can begin to paint your design. It is always best to begin with your design on paper at first, from which you can copy or trace it onto the glass. Ensure that all of your paints are prepared properly according to the manufacturer's instructions.
Use a marker to draw or trace the outline of your design onto the surface of the glass. You will use this outline as a guide when painting. If you did not apply a base coat and your glass is still see-through, you can use tape to stick your stencil or design onto the inside of the glass to allow for tracing.
Use this method for applying glass liners as well. Simply squeeze the bottle lightly and move over the outline slowly and carefully.
You do not need to be concerned about the marker spoiling your design! If the paint does not cover it, it can be washed off easily.
Begin painting. You can use an array brushes and sponges to achieve various effects. For intricate details, we suggest taking a syringe and using it to apply dots of paint in small areas.

Start painting with just one color. Begin on the side of the glass that is furthest away from you and start painting with light strokes. Increase the pressure of your strokes as needed.
Clean your brush properly before moving on to the next color. If you are using enamel paints, you may need to use a paint thinner or reducer in order to clean the brush sufficiently. Dry the tip of the paintbrush before using the next color.
Load the next color onto the end of your paintbrush and continue painting. Be careful of blending your colors together by mistake while painting. Keep doing this until you have finished your painting.
If you are worried about messing up your design, we suggest waiting for each color to dry before applying to next. The paints should become dry to the touch within about an hour.

You can use cotton buds dipped in acetone or alcohol to erase any mistakes. This is ideal for small errors and for areas that require a lot of detail.
Paint a second coat for more vibrant colors. Once your initial coat has been completed, you may notice that some colors have dried lighter than they were when applied. You can use the same technique as above to apply additional coats. Ensure that you use the same colors to avoid creating a muddy effect.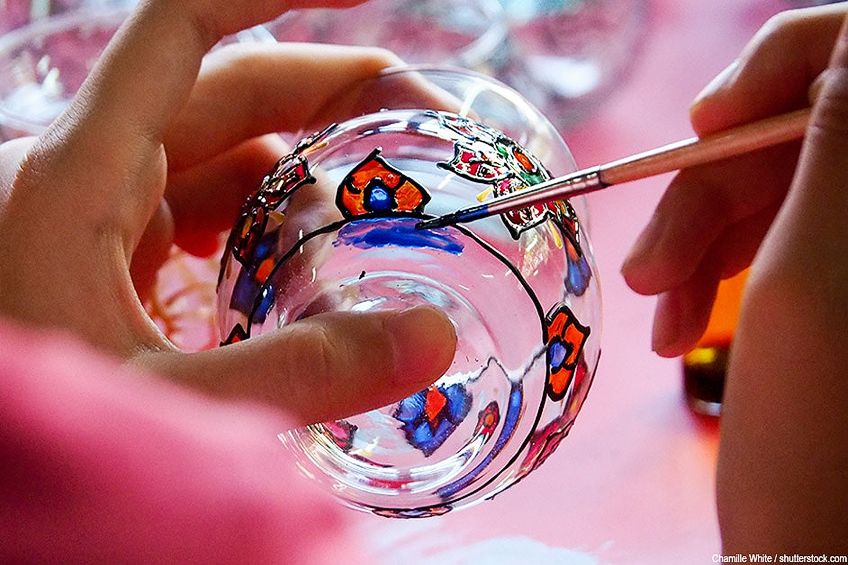 Design Tips
You can accomplish a variety of different effects and patterns by using your tools and materials in creative ways.
If you are using a pattern, use tape to attach the design to the inside of the glass. You will be able to see the pattern through the glass in this way, allowing you to trace it with ease.
You can also use tape to paint stripes and straight lines. Use a flat brush and some tape to mask certain parts of the glass. Ensure that you remove the tape while the paint is still wet, as doing so when dry can remove some of the paint with it. Clean off any striped edges by carefully scraping off excess paint with a craft knife.
Use a sponge or dauber to paint large polka dots, and a brush handle or stylus for smaller dots. For perfect circles, carefully put the tool directly down onto the surface and then lift it straight up. Do not lift it at an angle, as this will cause the dots to smear and smudge. You can ensure a full, even circle by twisting the tool in a circular motion carefully before lifting it from the surface.
Allow the Paint to Dry
Your painting should take approximately one hour to become dry to the touch. However, enamel paints can take up to a week before they are fully cured.
Leave your painted glass piece in a warm, dry spot for them to dry entirely. This can take anywhere from a few hours to a week, which is why you should always consult the manufacturer's directions for more specific guidelines.
Once dry, you can cure your piece by baking it. You can also apply a sealant for additional protection. We will go into more detail about these two methods later on in the article.
Maintaining Your Artwork
Enamel-based acrylics are a lot more durable than other water-based acrylics, although certain care should be taken to ensure that your glass piece lasts for as long as possible. You can expect pieces that are exposed to sunlight, used, or washed on a frequent basis not to last as long as more decorative pieces.
Your new glassware should be safe for the top shelf of the dishwasher, although this can depend on the paint used. Your glassware will not be microwave-safe, however.
Never soak or scrub your painted glass, especially with any abrasive materials. Always consult the cleaning instructions that came with your paint bottles.
Dust frequently and wipe your piece carefully. By dusting often, you are decreasing the need to deep-clean your glassware item. If it does get to the point that it needs a clean, simply wipe the surface down gently with a damp microfiber cloth, avoiding the painted areas as much as possible.
How to Seal Acrylic Paint on Glass
You can seal your piece of glassware either by covering it with a sealant, baking it, or both. A sealant is recommended for decorative pieces that will not be used for food or drink, as most sealants are not food safe. Often, people prefer to oven-bake their pieces, after which they will apply a sealant for maximum protection and longevity.
How to Seal Acrylic Paint on Glass with a Sealant
You can apply a sealant either by spraying it or with a brush. Spray-on sealers are ideal simply because they require less direct contact with your newly painted piece, as there is a chance that the paint is not completely dry. Regardless of which sealant you choose to use, always ensure that you read the product manufacturer's instructions on how to use it.
Work in a well-ventilated space. Most sealants produce toxic fumes and strong odors, so it is best to seal your glass piece in an open and airy area.
If you are using a spray-on sealant, spray the mixture lightly from a distance of at least 12 inches from the surface. Use a sweeping back-and-forth movement to cover the whole area. Avoid holding the spray over a certain area for too long so as to ensure an even finish.

Allow each individual layer to dry for about 15 minutes before applying the next layer, although this can vary according to the product. You will need two to three evenly sprayed layers of sealant as a coating over your glass surface.

If you are using a brush-on sealant, you can use a paintbrush to apply a thin, even layer of sealant over the surface of your painted glass. Dip the brush into the sealant and hold it over the container to allow any excess mixture to drip off.

Use back-and-forth strokes to brush on the sealant, leaving a light and even coat.
You will also require two to three coats here, allowing each layer to dry before applying the next. Brush-on sealants tend to take longer to dry than spray-on ones, however, so you will need to factor in this additional time.

Let the piece dry completely for 24 hours.
The Best Sealer for Acrylic Paint on Glass
Some glass items will require a sealant coating to further protect and enhance your piece of art. You should only apply chemical sealants to items that will not be used for food or drink, as most sealers are not food safe. We have selected the best spray-on and best brush-on sealers for your acrylic glass artwork.
Best Spray-On Sealer: ALEENE'S Spray Gloss Finish
This spray-on sealer leaves a clear, durable finish over your painted glass, adding a glossy luster to any of your outdoor or indoor surfaces. You can apply this sealant simply, easily, and safely, as they contain no chlorofluorocarbons (CFCs).
Provides a clear, glossy, and protective finish

Spray-on formula goes on simply and evenly

Contains no CFCs
View on Amazon
This sealant will dry quickly and will not yellow when exposed to sunlight. You can expect a clear, glossy finish that effectively protects your surface every time.
Pros
This spray-on sealer is fast to dry.
The clear coating will not yellow over time.
You will get a clear, glossy finish.
This sealant provides a durable protective coating.
Cons
During application, the spray emits a strong odor. You may require a painter's respirator or mask to protect yourself from the paint fumes.
Best Brush-On Sealer: MOD PODGE Sealer, Glue, and Finish
Mod Podge is a brand of glue that acts as both a sealer and a finish. It is water-based and is perfect for sealing several small items or one large piece. Mod Podge falls within the Plaid brand, which has been famed for the flexibility and versatility of its products for decades.
Dishwasher-safe formula

Perfect for sealing your art projects

Easy to use
View on Amazon
This Mod Podge is dishwasher-safe, meaning that you can place your sealed glass pieces on the top shelf of your dishwasher to clean them safely. However, you should still avoid putting this sealant on pieces or areas of glass that will come into contact with food or drink.
Pros
This product acts as a glue, sealer, and finish all in one.
This sealant is dishwasher-safe.
Mod Podge is quick to dry.
This product is easy to use and offers great value for money.
Cons
Mod Podge requires a long 28-day curing time.
How to Oven-Bake Acrylic Paint on Glass
Before you begin, you should read through all of the packaging of your acrylic paint to see if there are any instructions on how to bake them, including the necessary temperature for the best results.
Place your painted glass inside a cold oven. Your glass needs to heat up and cool down in time with the oven so that it does not break from the temperature fluctuations. You can place the glass on top of a piece of parchment paper in the oven.
Bake your glass piece. Set the oven temperature to that of 300 to 350 degrees Fahrenheit, and allow the glass to heat up slowly along with the oven. Once it has reached this temperature, bake the glass for 30 minutes.
Let the glass cool with the oven. Once your piece has baked for 30 minutes, turn off the heat and allow the glass to cool down until the oven is completely cold again. Do not open the door or remove the glass for at least another 45 minutes or until it has cooled.
You cannot use your glass item for the next 72 hours. This applies to pieces that are intended for use with food or drinks, as it needs to cure properly before it becomes food safe.
Tips and Tricks
Ensure that your glass item has no cracks or chips. If your piece is not completely intact, it will likely burst while heating in the oven.
If you are worried about getting the paint to stick, you can spray the glass surface beforehand with an all-purpose sealer or primer. Allow it to dry for a full 24 hours before drawing any outlines.
Always wear gloves when handling the glass. Your skin produces natural oils that can be left behind on the glass surface, which can affect adhesion.
While most painted glass items that have been sealed in the oven are dishwasher-safe (in the top rack), it is always best to hand wash instead. Wash your pieces carefully and only when necessary. At other times, you can dust the item with a soft cloth.
Only use the chemical sealant method on non-food items. Pieces intended for food and drink should be baked in the oven instead.
No painted areas can come into contact with food or drink on items intended for use with food. We suggest leaving just under an inch of empty glass under the rim that is free of paint, as this will allow you to take sips without fear of ingesting the paint. When painting plates, only ever paint the rim and do not paint the center. Alternatively, you can paint the underside of the plate.
It is best to avoid painting on recycled glass. This is because in addition to the different glass materials used to make the recycled piece, the item will also contain soda ash, which lowers the COE of the glass. Thus, recycled glass is less suitable for oven baking. We suggest using strong glass such as that used for bakeware.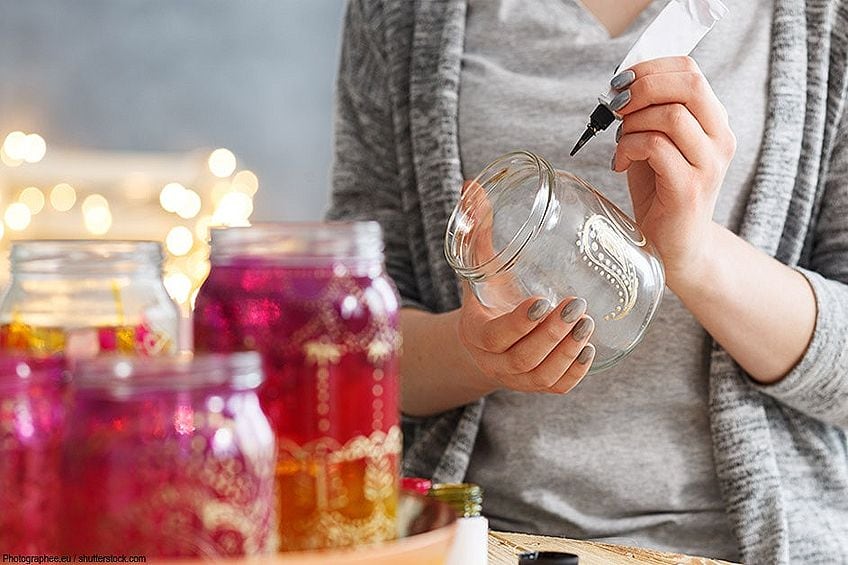 Frequently Asked Questions
Will Acrylic Paint Stick to Glass?
Can you use acrylic paints on glass? As acrylic paints are some of the most versatile art mediums, you can use them on almost all surfaces, including that of glass. You may, however, need to apply a base coat or primer to the glass ahead of painting.
Do You Need to Seal Acrylic Paint on Glass?
Generally, baking your glass item in the oven should be enough in terms of sealing it. However, you can also apply a chemical sealant to non-food items to increase their durability and longevity. The question of how to seal acrylic paint on glass will depend on the type of sealant as well as the type of paint.
Can You Use Mod Podge to Seal Acrylic Paint on Glass?
Mod Podge is a decoupage medium that works as a glue, sealer, and finish. This product will dry clear, leaving behind a protective coating over your glass item.
Must You Prime Glass Before Applying Acrylic Paint?
The glass surface must always be completely clean of any and all dust, oils, and impurities, and must be completely dry as well. While a primer or base coat is not always necessary for painting acrylics on glass, it will certainly aid in improving the adhesion of the paint to the glass surface.
Can You Use Acrylic Paints on Glass Windows?
Yes! You can either paint a design of your choice onto your window panes, or you can create a stained-glass effect by using a glass outliner.
Can You Reuse Glass That Has Been Previously Painted?
It is difficult to reuse glass that has already been painted, but it is possible. You will need to use a solvent to dissolve the enamel paint off of the glass surface. You must keep in mind that when reusing a piece of glass for acrylic painting, you will need to undergo all of the steps as if it were a brand-new piece of glass.
Larissa Meyer is a 32-year-old mother and creative spirit since childhood. Her passion for painting and drawing has led her to train as an illustrator and pursue a career as a freelance graphic designer. Larissa is a talented artist who is able to master a wide range of styles and techniques to bring her artistic vision to life.