Art n Glow Resin – A Detailed Review of Art 'n Glow Casting Resin
This post may contain affiliate links. We may earn a small commission from purchases made through them, at no additional cost to you.
You can embark on a variety of projects with clear epoxy resin, asit is a very versatile product. There are also a variety of resins available to purchase, one of them being Art 'n Glow's casting resin.
About the Company Who Created Art 'n Glow
After viewing an exhibition on bioluminescence held at the Perot Museum of Nature and Science in Dallas, Texas, the founders of Art 'n Glow came up with the overall concept. The founder had also recently been to a paint party venue and thought it would be amazing if one could capture the glow on a canvas to allow it to be enjoyed wherever and whenever.
Art 'n Glow offer a variety of products:
Epoxy resin
Metallic and pearl pigments
Glow powder
Glow paint
Charging lights
Why Users Like to Work with Art 'n Glow Resin
The Art 'n Glow resin is ideal for both tabletop coatings as well as casting. This resin is known for drying incredibly crystal-clear, which is one of the reasons as to why it is such a popular resin. Other positive facts of the Art 'n Glow Resin is that it is odor-free, self-leveling, and self-degassing.
Can be used for casting AND coating applications

Hardens crystal-clear and hard as a rock

Foolproof 1:1 mixing ratio and 40 minute work time
View on Amazon
Just because it is odor-free does not mean that you do not need to take safety precautions, however. You should always work with the resin in an airy, ventilated, and open area. The work time of the Art 'n Glow resin is 40 minutes, allowing you plenty of time to work with it and making it very easy to use. The 40 minutes gives you sufficient time to manipulate it as much as needed before it sets. The long working time makes this product great for beginners.
Another great aspect of Art 'n Glow resin is that it is UV-resistant and therefore will not yellow over time. This is a great advantage, but it is important to remember that you should refrain from placing an epoxy resin project outside in the sun, as it will eventually begin to yellow when exposed to sunlight.
The mixing ratio for Art 'n Glow resin is very simple, which is another reason as to why it is so perfect for beginners. Using just 128 ounces of Art 'n Glow Epoxy Resin, you can cover up to 26 square feet of surface at a consistent thickness of 1/8th of an inch. Art 'n Glow's glow-in-the-dark pigments are formulated to be used in conjunction with Art 'n Glow epoxy resin. There is no restriction on the coating application of a project, but the maximum casting amount is 6 fluid ounces.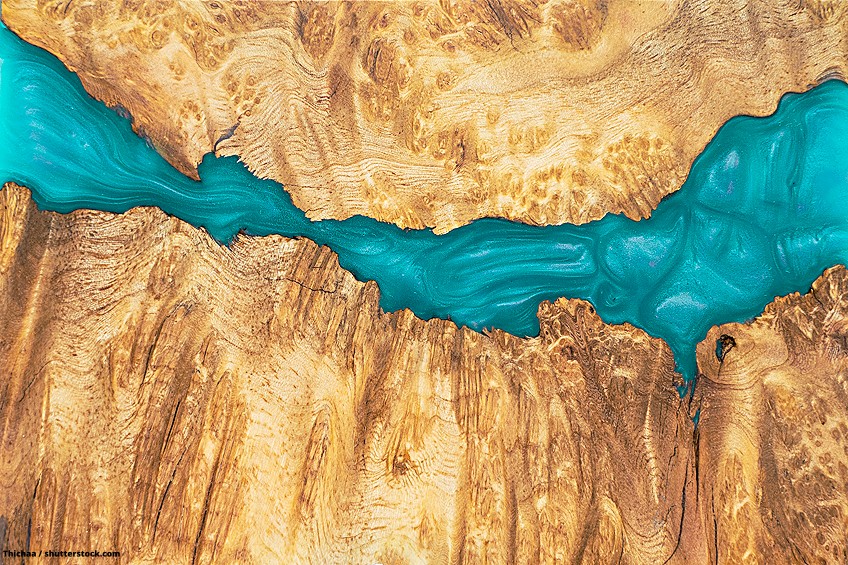 Coverage Calculations
Art 'n Glow's resin is available in a selection of different sizes, each of which can cover a certain amount of surface area.
16 ounces covers roughly 3 square feet at a thickness of 1/16" thick
32 ounces covers roughly 6 square feet at a thickness of 1/16" thick
64 ounces covers roughly 12 square feet at a thickness of 1/16" thick
1 gallon covers roughly 24 square feet at a thickness of 1/16" thick
2 gallons covers roughly 48 square feet at a thickness of 1/16" thick
Working Conditions
As advised above, the Art 'n Glow series comes in a variety of different product sizes. To ensure that you have the best outcome for your project, we suggest working in an environment that has a temperature of between 72 and 78 degrees Fahrenheit. The closer the temperature is to 78 degrees Fahrenheit, the better your epoxy will set. Art 'n Glow resin can stand up to temperatures of up to 120 degrees.
You can make the resin work differently simply by manipulating the temperature. You can ensure that your resin and hardener combine sufficiently by putting the two liquid containers in a bucket of warm water before use. This will help the resin to cure more quickly and will also reduce the production of bubbles. To avoid creating bubbles when you are mixing the resin, ensure that you stir in consistent and smooth movements and that you stir the two components together as thoroughly as possible.
A great way to avoid adding any air to the mixture is to press your mixing utensil to the bottom of the container while you are stirring.
Another suggestion in how to prevent bubbles when using this particular product is to pour the hardener down the side of the container the resin is in. It is necessary to ensure a steady hand and to pour slowly when mixing the hardener and resin so as to ensure that you do not add any air bubbles to the mixture.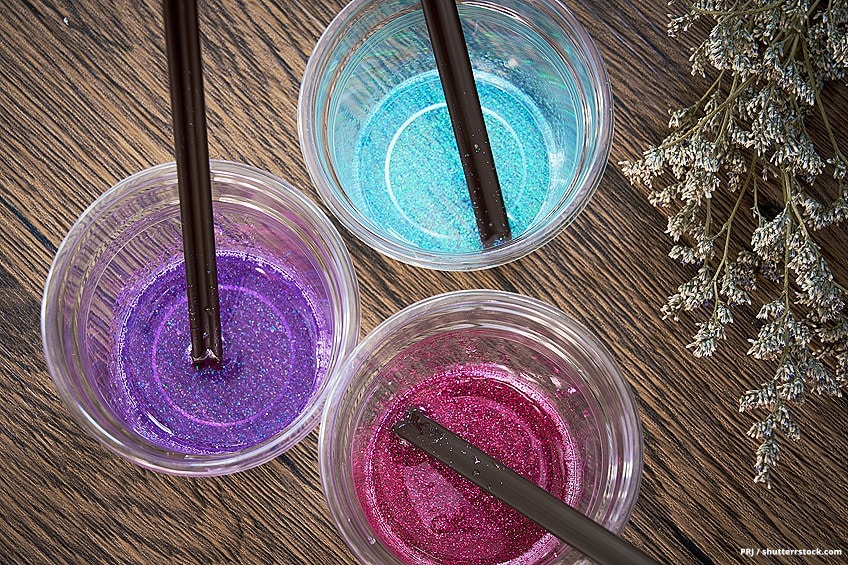 Once you have mixed the hardener and the resin, you can pour it over the designed mold or surface. Allow the newly poured resin to sit for roughly two minutes to allow some of the bubbles to rise to the surface themselves. To remove any remaining bubbles, you can use a kitchen torch, toothpick, lighter, artist's torch, or even a straw. Remember to continue to check your resin for the next couple of hours to ensure that no more air bubbles appear.
If you are planning on thickening your project through pouring several coats, you will need to wait 3 to 5 hours in between each layer. This will help to prevent issues such as cloudiness or stickiness from occurring. Ensure that you allow each layer to dry sufficiently before sanding and wiping down the surface. After this, you can apply the following layer.
Within 24 hours, the resin will have completely hardened. Once 72 hours have passed, the resin will have set completely.
Thanks to Art 'n Glow not giving off any fumes, and it being non-toxic, it is safe to use at home. It is, however, still important to use the necessary safely goggles and gloves when working with it and to ensure that you are working in a well-ventilated space.
With Which Materials Can I Use Art 'n Glow Resin?
This epoxy resin will adhere to a variety of mediums, including:
Brick
Concrete
Wood
Rocks
Canvas
Aluminum
Leaves
Inkjet prints
Sculptures
Oil paints
Glossy photographs
However, Art 'n Glow epoxy resin cannot bond or adhere to the following mediums:
Silicone
The sticky side (backside) of tape
Wax paper
Plastic tarps
Mixing Art 'n Glow Resin with Color Mediums
Art 'n Glow boasts a wide selection of color pigments and mediums for you to add to your epoxy resin. Before you can apply any color, however, you must first ensure that your resin-to-hardener ratio is correct. The perfect ratio (by volume) for hardener and epoxy resin is 1:1. Ensure you mix consistently and thoroughly for 3 to 5 minutes until you are sure that there are no streaks. You must follow this ratio to ensure that your resin cures correctly.
Adding Pearlescent Powder to Resin
This pearlescent mica powder is available in a range of stunning colors for use with your epoxy resin. These pigments will not react with other materials, which makes them ideal for use with nearly any medium in addition to that of epoxy resin.
Wide range of pearlescent colors

Packaged in a recloseable ziplock bag

Pearl pigments can be used in almost any medium
View on Amazon
You will require 1 gram of pearlescent pigment powder for every ounce of resin mix and hardener you plan to use. This ratio is considered the perfect amount when working with Art 'n Glow's pearlescent pigment powder, but should you want to up the intensity, you can always use more.
Adding Glow-in-the-Dark Powder to Resin
Art 'n Glow's range of glow-in-the-dark pigment powders will ensure that your epoxy has a glow that will last throughout the night. You will receive a range of colors, including neutral green, sky and dark blues, aqua, and white. You will receive a free UV LED keychain that acts as a charging light, allowing you to make the resin glow within a matter of moments.
Green, aqua, sky Blue, dark blue, and white glow powder

Bright,

lasting glow with a free UV LED keychain charging light

Waterproof with ideal micron size of phosphorescent crystals
View on Amazon
For each ounce of hardener and resin mixture, you will require 7 grams of glow powder, reaching a 1:4 ratio. This ratio ensures a long-lasting and bright glow. You can, however, experiment a little with more glow powder if you desire. The phosphorescent particles in this powder are 30-50 microns, which means that they are the perfect size for working with epoxy resin.
Adding Pigment Powder to Resin
When using a pigment powder with Art 'n Glow's resin, you will need a ratio of 1:4. This is the best ratio so as to ensure your resin has a long-lasting glow and is at its brightest. You can also try other ratios if you wish.
Important Considerations
There are a number of factors that need to be taken into consideration when working with any type of epoxy resin, as this material can be fickle to work with if not done correctly. You will need to keep the heat tolerance of your resin in mind, as well as ensure that you take all of the necessary safety precautions.
Heat Tolerance
The heat tolerance for Art 'n Glow's epoxy resin is 120 degrees Fahrenheit. The resin can be used when making a coaster, but you shouldn't put a cup of hot coffee on it. We also advise that you do not use Art 'n Glow epoxy resin as a hot plate due to the low level of heat tolerance.
Safety Measures
As long as Art 'n Glow resin is used as directed, it will be non-hazardous and non-toxic. In addition, it is not flammable. It is certified for home use and adheres to ASTM D4236, meaning that it possesses no chronic health hazards. Art 'n Glow epoxy resin has been certified by the American Society for Testing Materials, who have confirmed that it non-toxic and does not produce any fumes or volatile organic compounds (VOCs).
Despite the non-toxicity of this resin, it is still important that you take certain safety measures and precautions when working with epoxy resin:
Ensure that you are working in an area with good ventilation. If you are unable to work in a well-ventilated area, you may then need to wear a respiratory mask and use an extractor fan.
Always wear gloves. You must protect your skin from coming into direct contact with epoxy resin. Using disposable gloves makes clean up a breeze and ensures that your hands are protected. If you have a situation where you do get some resin on your skin, make sure that you wash your hands immediately with soap and water. If needed, you can also use rubbing alcohol to clean it off your skin.
Protect your eyes at all times by wearing safety glasses. Should any resin mixture end up in your eyes, you must immediately and repeatedly flush your eyes out with water. Ensure to not rub your eyes, as it will only spread the resin. You should seek immediate medical attention.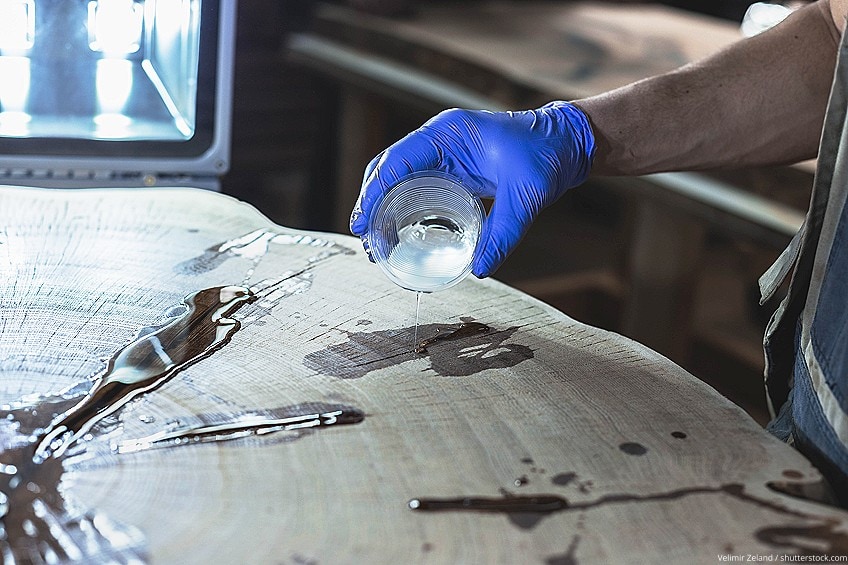 Should I Use It Art 'n Glow Resin?
As one of the best resin products currently on the market, Art 'n Glow's epoxy resin is perfect, regardless of whether you are a beginner or an expert. Art 'n glow may be expensive, but it is completely worth it.
Pros
Works for both casting and coating applications
Crystal-clear and durable finish
Levels and removes bubbles automatically
Odor-free
UV-resistant
Easy mixing ratio
Forgiving work time
The epoxy resin is the ideal product for clear casting projects and is perfect for pouring applications. You will have sufficient time to manipulate the resin thanks to the long working and curing times. Another great perk is that it is self-degassing and self-leveling. It is also a bonus to be UV resistant, particularly if your project will be exposed to sunlight.
The Art n Glow Epoxy Resin can be used for a variety of projects, including being able to pour over countertops and tables or to create art, décor pieces, and even jewelry. Always ensure that you check how much resin is required for your desired project before purchasing, as you do not want to be in a situation where you do not have a sufficient amount of resin.
You will be able to create any number of creative masterpieces when you use Art 'n Glow's epoxy resin. You will have no trouble using this top-quality product for all of your epoxy resin needs!
Larissa Meyer is a 32-year-old mother from Michigan and creative spirit since childhood. Her passion for painting and drawing has led her to an education as an illustrator and a career as a freelance graphic designer. She has a Bachelor of Fine Arts in Illustration and a degree in Graphic Design. Larissa is a talented artist who is able to master a wide range of styles and techniques to bring her artistic vision to life. Her greatest passion is currently fluid painting and epoxy resin art. Larissa's love for art and her knowledge and experience in illustration make her the perfect Creative Director for our fluid-painting.com team. She is the creative head of our team and shares her passion and knowledge with our community through articles and tutorials.
As a mother of a 2-year-old daughter, Larissa also understands the importance of fostering creativity in early childhood. She uses her experience and knowledge to help other parents inspire their children and develop their artistic skills as well.
Learn more about Larissa Meyer and about us.