Best Epoxy for Plastic – Selecting the Best Plastic Epoxy Adhesive
This post may contain affiliate links. We may earn a small commission from purchases made through them, at no additional cost to you.
Both the DIY and manufacturing industries offer a wide variety of different glues and adhesives for many different projects. There are also many hobbyists who utilize glue for making plastic models. However, not all types of glues and adhesives will work well on a plastic surface. One of the best ways in which to adhere plastic pieces together is by using epoxy glue. The best epoxy for plastic will be extremely durable, with strong adhesive properties. Epoxy glue can also be used to fill any gaps and holes. This article will explore everything you need to know about epoxy for plastic.
The Best Adhesives for Plastic
There are many different adhesives, each of which has different properties. Where some glues and putties may form a strong adhesive bond, others may not provide much strength. It is important to take the flexibility and durability of an adhesive into account, looking at whether or not it is resistant to factors such as heat, water, and mechanical force. There are two types of adhesive:
Reactive adhesives
Non-reactive adhesives
Epoxy can be categorized as a two-part reactive adhesive due to the fact that when combined with a hardener, it undergoes a chemical reaction that results in it curing or hardening. Superglue is also a reactive adhesive, although it consists of just one part. It reacts to its surrounding environment, particularly to that of heat. White craft glue, on the other hand, is a non-reactive adhesive. You should always ensure that you use your adhesive with a suitable surface. You can use:
Epoxy for plastic, glass, rubber, metal, and fiberglass
Acrylic on rubber, glass, plastic, fiberglass, and metal
Urethane for plastic and other materials
Cyanoacrylates for metal, plastics, leather, and fabric
In many cases, you will find that you need to repair a piece of plastic. You can find out the perfect adhesive for your particular plastic piece by reading the product label. We suggest using waterproof epoxy for plastic due to its high level of strength and durability. In addition to being waterproof, epoxy is also resistant to high temperatures, chemicals and solvents, high impact, and UV light.
Should You use Epoxy for Plastic Adhesion?
There are a number of reasons as to why you should use plastic epoxy glue for your projects. However, as with all things, this product also comes with its own share of disadvantages. We have outlined the key advantages and disadvantages of epoxy for plastic to help you make an informed decision about the best product.
Pros
Can be used on a wide variety of materials, including plastic
Provides strong adhesion and high durability
Temperature- and impact-resistant
Waterproof
Can withstand chemicals
Can be combined with accelerators or additives
Long, two-year shelf-life
Cons
Can be complicated or difficult to use
Pricey
Pot-life may be limited
Produces toxic fumes in its liquid state, so safety precautions need to be taken
What is the Best Plastic Epoxy?
It can be difficult to find the best epoxy for plastic, as there are so many different products and makes available on today's market. To make the process easier for you, we have chosen the best and strongest epoxy for plastic products from which you can select one that works for you and your project. Take your pick out of the best overall product, the most premium product, as well a budget-friendly option.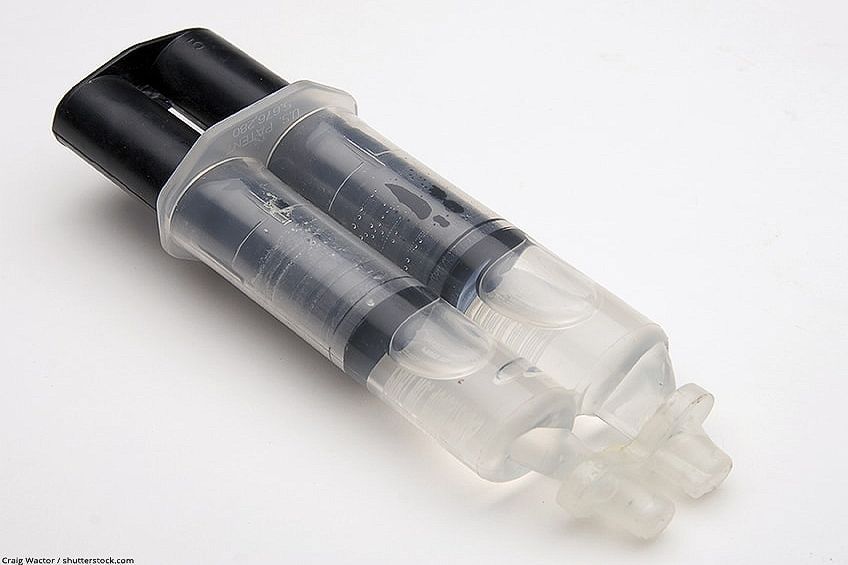 Best Overall: GORILLA 2-Part Epoxy Syringe
Overall, this is the best epoxy for plastic due to its quality, durability, appearance, and value for money. This two-part adhesive can be used on several types of surfaces, and will provide a strong, lasting, and quick adhesive bond. You can also use this product to fill up gaps, cracks, and holes. You will have 5 minutes with which to work with the glue, after which time it will need to harden for the next half an hour (although you will need to wait 24 hours for it to cure completely). The bonding potential of the epoxy will increase the later you leave it. The glue also dries clearly, so you do not have to worry about spoiling your pieces.
Strong, permanent, fast, and gap-filling

Best for tough repairs requiring a durable bond

Dries clear and solvent-resistant
View on Amazon
To use this product, you simply need to push down the syringe. The syringe contains two separate barrels, one containing resin and the other containing hardener, thus preventing the epoxy from hardening prematurely. The chemical reaction will only take place once you evenly dispense the two liquids and mix them together. Stir the mixtures together for about 20 seconds to ensure that they have been combined properly.
Pros
Great value for money
Easy to use
Extremely strong and durable
Water-, heat- and impact-resistant
Versatile in terms of application
Forms a strong adhesive bond
Cons
Difficult to dispense equal amounts of resin and hardener
Single use
Premium Pick: J-B WELD PlasticWeld Repair Epoxy Putty
This product is the strongest epoxy for plastic, offering a two-part epoxy putty stick that can be used to repair and rebuild several plastic-based projects. This product has a shear and tensile strength of 600 and 350 psi respectively, exhibiting just how strong and durable this material really is. The putty can also withstand high temperatures of up to 250 to 300 degrees Fahrenheit (121 to 148 degrees Celsius).
You simply need to knead the two-part putty together with your hands in order to combine the components. The putty will set within 25 minutes and will cure fully within just a few hours. Once dry, the putty is an off-white color. The putty will not shrink and once cured, it can be carved, sanded, painted, and adjusted in many ways.
Repair and rebuild rigid or semi-flexible plastic

Bonds instantly

Superior strength
View on Amazon
Pros
Strongest epoxy for plastic
Good value for money
Quick to cure
Will not shrink
Resistant to temperature, heavy loads, water, and solvents
Easy to use
Cons
Emits a strong odor
Drying time may be longer than stated
Budget-Friendly: PC PRODUCTS Clear Epoxy adhesive Liquid
This plastic epoxy glue is the best plastic epoxy for those on a budget. It is a clear epoxy liquid that can be used on a variety of materials, including that of plastic. This is a highly durable and flexible product, exhibiting strong resistance to chemicals, water, oils, and salt. Thus, you will not have to worry about the adhesive bond being weakened or sustaining any damage.
When mixed at first, the mixture may appear to be more opaque in color. However, once cured, it will become completely transparent. You will have 4 minutes with which to work with the liquid, after which it will dry to the touch in one hour, and will cure completely after 24 hours. This is the ideal product for detailed repairs and for creating strong, resilient adhesive bonds.
Clear epoxy adhesive liquid

Short curing time

Forms tough bond for durability
View on Amazon
Pros
Easy to use
Affordable
Clear once cured
Great for detailed fixes
Creates a strong and durable bond
Cons
Can only be used once
Takes longer to harden than stipulated
How to Use Plastic Epoxy Glue
Once you have chosen the best plastic epoxy, you can begin to prepare your tools and your workspace. Your working area needs to be clean and empty of anything that you do not want to get epoxy on. Take note of your ambient environment, as epoxy is highly sensitive to humidity and surrounding temperatures. It is best to work in an environment of 70 to 75 degrees Fahrenheit (21 to 23 degrees Celsius), with low levels of humidity.
Epoxy resin is toxic in its liquid state, and will produce toxic chemicals that can be harmful if the proper protective measures are not taken. Ensure that your workspace is well-ventilated and that you wear a suitable breathing mask and gloves when working with the epoxy. Be careful, as these adhesives are known to be very flammable.
You can follow these steps in order to use epoxy glue in a syringe:
Read the instructions of your product carefully.
Sand down your plastic surface in order to increase adhesion.
Clean up any remaining dust and dirt.
Hold up the syringe of epoxy and hardener and snip off the tip.
Press the syringe slightly so as to remove any bubbles.
Make sure that you have a bowl or plate ready and on hand.
Then, press down the plunger. This will release both syringe liquids at the same time.
Pull back the plunger and wipe the tip, after which you can replace the cap.
Mix the epoxy and hardener together thoroughly for approximately a minute.
Apply the epoxy glue to the relevant surfaces.
Press the two plastic pieces together tightly in order for them to bond properly.
Remove any excess mixture that may have seeped out.
Allow the epoxy glue to cure fully. This will vary from product to product, so ensure that you read the labels carefully.
If you do not want to use liquid epoxy glue, you can also use a putty. These putties come with the two components rolled on top of each other; you will need to knead the putty in order to mix the two elements together. You can also use putties as a filler. Any excess putty can be removed easily by scraping it away with a sharp knife.
If you use epoxy putty, we suggest keeping your gloves slightly wet in order to make it easier to blend the two components. This will also result in a smoother finish.
Removing Plastic Epoxy
The strongest epoxy for plastic can be difficult to remove, as this material is known for its high durability. Epoxy will always be easier to remove when it is still soft, as you simply need to wipe the glued area with a cloth that has been dipped in acetone. This method should allow the glue to lift off. However, if you have allowed the epoxy to cure and harden fully, it is significantly more difficult to remove it from a surface.
The first thing you will need to do is to soften the epoxy with some adhesive remover, denatured alcohol, or paint thinners. Dip a clean cloth into the remover and wipe the relevant area. Provided you have used the correct type of adhesive remover, you should be able to remove the resin without leaving any marks or residue behind.
You will be working with strong chemicals here, so make sure that you wear gloves, a respiratory mask, and that you work in a well-ventilated area.If you end up getting epoxy onto your skin, you need to react as quickly as possible. You can either use a cloth dipped in vinegar or a cotton bud dipped in acetone to rub over the glued area until it comes off.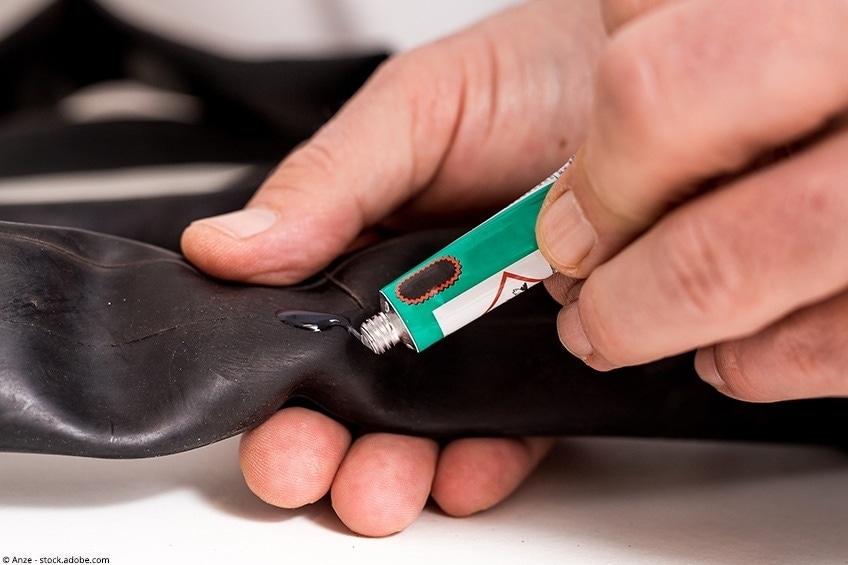 Safety Precautions
Whenever you are working with plastic epoxy or other such adhesives, it is important that you follow certain safety protocols. This is because these adhesives tend to produce toxic fumes when in their liquid, workable state, which can be harmful if you are not careful. Once fully cured and hardened, the epoxy will no longer be hazardous.
Always wear gloves so as to protect your skin.
Wear goggles to protect your eyes.
Work in a well-ventilated area and wear a breathing mask if necessary.
Epoxy is one of the best choices when working with plastic, as it is long-lasting and extremely durable. It can be used to glue plastic pieces together or to fill in gaps and holes. Provided you do the appropriate research and preparation, you will be able to achieve professional results with any kind of epoxy adhesive.
Frequently Asked Questions
How Long Does it Take for a Plastic Epoxy Adhesive to Dry?
The time it takes for your epoxy adhesive to dry will depend on several factors, including the product you choose and your working environment. It is always a good idea to check the product label or manufacturer's information for a more specific time frame, but you can expect to wait approximately 24 hours for your epoxy to cure and harden completely.
How Should You Mix Epoxy for Plastic?
As is the case with most epoxy products, epoxy glue comes in two parts that need to be mixed according to a specific ratio. However, many products these days come in two syringes that have already been measured. Alternatively, you can select a two-part putty or paste, which you would then knead together in order to combine them fully, after which you can begin applying it.
Can I Use Epoxy for Plastic?
Yes, epoxy is one of the best choices when it comes to gluing plastic, as this material allow for the strongest adherence to plastic surfaces. Epoxy glues and putties enhance the overall strength of the plastic, provide durability and can even increase flexibility to a certain degree. However, you will need to do some research in order to select the best type of product for your particular project.
Can I Get Waterproof Epoxy for Plastic?
Yes, you can get waterproof epoxy for plastic in addition to other properties such as resistance to heat and chemicals. These properties are what make epoxy such a durable material, dubbing it the ideal adhesive agent for your plastic projects.
How Much Epoxy for Plastic Should I Use?
The amount of epoxy you require will depend on the size of your project. For smaller projects, you may opt for an epoxy glue that comes in a smaller, single-use container. Alternatively, you will need to purchase a larger quantity if you plan on working on a bigger project.
Can I Add Hardener to Strengthen My Plastic Epoxy?
No, there are few additives that can be mixed into your epoxy solution that will not affect the end-product. Two-part epoxy glues have to be mixed according to a very precise ratio, and any deviations from such can result in the adhesive not curing properly.
Larissa Meyer is a 32-year-old mother and creative spirit since childhood. Her passion for painting and drawing has led her to train as an illustrator and pursue a career as a freelance graphic designer. Larissa is a talented artist who is able to master a wide range of styles and techniques to bring her artistic vision to life.