Best Mica Powder for Resin – Your Guide to Epoxy Pigment Powders
This post may contain affiliate links. We may earn a small commission from purchases made through them, at no additional cost to you.
Resin crafts and creations are so much fun to make. If you are new to working with resin, you may be wondering how color is added. You may have thought using resin dye is how it is done, and your assumption would be correct. However, did you know that you can also customize clear resin with the help of mica powder for epoxy? These naturally occurring particles can help turn your resin creation into absolutely any color imaginable! This article will delve into the world of epoxy pigment powder, which is the best mica powder for resin, and how it all works. Let us get started!
What Is Mica Powder for Epoxy?
Mica is a mineral that occurs naturally, this is what mica epoxy pigment powder is made from. Once the mica mineral has been mined, it is put through a dehydration process and other natural substances such as iron and tin oxide are combined with it. Together, these substances then form a very fine powder, and are used to dye resin in almost any color imaginable! While you could opt for an epoxy pigment powder, you will not be able to achieve the same texture that mica powder for epoxy can. What sets mica powder apart from regular resin dye is the almost reflective and shiny texture for your resin casting. Regular epoxy pigment powder results in a muted and dull matte texture.
This is the exact reason why resin crafters choose mica powder for epoxy as opposed to pigment powder. It is highly sought after for its texture which allows for high-quality and unique resin casting finishes. There are literally hundreds of available mica pigment powder colors available. You can use mica powder in resin to help create a stunning metallic or pearl finish to your resin casting.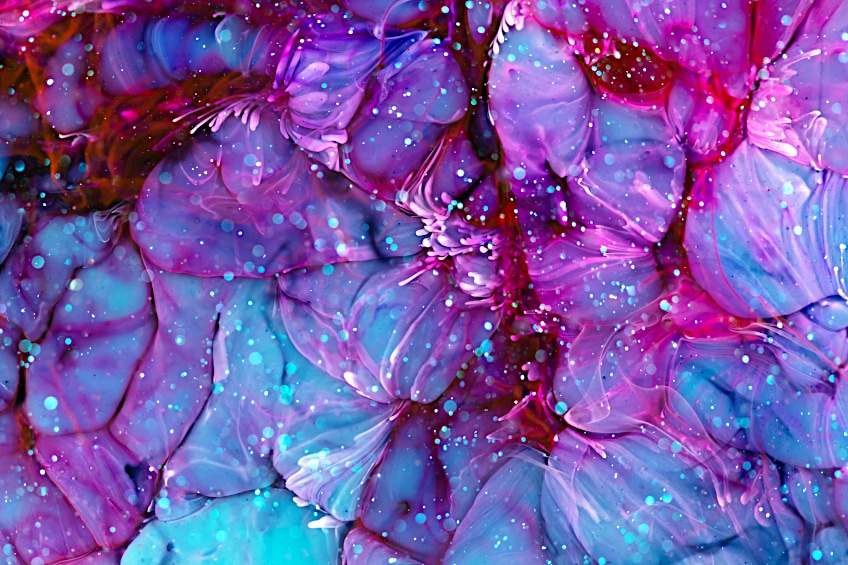 If you have been wondering what exactly mica powder is and how it is formed, the answer is quite simple! Mica is essentially dust which is made up of various types of rock. This is then compressed and refined and eventually combined with other minerals which result in a powder.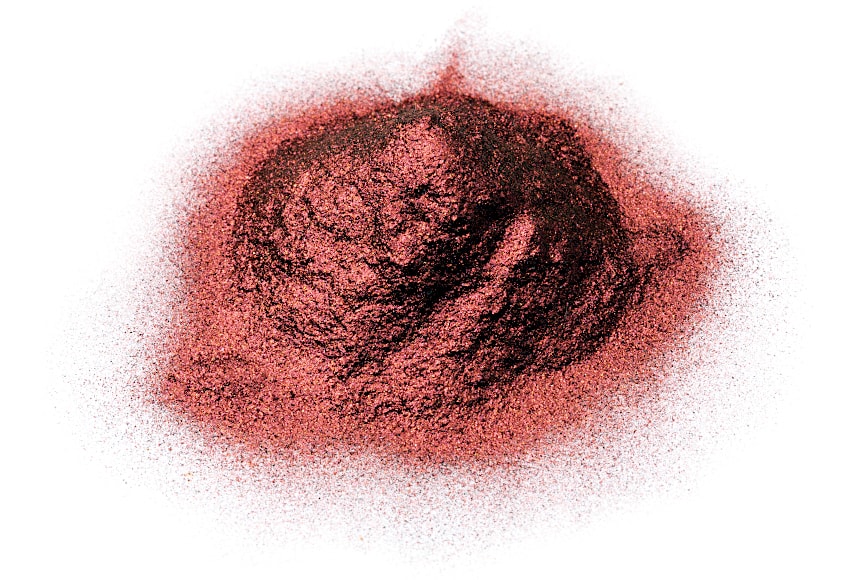 Should you be in any way concerned about your health when it comes to handling mica pigment powder you can rest assured that it is not toxic and safe for skin, so should you get some on your hands it will not affect you. We do not recommend inhaling mica, however, it is harmless and feels like dust – not too pleasant but safe nonetheless.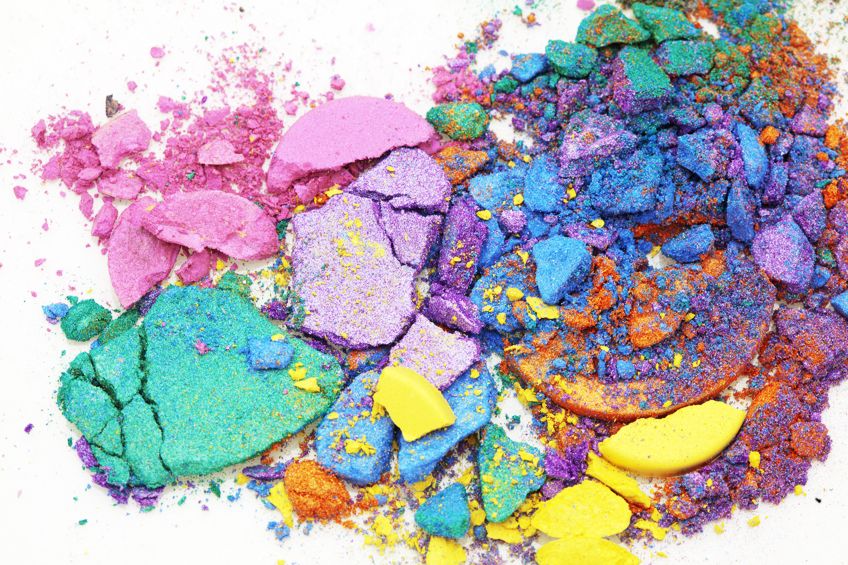 There is one downside to this wonderful substance, unfortunately. Mica powder is mined in India, this means that laborers (including children) are exploited and paid poorly thanks to India's unfair labor laws. It goes without saying to make sure you check where your mica is coming from to be certain not to support unethical companies who do not pay their miners properly.
The Difference Between Mica Pigment Powder and Mica Powder for Epoxy
As mentioned above, both of these substances are used when adding color to resin. You can find both regular epoxy powder and mica powder relatively easily both online and at your favorite crafting store. Each product will result in a different effect and aesthetic for your resin molds' end result. Mica will produce a shiny and glossy finish while regular epoxy powder will lackluster and be more matte in appearance.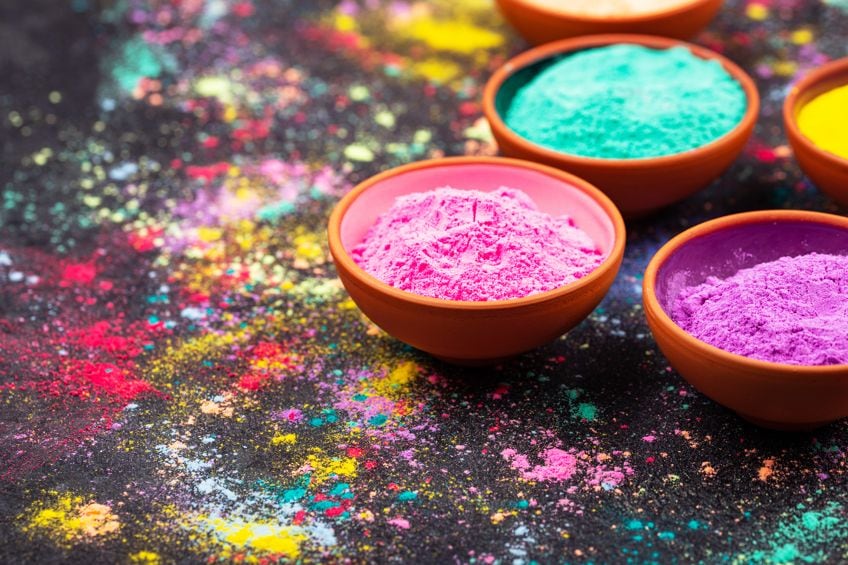 Both mica pigment powder and epoxy pigment powder are similar to powdered paint. Mica has a slightly flakier texture when in its raw and natural form. Another thing with noticing which sets these two dyes apart is that epoxy pigment powder is created from a synthetic substance. We have created a quick table for you to summarize the differences:
| | | |
| --- | --- | --- |
| Substance | Mica Powder | Epoxy Pigment Powder |
| Made From | Stone, naturally occurring | Synthetic, man-made |
| End Result | Glossy, shiny, and metallic or pearl | Matt, muted and less vibrant |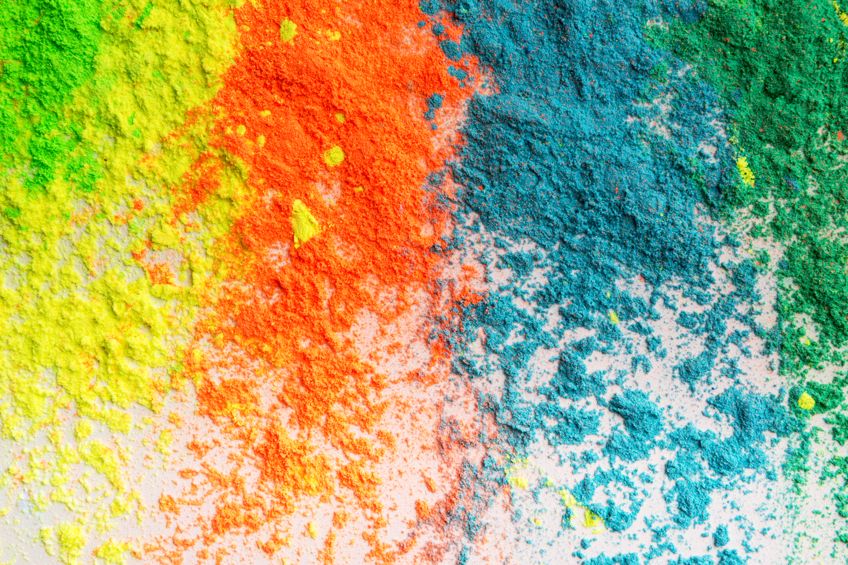 The Best Mica Powder for Resin
It is likely that you have seen mica powder in your local craft store or perhaps while browsing online for craft supplies. Many companies manufacture mica, however, as with most things in life, not all products are of equal quality. So, you may be wondering which is the best mica powder for resin crafting? To make it easy for you, we have compiled our favorite mica products for you to choose from. Each one is highly rated and sustainably sourced.
Top Choice: JACQUARD Pearl Ex Pigment
Most people choose mica powder for the wonderful gloss and metallic finish it offers your resin casting. And of course, the people over at Pearl Ex have one of the best mica powder for resin products available on the market. This amazing pigment powder is available in a set that offers six different metallic hues. Quite possibly the best set ever produced, the beautiful and vibrant pallet will help bring new dimensions and life to your resin piece. What is more is that it can even be added to paint and plaster, making it multi-purpose.
Inside this six-piece set, you will find varying shades of silver and white, violet, copper, and gold, as well as cobalt shades. This means you have a wide range of metallic colors to choose from, all of the highest and best quality. This range is hard to beat! The only downside is the size of each metallic pot, a mere .75 ounces each. That said, the versatility of the Jacquard Pearl Ex Pigments is unsurpassed – they are even kiln-safe, so you could easily incorporate them into clay or ceramics too.
Non-toxic metallic mica powder

Rust- and tarnish-proof pigments
Colorfast and stable
View on Amazon
PROS
Top-quality finish
Heat resistant
Shiny, metallic sheen
Striking colors
Easy to use
CONS
Only available in small volumes
Color collection is somewhat limited
Expensive
Not easy to find
Top Value: ARTOPIA ARTISAN PIGMENTS Pearlescent Mica Powder
As we stated earlier in this article, mica pigment powders are available in either metallic or pearl opaque. While our first mention product results in a metallic sheen, this amazing mica powder will produce an amazing pearlescent effect. Artopia Artisan mica powder is available in a 25-color kit for your resin crafts, each one offering a beautiful sheen of the highest quality. With so many mica powder kits offering metallic finishes, this set is refreshing, and while the colors are less vibrant than the former mentioned, they are still beautiful and very pronounced, especially when compared to normal epoxy pigment powders.
Should value for money be your end goal, then the team from Artopia has your back. This awesome set will leave you with all the boxes checked – you will not be needing any more mica powder, that is for sure! This product is as versatile as it is beautiful and can even be used in latex, nail art, soaps, and kids' slime, it is even usable in screen painting! With so many possibilities, what is not to love about this mica powder?
Multi-purpose pigment for epoxy resin, nails, candles, and soaps
Non-toxic mica is skin safe for use in soaps, bath bombs, and lip balm
Large .353oz portions give the set a total weight of 8.82oz
View on Amazon
PROS
Large range of colors
Very versatile
Simple to use
Washes off easily
Well priced
CONS
Containers are not resealable
Opaque finish only
Not suitable for high temperatures
Inconsistent color quality
Top Quality: U.S. ART SUPPLY Jewelescent Pearl Mica Pigment Powder
The quality of U.S art supply mica powder for epoxy is hard to beat! Unlike both products mentioned above, both high volume and superb quality are a massive advantage that comes with this purchase. While variety is low for individual purchases, you can rest assured the high-quality color of each bag of Jewelescent is like no other! We think it is worth the small drawback. You can choose from 25 different colors, meaning you have more choice than most mica powders offer! Another non-metallic mica powder, the Artopia product will leave your resin with a lovely pearl finish. Not only is each color available in a larger than normal volume of 3.5oz, but it is also super versatile! What sets the Artopia mica powder apart from all the rest is that it is actually graded for use in soaps, makeup, and cosmetics as well as candles and screening! You can even load this product into an airgun! This means you could be creating so much more than just resin castings with your mica powder. However, such versatility does come with a high price tag.
Easy pour resealable pouch jar for consistent and accurate delivery
Premium professional grade, non-toxic, colorfast and fade-proof
Ultra fine for silk screening and airbrushing, mix with most media
View on Amazon
PROS
Easy and simple to use
Larger than the normal volume per unit
Big selection of colors
Can be used with an air gun
Very high-quality color
Highly versatile
Good customer service
CONS
High price tag
Not graded for use with heat
Not accessible for beginners
A Guide on How to Mix Mica Powder in Resin
By now, you should have a very good idea of exactly what mica powder is and what it looks like. The next part of your mica journey is learning how to mix it into your resin so that you can show off your awesome resin casting and crafts. Do not forget your gloves and a covering for the ground because mica powder has a tendency to find itself everywhere and on everything!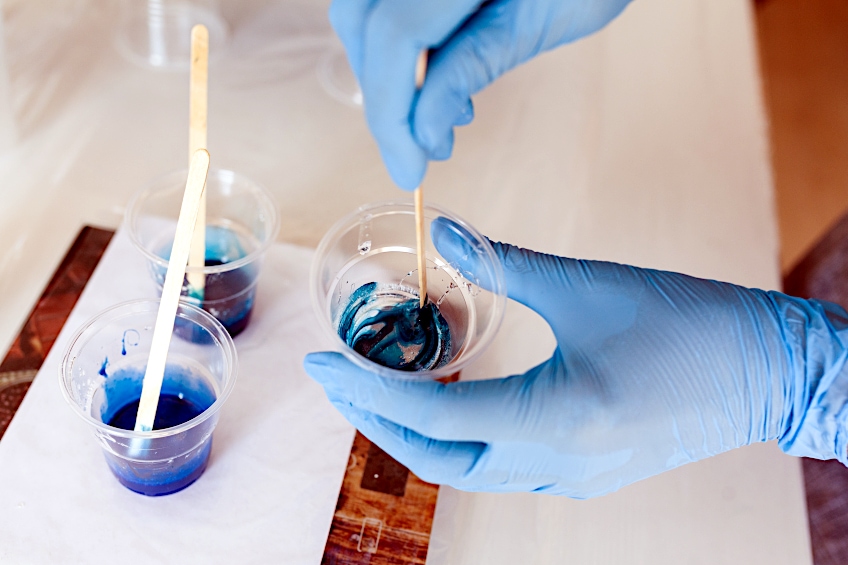 Combining the Resin and Hardener
Assuming you have never mixed resin with a hardener before, here is a quick how-to: When you purchase an epoxy resin, it normally comes in two parts, the hardener and of course, the resin. You can create epoxy by mixing these two ingredients together using a 1:1 ratio. This ratio, when mixed well with a mixing stick, will be ready for the next step after allowing it to settle for a few seconds.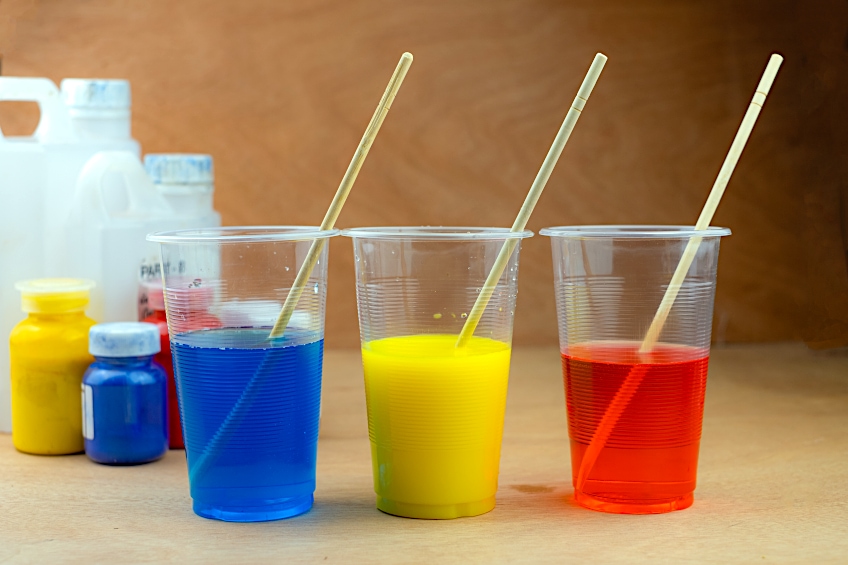 Adding the Mica Powder for Epoxy
This part is quite easy, simply pour your choice of mica powder into the resin mixture. Make sure you add enough, depending on the volume of resin. Once the mica is inside the resin, you will need to mix it again. Ensure that it is well and evenly mixed into the epoxy. A good method to ensure even distribution of the mica is to mix while you pour the powder in.
Now that you know which is the best mica powder for resin and how it compares to regular, synthetic epoxy pigment powder, you will probably never choose anything else for your resin castings! We trust that you are also well informed and able to use this wonderful substance without the worry of safety. Do not forget to prepare your space to work happily and double-check the label for any manufacturer's recommendations when it comes to mixing. We wish you many happy hours creating beautiful metallic or pearl resin crafts!
Frequently Asked Questions
Is Mica Powder for Epoxy Safe?
Yes, mica pigment powder is safe to get onto your skin. That said, it is unsafe to ingest or inhale. Mica powder particles are not soft, so should you inhale them or ingest a large amount you could suffer from internal scarring as well as serious discomfort.
Where Does Mica Powder Come From?
Mica powder for epoxy is not an artificial substance. Mica is in fact, mined! While some epoxy pigment powders can be artificial or synthetic, true mica powder for epoxy is mined in a couple of places worldwide. It is not possible to reproduce a synthetic mica pigment powder.
Is Mica Powder in Resin Bad for Home Use?
The short answer is no, mica pigment powder is not toxic to bring into your home. Mica powder for epoxy occurs naturally as it is a mined substance. Often, mica can be found in trace amounts in many building materials. Mica is quite absorbent; therefore, it should not be used for load-bearing applications or in construction.
Larissa Meyer is a 32-year-old mother from Michigan and creative spirit since childhood. Her passion for painting and drawing has led her to an education as an illustrator and a career as a freelance graphic designer. She has a Bachelor of Fine Arts in Illustration and a degree in Graphic Design. Larissa is a talented artist who is able to master a wide range of styles and techniques to bring her artistic vision to life. Her greatest passion is currently fluid painting and epoxy resin art. Larissa's love for art and her knowledge and experience in illustration make her the perfect Creative Director for our fluid-painting.com team. She is the creative head of our team and shares her passion and knowledge with our community through articles and tutorials.
As a mother of a 2-year-old daughter, Larissa also understands the importance of fostering creativity in early childhood. She uses her experience and knowledge to help other parents inspire their children and develop their artistic skills as well.
Learn more about Larissa Meyer and about us.