Best Graffiti Paint – Choosing the Best Spray Paint for Art
This post may contain affiliate links. We may earn a small commission from purchases made through them, at no additional cost to you.
Graffiti is a special and unique form of art. It consists of stylistic symbols or phrases that are spray-painted onto walls. There are a lot of artists around the world who are famous for their graffiti art. For this form of art, the best graffiti spray paint is needed to do the job. This type of paint should have bold colors, be suitable for outdoor surfaces, and be resistant to different weather conditions. This article will explore graffiti art in detail, also exploring the best type of paint suitable for this art.
Graffiti Paints
Graffiti paint has to meet a lot of requirements for it to be suitable for street art. This is because street art is done on outdoor walls, unlike other forms of art. The outdoor surfaces act as the canvas while in normal art, paintings can be done on actual canvas or paper. Graffiti paint should be in an aerosol spray can, as this type of art is not done by brushes. This is because using spray can elicits a specific effect, can be used on many surfaces, and this type of paint dries more quickly.
Quality graffiti spray must be applicable on different platforms or surfaces. The best surfaces are brick and concrete but graffiti paint can also be applied to metal, wood, stone, plastic, and many more. Graffiti spray paint can also be put on top of other paint layers, acting as a finish.
In most cases, graffiti is put on outdoor surfaces, and because of this reason any quality graffiti has to last longer and be able to resist fire. When the paint is applied, the artwork must last over a longer period, without any effect from weather and wear and tear.
Graffiti paint is divided into various types. There is a need to choose the best type that will match or meet certain requirements.
The Best Spray Paint for Graffiti
There are many different cans for spray cans. Finding or choosing the best quality spray paint is not easy because of all the paint varieties, each of which will have a different sheen, finish, color, and brand. This can make the process of choosing the best graffiti spray paint daunting and tiring. However, we have made the search easy by selecting the best three options for this style of art.
Overall Best: MONTANA BLACK Graffiti Art Street Art Mural Spray Paint
This type of graffiti comes in a set of 12 bright and bold colors to assist all artists with a variety to work with. This range of colors offers artists more options and choices for all different street art paintings and styles. Montana mentions that this collection has their most popular colors. For many graffiti artists, Montana is one of the best quality spray paint brands.
Set of 12 Montana Black 400ml spray paint cans in popular colors

High-pressure paint designed for graffiti street art and murals

Great coverage, fast-drying, high-quality, and winter-proof
View on Amazon
Some of the advantages of these paints are that they offer superior coverage, they have smooth, quick-drying properties, and they give the best color pigment and a shiny finish. These paints have been made to resist a lot of challenges, such as harsh and wet weather conditions. Graffiti spray cans are highly pressurized and their nozzles are easy to handle. When spraying and painting, they produce great clean lines and adhere easily to all platforms, leaving bright and vibrant colors.
Pros
Variety of 12 of the best colors
Provides long-lasting and winter-proof paints
Bright and bold colors
Great value for money
High pressure paints offer good accuracy when in use
Best Professional Graffiti Paint: MONTANA Hardcore Street Art Spray Paint
The Montana spray paint brand also produces graffiti paint specially formulated for professionals. This paint was designed to give the best quality of bright and attractive colors. When these paints dry up, they give a glossy finish and make surfaces resistant to rough weather conditions. Street artists do not need to worry about the wet winter affecting their street art.
Breakthrough synthetic glossy formula
Clean, precise application for a variety of surfaces
Consistent pressure and even paint flow
View on Amazon
This high gloss spray paint works very well and dries super-fast on most art pieces. There is also a guarantee for good surface coverage. This paint has been specifically made for murals and street art, simply because of the fact that it gives best adhesion. It also works on many platforms and finishes.
This spray can is suitable for most male caps and nozzles available on the market. The spray can is associated with consistent pressure when in use, which has an effect on producing a fine finish. The overall finish does not have skips or drips. It also comes with a cap that is suitable for making accurate outlines.
Pros
Graffiti spray can has 12 colors
Ensures an attractive final finish
Variety of options to choose from
Resistant to negative weather conditions
Paint dries very fast
Cons
Caps can become clogged if not cleaned
Best Individual Graffiti Spray Can: KRYLON Fusion All-in-One Spray Paint
This type of Graffiti spray paint is applicable to any platform or surface. It has a number of uses which include graffiti, DIY projects, and street art. It blends well to most surfaces without requiring sanding or priming. Advantages include easy bonding, great adhesion properties, and resistant to rust.
This type of paint is easy to work with, has good adhesion, dries instantly, and ensures a matte finish. It is used in conjunction with graffiti paints as a great black outliner. This paint does not, however, come in a wide range of colors.
All-in-one spray paint
Durable and protects from rust
Quick to dry with a satin black finish
View on Amazon
Pros
Maintains an attractive finish
Resistant to external weather vagaries
Dries very fast
Cons
Small color selection
Caps will clog if not cleaned properly
Considerations for the Best Spray Paint for Graffiti
There are a number of factors to consider when selecting or choosing a good spray paint for graffiti. The factors to consider are the availability of colours, the type of finish it works with, and how to control it.
Choosing the Color
Choosing the perfect color is determined by the purpose or function, availability of colors, as well as your own style as an artist. Some of the best graffiti paints come in various colors, giving you enough room to make your choice. The color is determined by your artwork and style as an artist. Always ensure that you buy colors that are sold individually, so that if a color runs out, you will be able to buy just that color and not a whole set.
Paint Finish
Proper attention must be given to drying processes and effects. There are a lot of finishes out there for artists to choose from. Some are vibrant while others are subdued. Some are very shiny, while others are matte. The finish depends on the style of the artist and the type of work they are drawing. Artists must also consider what their vision is in terms of what they want to achieve versus the end finish.
Pressure
Good spray paint is normally determined by the level of pressure from the spray can, where the higher the pressure is, the better the job outcome. The best spray paints for street art usually come in high-pressured spray cans. It is the duty of the artist to know and understand the required level of pressure of the spray can before making a choice.
Durability
Most spray paints are durable, and a few are affected by wear and tear, rain, and so on. Always make sure that your preferred brand for graffiti painting is suitable for outside use. To have a long-lasting artwork career, make sure you have the right paint for the right season. Some paints have been produced to withstand winter conditions. Also ensure that your graffiti paint is protected from direct sunlight, since the UV rays can cause damage to your art.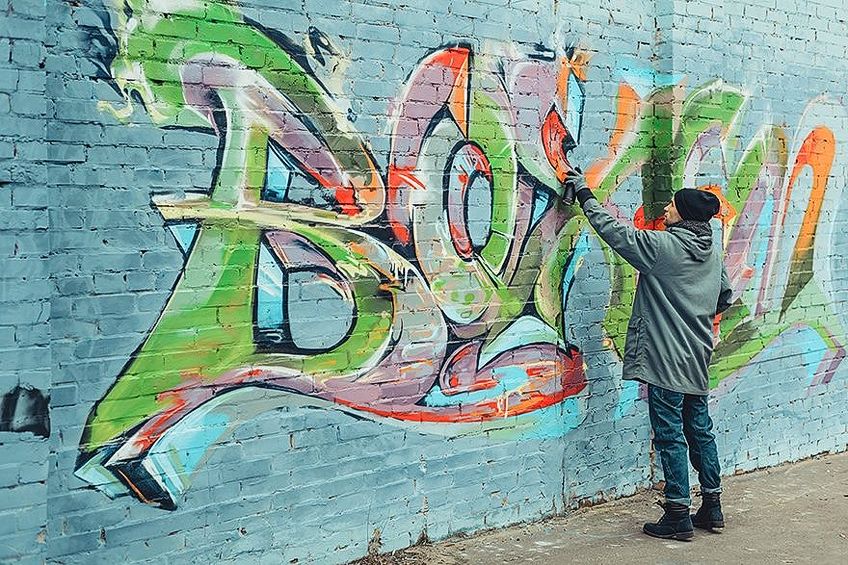 Coverage
The best graffiti paint is determined by high coverage. Colors have to provide higher coverage in order to provide an amazing finish. You do not want to be in the middle of a piece when your spray can runs out.
Adhesion
Graffiti paint is supposed to be suitable for application on a variety of surfaces. Most spray paints are suitable for this. However, some of the paints do not work well on plastic and glass. When choosing the paint, make sure that you choose a brand that does not require preparation. This will save you a lot of time from sanding and priming the surface before applying your graffiti paint.
Spray Nozzle
A good spray nozzle is required to create the best lines. Spray nozzles come in different sizes. You have to ensure that you purchase the right nozzle size. Some nozzles spray paint in clean and fine lines, while others spray a cloud of paint. Determine what you need before you purchase.
Graffiti is a unique form of art. Make sure you get the right paints to have the best long-lasting results. We hope this article has given you a clear picture on the best graffiti paint.
Frequently Asked Questions
Are You Able to Layer Spray Paint?
Yes, you can spray paint over another layer of spray paint. This can only be done when the first layer has completely dried. For better adhesion, sand the area you want to apply the next layer on. After that you can spray your new layer, and then leave it to dry.
Is Spray Paint Oil-Based or Acrylic?
Spray paints fall under the acrylic paint category. This is the reason as to why they are able to work on different surfaces. Oil-based paints are not suitable for spray cans.
How Long Will Spray Paint Last?
Determining how long a spray paint can last may be tricky. This is because the brand determines how long the product will last. Generally, most spray paints last for about 2 to 3 years.
Is It Toxic to Use Spray Paint?
Always wear a mask when handling spray paint. This is because there is always the risk of inhaling while using spray paint. These harmful substances can either be chemicals or fumes. Every spray paint brand has a different level of toxicity.
Is Spray Paint Waterproof?
Spray paints are water-based and are designed to withstand most outdoor conditions. For your graffiti art, make sure that you buy a spray paint that can be used on a variety of surfaces.
Larissa Meyer is a 32-year-old mother and creative spirit since childhood. Her passion for painting and drawing has led her to train as an illustrator and pursue a career as a freelance graphic designer. Larissa is a talented artist who is able to master a wide range of styles and techniques to bring her artistic vision to life.