Acrylic Painting for Beginners – Learning How to Paint with Acrylics
This post may contain affiliate links. We may earn a small commission from purchases made through them, at no additional cost to you.
Painting is a rewarding way to express your inner world while being a lot of fun to use as well. While oil paints can be quite intimidating, particularly for first-time users, acrylic paints are forgiving, quite affordable, and a versatile medium. With the right guidelines, tips, and tricks you will be able to master using acrylic paints and bring your wildest imaginations to life.
The Benefits of Acrylic Paints for Beginners
Acrylic paint is the ideal introductory medium when it comes to painting, and has a variety of benefits including surface adaptability, a quick drying time, water solubility, and versatility. Thus, this is the perfect type of paint for a beginner.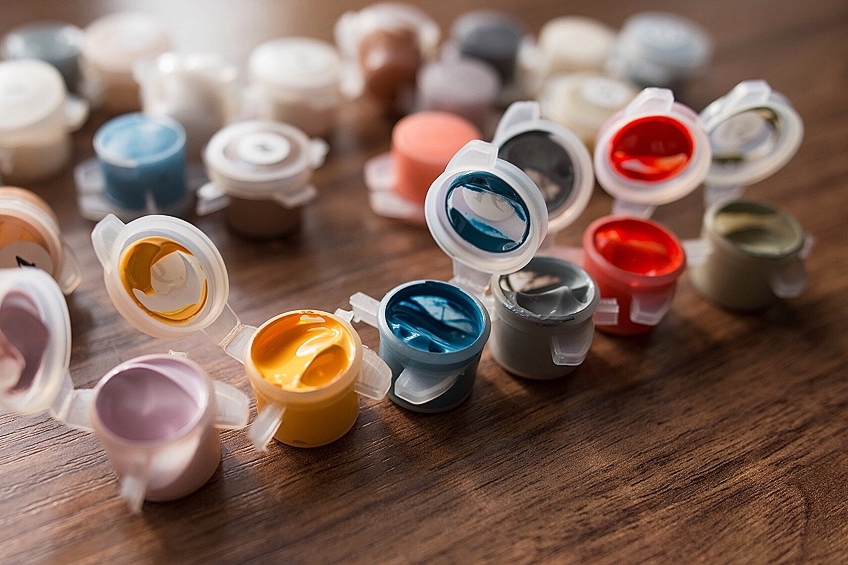 Performance Versatility
Acrylic paint is a versatile medium, you can create the look and feel of a watercolor painting simply by watering down the paint. Alternatively, you can thicken up the acrylic paint to give you a similar effect to that of oil-based paint. When you have mastered the use of acrylic paint, there are several different varieties of acrylic paints such as gels and pastes that can be added to the paint so as to alter the paint's texture, shine, and consistency.
Fast Drying Time
The most noticeable difference between oil and acrylic paints is the quick drying time of acrylic paints. This fast-drying time allows you to be able to paint over previous layers and not have to wait a long period for each layer to dry. Acrylic paint dries in roughly 20 to 30 minutes.
There is a downside to the fast-drying time, however, as it inhibits you from being able to blend your paints directly on the canvas; you can lengthen the drying time by using a spray bottle to lightly mist the paint. Through misting, you ensure your paint remains in a liquid state for longer. But do not spray too much, as an excess of water can cause your paint to run. You can also add a special product called an extender to your acrylic paint which lengthens the drying time.
Water Solubility
While your acrylic paint is wet, it is more water-soluble, and once they dry they become water-resistant. Acrylic paint is made up of a water-soluble acrylic polymer and color pigments. Cleaning your palette, washing your brushes, and wiping up spilled paint is easy to do thanks to acrylic paints being water-soluble. Their water solubility also allows you to water acrylic paints down and experiment with a variety of techniques.
Great for Use on Many Surfaces
While most times you will use a stretched canvas to paint on, you can use acrylic paints to paint on an assortment of surfaces. You can use acrylic paint on surfaces such as walls, paper, tiles, fabric, wood, and stones, to name but a few.
Different Types of Acrylic Paints
Your budget and the quality you are looking to achieve in your finished work will determine what type of acrylic paint you should buy for your first experimentation. There are three main types of acrylic paints available; professional (or artist-grade paint), student-grade paint, and craft paints. Each of these three types are available from a variety of different brands, and can be hard-bodied, soft-bodied, or have a high flow. Another option is to make your own acrylic paint using powdered pigments, a solvent, and a binder.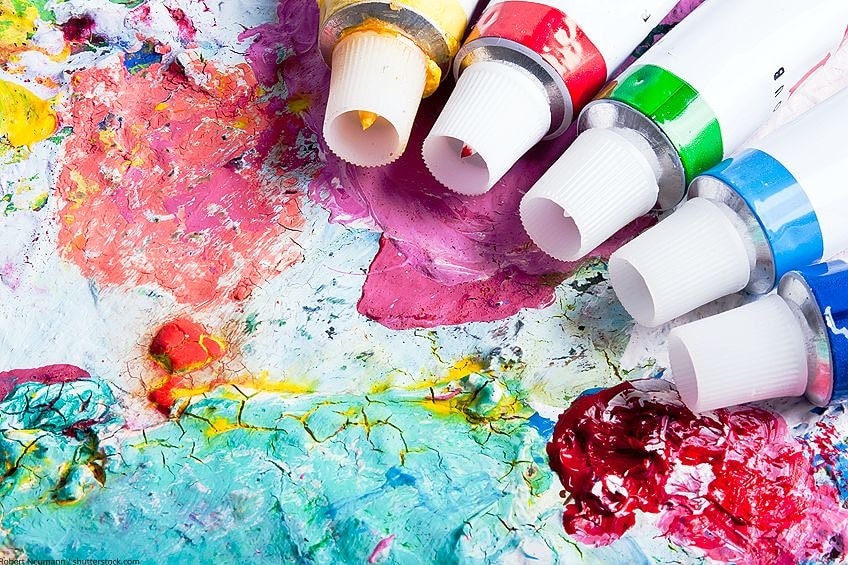 Professional-Grade (Artist) Acrylic Paint
Professional-grade acrylic paint is the best of the best when it comes to acrylic paint, as the price of professional-grade paint is linked to the volume of pigment in the paint. This means, unfortunately, that the price of paint can vary from color to color; some pigmentations are pricier than others and can be hard to come by.
The main benefit of using professional-grade paints is the level of intensity you get from the color. The consistency of the paint is very smooth, which ensures that blending, application, and mixing are very easy. It must be noted that different brands of artist-grade paints vary in their thickness, which means you can buy paint with a high flow, heavy-body paint, or soft-body paint. Each type of thickness (viscosity) has its benefits, you can choose which to purchase based on your desired result.
Student-Grade (Beginner) Acrylic Paint
Student grade acrylic paints are made by the same manufacturers that make professional-grade (artist-grade) acrylic paints. They have a high pigmentation and the colors are often called the same names as the professional-grade versions. You can blend and mix student-grade acrylic paint colors easily; the paints will give a beautiful and vibrant finished project.
Ideal for beginners, student-grade acrylic paints are less intimidating to use than the more expensive professional acrylic paints. When you are simply starting out with acrylic paints, and experimenting while learning to paint, it can seem quite wasteful to use expensive paints, so starting with the more affordable student-grade paints is a great option.
As most student-grade acrylic paints have the same names as their professional-grade counterparts, the user is able to familiarize themselves with the colors available. When you feel confident enough to move up to professional-grade paints you will be able to purchase the same colors, which can save you time and money spent trying to locate an exact equivalent.
There are some negatives to student-grade acrylic paints, namely, there are some variations in the level of fillers and pigmentations, depending on the color. While there may be issues with the vibrancy of some student-grade acrylics, they are still of better quality than craft paints. Student-grade acrylic paint that has a synthetic pigment has less filler than the ones with natural color pigments. The ones containing the synthetic pigments are therefore almost interchangeable with artist-grade acrylics.
Craft Paints
If you are looking for the most affordable acrylic paint option, you cannot go wrong with craft paints. They can be used on a several surfaces such as papier-mâché, wood, and plastic to name but a few. You can purchase craft paint from most department stores and craft stores, making it readily available.
If you are tackling a project with several different surfaces, then craft paint is ideal. This is because the consistency of craft paint is creamy and smooth, making it easy to use.
There are some negative aspects to craft paint, but that should be expected at its price point. If you are looking for your work to be 'fine art painting', then you should not be using craft paint. There is minimal pigmentation in craft paint, which makes blending and mixing colors difficult, as the volume of fillers and lack of pigmentation causes the colors to become muddy and dull when mixed. If you are looking to achieve vibrant colors, rather use student-grade or professional-grade acrylic paint.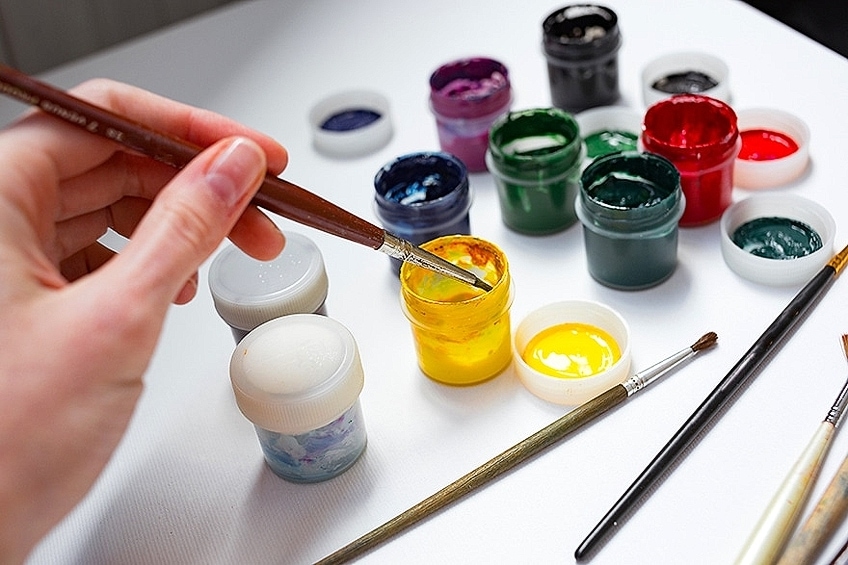 Hard-Body Acrylic Paints
Hard-body paints are the most popular thickness of acrylic paints, both for beginners and fine artists. This is because the paint is thick – almost like butter – and can be spread smoothly across the surface with ease by using either a palette knife or a brush. This type of consistency is very similar to that of oil paints and is perfect for when you wish to form texture on your canvas. You are also able to water down these paints if you wish to make them more versatile. The thickness makes them a great option for a beginner looking to learn how to work with acrylic paints.
Soft-Body Paint
Soft-body paints are popular due to their fluidity. The consistency of soft body paints can be compared to a thick cream. When using these types of paints, you will notice that the paint is opaque and that the brush marks will not be visible. The opacity of soft body acrylic paints allows you to cover up previous layers easily, making it perfect for watercolor styles of painting. Overall, these acrylic paints are super forgiving in nature, making them ideal for beginners.
High-Flow Acrylic Paints
A new addition to the market, high-flow acrylic paints are taking it by storm, though we recommend you stick to hard- and soft-bodied acrylic paints if you are just starting, as mastering the art of painting with thin-consistency paints can prove to be tricky. The consistency of high-flow paints is similar to ink and allows the paints to be used in an airbrush. The consistency is exciting to work with when you have built up your confidence with acrylic paints and offers you the opportunity to create textures such as splashes and drips, which is something you cannot do with hard- and soft-body paints.
Acrylic Paints for Beginners
If you have decided to begin using acrylic paints, then you may need some pointers so as to choose the best product for your needs. Below, we have gathered our top product choices for those looking for something more budget-friendly, the best value for money, or for a more premium product.
Budget-Friendly: WINSOR & NEWTON Galeria Acrylic Paint Set
The Winsor and Newton Galeria Acrylic paint set is a great set for beginners and is a lot more affordable than other brands. The set has 10 colors and is great to start your acrylic paint collection. The paint is buttery and thick, which offers the user a consistent and thick coverage, and lets you create a work of art with lots of texture to the paint. The paints offer you long-lasting color retention thanks to the high pigmentation. The paints in this set are great value for money, as you get 60ml of paint per tube, which is larger than most.
There are some downsides to this product, as there is no cyan-type shade, which is a problem if you are looking to mix a bright pink or purple color. Users note that these paints dry quite fast, so you will need to work quickly or you will have to water down the paints to lengthen their drying time. If you choose to water down the paints, this can greatly reduce their opacity, so it is best to use an extender instead.
High quality acrylics that deliver professional results

Ideal for artists who want good quality color at an affordable price

These acrylics can be used on a variety of surfaces
View on Amazon
Pros
Larger (60ml) tubes
Affordable
Ideal buttery and thick consistency for creating varied textures
Good color retention and bold pigmentation
A wide variety of colors
Cons
Can lose opacity when watered down
Dries very fast
Lacks a shade similar to cyan
Best Value: LIQUITEX Basics Acrylic Paint Set
While this may be a pricier option, it is great value for money as it has 48 different color pigmentations in the set. The large range of colors makes this set ideal for beginners who might not know which colors they should buy when starting. Liquitex is the most well-known acrylic paint manufacturer, as they invented them in 1955.
Liquitex Basics acrylics are student-quality and have a smooth, thick consistency that give the user a bold pigmentation. The paints have a flexibility to their drying time and can be used on an assortment of surfaces. As there are 48 different colors, the set is perfect for beginners who are not comfortable in mixing paints yet. Like with anything, there are some negatives to the paints. The tubes are quite small at only 22ml, and some users have noted that some of the colors (in particular the ultramarine blue) dry out quickly.
Highest quality pigments
Quick-drying and easy to clean
Adjustable and versatile
View on Amazon
Pros
Versatile and flexible
Great value for money
Bold and bright pigmentations
A variety of colors
Smooth and thick consistency
Cons
Certain colors dry out quickly
Small tubes (22ml)
Premium Choice: GOLDEN Fluid Acrylic Set
This is a set of 10 paints of premium quality, which is great for beginners and professionals who are looking to work with fluid paints, as these paints are of a much thinner consistency than those listed above. The paints can be used on an assortment of surfaces and are long-lasting. The consistency is perfect for mixing, and these paints can be splattered, sprayed, or brushed onto the canvas. They are also ideal for shading and tinting thanks to their viscosity.
You can achieve wonderful coverage and bright, vibrant colors thanks to the high pigmentation of these paints. A negative aspect of these paints is that they are more costly than the other paints we have recommended, so we suggest that they are maybe not the best for someone just learning the basics of working with acrylic paints.
Set of 10

one-ounce tubes

Most versatile paint formula

Ideal for color mixing, tinting, and shading
View on Amazon
Pros
Can be used for brushing, splattering, and spraying
Versatile
Can be used on a variety of different surfaces
Ideal for mixing and tinting
Concrete coverage and high pigmentation
Cons
Not the best option for real beginners
Pricey
A relatively small amount of paint (30ml)
Making Your Own Acrylic Paint
It is possible to make your own acrylic paints. It is not a difficult process and all you will require is a solvent (a clear alcohol, such as vodka), the pure pigment powder, and finally a binder (such as an acrylic gel). To make acrylic paints yourself you only need to follow these steps:
Mix your powdered pigment with either your solvent or water. You can use a small spatula for this.
When you are happy that your pigment is completely combined with the solvent, you can add the acrylic gel (or whatever binder you have chosen to use).
Mix the binder with the solvent and pigment liquid, using the same small spatula. Once completely combined you will have your own acrylic paint.
Homemade acrylic paint can be applied to your canvas the same way as store-bought paint, and has a similar consistency.
What Do You Need to Begin Painting with Acrylics?
The majority of people starting out with acrylic paints rush and buy so many things, most of which are not necessary. You will only need a few tools, including a palette for mixing, some canvases, and brushes, which are the basics you need to work with acrylics.
The Best Brushes for Painting with Acrylic Paints
The sheer number of different brushes available in the market can be very overwhelming, so we suggest you begin with a few versatile brushes and then slowly build on your collection when you get used to what each brush can be used for. If you are looking for good quality, synthetic brushes are a great option. There are several different brands available; we suggest looking at Grumbacher's offerings or those from Newton and Winsor.
To begin your brush collection, look into purchasing the following:
Palette knife
Liner brush
Round brush
Wash brush
Angled brush
Flat brush
Fan brush
After your paints, your brushes are your second greatest tool to achieving stunning pieces of art, so be sure to look after them.
How to Look After Your Brushes Correctly
Taking care of your brushes involves storing, cleaning, and drying them correctly, and as acrylic paint is water-soluble, it makes cleaning your brushes very easy. To clean your brushes, all you need is soap and water. Remember that your brushes needed to be cleaned immediately after using them, as once the paint has dried it is almost impossible to clean.
Lay your brushes down flat when you are drying them; by laying your brushes horizontally you can stop the water from trickling into the metal ring around the top of the bristles, called a ferrule, and destroying the glue that holds the bristles together. Water can also damage the wooden handle. When you have dried your brushes sufficiently, you should store them facing upright (with the bristles facing towards the sky). If you store them the other way round, it can significantly damage the bristles.
Canvases
As previously mentioned, you can use acrylic paint on almost any type of surface, but the most popular choice is to paint on is stretched canvas, which you can purchase from any art supply store. Another more affordable option is that of canvas board. Either of these canvas types can be bought in a variety of different shapes and sizes. You can also choose to work on many other surfaces, such as walls, tiles, or perhaps even wood.
A Palette
A palette is a wooden or plastic 'tray' on which you can mix and hold your paints, and you can find them at any art supply store. You will use a palette with every project, so it is worth spending a little more and purchasing a good quality one.
Step-by-Step Guide to Acrylic Painting for Beginners
Once you have all your supplies, being your brushes, canvas, palette, and of course your paints, you are ready to begin painting. The following steps are a useful guideline for you to follow in order to help you begin painting your first acrylic masterpiece.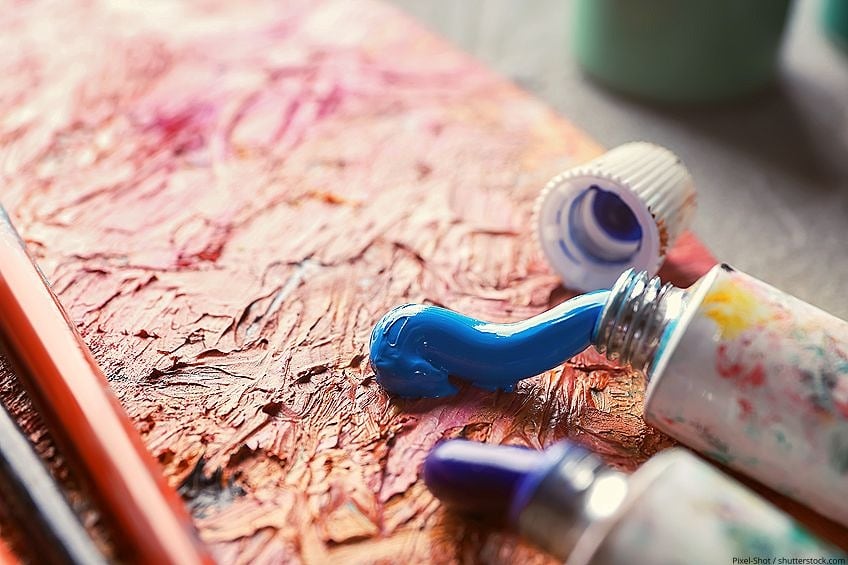 Getting Your Workspace Ready
Before you begin painting, you need to set up all your equipment. A lot of artists recommend propping your canvas up on an easel, although this is not essential. You will need at least two water jars: one jar for cleaning your brushes while working, and another to stay clean for using the water to dilute your paints. If you want to lengthen your drying time, mist the paint lightly with a spray bottle.
Mixing Your Colors
This is the time to use your palette and palette knife to your advantage. Most starter sets only have a limited number of colors in them, so it will be necessary to mix the paints to achieve any additional colors you wish to use. Use your palette knife to mix your paints, as using a brush can create quite a mess. If this is one of your first times painting, we suggest using a color chart when mixing your paints in order to help guide you. Have fun when mixing your paints, be adventurous, and experiment to work out what works for you.
Experimentation
If you are new to the work of acrylics and painting, start out experimenting with your paints on paper before turning to your canvas. This will help you learn how to blend, how the paint feels on your brush, and how fast the paint dries. You will find an assortment of online tutorials available to offer you inspiration. A good idea is to paint a swatch of each of your colors onto a canvas to help you see how opaque each color is, how easily it goes onto the canvas, and how fast it dries.
Working on the Canvas
When you have gotten the feel for your paints, you can begin painting. It can be daunting to paint on canvas, but we can help with some tips and tricks.
Planning your painting: To help with your confidence, try planning out your painting before you start painting on the canvas, you can sketch your design directly onto the canvas, or on a piece of paper. Try using an object or photograph as a reference.
Working from light to dark: Begin painting with your lighter colors first, then your mid-tones and, once done, slowly start adding your darker colors. You can always add but you cannot take away.
Large to small: Start by painting the larger shapes of your design and then layer in the smaller fine details.
Watch Out for the Drying Speed
Acrylic paint dries quickly, so we suggest that you do your color blending and mixing on your palette, and not on your canvas. When you have more confidence with the paints, you can attempt to mix directly on the canvas. Only place small quantities of paint onto your palette at a time to stop it from drying before you can use it; remember, you can keep your paints wet by lightly misting them using your spray bottle.
Perfecting the Finishing Touches
The fast drying time and the water-resistant properties (once the paint has dried) means that you do not have to do much to your painting to finish it off. If you choose to, you can use acrylic-appropriate varnish to protect your work and add a sheen to it. The varnish can stop your work from getting any scratches or other such damage while making the finished item look glossy and stunning.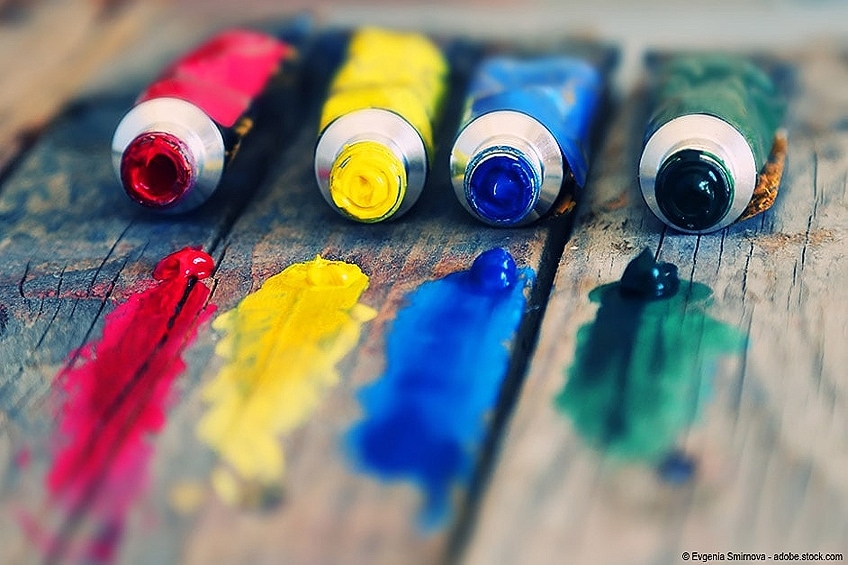 Frequently Asked Questions
What Is Easier to Paint With: Acrylic or Oils?
As oils do not dry out as quickly as acrylic paints, it makes it easier to mix and blend the colors of oil-based paints. Other than that, acrylic paints are much easier to use, especially for beginners. Thanks to acrylic paints being water-soluble, they are easier to clean up, and their fast drying time makes layering paints easier. When working with acrylics, you can try many different effects that you are not able to do with oils, such as airbrushing, watercolor effects, and splashing.
What Is the Best Paint for Beginners?
If you are a beginner with painting, acrylic paints are your best option. These paints dry quickly and are easy to work with, and can be used on a variety of surfaces and are long-lasting. Being water-soluble, they are simple to clean up, and you can even use acrylic paint to mimic oil textures or watercolor.
Is It Necessary to Wet Your Brushes Before Painting with Acrylic Paints?
We recommend wetting your brushes before you start painting with acrylics. The water thins out the thicker paints and makes them more user-friendly, but too much water can over-dilute the paints.
What Colors Are Necessary to Paint with Acrylics?
The colors you should have to begin your kit are black, white, and the primary colors (blue, red, and yellow). The primary colors can be mixed to create almost any color. With time, you can add more colors to your kit.
Do You Need to Prime Your Canvas?
Many canvases are already primed when you buy them and can be used straight away. You can tell if the canvas is already primed by the color – a bright white canvas means that it has been primed. Rather buy the pre-primed canvas to make it easier for you.
Larissa Meyer is a 32-year-old mother and creative spirit since childhood. Her passion for painting and drawing has led her to train as an illustrator and pursue a career as a freelance graphic designer. Larissa is a talented artist who is able to master a wide range of styles and techniques to bring her artistic vision to life.