Luminess Silk Reviews – A Look at the Silk Luminess Airbrush
This post may contain affiliate links. We may earn a small commission from purchases made through them, at no additional cost to you.
Luminess Airbrush Makeup System is a product that is growing in popularity day by day. There is an assortment of makeup products in the market that can restore and beautify, but the Luminess Airbrush Makeup System is one to keep an eye on.
Luminess Air System
The Luminess Air System is an airbrush makeup system that has an overall faster application process than the majority of the competitors' products. It is an amazing system that aids you in covering up sun damage and blemishes on your skin.
Get photo-quality, flawless looking skin

Dermatologically tested and approved

Ultra-low psi for soft and precise makeup application
View on Amazon
You can purchase 12 different foundation shades, which will give you great coverage for most types of skin tones. You also do not have to use concealer in conjunction with the Luminess airbrush, as it assists in covering all other skin issues, including fine lines. The product is formulated to be alcohol- and oil-free, ensuring that the foundation does nog clog your pores.
In addition to the dozen foundation shades, there are also eight shades of blush. When purchasing the kit, you can select which one is most in line with your skin tone, such as deep, tan, warm, medium, and fair shades. The Luminess formula includes a moisturizer that will help to hydrate your skin, which is not something you will find in most makeup systems. You will receive a one-year warranty on the airbrushing unit.
Luminess Air has a color matching system which is great if you struggle to find the best shade for yourself. To use it, you simply need to upload a photograph of your face in natural lighting and one of their makeup experts will be able to advise on your ideal match.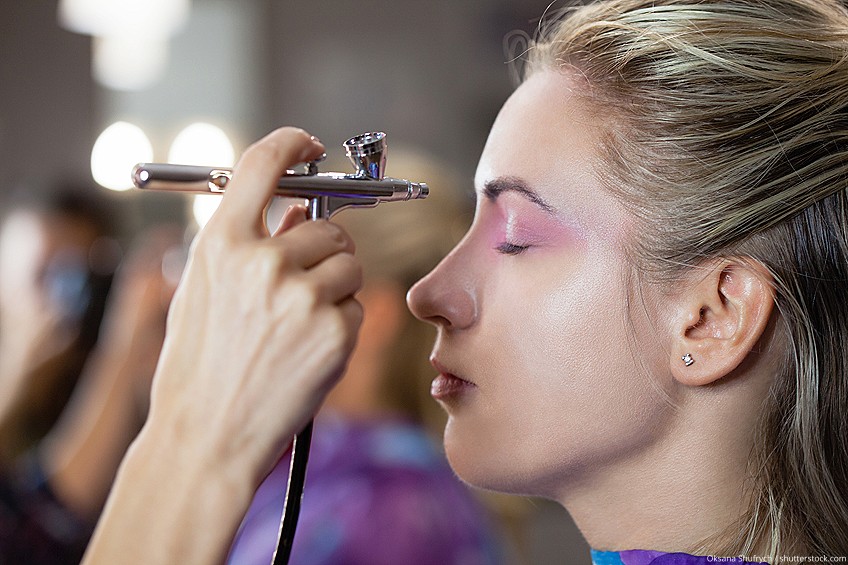 You should note that the system's air compressor does not have an adjustable airflow, which is something you find in other airbrushing kits on the market. What this means for you is that you will not have to make changes to the settings for each step of your makeup application, such as highlighter, foundation, and blush.
So, instead of having to adjust the system, you can simply pull back your finger on the trigger system with varying pressure so as to more or less airflow, depending on which particular product you are using at that point. This process is very easy to execute and should not be seen as a drawback.
This product possesses a number of great advantages, although, as with all items, there are also some disadvantages that need to be taken into account.
Pros
The formulation of the Ultra Foundation makes it very buildable.
Your makeup will last you all day.
The makeup is sweat proof.
The "how-to" DVD is a great addition that will help you learn the functionalities of the Luminess Air.
Both the stylus and the compressor are quite simple to use.
When you apply the makeup correctly, it gives you a natural look.
The Luminess Air Kit comes with a carry kit, making it easy for travel.
Cons
The kit is quite expensive.
If you make the mistake of over-applying the makeup, it can look quite cakey.
It takes a bit of practice to get the hang of using it.
The makeup itself runs out quite quickly.
Accessories Included in the Luminess Air Kit
Airbrush Compressor – This compressor is what supplies the pressurized air to the stylus. It is a one-button device. The air pressure is sent to the stylus simply by plugging in the compressor unit and pressing a button.
Airbrush Stylus – This can also be referred to as an airbrush gun. This is the part that you use to direct towards your face and spray the airbrush makeup. The airbrush stylus has a button that slides, allowing you to control the pressure. You can push it roughly midway for a balanced and even application, or push it all the way back for a more pressured and concise spray.
An Instructional Video – Using an airbrush to do your makeup can take time and patience. The instructional video provided helps you to learn the steps required to use the system and offers great tips.
Foundation – What is great about the Luminess Air Kit is that the foundation does not have to be a perfect match to your skin tone, as with otther traditional foundations. The two bottles of foundation you receive work great with the majority of skin tones.
Moisturizer – It is always a good idea to moisturize your skin before applying any kind of makeup. The makeup is both water- and mineral-based.
Highlighter – You can use a highlighter to accentuate particular areas of your face.
Blush – This particular blush is formulated especially for the air-brush system, and works like a standard blush.
Hose – You receive sufficient hosing so you do not have to be too close to the compressor.
Luminess Air Systems
There are two different types of airbrushing systems you can purchase from Luminess Air, each of which is targeted either to beginners or pros. The manufacturers offer two types of systems, as they understand that their customers have different skill sets in terms of overall makeup application, particularly with airbrush makeup application.
Where a beginner system will have one speed that can be switched on with a single button, the pro system offers a dial that allows the user to select three speeds. This will help you to adjust the pressure per square inch (PSI) of the actual stylus. This is a great feature for someone who is more experienced.
Both systems as a whole are quite pricey. You can purchase the foundation and other makeup supplies from the Luminess website as well as likes of eBay, Target, Walmart, and Amazon.
The greatest advantage to both is that these systems are very compact. The compressors are small and do not take up too much space. The cabling allows for slack and the hose is long. When you do have to travel, you can place the system as a whole in the compact carry case.
While these Luminess systems have many positives, like anything, it isn't perfect. Unfortunately, the stylus tends to clog occasionally. Using water and your fingers or another implement, you can easily unclog the system.
If you are looking for a system that provides great makeup that lasts all day long, does not clog your pores, and will not irritate your skin, the Luminess Air Silk Makeup System is for you. You will also be surprised at how easy it is to clean off the makeup at the end of the day. It is the perfect system for moderate daily makeup application. The Luminess System is ideal for your entry into airbrush makeup and is very easy to use.
Larissa Meyer is a 32-year-old mother and creative spirit since childhood. Her passion for painting and drawing has led her to train as an illustrator and pursue a career as a freelance graphic designer. Larissa is a talented artist who is able to master a wide range of styles and techniques to bring her artistic vision to life.