Best Watercolor Brushes – Various Types of Watercolor Brushes
This post may contain affiliate links. We may earn a small commission from purchases made through them, at no additional cost to you.
The quality of your watercolor paints and having the perfect watercolor paper may be important, but without the correct paintbrushes, you will struggle to achieve a top-quality painting. There are a large variety of watercolor brushes available on the market, so it can be hard to weed out the best option. Hopefully, this article will help you make a confident selection when choosing your watercolor paintbrushes.
What Makes a Good Watercolor Brush?
A watercolor paintbrush is constructed of different parts, including the tip, handle, heel, hair, belly, and ferrule. The quality of each individual part contributes to the overall quality of the paintbrush.
The Handle: Ideally, you want a paintbrush with a solid wooden handle; if the brush has a plastic handle it is considered to be of low quality. The brush should be weighted evenly so that that paintbrush feels like an extension of your hand. A paintbrush should feel comfortable in your hand – a watercolor paintbrush is considered personal.
The Heel: This is where the brush hairs and the handle meet. A top-quality watercolor paintbrush will not have any visible glue on the heel, so if there is a blob of glue showing, it is a sign that the brush was not well made.
The Hair: This is the pivotal part of the paintbrush. When you look at the hair of the brush, the bristles should be lying flat, and not flying out. Keep in mind that different types of hairs are used for different qualities of brushes. The type of hair used impacts the water retention, shape, and stiffness of the brush. A high-quality brush has hairs that are shaped, not trimmed, and only half of the length of hair should be visible, as the other half is in the ferrule. The type of hair used will impact the water retention, stiffness, and shape of the paintbrush. The paintbrush hair tip should be shaped perfectly, and if you are using a fine-pointed thin brush, ensure that the brush tip does not have any stray hairs.
The Belly: Located at the towards the bottom half of the paintbrush hairs, the belly acts as a reservoir for water, the length of time you can paint, and the shape of the brush strokes you make. These are all impacted by the volume of water that is retained by the belly of the paintbrush. The way the water is distrubuted from the brush (released all at once or in a consistent stream) will also impact the look of the brush strokes.
The Ferrule: The ferrule is the metal clasp on the brush. The ferrule must be completely flush with the handle of the brush, as if not, water can get into the gaps and cause the handle of the brush to rot. You should look for a brush that has a seamless ferrule, or a brush with a double or triple clamp.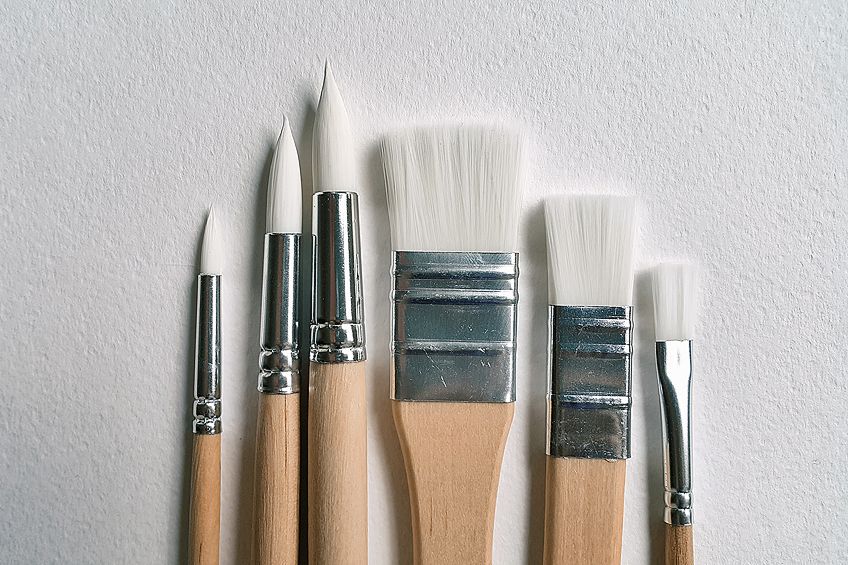 Available Types of Brush Hair
Different types of hair are used for different types of watercolor brushes, and your choice will depend on the quality of brush you need and your budget. High-end watercolor brushes can be very expensive, but you might not need the pricier brushes – it all depends on what you are looking to achieve. To get the best level of performance, we suggest using brushes that hold a large volume of water in the belly. You are looking for a paintbrush with fine-tipped hairs that can distribute the paint evenly. A good quality paintbrush will hold its form for some time, as a high-quality brush springs back into its original shape after every use.
Sable Hair Paintbrushes
North Asian sable hair (from the tail of a weasel) is used for the best watercolor paintbrushes, but even sable brushes have different levels of superiority. Sable paintbrushes are very expensive, but they are worth it, as they can be used for many years, and consistently produce stunning brush strokes. On the flip side, a bad-quality sable brush can still be expensive, although it will produce results equivalent or worse than that of a synthetic paintbrush.
Red Sable
You will see that you can purchase either a pure sable brush or a red sable brush, the latter of which is not one of the best sable brushes available, but is ideal if you are on a tight budget and are looking to purchase a good alternative to the pricier options.
Red sable comes from the unfavorable part of the coat of marten sables, which are weasel-like animals in the same family as the Kolinsky sable. The hair tends to be blunter and a darker shade of brown than that of its Kolinsky counterpart. While the point of red sable brushes may not be that fine, they are still wonderful brushes to work with. A red sable brush is ideal if you are on a budget.
Kolinsky Sable
Kolinsky sable brushes source the hair from the kolinsky sable, which is a kind of Siberian weasel. Named after the town of Kolinsky in which they are found, these weasels' hairs are very resilient and supple as a result of the town's harsh climate.
The tail hair from the male Kolinsky sable provides the best hairs. These high-quality paintbrushes keep their point perfectly and are great at retaining water. You can purchase Kolinsky brushes in an assortment of shapes, although the hairs themselves are conical in shape and have a darker point with an overall orange-brown color.
It can be difficult to determine the bad and good brushes when looking at Kolinsky sable paintbrushes. Some manufacturers use hair from other areas of the pelt of the weasel and can even mix female and male hairs, so do your research before splurging on a Kolinsky paintbrush.
Hog, Squirrel, Ox, Camel, and Goat Paintbrush Hairs
If a watercolor brush is made from the hair of one of these animals, the paintbrush is then considered to be of a lower quality than a sable hairbrush. If you require a round brush, avoid brushes made from these hairs as they do not hold their point, but they are ideal options for wash and mop paintbrushes.
Ox Hair
Ox hair is sometimes dyed to resemble sable hair, but normally it is light brown. These hairs are great for square-cut or flat brushes. Ox hairs do not have any variations in their width, and as the ends are known to fray, they are not suitable for use as round brushes. Unfortunately, ox hair does not release the water evenly onto the page, and does not hold much water either. One technique that does benefit from a flat or square ox hairbrush, however, is when you need to do a scumbling technique or are trying to create texture.
While ox hair brushes are frequently recommended as the best watercolor brushes for beginners, we do not completely support this as many users still might find the brushes difficult to use. First allow yourself the opportunity to learn how to do watercolor painting with high-quality brushes before using any lower-quality options.
Squirrel Hair
If you are looking for a brush that will hold a lot of water, look no further than a squirrel hairbrush. These are soft, fine, and super absorbent (even more absorbent than a sable hairbrush). A squirrel hair brush is identifiable by its speckled, dark brown color. Despite not having any spring to the brush, it still moves smoothly over cold-pressed and rough watercolor paper, producing a stunning effect.
Squirrel brushes are great for mop and wash brushes thanks to the abundance of water they can hold, and are also ideal for use in painting signs and letters, as they are very precise. Many artists turn to squirrel hair brushes to paint gorgeous, looser watercolor paintings.
Goat Hair
Goat hair is similar to squirrel hair in that it is very soft, but it is not at all springy. Most of the time, goat hair is used to make calligraphy or wash brushes, as the cylindrically shaped hairs are not great for making dainty points.
Camel Hair
When you hear camel hair brushes, you naturally assume the hair comes from camels, but this is false. The name refers to an assortment of natural hair combinations. Rather avoid using camel hair watercolor brushes, as they tend to be of low quality.
Hog's Hair
Hog's bristles are used for large wash brushes, as they can hold and dispense a lot of paint. These are great value for money as they are long-lasting and are not too pricey. That being said, the quality can vary greatly with hog bristle brushes, so we strongly suggest going for the hog's bristle brushes called China bristles. Rather use your hog's bristle brushes to work with acrylic or oil paints, as they are better suited for these mediums (but you can also use them when working with watercolor paints to create texture).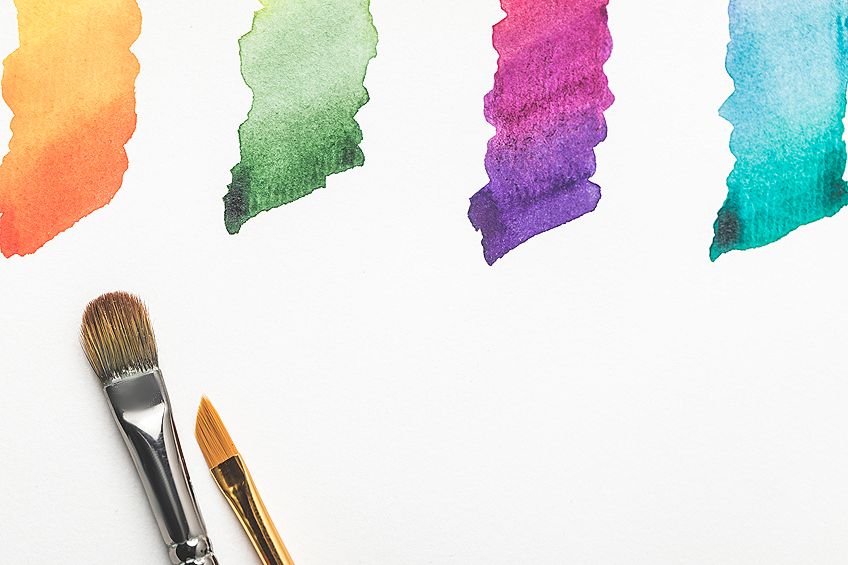 Synthetic Fiber Watercolor Paintbrushes
When it comes to synthetic fiber brushes, you either love them or hate them. Made from either nylon or polyester, there are an assortment of qualities and types available to buy.
To begin with, synthetic fiber brushes as significantly cheaper. They hold their point well, making them an affordable option for a round brush, as opposed to a sable hairbrush. The best quality synthetic fiber brushes are those of Toray, Nylon, and golden Taklon, as they offer a taper to the fibers that are similar to sable hairs – it is this that holds the point.
If you are opting for synthetic fiber brushes for ethical reasons, please note that some synthetic fiber brushes incorporate natural hairs, so make sure that you read the label carefully. If you are vegan or have other ethical concerns about using natural hairs, then synthetic hair brushes are the way to go.
There is an assortment of synthetic brushes available in any shape and size you may desire. While initially, synthetic brushes were not great at holding paint and water, there have been more recent developments that have incorporated flags or little frays on the synthetic hairs. These allow the fibers to mimic natural hair variations that hold the water droplets.
Synthetic fiber brushes can be useful to lift paint and are far more durable than any natural hair brushes. If you choose to go the synthetic fiber brush route, we suggest nylon synthetic hairs as when they are wet, they only decrease in strength by roughly 15%.
The overall lack of longevity is the largest disadvantage to using synthetic fiber watercolor paintbrushes, and despite some brands incorporating flags and little frays, the fibers remain too smooth overall. You will struggle to ensure hit-and-miss strokes when you are using a synthetic brush, and overall, they are inferior to natural-haired paintbrushes.
The Shape of Watercolor Paint Brushes
You can buy your watercolor paintbrushes in a variety of shapes, each one suited for a particular technique. Your artistic style dictates the paintbrush shape you require, and will therefore differ from artist to artist. We are well aware that watercolor brushes are expensive, so you should rather only buy a few versatile brushes. You can classify watercolor brushes into three categories, namely wash, detail and versatility.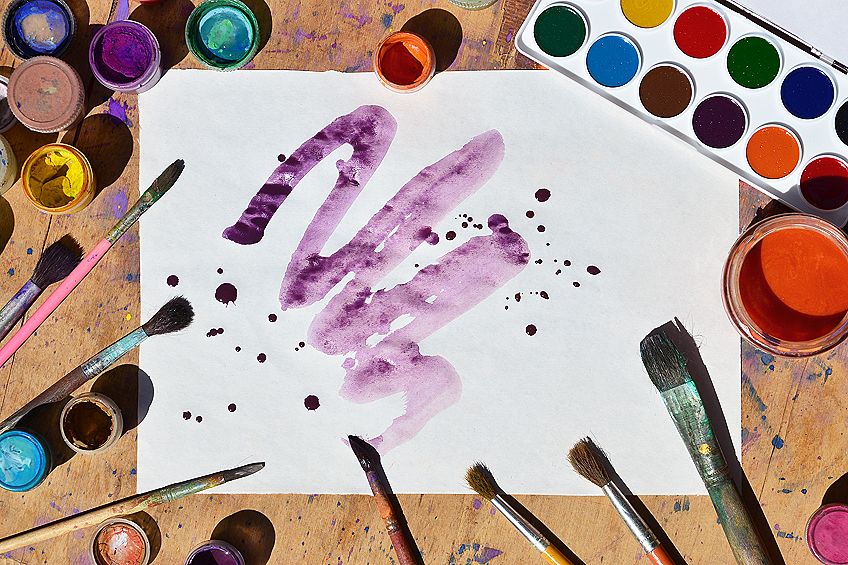 Washes
It is important to have at least one wash brush in your set. While you could potentially use a flat brush to create a wash effect, it is not the same and can be a tedious process. The most well-known wash brushes are a mop rush and an oval brush, and another option is an oriental brush called a hake brush.
Wash brushes can be intimidating as they are quite large and can be overwhelming for artists who work on a small scale, but they are worth having. You will be able to apply and blend paint quicker and with ease, and the bushy bristles will allow you to form amazing effects such as the starry night sky.
Details
If you are a beginner, your best brush option is a good quality round brush, as you can use the point of a round brush to create intricate details. If you are an artist who works on a small scale, then you should look at spotter or rigger brushes (both of which have a round ferrule). A perk of these fine-detail brushes is that you can buy pricey hair-bristeled paintbrushes at a lower price, as less hair is needed for the brush.
Rather get quality detail brushes if you are an artist who does fine details, as over time they retain their shape better.
A rigger brush has very long bristles and is a small round brush. The long bristles ensure a delicate point and increase the brush's water-holding capacity. The rigger brush is therefore ideal for use in creating fine lines and long, continuous lines. A spotter brush is small like a rigger brush; however, the bristles are short, making the brush perfect for tiny details.
Versatility
The versatility of a round brush is hard to beat, and if your budget is tight then this is the brush to buy. If you want to treat yourself to a Kolinsky brush, then your go-to is a round brush. A round brush shape makes it perfect to create broad strokes, delicate lines and details, and washes, offering you the ability to create an assortment of different strokes. To change the width of your stroke, you simply alter the pressure you are putting on to the round brush.
In terms of a flat brush, the hair quality is not paramount, but it is important to ensure that the brush is durable. A flat brush can even be used to create washes and can produce bold, striking lines. The majority of artists choose to purchase synthetic fiber flat brushes, or ox hair, but you can also buy sable hair flat brushes if desired. The most common flat brushes are Angular, Filbert, and Bright, each offering the user a unique shape of brush stroke. Do not go and purchase one of each, however! Rather do a little bit of research and determine which is the best one for your needs and style of painting.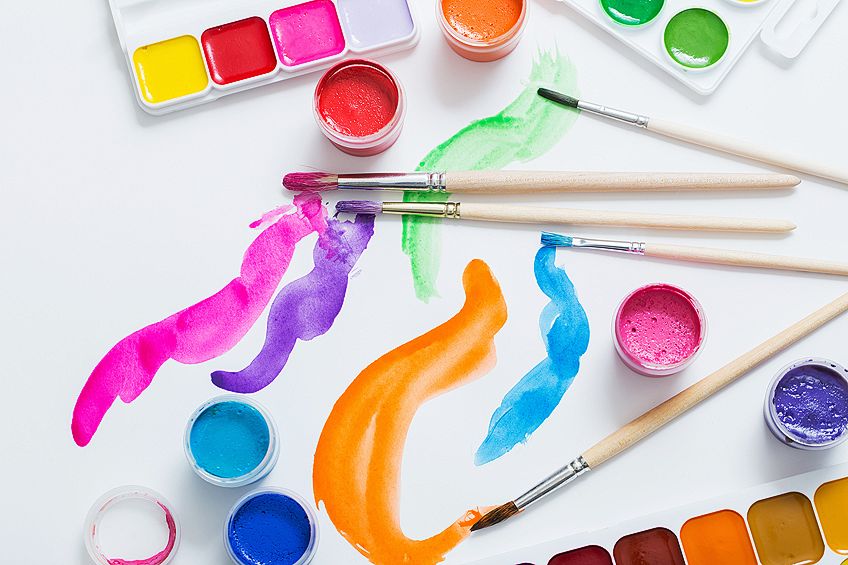 The Size of Your Brushes
So, you have the information to help decide the shape of the brush and with which hairs you require. Next, you need to determine the size of watercolor brush you require. It is not difficult to determine your brush size – we suggest you have an assortment of large brushes, versatile medium brushes, and small detail brushes. There are so many brushes in an assortment of sizes available, ranging between #0000 to #50. Our suggestion is one detail brush, one wash brush, and an assortment of round brushes (these can be pricey, so start off with just a few). You may want to consult a sizing chart, as different brush makers' sizers can differ.
The Best Watercolor Brushes for Beginners
We have put together a list of some of our favorite watercolor brushes that are known to be of high quality, while still being affordable. While you can buy these brushes online, it is recommended that you visit your local art shop so you can feel the brush in your hand.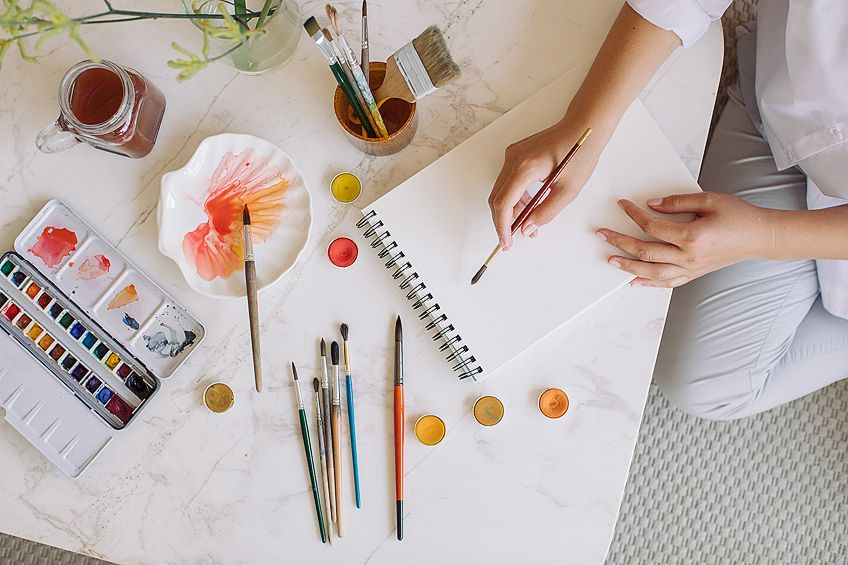 Best Overall: WINSOR & NEWTON Cotman Short Handle Brush Set
You can rely on Winston and Newton for affordable and good-quality paint brushes. This particular set contains seven different brushes made of quality synthetic fibers, and is reasonably priced. The bristles hold a decent quantity of water and are very springy and soft. This is the perfect set for a beginner watercolor artist, ensuring you will be able to create intricate details and broad washes.
Made of fine-quality blended synthetic fibers of differing thicknesses

Soft filaments with good flow control and great color carrying capacity

Paintbrushes are strong, resilient, durable, and easy to clean
View on Amazon
The following brushes are included in the set:
One Stroke 3/8"
Round #1
Round #6
Fan #2
Filbert 1/4"
Rigger #2
Angled 1/8"
With the set you will receive small plastic covers that can be used to protect your brushes. The number of brushes may seem few, but they are an ideal selection for a beginner. Compared to sable hair brushes, the synthetic fiber is of a lower quality, but as a beginner, you are better off using a high-quality synthetic brush, like these, than poor quality natural brushes.
PROS
Great for details
High-quality synthetic fibers
Affordable option
Strong, durable, and resilient
Can be cleaned with ease
Springy and soft bristles
A good assortment of brushes for beginners
Great water-holding capacity
CONS
Short handles
Made from synthetic fibers
Brushes are small in size
Budget-Friendly: SILVER BRUSH Susan Louise Moyer Basic Set
This set is made up of three rounded water painting brushes, which are budget-friendly and perfect for beginners. The brushes are made up of a combination of squirrel hair and synthetic fibers that provide a soft brush capable of holding a large amount of water. You can use the brushes to paint over existing layers of paint without disturbing the initial paint as they are so soft, but are still firm enough to lift the paint if required.
Black velvet professional watercolor brushes are expertly crafted

Luxurious blend of squirrel hair and black synthetic fibers
Set comes with three round brushes for watercolor painting
View on Amazon
With extremely long tips and wide bellies, the three brushes are as follows:
Round #12
Round #8
Round #4
This brush set is ideal for beginners as round brushes are very versatile – you can use the largest of the brushes to form gorgeous washes, and the smaller brush is perfect for fine details. While some artists worry that the brushes may shed hair a bit, they do hold their fine paint quite well. Overall, they are a great set for a beginner who is on a budget.
PROS
Can be used to master different blending techniques
Budget-friendly
Durable
Made up of a combination of synthetic fibers and squirrel hairs
Supple and soft brushes
Retains water well
Nice assortment of sizes
Holds their fine point well
CONS
Soft texture requires a learning curve
Will shed hairs at times
Professional Choice: PRINCETON Velvetouch Mixed-Media Brushes
While this is a mixed-media set of brushes, it is great to use for watercolor painting. Made up of a blend of multi-filament synthetic fibers, the bristles hold color and water superbly. The brushes have a wonderful spring to them, and are precisely tapered.
These artist paintbrushes

are ideal for multi-media projects

Brush shapes feature a unique blend of multiple synthetic filaments

Smooth signature Velvetouch wooden handle is comfortable to hold
View on Amazon
This set is amazing for both professionals and beginners, and includes the following brushes:
Angle Shader 3/8"
Round #4
Long Round #8
Wash 3/4"
The beauty of these brushes is that each paintbrush can be used for different techniques, making it ideal for beginners. You can experiment with the larger brushes to try color blending and practice washes, while the small round brushes create fine details.
PROS
Good range; ideal brush set for beginners
Well-priced
Springy and soft brushes
Great water-holding capacity
High-end multi-filament synthetic blend
CONS
Not ideal when doing large-scale works
Brush fibers are synthetic
Premier Selection – DA VINCI Maestro Watercolor Set
This set of brushes is made from top-quality Kolinsky sable hairs and is fairly expensive, so if you are looking to splurge on a high-quality set of watercolor paintbrushes, this is your go-to choice. While it may be expensive, you pay for what you get – you receive the three Kolinsky brushes in a gorgeous leather travel case.
Features set of Kolinsky sable brushes in sizes 4, 6, 10 in leather case

Outer casing protects brushes from damage and is great for travel

Excellent for watercolors, gouache, illustration, animation and rendering
View on Amazon
Da Vinci are world-renowned manufacturers for making high-quality watercolor brushes, and this set is no exception. The set is made up of the following three brushes:
Round #10
Round #6
Round #4
While it is only made up of three brushes, the range of sizes allows you to be able to achieve small washes, details, and blending. As to be expected from sable hairs, the brushes hold a large volume of water (thanks in part to their fat belly). The bristles have an amazing snap to them, while the point is very sharp, allowing you extreme control over details and fine lines. These are durable brushes, making them worth the expense. While the handles may seem a little on the thicker side, it only adds to the portability of the brushes as a whole.
PROS
Great range of sizes of brushes
Made from top-quality Kolinsky sable hairs
Portable and light
Great capacity to hold water
Sharp point and incredible snap to the point
CONS
Quite expensive
Does not include a detail brush
Handle is relatively small and thick
Frequently Asked Questions
What Size Watercolor Brushes Do I Need?
You can buy brushes in an assortment of sizes from #0000 to #50. If you are just starting out, we suggest you have a medium round brush (#12 or #10) to use for larger strokes and blending, a large wash brush, and finally a small round brush (#4 or #3) to use for finer, detailed work. Over time, you can grow your collection of brushes.
Which Is the Best Brand of Watercolor Brush?
Depending on what you require, a da Vinci brush is a great option if you are looking for a Kolinsky sable brush. If you are just looking for a good beginner's option, however, try looking at a Winsor & Newton or a Princeton brush, as these options offer better value for money.
How Long Do Watercolor Paint Brushes Last?
How long your brushes last is impacted by a few things, such as how often you use your brushes and what your brushes are made of. A synthetic brush, if used several times a week, should last about six months, while a natural brush that is used just as often should last roughly two years.
Can You Do Watercolor Painting Using Synthetic Brushes?
That is all up to you. If you are a beginner and do not have too much money to spend, then you will find that synthetic brushes will do the job. But if you are more experienced, you should probably buy a pricier set, such as a Kolinsky sable hair or natural hair set.
To achieve gorgeous watercolor paintings, you need to begin with the correct brush. Not only will this ensure that you achieve the results you require, but you will enjoy the process!
Larissa Meyer is a 32-year-old mother and creative spirit since childhood. Her passion for painting and drawing has led her to train as an illustrator and pursue a career as a freelance graphic designer. Larissa is a talented artist who is able to master a wide range of styles and techniques to bring her artistic vision to life.