Oil Painting Supplies – Everything You Will Need for Oil Painting
This post may contain affiliate links. We may earn a small commission from purchases made through them, at no additional cost to you.
This article is all about oil painting tools and supplies for beginners. If you are currently interested in learning or starting to oil paint, then you are in the right place! Here, we will detail the basics of oil painting and any beginner oil painting tools you may need to get started. First, we will look at the supplies and tools you will need.
Oil Painting Tools
As with starting any new hobby or project, oil painting does require the use of certain tools and supplies to achieve the best results. Before we can get started, you will need to learn the basics of using these tools as well as which ones are best for what purpose. Here is a list of beginner oil painting supplies that you will require:
Dropcloth or newspaper
Oil paint
Paintbrushes
Canvas
Oil medium or solvent
Jars or containers for brush cleaning
Paint palette
Painting easel
With so many products and brands, it is always difficult to make a firm choice on what oil painting tools are the most suitable for your purpose. For this reason, we will discuss each tool, their purpose, and which product recommendations are best.
Beginner Oil Painting Supplies
Nowadays, the best way to decide on a purchase is to look at product reviews. This is also helpful when picking a paint brand. Once you have more experience and have had the opportunity to explore different oil paint brands, you will find the one that works best for you. Another option to consider is affordability and value for money. Because oil paints come in sets as well as singles, it can be more cost-effective to buy an oil painting kit for beginners when first starting out. You can then move onto single tubes of oil paint when you need to top up on your individual colors.
When doing any form of painting, there are other basic materials you will require such as canvases, mixers, and paintbrushes. But how do you know which of these are the best for the job at hand? Some canvases and paintbrushes are only suited to certain mediums, and using them in the wrong way will ruin your artwork and materials. For this reason, we will go into detail about these oil painting tools and will provide you with some great product recommendations when beginning oil painting. Starting with your paint.
The Best Oil Paint for Beginners: ARTEZA Oil Paint Set
Arteza's name is associated with many quality paint options, and their rich oil colors are no exception. This set of 24 beautiful colors allows artists a wide range of possibilities. Each tube is 12 ml, and although this may not seem like much, a little certainly goes a long way with this range. Arteza oils are thick and slow-drying, allowing a smoother application and a longer drying time. This quality set is a fraction of the price of their competitors.
The thicker consistency ensures smoother shading and blending capabilities. Bold colors allow for great color mixing and layering options. Their oil paints are also safe and non-toxic to use. Arteza manufactures all necessary art supplies, including canvas and brushes, making your shopping experience as easy as using their paints.
24 individual 12ml tubes of rich, vibrant colors
Thick, flexible, and slow-drying, allowing ample time to work

Create subtle blends as well as lustrous and captivating effects
View on Amazon
Pros
Good range of colors
Great mixing capabilities
Good for blending and layering
Easy, thick application
Highly affordable
Safe for all ages
Reputable brand
Cons
Only one tube size available
Single tubes of color not available
The Best Oil Painting Kit for Beginners: U.S. ART SUPPLY Oil Painting Set
U.S. Art Supply has this amazing complete set for beginning oil painting. Not only does it include 12 different oil paint colors, but also 25 multipurpose paintbrushes! This oil painting kit for beginners also comes with an aluminum table easel for easy use, two different canvas sizes, a plastic paint palette for easy color mixing, and a color mixing wheel. The only thing missing here would be your oil mixer or chemical solvent, although this can be purchased separately. By adding in all this value for money, U.S. Art supply has made beginning oil painting a very easy choice.
Includes Cabrillo lightweight aluminum tabletop black easel

Set offers 12 oil paint color tubes, a plastic palette, and a color mixing wheel
Also included are two stretched canvases and two brush sets
View on Amazon
Pros
Includes all tools
Affordable price
Easel is aluminium
25 brushes
Color mixing wheel
Cons
No oil or solvent included
With two five-star recommendations, our best oil paint options are covered. Now, we can look at the best brushes, painting knives, and canvases for beginning oil painting.
Oil Paint Brushes
They say the best brushes to use with oil paints are made from natural hairs. Hog hair is the most common, but you also get paintbrushes made from badger hair. Typically, these natural brushes are the best when using oil-based mediums as they hold the paint better and generally offer more control. Synthetic brushes, on the other hand, are best used with water-based paint options. Below are some of the best oil paint brushes we recommend.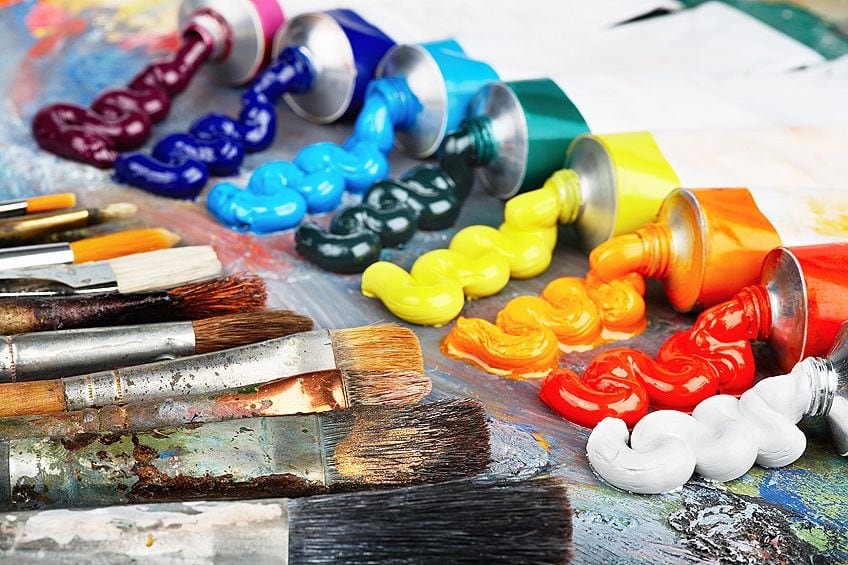 The Best Brushes for Oil Painting: ARTIFY Professional Oil Paint Brush Set
These beautiful oil paint brushes are handmade with natural wood and white copper handles. The bristles are pure hog hair and will not shed as some other natural paintbrushes do. Artify has designed these with a firm texture in mind, meaning they will hold their shape and maintain their quality for longer. This set includes 11 brushes in total, including four round tip brushes, five filbert brushes, a flat brush, and a fan brush.
With a collection like this, you will be able to start different oil painting techniques with ease. Artify has included a free bonus with the purchase of this oil brush starter kit, being a metal carrying box that is perfect for easy travel. Being so confident in the superior quality of their oil brushes, Artify will offer you a money-back guarantee should you not be 100% satisfied with your purchase.
Natural wood-colored handles and white copper ferrules

100% pure hog bristles are durable and will not shed
Versatile assortment of brushes in a metal carrying box
View on Amazon
Pros
Natural brushes
Handmade
11 different shapes
Value for money
Great for beginners
Cons
No very thin brushes in this set for finer details
The Best Oil Painting Tool Kit: MLUCHEE Oil Paint Brushes Set
This painting tool kit provides you with more than just brushes, it also includes a professional-quality painting knife, a watercolor sponge, and a nifty standing organizer zip bag to keep everything in place. With 15 different brush sizes, you are prepared for anything! This brush kit includes flat brushes, angular, liner, and comb brushes. This oil painting toolset is perfect for beginning oil painting, as well as working with other mediums like watercolor or gouache.
This nylon brush set is made with rust-free aluminum detailing, thus keeping your brushes firm and secure for hours of painting. The artist sponge is made from foam and is highly absorbent; perfect for your watercolors or blending work. The painting knife is not the flimsy plastic kind either – this tool is made with stainless steel and is encased in a wooden handle for optimum durability.
Contains 15 sizes of paint brushes with all kinds of tip forms

Reinforced rust-free aluminum ferrules with a nylon brush

Includes synthetic artist sponges and stainless steel painting knives
View on Amazon
Pros
15 different brushes
Superior-quality painting knife
Standing portable organizer case
Includes watercolor sponge
Great price
Cons
Synthetic bristles instead of natural fibers
The Best Oil Painting Tools: CONDA Palette Knife Painting Stainless Steel Set
Unlike most palette knives, these are made with stainless blades that resist corrosion and will not be stained from your paints. This set from Conda includes five paint knives of different sizes, which assist in creating diverse effects within your work. Each spatula is packaged individually for ensured safety when dealing with these tools. These knives can be used for blending, spreading, and mixing your colors. They are great for oil paint techniques too, such as scumbling. These palette knives are definitely great value for money.
Stainless knife blade resists all wear and corrosion

Great assortment for mixing, spreading, scumbling, and more

Ergonomically designed handle adds increased comfort and grip
View on Amazon
Pros
Superior quality
Stainless steel
Five different shapes
With brushes and tools sorted, we can move on to our next topic, being the best canvas options for oil paint and why.
Oil Painting Canvas
When we think of canvas, we may not realize that there are different options available within these ranges. Aside from the size, of course, canvas comes in different texture options, primed or unprimed, and it can come in actual sheets of canvas or cut-out frames. The best canvas options for oil painting are pre-primed because the layer of primer assists with your paint better adhering to the canvas surface. If you cannot find a pre-primed canvas, you can always purchase some primer yourself and make it a DIY kind of project. This will of course be more time-consuming.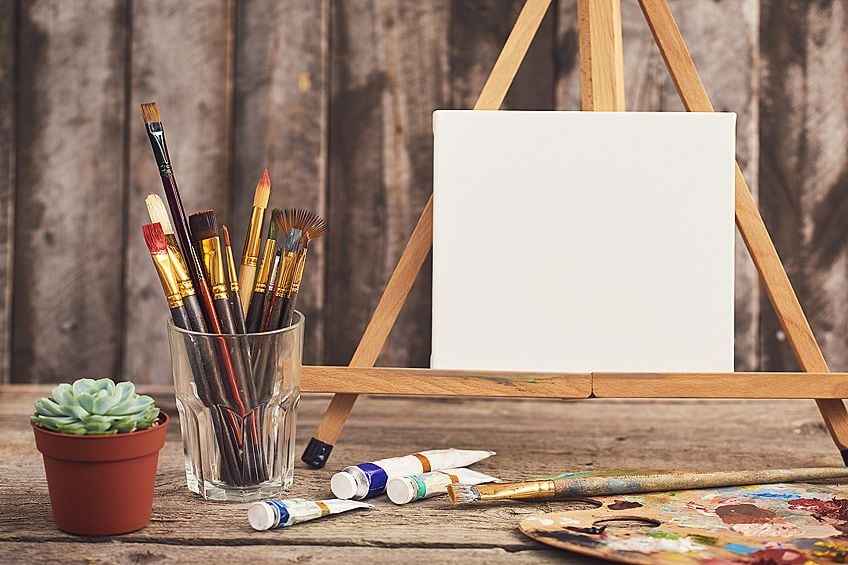 The Best Canvas for Oil Painting: ARTEZA Stretched and Primed Canvas
Arteza is behind another fabulous brand recommendation. Their oil painting canvases are prepped and ready to go! Having been pre-primed with gesso beforehand, they save you time with this step so that you can focus on your art. This pack includes eight 11-by-14-inch stretched canvas pieces. Each one is made from 100% cotton, making them quick-drying and non-toxic. These quality canvases are perfect for beginning oil painting, as their sturdy frame and well-coated primer make them the best choice!
100% cotton canvas
Sturdy pinewood frame
Pre-primed with acid-free acrylic gesso
View on Amazon
Pros
Good value for money
Pack of eight canvases
Pre-primed
Good quality
Sturdy frame
Cons
Water-based paints will not adhere to canvas surface
The Best Primer for Canvas: MONT MARTE Premium Clear-Texture Gesso Acrylic Medium
Mont Marte clear gesso primer is perfect for preparing and sealing your painting surfaces beforehand. Their formula ensures no yellowing or staining, and it can be used with different paint mediums too, such as oils or watercolors. Because it has a clear look to it, you can draw over this primer with dry mediums such as pastels, pencils, or charcoal as well.
Mont Marte's easy-to-use formula makes this primer perfect for most surfaces including canvas, paper, wood, and even clay and plaster. If you are looking for more of a whitewash texture, you can also mix this primer with a white acrylic or oil paint to give it an opaquer effect.
Non-yellowing and ideal for use with acrylic, oil, and enamel paints

Suitable for most porous surfaces, including canvas

Great for applying washes and other painting effects to drawings
View on Amazon
Pros
Clear-coat sealant
Can be used with different mediums
Can be used as a primer, sealant, or wash
Cost-effective
Cons
One coat will take up to an hour to dry
Having checked paints brushes, knives, and canvas off the list, we can now move onto the last of our oil painting supplies: oil mediums and solvents as well as paint palettes and easels.
Oil Medium Mixers and Solvents
Oil mediums are a very important part of working with oil paints. These oils contribute to the texture and shine of your painting, as well as the cleanliness of your brushes. Not everyone chooses to use an oil medium, – some prefer the use of harsher paint-stripping chemicals like thinners. These are quite dangerous to use in small spaces or can cause damage to your skin and eyes.
Using an oil medium is beneficial for painting techniques too, adding shine and evening out textures for a softer look. They can, however, add to your painting's dry time. Thus, it is key to use oil mediums sparingly when painting with them. Below, we will look at two highly recommended oil painting tools that are used for this purpose, and the benefits of using each one.
The Best Oil Medium: GRUMBACHER Linseed Oil Medium For Oil Paintings
Made from linseed oil, Grumbacher's oil medium is natural and safe to use. The linseed contributes to the gloss and shine of your colors as well as the texture of your paints. This oil can also be used as a binding agent when using other mediums such as powdered paints.
Should you find their oil too thick, it can also be thinned using paint thinners or turpentine. Grumbacher's oil medium is also useful when cleaning your paintbrushes. The natural oils will coat your bristles and reach into the fine layers, keeping your brushes soft and flexible for longer use. With over 100 years in the art supply industry, Grumbacher is a name you can trust.
Can be added directly to oil paint to make colors glossy and fluid

Can be used as a paint binder when mixing colors from powdered pigments

Made from purified alkali-refined linseed oil
View on Amazon
Pros
Natural oil
Safe to use
Trusted brand
Affordable
The Best Solvent for Oil Painting: WINSOR & NEWTON Sansodor Solvent
Windsor and Newton have this great low-odor solvent option made from Sansodor, which is a naturally odorless mineral spirit. Just because it is odorless, however, does not mean it is safe. This solvent is just as toxic as regular spirits and paint thinners without the smell. Winsor and Newton created this for oil artists who do not like the harsh smell of thinners but would still like quick and effective results.
The benefit of using this medium is that it evaporates and dries quickly, allowing you to complete your art without unnecessary waiting times. Sansodor can be used for blending, brush cleaning, and thinning your oil mediums as well. This is best suited for use with alkyd and oil paints.
A low-odor solvent which evaporates slowly

Increases blending time and is

suitable for oil and alkyd color

Suitable for thinning oil colors and cleaning brushes
View on Amazon
Pros
Speeds up drying
No harsh smell
Effective for brush cleaning and thinning oils
Popular brand
Cons
Not for use with water-based paints
Toxic if in contact with skin or eyes
Aside from oil and solvent mediums, there are also artist soap options. These are useful in deep-cleaning your brushes all the way inside the bristles. They are also usually made from olive oils and other natural products, which means they can be used on your hands too!
The Best Artist Soap for Oil Painting: SPEEDBALL ART PRODUCTS Escoda Natural Artist Brush & Hand Soap
Just like the name says, Escoda artist soap bars are all-natural and made from extra virgin olive oil. This formula ensures soft, flexible bristles that are conditioned for added durability. Using an artist soap after or in conjunction with a solvent or oil will protect and maintain the quality of your brushes.
Escoda's gentle formula also feels great on your hands and is safe for use on the body. These artist soap bars can be used with most paint mediums, being water-based or oil paints. They work quickly and effectively to release paint held deep within your brush. Escoda bars are made in Spain.
Made with extra virgin olive oil soap
100% natural formula
Cleans and conditions with each use
View on Amazon
Pros
Affordable
Safe and all-natural
Conditions and protects bristles
Good for brush cleaning with any paint medium
Can be used for hands
Cons
Only comes in one size
May need to be used with an oil medium or solvent for best results with oil paints
The last two items we need to look at are painting palettes and easels. While these may not seem necessary to start with, these items are very helpful oil painting tools.
Paint Palettes and Easels
The purpose of a paint palette is to provide a platform for your color mixing and blending, both of which are crucial in oil painting. Palettes come in different shapes, sizes, and are made from different materials. The most common ones are made from plastic, but there are also wooden and ceramic options.
Easels have the basic yet highly underrated job of not only holding your painting, but also keeping it safe and free from dirt while you are busy with it. These also come in different sizes and are usually wooden or metal. The best option would of course be a matter of personal preference.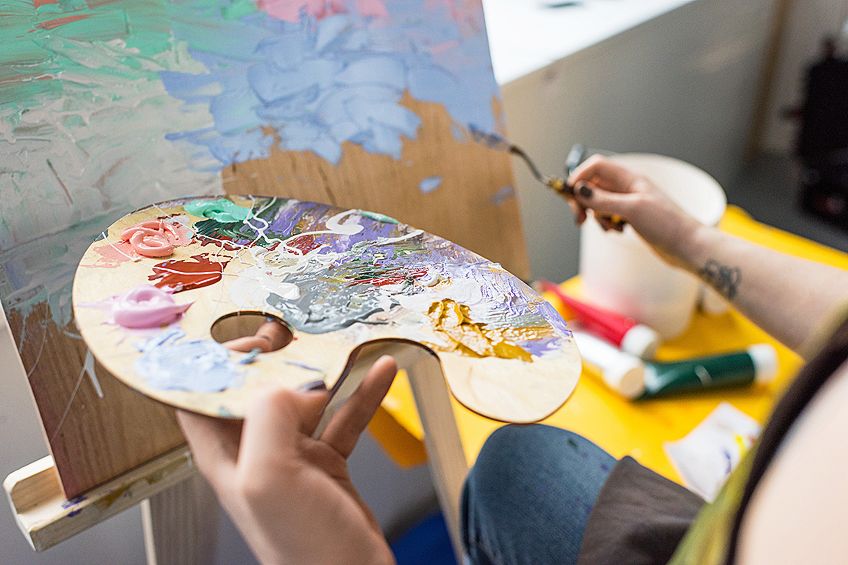 The Best Paint Palette for Use with Oils: STKYGOOD Clear, Non-Stick Artist Paint Palette
Stkygood came up with this revolutionary clear paint palette design. It comes with a protective film on one side which must be peeled off or removed before use. This palette is easy to use whether you are left or right-handed and is even easier to clean.
Because of their plastic base, these paint palettes can be used with any paint medium, whether they are oil or water-based. It is comfortable to hold and very easy to maintain control while painting. This set includes includes a pair of palettes, which gives us one more really good reason to use this product!
Highly transparent and easy to clean
Can be used for watercolors, oil paints, and more
Unique design makes it ideal for both right- and left-handed people
View on Amazon
Pros
Clear paint palette
Easy to use and hold
Easy to clean
Will not be stained from paint
Two in a pack
Cons
Protective film may be tough to remove
May stain with oils after enough use
The Best Easel for Oil Painting: T-SIGN Reinforced and Adjustable Tripod Artist Easel
This sturdy artist easel by T-Sign is not only affordable but also a versatile option. It can be made to sit on top of a table at 21 inches if you would like to paint sitting down, or it can be extended to a standing position of 66 inches. What makes this easel so great is that it can be folded away for easy storage and comes with a professional easel bag for easy travel. This easel is simple to assemble and will do a great job at securing your oil paintings.
Foldable for easy transport and storage
Adjustable legs are perfect for use on uneven ground
Good wind-resistance due to stable aluminium metal
View on Amazon
Pros
Folds away
Easy to assemble
Comes with a carrier bag
Size can be adjusted
Cons
May be lighter than expected
May work better when using smaller canvas
And there you have it! A complete list of oil painting supplies for beginners. Now you will be able to tackle the basics of oil painting in style. We hope you enjoyed reading our recommendations and that they are helpful in finding the best oil painting supplies for you.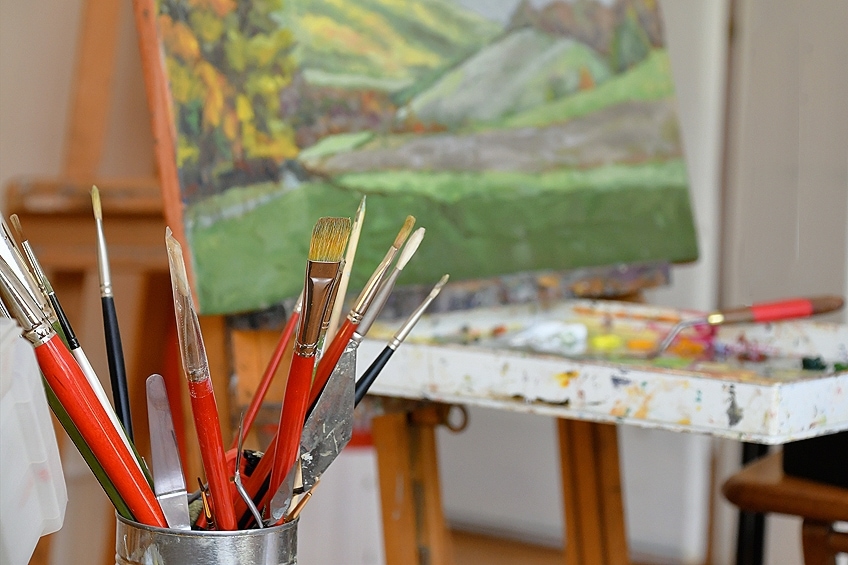 Frequently Asked Questions
What Do You Need When Beginning Oil Painting?
The first things you will need are quality oil paints. Some of the most famous brands are Michael Harding, Sennelier, and Gamblin. There are also quality beginner oil paint supplies offered from brands such as Winsor and Newton and Meeden.
What Are the Key Oil Painting Tools?
Aside from your paints, the other oil painting tools you will need are a canvas, oil or solvent mediums, an easel, painting knives, paintbrushes, and a paint palette.
What Are the Basics of Oil Painting?
Oil painting is a highly versatile medium. The basic rules to remember are that it takes much longer to dry than water-based mediums, it can be used for blending and layering, and it can be used on different surfaces. Oil painting will also require the use of more tools than acrylic or watercolor painting in order to achieve the best results.
Larissa Meyer is a 32-year-old mother and creative spirit since childhood. Her passion for painting and drawing has led her to train as an illustrator and pursue a career as a freelance graphic designer. Larissa is a talented artist who is able to master a wide range of styles and techniques to bring her artistic vision to life.