What Is Tempera Paint? – Why and How to Use Tempera Paint
This post may contain affiliate links. We may earn a small commission from purchases made through them, at no additional cost to you.
It is a rainy Sunday morning and the kids are causing havoc in your home from boredom. Their restlessness is making you edgy so you have to strain your thoughts to find an activity that is not the most laborious thing to set up, and something that cleans easily because everyone knows what happens when you mix some over-excited children with some craft glue… It is not a pretty sight. Painting! What a great idea, but the paint you use just has to be easy to clean, because everyone knows that the paint will end up all over the clothes of your children, regardless of them weaning a painting apron. Tempera paints are a great option, and this will be our topic for the day. We will discuss what is tempera paint, including how tempera paint is made from the liquid to powdered tempera paint, as well as how to use tempera paint on wood, or how to use tempera paint in general. Lastly, we will also include some tempera paint vs. acrylic paint comparisons, so keep reading to find out everything there is to find out about tempera paint!
Tempera Paint Explained
Tempera paint is combined with a chemical agent and is water-based, making it a suitable paint for a kid's project because it is easy to clean, and free of allergens and toxic chemicals. Otherwise referred to as "poster paint", its main ingredients are calcium carbonate, cellulose, starch, water, and of course the pigments which give it its beautiful and vibrant colors. You will often find tempera paints at schools because it makes the perfect option for most craft projects because of its flexibility.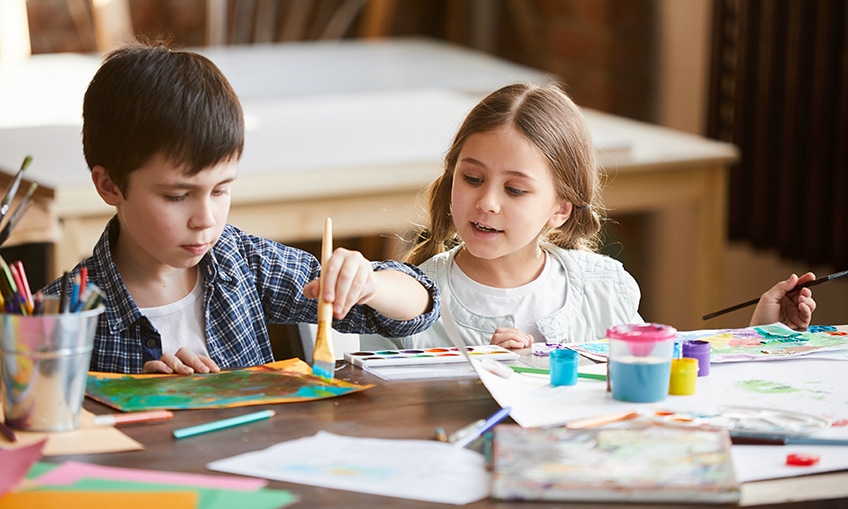 Keep in mind that egg tempera is not the same as tempera paint. Is tempera paint washable? Well, yes! It only needs a little water and soap to clean it up.
Explaining Egg Tempera Paint
The only people who use egg tempera paint are artists who are professionals in their field. Eggs are the binding agent of tempera paint, in combination with artist-level pigments. In museums today, you can still see examples of ancient, traditional paintings created with this type of paint from the 1600s. Many artists today still make their own egg tempera paint since it is tough to obtain but it is still used by some professional painters today. Due to the easier access and use of oil, acrylic, and watercolor paints, it is no longer used by artists as much today.
Egg tempera can saturate and provide brilliant coverage. However, some egg tempera are toxic due to the use of artist pigments, making it a bad option for children.
Egg tempera is made by mixing fresh egg yolks with egg whites or whole eggs. There are also other mixtures for egg tempera paint that include, gum, linseed oil mixed with egg yolk, or casein glue mixed with linseed oil, or linseed oil, poppy seed oil mixed with egg whites. It was thought that Blake mixed some of his pigment with the carpenter's glue, which caused the paint to degrade.
Powdered Tempera Paint Explained
Powdered tempera paint is made by mixing a dry pigment in powder form with eggs or oils. Following the Renaissance, powdered tempera paint fell out of favor, but it has reclaimed its place with a number of artists in recent times. Having access to condensed tempera paint in powder form is not only a great convenience, but you will also be able to make your own liquid tempera paint just by mixing it with water.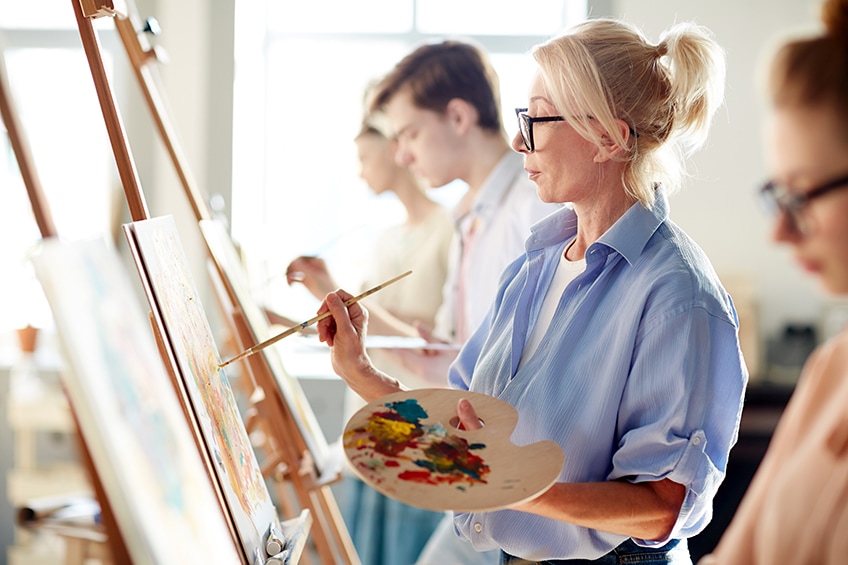 Powdered tempera paint is a great option for any artist of any skill level. This does not matter how the paint has been made, with whatever mixing reagents. It can easily be stored without the worry of it drying out in the chance that you forgot to screw the paint bottle's cap shut tight.
Most Recommended Tempera Paint: CRAYOLA Washable Kids Tempera Paint Set
What is tempera paint if it is not a perfect crafting paint? Several people recommend this Crayola Washable Kids Paint Set as the best tempera paint set available because it comes with ten classic color paint bottles that can easily be stored away when not in use. Posters and drawing papers, cardboard, Paper Mache, and other materials can be painted with this paint. Paints like this are perfect for arts and crafts projects at school and for other fun occasions.
With this paint, you will enjoy a stress-free painting experience. It uses a water-based formulation. It is easy for the paint to wash off surfaces such as the floor, fabric, your walls, and even your skin. In addition, the paint is non-toxic and can be applied by everyone, no matter your skill level. With the help of paint brushes, sponges, or stamps, you can let your children create their very own book covers, posters, or signs. Painting brushes cannot drip, and the paint won't separate, so you have consistently applied paint.
You can create your very own unique shades or hues with this set's rich pigment colors for an opaque finish. With the Crayola Tempera Paint Set, even a child as young as three can use them. s tempera ain't washable? Well, this one sure is! It is even the name of the product to provide assurance to nervous parents.
Safe and non-toxic child-friendly paint for ages 3 and up

Suitable for use on multiple surfaces

Washable and easily cleaned from skin, clothing, and surfaces
View on Amazon
PROS
Simple to use
10 vibrant colors
Safe to use, no toxins
Easy to wash
Can be painted on skin
Fast drying
Mixes easily
CONS
Temporary
Only dries matte
It has a limited texture
Lacks lightfastness
More Information About Tempera Paint
Additional information on what is tempera paint is covered here. It is a cheap water-based craft paint commonly used by children called tempera paint, not to be confused with egg tempera solely used by professionals. Paints referred to as tempera are inexpensive, non-toxic, widely used in schools for children, and widely available. They are only comparable in that both can be painted multiple times and take so long to dry. Hopefully, we will now address all your questions about tempera paint in more detail. In addition, we will demonstrate that this type of paint is safe to be used by children of all ages.
In terms of how is tempera paint made? You generally mix some pigments and binders to create the paint. Powder pigments and binder are usually used together to make pigments, and the binder is the glue that holds the pigments together, which is funny because it is typically glue. Interestingly, the pigment is also the aspect that makes the paint adhere to the paper.
Gum Arabic is quite expensive, so there is cellulose in tempera paint instead to make it more affordable, which is different from watercolor and gouache paints. It is important to read the labels when buying tempera paint because the ingredients used by different manufacturers may differ.
As chalk is another name for calcium carbonate, this ingredient imparts opacity to your tempera paint as well as a matte finish, but if you look at your dried tempera paint, it is almost like gouache paint. Neither manufacturer gives any detailed information about which pigments they use, but they all specify that they're non-toxic, leading us to believe that they use food-grade pigments that are cheaper than artist-grade pigments.
Are There Allergens in Tempera Paint?
If you are comparing tempera paint vs acrylic paint in terms of toxicity, you will find that tempera fares better than acrylic because it is free of toxic chemicals. Luckily for any parents who have to fuss and worry about their hypoallergenic child who is allergic to everything, this paint is also free of all allergens. This means you will not find any nuts, dairy, egg, latex, gluten, or soy.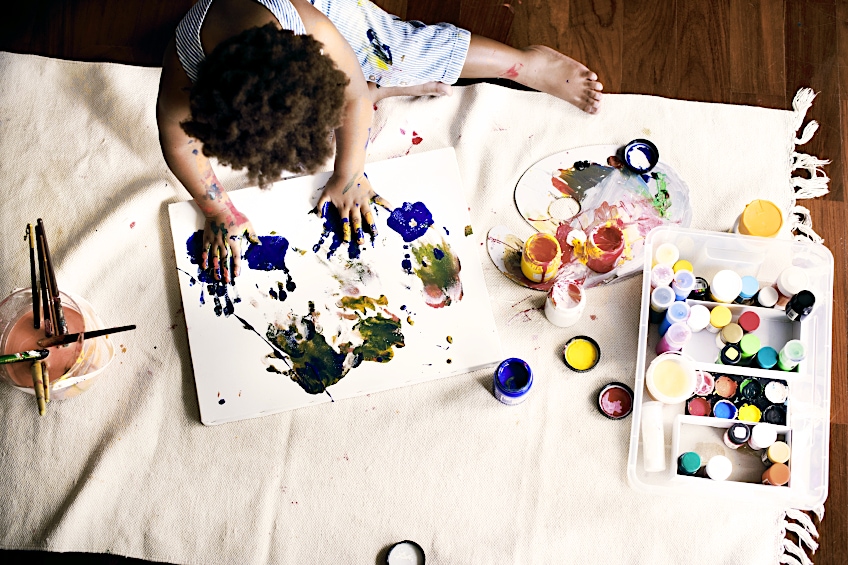 There is a list of allergens every popular brand of tempera paint does not contain on its label. Even though they are said to be free of allergens, they still do not list every ingredient in the mixture on the label.
How Toxic Is Tempera Paint?
In terms of toxicity, how is tempera paint made? Well, you will be glad to know that there are none! There is a seal that certifies tempera paints, called the approved product certification, or the AP. Regardless, this is still the safer paint to be working with when it comes to your children. Often egg tempera paints contain toxic pigments such as cadmium or cobalt.
Although adults can safely use these paints, children should not use them because they might chew on their paintbrushes or put their hands in their mouths, thus poisoning themselves.
How Long Will Tempera Paint Last?
Despite the fact that tempera paints contain non-toxic pigments, the color will fade eventually since they do not contain a permanent pigment. It is worth pointing out that there are a few brands of premium tempera paint that advertise they are lightfast and are therefore resisting fading too soon. This might be an obvious statement, but if it does not otherwise state the lightfast abilities on the label of the pant product you buy, you can easily assume that fading is inevitable.
It's very simple, as the child's safety is the most important thing and not the painting itself. The paint resists fading for only a few months according to some of the more popular brands including Blick. Therefore, if you want your child's painting to last, you should consider using non-toxic acrylic or watercolor paints.
How Does One Use Tempera Paint?
It is project time at school and your child has been instructed by the teacher to make a poster full of colors. Naturally, tempera paint is the best option for this, along with being suitable to be used for props for stage pieces in the theater. But, how to use tempera paint? Tempera paint on wood is okay, but not the best because it lacks water resistance, so your project should be destined for indoor use.
Some examples of some projects could be painting over a Papier-Mache project that was made the day before, or painting a birthday poster for your child's best friend. Your child could paint a mask for Halloween, or cardboard to be later built into a fort.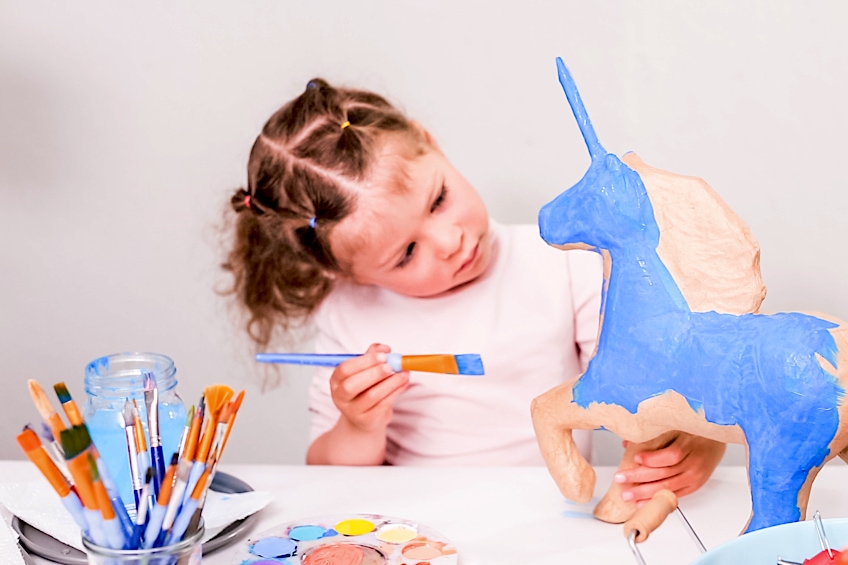 Using tempera paints when teaching children about art is a great way to show them how colors mix. However, keep this exercise as easy as possible since mixing colors is a very complex topic. You can also mix yellow and red to get orange or mix yellow and blue to get green, which is ultimately the given example.
Which Surfaces Work Best With Tempera?
Paper, Papier-Mache, and cardboard are the best surfaces to use tempera paint on, although it works well on other absorbent surfaces as well. Nevertheless, you should not use this paint if you intend to keep your project for a long time because it lacks permanence. Several different surfaces can be painted with tempera.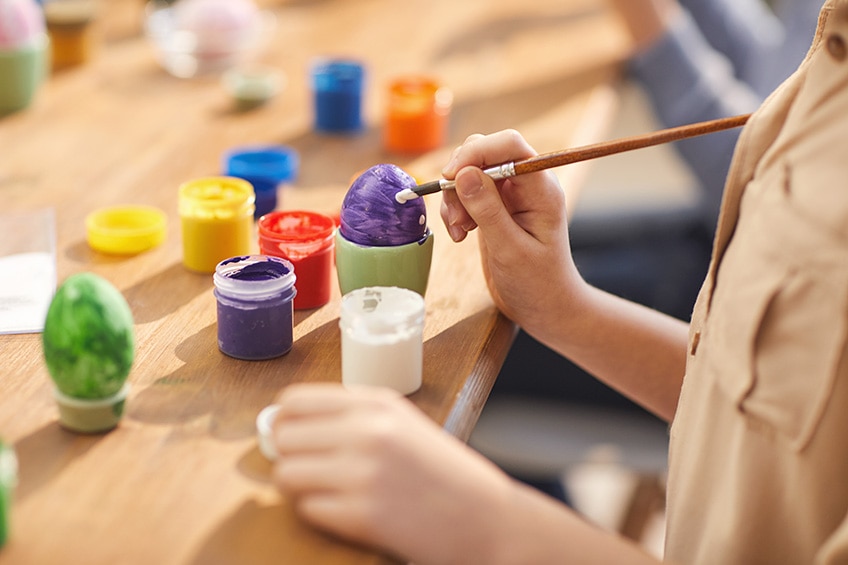 Canvas for Tempera Paint
If you want to paint on canvas using tempera paint, you can certainly do so, but you may experience some issues because the canvas material is such a flexible material and the paint may crack when it dries, especially if thick layers are applied. The water-soluble aspect of tempera paint can result in damage to the paint when several layers are applied, causing the layers underneath to be reactivated. Therefore, comparing tempera paint vs. acrylic paint for canvas painting, acrylic paint is the better option.
Usually, an artist who is proud of their work, maybe because they have progressed somewhat, would use a canvas as their surface because it will prolong the life of the artwork. If that's the case, they have likely moved on from tempera paints as well, and are using paints that offer more techniques, and require more skill.
Tempera Paint on Wood
You might be wondering whether tempera paint on wood is possible, because of a particular project you thought of. It is possible, but it is not exactly resistant to water so it will wash off easily. This means that if you are painting a project that is kept indoors, then it will be fine because the weather is not a problem.
Tempera Paint on Fabric
You can always paint whatever you want onto your clothes or fabric of your choice. But, the fabric is a very flexible and soft thing, so it will need flexible paint. Tempera dries quite hard so it will most likely crack if you paint it on fabric that will be tousled a lot. As far as we know, tempera paint cannot be used to paint clothes or fabrics as it will damage them. Several paints are specifically made to work for fabrics and, as a result, can be washed in the washing machine on a gentle setting and remain flexible after the wash cycle.
If you want the fabric items to not peel off or crack, you will need to heat-set them before washing them.
Tempera Paint on Glass
Painting on glass is an ideal use for temporary paint primarily because it is affordable, temporary, and removable. Using a wet sponge and some warm water, it is easy to remove the paint from the walls. If the window has a film applied to it before the paint goes on, there might be a few issues found.
If you would like to paint directly on the window, a sponge or a paintbrush can be used, but we recommend drawing an outline of the mage you want to paint first. The tempera paint does not stay on your glass windows or whatever forever, and over time your paint will flake off or crack depending on the temperature, humidity, wind, and dust in the air.
Is Tempera Paint Fast Drying?
Of course, weather conditions will have an impact on the speed that tempera paint will dry at, but it generally only takes 10 to 15 minutes. So, in terms of how to use tempera paint, you better use it fast so that it does not go to waste. Other factors that influence the drying time include:
The level of absorbency of the paper
Weather conditions
The paint consistency
All water-based paints dry quickly, provided there is low humidity. The warm, dry air helps the water evaporate faster in low humidity and high temperatures, but when the humidity is high, however, they will need more time to dry. Open up your windows, or put on a fan when painting indoors, good airflow will also help the paint to dry faster. A hot air blower might also be a good option with the added temperature raise.
The absorbency of the surface on which you are painting is another factor that contributes to the drying time of tempera paint. The paint tends to dry faster on a surface that is soft, while a surface that is hard will cause the paint to dry much more slowly. A piece of absorbent paper will dry the tempera paint faster, while a non-absorbent glass piece will dry slower.
Can You Wash Tempera Paint?
Is Tempera paint washable? Yes, it is a water-based product that only requires a bit of soap and water, and only a small amount of elbow grease. It is really effortless. If the surface you painted on was absorbent, you might have a bit more difficulty, but not so much for the non-absorbent surface materials. Washing tempera paint from your clothes is even more tricky, but luckily there are options that can be machine washed available. We have provided a table that will show you the comparisons of tempera paint and egg tempera paint.
| | | |
| --- | --- | --- |
| | Egg Tempera Paint | Tempera Paint |
| Easy to Wash | ✘ | ✔ |
| Fast Drying time | ✔ | ✔ |
| Permanent | ✔ | ✘ |
| Toxic | ✔ | ✘ |
| Easy to use | ✔ | ✔ |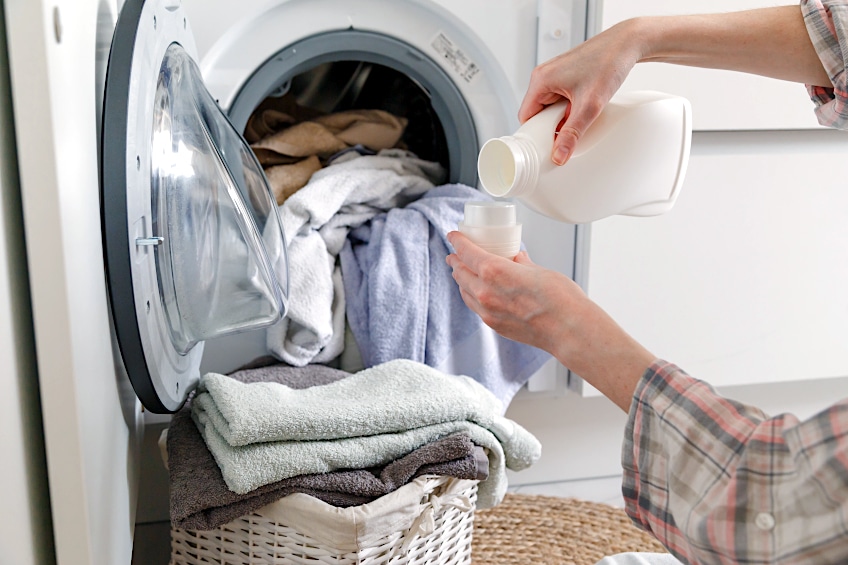 Acrylic Paint vs. Tempera Paint
Both acrylic and tempera paints are water-based, which is their only shared characteristic. Other than that, they are very different. Tempera paint vs acrylic paint is largely dependent on how you use the paint. Children are often found to be the most common users of tempera paint because of its affordability. There is a wider variety of uses with acrylic paints, we have listed a few of the core differences below.
Colors and Textures
The fact that tempera paints are opaque will come as no surprise to you; however, acrylic paints can also be obtained in opaque colors along with being able to serve as transparent colors as well. Clear colors are an important feature of the painting, as they allow for superb glazes and watercolor effects to be achieved.
In terms of acrylics, they offer more options for creating texture, including pumice-based gels, glass beads, and fibers, among others. Additionally, these paints come in a number of thicknesses and finishes, so you can alter the surface sheen of your acrylic paints, for instance, by adding matte or gloss. In contrast to tempera paint, which dries to a matte finish, tempera paints have a waxy finish.
Archival Aspects
There is an advantage to using acrylic paints over tempera paints. Acrylic paints are more archival, which is critical for artists who want their work to last for decades. Acrylic paints are known for their long lifespan because the binder is made from acrylic polymer, which keeps the paint flexible even after it has dried. Ten to fifteen years is the shelf life of acrylic paint, whereas two to five years is the shelf life of tempera paint. There are some student grades of acrylic paint that are lightfast, which means they won't fade.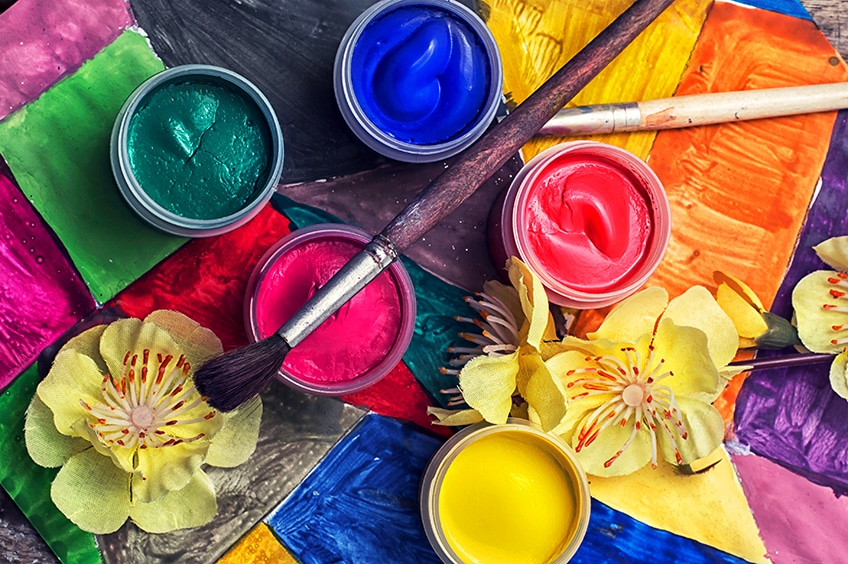 Paintings require this step since once the acrylic paint has been painted on and allowed it to dry, it is permanent. Tempera paint is very similar to watercolor paints as it is both re-soluble and semi-permanent once applied. To avoid any cracks in the paint, multiple layers are recommended, but tempera paints will crack easily regardless.
Surfaces that Are Best for Painting
acrylic paint can be used on plastic, canvas, paper, ceramic, glass, mirrors, metal, ceramics, and fabric, but temperature-sensitive paint works best on cardboard, poster boards, paper, and Papier-Mache, but can also be used on wood, mirrors, and glass.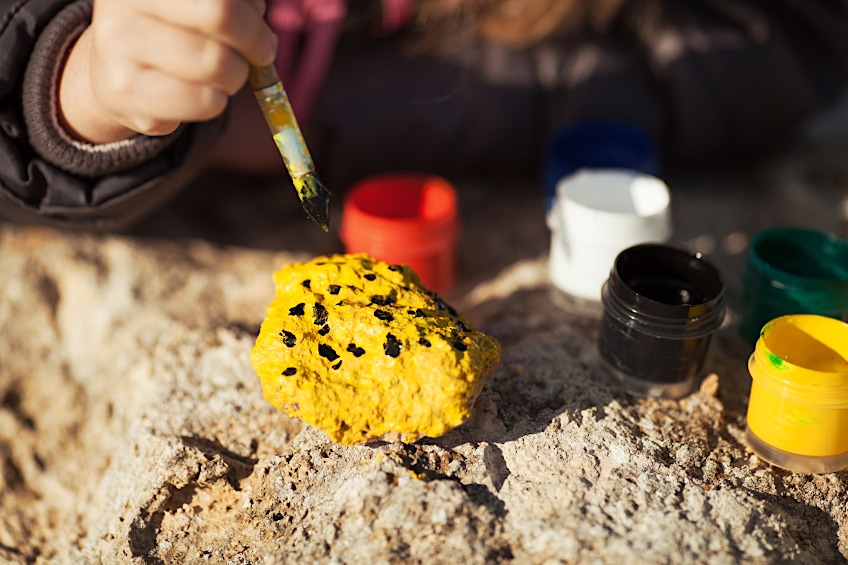 What is the skin compatibility of acrylic and tempera paints? Human skin is extremely sensitive, therefore, acrylic paints are not suitable. Even if it is labeled non-toxic, that does not imply it can be applied to the skin. On the other hand, temperature paints are safe for people to leave on their skin until they want to clean it off.
Comparing Tempera Paint vs. Acrylic Paint
Our table shows how acrylic paints and tempera paints differ from each other. We hope this helps you decide which type of paint you will use for your project – it could be for preserving a painting or for spending time with the kids?
| | | |
| --- | --- | --- |
| | Tempera Paint | Acrylic Paint |
| Permanent | ✘ | ✔ |
| Washability | ✔ | ✘ |
| Mixes well | ✔ | ✔ |
| Lightfast | ✘ | ✔ |
| Finish | Matte | Matte or gloss |
| Drying time | Fast | Fast |
| Viscosity | Thick | Thick |
| Color | Opaque | Transparent or opaque |
| Texture | Limited | Unlimited |
| Toxic | ✘ | ✔ |
Instructions for Using Tempera Paint
Not only is tempera paint cheaper than other paints, but it is also so easy to use and even easier to clean up! We will now describe, in detail, exactly how to use tempera paint, so keep reading to find out how! Make sure you have everything together before you start to avoid unnecessary pauses. They are the following:
The various colors of your choosing
Your choice of the painting surface
Water
Paintbrushes
Drawing utensil
A plate and a cup
Craft sticks
Some soap
A few paper towels
Painting Preparation
Remember, when working with this medium you can not waste any time since tempera paint dries very fast, and you have to work very quickly, so make sure you can reach everything you need without having to get up.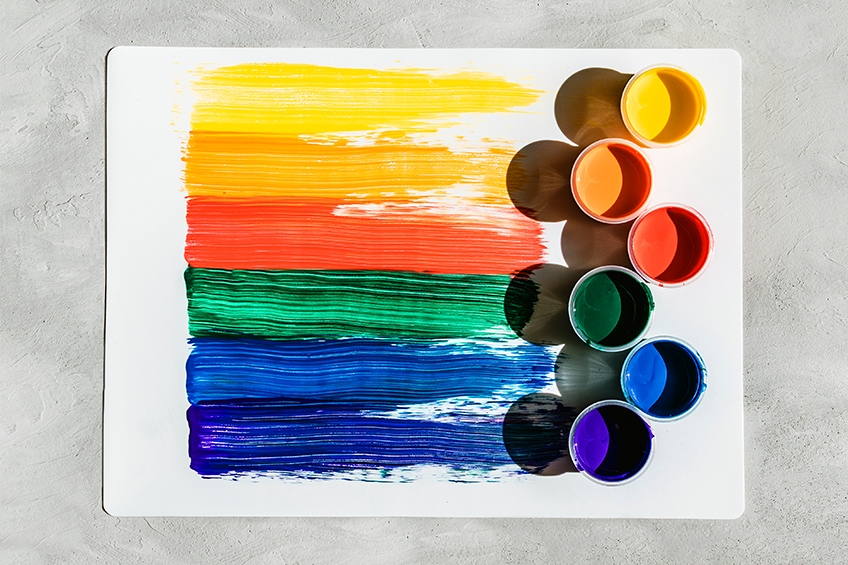 Outlining Your Work
A good idea for starting your painting project is drawing the outline so you have a guide for where the paint should go. Sketch an outline of the picture you want to paint with a pencil or a piece of chalk. You may find, when you apply tempera paint to paper, it tends to crack or flake instead of sticking.
The best surface to use for your kids is paper for tempera painting, which is also preferred by some artists.
Mixing and Preparing the Tempera Paint
This is where those craft sticks we mentioned earlier will come in handy. First, ladle the paint onto your palette with the said craft stick. Use a fresh stick for each color, which means a fresh stick for the mixing part as well – so you will need a few. Using a paintbrush will work, but mind that you are prepared for the mess that will come.
Start the Painting Process
Apply the paint with a brush to the surface you will be painting on, and remember to use thin layers, as tempera paint does not blend as well when thick layers are applied. It is important to keep in mind that every layer of tempera paint you apply to a surface will reflect the layer beneath it, so you should apply thinner layers to the surface when painting with the paint.
Once you have applied the first layer of paint, you can continue to add layers as you go, but do not forget to wait until the bottom layer has dried before applying the next layer. Make sure that your paint brushes are clean before you use them for a different color, so wash them in a cup with water.
It is important to clean your brushes immediately after you've completed painting, as tempera paint dries very fast, therefore you will need to clean them with soap and water. When you are done, make sure that you have secured the cap of the bottle of paint. You do not want them drying out when in storage.
Various Techniques for Using Tempera Paints
If you use tempera paints to create your art piece, then you can transform it using textures that will bring it to life! It is a good idea for us to have a look at three of the most popular painting techniques that are associated with these pigments.
The Double-Loading Technique
This creates an interesting flare because you are loading the paintbrush with not one color, but two. Usually, we tell you to clean your paintbrush after using each color so that you do not contaminate the color's vibrancy. In this case, there is the exception because you need to dip your brush from one color into another and then paint on your surface.
The only difference between this technique and the other is that it not only creates some very interesting colors, but it also saves you a lot of time because mixing colors on a palette is extremely time-consuming, and it will take you a long time to complete your project. You can also use this technique if you have a group of kids together. It helps to speed up the painting process if you have a lot of them. Let us take a look at how it works:
Initially, place three to five colors of paint on your palette, incorporating a white whenever possible
Brush in one color, then pick up a little bit of another
The more you brush the paint mixture on, the better it will blend
You are not limited to the number of colors that you can load, so try as many as you like.
This technique does not require excessive amounts of water.
The Etching Technique
When you etch onto a painting, you can make different designs, textures, and patterns that make the painting look more exciting or liven it up in a way that makes the painting look more lively. Keeping the surface of the painted surface painted in two layers, one on top of the other will ensure that you get the results you wish for.
Paint a single coat on the paper
Wait a few minutes for the first layer of paint to dry, then apply a second layer in a different color over it
You can then you the back end of your paintbrush or another craft stick to etch in some detailing of a design of your choosing or creation
In order to make this method work, you must work quickly as the bottom layer must be dry and the top layer must still be wet
Smoothing
Artists may not often use this technique, but the results are quite amazing and effective. If you are going to paint a large area or a background, then this type of technique is the best for you.
Load your brush with paint and paint it onto the surface
As you see, there are some areas on the paper that have globs of paint and other places where there is a lot of thinner paint on the paper. This is nothing to worry about as it will be resolved later
Only add another layer once you have allowed the first to dry for at least five minutes to make sure any blobs of paint have thinned. The net layer will be more smooth.
It is essential that you use a dry brush for this technique because a wet brush will not yield the same results
It is best for kids to use tempera paints since it easy to clean up after using them and they are less toxic than acrylic paints, and they are far more affordable than some other paints. As we now know, egg tempera paint is a different kind of paint that is only used by professionals. Nevertheless, students who are a bit older are also able to work with them without getting bored.
Frequently Asked Questions
What Is the Best Paper for Tempera?
Typically, dry media such as tempera paints, oil paints, chalk pastels, markers, and watercolor paints should be applied to sulfite paper, as it is a nice and smooth paper. It is suggested that you use the paper as much as possible and at a weight of at least 80 or 90 pounds, otherwise, the paper will curl or tear easily.
Do Poster Paint and Tempera Paint Differ?
Poster paint is used for the purpose of painting signs and posters and is a general term used for colorful paints of varying shades. In the world of poster art, there is no specific type of paint that poster artists employ, but tempera is the paint most often used for posters. Poster paints are not permanent at all, but they are very bright and beautiful regardless.
What Is the Difference Between Tempera and Acrylic?
Children typically use tempera paint for school projects as well as other kinds of art and craft projects. In contrast, you have a wider variety of techniques to use than tempera paints have. Tempera paint is not flexible, and acrylic paint is, and tempera paint is non-toxic, where acrylic paint is highly toxic.
Can Tempera Paint Be Washed?
Yes and no. Using tempera paint of any kind is a great way to bring pride and joy to your home because it is a generally washable and easy to clean product. However, some of the the dyes used are very strong and may result in permanent stains if spilled on clothing; therefore, if spilled on clothing, some staining may occur.
How Waterproof Is Tempera Paint?
Tempera paint is not very waterproof, so it will need to be painted on items that are kept indoors.
Is It Possible to Add Water to Tempera Paint?
Water-based tempera paint can be thinned and given a smooth consistency by adding water to thin it and give it some flow. A good idea is to paint the surface with thinner paint, as the paint could be more difficult to handle due to its thickness.
Larissa Meyer is a 32-year-old mother and creative spirit since childhood. Her passion for painting and drawing has led her to train as an illustrator and pursue a career as a freelance graphic designer. Larissa is a talented artist who is able to master a wide range of styles and techniques to bring her artistic vision to life.