Best Pastel Highlighters – A Guide to the Top Pastel-Color Highlighters
This post may contain affiliate links. We may earn a small commission from purchases made through them, at no additional cost to you.
We have all used highlighters at some point in our lives. But did you ever stop to think about the history of these useful mediums? In 1962, Dr. Frank Honn invented highlighters, which Carter's Ink Company then first trademarked as the Hi-Liter. These helpful study aids have come a long way since the traditional color highlighters were first created. There are now many colors, shapes, and variations of highlighters available. In this article, we are going to discuss your different options as well as provide you with some recommendations for the best pastel highlighters.
Color Highlighters
As we know, highlighters come in many different color options, the most common being the neon kind, which includes colors like yellow, pink, orange, and green. Some ranges offer more color options and even different sized tips and pens for different projects. You may think that the colors are of no importance, except to satisfy our preferences. However, you will find that when using these colors, certain ones work better to emphasize your work. For this reason, yellow is obviously a favorite as it easily pops up off your page, automatically attracting the eye.
Another great technique is to use different colors for highlighting different information – this works well to separate your work into segments or topics. Using your color highlighters in this way can make organizing your information much easier to refer to later. These amazing fluorescent colors will also glow when exposed to a blacklight.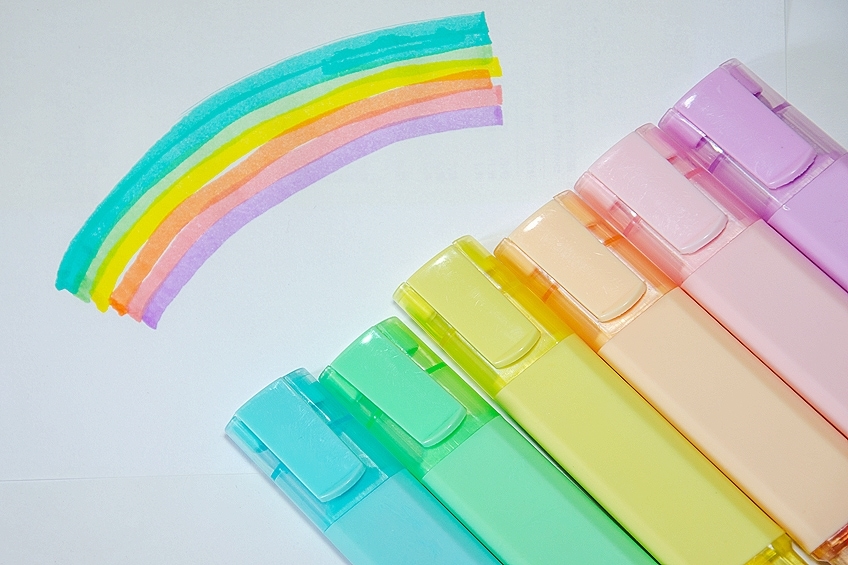 Different Types of Highlighters
Given that there are many types of highlighters it can be tricky to choose the option that is best for your needs. Some come in unique shapes, such as the tri-lighters that are made up of three tips. Each tip can be the same color in different sizes, or they can be made in different colors for each tip too. Some highlighters also come with a retractable tip, keeping them safe from drying out as easily. Another option would be the highlighters that are made with wax and leave an effect similar to oil pastels on your page. Let us take a closer look at the different types of highlighters and what they are used for.
Liquid Highlighters
These are your traditional color highlighter ranges. They come in various color ranges including neon, pastel highlighters, and even metallic and glitter options. These are wet upon application and will need a minute to dry on your page so as to prevent smudging. These ink-based highlighters often come off as being brighter than the other varieties and will stand out more on your page. Because they are absorbed by your paper, these will last much longer than other highlighters and will not fade as easily.
Pros
Many color options available
Glow under blacklight
Bright, vivid colors
Last longer than other pastel options
Cons
Too much ink causes bleeding on your page
Can smudge if not dried before touching
Cannot be erased
Dry Highlighters
These are not the usual color highlighters that have a felt tip. Dry highlighters are not liquid-based and instead leave a tape-like effect on your page, much like using correction tape. Dry highlighters are not to be confused with dry mark highlighters, which are known for use on thinner pages without damaging them. There are a few other advantages to using dry highlighters, such as no leaking, bleeding, or smearing on your page. Your highlighter itself will not dry out, and you do not have to wait for dry time on your page. These are also refillable and have the added benefit of being completely erasable!
Pros
No leaking
No liquid
Easy to use
Refillable
Can be erased easily
Cons
Not long-lasting
Can easily be rubbed off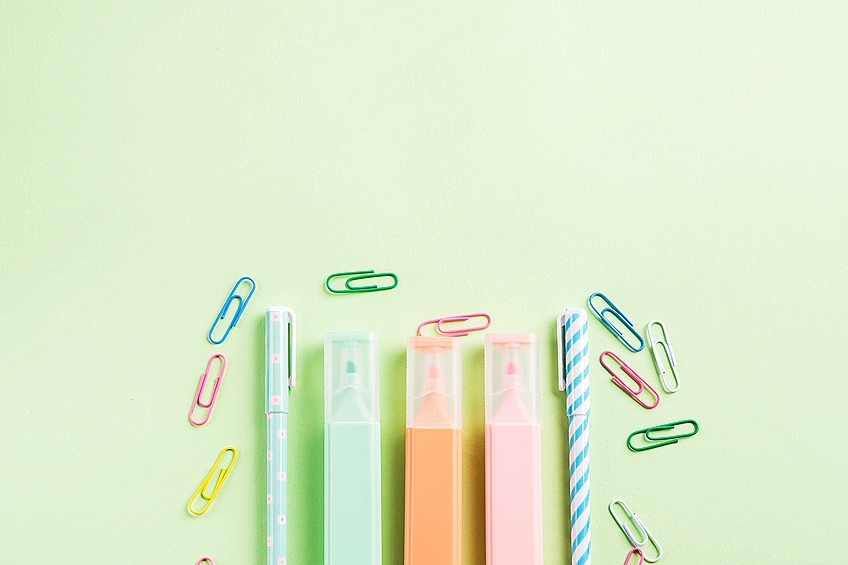 Gel Highlighters
Unlike the usual color highlighters, these highlighters are made with a gel stick inside. One of the benefits of using this gel over the felt tip options is that it will not bleed or smudge on your page. It also prevents your highlighters from drying out as the liquid ones tend to, leaving more of a matte or silky finish to your page. Many gel highlighters have a twist base that you need to use to work the gel out and over your text. Doing it this way means you have more control over how much or how little gel to use.
Pros
Smooth gel application
No bleeding or smudging
Dry quickly
More control over application
Nice color options
Cons
May be tricky to use at first
More expensive
Pastel Highlighters
Pastel highlighters are different because their color palette is much softer, including more purples, blues, and greens. They often have similar color ranges to gel pens and will have the same smooth effect when used on your notes. What makes these different is they are made using pastel dyes instead of fluorescent ones, meaning that these will probably not glow under a blacklight.
Because the shades are lighter when applied to your paper, you may need to go over certain areas or colors more than once to achieve your desired results. An added feature of pastel highlighters is also their blending capabilities. Because of the lighter shades, many illustrators will use these in their work for coloring and shading.
Pros
Softer colors
Last as long as traditional colored highlighters
Versatile
Blend nicely
Cons
Will not glow under a blacklight
Appear lighter than neon highlighters
The Best Pastel Highlighters
Now that you have a good understanding of the different kinds of highlighters that are available, you may find that you want to purchase a set of pastel highlighters for yourself. Choosing the right product for your needs can be tricky, so we have chosen some of the best pastel highlighters on the market for you to choose from.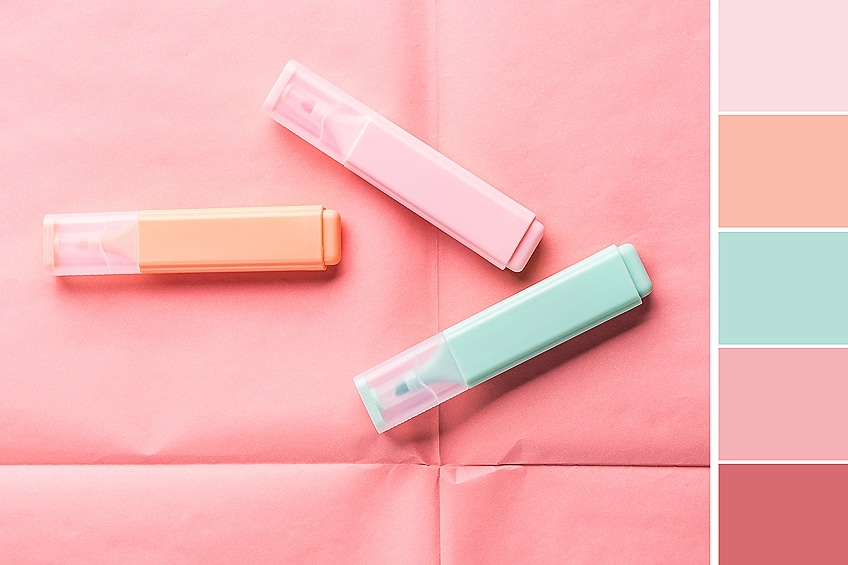 Best Overall: STABILO Pastel Highlighters
Stabilo is one of the most professional and trusted brands when it comes to stationery. Their range of liquid pastel highlighters is no different. This set is the same shape and size as their neon-colored highlighters, but with the added benefit of an anti-dry-out technology feature. This keeps your pastel highlighters from drying out even when you may have forgotten to put the cap back on. This technology can keep them moist for up to four hours.
These water-based pastel highlighters are safe and easy to use. This Stabilo set comes in six beautiful pastel shades including hint of mint, creamy peach, lilac haze, and pink blush. If you are looking for a quality pastel highlighter that is also budget friendly, Stabilo pastel highlighters will suit all your highlighting needs.
Classic design with

soft, fashionable colors

Anti-dry-out technology
Strong buil quality with water-based ink
View on Amazon
Pros
Water-based and non-toxic
Anti-dry-out tips
Trusted brand
Affordable
Easy to use
Cons
May bleed or smudge due to being liquid highlighters
May show through on thinner paper
Midliner Pastel Highlighters: LUPI LUPI Zebra Midliner Pastel Highlighters
These midliner pastel highlighters are manufactured by the Lupi Lupi brand and are made in Japan. This set comes with three different packs, each including five cool shades. What makes midliner highlighters unique is that they can be used for writing, drawing, and highlighting because of their dual-sided tips. This design caters to thicker lines with one end and fine calligraphy on the other.
For a highly affordable price, you get a wide range of stunning pastel variations suited to many fun projects. An added benefit is that these Zebra midliner highlighters do not smudge or bleed through your paper. This quality range is suited for office work, students' projects, or arts and crafts. This range of pastel highlighters is known for their variety of shades and effective results.
Dual-sided tips
3 themed color packs
Comes with an attractive pen case
View on Amazon
Pros
15 different shades
Dual-tipped
Will not smudge or bleed through
Versatile
Affordable
Cons
Not for coloring
Some colors may be too dark to use as a highlighter
Erasable Pastel Highlighters: PILOT FriXion Pastel Highlighters
Pilot is behind the amazing invention of these FriXion pastel highlighters, which have the unique ability to be erased by using heat due to friction. This set comes in six soft shades that will emphasize your work without the need for bright fluorescent colors. Each of these pastel highlighters includes an eraser head, which will not leave any shavings behind, making these just as mess-free as the other highlighter choices.
The downside is that these cannot be erased using a normal eraser, the reason being that the ink used in these FriXion pastel highlighters specifically reacts to heat with their unique thermo-sensitive ink formula. This occurs as a result of the eraser head forming heat from the friction of erasing your page. This will make the pastel color turn clear when heated over a certain temperature. Should your eraser head run out, you can try applying heat by using a heater or hairdryer over the area to activate the ink and turn it transparent.
U

nique thermo-sensitive ink formula

Highlight softly & erase cleanly

Erase and re-highlight without damaging the paper
View on Amazon
Pros
Erasable
Good brand
Affordable
Includes eraser
Cons
Cannot be erased using a normal eraser
May appear lighter in warmer weather conditions due to heat sensitivity (although cooling them down in the fridge for a while can fix this)
Cool Highlighters: STABILO Swing Cool Pastel Highlighters
Another hit by Stabilo, these cool highlighters are slimmer than the other chunkier highlighter shapes. They have a new non-slip grip zone for better control as well as two different line widths on their slanted tips. This allows for different line sizes and could be used for writing as well as drawing.
Another benefit is that of their dry time – the Stabilo cool highlighters can be left with the cap off for up to four hours without fear of returning to dried out highlighters. These cool highlighters are available in six delicate pastel shades. They leave a matte finish, which means no bleeding, and they come in a slim pocket-sized design for easy travel.
Non-slip, matte-finish grip zone

Long cap-off time

Slanted tip with two line widths
View on Amazon
Pros
Many color options
Long cap-off time
Slim pocket-size design
Tip has two line sizes
Cons
Colors may come out much lighter than expected
How to Pick the Best Pastel Highlighter
Now that you have seen all of the available products, you will need to make a decision based on your particular project requirements. We will discuss some tips and tricks to help you pick out the best highlighter for the job at hand.
Colors and Range
This is important specifically when using pastel highlighters, as not every brand will have a big selection of shades to choose from. Because these usually come in sets, it is easy to test and play around with colors at home to get a sense of what works best for what purpose. Not all your pastel highlighters will be useful for highlighting work; some may be of better use for writing, blending, or illustration purposes. Another factor is to consider whether you would prefer the bright neon ones or the gentler pastel highlighters for your work.
Tip Shape and Size
Before purchasing your highlighters, it is important first to assess what you will be using them for. Many brands offer different sized tips or even multi-tips so as to make these tools more versatile. A dual tip is also an option, as you may want to do shading with the thicker end and fine outlines or text with the thinner one. The different tip widths will be an indication of what task your highlighters are best suited to.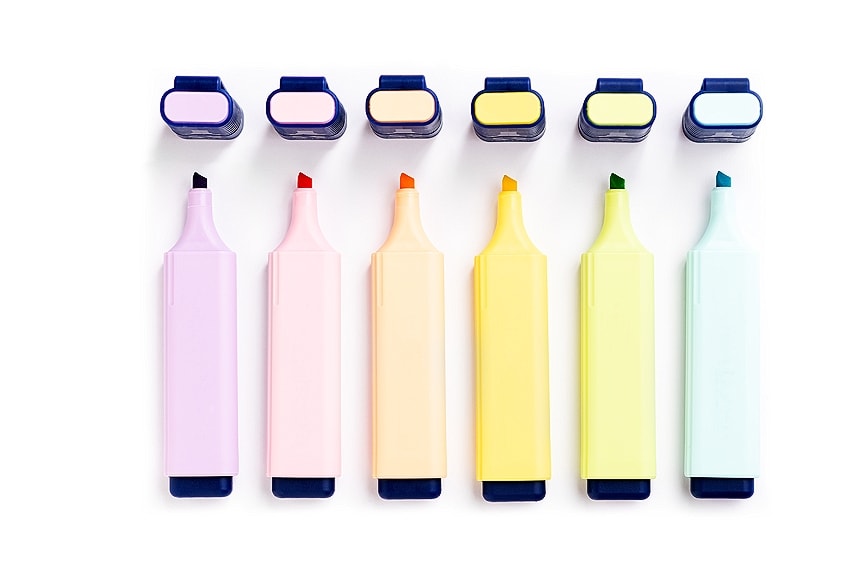 Ink Formula
This is an important factor in choosing a highlighter set. The ink formula will tell you whether your ink is likely to dry out quickly and whether it is likely to bleed or smear on your paper. Most color and pastel highlighters, for example, are made with water-based inks or dyes, and this causes them to stay wet for longer. This also implies that it is safe and non-toxic for children, and can be washed off of your skin or surfaces easily. However, these are the highlighters that are most likely to smudge. Some pastel highlighter options do contain water-resistant compounds, however, which will prevent this.
Brand and Budget
When buying anything, we tend to look for the names we recognize and the quality we trust. When looking for highlighters this should be no different. There are many reputable and professional-quality stationery brands out there that are both affordable and effective.
Thanks to all of these highlighter options, paperwork and studies will now be something to look forward to! You can play with colors and different highlighter brands and ranges to get the most out of your work and play. We hope you manage to find the best pastel highlighters for you!
Frequently Asked Questions
What Different Types of Highlighters Are There?
Just like any other stationery, there are a few options when it comes to picking out highlighters. The most common types are fluorescent and neon-colored options. These usually come in bright colors such as yellow, orange, and pink for easy reference. Other more subtle color options come in the gel and pastel highlighter options.
What Are Pastel Highlighters?
These are the more subtle shades of highlighter ranges. They do not come in neon or fluorescent colors, making them less bright, and they will not glow under a blacklight when used. Because of the gentler color options, these are often used for things other than just highlighting, including the layering and blending of colors for illustrations and other creative projects.
What Is the Difference Between Pastel Highlighters and Gel Highlighters?
Pastel highlighters are made using a pastel-colored dye. They are also liquid-based and can smudge or bleed through your page. Gel highlighters, on the other hand, are made with a gel filler which allows more control as you decide how much to apply over the area.
What Is the Best Pastel Highlighter?
Many well-known stationery brands make quality and affordable highlighters. Some of these top names include Stabilo, Pilot, and J Burrows.
Larissa Meyer is a 32-year-old mother from Michigan and creative spirit since childhood. Her passion for painting and drawing has led her to an education as an illustrator and a career as a freelance graphic designer. She has a Bachelor of Fine Arts in Illustration and a degree in Graphic Design. Larissa is a talented artist who is able to master a wide range of styles and techniques to bring her artistic vision to life. Her greatest passion is currently fluid painting and epoxy resin art. Larissa's love for art and her knowledge and experience in illustration make her the perfect Creative Director for our fluid-painting.com team. She is the creative head of our team and shares her passion and knowledge with our community through articles and tutorials.
As a mother of a 2-year-old daughter, Larissa also understands the importance of fostering creativity in early childhood. She uses her experience and knowledge to help other parents inspire their children and develop their artistic skills as well.
Learn more about Larissa Meyer and about us.