Oil Painting Techniques – A Beginner's Guide to Oil Painting Styles
This post may contain affiliate links. We may earn a small commission from purchases made through them, at no additional cost to you.
Oil Painting can be a bit overwhelming if you are starting as a beginner. While getting started with oil painting can seem to be an easy task, there is more to oil paints as compared to other paints. There might be tough hurdles and challenges during the learning curve. For starters, oil paints take ages to dry. So be prepared to exercise some patience and read through some of the techniques you might use during your oil painting projects.
Different Oil Paint Mediums
There are so many varieties of oil paint mediums. Choosing the most suitable one that will meet your demands can be tricky and tiresome. Many of the mediums produce excellent work, but for every type, there are advantages and disadvantages. In this article, we have put together the most popular types of paint mediums.
Traditional Oil Paint
This group of dry oil paint is good at producing surfaces that have sharp appearances. As you go through the painting process, these traditional oils will enable you to determine the setting time. Examples of traditional oil paints are walnut, poppy seed, safflower, and linseed oils. They are produced from elements such as ground pigment, coating, and blending.
It is also possible for you to combine traditional oils with different mediums. Solvents and drying oils will enable you to have control over the setting time. Oil paints also dry very slowly, which means that you will have a chance to go back and correct any mistakes if there is need.
Pros
It is possible to combine with different mediums.
Traditional oil paint creates shiny and colorful surfaces.
It produces a variety of textures.
This kind of paint has an attractive and glossy, reflective appearance.
It works very well on coating and textures.
Cons
Traditional oil paint can be quite expensive.
These paints contain dangerous components.
Some of the medium types tend to be too thick.
WINSOR & NEWTON Artists Oil Color Paint Introductory Set
This traditional oil painting set is ideal for those wanting the highest possible quality in their pigments. This set includes a selection of 10 highly pigmented colors, including Crimson Alizarine, Winsor Blue, Indian Red, and Yellow Ochre. Each color is formulated in such a way that the pigment's depth and stability of color is enhanced. These pigments are lightfast and long-lasting, making for the ideal oil paint with which to create any number of artworks.
Professional-quality traditional oil colors made

Set of 10 tubes of the finest pigments
Lightfast and lasting colors
View on Amazon
Water-Mixable Oil Paints
This group is user-friendly and is not a threat to your health and environment. The good news is that you can dilute these paints by mixing them with water, which means that the cleaning process simply uses clean water and soap. Compared to traditional oils, they also have the same scent and appearance but cannot be used with solvents and oils. They have a dissimilar texture to other types of oil paints, and are also considered to be too thin. This group of paints is highly operable and takes longer to dry, which gives you a chance to adjust and correct mistakes.
Pros
Water-mixable oil paint is not a threat to your health.
These paints are not difficult to clean.
This is a highly affordable type of oil paint.
This paint allows enough time to adjust and make changes before it dries.
Cons
Water-mixable oil paint gives different gloss results.
You will need to apply a varnish for the best results.
WINSOR & NEWTON Artisan Water-Mixable Oil Color Set
These water-mixable oil paints look and work exactly the same way as regular oil paints, except that this particular type can be mixed, thinned, and cleaned up with water. Thus, these paints contain no dangerous solvents, making them much safer to use than more traditional sets of oil paint. The colors in this set include those of Lemon Yellow Hue, French Ultramarine, Burnt Umber, and a blue shade of Pthalo Green.
Developed to appear and work just like normal oil paint

Ideal for artists who share a work space, schools, or painting at home

Includes a range of 10 pigments
View on Amazon
Alkyd Oil Paints
These paints can be mixed with a variety of oil paints and still achieve the same drying time. Alkyd is an artificial medium paint, specifically produced from resin and alcohol. To improve the drying time, you can use other mediums in addition to an alkyd oil paint.
To achieve great results, alkyd oil paints can be used independently with a liquin medium and also in conjunction with other oil paints. This type of paint is 100% safe for the environment and health, however, as it is comprised of dangerous chemicals, such as turpentine.
While alkyd oil paints can be used together with other types of individual paints, adding other paint types would mean extra costs. Alkyd oil paints are very expensive to buy and maintain. The cleaning process of these types of oil paints is also not easy, as you will require mineral spirits.
Pros
These paints have strong adhesive qualities.
Alkyd oil paint can be used with a variety of mediums.
Cons
This paint is dangerous to the environment and to one's health; you will need to wear protective clothing.
It is expensive.
If not applied properly, this paint can leave the surface looking messed up.
WINSOR & NEWTON Griffin Alkyd Oil Color Tube
These alkyd oil paints by Winsor and Newton are known for their fast drying capabilities. In fact, this brand of oil paint dries more quickly than most traditional paints. Thus, you will be able to achieve both impasto and glaxing techniques in a shorter space of time, allowing you to finish painting projects more quickly. The fast drying time can be attributde to the oil-modified alkyd resin base, which allows this paint to dry quicker than most oil paints but slower than acrylic paints. The only disadvantage to this product is that it is not available as a set, and therefore you will have to purchase individual tubes of color, which can become costly.
Genuine oil color made from pigment and oil-modified alkyd resin
Dries faster than most oil paints but slower than acrylics
Can be thinned using conventional oil color solvents
View on Amazon
Oil Bars or Sticks
This type of oil paint comes in the form of a stick or bar. Oil bars or sticks are produced from several materials, such as safflower and linseed oils. In comparison with pastels made from oil, these oil bars and sticks are more like oil paints, as oil pastels are comprised of mineral oils that do not dry.
During and after the application of oil bars and sticks, a resistant protective layer or skin is formed. Oil bars can be used in combination with other oils and solvents in order to thin the painted surface or to make adjustments. Oil bars are available in different colors, and are soft and easy to work with. You can use them on the same surfaces as those of oil paint, and they are also suitable as oil mediums for beginners.
Pros
These oil sticks are easy to apply.
These bars achieve the same results as other types of oil paint.
This type of oil paint offers a lot of different attractive colors.
This is a medium that is highly versatile.
Cons
You will need to add a varnish for the best results.
Intense exposure will lead to the the paint melting.
This medium has poor adhesive qualities.
JACK RICHESON Shiva Oil Artists Paintstik
Offering a range of professional colors, this set of oil paint sticks is easy and pleasant to use. You will be met with a buttery and rich consistency when painting with these sticks, which are especially ideal for sketching and outlining. These sticks are made from a refined linseed oil that has been blended with a top-quality pigment and solidified into a bar form.
The paint will dry within 24 hours, and are easy to clean with some soapy water or even baby wipes. Use this product with other mediums and oil paints without any unpleasant odors. These paint sticks are self-sealing in that they form a protective layer once dry so that the color remains long-lasting and vibrant. You can remove this film easily, however, if you would prefer to apply a more durable varnish instead.
No offensive odor and easy to clean up

Rich, creamy, and buttery consistancy

Compatable with other oil paints and mediums
View on Amazon
Oil Painting Techniques for Beginners
Most popular artists have phenomenal masterpieces that are represented in oil paintings. These oil paintings act as their art icons, having been carried from generation to generation. Beginners are easily overwhelmed when they start with oil paintings, mainly because of the different styles and techniques required to work with oil paints. If you are a beginner, then the following section is a must-read for you, as we will cover the basic oil painting techniques.
Alla Prima
This is also referred to as wet painting or wet-on-wet painting. It is top-rated by most artists because they can easily finish their masterpieces in one art session when using this technique. There is no time wasted in waiting for layers to dry one after another. Wet painting is a form of painting that is done without waiting for layers to dry in-between. This oil painting style is perfect because you can finish your project in no time without having to wait for weeks and months to complete it.
Before Alla Prima was noticed by most people, a lot of artists would waste a lot of time waiting for each layer to be done first. This is because some of the artists would apply up to 40 layers before they deemed their pieces finished. Moreover, oil paint can take days, a few weeks, or even months to fully dry. Thus, this Alla Prima technique has revolutionized oil painting in the modern world.
Glazing
Glazing is done in such a way that the layers will end up sitting separately from each other. This process is a bit different from Alla Prima in that each layer is allowed to dry first before applying the next one. You can do glazing by adding layers of different color pigments. This is because each glaze consists of a thin layer of opaque oil paint.
You must make sure that the colors you choose are compatible with the layers you have applied below. Keep in mind that you do not have to glaze every layer unless you are keen on getting a colorful altered effect. Moreover, you can also leave your painting until the last stages to add a contrast effect.
If you are looking for a form of art with different colors that complement each other, then glazing is the way to go. You will have a lot of room to showcase your talent rather than covering or building layers to hide other layers. This colorful layering effect will show a soft glow when exposed to light, but just be sure to use multiple layers from start to finish.
Underpainting
This is an oil painting style whereby you lay the initial layer as the foundation. This will be the base for your whole painting, onto which you can build different layers. This technique allows you to paint your designs on top of a base layer that would have been applied in one color. This style of painting is the best way of adding tonal and contrast values from the beginning of the design.
This technique is simple, but you have to be cautious when doing it because it determines the quality and outcome of your artwork. There are at least three techniques that are used in underpainting today, which use purple, yellow, and blue foundational tones.
The purple layers refer to the warm layers that are added later on in the painting, which are also useful for depth and shadows. Yellow underpaintings are suitable for landscape or nature scenes; thus, they are built on the warmer theme. Blue underpaintings are suitable for creating colder and striking aspects of your painting. They create colors that contrast against each other.
Scumbling
You can do this technique by using a little bit of paint at a time, adding texture and a little softness to your painting. This is a dry-brush process whereby you use a stiff-bristled brush. There is an added transition of tones, thus enhancing the blending of colors. You can use this painting technique for designs like fog, rain, and so on. It is the best technique to lighten up dark areas by creating a fuzzy appearance.
Scumbling is unique because it provides a patchy application that enhances the exposed areas of your painting. This technique is often used in acrylic painting and watercolor painting.
Blocking In
This is a technique that tends to lay out the color combination without unnecessarily focusing on the tedious details. Blocking in works by painting the general colors, objects, and shapes from the canvas. This technique will give you a feel of where your painting is going when you are just starting. For the best results, use large brushes and thinned paint when doing this technique.
You can begin the process with a toned-down version of the main color that you would want to block in. the saturation of this color can be built later on in the painting. Make sure that you do not block in with too much saturation, otherwise your painting will be overwhelming. It would then take you a lot of time to tone it down again. At times, you may even notice that some of the blocked-in areas are left exposed even when the painting is done.
Chiaroscuro
This is the best technique to incorporate both dark and light tones, thus adding a more vivid and dramatic effect to your painting. It adds a sense of volume to your art by creating the sense of an illusion of light. Moreover, this technique can be used to add light to certain objects and figures in the painting, thus giving them a spotlight effect.
This is a perfect example of dominant artwork features that contrast light and darkness. Rembrandt, Michelangelo, and some other prominent artists used this technique in perfecting their painting styles. When using this technique, light has to be directed from a specific source.
Grisaille
This technique comes in two forms, which are brunaille and verdaille. Verdaille is a type of painting done in shades of green, while brunaille refers to paintings done in brown shades. This technique is a unique form of painting that is used for neutral pieces, mostly done in different shades of gray. You can use this technique as a foundation stage for any type of painting you will be working on.
Grisaille forms the underpainting of your painting, after which the glazing technique can be applied. It is not usually used in the modern-day, but was mostly used during the Renaissance period as a means of imitating sculptures.
In Greece, they defined grisaille as a form of painting where opaque layers are laid on top or applied over one single colorful underpainting, also known as the glazing oil paint technique.
Impasto
This technique can be done in two ways: You can either make a thicker layer with your paint while making the brushstrokes and textures stand out, or you can use it when doing delicate brushwork by highlighting finer and subtler textures and details. This technique can add different elements to your projects, like creating shadows, increasing texture, and so on.
You should ensure that your paint is thick enough when using this technique. Your brush and roller painting marks should be visible enough on the surfaces. To enhance the texture of your oil paint, you can also mix your paints directly on the surface or canvas. The more texture that is created, the more realistic the results. This method will allow you to highlight fine details and achieve three-dimensional results.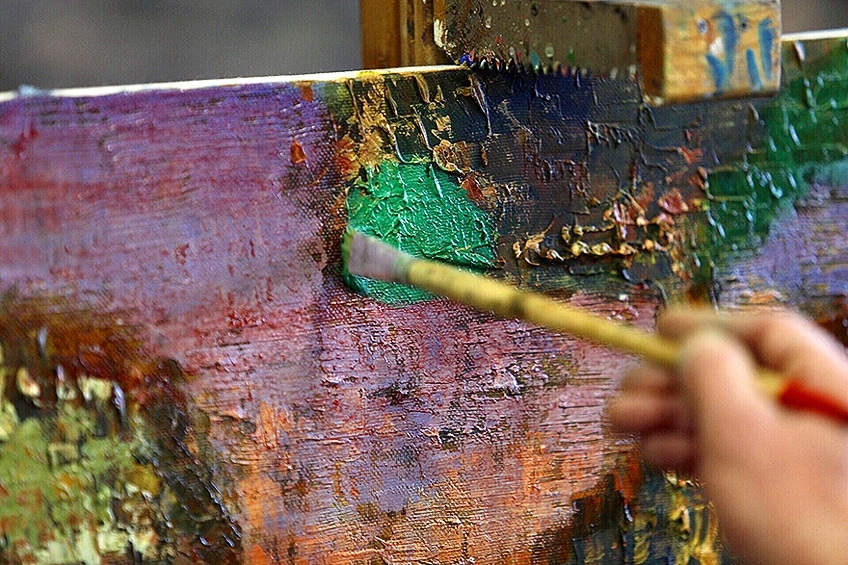 Sfumato
It is mostly used for transitions from light to dark shades using a soft brush. If you are looking for a technique that can bring your colors together, then this is your best bet. It will allow the tones and shades of your colors to gradually combine, producing finely detailed and natural outlines. This technique is the best for adding a smoky or hazy effect to your project.
The existence of layers enhances the gentle effect, thus producing more softened outlines. This technique is usually associated with earth tones that blend well when creating an incredible depth. For the best results, use a clean, soft paintbrush to apply every layer of paint. This will produce soft and smooth results.
Remember to coat your oil painting with varnish so as to enhance its durability. For the application of varnish to work effectively, ensure that the painting has dried completely. It will at least take 6 to 12 months for oil paintings to dry fully before you can apply a topcoat. Have fun oil painting and make sure that you use the best technique for your particular artwork!
Frequently Asked Questions
Who Are Some Popular Oil Paint Artists?
There are a few popular oil artists, including Picasso, Salvador Dali, Rembrandt, and so on.
How Do Beginners Start in Oil Painting?
The first step is to know and understand the surface you will be working on and the oil medium you are going to use. Be patient when starting and remember that oil painting comes out best if you use layers.
What Are the Techniques That Can Be Used in Oil Painting?
Oil paint is suitable for various techniques such as underpainting, impasto, blending, and so on. Oil is a naturally thick paint that can be mixed with other paints to thin it out, which means that the options for oil techniques are limitless.
Larissa Meyer is a 32-year-old mother and creative spirit since childhood. Her passion for painting and drawing has led her to train as an illustrator and pursue a career as a freelance graphic designer. Larissa is a talented artist who is able to master a wide range of styles and techniques to bring her artistic vision to life.