Spray Paint Art – A Guide on How to Use Spray Paint
This post may contain affiliate links. We may earn a small commission from purchases made through them, at no additional cost to you.
If you have been thinking about how to use spray paint and what materials and tips could be useful, then you have come to the right place. In this article, we are going to explore the fascinating world of spray paint art as well as provide you with some helpful tips and tricks on spray painting for beginners. We will also include some quality product recommendations, to make things a little easier.
What Is Spray Paint Art?
The first spray paint was created in 1949, inspired by the then newly invented aerosol spray cans. The first color of spray paint that was launched to the public was aluminum. Nowadays, there are many different ranges, colors, and even finish options when it comes to choosing spray paint. Certain spray paints are industrial strength and meant for application on heavy machinery and cars. Spray paints will be differently formulated according to their purpose.
Spray paint art or graffiti is the practice of using cans of spray paint to create designs on different surfaces such as on walls, cement, plaster, glass, board, canvas, and wood. One reason as to why this medium is so versatile is that it is oil-based. There are of course non-oil-based formulas out there too, but these are either not as common or they can be more expensive. The major difference between the two art types is that graffiti artists usually choose buildings and other larger objects as their canvas.
How to Use Spray Paint
When learning spray painting for beginners, there are some helpful tips to remember so you can achieve the best possible results. Being a spray medium, it is important to make sure that you are using it in a well-ventilated room or outdoors, as the fumes can be highly toxic to your health. Another factor to consider is what other tools you will need before you can get started.
The oils in the spray paint are what makes it stick so well to your surfaces, but this is also a disadvantage when accidentally getting spray paint somewhere you did not mean to. In order to remove most spray paint mediums from surfaces or skin, acetone or other alcohol-based thinners will need to be used.
Usually, spray paint artists choose a spray painting canvas or poster board as a surface for their art, as these are non-porous and hold the medium well without losing shape. When using posterboard, it is important to note that you should use the glossy side for spray paint art for the best results. The gloss allows the oil to adhere to the page without losing or dulling your paints' bright colors.
Some artists also like to use household items as tools for various techniques or to make their own stencils. An example would be cutting out certain shapes in cardboard and spraying over those as templates. As an artist, there are many advantages and disadvantages to using spray paint for certain projects. Let us take a closer look below.
PROS
Good adhesion to various materials
Great color options, including metallics
Quick drying time
Better coverage than using a brush
High durability compared to other paints
Not very messy
Inexpensive for small, quick projects
CONS
Strong smell – a mask should be worn even when using outdoors
Can contain toxic chemicals that can be harmful to the skin too – gloves are a good option
Not suited to painting large scale projects such as an entire wall in one color, as this will be very expensive
Spray Painting For Beginners
As you can see, spray painting certainly has its redeeming qualities, making it a medium worth exploring for art or even furniture renewal. Being a beginner does not mean you have to start at the bottom, however. Here is a list of all the supplies you will need to start with your spray paint art.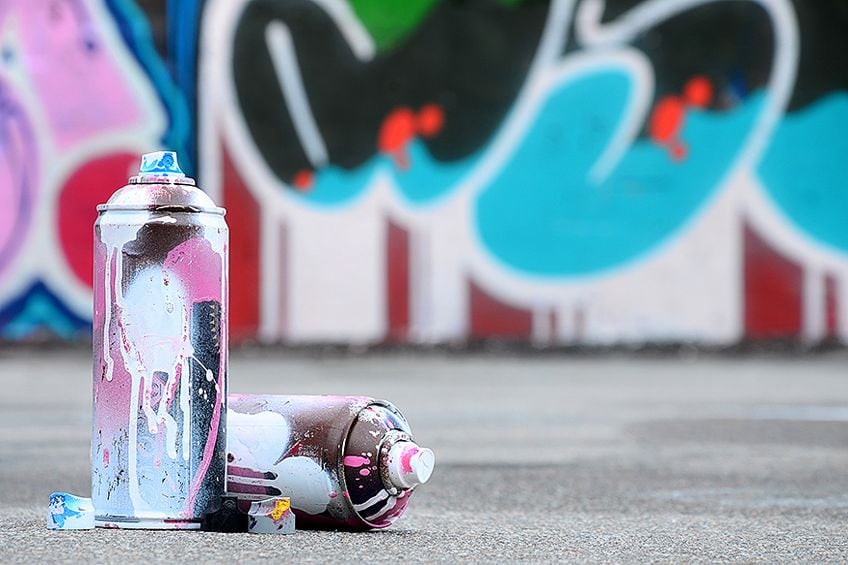 Protective Gear
Most people are aware that spray paint emits a very strong odor. This is why most graffiti or street artists use heavy-duty protective masks. Not only can the fumes make you high, but they can also cause breathing and respiratory issues if exposed for a long period of time. For this reason, one should not simply use the light fabric masks, as they are not thick enough to properly protect you. Spray paint can also irritate your skin if it comes into contact with it, which is why it can be useful to wear gloves.
Newspapers/Magazines
These are also useful to keep around for arts and crafts or other painting projects. Using newspaper to protect your area while you paint is an inexpensive way to cover the floors or countertops and prevent staining or damage from your paints. They can also be used as a tool in your artwork.
Newspaper and magazines do well in adding texture and different effects to your spray paint art. These can be used in special techniques or as a way to simply test the pressure and colors from your spray paint. Spraying onto a piece of scrap paper or newspaper before you start will give you a better indication of your spray paint's pressure and how the color looks once dry.
Surface Area
The surface you are planning to paint on must be compatible with the type of paint you get. Some spray paints are not suited to outdoor use or for renewing furniture. On the other hand, some are made specifically for furniture and contain a high gloss factor, making them a poor choice for spray paint art. If you are planning on spray painting canvas, this should be a specialized canvas for spray painting, or it should be primed beforehand. If using posterboard, you may want to look at getting a pack as opposed to buying single boards for a more cost effective option.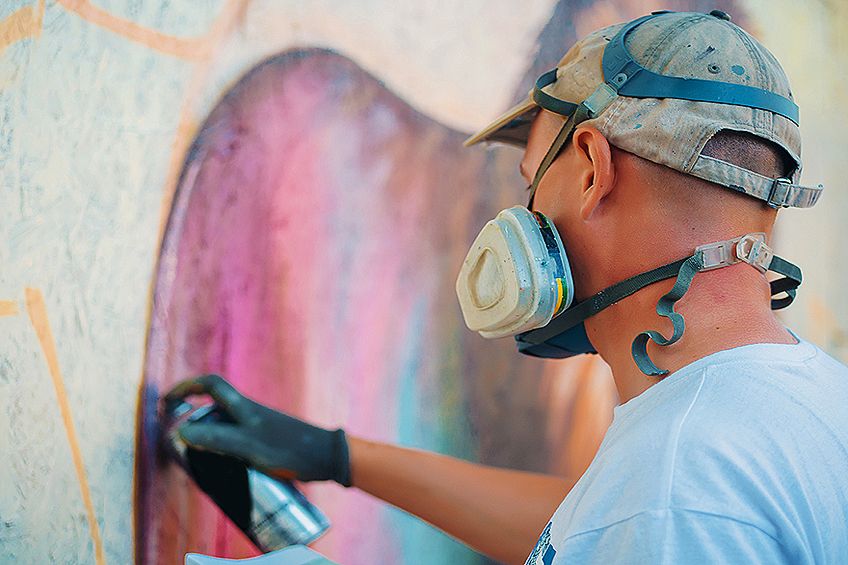 Spray Paints
Obviously, the spray paint you purchase will need to meet your requirements too. Some brands carry heavy-duty ranges that are best used for outdoors or bigger projects, while others carry some water-based ranges that can be used by children and would be best suited to arts and crafts indoors. Then there is also the color range and the finish to look out for. Are you looking for a flat, matte finish or would you prefer a glossy sheen?
Cleaning Mediums
Spray paint will stain and damage your surfaces if you accidentally get it on something other than your canvas. This is why having a painting medium around can be very useful with spray paint art. Paint thinners and solvents are the only things that will work at removing this from floors or countertops. If you are reluctant to use these harsh chemicals on your skin, a small amount of acetone or baby oil could assist in removing it more gently.
Using Stencils
Whether you are using bought stencils or making them yourself, these are a great component to use within your spray paint art. Stencils can assist with more defined color application and better coverage in a smaller area. They can also be used to cover or protect certain areas when applying colors so they do not splatter or mix out of turn. Stencils for painting are available at most art and crafts stores, or even online.
Spray Paint Art Supplies
Now that we know the history behind spray paint art and how to use spray paint, let us take a look at some product recommendations. In addition to the following spray paints, there are some other accessories and supplies one can get to make life easier when spray painting.
One such gadget is that of a spray paint grip or handle. This is a contraption that is placed over the nozzle of your spray paint can and acts as a big handle. This makes your grip and pressure control much easier when working for longer periods of time. One great option would be this Rust-Oleum Comfort Grip Spray Paint Handle, which has a large soft-touch handle for a more comfortable grip and less pressure from you.
The Best Spray Paint: RUST-OLEUM Painter's Touch 2X Ultra Cover Spray Paint and Primer
Many artists in the industry know Rust-Oleum for their quality products. They are considered to be the number one brand of spray paint, and for good reason. This range has a gloss finish and provides double the coverage you would get from other brands, in one easy-to-use aerosol can. They do have other finish options available too, such as flat matte or satin finish.
Their spray paints are ideal for indoor and outdoor projects and can be used on almost any surfaces you can think of. Their paints are made with an oil base and have a low odor. Rust-Oleum's formula is also quick-drying and highly durable, allowing it to resist any future chipping or damage. This spray paint is perfect for furniture as it works as both a primer and a paint, leaving your surface with a protective and durable gloss finish.
Ideal for use on a multitude of interior and exterior surfaces

Oil-based formula is low-odor, resists chips, and dries quickly

Durable formula provides excellent hide and goes on smoothly
View on Amazon
PROS
Trusted brand and quality product
Different color options available
Three-in-one primer, paint, and glossy seal
Good for different projects and surfaces
Affordable
CONS
Cans prone to clogging; just wipe with alcohol to unclog
The Best Spray Paint For Street Spray Painting Art: MONTANA BLACK Set
This range of street art spray paint comes in a set of 12 bright colors. This paint by Montana Black has been specially designed for street spray painting art, but can also be used on other surfaces such as spray painting canvas. These aerosols are high-pressure, providing great coverage and lasting durability when doing murals and other artwork. They are neither high gloss nor matte finish, but rather a subtle gloss somewhere in the middle.
This brand is also weatherproof, so it can be used indoors and outdoors for a long-lasting work of art. the color application is highly concentrated, providing eye-popping hues that can be seen from a distance. Although pricier than some other brands, you can clearly see that the quality speaks for itself.
Set of 12 Montana Black 400ml spray paint cans in popular colors

High-pressure paint designed for graffiti street art and murals

Great coverage, fast-drying, high-quality, and winter-proof
View on Amazon
PROS
Bright colors
Good coverage
Weather-resistant
High pressure for finer details
Amazing reputation
CONS
More expensive than other brands
May not be best for beginners
The Best Water-Based Spray Paint: PINTY PLUS Aqua Spray Paint Art Set
This set of water-based mini spray paint by Pinty Plus is great for those who do not like the strong odor or chemicals associated with normal spray paints. This set comes with eight pastel shades and is also suitable for indoor and outdoor use on various surfaces, including for spray painting canvas. These mini spray cans provide a controlled spray and are easy for kids to use too.
Because they are water-based, this range will take longer to dry, needing around an hour before you will be able to touch it. If you are using it for décor and would like to apply more than one coat, it is advisable to wait at least 30 minutes in-between coats. These are environmentally friendly and low-odor spray paints suitable for everyone!
Eco-friendly water-based spray paint with minimal odor and overspray
Cans give a controlled spray that is easy for everyone to use
A good variety of pastel colors like Pink Bubble Gum and Ice Blue
View on Amazon
PROS
Eco-friendly
Non-toxic
Washable off skin
Low odor
Beautiful colors
CONS
Take longer to dry
More expensive
Outdoor items should be sealed to prevent paint washing or fading off
Having covered all the supplies needed to start spray painting, we can now take a look at how to spray paint art.
Spray Paint Tutorial
Now that we are familiar with the tools and supplies needed, here is a spray paint art tutorial with tips for those just starting out. To begin, you will require the following:
Spray paint range
Surface, such as a canvas, poster board, or a piece of furniture
Protective gear, particularly a mask and gloves
Dropcloth or some newspaper to protect the area
Tools for clean up, namely chemicals
Stencils or other household tools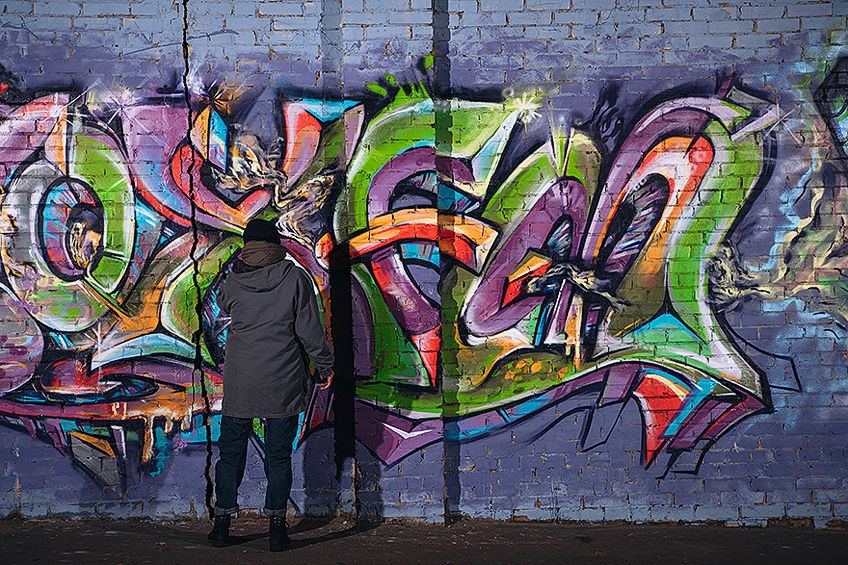 How To Do Spray Paint Art
If you have an area outdoors to set up, this is best. If not, make sure the room you are using is well ventilated.
Always shake your can a few times before starting as well as during your painting process. This gets the paint inside moving and will allow it to be sprayed evenly onto your surface.
The temperature around you when spray painting is important. Cold and heat can both affect the quality and consistency of your spray paint and can alter the outcome and consistency. Cooler weather will yield better results when using this medium.
If you are doing a wood or other furniture item, it would probably best to sand and prime the surface before continuing to the next steps. Sanding your item will remove any rough spots or old paint, while priming will provide a flat and protective surface for your spray paint to adhere to.
Before starting on your artwork, do a test spray onto the newspaper around you. This will help to avoid splatter when using the can for the first time and it gives you a better idea of the color application.
The most important thing to remember when using spray paint is to hold your can a little away from the item you are spraying. If you are too close, you will cause the paint to run and pool in one area, leaving uneven results. Ideally, you should be a minimum of 6 inches away.
The trick is to lightly move your hand around while spraying to get the best coverage possible on all angles of the item you are painting.
Chances are that you will need to do more than one coat if painting an item or piece of furniture. Up to three coats should be perfect.
Be sure to allow each layer to dry before applying the next coat. If your layers are still wet when you apply the new one, this will cause bubbles under your paint surface. Luckily, spray paint dries relatively quickly unless you are applying very thick coats.
Once you are done, it is best to apply some sealant or a spray fixative over your furniture item to maintain durability. For other smaller items, this step is not necessary, but is advisable for items that will be left outdoors.
Spray Paint Art Techniques
Just as with other paint mediums, spray paint art has its own techniques. Painting techniques are helpful in creating different effects and styles with your medium in order to best showcase your art. The below techniques are best used on posterboard or for spray painting canvas.
Remember to shake your can vigorously before starting any spray paint art.
As we know, spray paint can dry very quickly, so it is best to act fast when attempting techniques in order to avoid your paint drying on you.
Keeping different household objects around can also assist with different textures and effects within your work. These could include newspaper, cotton swabs, an old toothbrush, a paintbrush, or even a sponge.
When starting your design, do a light outline with your spray paint of each element you are adding to the picture. This way, you are planning and arranging where everything will go.
Starting with the first element you are adding color to, start your spray paint art by doing a relatively thick layer of each color. For example, if you are doing a rainbow, it is best to have all your colors ready, and quickly but efficiently apply each color layer.
Then, using some newspaper, you can slide or maneuver your spray paint where you need it to be on the page in order to create some great textures. You can also lay it flat over your art and use it to blot any wet patches while leaving an impression in the paint.
This idea could work well for creating sweeping motions too, such as in a running waterfall, or even when creating ocean waves. A paintbrush or toothbrush would work well to create more texture or even fine lines like blades of grass.
Newspaper, tinfoil, or paper from magazines can all be used in different ways to add texture to your work. By crinkling up these materials, you will get different textures and effects than what you would by placing them flat on your artwork.
Once you are done with all the inner elements, you can start on your background. The background should always be done last to cover up any mistakes or colors that have gone out the lines. This way, you can hide errors and obtain maximum coverage.
We hope you enjoyed our take on how to spray paint art, and hope you have fun exploring the different techniques and materials one can use with this versatile medium.
Frequently Asked Questions
How to Do Spray Paint Art?
Spray paint art is no different from other art mediums in the sense that practice makes perfect. This medium may be difficult for some when starting, as there are no brushes or other tools involved. It is all about finding your comfort zone while using the spray nozzle.
What Are Spray Paint Art Techniques?
Spray paint art techniques are all about ways to incorporate texture and effects by using things you have around the house. Using newspaper, magazines, tinfoil, or even a paintbrush while your paint is still wet can create various impressions and enhance textures within your work, making it more realistic.
How to Use Spray Paint?
The key rule when using spray paint is to stand back. The closer you are to the item you are spraying, the wetter and less controlled your application of spray paint will be. Standing too close can cause the paint to run and have uneven coverage. So stand back, allow each layer to dry in-between and always remember to wear protective gear when using spray paint.
Larissa Meyer is a 32-year-old mother and creative spirit since childhood. Her passion for painting and drawing has led her to train as an illustrator and pursue a career as a freelance graphic designer. Larissa is a talented artist who is able to master a wide range of styles and techniques to bring her artistic vision to life.