Acrylic Paint on Leather – Guide to Using Acrylic Leather Paint
This post may contain affiliate links. We may earn a small commission from purchases made through them, at no additional cost to you.
Have you seen the newest trend of updating your favorite leather shoes with paint? Have you ever wondered what the best paint to use was? What about thinking outside the box and painting your favorite leather jacket or even wallet for a friend. Painting on leather can be fun but a little complicated for first-timers. However, with the right advice, acrylic paints, and tools you can bring your vision to life.
Is Acrylic Paint Suitable for Leather?
Acrylic paint is a great medium for painting on leather. Most leather paints are acrylic-based anyway. But normal acrylic-based paints can be used as well. Acrylic paints are easy to apply as they do not need special brushes. They apply smoothly, seldom separate in the container, and can be diluted with water. They can easily be cleaned with a little warm water and a simple detergent. They even come in a pen version, to help give you the perfect lines. They are better than dyes as they give more vibrant and bright colors for you to create your vision.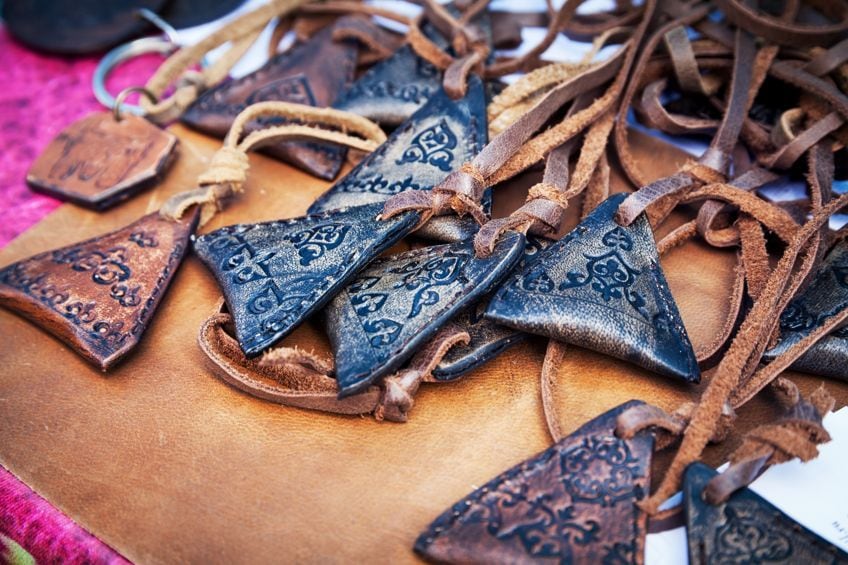 How to Use Acrylic Paint on Leather: A Step-by-Step Guide
Now that you know that acrylic paint can be used on leather, here is a step-by-step tutorial on how to paint acrylic onto leather items.
We will cover every step that you will need to create the perfect art piece.
Step 1: Get Your Supplies Ready
A good crafter always collects their supplies in advance. To prepare for this project you will need the following:
Leather deglazer: This will be used to remove the glaze that is used on most leather products.
Isopropyl alcohol: Otherwise known as acetone, this will be used to clean and degrease your leather surface.
Fine sandpaper: Some leather products have a silicone coating that cannot be removed by a deglazer alone. Fine sandpaper can be used in this case.
Paintbrushes: Any soft-bristled brushes designed for acrylic paint will work.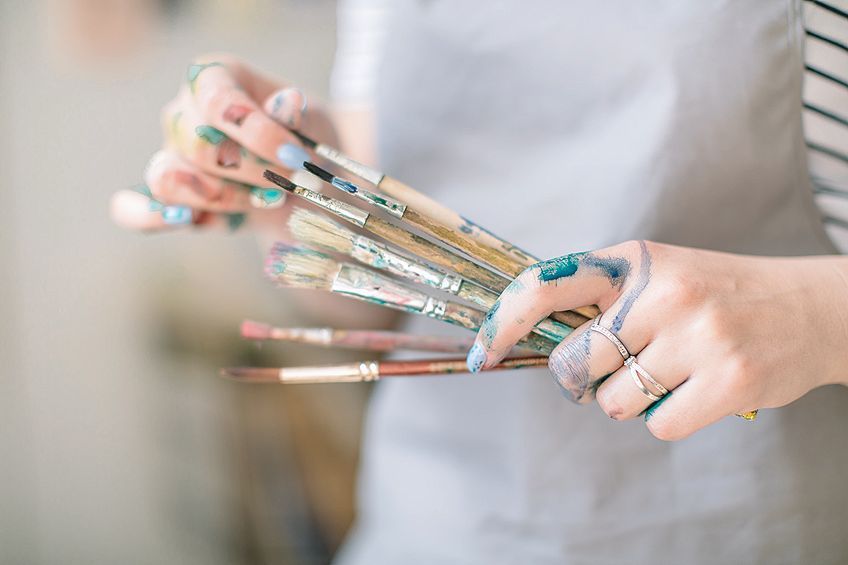 Acrylic Paints.
Pencils.
Q-Tips/Cotton buds: These can be used to clean up any mistakes before they become a problem.
Masking Tape: This can be used to mask off the areas to paint, preventing you from damaging areas you do not want to paint.
Step 2: Set Up Your Work Area
Acrylic paint can get everywhere, so it is a good idea to set up your work area correctly. Consider using a drop sheet or canvas cloth. Wear old clothes or an apron. When using isopropyl alcohol and deglazer, make sure your work area is well ventilated.
Also, have a flat area ready that can be used to dry your leather item.
Step 3: Preparing the Leather
The first step is to wipe down the leather item with isopropyl alcohol to remove any dirt and grease. After you have done that then paint a small test patch. Let the test patch dry for at least five minutes and then wipe off with a damp cloth. If the paint adheres to the leather then you can continue with your project, if not then your leather has been sealed with silicon. If your leather has been sealed with silicon, then you can use the deglazer and fine sandpaper before moving on with your project. To use the deglazer, follower the manufacturer instructions on the bottle.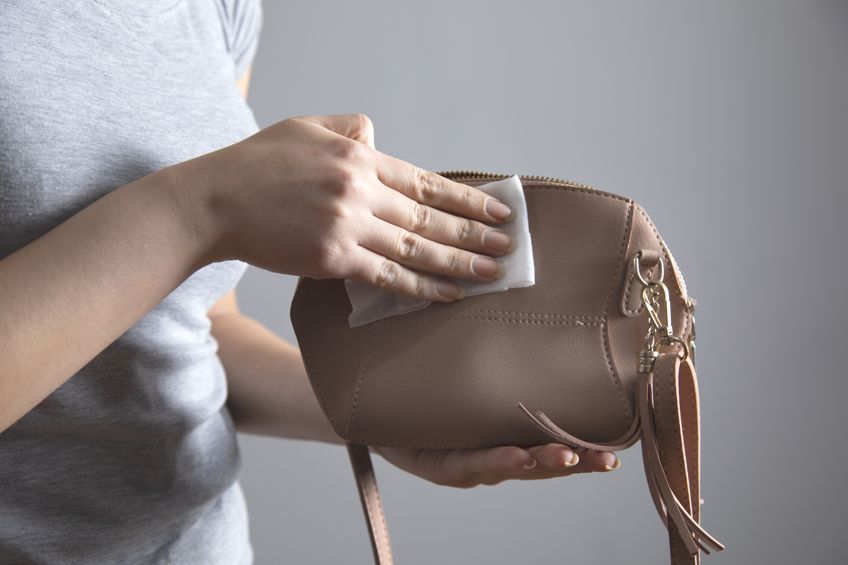 Step 4: Painting the Leather
Unlike painting on a normal canvas, painting acrylic onto leather has a few more steps. For the first coat, thin the paint down with one part paint to one part water. This allows it to seep into the pores of the leather which will help it adhere better.
Keep each coat of paint as thin as possible and allow it to dry thoroughly between each coat for at least two hours.
Do not use heat as this could dry the paint too quickly and cause it to crack in the future. Do not allow the strokes to overlap as this will show up when the paint dries. If you are painting an intricate design or painting on leather shoes consider using tape to mark off different areas.
Step 5: Drying the Paint
When you have finished painting your leather piece, then you need to let it dry completely before you seal it. This is best done on a flat surface for at least 24 hours to prevent the paint from cracking. Same as when drying it between each coat do not be tempted to use heat like a hairdryer to speed up the process. Speeding up the drying process could lead to paint cracking in the future.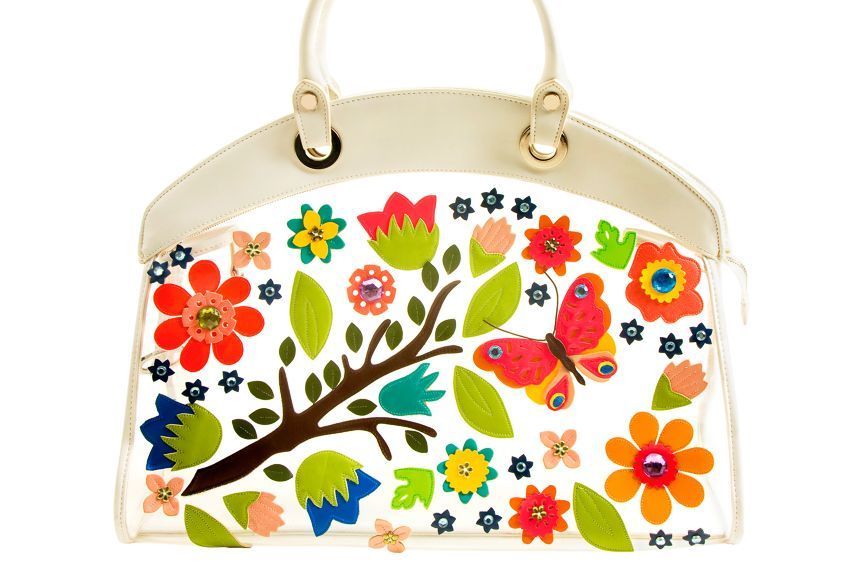 How to Seal Acrylic Paint on Leather
Some artists do not want to seal their projects because they prefer the matt look of the paint, however, sealing your art piece will last longer. Real leather and Faux-leather can sometimes also affect the sealing process although most products will work on both. Sealants can come in a semi-gloss or high-gloss finish. Choosing what type of gloss is a personal preference and will not affect the lifespan of the sealant. How many coats of sealant depends on the project and the use of the item.
We recommend that you use a minimum of two coats. Here are two of the best ways of how to seal acrylic paint on leather.
Acrylic Spray Sealer
Acrylic spray sealer is a quicker process as it dries quickly between each coat:
Remember to gently clean your surface with a soft dry cloth to remove any dust that is collected during the drying process.
Spray a gentle coat and let it set between each layer.
Allow the item to dry for 24 hours before using.
Liquid Acrylic Paint Sealer
This is the best type of acrylic paint sealant and lasts the longest. We recommend this type of sealant especially, on leather shoes.
Dilute the acrylic paint sealer as per the manufacturer's instructions.
Using a brush or dauber, apply a light coat over the painting. Do not soak the leather.
Allow to sit for five minutes before moving to the drying area. Dry between each coat.
Allow the item to dry for 24 hours before using.
How to Prevent Acrylic Paint From Cracking
Leather items especially leather shoes are flexible therefore if you do not treat the painting process correctly that can lead to cracking in your artwork. Here are some tips to prevent cracking in your painting:
Prepare the surface of the leather properly well before painting. If the deglazer does not work, then use fine sandpaper to remove the silicon layer.
Use thinner layers of paint when painting on leather.
Thin down the first coat of paint with one part paint and one part water.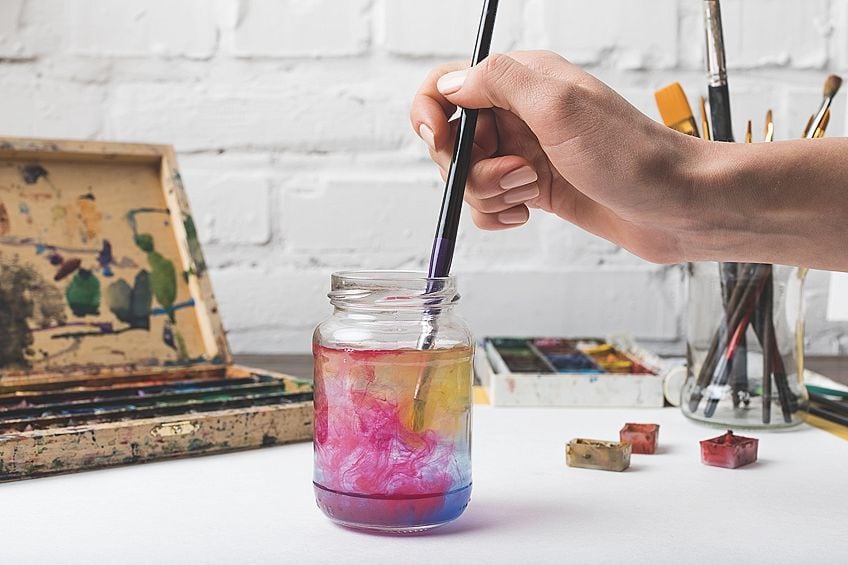 Dry each coat of paint thoroughly between each application.
Use the same brand of paint so that there is consistency between the layers.
Paint with the flex of the leathers.
How to Paint to Shoes with Acrylic Paint
One of the biggest trends at the moment is customizing leather shoes. Acrylic painting on shoes gives you much brighter patterns and more control than dyes. Here is a step-by-step guide on how to paint shoes with acrylic leather paint for shoes. Prepare your supplies and work area as per the instructions above.
Prepare the surface of the shoe with a deglazer as most shoes are sealed with a silicone sealant.
Using even strokes, paint thin layers in the same direction that the shoe flexes. Do not let the strokes overlap as they will become uneven. Allow each layer to dry well between each coat. Do not use heat to dry the coats as this may lead to cracking in the future.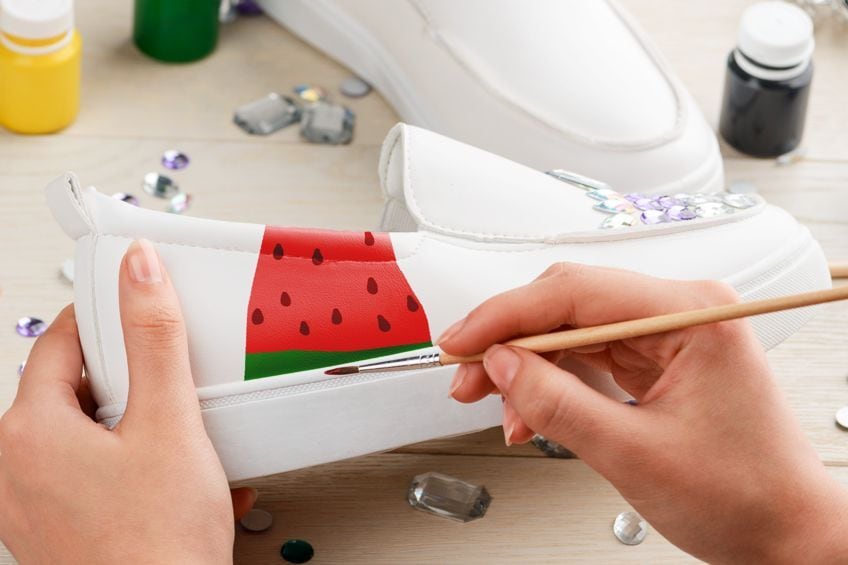 After each coat dries, flex the shoes with your hands. This allows the paint to flex so that the paint will not crack. Allow the shoes to dry overnight. Once dry, seal the shoes with one of the sealants above. We recommend the paint on sealant as it gives better control and is more flexible than spray sealant.
What Is the Difference Between Acrylic Paint and Leather Paint?
Leather Paint is acrylic paint. However, leather paint is specially designed to paint on leather. The paint is slightly thinner so that it can soak into the pores of the leather and not crack as much as normal acrylic. They also last longer on leather items than normal acrylic paints. There is even leather paint for shoes. Normal acrylic paint is thicker and can have a glossier finish. In most cases, normal acrylic paint will need to be diluted to be used on leather, especially for the first coat. Both types of acrylic will give a bright finish if enough coats are used.
Our Best Rated: ANGELUS Leather Paint Set of 12
This is an actual leather paint, with an acrylic base. It comes in a range of 12 basic colors and is a semi-gloss finish. This set includes colors such as orange, pink, lilac, black, and yellow. Each bottle contains 29 ml. There is more than one color set of this paint available. There is more than one color set of this paint available.
A flexible paint that will not crack, peel, fade, or rub off
Non-toxic and water-based makes it easy to clean and use
Easily blend the colors together to create your own unique shades
View on Amazon
PROS
A little goes a long way
Recommended for shoes but can be used on other leather products
When thinned out to the correct ratio, they can be used in refillable paint pens
Consistency of color is good
CONS
Bottles often come unsealed
Some paints can be dried out when delivered
Colors in the set can be different from what is advertised on Amazon
A lot of preparation is needed before the leather can be painted on
Best for Beginners: ANGELUS Leather Paint Starter Kit
This kit is one of the best on the market for beginners. It contains all the primary colors as well as white and black paint, a good quality brush set, and a deglazer. Each bottle contains 29 ml of liquid.
The set includes five paint colors and five paint brushes
Comes with 1oz of leather preparer and deglazer
Everything you need to begin painting on leather surfaces
View on Amazon
PROS
Kit contains a deglazer
Great for painting on leather shoes
Brush set is good quality and comes with a variety of brush sizes
CONS
Some of the bottles did not come sealed
Multiple coats are needed to get the right color saturation
Minimal colors can mean a lot of color mixing
Best Value: SMALLTONGUE Bulk Acrylic Leather Paint Kit
This set comes with 12 basic colors in 120 ml bottles. It includes colors such as dark grey, beige, yellow, orange, and green. The bigger bottles are great for big projects such as leather jackets.
A set of 12 vibrant colors that allow you to mix any color
Suitable for a range of different leather surfaces like bags
The paints are non-toxic for humans and the environment
View on Amazon
PROS
120ml bottles are good for big projects
Thinner paints are good for airbrushing
Paints do not crack easily
CONS
Some of the seals on the bottles can break easily
The thinner paint can need more coats
Something Fun: ZYAR Acrylic Paint Pens
12 brightly colored, extra fine-tipped paint pens. These are gas-controlled paint pens, which allow you to have better control of the flow of acrylic paint. The paint is quick-drying and water-resistant. The fine tips are great for dot work. We recommend these for mandala work on wallets or books.
The set includes 12 vibrant colors of acrylic paint pens
The ink is quick-drying, opaque, and resistant to water and fade
Suitable for writing on almost all smooth surfaces
View on Amazon
PROS
Tips are very accurate
Vibrant colors
Gold and silver included in the pack
Pens are easy to use
Great for small details
CONS
White dries out quickly
Can leak after one use
Paint can be a bit thin
Not suitable for dark surfaces
For the Artists: ANGELUS Empty Paint Markers
A set of empty art pens is ready to be filled with your favorite acrylic leather art pen. They have a pump-action which allows you to control the flow of paint. To fill the paint markers, dilute paint at one part paint to one part water ratio. Features chiseled tip on one end and a rounded end on the other.
Available with a range of tips for versatile mark-making
The pump action allows you direct control of the flow of paint
Allows you to choose the color of your paint pens
View on Amazon
PROS
Allows you to choose the colors for your pens
Different types of tips give you more control
Gives nice linework for any project
CONS
Can be difficult to fill
Tips need to be replaced regularly
Other Leather Paint Project Ideas
Once you have mastered the art of painting on leather there is so much that you can do other than just painting on shoes. These projects can be as simple as painting on wallets or as complicated as restoring leather couches. You are only limited by your imagination.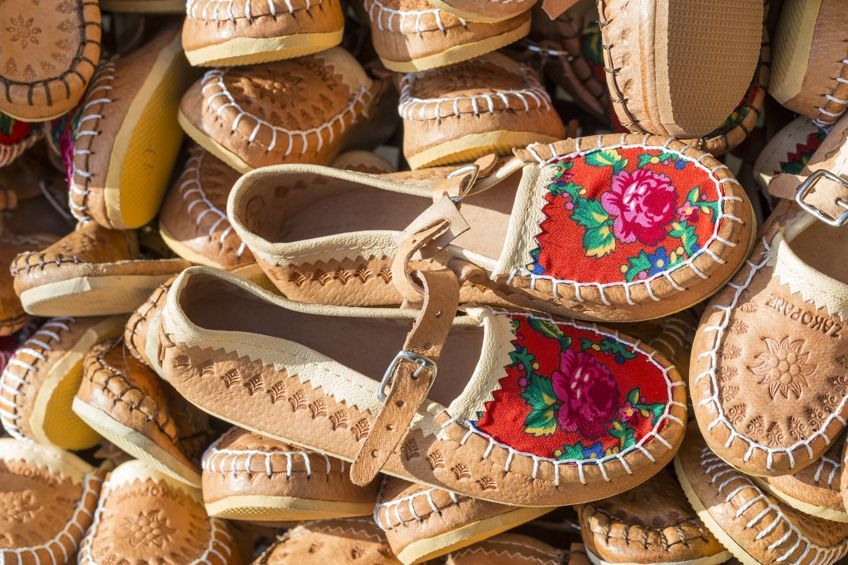 Leather Book Cover
Personalize a diary or book cover for something original. Upgrade your home library or even just create a family photo album that can be passed down through generations. Books, especially diary covers are used often so make sure to seal them properly so that your design lasts.
We recommend at least two coats of sealant.
Leather Purses, Wallets, and Bags
Turn a boring bag into your favorite art piece. Recreate anything from any artist you love and show off your talent. We recommend that you do not paint on the base of your bag as even with a sealant the paint may rub off after multiple uses. The best place to paint is the side of the bag. Leather wallets are great to paint on. A simple design such as the person's name or favorite cartoon character can turn a plain wallet into a special present. Wallets are probably the easiest to paint on as they are nice and flat and so they are great as a beginner's project.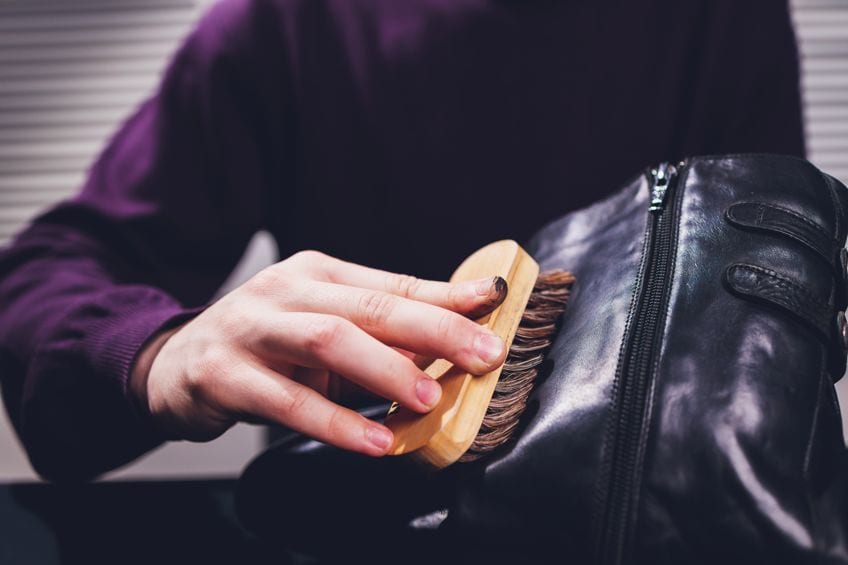 Leather Jackets
Personalized jackets are a great trend for weddings now. Make some for the whole bridal and groom's party. Like painting on shoes, you should flex the jacket after each layer of paint dries gently with your hands.
This will help keep the flexibility of the jacket without the paint cracking.
Leather Car Seats
Much like couches, using acrylic paints on leather car seats can save you a lot of money on repair jobs. And, likewise, you can also use acrylic paints to customize your car seats.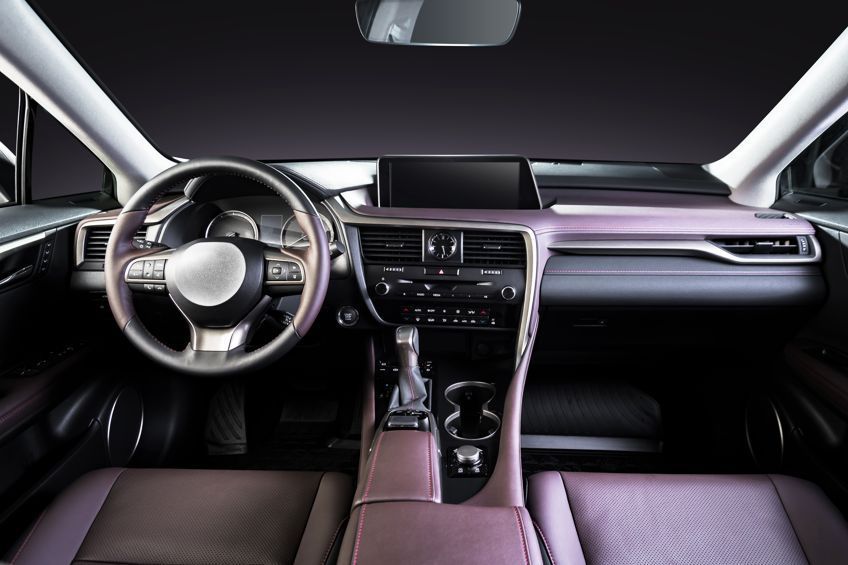 Leather Couches
Painting over any spots that have been damaged can be a great way to lengthen the lifespan of your couches. However, you do not only have to be limited to just repairing your couches.
You could repaint them to match your new theme. Or, even add some cool designs to the backs.
How to Remove Paint From Leather
Once you have painted it onto leather it can be hard to remove so be careful when working. Remember to NEVER use mineral turpentine or paint thinner as this will damage the leather. If your paint is still wet, here are some tips to remove it:
Dab the paint with a soft cloth or paper towel to absorb as much as possible.
Then using a sponge and mild detergent, sponge away the rest of the paint.
Lastly, apply the leather conditioner.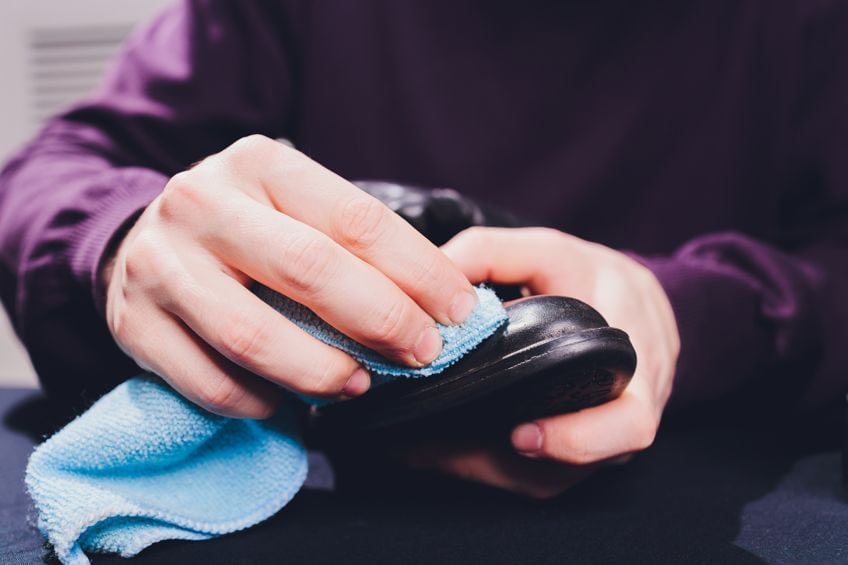 If the paint is dry:
Gently scratch it off with the tip of a knife.
Clean off the area with a mild cleaner.
Apply the leather conditioner.
Painting with acrylics on leather is a fun way to get a bright and modern finish compared to conventional dyes. It also gives you far more control over your designs which allows your creativity to run free. The fact that you can use normal acrylics means you can get started on your project straight away with some ease while you wait for the extras to arrive.
Frequently Asked Questions
Can You Use Leather Paint in an Airbrush?
Yes, most acrylic leather paint is thin enough to use in an airbrush. However, as acrylic leather paint is hard to remove once it is on, we suggest that you tap off the area well first.
Can You Paint on Embossed Leather?
Yes, acrylic paint and acrylic leather paint are both great mediums for painting on embossed leather. Acrylic paint will make the embossed parts stand out much clearer than dyes will.
Can You Paint on Damaged Leather?
Yes, you can. We recommend that you restore the item first before starting your project.
A Previously Painted Project is Peeling Already, How Can It Be Repaired?
Gently sand over the painted piece with fine sandpaper to remove the previous sealant. Wipe the surface with isopropyl alcohol to remove any residual dirt and grease. Allow the item to dry completely. Repair any of the peeled areas with fresh paint. Once the paint has dried, reseal the piece as per the instructions above.
Can Fabric Mediums Be Used on Leather?
Most fabric mediums are paints already and are not suitable at all for use on leather. There is a product on the market that can be added to fabric mediums, that that allows it to be used on leather. However, it is better to use acrylic leather paint.
Can Mod Podge be Used to Seal Acrylic Paint on Leather?
No, the results of using mod podge are too varied to be a viable method as a sealant for acrylic paint on leather. Acrylic Paint is not smooth and mod podge does not smooth out the edges of the acrylic paint. This means that the raised areas could peel off which could lead to cracking of the finished painting. Mod podge while it is said to be waterproof, it is more water-resistant.
Can Hairspray Be Used to Seal Acrylic Paint on Leather?
No. Hairspray has been recommended to seal acrylic paint on rigid surfaces however, leather is both porous and flexible. Therefore, hairspray would not be a suitable option for sealing acrylic paint on leather. The other problem is there are so many different brands of hairsprays with different formulas, there would be no way to guarantee consistent results as an option for a sealing option.
Larissa Meyer is a 32-year-old mother and creative spirit since childhood. Her passion for painting and drawing has led her to train as an illustrator and pursue a career as a freelance graphic designer. Larissa is a talented artist who is able to master a wide range of styles and techniques to bring her artistic vision to life.