Acrylic Paint on Plastic – In-Depth Guide for Best Results
This post may contain affiliate links. We may earn a small commission from purchases made through them, at no additional cost to you.
Acrylic paint on plastic is not an ideal combination, so painting on it requires a little more work than if you were painting on, say, canvas. But where there is a will there is a way, and this article aims to show you how you can create your work of art on plastic and prepare the surface so that it will last for generations to come! We will also give you our reviews of the best acrylic paint for plastic that will help you achieve exactly that.
Painting on Plastic
When asking "will acrylic paint stick to plastic?", the simple answer is no, not without some understanding of the substances being used and a bit of elbow grease. Although using plastic may seem like a tempting choice for exhibiting your creative flair, be prepared to put in some energy to preparing your surface, otherwise your paint simply will not stick.
So, before we get into the nitty-gritty of how you can adequately prepare your plastic so that you can paint on it without the fear of the paint not sticking to it, the burning question is: Why is acrylic paint so adamant that it will not stick to plastic?
To find an explanation, we must turn to the realm of physics. While we could spend most of the day exploring the various factors that affect how well liquids stick to solids, finding an answer ultimately comes down to how similar the substances (in this case, the plastic and the paint) are to one another in terms of surface tension.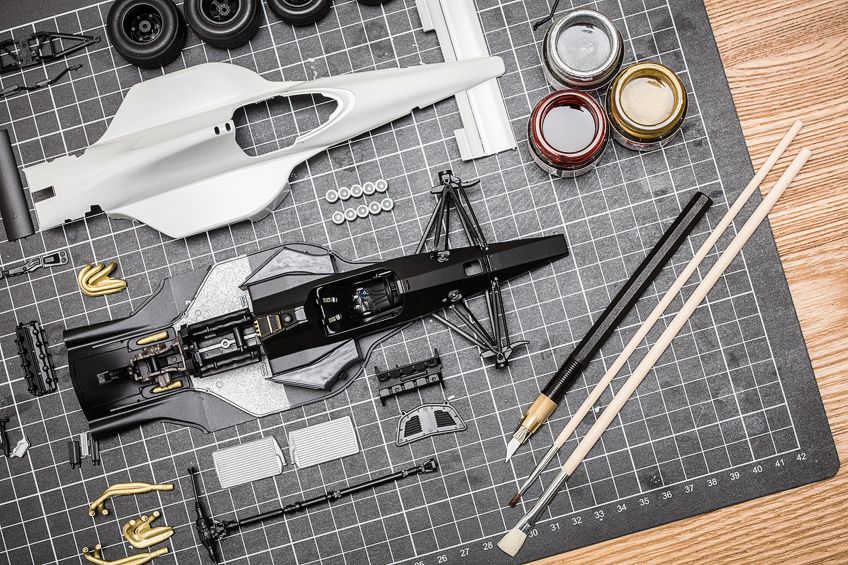 How the liquid (or paint) interacts with the plastic shows the degree of "wetting" that is taking place. When the paint forms a bead, similar to water on a plastic surface, the difference between the surface tension is high, indicating a surface that is not ideal for painting. In other words, the paint will not adhere to the plastic and will slide straight off.
A painter would need a surface that has good wetting, and indeed they can spend hours trying to achieve the right degree of wetting, which would look like an even spread of paint.
Plastics have a few other properties that make it the arch-nemesis of acrylic paint, like having a low polarity and being non-porous and hydrophobic (having properties that repel water). But, if you do want to paint on plastic, polycarbonates, ABS plastic, polyester (PET), urethane plastic, certain types of PVC, vinyl, and acrylic plastic, you will need to use an acrylic paint.
The Best Acrylic Paint for Plastic
That you should spend time preparing your plastic surface is a no-brainer, and we will be exploring this in greater detail later. Before you can begin painting, you will need paint. It is worth investing a little extra time and money into finding paints that are specifically designed for plastic use. This can prevent the painstaking process of using the wrong paint and having it peel off. Below, we give you the low-down on some of the most loved brands on the market to help you achieve the finish you want.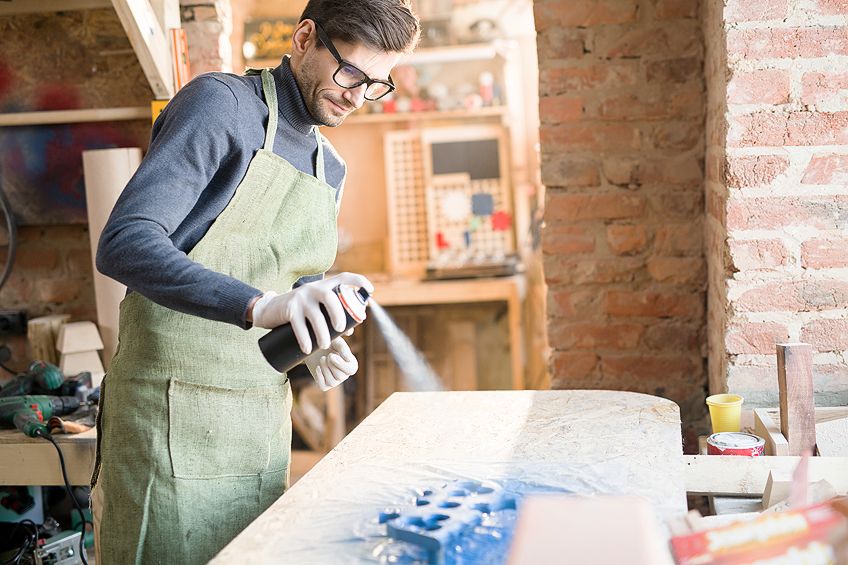 Best Primer/Paint Combo: KRYLON Fusion All-in-One Spray Paint
Remember how we said using acrylic paint for plastic requires elbow grease, and that you would necessarily have to use a primer to prepare your plastic before applying your paint? With Krylon's Fusion Spray Paint, you can forget we ever said that.
While it is undeniably still worthwhile to clean and sand your plastic, this paint eliminates the need to prime your surface, as it is a two-in-one primer-and-paint combination with quick-drying properties. Read the detailed instructions on the can for information on how to use it. This brand also has a highly effective spray paint that does not include primer, if you do want to prime your surface separately.
The best all-in-one spray paint in adhesion, durability, and protection

Versatile spray bonds to difficult surfaces without sanding or priming

White satin spray paint offers a neutral, cozy finish to any project
View on Amazon
PROS
Effective for use on a wide variety of surfaces, including wood, metal, and plastic
Can be used to spray items or surfaces indoors and outdoors
Functions as both a primer and paint
Offers rust protection for metal surfaces
Allows you to spray from any angle
Dries within an hour
Available in a variety of colors and textures
Matte and gloss options available
CONS
Paint can run if not used correctly
You may need to apply a few coats to achieve the desired effect
Best Spray Paint: RUST-OLEUM American Accents Spray Paint
This product is specially designed to adhere to almost all surfaces, including plastic, which makes it one of the most useful products on the market. It comes in a wide variety of unique colors, including "deep teal", "claret wine" and "French lilac". This spray paint also comes in several finishes, such as satin, high gloss, and matte (note that metallic colors are only for indoor use, while the other sheens can be used for surfaces that are indoors or outdoors).
Quick-drying and easy to apply, the spray's any-angle tip allows you to paint comfortably and even reach those harder-to-reach spots. You can expect top-quality durability from this paint with great coverage and a glossy, vividly colored finish.
Glossy finish is ideal for interior/exterior use on virtually any surface

Provides long-lasting protection with any-angle spray comfort tip

Superior durability with smooth, full coverage and vivid color
View on Amazon
PROS
Suitable for use on many surfaces, including plastic
Durable
Can be sprayed from any angle
Good coverage
User-friendly
CONS
One of the more expensive brands
Pungent fumes
Best Acrylic Sealer: KRYLON Acrylic Clear Acrylic Coating
Of course, you will need to seal your masterpiece with a clear coating in order to protect it from the elements or general wear and tear. If you are wanting a reliable, fast-drying solution to your sealing needs, Krylon's Acrylic Sealer is the product for you. Unlike other brands, this sealer has a crystal-clear finish that will not yellow, and it offers protection from both UV rays and moisture, so is suitable for outdoor and indoor use. It comes in a spray can, so if you use it correctly, you will not be left with visible brush strokes.
A non-yellowing, permanent clear coating to protect your surfaces

Protects against harmful UV light rays and is moisture-resistant

Dries within minutes and can be used on a variety of surfaces
View on Amazon
PROS
Fast-drying
Moisture-resistant
Offers UV protection
Clear, permanent finish that will not yellow
Instructions for Painting Plastic with Acrylic Paint
If, after reading the above points, you are still convinced that plastic is the material for you, you will need to know how to go about preparing the surface in a way that enhances adhesion. Several methods are used in an industrial setting to change the nature of plastic in order to enable paint adhesion, such as flame, thermal, and corona treatment. These processes need special equipment and occur beyond the small-scale realm of the average home-owner. There are a few simple methods you can use at home, however, that will set you in good stead for acrylic painting on plastic.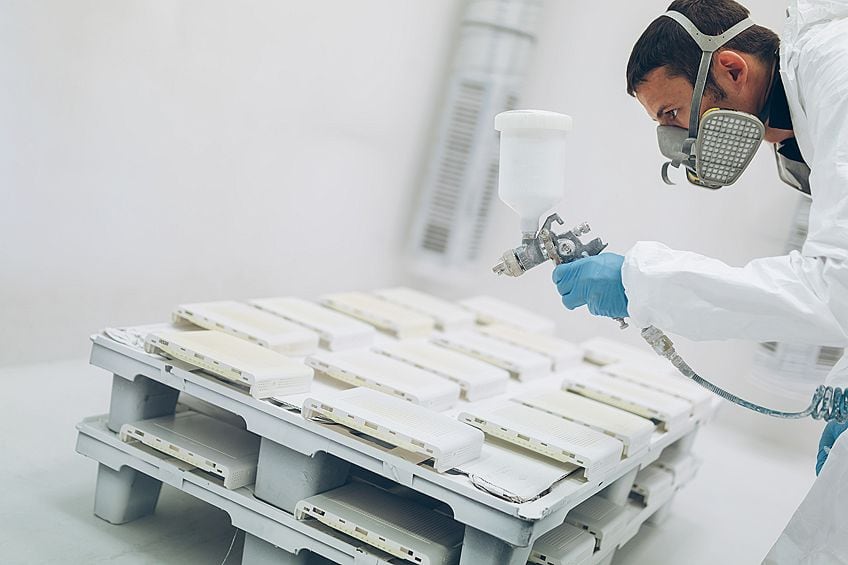 Preparations
Plastic is infamous for its hard-to-paint surface, which means that without the proper preparation, our acrylic paint will not stick. The preparation of a plastic surface for painting will include thoroughly cleaning and sanding the surface, after which you can apply a primer. This will ensure that the acrylic paint will adhere to the plastic.
Cleaning Your Plastic
One of the reasons why paint may not adhere to a surface is due to the interference of substances or particles on the surface. These may include grease, oils, fingerprints, dirt, additives, and plasticizers (an additive that changes the qualities of a substance during production, in this case, making plastic more flexible, for example). There are several cleaning agents and grease removal products, however, that can provide a solution to this problem in no time at all.
Your plastic may look harmless from afar, but if it has not been cleaned before you paint it, the plasticizers may emerge after you have finished painting, making the surface sticky. Once this has happened, it is very difficult – in fact, nearly impossible – to reverse the process and start again.
Plastic is not the only surface that requires proper cleaning; most other surfaces will also need to be cleaned and prepared properly before any paint can be applied.
Roughening Your Plastic
Before you think about priming your plastic, roughening it will do a world of good in providing an abrasive surface onto which the paint can stick. After you have degreased your plastic, use fine-grain sandpaper to gently sand the surface. Brush all of the loose particles off with a soft duster, and then repeat the above cleaning/degreasing process. If you are painting a large surface, you can use a sanding machine, but this will make it more difficult to get into tight spots.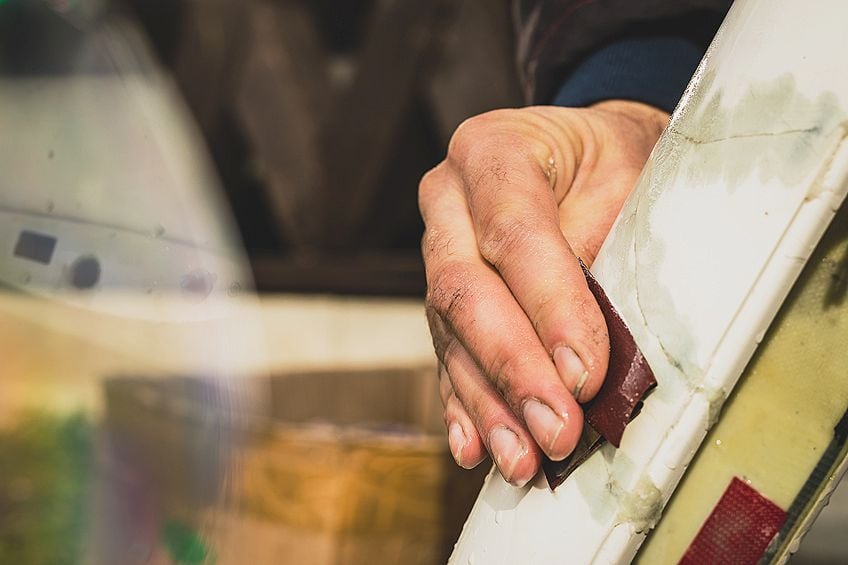 Priming Your Plastic
The next step is to paint a thin layer of primer onto the plastic, which will increase surface adhesion. You can achieve this using a brush or by spraying a primer on it. The instructions on the packaging of the primer you buy will indicate if it is quick-drying, or whether you should leave it to stand for a while before painting over it. You can also use oil paint or enamel for this purpose. Most people opt for a two-in-one primer and spray paint because it can be cheaper and is less work!
Acrylic Painting on Plastic
When painting your plastic, you can choose to use a brush to distribute paint or use spray paint. If you are using spray paint, ensure that you spray evenly, holding the can a good few inches away from the surface to prevent the paint from accumulating in certain spots.
The paint you buy will give specific instructions regarding the number of coats of paint you should apply, how long each coat will take to dry, as well as a clearer idea on how to prepare the surface for the paint in question.
Regardless of what paint you are using, many people use tape to control where the paint goes. If you are using tape to create clean, straight lines, take into account the possibility that putting tape onto the paint may lead to the paint peeling off when you remove the tape.
At the same time, removing the tape after the paint is dry can result in it flaking off as well. Using tape is therefore a double-edged sword, and this often results in some people choosing to avoid using primer altogether, which we do not recommend. When painting plastic with acrylic paint, also bear in mind that thicker paint will not adhere to plastic as easily as thinner paint will.
When you are using acrylic paint for plastic for the first time, make sure that you know what the color looks like before you apply it to your object or surface of choice. Different brands of paint may have the same color name, but this does not necessarily mean the color will appear the same once applied and dried.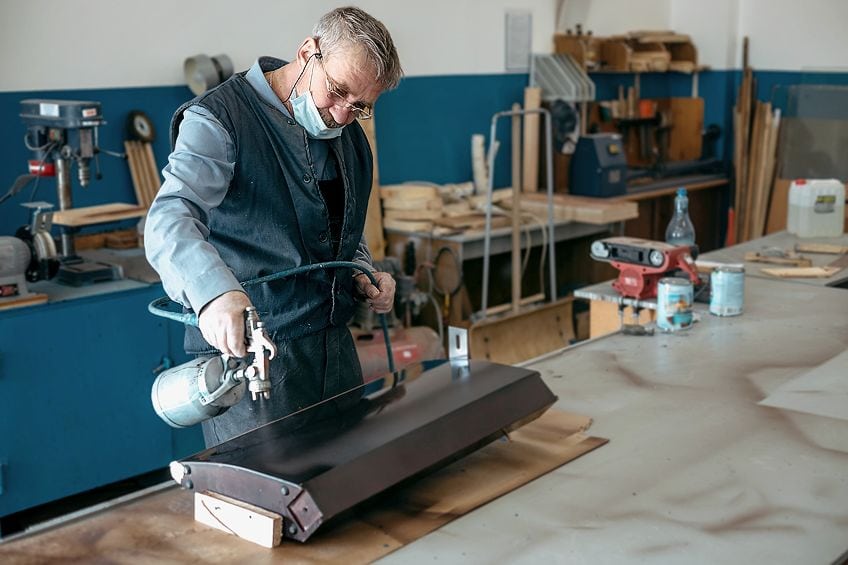 Sealing Acrylic Paint on Plastic
Sealers provide a clear layer of protection for your paint, and are applied once you have finished painting and have waited for it to finish curing. Sealers can have matte or gloss finishes and, like the paint itself, you have the option of applying it using a spray can or brush – your choice.
Sealing your paint is especially necessary if you are painting an object that will be handled often, or if the object is placed outdoors. However, a sealer is not necessary for items that will not be handled at all (provided they are indoors).
Ensure that your paint is completely dry before applying the sealant. A second coat of sealer may be necessary for an airtight finish that is protected from the elements. Always ensure that you allow each coat to dry and cure fully before applying the next.
It is no exaggeration to say that acrylic paint and plastic are not well suited and that, indeed, there are many other combinations of paint and surfaces that would be easier to work with. However, the right plastic, the correct paint, and a dash of hard work on your part are the perfect ingredients to allow you to forge ahead and paint your desired object in ways that will result in good adhesion and long-lasting paint.
Frequently Asked Questions
How Do You Get Paint to Stick to Plastic?
There are several methods you can use to increase the adhesion of acrylic paint on plastic. Firstly, clean the plastic thoroughly – there are specific products you can use for this to ensure that all grease, oils, and additives are removed. Secondly, sand the plastic down using fine-grain sandpaper (making sure you dust and clean it again afterward). Then paint a thin coat of primer, making sure you allow it enough time to dry completely before applying your paint. Various processes occur in industrial settings to enable the paint to settle on and stick to plastic.
Will Acrylic Paint Stick to Plastic?
Acrylic paint does not easily stick to plastic. For this reason, you will have to put a bit of work into preparing the plastic to make the paint more likely to adhere. Some acrylic paints are better suited for plastic, so make sure you buy the right paint. By the same token, some plastics work better as well. You will be more likely to have success if you paint on vinyl, PVC, and polyester, to name a few types of plastic that are better suited for paint.
What Is a Good Primer for Plastic?
Primers help paint, especially acrylic paint, stick to plastic. There are many good primers for sale that you will find either at your local hardware store or your local art and craft store. The most trusted brands right now include Krylon and Rust-Oleum. You can also buy products that include both a primer and paint, which can save you extra work and possibly a bit of money as well.
Can You Use Acrylic Painting on Plastic?
You can use acrylic paint on plastic, but it is not easily absorbed into it. It is easier to use other materials to serve as a surface for acrylic paint, such as canvas or board. Painting acrylic onto plastic requires some surface preparation such as cleaning, sanding, and priming the plastic. Also bear in mind that some acrylic paints work better on plastics than others.
What Kind of Paint Can Be Used on Plastic?
You can use oil, enamel, or acrylic paint for plastic. Plastic is not the ideal substrate for acrylic paint, though. Note that some paints are better suited for use on plastic, with properties designed especially for use on plastic, so do your research before committing to a particular paint. Some plastics have better adhesive properties that will make it easier for the paint to stick to them, such as some types of vinyl, polyester, and polycarbonates (among others).
What Do You Use to Seal Acrylic Paint?
Many products are available as a sealer, including varnishes and sealers that are available in matte and gloss finishes. Liquid sealers can also be used, as well as sealers that you spray onto your paint. Brands such as Rust-Oleum and Krylon offer a range of reliable products that can help you with this. Allow each coat of sealer to dry and cure properly before applying the next coat. Only items or surfaces that are going to be handled often need to be sealed.
Larissa Meyer is a 32-year-old mother and creative spirit since childhood. Her passion for painting and drawing has led her to train as an illustrator and pursue a career as a freelance graphic designer. Larissa is a talented artist who is able to master a wide range of styles and techniques to bring her artistic vision to life.