Watercolor Paper – The Best Watercolor Paper for Beginners
This post may contain affiliate links. We may earn a small commission from purchases made through them, at no additional cost to you.
Watercolor paper is available in different sizes, weights, and varieties. The type of watercolor paper you select will depend on what type of paint you use and the type of technique you wish to apply to it. Different watercolor papers have different characteristics, and knowing the characteristics of the type of watercolor paper you choose will determine your choice of paint. If you are not sure as to what kind of watercolor paper you will need, you could try experimenting with different types of paper to see which type suits your paints and technique the best. There are many varieties of watercolor paper available, so choosing the right paper is as equally important as the paint you decide to use.
What is Watercolor Paper?
Watercolor paper is a special kind of paper or substrate that an artist can use to apply watercolor paints, dyes, and pigments. This paper is thicker and more textured than traditional paper, making it ideal for mixed media applications such as watercoloring.
There are many different types of watercolor paper, each of which can have a different texture, weight, and overall quality. Watercolor paper can be made out of pure wood pulp or it can be mixed with cotton fibers. You can also purchase pure cotton watercolor paper, but this is of an artist's grade and tends to be expensive.
Watercolor paper is acid-free and can be hot-pressed, cold-pressed, or rough in texture. Thus, you will need to have a good understanding of the different types of watercolor paper so that you can make the right decision for your watercolor painting.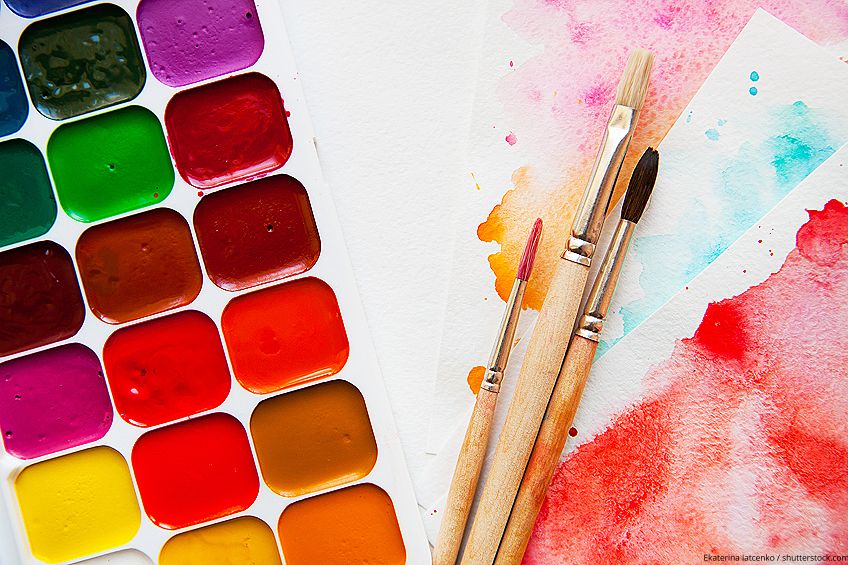 How to Choose the Best Watercolor Paper
Watercolor paper can vary in terms of its overall quality, format, texture, and weight. We will discuss each of these factors in detail so that you can become more familiar with the various characteristics of watercolor paper, thus aiding you in your decision.
Quality
The quality of a watercolor paper is so important for artists, as it will determine how well it works with paint and can even influence how the paintbrush marks will appear on the paper. The way in which the paper is made in addition to its overall quality will have a great effect on how the paper interacts with your watercolor paints.
Watercolor paper can be made in three ways: by machine, by cylinder-mold machines, or by hand. Paper made by hand is often sturdier, as the fibers within the paper are not uniformly distributed. Handmade watercolor paper also looks more authentic due to the natural deckled edges.
Paper that is mold-made consists of fibers that are irregularly distributed , resulting in a paper that is not quite as durable as handmade paper, but is still quite strong. Paper made by machines is more uniform, consisting of fibers that are facing the same direction. This paper is often made with artificial deckled edges so as to give the watercolor paper a bit more character.
Paper made by machine is often cheaper to make and buy, but the majority of artist-quality paper available for purchase is mold-made as opposed to being machine-made. If the label of the paper states that it is artist-quality paper, then this is the highest quality paper that you can get. This paper is 100% percent cotton, contains no paper-deteriorating acids, and is pH balanced. What this means is that the quality of the paper will always be good, and that it will not discolor or deteriorate with time, which is the case with paper that is made from wood pulp (such as newspaper and brown craft paper).
Student-Grade versus Professional-Grade
Watercolor paper can either be of a student or a professional grade, where the former is geared towards beginners and the latter is for more experienced artists. Student-grade paper is not of the best quality, and is therefore quite cheap to buy. Professional- or artist-grade paper, on the other hand, is much more durable and can withstand more applications, which makes it more expensive.
If you are just looking to practice your watercolor skills, you can try using cellulose-based paper. This type of paper will yellow with time, but as you will be practicing on the paper, you are less likely to want to keep it for very long anyway. However, do not always resort to the cheapest alternative, as it will not give you the practice and experience needed to be able to paint on watercolor paper in the future.
You could also attempt to practice on smaller sheets of this paper, or you could try washing the paint off after your first practice round, allowing the page to dry, and then repainting over it (this may not work on low-quality paper, however). Also, remember to use both sides of the paper to prevent wastage.
Format
Watercolor paper can be packaged as pads, blocks, or single sheets. Pads consist of a pile of papers that have been glued together at a single edge. You would have to peel them off and stabilize them on a surface by using tape to prevent it from creasing and moving while you are painting. These are usually cheaper to buy.
Paper that comes in blocks is glued on each side and therefore is already stabilized and will not need to be secured in place with tape when you are painting. You can just lift the paper off the surface using a palette knife or mail opener once finished. Papers arranged in a block will not buckle easily and are easier to paint on.
If you buy handmade papers, these will usually only come in single sheets. If, on the other hand, the paper has been made by machines or molds, it will usually be available in bigger quantities and can be purchased as single sheets or as packs, rolls, pads, and blocks. When you have finished painting and want to separate the top sheet from the top of the block, a simple palette knife will do the trick.
Texture
Watercolor paper can have different types of surfaces, such as hot-pressed, cold-pressed, rough, or not pressed at all. A rough texture has the most textured surface out of these options, which can make it more difficult to apply your technique to the paper. The choice of watercolor paper lies with you and the style and technique you prefer to paint with.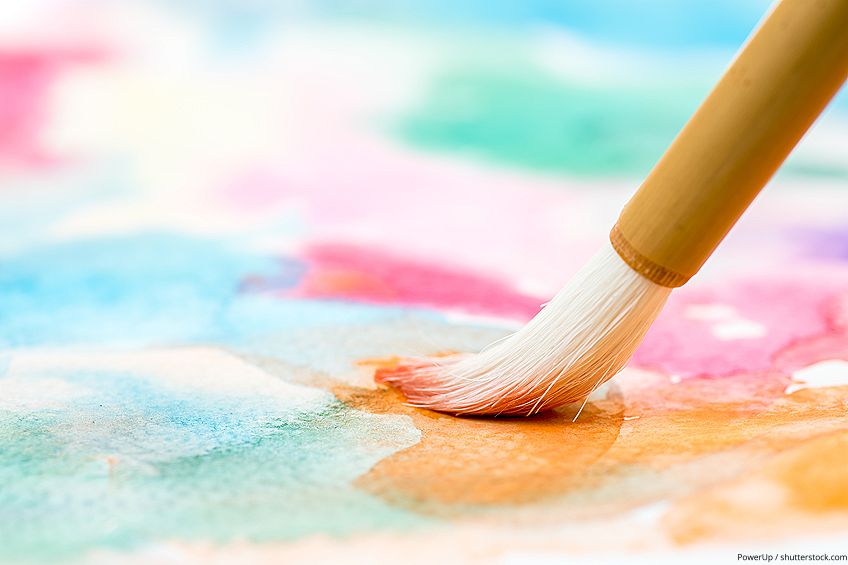 Hot-Pressed Paper
Hot-pressed paper has a smoother surface with very little texture, and can be compared to normal drawing paper. It is ideal for paintings with a lot of detail that require a smooth application. You are also able to correct mistakes more easily on hot-pressed paper.
Paint dries more quickly on this paper due to the fact that the smooth surface inhibits the absorption of the paint. This also means that you will have some extra time with which to work with the paint on the paper before it dries. You can apply large, even washes of paint to this paper of up to two colors, as too many layers will cause the paper to become oversaturated with paint and water.
The paintwork on this type of paper will be brighter and stand out more than with cold-pressed paper, although the effect will not last for as long.
Cold-Pressed Paper
Cold-pressed watercolor paper is a bit more textured than hot-pressed paper, but not as textured as if it were rough. It is a popular option for many artists as it can accommodate washes on a larger scale, while also maintaining enough texture that the paper looks interesting.
The texture of this paper allows for faster absorption, which means that the paint sets into the paper more quickly. You therefore will not have as much time to work with your watercolors before they dry. However, a benefit of cold-pressed paper is that the artist has more control over the quantity of water that is applied to the paper.
The appearance of the paint may appear lackluster against the texture of the paper, but if you are going for a look that has a lot of texture and depth to it, then this is the paper for you.
Rough Paper
Rough watercolor paper has the most dents and ridges on the surface of the paper, although the actual feel of the paper is a bit softer. It allows for quick absorption and creates artwork that has a lot of definition and depth to it.
Weight
Water-color paper is measured and weighed by the thickness of the paper. It is weighed using pounds (lb) by the ream, or grams by square meters (gsm). The standard measurements are 90 lb (190 gsm), 140 lb (300 gsm), 260 lb (356 gsm), and 300 lb (638 gsm).
Thinner paper tends to warp more easily and so needs to be stretched to prevent it from doing this. The thickness of the paper you need depends on how much paint you would like to apply to the paper, as this is directly related to how wet the paper will be when you are done painting on it.
Generally speaking, a paper that is less than 260 lbs will have to be stretched. Stretching is also good to make the paper more durable and able to withstand several workings and layers.
Best Watercolor Paper
There are so many different brands and varieties of watercolor paper that it can be overwhelming to select just one. We have chosen the three best watercolor papers for you to choose from, in addition to a couple of other notable mentions.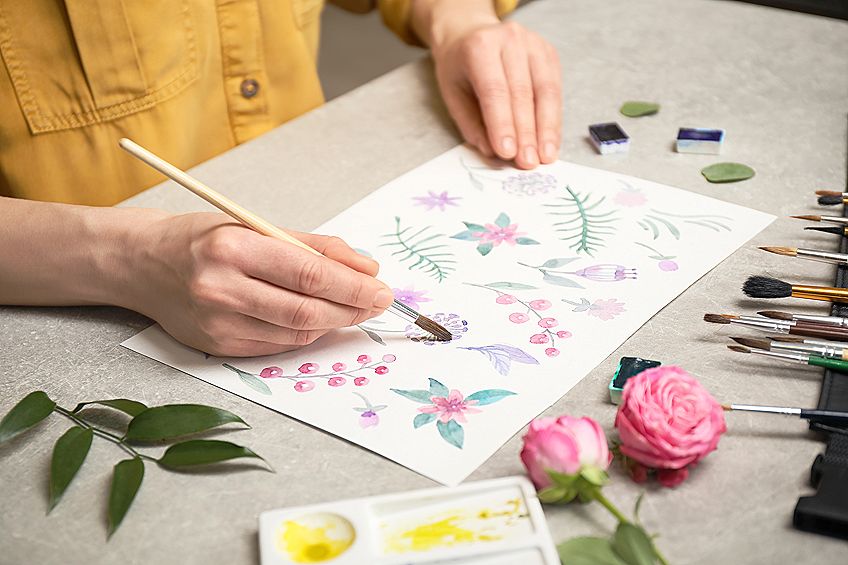 Best Overall Watercolor Paper: CANSON XL Mix Media Paper Pad
The Canson XL series comes in 30 sheets per pack with a weight of 140 lb, where the size of each sheet of paper is 11 by 14 inches. Canson Miller papers have been going strong since the 16th century. This is an established paper mill with centuries' worth of experience, and produces a watercolor paper that is of the highest quality.
60 sheets of 11 x 14 inch paper
Erases well and blends easily
Heavyweight paper is strong and sturdy
View on Amazon
Even though it is labeled as hard-pressed, the texture of the paper is far smoother than you would expect. It has a unique design that enables you to paint whilst also allowing you to draw fine lines on the paper as well. Designed by art professors, it has been tested to see how well it performs with different mediums. It also helps to blend the colors more easily and absorbs the paint more so that your artwork will last for ages on the paper itself.
Canson XL paper is used by the best artists, the quality ofwhich is assessed to ensure that its high standards are upheld. It is most suitable for students or novices taking up the art of painting.
Pros
Good value for money
Blends well
Acid-free
Easy to clean and erase
Heavyweight, strong, an sturdy
Cons
Pages can be difficult to remove
Can cause paper to bend and curl
Best Student-Grade Watercolor Paper: STRATHMORE Watercolor Paper
Designed for both beginners and professionals in mind this paper can withstand a lot of moisture and paint without compromising the quality of the paper. It will not allow for the paint to bleed on the paper, and provides a fairly rough surface so that you can create artwork that has some texture to it.
Popular with watercolorists of all levels

Achieves fine and even washes

Natural white color and cold-pressed surface
View on Amazon
It is available in a long-lasting sketchbook with a hard exterior for added protection. The paper itself is textured, has sufficient weight to it to prevent any warping of the paper, and is suitable to use with most paint brushes and paints. If you are looking to paint large portraits, then this probably is not for you, as it is available in sheets that are only half the size of the standard, and are therefore more suitable for smaller sketches.
Pros
Allows for fine, even washes
Strong surface enables lifting and scraping applications
Great for beginners
Affordable
Acid-free
Cons
Not the best quality
Smoother texture than is characteristic of cold-pressed paper
Best Professional Watercolor Paper: CANSON Montval Watercolor Paper Pad
This watercolor paper's measurements are 9 by 12 inches, making it ideal for smaller- to medium-sized pictures. This professional-grade paper is imported from France and comes in a handy quantity of 20 sheets per pack. It works well with a wet medium and will not compromise on quality when erasing, scraping off paint, or even applying many applications and reapplications of paint.
A heavyweight, cold-pressed watercolor paper

Mold-made and performs beautifully with all wet medias

Surface withstands scraping, erasing, and repeated washes
View on Amazon
It meets the base weight requirements and contains no pulp acids, which contribute to the rapid degradation of paper. It is not authentic cotton but will still last you a long time. It is cold-pressed, thus allowing you to integrate texture into your painting, and the fact that it is mold-made means that it is of a much better quality than machine-made paper.
Pros
Mold-made and excellent quality
Surface withstands repeated washes, scraping, and erasing
Removable half-sheet with tips and tricks
Acid-free
Great value for money
Cons
Not great for wet-on-wet watercolor technique as it is too quick-drying
Other Notable Brands
There are so many quality brands and varieties of watercolor paper that it can be difficult to select the right one. We have included an additional two notable watercolor paper products so that you can make the best decision.
ARTEZA Watercolor Pad Pack of Two
This is an affordable option that comes in a pack of two, each with 32 sheets, thus totaling 64 sheets. The quality of this paper is still really good despite it being so affordable.
This paper is ideal for artists who want to hone in on their craft. The paper is made of authentic cotton and is acid-free, which means that your prized artwork will last for years to come. This is as opposed to paper that contains acids and other impure chemicals that can cause rapid deterioration of paper.
Cold-pressed it has the required texture to capture and absorb the desired quantity of paint you apply quite sufficiently. The grain within the paper is consistent and the result is smooth and even. If you are looking to create exquisite pieces of art that won't fade then this quality will help you achieve that. Heavyweight paper is ideal for watercolor painting. A paper ream can weigh 140 pounds which lends itself well to watercolor painting due to the heaviness and thickness of the paper.
Pros
Dual-sided
Can be used with both wet and dry media
Acid-free
Glue-bound with a smooth edge
Heavyweight and absorbant cold-pressed paper
Cons
Paper not the best quality
Not 100% cotton despite "expert" label
Bee Paper Pack
This watercolor paper measures in at 6 by 9 inches and comes as a set of loose leaf sheets. The paper is cut to size so you will not have to worry about cutting it to the correct size. As for weight, it weighs in at 140 pounds per ream and will not warp easily. This is the minimum base weight for a paper that is considered suitable for watercolor painting.
The quality of this paper is of a higher grade, as it is made of pure cotton, and will therefore sustain your artwork for a long time. It is a popular and affordable option amongst artists who want their artwork to last for years to come.
Pros
100% cotton paper
Dual-textured, with a smooth and rougher surface on either side.
Good for practicing
Cons
Not good for lifting paint from the paper
Not the best quality despite being 100% cotton
Deckled Edges on Watercolor Paper
The edges of a piece of watercolor paper can best be described as being a little uneven in shape. Deckled edges are more common in handmade paper, although machine-cut paper can apply this technique to the edges of the paper in order to make the paper look more authentic and real.
The thickness of the deckled edge can vary depending on the manufacturer. Sometimes the deckled edge is very minor, whereas other times it is pronounced, depending on how decorative the manufacturer wants it to look.
Some artists like to display their artwork with the deckled edges showing as opposed to cutting it off or hiding it behind a frame, and others not. It is all about personal preference at the end of the day.
Watercolor Paper Colors
Watercolor paper comes in many shades of white, ranging from cream and off-white to white with a tinge of blue to it. The differences can be either very noticeable or hardly noticeable at all. Although the differences are subtle, they can affect the overall appearance of your paintwork.
The tone of the watercolor paper can also affect the colors of your painting. Cream-colored paper can make your painting appear dull, whereas paper with a blue tinge to it can make your yellow paint appear greener. The color and shade of the watercolor paper are as important as the weight and texture. If you are new to painting on watercolor paper, you should not be afraid to try many types of paper so as to get a feel for what works best for you.
Frequently Asked Questions
What is the Difference Between Hot- and Cold-Pressed Watercolor Paper?
Hot-pressed watercolor paper is much smoother and will cause the paint to dry more quickly on the surface. Cold-pressed paper has a rougher texture to it and will cause the paint take longer to dry.
Is It Possible to Do Watercoloring on Regular Paper?
Not really, as normal paper is just too thin to do watercoloring on it.
What Makes Watercolor Paper Special?
It is thicker in consistency than normal paper and lasts longer due to its cotton-cellulose composition. This cotton-based composition also allows for more absorption of paint. It is thicker and will not warp or tear easily when water is applied to it.
Does Watercolor Paper Have to be Acid-Free?
Watercolor paper has to be free of any acids. If it is not, the acid will eventually cause the paper to deteriorate. Thus, acid-free paper is able to last for much longer.
Is Sketching on Watercolor Paper Possible?
It is possible but will depend on the type of watercolor paper you decide to use. Sketching on hot-pressed paper is better because it is smoother than the uneven surface of cold-pressed paper.
Can I put Watercolor Paper through a Paper Printer?
Regular printers cannot accommodate the thickness of watercolor paper.
Does Watercolor Paper Have a Right and a Wrong Side?
It is better to describe each side of the paper as one being slightly smoother than the other. Painting on the 'smoother' side is better for fine-detailed painting, whereas the 'rougher' side can be used for painting that will have a more textured look to it.
Larissa Meyer is a 32-year-old mother and creative spirit since childhood. Her passion for painting and drawing has led her to train as an illustrator and pursue a career as a freelance graphic designer. Larissa is a talented artist who is able to master a wide range of styles and techniques to bring her artistic vision to life.