Best Fabric Markers – Looking at the Best Pens to Write on Fabric
This post may contain affiliate links. We may earn a small commission from purchases made through them, at no additional cost to you.
Fabric markers are some of the best tools for restoring color to your clothes, bags, as well as any other fabric material that has lost its shine. Fabric markers also come in handy in those times when you simply want to draw just about any kind of art on fabric. Whether you are an expert, new to the art industry, or you simply love drawing, fabric markers are definitely some great tools that are worth having. In this post, we want to give you a list of the fabric markers that you can add to your collection, along with their pros and cons. We will also guide you on how to choose the best fabric markers for yourself as well as how to use your new fabric markers.
What Are Fabric Markers?
Fabric markers are markers that contain ink, dye, or paint specially designed for use on fabric materials. Unlike regular markers, the liquid in fabric markers is often permanent. This means that it will not be washed out of your clothing once it is dry and will not fade in color once it is washed.
While there may be other regular permanent markers that do not wash out either, they certainly come short when it comes to the variety of colors that are available. With permanent fabric markers, you simply add the ink or the paint straight onto the fabric to create a work of art on your garment.
The best part is that these markers work on almost any kind of fabric material, whether it is cotton, leather, or polyester. So, fabric markers are simply a great way to transfer cool designs to your fabric materials. Another way of transferring art to fabric is making use of orienting machines in a common process known as heat transfer, but such ways cost a lot more money and are not easily accessible. Printing machines are often found in companies, specifically those that specialize in banner, T-shirt, and general fabric printing on a larger scale.
Other people also use fabric paints instead of fabric markers. When compared to fabric paint, fabric markers are a better option in terms of portability and flexibility. The clean-up that is required after using a fabric marker is less than when you are using fabric paint. Fabric markers are also a more suitable choice for kids.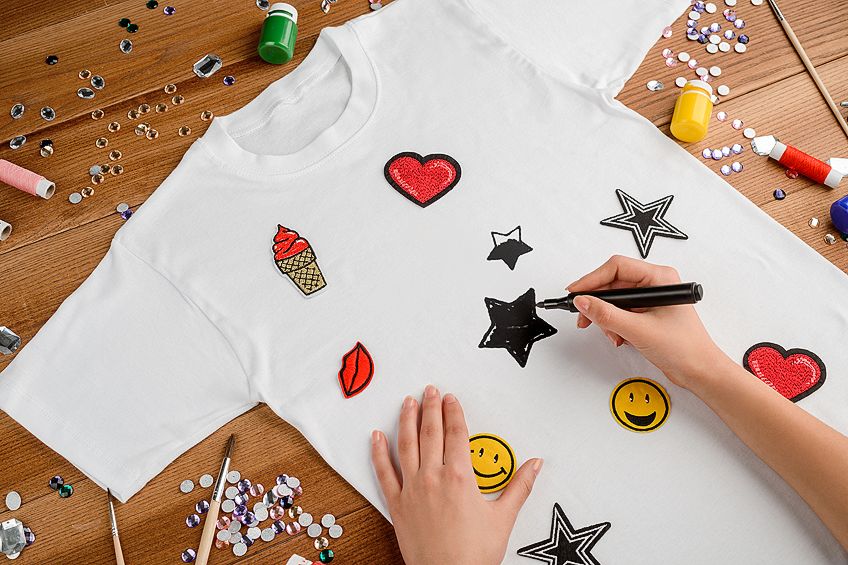 Acrylic- versus Alcohol-Based Fabric Markers
There are two types of fabric marker, being alcohol-based markers and acyrlic-based markers. The type that you choose usually depends on the kind of project that you are working on as well as the kinds of materials that you will be using in your project.
Alcohol-based fabric markers are a great choice for if you are working on surfaces like leather, plastic, and so on. Acrylic markers, on the other hand, can work on almost any kind of surface.
Acrylic-Based Fabric Markers
These are the most popular fabric markers on the market today. Acrylic-based markers are durable and can last for a long time. Permanent acrylic markers will not fade when exposed to light, nor will the color lose any of its vibrancy. These markers also appear to be opaquer than alcohol-based ones.
Alcohol-Based Fabric Markers
Alcohol-based markers are not usually used on fabric materials, as they are best applied to non-porous surfaces. These markers make use of alcohol in order to bind the pigment together, and provide very beautiful designs.
Best Fabric Marker Pens
There is such a vast range of fabric paint pens that it can be difficult to know where to begin in terms of selecting the right product for you. To ease this process, we have identified five of the best pens to write on fabric, allowing you to make a more informed decision.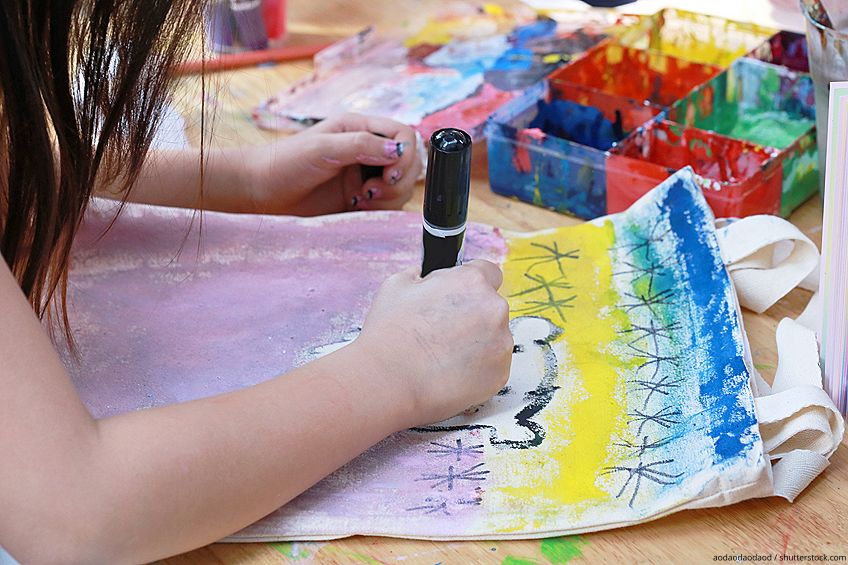 Best Overall: LIQUITEX Professional Fine Paint Marker Set
The Liquitex professional acrylic marker is an acrylic-based paint. This fabric marker is made by using high-quality pigments, meaning that the colors will not fade or smudge. Application is very easy with this marker and it produces great results. The marker is permanent after it has dried but when it is wet, it can be washed out using water. It will give you amazing results when it is both wet and dry.
Includes 6 vivid colors

Water-based acrylic

Lightfast and permanent
View on Amazon
The nibs of these markers ensure precise results, allowing you maximum control over the marker. The nibs are also flexible enough to allow you to draw thick lines. This is because the marker comes with two sets of nibs, one for drawing thin and precise lines, and the other for drawing thick or broader lines.
The colors that are offered by these markers include medium cadmium red and yellow hues, emerald green and brilliant blue, as well as carbon black and titanium white. You can use these markers over any water-based paints without the risk of bleeding. The markers can also be used with other markers and Liquitex products, and can be applied to many surfaces such as paper and wood.
When it comes to layering, these markers are very easy to use and will not cause any mess on your fabric. They also allow for full control when painting. The drying time for this marker is very fast compared to other fabric markers out there.
Pros
Very easy to lay multiple layers
Two nibs for drawing fine and broad lines
Many colors to choose from
Marker works on many kinds of surfaces
Cons
May require multiple coats
Best for Professional Artists: MOLOTOW One4All Acrylic Paint Marker Set
This is an acrylic-based fabric marker that is made of a high-quality pigment. These markers are very versatile and allow you to use them on many kinds of surfaces, including wood, canvas, stone, ceramic, paper, fabric, and more. The markers produce especially great results on surfaces that are not smooth, as the nibs allow the paint to adhere easily to most surfaces.
Premium acrylic-based pigment paint

UV- and weather-resistant
Solvent-free and dilutable
View on Amazon
The pigment concentration offered by these markers is very good, and the markers themselves can be refilled. You can choose from a wide selection of colors, including neon pink, orange, true blue, zinc yellow, signal white, signal black, dare orange, mild shock blue, burgundy, brown, as well as traffic red. These colors are also resistant to UV light, meaning that they will not fade with time.
The pigment is thinner in terms of consistency, but their opacity is very good and the coverage they offer makes your designs on fabrics look amazing. The color that they have is very rich as well as vibrant, which makes your work look very impressive. These fabric markers are most suitable for use by professional artists.
Pros
Versatile
Great coverage
Many colors available
Great quality and opacity performance
Best for Arts and Crafts: SHARPIE Stained Fabric Markers
Sharpie's stained fabric markers are permanent markers that are suitable for use on any fabric. These markers come in a set of eight markers, including the colors black, green, pink, purple, yellow, blue, red, and orange. These markers have bright and bold color pigments that make your customizations look amazing.
Contains 8 bright, bold colors

Ink resists fading with normal wash cycles

Smooth brush tip for thick and thin lines
View on Amazon
These markers are great when used on almost any type of fabric, and the ink will not fade, resulting in a long-lasting design. It is advisable to store the markers in a horizontal position in order to improve their performance. These markers are also very easy to layer in order to get a richer color.
The markers come with a brush tip that can be used for drawing thin lines as well as thick lines. The ink easily adheres to any type of fabric and will not fade even when washing the material. These markers are also free of toxic materials.
Pros
Ink does not fade
Can be used to draw thin and thick lines
Used on almost any type of fabric
Non-toxic
Cons
Colors may bleed through some fabrics
Good Value: CRAFTS 4 ALL Fabric Markers
These fabric markers are best suited for use on baby clothes as they are free of any toxic substances and chemicals. They are very easy to use and safe enough to be used by everyone, including kids. This pack contains 24 top-quality fabric pens, providing a wide range of colors from which to choose.
Minimal bleed fabric markers
Dual tip for varied line thickness
Machine-washable and fade-resistant
View on Amazon
The color pigments of these fabric pens are very rich, proving that the quality of colors produced is very impressive. The fabric markers also last a very long time and give your designs a unique look. They are versatile and allow you to draw thick lines, sketches. and other decorations for your fabric. The markers are resistant to both bleeding and fading.
You can use these markers on any kind of fabric such as sneakers, baby gear, handbags, wall art, as well as clothing. They do not fade from light exposure or any changes in weather. Even with time, your design and decorations will still look as good as new.
Pros
Suitable for use by everyone
Non-toxic formula
Wide selection of colors
High quality pigments
Long-lasting color
Cons
Better on light-colored fabric due to low opacity
Best for Kids: CRAYOLA Fabric Markers
The Crayola fabric markers come with 10 great fabric pens for creating custom designs on your garments. The markers have precise tips to ensure that fine and exact lines and details can be drawn. The markers come in colors such as yellow, black, green, pink, teal, red, white, blue, and brown.
Designed to work on dark and light fabrics
Bright and bold colors
Fine tip allows for intricate details
View on Amazon
The color these markers give your fabric are vibrant and impressive. The Crayola fabric markers can be used on both light and dark fabric materials. The designs are permanent and do not fade even when washed. Crayola fabric markers work on any kind of fabric, including cotton as well as polyester. These markers do not contain toxic chemicals in their formulation and are suitable for use by anyone older than 3 year's of age.
Pros
Affordable
Diverse range of markers available
Suitable for use on almost any fabric type
Suitable for anyone, including children
What to Look for When Buying the Best Fabric Markers
Choosing the best fabric marker is essential to ensure that your projects come out wonderfully. When choosing fabric markers, make sure that you choose the ones that are durable and have good color vibrancy. The following are the features that you need to look for when buying fabric markers.
Tip Size
The size of your marker tip is very important because it determines how your drawing will look on the fabric. Fabric markers come in many sizes, and may include either a fine tip or bullet tip. A fabric marker that has a fine or thin tip gives finer details and allows you to make a thin line. A fabric marker with a thicker tip, also known as a bullet tip, is suitable for drawing thick lines and for shading.
Most fabric markers today come with extra tips so that you can change them according to the needs of your project. Thus, you can use finer tips for when your drawings require more definition, and thicker tips for creating shading and lettering.
Color Selection
Choose fabric markers with colors that are suitable for your fabric and garment. Most fabric markers nowadays come with a range of colors from which you can easily select the perfect shade. Some fabric marker sets include only the basic colors while others may include a wider range of shades and hues.
Versatility
Look for markers that can be used on many surfaces and not only fabric. Instead, go for the ones that can be used on wood, paper, and more. This allows you to use your markers for many different things.
Quality of Ink
This is one of the most important factors when it comes to using fabric markers to draw on your garments. You need to choose markers that will not give you a messy final look, which means that you should avoid choosing markers with runny ink. The ink should also not be too thick, however, because the ink takes very long to be absorbed. Thus, you should choose ink that is neither too thin nor too thick so that you get a good and sharp look.
Safety
It is very important to choose fabric markers that do not contain toxic substances in their formulation. Always check that the fabric marker you are buying meets the safety requirements so that the ink will not cause the skin to itch or any other negative reaction. You can also check customer reviews to see what others are saying about the safety of the product.
Fading
You need to choose fabric markers that do not fade. You do not want to see the designs on your fabric fading after you wash the material. In this case, you need to look for fabric markers that are made of a high-quality ink that will not fade, even when you wash the fabric material several times.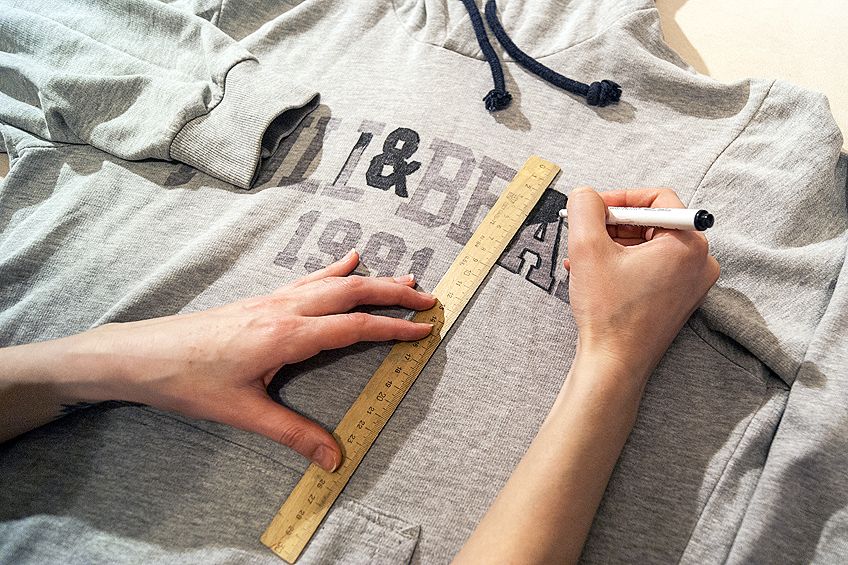 Ink Bleeding
There are times when you want to use many colors to create a design on your fabric. Markers that bleed too much will create a mess on your fabric, as the colors will seep into each other when you use them. Therefore, always make sure that you choose fabric markers whose ink will not bleed though the fabric.
Opacity
This is the transparency of the marker, or how solid or opaque the color looks when applied to the fabric. This is very important because it helps to show you how the color will look on that fabric. If you have fabric that is dark, it is better to go for markers that have a high opacity, as this will ensure that the color is very visible on the fabric. If your material is light, then transparent markers will work well on them.
Drying Power
There are some types of fabric markers that need to be air dried first before they are washed, usually for up to 24 hours. Alternatively, some types of markers need you to set them with heat so that they are not washed off. The choice simply depends on your preference.
Type of Fabric
The type of fabric also influences how your fabric marker will work. Therefore, make sure to choose markers that will work well on the fabric you are using. A fabric that is smooth makes work easier for some markers, while other markers work well on a rough, textured fabric.
Types of Fabric Markers
There are a few different types of fabric markers, the understanding of which will help you to make the right decision when making a purchase. There are two main categories of fabric markers: permanent fabric markers and non-permanent fabric markers. Non-permanent and permanent markers are categorized according to the style of their tip: rounded tip and pointed tip.
Rounded tip: This has a tip that is round in shape. This tip is not very good when you want to draw thin and precise lines. They are more suitable for creating lines that are bold.
Pointed tip: These tips are more pointed and look more like a bullet. The pointed tips are very versatile. and are very good for creating thin lines and as well as bold lines.
Permanent Fabric Markers
The permanent fabric markers make use of ink contained inside the marker's internal reservoir. The ink in these markers is permanent and will stay there forever, even after you wash the garment. This is a very good option for anyone that is looking for markers that will leave a permanent design on their fabric. These kinds of markers only work on dry surfaces, so it is not possible to use them on wet or oily surfaces.
Non-Permanent Markers
These markers also has a reservoir that stores the ink. The difference between the permanent and non-permanent marker is that the drawing made using the non-permanent marker will not last forever. Instead, they can easily be removed when you wash the garment or can be wiped off using a damp cloth. The ink in this marker does not take very long to dry. This is suitable for use on designs or drawings that are temporary. Non-permanent markers can work on most surfaces, although they will not work well on wet surfaces.
How to Use Fabric Markers
Now that you have learnt how to select the best fabric marker for your particular project, you can begin to use your new markers on the fabric or garment of your choice. Take a look at the following steps to help guide you through the process.
Choose the Fabric
The kind of fabric that you choose will influence how well your markers work. So, always pay close attention to the grain of the fabric. There are course fabrics and then there are smooth fabrics. Some fabric markers work better on smoother surfaces, whereas others may produce better results on a rough or course material. You can also start by testing the markers first before you start drawing or decorating on the fabric.
Clean the Fabric
Make sure that you clean the fabric first before you start decorating on it. This includes everything, such as shoes, bags, and clothing. This helps to get rid of any dust and dirt from the fabric, providing you with a clean canvas on which to work.
Painting the Fabric
You can now begin applying your design to the material. You may find it helpful to draw the design onto the fabric lightly with pencil first as a guide. Make sure that you test your markers on some scrap fabric first before starting on your actual garment.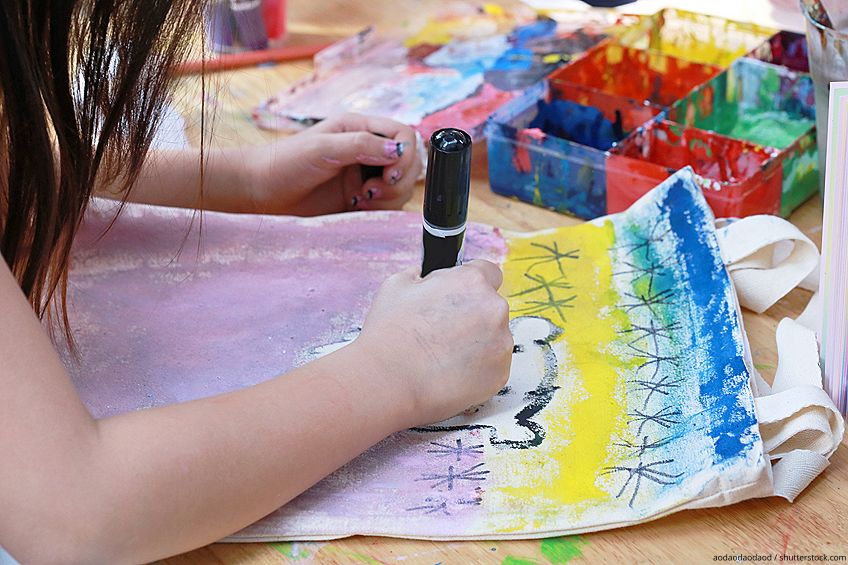 Thick versus Thin Lines
You need to know the kind of lines you are planning to draw on your fabric. Keep in mind that there are different sizes as well as shapes of fabric markers. This is usually determined by the tip style and size. If your plan is to draw thick and broad lines, then go for fabric markers that have wide tips. If you plan on drawing thin lines, go for fabric markers that have fine tips.
Painting Larger Areas
Larger areas can also be painted using fabric markers. However, you need to know that the larger the area, the faster your fabric markers finish. Therefore, we recommend that you try using fabric spray paints for larger areas.
How to Write on Fabric Without Bleeding
Ink bleeding is a problem when it comes to using most fabric markers. This usually affects the final outlook of your fabric, causing it to become messy since the ink colors will have seeped into each other. In order to prevent any bleeding when writing on fabric, make sure that your fabric or garment has been washed before you start drawing or decorating on it. This helps with preventing shrinkage too.
You should allow the ink to completely dry before you start using the fabric. Ironing the design also helps to reduce bleeding. You can also use opaque fabric paint on your design to prevent any ink bleeding.
Allow the Paint to Dry
When you have finished painting, be sure to let the fabric paint dry before you wash the garment. You can let it dry for 24 to 72 hours. You can also use a dryer to dry the paint more quickly, thus saving time.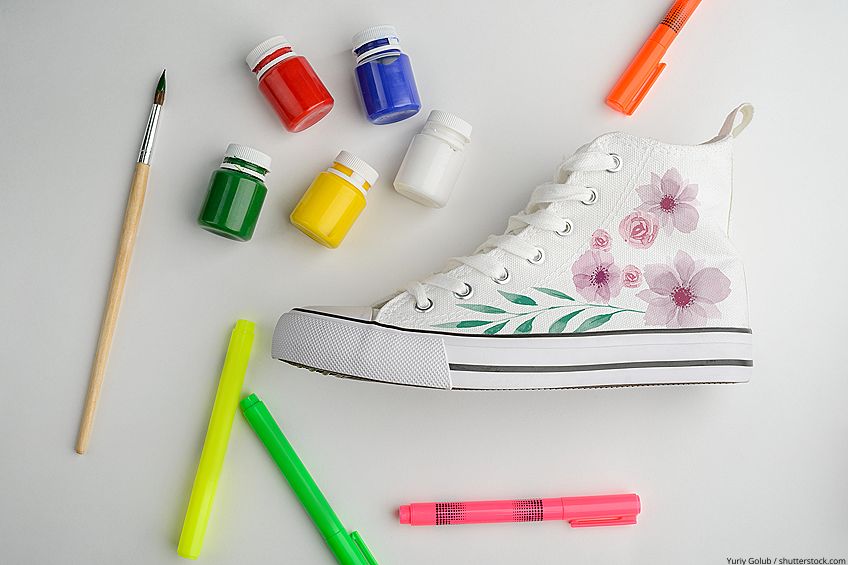 Tips for Using Fabric Markers
A fabric marker usually has ink inside it, although some fabric markers have dye or paint in them. Some can be washed out easily whereas the permanent ones cannot be washed out at all. They can be used to create designs on your fabrics or to fix a faded spot. The following are some tips to follow in order to get the most out of your fabric markers.
Lettering: Using fabric markers makes lettering an easier process. Fabric markers can be used to create beautiful letters on your fabric. Your lettering may not look amazing at first, but can be improved with practice. It is always better to do lettering with fabric markers as opposed to paints, as this allows for them to be more defined.
Stenciling: This works very well with fabric markers. All you have to do is run your fabric marker tip over the edge of a stencil.
Stamping: Fabric markers can be used to color stamps simply by running the fabric marker over the stamp face. Once the ink has been transferred, you can press the stamp into the fabric.
Fabric markers are a great way of customizing your fabric or fixing stained or faded spots. There are so many great kinds of fabric markers that you can find on the market, but the choice you make is largely dependent on your requirements. Therefore, the first step should always be determining what you want in terms of color, tip, and more.
Frequently Asked Questions
Why Use a Fabric Marker?
A fabric marker is very useful when it comes to drawing designs on clothing and garments. It can be used on leather, polyester, and even on cotton. The markers have a reservoir that hold the ink, which can either be permanent or non-permanent.
Is Fabric Marker Permanent?
This depends on the type of fabric marker that you have chosen. If the fabric marker is permanent, you will not be able to wash out the ink, especially when it is dry. On the other hand, non-permanent fabric markers are very easy to wash out. You can use a damp cloth or simply wash the design out with water.
Are Fabric Markers Toxic?
Some fabric markers can be toxic; you may notice some people complain about skin irritation caused by fabric markers. Therefore, it is important that when buying fabric marker, you should choose ones that are labelled to be non-toxic as well as safe for children. Choose from brands that have been tested for safety, because this means that there are no harmful ingredients in the formulation.
Why Should I Use a Permanent Fabric Marker?
Permanent fabric markers are a very good way of ensuring that your design stays for a very long time. Fabric markers can be used to decorate many things including bags, pillow cases, T-shirts, handbags, shoes, and much more. It also saves you money and time.
What Can I Do to Make My Fabric Design Last a Very Long Time?
In order to make your design or drawing last for a long time, you need to make sure that it is completely dry before you use it. You should then use a cloth to cover it up and iron over the design to set it with heat. Within the first 24 hours, you should not wash the design. The first three times you wash the garment, be sure to use cold water.
How Can I Remove Permanent Fabric Marker?
A permanent fabric marker drawing that was made from high quality ink material cannot be removed using water. But a simple thing you can try is to pour hot water onto the area of fabric in question, and then pour some alcohol onto a sponge and rub this on your garment. Continue doing this with pressure and be sure to wet your sponge now and then.
How Do You Use a Fabric Marker?
First, start by taking the piece of fabric that you want to design. Make sure you have a cardboard for fabrics that are soft so that it stays stable during the process. Then, use the ink to design or draw on your fabric. If you are doing multiple layers, make sure that the first layer dries up before you start doing the second one. You should then finish up by letting it air dry or use a dryer.
What Other Materials Can I Use Fabric Markers On?
Most fabric markers work on many surfaces and any type of fabric. You can use them on cotton, leather, polyester, and more. They can also be used to decorate walls, bags, shoes, sneakers, and can be used on glass, wood, as well as paper. However, you must ensure that they are properly stored and that the lid is closed when you are not using them.
Can I Use Fabric Marker on Baby Clothes?
Yes, fabric markers are definitely okay to use on baby clothes. All you need to do is make sure that all the markers you are using are not toxic and are free of any harsh chemicals.
How Long Does the Ink Last?
This usually depends on the brand that makes the fabric markers. There are some fabric markers that can last a long time even with continuous usage while some can only last up to 10 hours. Make sure that you choose markers that are durable.
Who Are Fabric Markers Best Suited For?
Fabric markers are suitable for use by anyone that wants to draw something onto fabric. For example, if you want to retouch some spots on your faded T-shirt, fabric markers are a great choice. They are also suitable for anyone who wants to use them for special projects, as they can be used on stuffed animals, onesies, and even for designing custom business shirts.
Which Fabric Marker Brands Are the Best and Most Trusted?
There are so many great brands when it comes to making fabric markers. Some of the most trusted brands include Crayola, Crafts 4 All, Liquitex, and many others.
Larissa Meyer is a 32-year-old mother and creative spirit since childhood. Her passion for painting and drawing has led her to train as an illustrator and pursue a career as a freelance graphic designer. Larissa is a talented artist who is able to master a wide range of styles and techniques to bring her artistic vision to life.