Best Soft Pastels – How to Select the Best Soft Chalk Pastels for Art
This post may contain affiliate links. We may earn a small commission from purchases made through them, at no additional cost to you.
Soft pastels are a way of creating art. They have a pigment in them that is held together by gum or resin. They can be used for mixing and blending colors so as to create very unique artworks. Soft pastels are popular because they are very easy to use and the colors are very intense. There are so many different kinds of soft pastel brands that are available that choosing the best pastel can be a very hard choice. That is why we have selected some of the best pastels available on the market today so that you choose the product that is best suited for you.
Types of Pastels
There are a several different kinds of pastels, including hard pastels, oil pastels, soft pastels, chalk pastels, and pan pastels. They all work in the same way, which involves possessing a pigment or liquid that allows the color to transfer onto paper or another material. The difference comes in how the pigments or liquid inks are held together.
Soft Pastels
Soft pastels make use of a resin binder or a gum, which is what keeps the pigment inside it together. Soft pastels have a large amount of pigment but do not have much binder as other pastels do. This ensures that the color is intense as well as rich. Because of the small amount of binder, working with these pastels can become challenging because they are delicate and fragile. They can easily crumble and do not create great details or fine lines. Soft pastels also come in many colors.
Hard Pastels
Hard pastels also make use of gum binder and resin for holding the pigment together. They are different from soft pastels in that they have more binder. They can be used for the same kind of work as soft pastels, but the level of color that they provide will be different. Pencil pastels work in the same way as hard pastels in terms of how they hold the pigment together.
Oil Pastels
Oil pastels are similar to oil paints. They are very different from soft pastels, pencil pastels, and hard pastels and they cannot be mixed or used with them. Oil pastels use wax and oil to hold the pigment together. This ensures that the texture and feel provided is very good.
Why Use Soft Pastels?
Soft pastels are one of the ways of producing great art. The experience provided by using soft pastels is one of a kind. These pastels also provide you with an experience that is unique, allowing you to create designs that any other art medium would not be able to achieve. Using soft pastels also enables you to use unique and different techniques in order to get a very good and different look. The following are the advantages and disadvantages of using soft pastels for creating art.
Pros
These pastels are easy to use and blend in order to create unique effects, making them ideal for both beginners and professionals.
They are rich in color pigment, making the colors on your paper brighter and stronger.
They are a much faster way of creating artwork than painting, since you do not have to wait for them to dry.
They retain color because of their richness in color pigment and can therefore last a very long time.
Pastel colors are durable.
Cleaning up is very easy and simple with pastels.
Storing pastels is relatively easy: They can easily be packed away in a box and transported because of their small size.
Pastels let you have fun and get messy on paper since they do not need precision every time. Messy also looks good with pastels.
Pastels can be used on one's hands without any issues of toxicity, which gives you a chance to feel the artwork.
Art mistakes using pastels are easy to fix, as all you have to do is wipe the pastel off or draw over it. Pastels allow you to reshape some lines or effects as well.
Cons
Some pastels can produce dust, which is dangerous to inhale.
You need to be very careful when using pastels since dust can cause smudging.
Pastels are heavy. While their small size makes them easy to store, carrying them is difficult due to the weight.
Pastel drawings smudge easily when they are touched.
Soft pastels are not a great option for creating large drawings.
A pastel drawing needs to be covered with glass in order for it to stay protected.
The Best Soft Pastels
There are such a wide variety of soft pastel products available for purchase that selecting the right one can be a challenging process. To make things easier, we have chosen six of the best soft pastels on the market so as to allow you to make an informed decision.
Overall Best Soft Pastels: REMBRANDT Soft Pastels Basic Half-Stick Set
These soft pastels have very unique features. The set contains up to 30 colors, each of which are very pure, rich, and intense. The brand makes use of kaolin clay to bind the pigment, which is very advantageous because it helps to improve the finish of the pastels. The finish ensures that the artist is able to get smooth lines and details. The pastels can be used by both beginners who simply want to try using pastels as well as by professionals.
Made from the best quality, finely ground pure pigments

Rich color is thoroughly blended and uniform, end to end

Colors of unsurpassed glow and purity
View on Amazon
These pastels create very beautiful art on paper and offer a wide range of colors, allowing you to create artworks that are powerful and versatile. This brand also makes use of well-grounded pigments to ensure that the color is the same from end to end. The experience that these pastels offer is that of studio quality, letting the artists have a good time while using the pastels. These pastels also crumble very easily, which makes the blending process of using many colors very easy. The quality of pastels is very good, allowing the pastels to last fo a long time. The pastels are very light and the concentration of pigment is excellent.
The Rembrandt brand gives you pastels that are of a professional quality. These soft pastels are the ideal choice for those looking for a pastel that will provide a beautiful, intense, and top-quality color to their artwork. The pigments possess no lead, cobalt, or cadmium.
Pros
These pastels are great for those who want top-notch quality artwork.
The pigments are of very good quality.
The pastels are very easy to use and work with.
They look very good on paper.
The pigments are very easy to blend, even with multiple colors.
Cons
The pastels are half-sized and not full-length sticks.
Best Studio-Quality Pastels: FABER-CASTELL Creative Studio Soft Pastels
The quality that this brand delivers is very good. This set includes 72 different colors that can be blended together with ease in order to create works of art. The pastels are rich in terms of color pigment and the results they offer are beautiful and of a professional quality. This product is great for both students and professionals. These pastels are stored in a sturdy cardboard box that makes them easy to transport.
The design of the pastels ensures that they are able to give you precision and control when using them. They also work very well on many surfaces such as paper, wood, stone, and card. Cleaning or fixing a mistake with these pastels is very easy, as all you have to do is use a finger or a cloth. The pastels are also very easy to blend. This set of pastels offers great value for money, and is a good option if you are looking for a cost-effective soft pastel that will give you many colors while providing a studio-quality experience.
Soft colour deposit for extremely intense and vivid colours

Ideal for drawing fine details and shading larger areas

72 colours in a practical, sturdy box for travelling
View on Amazon
Pros
The brand offers a wide range of colors.
The pastels are rich in color pigment.
They are very easy to use and work with.
They have easy adhesion to different kinds of surfaces.
Cons
Dust can cause smudges on your work.
The pastels are not of full length.
Best Set for Artists: MUNGYO Gallery Soft Pastel Squares
These pastels come in set that has many colors, each of which allow you to blend and mix them together in order to achieve different effects and shades. This set of 30 pastels is packed away neatly in an attractive wooden box to allow for easy transport. This product is a great buy for professionals and beginners alike, as the pastels offer very high-quality pigments, resulting in rich and lasting colors on your page.
When using these pastels, you will find that they glide smoothly onto surfaces, providing you with a thick, vibrant color. This is the ideal purchase for those looking for a top-quality pastel set without breaking the bank.
Professional, artist-grade soft pastels

Smooth and responsive

Highest degree of lightfastness
View on Amazon
Pros
The pastels are easy to layer and blend.
They are lightfast and will not fade easily
They are soluble.
The color pigments are very vibrant.
These pastels offer great consistency and value.
There are a wide range of colors.
The set comes with an attractive carrying case.
Cons
The softness of the pastels can pose challenges for some artists.
The pastels are small in size.
Best Set for Beginners: COLOUR BLOCK Soft Pastel Art Set
This is the best option for beginners who are looking for a set that has many colors. This set offers almost every shade and color tone with up to 100 colored pastels. It is good for those that love mixing and blending colors or those that are simply trying it for the first time.
The pastels easily adhere to paper and blend very well. The pastels are of a good quality and come at a very good price. They are also very easy to use and come in a sturdy wooden box for travelling purposes. The pigments are finely ground, allowing for vivid and rich coloring. This is the ideal set for beginnners looking for a wide variety of pastel colors.
100 vivid pastel colors packaged in a sturdy wooden box
Pastels made with finely ground pure color pigments
Premium artist-grade quality with superior coverage
View on Amazon
Pros
This set includes a vast range of different colors in almost every shade and tone.
These pastels are very suitable for beginners.
The packaging is sturdy and attractive.
This set is available at a good price.
Cons
The quality of the pastels is not artist-grade.
Drawing with the pastels can cause dust, which may smudge your drawings.
These pastels are relatively hard when compared to other soft pastels.
Best Value for Money: HA SHI Soft Pastel Set
This set contains 24 long, full-length pastel colors. The length of these pastels makes them suitable for use on larger artworks, and the thickness of the pastel allows for precise detailing. The pigments are of a high quality, thus providing bright and vibrant colors.
These pastels are very easy to blend, and are particularly good at cerating gradations. The pastels themselves are completely safe and non-toxic, and offer excellent adhesion and color quality. This set will work well for everyone, from completely beginners to seasoned professionals.
Pros
The pastel formula is free of toxic materials, making them safe for use.
They adhere very well and result in excellent-quality color.
These pastels are suitable for use by everyone.
The set contains many colors, where each pastel is thick and full in length.
Cons
The pastels are a little harder than other soft pastels.
Best Premium Soft Pastels: SAVOIR-FAIRE Sennelier Soft Pastels
These pastels are perfect for the professional artist. This pastel set has many colors from which to choose, all of which allow you to mix and blend your colors beautifully. These half-sized pastel sticks are easy to use and are also versatile, as they can be applied to many surfaces, including paper, canvas, wood, metal, glass, and even stone. The pigment of these pastels is excellent, providing you top-quality colors for your pastel works of art. Although expensive, this set provides a range of pastels that will take your artwork to the next level.
Highly pigmented oil pastels

Work on a variety of surfaces

Create multi-media effects over oil, acrylic, pastel, or watercolor
View on Amazon
Pros
The color pigments are intense and rich.
The set offers a wide selection of colors.
The pastels are very smooth, soft, and easy to use.
These pastels are formulated for creating landscapes.
Cons
The set is quite expensive.
Factors to Consider When Buying Pastels
If you are looking for soft pastels for your project, it is essential to know what to look for when selecting the perfect set of soft pastels for the best results. The following are some of the things that you should consider when choosing a soft pastel.
Color Selection
Most soft pastels offer a wide range of colors to choose from. Some come independently whereas others come as a set. The colors you choose are very helpful in creating unique blends of artworks. Make sure that the color selection you choose is suitable for your project's needs.
Quality and Price
There are some soft pastels that are not of an artist grade. If you are a professional, then you should go for the artist-grade quality pastels. The other type of pastel is that of student-grade, which is more appropriate for beginners. The artist-grade pastels are usually more expensive, as they use expensive materials to make the pigment richer and more vibrant. Professional-grade pastels are also softer than those of a student grade.
Pastel Size and Softness
Softness is one of the main features of soft pastels. The softness determines the amount of color that the pastel has. Pastels that are very soft have more intense and rich colors. These pastels are usally more expensive. Soft pastels that are hard do not have much color vibrancy. When buying pastels, you also need to know that the sizes can differ. There are some pastels that are full length while others are half length. The full length ones tend to last longer.
Pastel Shape
Pastels can either be cylindrical or rectangular shape. The choice of shape depends on what works best for you. Square pastels help to create lines that are thick whereas the rectangular-shaped pastels are more precise. Rectangular pastels are also more comfortable to hold and will not roll off the table when not in use.
Set versus Individual Pastels
Always make sure that the pastel you buy fits your requirements perfectly. Consider whether you are purchasing an individual pastel or if you are buying the whole set. It is advisable to start with an individual pastel so that you know it suits your needs before you go ahead and buy the whole set. The full set is more convenient than buying an individual pastel, but trying one out to test it is a good idea. Pastels from the same brand work usually better with each other than those from different brands.
Safety
Most fine pastels have dust that can be dangerous if inhaled. This dust can cause health problems like lung cancer. Therefore, always make sure that the soft pastel is not punctured and is properly handled. If it does produce dust, then ensure that you work in a well-ventilated area or wear a face mask to protect yourself.
Techniques for Using Soft Pastels
There are so many soft pastel techniques that you can use, each of which will allow you to create different effects so as to produce beautiful works of art. The following are some of the techniques that you can use to get the most out of your soft pastels.
Feathering: This technique involves your creating many straight lines to creat a feather-like effect. The lines can be of any size and can be overlapped or crossed over each other. This technique allows for unique color effects and helps one to add textue and detail.
Smudging: This is a great way of blending or creating effects with color. The technique involves the application of a thick layer of pastel to the paper. You can then use your finger to press the color onto the paper and spread it out, creating a smudged effect. This is a great technique for painting landscapes and for drawing water, bushes, mountains, and trees.
Scumbling: This technique allows you to combine colors in order to create new shades. You can apply a thin layer of the color onto an existing layer or directly onto the paper in order to give a softer, duller effect.
Stippling: For this technique, you would dot the pastel onto the paper several times, leaving behind a number of small dots that, when combined, will create a shaded effect. You can also use this method to add to existing layers or to create a textured effect.
Dragging: This technique involves your using a pastel on all its sides and edges. This allows you to use different pressure when drawing so that you can create various effects.
Dusting: You can use the dust produced by your soft pastel as a means of layering or smudging in order to create different effects.
Layering: For this method, you would add several colors on top of one another in order to achieve various effects. You can also overlap the colors to create different shades.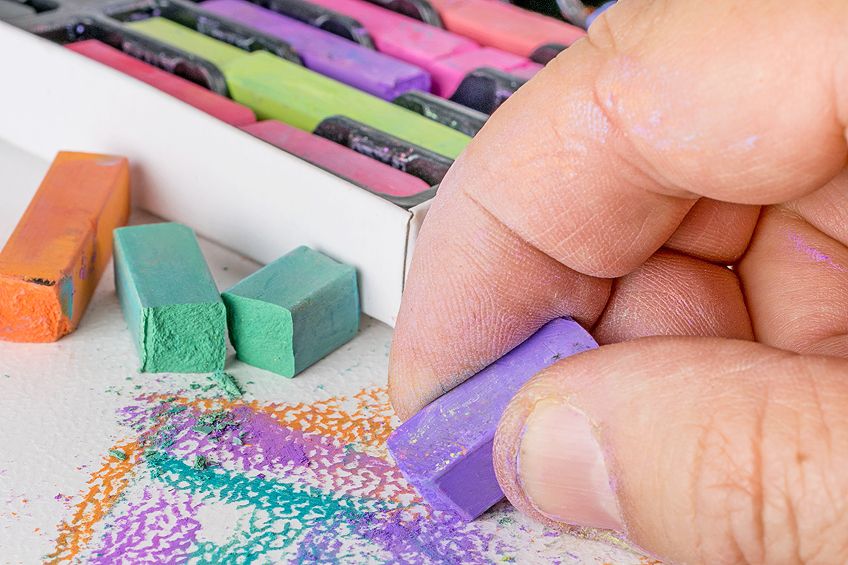 Tips and Tricks on How To Use Soft Pastels
Soft pastels, although easy enough to use, can prove to be tricky at times. It is best to understand all the nuances of using a soft pastel to allow for the best possible artwork. There are certain tips and tricks that you can follow in order to make your artwork come out wonderfully.
An important trick to keep in mind is layers. Soft pastels are very good for creating layers of color to make your artworks more unique.
Start by sketching how you want your image to look. Then use the sketch to begin building layers of color by using the pastels. This sketch works as a reference for your project, allowing you to blend the colors easily.
Draw the simple shapes at the beginning. Any details should be added at the end.
Blow and shake dust off instead of wiping it, because wiping can cause it to smudge.
Use a fixative after you finish your project. This ensures that there are no smudges and that the piece will last for a long time.
Use thick and textured paper to get great results when using soft pastels.
Cover the art work with glass for protection if you want to display it.
Soft pastels are very useful for creating artworks that are beautiful and unique. Choosing the best soft pastels requires more than just going to the market and buying one. You need to know if the pastels have the right properties to suit your project.
Frequently Asked Questions
What Soft Pastels Should I Get?
There are various brands that make pastels today. Most brands make soft pastels that are very good and affordable. However, you should always check the properties of the product first before you make your purchase. Some of the best brands for soft pastels include Faber-Castell, Mungyo, Rembrandt, Colour Block, and many others.
Can I Leave Soft Pastels Unclosed?
Pastels do not easily dry out. Although this is the case, it is still better to store them safely.
Are Chalk Pastels the Same as Soft Pastels?
Chalk pastels and soft pastels are not the same. Chalk pastels are a different form soft pastels in that the color is not as intense as in soft pastels. Chalk pastels are usually made from pigments that are cheaper and are very easy to wash off.
Are Pastels Dangerous for the Skin?
Pastels are safe and most do not contain any toxic substances in their formula. In some pastels, toxic substances are only included in very small amounts so that they are unlikely to cause any harm. These can be washed easily from your skin by using water.
What is the Difference Between Oil Pastels and Soft Pastels?
Soft pastels make use of resin and gum in order to hold the particles of pigment, while oil pastels use wax or oil. Oil pastels are also stiffer and stronger. On the other hand, soft pastels allow you to create great designs because they are very soft and can easily crumble.
What Is the Use of Soft Pastels?
Soft pastels can be very useful when it comes to creating artwork. They can be used to layer, blend and mix colors in order to create colorful effects and unique artworks.
Can Soft Pastels Be Used on Canvas?
Most pastels can be used on many kinds of surfaces, even on canvas. But this also depends on the kind of pastels that you are using, because some do not have great adherence to particular kinds of surfaces.
Larissa Meyer is a 32-year-old mother and creative spirit since childhood. Her passion for painting and drawing has led her to train as an illustrator and pursue a career as a freelance graphic designer. Larissa is a talented artist who is able to master a wide range of styles and techniques to bring her artistic vision to life.