Enamel vs. Acrylic – Difference Between Acrylic and Enamel Paint
This post may contain affiliate links. We may earn a small commission from purchases made through them, at no additional cost to you.
With so many paint mediums available today, it can be hard to find the one that is best for your project. Aside from oil and latex paints, acrylic and enamel paint options are the most used for crafts, home repairs, and painting of general surfaces. The difference between acrylic and enamel paint could make or break your project. In this article, we will walk you through enamel vs acrylic paint as well as the differences, pros, and cons of each.
Difference Between Acrylic and Enamel Paint
Being aware of the differences between these two paint mediums makes it much easier to make decisions for future projects. Based on the characteristics of each paint we can distinguish which product is best according to our project and cost requirements.
Because of the difference between acrylic and enamel paints, these mediums should never be mixed or combined. The different formulas and components of these paints will not work well together. Even if you are using your acrylics as a base, you run the risk of your enamel lifting this from the surface or base of your painted item. Enamel vs acrylic paints are much stronger and should be used alone. The table below reflects the key differences in enamel vs acrylic paints.
| | |
| --- | --- |
| Enamel | Acrylic |
| Oil or solvent-based paint | Washable paint that is water-based |
| Contains chemicals | Contains no chemicals |
| Dries to a hard finish, available in various gloss options from satin or matte to a high gloss | Paint dries to a softer texture and is more flexible than enamel. This has a matte or flat finish unless a painting medium or varnish is used |
| Weather-resistant and will not fade | Will wash off and fade in extreme conditions |
| No need for prepping and priming prior to painting | Prepping and primer will need to be used on certain surfaces for your paint to stick |
| Can be used for large scale projects, indoors and outdoors | Mostly used for smaller projects or touch-ups, not viable for outdoor use unless specified |
| Takes much longer to dry | Dries very quickly |
| Not as many color options | A broad range of colors |
| Will need chemicals or thinners to remove | Will only require water and soap to remove |
| Not safe for children | Safe and non-toxic for children |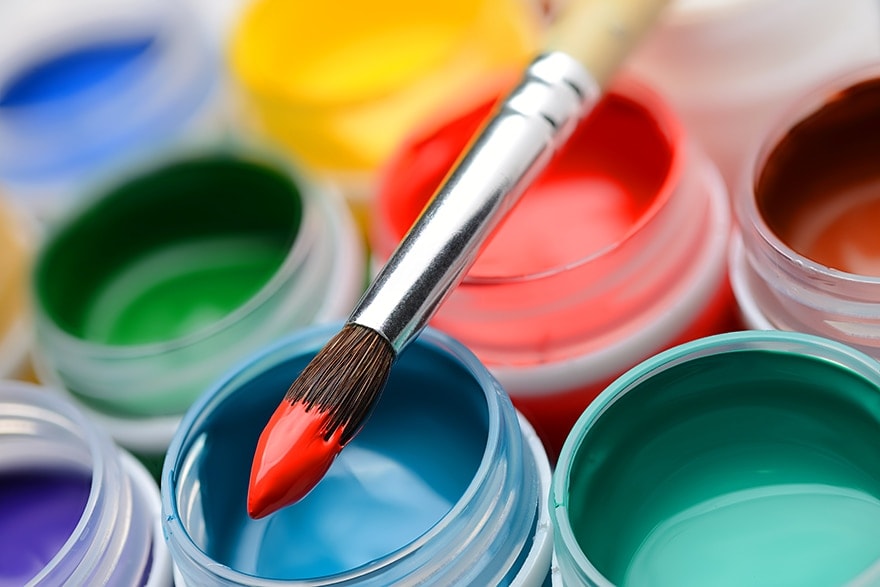 Enamel vs Acrylic
Whether you are spray painting furniture or using your acrylic model paint, the type of paint you choose will be entirely up to you and your preferences. Some prefer spray painting for model painting as it provides a more even coverage. Others prefer the use of enamel model paint or spray paint as they need their models to last.
Acrylic Paints
Based on the table above it is clear that there are many benefits to using an acrylic medium. Here is a list of the pros and cons.
PROS
Safe and easy to use
Washable and no odor
Much broader range of colors available
Can have paint mediums added to enhance workability or alter the texture
Much more cost-effective
Dries very quickly
Can be used on different surfaces
CONS
Not suitable for outdoors or exposure to heat and moisture
Paint will crack if not sealed
Primer is required on tougher surfaces
Surface coverage is not as good and brushes will often leave strokes behind
Dries to a flat, matte finish
Although colors are bright, you may need more layers to achieve desired depth and consistency
Enamel Paint
Its clear to see that acrylic paints may be lacking or simply not strong enough for certain applications. If you are looking for a more durable option, here is a list of the pros and cons to using enamel paints.
PROS
Perfect for projects outdoors
Provides excellent coverage
Less is more
Best for larger projects
Dries to a hard and durable finish
You can choose your color and finish preferences
Suitable for a wide range of surfaces
Fade and water-resistant
CONS
These are strong-smelling and a mask should be worn
Use in a well-ventilated area or outdoors
Use of a chemical paint medium is required to remove enamel
Limited color range available
Drying time is much longer
Oil base means your paint can separate if not stored correctly
Working With Acrylics
We all know about using acrylic paints. Aside from watercolors, these are a popular medium in classrooms and even homes today. Acrylics are highly versatile water-based paints. They come in a wide range of color options and will work well on most surfaces you apply them to. This includes paper, canvas, wood, plastic, and sometimes metal. Acrylic paints are also very easy to use and clean up, especially when working with kids. Wash this paint off your skin or surfaces simply using soap and water.
The benefits to using acrylics vs enamel are that acrylics are non-toxic, and they dry really quickly. This makes painting larger projects or layering much less time-consuming. Another pro is that acrylics do not require you to use chemicals when working with them. Unlike non-water-based paint mediums, this one just needs some moisture to enhance it or add workability.
When using acrylic paints, you can add acrylic paint mediums in to change their consistency or texture. These include acrylic painting mediums that are non-toxic. Using these can enhance shine, finish, and even the hold of your paint on the surface. When painting on wood, for example, a primer would need to be applied and your surface prepped and sanded before painting with acrylics. Once done, a sealant or varnish would probably do well in preserving your paint or artwork, especially if used outdoors.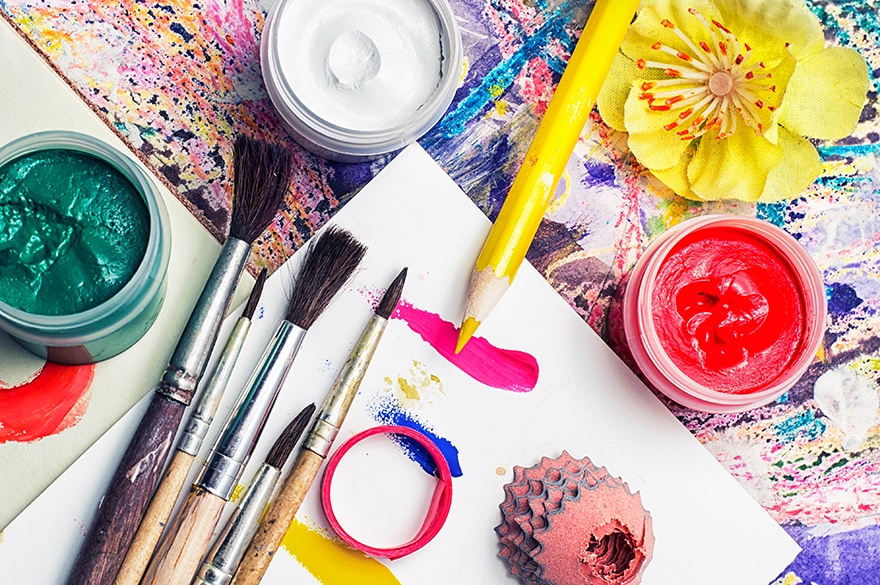 Types of Acrylic Paint
Within the range of acrylic paints, there are a few variants. Some are best suited to use on certain surfaces, while others will work well outdoors. Depending on your budget, there are more expensive and higher quality paints or there are student and beginner grade ranges as well. Based on your needs and project requirements, you should look at these factors before making a purchase. There are certain brands that offer beginner sets or painting kits, these may be more cost-effective when starting your painting journey. Here are some of the different types of acrylics that are available and what they are best used for.
Artist Grade or Craft Acrylics – These paints are available in sets or as individual artist tubes. They come in a wide variety of color options and price range can vary based on quality. These come in either soft or hard-bodied paints. Hard-bodied paints are much thicker while soft-bodied ones are easier to mix and blend without the use of a medium.
Fluid Acrylics – These paints come in liquid form in a bottle and are used for techniques like pouring or staining with your paints. These can also be used as normal acrylic paint but the consistency is much thinner.
Open Acrylics – The paints are slow drying and used when wanting to mimic effects obtained usually by oil paint. The extended dry time and smooth, thick texture of these acrylics allow for added workability and enhanced colors.
Interactive Acrylics– These are a unique range of paints that allow them to be reactivated once dry. This is achieved with the use of an unlocking formula or acrylic medium. These paints dry quickly.
Acrylic Spray Paint – The wonderful benefits of acrylic colors in a mess-free and easy-to-use spray can.
Acrylic Gouache – Professional quality paint that leaves you with vibrant colors in a matte finish.
Acrylic Inks– These are the same consistency as fluid acrylics and are used for the same methods. Acrylic inks can also be used to create watercolor techniques, calligraphy art, and airbrushing.
Acrylic Marker – These are special pens one can use on canvas or other surfaces to add to their artwork.
Acrylic Outdoor Paint – These are used for exterior projects that will be exposed to moisture or heat. These paints have been formulated to withstand those conditions and last a long time.
Acrylic Modelling Paint – This is used for touch-ups and small-scale projects like painting miniature models. It is not suitable for outdoor use as the acrylics will wash off.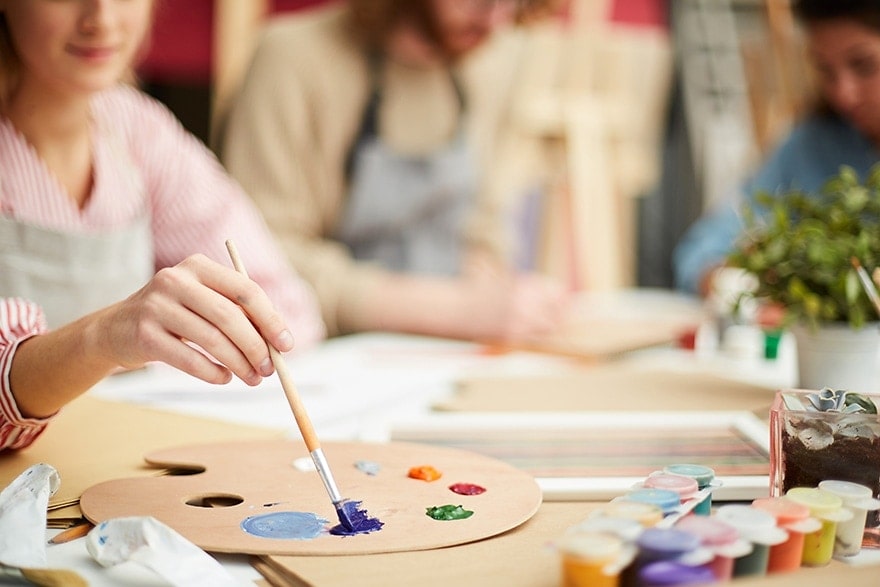 Using Acrylic Paint
With all these options to choose from, it is no wonder acrylic paints are such a popular and loved painting medium. While these paints can be used on most surfaces, they will always benefit from adding a protective layer of varnish to them. This will only be possible after about seven days of painting. This is to ensure each layer of your paint is completely dry before you seal it.
Using acrylic model paint is no different. Some people like to use this option as opposed to the enamel modelling paints as they are less toxic and easier to use for small details and touch-ups. However, acrylic modelling paints are washable and therefore will never be as durable as the enamel options. Below we have a recommendation for those who are looking at acrylic modelling paints.
Best Acrylic Modelling Paint: VALLEJO Basic Color Paint Set
This acrylic model paint set includes 16 permanent, opaque colors. Although water-based, these are great for model painting on tougher surfaces such as plastic or metal. Vallejo's Basic Color paints have a smooth and flat finish and are easy to apply. These can be used with or without the help of an acrylic paint medium. These paints also have a lightfast rating which indicates their durability and resistance to fading. They can also easily be applied with an airbrush for a smoother and cleaner application.
PROS
16 colors in the set
Can be applied to different surfaces
Colors have a lightfast indicator
Can be used in different techniques
Water-based, easy to wash off
CONS
Bottles are small
Set is pricey
Paint will chip and peel if not sealed with a varnish
Working With Enamel Paints
The biggest difference between acrylics and enamel paints is that these are chemical and oil-based paints. This makes enamel much tougher and longer-lasting when compared to using acryl options. Enamel paints can also be used on many surfaces such as plastic, metal, glass and wood. They are a favorite for any exterior painting work as these paints are generally water-resistant and will not fade in the sunlight.
When using enamel model paints these have the same qualities of added durability and a glossier finish. This is due to their oil base. Enamel model paints can be used directly on the model item with no prep work necessary. They will however need a chemical aid to get them off your surfaces and tools. the best thing about these paints is that no matter the surface, your colors will always look shiny and smooth without the need for gloss or sealants. The best part is these paints come in a range of different finishes, making it easy to choose what works for you.
The downside, of course, is that these paints are strong-smelling and toxic to work with. They should be used with a mask and outdoors preferably or in a ventilated area. Enamel paints also take a lot longer to dry much like oil paints and these will need more time between layers. Other projects where your enamel paints would work well:
Doors and frames
Wooden, metal, or plastic furniture
Cabinets and drawers
Appliance painting
Handrails and signboards
Floors and decking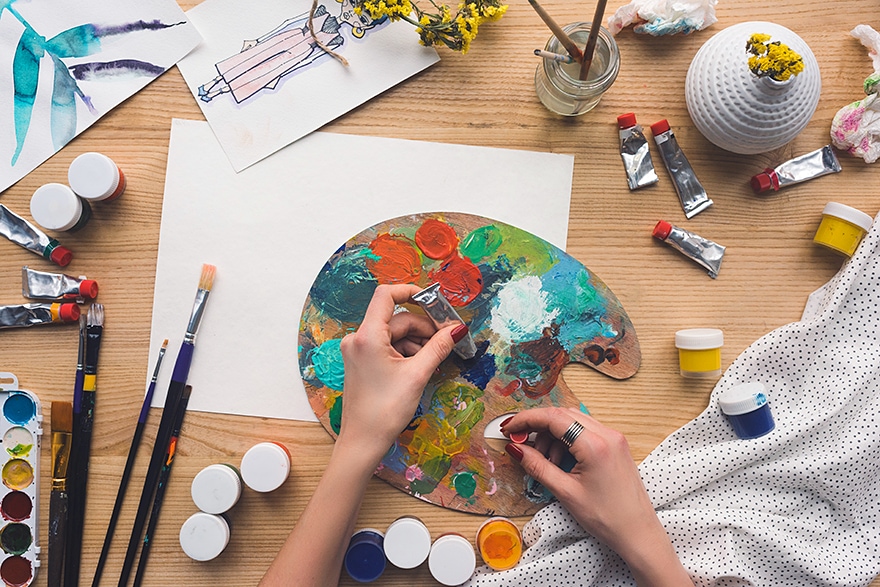 Best Outdoor Enamel Spray Paint: RUST-OLEUM Enamel Spray Paint
Rust-oleum has a wide range of enamel-based spray paints that can be used on just about any project you can think of! This range has built-in rust inhibitors that will protect your paint even in high moisture conditions. Not only suitable for metal, but this enamel spray paint can also be used on wood items, stone, pottery, cement, plaster, and more. This paint comes in individual spray cans so you can pick and choose your color and finish options. This paint takes under five hours to be touch dry and will leave your surfaces smooth and protected.
Provides a weather and corrosion-resistant coating
Oil-based formula with excellent rust prevention
Flat finish to minimize surface imperfections
View on Amazon
PROS
Affordable
Rust resistant
Can be used on interior and exterior surfaces
Will not fade
Easy application and full coverage
Comes in different finish and color options
CONS
Solvent-based, toxic to inhale
Takes much longer to dry than acrylics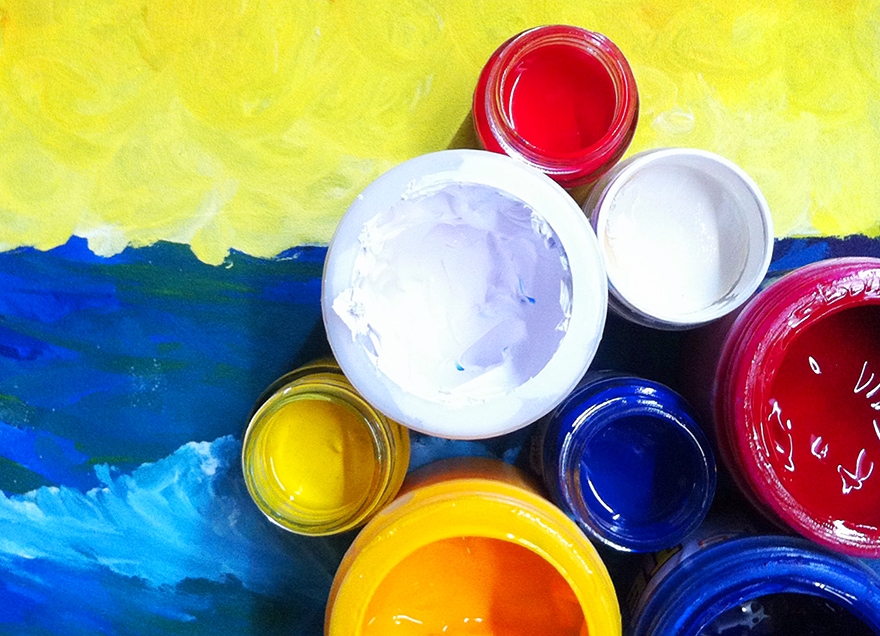 Frequently Asked Questions
Which is Better: Acrylic vs Enamel?
Whatever you are painting, picking the paint that is best for the job you are doing can be a daunting task. The key is to know your products and what you want to use them for. If you are using your paint for work outdoors or would like longer durability, then enamel modelling paints and mediums are the way to go. If you are looking for a quick project to add a splash of color indoors then acrylics are safer to use and easier to clean up.
Enamel vs Acrylic, What is Best for Use On Metals?
Certain acrylic paints can be used on metals but will require the surface to be primed and prepped beforehand. This is to ensure they adhere correctly and will not lift. Enamel paints are often better suited for painting on these tougher surfaces. These paint mediums are stringer and more durable and do not need a primer to be used for them to get a good hold.
How to Tell the Difference Between Acrylic vs Enamel Paint?
Acrylic paints are more of a craft-orientated paint choice. These come in very bright colors and will dry very flat. They are readily available at art shops or online craft supply stores and are quite affordable. Enamel paints are very strong smelling and available in a limited color variety. Usually, you can choose the finish option you would prefer within these ranges. You are more likely to find these paints at building and home stores that stock paint for larger DIY projects.
Can You Use Enamel and Acrylic Paint Together?
This is not recommended as acrylic paints are not as durable or strong as enamels. They therefore will not do a good enough job of adhering to your surface. Adding enamel paint over this will cause it to lift and peel in the future. Even if you have primed your surface beforehand, this method is not useful when wanting a long-lasting and professional-looking paint job.
Understanding enamel vs acrylic paint is important to know which paint is best for your project. We hope that our guide above has cleared up any of your questions. Happy painting!
Larissa Meyer is a 32-year-old mother and creative spirit since childhood. Her passion for painting and drawing has led her to train as an illustrator and pursue a career as a freelance graphic designer. Larissa is a talented artist who is able to master a wide range of styles and techniques to bring her artistic vision to life.