Best Markers for Coloring – Choosing the Right Coloring Markers
This post may contain affiliate links. We may earn a small commission from purchases made through them, at no additional cost to you.
Whether you are a professional artist looking to add high-quality color to your drawings, or a lover of adult coloring books, you need coloring markers that will live up to the job. The problem is, there are so many different brands of coloring markers that it can be tricky to find the ones that are worth your money. In this article, we present a list of the best coloring markers for the novice and professional. We also lead you through the critical considerations for anyone looking to purchase new coloring markers.
Things to Look for When Buying Coloring Markers
With the variety of coloring markers available on the market, you need to consider several things before forking out a lot of money. Pigment base, color selection, nib-type, ink consistency, and of course, price are key considerations.
The Type of Coloring Marker Nibs
There are four general types of coloring markers available, each with a different style of the nib. The nib directly affects the effects you can achieve with them. It is a good idea to consider what you want to use the coloring markers for and to let this inform the type you choose.
Brush Markers
Brush markers have a brush-like felt nib that easily soaks up the ink and dispenses it smoothly on the page. We love to use brush markers for larger coloring projects that require a lot of shading and large blocks of color. Brush tip markers usually have 6 mm tips, allowing you to use them for finer details too.
Fine Tip Markers
As the name suggests, fine tip markers have a smaller nib that comes to a slender point. The nib size is typically 4 mm or smaller, and as a result, these markers are not ideal for shading. We prefer to use fine tip markers for adding intricate details and creating beautiful lettering.
Dual Tip Markers
If you simply cannot choose between brush markers and fine tip markers, do not fear! Dual tip markers give you the best of both worlds. These markers typically have two different nibs on each end. These can be fine, chisel, or brush nibs. Sometimes you can find dual-tip markers with different colors on each end, but it is more common for them to be the same color. We love the versatility of dual-tip coloring markers.
Gel Pen Coloring Markers
Gel coloring pens have gel-like ink and are often more vibrant than other coloring pens. The texture of the ink and the nib is similar to that of a writing pen. Despite their vibrant colors, gel pens are not ideal for shading large areas of color. We prefer to use them for adding highlights and details.
Watercolor Markers
The ink in watercolor markers has a watery consistency, and produces a similar effect to watercolor. Watercolor markers do not use watercolor paint, but rather a dye. The brush-like nib allows you to create paintlike effects, and you can also create beautiful details.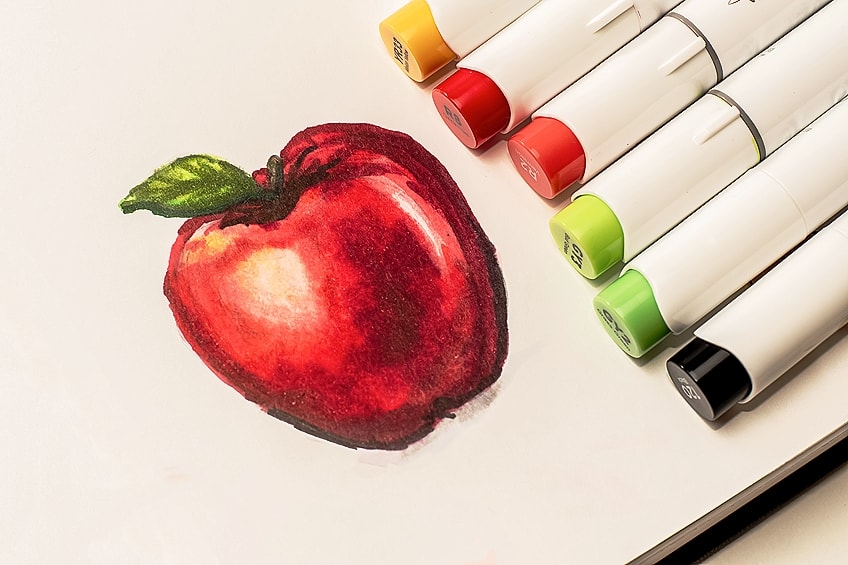 Type of Pigment Base
There are two pigment base options among coloring markers: water or alcohol. Typically, alcohol-based markers are of a better quality and are more expensive. Water-based markers tend to be safer for children but the color does not last as long.
Alcohol-based Coloring Markers
One of the top benefits of alcohol-based markers is their superior blendability. The alcohol pigment base allows the color to soak into the paper fibers, and, as a result, the color saturation lasts for a long time. Alcohol-based coloring markers are fantastic for coloring books and stand-alone pieces.
There are, however, some downsides to alcohol-based coloring markers. Their longevity comes with a fair amount of bleed-through, so you need to use a good quality paper. We also do not recommend using these markers in journals or on printed paper. Alcohol-based markers dry very quickly, so you need to work fast.
Water-based Coloring Markers
While water-based coloring markers are a less expensive alternative, you will sacrifice some quality. These markers can contain either pure water or a mix of water and glycerine. Thanks to their water base, these markers are odorless, so they are wonderful for children. Water-based coloring markers are not as permanent as alcohol-based coloring markers and can bleed if water comes into contact with them.
The Design of the Pen
Whether you are a coloring book fan or a professional artist, you need the pen to fit comfortably in your hand. If the barrel of the marker is slippery, your hand is likely to cramp quickly. We suggest using a coloring marker with contours on the barrel to help your grip. We also recommend buying slightly thicker markers with a rounded triangular stem, particularly if you will be coloring for a long time.
All About the Colors
If you are going to be spending money on coloring markers, you want a good range of vibrant colors. If you have a fair amount of money to invest, and you intend on using your coloring markers often, you can buy relatively large sets with many colors. If you are only just getting into coloring books or creating artworks with coloring markers, you can buy smaller sets or even individual colors as and when you need them.
Our Recommendations for the Best Coloring Markers
As you have seen by now, the range in coloring markers is immense. We have reviewed some of the best fine line, brush, gel, and dual-tip markers so that you can shop with confidence. We have also included top-quality coloring markers for those who can afford them, as well as more budget-friendly options.
Fine Line Markers: Our Top Recommendations
The following fine line markers are, in our opinion, some of the best available. With delicate tips and vibrant colors, you will not go wrong purchasing either of these sets. Fine line markers are fantastic for creating intricate details and coloring small areas, and are some of the best pens for adult coloring books.
Budget-Friendly Fine Line Markers: CRAYOLA Fine Line Markers Adult Coloring Set
With this set of 40 vibrant fine line markers, you will never be lacking in choice. This set is a real game-changer for professional artists and coloring enthusiasts alike. The color shades are incredibly vibrant, and the set of markers offers some shades that you will struggle to find elsewhere. This variety of colors offers you freedom in your designs and is perfect for those looking to create depth of color and gradation.
An assortment of 40 rich and relaxing coloring tools

Fine tip markers contain vibrant ink that lasts

Non-toxic art supplies for artists aged 12 and older
View on Amazon
The fine line nibs of these coloring markers are long-lasting and 1.0 mm wide. You can use these markers to create intricate details and lettering, although we do not recommend using these markers for large blocks of coloring or shading. While these markers do spread the color uniformly, it will take you a long time to cover large areas. Despite the thin nib, the color application you will get from these fine line markers is not streaky. You will also not get any spots that are much darker than others, as the color dries very evenly.
The vivid colors hold their own, and even the lighter shades do not wash out once dry. You will not need to shade over previously laid down ink thanks to the vibrancy of these markers.
Although the drying process is long, once it is dry, the color is wash-proof and long-lasting. Another great feature of the Crayola fine line coloring markers is that they do not bleed through your paper. This feature is fantastic for those working in coloring books or trying to save paper by working on the backs of other pieces.
The ink dispenses very quickly, so you need to work quickly to avoid pooling. We also recommend using these markers on more robust paper as a result of the heavy ink dispensation. Although they do not bleed through thicker paper, some artists have experienced bleed-through when using thin paper.
In summary, these are great and affordable coloring markers for those just starting in the coloring world. The set includes a variety of shades and the coloring markers last for a long time.
Pros
Vibrant colors
Wash-proof color
Range of 40 unique shades
Fine tip is great for detailing
Long-lasting nib
Will not bleed through robust paper
Affordable
Cons
Heavy ink dispensation can cause pooling
May bleed through thinner paper
Top-Quality Fine Line Markers: STAEDTLER Triplus Fineliner Markers
Despite being one of the more affordable fine line marker options, these coloring pens are of a very high quality. The set includes 36 different shades of water-based markers with an incredibly small tip of 0.3 mm. Metal cladding protects the nib of these fine line markers. The pigment base is water, which unfortunately means that the color may fade with time, and that it will run if it comes into contact with water.
Fineliner with superfine, metal-clad tip

Ergonomic triangular shape for relaxed and easy writing

Dry safe – can be left uncapped for days without drying up
View on Amazon
The ink in these Staedtler fine line coloring markers will not bleed through even the thinnest of paper. These pens have great color consistency; you will not get any spots of darker color or streaks in your finished piece. These coloring markers are not made for shading or filling large blocks of color, however, and instead are fantastic for creating lettering and intricate detailing on your artwork.
The shaft of these Staedtler markers is triangular, making for an ergonomic fit in your hand. As a result, you can use these pens for a long time in comfort. Furthermore, these markers include a smart mechanism that prevents the ink in the coloring pens from drying out, even when uncapped. Once on the paper, the ink dries quickly, which is perfect for left-handed people. However, the fast-drying nature of the water-based ink does mean these coloring markers do not have much blendability.
There are some less appealing features to these pens. Firstly, some artists have noted that the colors are quite dark and do not contain as much pigmentation as other available brands. Secondly, the color advertized on the body of the pen does not align with the color of application. Although this is not the end of the world, some may find it an annoying feature.
To sum up, this set of coloring markers is a fantastic investment for beginner color enthusiasts thanks to their affordability and good range of colors. The fine nib is not designed for shading large areas of color, and the water-based ink may fade with time. For the price, you will be getting very good coloring books markers.
Pros
Fine nib
Affordable
Good range of colors
Will not bleed through the thinnest paper
Fast-drying
Dry-safe technology
Cons
Colors are dark
Not as pigmented as other brands
Caps do not match the ink
Color may fade with time
Gel Pen Markers: Our Top Recommendations
We love using gel pen markers in coloring books and individual pieces of art. The variety of colors is fantastic, and you can get pens that include glitter or metallic effects to add another dimension to your work. Even if you do not use gel pens exclusively for your coloring, they are great for adding details and filling small spaces.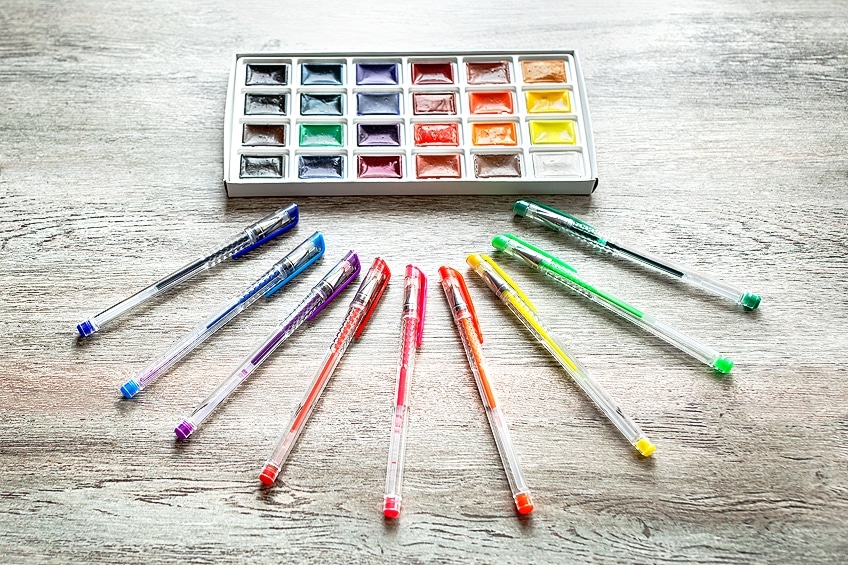 Budget-Friendly Gel Pen Markers: SAKURA Gelly Roll Classic Set of 10
To label these Sakura gel pens as budget-friendly may mislead you on their quality. Although they are fairly affordable, they are of fantastic quality and many coloring artists rave about them extensively. The set we have linked to here is for their classic gel pens, but Sakura has a wide range of different ink types, including those with glitter, pastel, and metallic effects.
The original Ice Cream Smooth gel ink invented by Sakura

Archival quality ink is chemically stable, waterproof, and will not fade

No smears, feathers, or bleed-through on most papers
View on Amazon
The gel ink in these Sakura pens is water-resistant, chemically stable, and resistant to fading. Furthermore, the ink does not bleed through, feather, tear, or create any pooling effects on the paper. These gel pens also have very fast-drying ink, making them ideal for left-handed people or those who wish to write with them. The consistency of the ink is very smooth, making for wonderful application to the paper.
The vibrant color range is good in this set of 10 gel pens. Although there are not varying shades of colors, you will get one each of red, burgundy, royal blue, pink, black, green, orange, purple, blue, and brown. The nib of 0.4 mm is nice and thin, allowing you to create intricate lettering and details with ease.
Although not included in this particular set, the Sakura Moonlight and Souffle gel pens are also fantastic investments for people who are serious about coloring. These Sakura gel pen varieties have very opaque ink that you can use to color over black lines.
In summary, Sakura gel coloring pens are a recommended investment for anyone who loves to color but is wary of their budget. Do not let the affordable price fool you into believing that the quality is low. The ink has a smooth consistency and vibrant pigmentation.
Pros
Affordable
Rich pigmentation
Smooth application
Fast-drying ink
Does not bleed
Thin 0.4 mm nib
Good range of colors
Cons
Relatively small set
No varying shades of color
Not ideal for shading
Top-Quality Gel Pen Markers: SHUTTLE ART Gel Pen Unique Colors Set
If you are very serious about coloring and love gel pens, then this is the set for you. With 120 individual colors and seven ink types, there is no limit to what you can create with this extensive range of coloring pens. Although the price is higher than other sets of gel pens like the Sakura set above, the value for money is high. If you are looking for a beginner set of fine tip coloring pens, you cannot go wrong with this Shuttle Art set.
Includes 120 unique colors with seven different color types
Vibrant inks are long-lasting with durable tips for smooth writing
Non-toxic and acid-free with cute and convenient packaging
View on Amazon
For us, the seven different ink types are a big selling point for these gel pens. There are metallic, glitter, neon, pastel, neon-glitter, standard, and swirl pens in this extensive set. You can create some unique and interesting effects with this range of ink options, which we love. The ink does not dry up quickly or easily and is non-toxic and acid-free, making it safe for children.
The design of these pens is also a selling point. The slim 0.8 to 1.0 mm bullet nib allows you to create intricate details and fine lettering with these gel pens. Once again, due to the bullet nib, we do not recommend using these pens to shade large areas, but these are fantastic coloring books markers.
These gel pens come in a convenient carry case that keeps your coloring pens safe and together. Although the case is large, it does make traveling with your gel pens easier.
Although we could sing the glories for these gel pens all day, there are a couple of downsides. The vibrancy of the pastel and neon gel pens are lacking compared to the other variants. You may also struggle to get the ink to run out smoothly. We suggest keeping this set of pens upside down so that the ink can roll out with more ease.
To summarise, this set of 120 gel pens is fantastic for beginners or coloring enthusiasts. Although the price is a little higher than other sets, the value for money is outstanding. You can achieve so much variety with the coloring pens in this set, and the range of colors and ink types are fantastic.
Pros
Affordable and good value for money
A broad range of colors and ink varieties
Design is convenient
Comes with a case
The fine nib is great for intricate details
Cons
Neon and pastel colors are not as vibrant
Can be tricky to get the ink to roll out smoothly
Brush Pen Markers: Our Top Recommendations
The coloring pens we have covered so far have all had fine tips. It is finally time to go over our recommendations for brush pen markers. These coloring markers are ideal for blending and shading large areas. While we certainly recommend having some fine line coloring markers in your arsenal, for us, brush coloring markers are the foundation for good coloring work.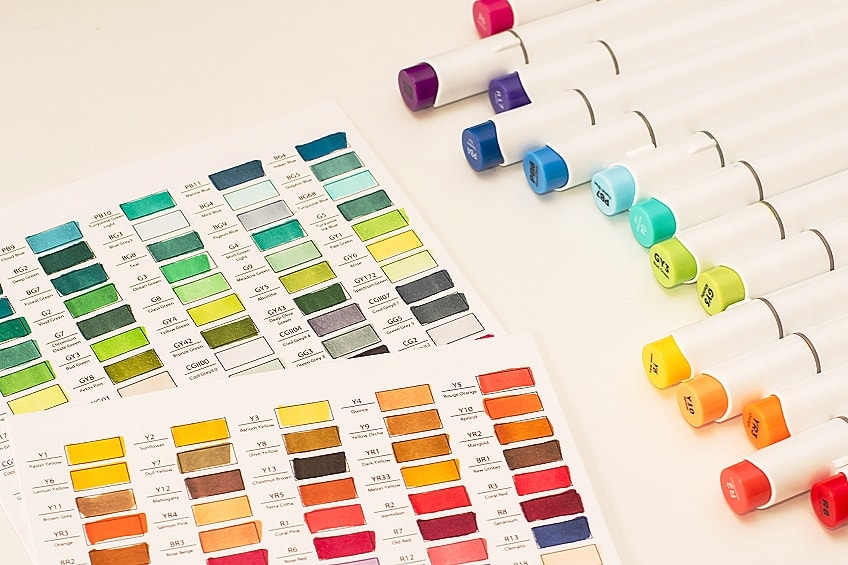 Top Quality Brush Coloring Markers: FABER-CASTELL Artist Brush Pens
If you are looking for quality art supplies of any kind, Faber-Castell is a go-to brand. The premium quality of these pens is evident in every aspect of them, including the box, the pen design, and the ink used. This set of premium coloring markers comes in an olive green case with a magnetic fastener. Inside, you will find a welcome note and below, the coloring markers arranged by shade. If this attention to detail has not sold you on these brush pens yet, continue reading.
Lightfast, water-resistant, and odor- and acid-free
Wide range of highly pigmented, permanent colors
Minimal environmental impact after use
View on Amazon
The Faber-Castell artist's brush pens are available in boxes of 12, 24, 48, 60, and 90. The price tag is significant, so the larger sets may not be suitable for all. The option we have chosen to review is the 24-piece set. The color selection in this set of brush pens has a nice range of skin tones, greys, and secondary and tertiary colors. The darker shades are saturated and solid, but they do dry a little more subdued than they appear initially.
The colors blend well together when wet, and because of their unique ink, they do not dry as quickly as alcohol-based markers.
A unique aspect of these Faber-Castell brush markers is their use of India ink. This type of ink is pigment-based, and as such, it performs differently from pens with alcohol or water bases. These pens are free from acid and do not have a strong odor. Furthermore, the ink does not bleed through even the thinnest of paper and does not smudge. If that was not enough, the ink is also waterproof and glides smoothly onto the paper.
While we simply cannot get enough of these premium-quality coloring markers, we do not recommend them for beginner colorists. The price tag is significant, so these pens are an investment. The India ink is also very different in terms of how you use it compared to the other pens on this list. While the blendability is better than water-based markers, they can damage the paper if you do not use them carefully because they do not dry as fast as alcohol-based markers.
In summary, the quality of these pens is undeniable. The color selection is fantastic, and the application is smooth and vibrant. The India ink is very different from other coloring markers and takes some time to get used to. These markers are as expensive as they are good, so we do not recommend these markers for hobbyists or beginners with tight budgets. Despite the price, these are some of the best markers for coloring.
Pros
Premium-quality pens
Saturated and vibrant colors
A versatile range of colors
Good blendability
Cons
High price tag
Can be tricky to get the hang of
Dual Tip Markers: Our Top Recommendations
Many of the following markers are brush markers like the Faber-Castell pens reviewed above, but they all have another nib option on the other end. Dual-tip coloring markers are a great option for beginners because you have two design options in one pen. Dual-tip markers are some of the best adult coloring markers because of their versatility.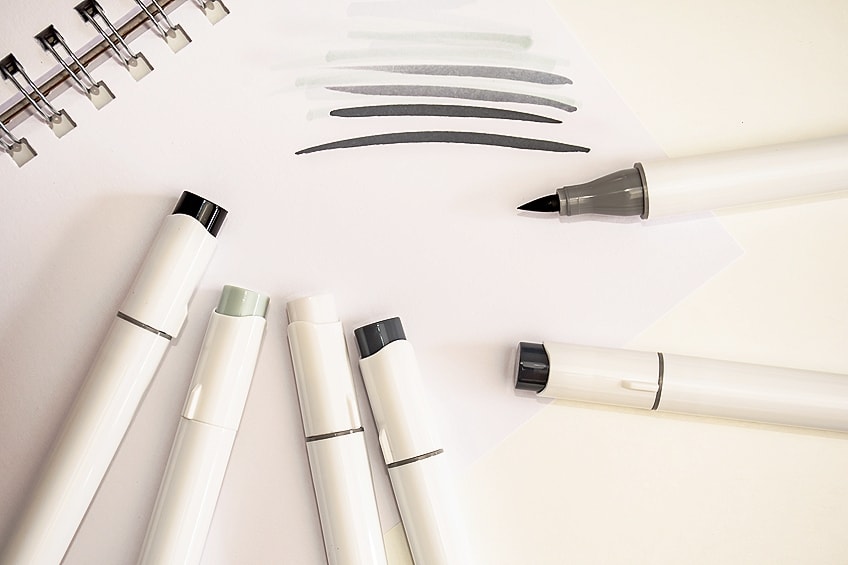 Budget-Friendly Dual-Tip Markers: OHUHU Brush and Chisel Dual-Tip Markers
For alcohol-based markers, this set of dual-tip coloring markers is remarkably affordable. Many artists taut these coloring markers as a cheaper alternative to the heralded Copic markers. While they do not live up to the quality of Copic markers, they are still pretty good. We recommend these markers to beginner artists on a tight budget who would like a good variety of coloring markers.
Dual brush and chisel tip
Easy blending with no smudging or fading
Wide variety of vibrant colors with a colorless blender
View on Amazon
In terms of the overall design, these Ohuhu markers do not share the superior quality of Faber-Castell or Copic. The thin fabric case does not offer support to the pens, and any form of attempted organization will not last long. The barrel of the marker is a strange combination of square and round. The shape can be a little awkward in the hand if you are using these pens for adult coloring books.
The dual-tip marker has a brush nib on one side and a chisel (highlighter-looking) nib on the other side. There is a thin grey band around the tip of the brush side. The caps contain strangely arbitrary color codes. Some of the markers are labeled with numbers, while others have alphanumeric labels. We recommend making a swatch list of these markers to identify your colors and get around this strange coding.
In terms of color selection, this set of Ohuhu markers seems to contain a large number of green and fluorescent shades. Furthermore, many of the colors resemble each other closely, which is not ideal. Despite these issues, the final color outcome is vivid and highly pigmented, making them great adult coloring markers.
The ink, although alcohol-based, is clearly at the lower end of the price range. For cooler and lighter color shades, application and blending are smooth and easy. Darker colors, on the other hand, are on the other end of the blendability spectrum. The darker colors can appear patchy on application, which may be due, in part, to the slightly runny consistency of the pigment.
The ink also takes a little while to dry, so if you are not careful you can easily smudge your work.
In summary, the Ohuhu dual-tip markers are not bad, but they are certainly not as good as the Copic Markers to which they are often compared. If you are a beginner or on a tight budget, we recommend giving these coloring markers a chance. The colors are bright, and the application, although hit and miss, is generally good. Although these are not the best colored markers, they are still pretty good.
Pros
Affordable
Good color outcome
Light colors have good blendability
Do not bleed through
Cons
Not premium quality
Darker colors can be patchy
Packaging and design subpar
Best Value for Money Dual-Tip Markers: PRISMACOLOR Premier Double-Ended Art Markers
Prismacolor is a renowned brand in the world of art supplies, and their dual-tip brush and fine line coloring markers are attracting a lot of attention among artists. These coloring markers are available in sets of six, 12, 24, 48, 72, 156, and 200. The set we are reviewing is the 24-piece set that comes in a padded black case. The coloring markers lie horizontally in the case, which extends their lifespan.
Dual-ended markers featuring both fine and brush tips

Dye-based ink formulation for rich color and superior blendability

Single source of ink guarantees color consistency at both ends
View on Amazon
These dual-tip markers have a brush nib and a fine nib. This nib combination is great for those looking for versatility, as you can shade and create details with a single pen. The fine nib is firm, and you can create precise and clean lines with it. You can use the versatile brush nib to create small details and shade large areas.
In terms of design, the Prismacolor dual-tip markers are attractive and comfortable for the hand. The end with the straight line is the fine nib, and the other end with the wavy line is the brush nib. The color of these lines and the color code on the cap indicates the color of the marker. The marker cap fits snuggly and closes with a satisfying snap that means it will not easily fall off.
The color pigmentation of the Prismacolor dual-tip markers is dense; the colors are saturated and bright. Unfortunately, the ink does have a strong odor, and the density of pigmentation means that they do bleed a lot. Also, the ink can take a while to dry fully, so you need to be careful not to smudge it. The blendability of the Prismacolor markers is very good.
Despite the vibrancy of all the colors, the blend transition is seamless. You will not get a streaky effect as long as you lay down even strokes, and you can easily build up the color without damaging the paper.
Overall, we can highly recommend the Prismacolor dual-tip brush and fine nib markers for professional artists and beginners alike. The color application is smooth and vibrantly pigmented, and the nibs are of a very high quality. The high level of pigmentation does cause these markers to bleed quite a bit, so we do recommend using them on more robust paper. As a result, these are not the best markers for adult coloring books. Although the price is fairly high, the quality is well worth the investment.
Pros
Padded carrying case
Comfortable shape
Vibrant colors
Dense pigmentation
Top-quality blendability
Versatile
Cons
Color does bleed
Higher price tag
Narrow color range
Ink takes a while to dry
Top-Quality Dual-Tip Markers: COPIC Markers Sketch Basic 36-Piece Set
This set of dual-tip markers is the pinnacle of quality coloring markers. Alongside many other artists, we believe that these are the best coloring markers available. Unfortunately, with their premium quality comes a premium price tag, so these may not be affordable for beginners. These Copic markers are of a professional grade, compatible with airbrush systems, are available in any color your heart desires, are refillable, and have replaceable nibs. Could you ask for anything more?
Packaged in a clear plastic case

Refillable markers and replaceable nibs

Alcohol-based ink is permanent and non-toxic
View on Amazon
In terms of design, the barrel is sleek and rounded, with a chisel and brush nib on each end. You can easily tell which nib is which by the small label on each end. You can find the color codes on the body of the barrel, and the caps match the colors of the ink. The markers come in a clear acrylic case that you can store them in neatly. This case is not suited to travel, however. The ability to refill the ink and replace the nibs on your Copic markers is a great selling point and for us, makes the hefty price tag seem more reasonable.
In terms of ink, color application, and blendability, these Copic markers are a dream. You can build up the color very easily, and as a result, you can use the same coloring marker to create a variety of different shades. The alcohol-based and acid-free ink dries fairly quickly after application, so you are unlikely to smudge your work.
The ink does not bleed until you have created multiple layers, which is fantastic and makes them some of the best markers for adult coloring books. Also, you will not get any feathering effects with these markers. The brush tip is truly magical when it comes to blending, with just the right amount of flexibility and firmness for ultimate control. The colors blend together seamlessly.
The raving reviews are not exaggerating the excellence of these markers; these are definitely the best markers for coloring.
In summary, there is very little that we can fault these markers on, except perhaps, the price tag. The versatility and vibrancy of the colors are top-notch, and these coloring markers blend like a dream. If you are a professional artist or you can afford to spend around $200 on a set of coloring markers, you will not find a better option out there. If you are a beginner or a hobbyist, we recommend giving a more affordable set, like those we have reviewed above, a try.
Pros
Fantastic range of colors
Saturated pigmentation
Incredible blendability
Premium design
Good build-ability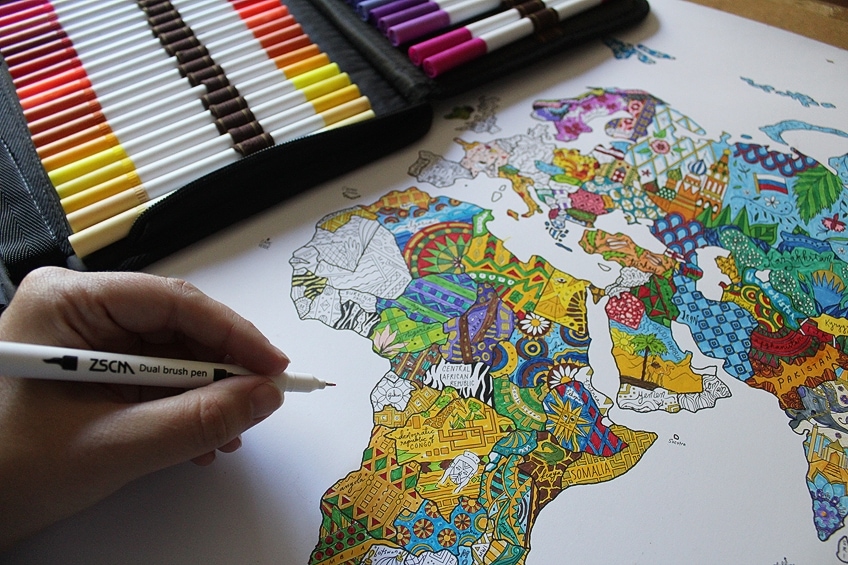 Frequently Asked Questions
What Are the Best Quality Coloring Markers?
In terms of performance, the best adult coloring markers are the Copic dual-tip coloring markers. These Copic coloring markers are incredibly expensive, however, and there are more affordable options that are almost as good. Prismacolor dual-tip coloring markers are slightly more affordable and also offer high-quality performance. We can also recommend Faber-Castell brush markers.
Are Colored Pencils or Coloring Markers Better to Use?
The answer really depends on the coloring effect you want to achieve. Coloring markers are versatile and can create uniform areas of color or gradients. Coloring pencils offer more blendability than some of the cheaper coloring markers, and also offer a softer shading ability.
Are Ohuhu or Copic Coloring Markers Best?
Copic coloring markers are hands-down the best coloring markers available. Many artists have called Ohuhu markers a dupe for Copic markers, but this is simply not true. While the Ohuhu markers are not bad alcohol-based markers, their color saturation, blendability, and versatility do not match up to Copic. Copic markers are almost unbelievably expensive, so if you are looking for a pretty good coloring marker at a more affordable price, Ohuhu is the one for you.
Are Water- or Alcohol-Based Coloring Markers Better?
In terms of quality, the best coloring markers tend to have an alcohol pigment base. The alcohol allows you to blend colors smoothly in order to create different shades, ombres, and tints. Alcohol-based coloring markers are typically more expensive than water-based pens for this reason. Artists who specialize in hand-lettering tend to use water-based coloring markers for their fluency.
How Do You Know if a Coloring Marker Is Water-Based?
It is relatively easy to tell if a marker has a water base. Simply create a small swatch and either put it in some water or brush it with some water. If the ink begins to run, then your marker is water-based.
Do Copic Coloring Markers Bleed Color?
As an alcohol-based coloring marker, Copic markers can bleed slightly. The quality is so high, however, that the color will only start to bleed after multiple layers of ink, so you should be fine. This is one of the reasons as to why these are some of the best colored markers available. If you are worried about bleeding through, try using a more robust and better-quality paper.
Are Gel Pens Good for Coloring Books?
In our opinion, gel pens are fantastic for use in coloring books. The ink does not bleed through the pages, and you can color very intricate areas with the fine ball-point nib. There is also such a variety of gel pens available, which is very exciting. You can get gel pens with glitter and metallic ink that are great for adding extra details to your work.
Larissa Meyer is a 32-year-old mother and creative spirit since childhood. Her passion for painting and drawing has led her to train as an illustrator and pursue a career as a freelance graphic designer. Larissa is a talented artist who is able to master a wide range of styles and techniques to bring her artistic vision to life.