Best Watercolor Paints – Choosing and Using Watercolors
This post may contain affiliate links. We may earn a small commission from purchases made through them, at no additional cost to you.
Whether you are a highly experienced watercolor artist or are brand new to this style of painting, the same question will be at the front of your mind: What are the best watercolor paints? There are so many different products and watercolor brands available that choosing the right one can be a little daunting. To find the best watercolor paints, there are certain aspects to keep an eye out for. We will explore these considerations below to help you find the best watercolor set for all kinds of uses.
What are Watercolor Paints?
Before trying to find the best watercolor paints, you will need to understand these paints and know what it is you are looking for. This will help you to understand which products are good, which are bad, and what features you want to look out for in particular. Knowing what you are after will prevent you from wasting money, and will allow you to achieve better art in the end.
Watercolor paints are made up of a water-soluble binder combined with pigments. The pigments give the paint its color, and the binder is what keeps it all together. When you add water to the paints from your wet brush, the paints become liquid and can be used. Watercolor paints are a simple and beautiful art medium that offer a unique look and feel.
When looking for the best watercolors, there are two important elements of the paint to consider. First, there is a binder. The binder in watercolors is usually natural Arabic gum, but it can also be made from glycol. This is what holds the paint together, and helps it to stick to the paper.
Then, there are color pigments. Pigments come in the form of a very fine powder and are either synthetic or natural. Natural pigments will cost a bit more, as these can be rare to find. The paint gets its color from the pigment. There are loads of different options available here – in fact, there are over 100 different types of watercolor pigments.
In addition to the two ingredients listed above, there are also some solvents, additives, and fillers in watercolor paints. These are used to enhance and modify the features of the paint, such as its adhesion qualities, brightness, or durability.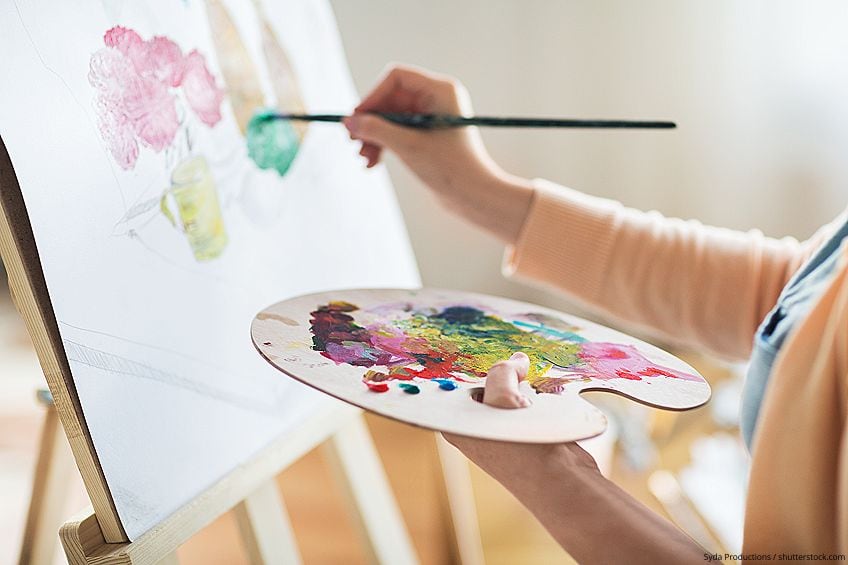 What Are the Advantages and Disadvantages of Watercolor Paint?
Watercolor paints are not always that easy to work with. No matter how experienced you may be as a painter, getting to grips with the unique fluidity of watercolors can always be a challenge. Watercolors are a really interesting medium to work with, and they offer a lot of fun for the artist.
As soon as you get to grips with this type of paint, you can produce some seriously beautiful artworks. Below are some advantages and disadvantages of using watercolor paints that you should know about before finding the best watercolor set.
Pros
As the paints are water-based, they are very easy to manage and clean up.
No odors, fumes, or toxic properties are present.
Watercolor paints dry very quickly.
Watercolors are easy to work with.
The paints are convenient to travel with and can be taken anywhere.
Cleaning the brushes is easy; you just need some soap and water.
You cannot waste paint, as dried paint can be used again as soon as you wet it.
The watercolor effect offers the best results for certain painted subjects.
There are a wide variety of colors available.
There are many different watercolor brands and sets available.
This is a more affordable paint medium.
Cons
Only certain surfaces are compatible with watercolor paints. If you paint with watercolors on some surfaces, the paint can slide off.
It is best to use watercolors on paper, but the paper needs to be specially cared for. If left in the sunlight, watercolor paint can crack and chip away.
Learning how to achieve the watercolor painting technique can be challenging. This paint has some very unique properties. You might have to throw out some attempts before you get the technique down.
Altering any mistakes made with watercolor paints is not easy.
Sometimes the paint can dry too fast in certain climates. This can produce edges that are too hard.
The Best Watercolor Paints
Whether you are after the best watercolor paints for professionals or beginners, there are plenty of quality options to choose from. We have selected four of the best watercolor sets below, each of which are suitable for all kinds of artists.
Best Beginner Watercolor Paints: DALER ROWNEY Travel Watercolor Set
If you are after the best watercolor set for beginners or students, then this option by Daler Rowney comes highly recommended. This set features 12 different paints in the most popular colors. Each of these paints is packaged in a super convenient travel tin.
Rich, free-flowing transparent colours

Excellent tinting strength

Lightfast
View on Amazon
Anyone wanting to practice their watercolor technique will love using these beginner-friendly paints. The set is more affordable than most. It can be used on all watercolor surfaces, and all of the colors can be mixed and customized with ease. Even though the set is more affordable, these paints have a high quality of pigment, producing vibrant colors.
Pros
This is a more affordable watercolor set.
The set contains quality pigments and vibrant colors.
It is easy to mix and blend the paints.
The paints display excellent adhesion to watercolor paper.
You can easily rewet the paints to achieve fresh paint.
It comes in a compact and convenient travel case.
Cons
Some of the colors included are very similar to each other.
The set is quite small.
When it comes to the combination of price and quality, this watercolor set by Daler Rowney is a great choice. This is one of the best sets for beginners, or those wanting a simple watercolor paint solution to use on the move.
Best Professional Watercolor Paints: SCHMINCKE Horadam Aquarell Full-Pan Set
This German brand produces some of the world's finest watercolor paints and has done since 1881. Each of these paints uses natural ingredients of the best quality. The set includes 24 full pans of super-pigmented, high-quality colors.
Superior quality and natural ingredients

Traditional formulas since 1881

24 colors included in set
View on Amazon
If you are serious about painting and want to find the best watercolor paints for professionals, then be sure to consider this set. Between the convenient tin case and the superior watercolor paints, this set is well worth it for any artist looking for something special.
Pros
The set includes the highest quality paint that is made using natural pigments with incredibly low granulation.
Each of the watercolor paints is highly pigmented.
The paints are conveniently packed into a durable yet lightweight tin.
There is a useful color guide included.
Cons
The set does not include a brush.
This is a more expensive set.
If you are looking for the best watercolor paints for professionals and are serious about quality, then be sure to check out this set. These paints are carefully formulated using only the best products in order to achieve artist-quality results.
Best Value For Money: ARTEZA Watercolor Paint Set
Arteza is consistently one of the best watercolor brands out there when it comes to producing products that offer excellent value for money. This set includes 12 paint tubes, each one measuring 12 ml.
Set of 12 premium watercolor paint tubes

Dry quickly and are re-usable once dry

Perfect Starter Kit
View on Amazon
The set is packed into a storage box to make the paints easier to work with. This set includes some excellent color options, all of which contain highly pigmented colors. Even though the set is available at a great price, the paints are still of a high quality.
Pros
These paints offer very vibrant colors.
The paints are composed of a non-toxic formulation.
They are quick-drying and reusable once dried.
This product works well as a starter set for beginners.
This paint is ACMI-certified.
Cons
The paint can flake when dried.
This set is not particularly suitable for professional use.
If you are just starting out as a watercolor artist, and are looking for the best watercolor paints in terms of price performance, then this set ticks all the right boxes. You get high-quality paints at an affordable price, all packed into a neat box.
Overall Best Watercolor Set: WINSOR & NEWTON Cotman Watercolors
When looking for the best watercolor paints, Windsor & Newton sets are always considered. This set is a popular choice for artists, as the paint shades are of some of the highest quality available. Some of the highly expensive pigments have been replaced with more affordable ones which have been able to make this set less expensive than you might expect.
Set includes a pocket brush and 12 colors

Good transparency and tinting strength

Features an integral mixing palette in the lid
View on Amazon
This watercolor set includes 12 different high-quality colors packed into an easy-to-carry plastic box. There is also a pocket brush included. This set features some of the most popular colors and provides a perfect basis for mixing any colors that an artist would need.
Pros
The watercolors have excellent transparency.
The paints also have very good tinting strength.
This is a more affordable set compared to similar products.
It includes a convenient pocket brush.
These are easy paints to work with.
Cons
There is no black color included.
The set is quite small.
This set achieves everything you would want from the best watercolor paints. The colors are high-quality and have a very good level of transparency. They mix well into each other, are packed into a handy case, and are all available at a good price.
Other Notable Brands
Take a look at Amazon to easily find the best watercolor brands and most popular products. Always check out any reviews first. The top product picks listed earlier include some of the finest brands for the best watercolors. A more detailed list of watercolor brands and products also include:
Things to Look Out For in the Best Watercolor Paints
With so many different watercolor paints available, it can be difficult to decide which ones to choose. We have outlined some important purchasing considerations below.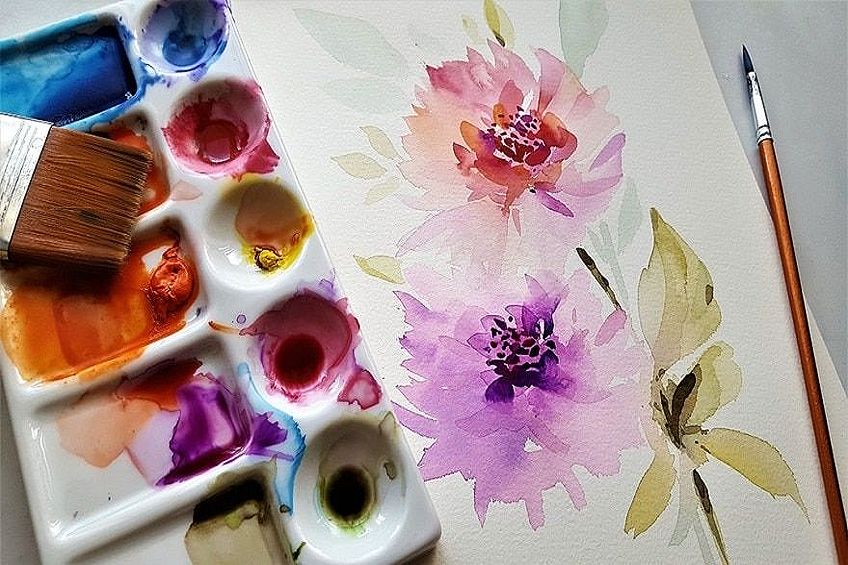 Beginner versus Professional Watercolor Paints
Professional watercolor paints are available at a higher price. This is because the pigments used in these paints are of a higher quality. When comparing the price differences between student-grade paints and expensive professional ones, it comes down to the type of pigments used.
Cheaper paints tend to have a less pigment that is of a lower quality. This is not to say that there is anything wrong with using these types of paints, just try to stick with trusted watercolor brands. As you gain painting experience, you can start to move up to more expensive paint sets with better pigments.
Tubes versus Pans
When choosing watercolors, there is an option between paints that come in shallow pans or in tubes.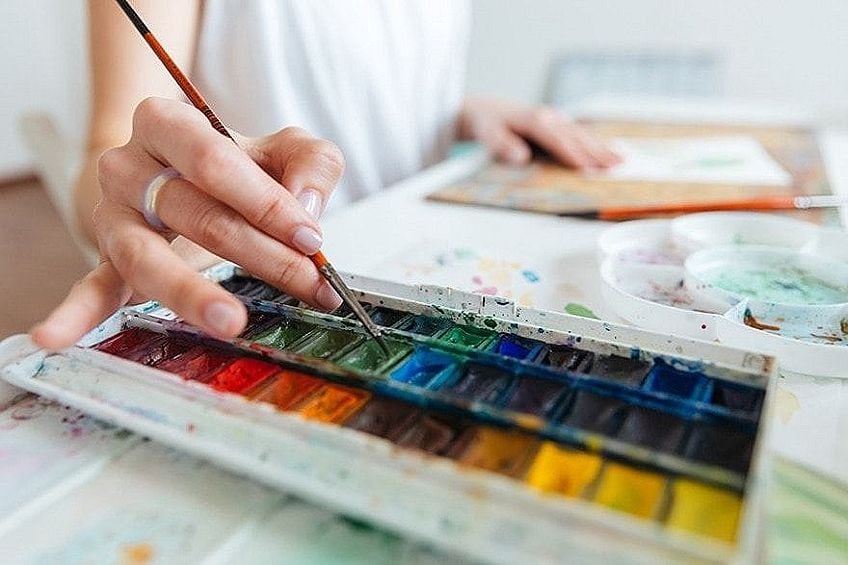 Paint Pans
Watercolors in pans include a small block of dried paint which needs to be moistened in order for the paint to be workable. You can choose between half pans or full pans. These sets also come in convenient tins or boxes. Watercolor pans are often preferred by beginners.
Pros
The paint comes dried and is very easy to transport.
These paints are very long-lasting.
The paints are easy to store.
They oten come in a convenient tin case.
Cons
It takes a bit of effort to get the right paint consistency and intensity of color.
Dust can form in any pans that have been left open.
Paint Tubes
Many painters prefer to use watercolors in tubes. Paint tubes give you more concentrated color straight out of the tub. Using tubes also allows you to customize the paint colors you keep, as you can buy individual tubes. This will provide you with a better mixing range of colors, and you can always add to your set.
Pros
The paint covers a larger area, as you can squeeze out as much as you need.
Any excess paint that dries can be moistened and reused with the addition of water.
You get pure color intensity straight away.
It comes in a ready-to-paint consistency
You can buy tubes in a set or individually, and easily customize your paints.
Cons
The tubing can split or break.
If the cap is not on properly, the paint inside the tube will dry.
It can take longer to find the right color in a big collection of paint tubes.
Pigment Density
Paints get their color from pigments, which are the most important part of watercolors. Pigments are colors that have been very finely ground. This is done in sizes of 0.05 through to 0.5 microns. This is such a fine grind that it allows the color to sink into the paper. The different densities of pigments will alter the way they adhere to the paper.
Pigment volume is how much pigment is in the paint. This is different from pigment density, which can vary between colors.
Staining
When you stain watercolor paintings, the paint cannot really be removed or lifted from the paper once it has dried. With a very heavy stain in place, the paint becomes a permanent feature. If you use a light stain, then the paint can be removed. However, a light bit of color will remain in its place. Some paints stain more than others. This depends on two main components: The kind of paper used, and how the paint is made.
Basically, if a pigment stains, it is because it is made up of finer particles and will seep into the paper with greater intensity. Always be wary of this, because stains can be very difficult to get rid of. Many people enjoy stains though, as the technique is used to create vibrant colors in glazing and layering.
Larger particle pigments will not stain and instead will sit on top of the surface of the paper. This makes removing them easier. These paints can be used to achieve specific effects, such as highlighting. Even when watercolor paints are dry on the surface of the paper, they can be moistened again and used once more.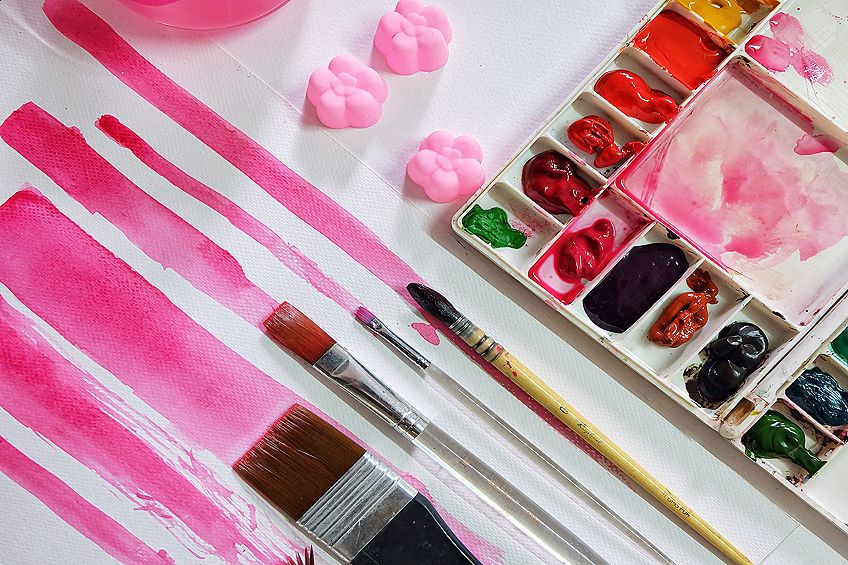 Lightfastness
The best watercolor paints should be able to maintain their color when exposed to light. The lightfastness of paint is how it reacts to light exposure and whether it will fade over time. If you plan on keeping the painting somewhere that gets direct sunlight, then be sure to use a high-ranking lightfast paint. This can also be enhanced by framing the painting and covering it with a layer of glass.
Transparency
Different watercolor paints have varying levels of transparency. These levels include semi-transparent, opaque, and transparent. If you paint transparent paint over existing paint, the underlying paint will still show through. This kind of effect is desired by some artists and avoided by others. The best watercolor paints can have any type of transparency level; this is a personal preference.
Pigment Granulation
You get fine pigments and granular pigments, which are heavier and larger. Bigger granular pigments usually spread out unevenly, which adds a kind of grainy effect to the paper. Many prefer to use smooth colors with a fine pigment, although grainy and textured paints are often desirable.
Choosing between these paints depends on personal preference, as the best watercolors can be either. Try out different paints and papers to find a solution that works for you and your desired effect. Trying out different watercolor brands is important.
Price
A general rule with art supplies is that you get what you pay for. When trying out some of the most expensive professional watercolor paints, you will see and feel a massive difference in comparison to more affordable sets. Of course, your personal budget and paint expectations play an important role here.
As we mentioned earlier, you can still get high-quality paints at a good price. The best watercolors do not have to be very expensive; just make sure that the brand is reliable and that the pigments are of good quality.
Which Colors Do You Need for Getting Started?
When it comes to the best watercolor paints, the colors you use will make all the difference. This is what creates the atmosphere and feeling in the painting. Depending on the desired effect, you might want to achieve transparent colors or bright colors. Having a good selection of options will allow you to achieve the best results.
Firstly, start with two versions of each of the primary colors, being red, yellow, and blue. This will include two variations (one lighter and one darker) of each primary color. With these colors, you can mix and create basically any shade. Some artists prefer to use a wide range of colors, and some like to take a minimalistic approach.
Choosing the right colors will come from practice and experience. Play around with different colors, see which ones you enjoy working with and what color palettes work for your art. This should include trying different watercolor techniques, as certain color shades work best with certain techniques. Painting should be a constant process of learning and adapting, and it should always be fun.
How to Choose the Right Paint Brush for Watercolors
Now that we know all about the best watercolor paints, there is still another essential component: The paintbrush. Having the right brush will make a major difference in the way that you paint and the end result achieved. The three most important considerations for choosing a paintbrush are:
The type of hair/bristles used in the brush,
The size of the brush, and
The shape of the brush.
Watercolor Paintbrush Considerations
First, look into whether the brush is synthetic or natural. Natural brushes are always best. Then consider your budget, because better quality brushes can be expensive.
If you are only able to get one brush, try to get one that is round and natural. If getting two brushes, try to get one small one and one medium one (both natural). You only really need one brush to begin with and can gather more over time.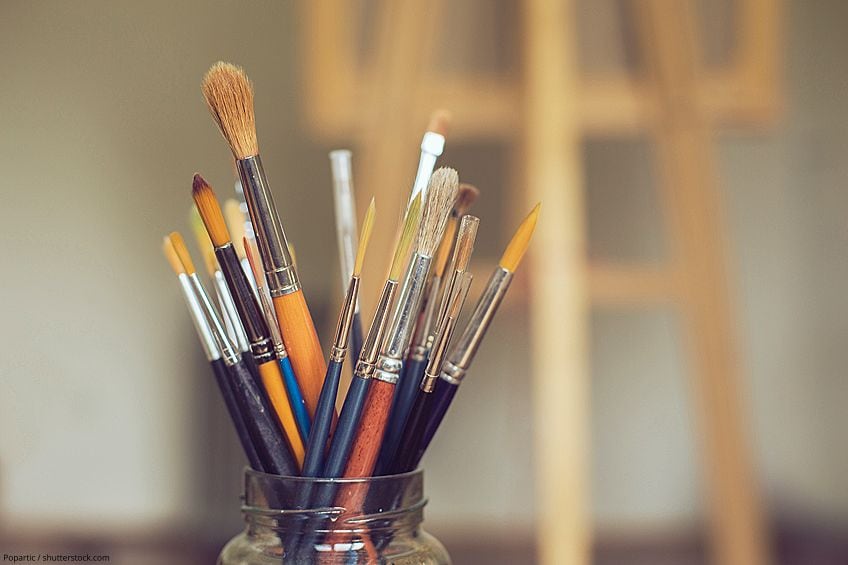 Natural brushes
Having natural hair at the end of your brush tip is always preferred. However, natural brushes are more expensive. If you buy the right natural hair brush though, it should last for a very long time. Different types of hair are suitable for different styles of brushes.
Synthetic brushes
Synthetic brushes are cheaper, and are available in quite a variety. Yes, natural brushes provide better results, but there are also brilliant synthetic brushes out there too. Even the best ones are not as long-lasting as natural brushes, though.
Brush Shape
Paintbrushes are available in many different shapes and styles. Each one is suitable for a different effect or technique. Different shaped brushes are favored by different artists, so try to play around to find a shape that works for your style. The different brush shapes are:
Round: A round brush is super useful and versatile. It can be used to create big washes or small details. By changing the pressure you paint with, you can get a very different result.
Oval: An oval brush is specifically used for making large washes. In watercolor painting, it is also effective for wetting the paper.
Mop: As the name might suggest, a mop brush can quickly and efficiently cover a large surface area.
Flat: A flat brush can be used for various techniques. They can handle various colors at once, make sharp lines, or cover broad areas.
Square: A square brush is used for painting wide surfaces with each stroke. This is ideal for washes.
Liner/Script: This is a thin, pointed brush that is used specifically for detailed painting.
Angular: This brush is formed at an angle that allows you to achieve precise brushstrokes.
Brush Size
Brushes range from being tiny and fine to very large and thick. This depends on what you are painting, the level of detail, and the size of the painting surface. Start with a medium-sized brush and branch off from there.
Finding the best watercolor paints is not always an easy task thanks to the wide range of products on the market. While the best watercolor set can be determined by pigment quality or the type of colors, it is really just a personal choice. We wish you lots of fun with your watercolor painting and hope that you enjoy finding the best watercolor paints for your needs!
Frequently Asked Questions
Do Watercolor Paints Use Water?
Watercolor paints must be mixed with water to achieve the right effect. The amount of water and technique used will vary depending on the overall coloring and effect that you wish to achieve.
Which Are the Best Beginner Watercolor Paints?
With so many different product and brand options available, this can be a tricky decision. Beginners generally like to use watercolors in pans that come as a convenient set. Consider well-known and reliable brands like Daler-Rowney, Winsor & Newton, or Arteza.
Can You Wash Watercolor Paint?
Watercolor paints can either be stain paints or washable paints. As you can guess, washable paints can be removed from the paper and can create some interesting effects. They are also easy to get out of clothes.
Why Are Watercolor Paints So Expensive?
The best watercolor paints contain a high volume of pigments, which is what makes them so expensive. The more expensive watercolor paints contain very high-quality pigments, which are often natural instead of synthetic.
Larissa Meyer is a 32-year-old mother from Michigan and creative spirit since childhood. Her passion for painting and drawing has led her to an education as an illustrator and a career as a freelance graphic designer. She has a Bachelor of Fine Arts in Illustration and a degree in Graphic Design. Larissa is a talented artist who is able to master a wide range of styles and techniques to bring her artistic vision to life. Her greatest passion is currently fluid painting and epoxy resin art. Larissa's love for art and her knowledge and experience in illustration make her the perfect Creative Director for our fluid-painting.com team. She is the creative head of our team and shares her passion and knowledge with our community through articles and tutorials.
As a mother of a 2-year-old daughter, Larissa also understands the importance of fostering creativity in early childhood. She uses her experience and knowledge to help other parents inspire their children and develop their artistic skills as well.
Learn more about Larissa Meyer and about us.