Best Paint Pens for Wood – Selecting the Best Pen to Write on Wood
This post may contain affiliate links. We may earn a small commission from purchases made through them, at no additional cost to you.
If your wooden DIY project requires a little flare, you can take it to the next level with a detailed design or a little doodle. Using a paintbrush to create intricate lines and shapes can be hard, so we suggest that you use a paint pen for wood instead. Naturally, there are a variety of paint pens available, and this article is here to assist you in selecting the correct one for your needs.
What Are Paint Markers for Wood?
A paint marker for wood is exactly that – a marker that can be used to paint on wood, but instead of the marker being filled with ink, it is filled with paint. These markers are versatile and can be used on several surfaces in addition to wood, including ceramics, blackboards, glass, rocks, fabrics, and canvas. These pens can add a whole different element to your DIY projects.
The paint in these markers will either be water-based or oil-based.
The oil-based version has a thick consistency and can stand up to smudges and abrasions, but it can be quite hard to work with. The water-based version, on the other hand, has a thinner consistency, meaning that the paint is absorbed into the wood with more ease.
How to Use a Paint Marker for Wood
You will begin by activating the pen, which means that you need to allow the paint to flow to the tip before you can paint, as otherwise, the tip will be dry. The majority of pens can be activated by pressing the tip down, initially pressing it with your finger, which allows any air to escape, and then against a piece of paper or another flat surface to allow the paint to flow. The tip needs to be pressed down until you see the paint spread onto the paper. Certain pens may need you to shake them to activate them.
You can test the pen on a scrap of paper, and if you are not happy with how the paint is pulling through, you can press down on the tip again. Once you have activated the marker and you have used it, ensure that the cap is placed back on as soon as you are done and that the pen is stored with the tip pointing downwards.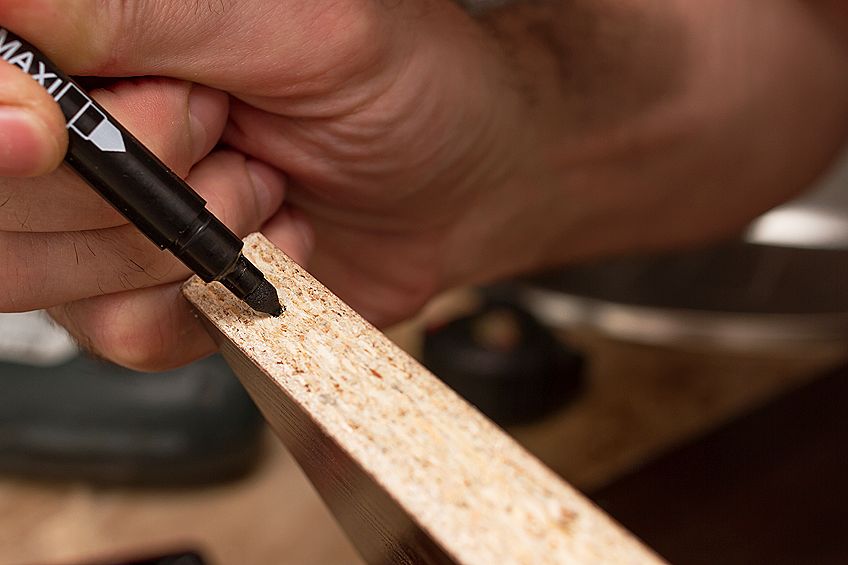 Who Will Use Paint Markers for Wood?
Almost anyone can use a paint marker for wood – they are even safe for children to use, as they are non-toxic. You can write on many surfaces with a paint marker, such as ceramic, wood, rocks, glass, and paper to name just a few.
Oil-based paint markers for wood are great to write with on ceramics, as they will not come off, even when baked or washed. Water-based paint pens are perfect for working on wood as they are simple to use and provide stunning colors. You should sand down the surface before you use the pen on it, however, so that you have a smooth area to work on and will not damage the pen.
When to Use Paint Pens for Wood
You may think you can just use a whiteboard marker or permanent marker, but these tend to bleed into the wood and run, leaving an unprofessional-looking finish. To get the best results when drawing and writing on wood, rather use a paint pen.
How to Select the Best Pens for Writing on Wood
Paint pens for wood allow you to let your creativity flow without limiting you. The best paint pens for wood will allow you to make gorgeous artwork. What follows is a list of things to look out for to help you select the best product.
Types of Tips
The majority of manufacturers offer a fine-tipped paint pen marker with a tip between 1 mm and 0.7 mm wide, which will provide a stunning brush stroke. The tip is normally bullet-shaped, which makes it ideal for freehand movements without restricting you. These fine-tipped markers are amazing for drawing complex lines, fine details, and will leave you with bold and brightly colored artwork.
Versatility
While we are specifically looking at paint pens for wood, a lot of markers are also suitable for the majority of surfaces. Thus, most of them can be used for your other DIY projects as well as those featuring wood.
Types of Ink
The main difference between a paint marker and a traditional marker is that a paint marker uses paint instead of ink as its medium. You can find two kinds of paint pens for wood, being water- and oil-based. A water-based marker is a combination of pigment and water, and the paint flows with ease and offers a smooth, vividly colored finish.
You can easily remove a water-based paint by using a warm, damp cloth, keeping in mind that when used on fabric or paper, the color will sometimes bleed.
We suggest an oil-based paint pen if you are looking for a long-lasting finish. This kind of pen offers amazing colors that do not smudge, wipe off, or smear with ease, and the color will last longer and will not fade. Keep in mind that oil-based pens have quite a strong smell, although most brands do try their best to reduce the odor.
Color Selection
The next element is to determine your color selection. There is a huge variety available on the market, the majority of which can be used on several different surfaces. So, to begin, you will need to decide which pigment or color you want to use in bringing your creation to life while ensuring that it is also suitable for wood.
There are four main color types that you can choose between, being primary and secondary colors, pastels, and metallics.
Color Longevity
You might want to save money and choose to use a cheap paint marker, but with time, you will see the low quality of your design in how its slow deterioration, requiring frequent touch-ups. Touch-ups are stressful as you can make a wrong move and ruin your piece. Rather than the stress, simply purchase the correct tool at the beginning, and use a paint marker for a long-lasting and top-quality finish.
Toxicity
You ideally want to work with non-toxic items when doing DIY, particularly if you have small children in the home. Working with non-toxic items means that your children can assist you with your DIY projects without you having to worry.
Our Recommendations: The Best Pens for Writing on Wood
We have put together a list of paint pen options that we think will be wonderful for your wood project. There are many other options available out there, and we suggest that you do some additional research; these are just some of our favorite options.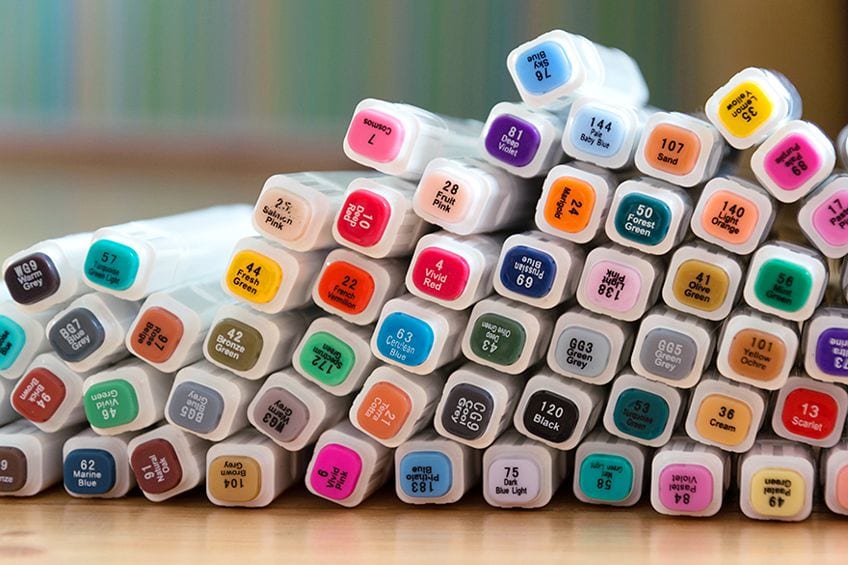 Best Fast-Drying Paint Marker for Wood: PAINT MARK Quick-Dry Paint Pens
These pens are versatile and can work on many different surfaces, from wood to ceramics. The pack comes in 15 colors, providing a good range of gorgeous colors with which you can tackle your project. The ink in these markers has an oil base, meaning that it is long-lasting, durable, and resistant to both water and fading.
Super-versatile paint markers for a wide range of uses
Permanent paintbrush markers work on any surface
Premium oil-based marker ink will not fade or smear

.
View on Amazon
PROS
Simple to use
Well priced
Colors are resistant to fading, smearing, wear and tear, and water
Good-quality ink
CONS
Not great for coloring large areas
Best Water-Based Paint Marker for Wood: ARTISTRO Acrylic Paint Markers
This set comes with 12 pens, including silver, gold, and white, which you do not get from most brands. The pens will give you a gorgeous glossy finish thanks to their being water-based, and the medium tips make them great for calligraphy, fine details, and for coloring large areas.
Vivid, highly pigmented ink dries quickly to an opaque, glossy finish

Resistant to water, fading, and abrasion on a variety of surfaces

Medium tips are ideal for both fine details and filling in large areas
View on Amazon
PROS
Lasts long
Colors are bold and bright
Well priced
A good array of colors available
Can be used on a variety of surfaces
CONS
May be tricky to activate the paint at first
Best Metallic Paint Marker for Wood: MORFONE Metallic Marker Pens
This is a set of 10 pens that have a metallic sheen, which looks stunning when used on darker colored surfaces, although you will get a gorgeous finish on most normal surfaces. You will get great coverage from these pens, meaning that you will not need to go over something more than once. The pens come with a 12-month warranty which covers replacement or refund if you are not happy with the product.
Pens have a medium tip that is firm, smooth, and flows well
H

ighly pigmented markers allow you to color with great results

Made of water-based ink that is opaque and quick to dry
View on Amazon
PROS
Works on most surfaces
Lighter shades available
Firm and smooth medium-sized tip for great paint flow
Simple to use
Quick-drying
CONS
Colors are not as vibrant as advertized
How to Write on wood with a Paint Pen
Before you start applying the paint to the wood, you need to consider a few things. It might seem like an easy procedure, but there are certain things you should note before beginning. Keep in mind that these markers were originally designed for industrial use, although over time, they have evolved to be used as an artistic tool. Paint markers for wood have been made to offer you an effective paint pen that provides smooth lines and vibrant colors.
You will, however, have to activate the markers before you can begin working with them. You can do this by shaking the pen before using it. Once you have shaken the pen, press the tip against your finger to ensure that any air is released, and then press the tip down on a piece of paper to allow the paint to begin to flow and wet the tip.
To determine if the paint is flowing, try writing on a piece of paper. If it is not flowing sufficently, you can press down on the tip again and then test it once more.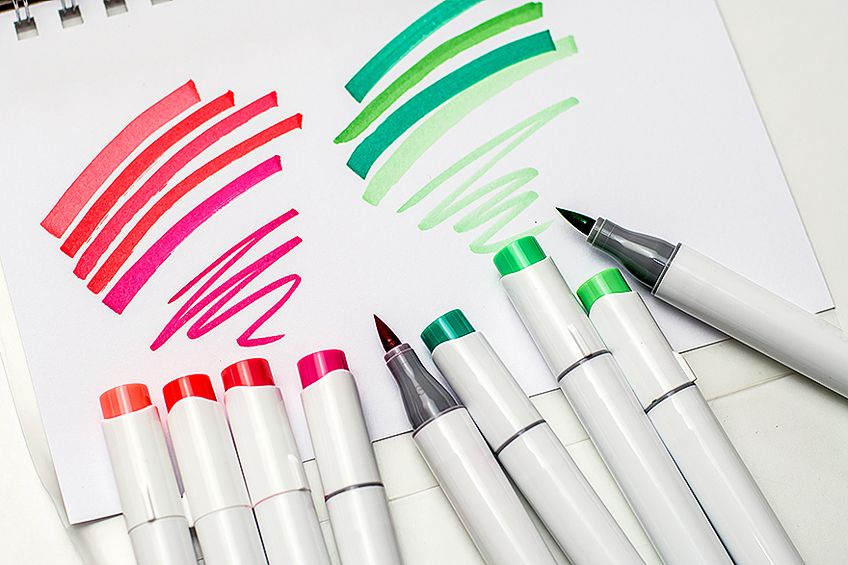 Now that you have activated the pen, you can begin writing with it directly on the wood. When writing, try not to press down too hard on the tip, as this may cause an excessive amount of paint to be released, resulting in messy lines and smearing. We suggest using a gentle gliding motion to form words, art, and lines on the wooden surface.
If you need to refill the paint, simply press down on the tip, and then press it down on a tissue or the piece of paper you were using earlier. If the paint starts to thin out, you can shake the pen to ensure that the paint is mixed properly. Remember to always reapply the cap before shaking the pen.
When you are finished using the pen, you will have to store it correctly. It is recommended that the pen be stored either horizontally or with the tip facing down, ensuring that it is never stored with the tip facing the top. You will need to reapply the cap correctly when storing the pen so that it does not dry out. If the tip is dry when you reopen the pen, you can use some thinners and wipe the tip down, and then try using the pen again.
Paint pens for wood are wonderful tools for creating unique elements on your craft projects. They allow you the freedom to be creative and explore your artistic side.
Frequently Asked Questions
Why Should I Buy a paint Pen for Wood?
Thanks to their beautiful, complex surfaces, wooden surfaces have become quite popular recently. Using a paint pen marker on the wood can help add to its beauty. These pens have been designed specifically for use on surfaces other than paper, so we suggest that you consult the label before purchasing your paint pen marker. Certain markers are further divided into categories such as being suited for specific surfaces, woods, and textures.
As a Beginner, Which is the Best Paint Pen?
A water-based pen is the easiest to use, as they allow the paint to be distributed with ease and are quite forgiving when it comes to design. You will also only require warm water to remove them. If you want to be a bit more adventurous, you could try your hand at using an oil-based pen, which offers you greater longevity and durability. If you wish to draw detailed shapes and lines, you will require a fine-tipped pen, whereas a medium-tipped pen is ideal for shading.
Are There Different Types of Paint Pens for Wood?
There are a variety of products available for paint pen markers, in particular, those that are suitable for use on wood. They come in an assortment of colors, inks, sizes, and shapes. To select the correct one, you need to know what look you are trying to achieve so that you can purchase the correct markers.
If I Have Applied a Blotchy Line to the Wood, Can I Remove It?
If you have worked with a water-based paint pen, you can remove the mark with ease by using a damp cloth. If the paint pen is acrylic- or oil-based, you can then use rubbing alcohol to remove the mark (or you can even try nail polish remover). Once the mark has been removed and you are happy, rinse off the surface and allow it to dry completely. Another option is to use an old toothbrush and toothpaste to scrub off the mark – once removed, you can rinse off the surface and allow it to dry completely.
The Paint Is Bleeding – How Do I Stop It?
The answer all depends on the pen you are using – Are you using a traditional marker or a paint pen? Traditional markers are likely to bleed into the wood. Certain types of wood may also cause the paint to bleed, even if you have the best quality paint pen available. We recommend that you try testing out your pen on an off-cut of the wood to see if it will work properly. You could also be causing the paint to bleed by pressing the pen too hard, as pressing down on the tip causes more paint to be released.
Which Type of Ink Works Best?
You will get results with both water-based and oil-based paint pens, but oil-based paint pens are easier to use, harder to remove from the surface, and are also longer-lasting. If you are just looking to experiment with colors, then we can suggest using water-based paint pens.
Which Paint Should Be Used for Wood?
Water-, acrylic-, and oil-based paints work the best on wood. Always sand the surface of the wood down first before using the pen to ensure that you have a smooth surface to work on. You can always also write or draw on a surface that has been freshly painted.
How to Write on Wood?
Before use, activate the pen by shaking it to allow the paint to mix. This will ensure a smoother flow and will also prevent bubbles. Next, carefully remove the cap (so that no paint spills, although this is normally not a problem). Press the tip down on your finger to remove any air and then press down the tip to wet it and release the paint onto a piece of paper. When you have done this a few times, you can test the pen on a scrap of wood or a piece of paper to see if the paint is spreading correctly. If the paint is not spreading evenly, then you can press down on the tip again. When you are happy with the flow of the paint, you can begin writing on the wood. Do not press too hard, however, as this will release an excess of paint that could ruin your design.
Can I Use Sharpies and Markers on Wooden Surfaces?
In theory, yes, but always consult the label. This is because certain brands also make traditional markers and you do not want to grab the wrong one by mistake, as this could then potentially ruin your design.
How Do I Clean Up After Using My Paint Pens?
Water-based paints are simple to clean up, as all you need is a warm, damp cloth. Oil-based paint pens are harder to clean up, as you will require chemicals to remove them. Always consult the label, as it should advise you on what products you will require to clean off any excess paint. Be careful when working with chemicals as you do not want to damage the wood.
Are Paint Pens Child-Friendly?
Always consult the label before giving a paint pen to a child, as you should only allow children to use paint pens that are non-toxic. Certain markers may have bad odors and high toxicity, in which case they are not safe for children to use, as they can cause respiratory issues and burning eyes. Always supervise children when they are using paint and markers to ensure that they are safe.
Where Can I Purchase Paint Markers for Wood?
You can find paint pen markers at most grocery stores and supermarkets, but if you desire a wider selection, you can try your local paint supply store or local hardware store. You can also look online; Amazon has a wide range of options available. Always consult the product reviews and descriptions so that you know you are purchasing the correct product.
Larissa Meyer is a 32-year-old mother and creative spirit since childhood. Her passion for painting and drawing has led her to train as an illustrator and pursue a career as a freelance graphic designer. Larissa is a talented artist who is able to master a wide range of styles and techniques to bring her artistic vision to life.