Best Paper for Oil Pastels – What Is the Best Oil Pastel Canvas?
This post may contain affiliate links. We may earn a small commission from purchases made through them, at no additional cost to you.
Knowing what paper to use for oil pastels can lead to better results with your designs. Paper quality, thickness, and texture are all important factors when working with different mediums. Whether you are working with oil pastel paper or canvas, we will cover all you need to know on the best surfaces for oil pastels and how to work with them.
What Paper To Use For Oil Pastels
Oil pastels naturally contain oil; this is what makes them stick to most surfaces. This therefore makes this medium suitable for just about any surface you can imagine. Just because you can use it on a surface, however, does not necessarily mean you should. Using your oil pastels on smoother surfaces and papers will run the risk of not drying, smudging, or tearing.
Using them on rougher surfaces and papers, on the other hand, will allow your colors to hold better, and these will not smudge if allowed to dry properly. Aside from using paper or an oil pastel canvas, some other surfaces your oil pastels could be used on would include glass, wood, cement, rock, or even plastic.
Using Oil Pastel Canvas
Not all canvas options are meant to be used with oil pastels. Smoother, stretched canvases may seem to work well but you will still run the risk of smudging your work, and chances are that you will need the help of a fixative spray to protect it. Another problem when opting to use stretched canvas is that it is often not firm enough for this medium. Using oil pastels requires pressure and more vigorous strokes on occasion, which can lead to your canvas sagging and warping. Another issue is the fact that your oil pastels may not dry correctly due to the surface, meaning that you will require a sealant or fixative to protect it from damage.
When purchasing a specialty oil pastel canvas, you will notice that these have a distinctly rougher surface. This is because they have been coated with a priming grit to aid in your pastels sticking and holding. This also eliminates the need for using any fixative, as your oil pastels will be fully dried and more easily absorbed into the canvas surface. These can usually be found at your local art shops or even online. But if you cannot find oil pastel-specific canvases, then another option would be to purchase some gesso or primer and coat it yourself.
There are also pastel board options that one can use such as Masonite, wood boards, canvas boards, clay boards, or illustration boards. These surfaces are already primed and are also more sturdy. These allow you to add more pressure and texture while you work.
Another choice would be that of canvas paper. These are specialized papers that are made for oil painting, as they are thick enough to hold their shape and will not allow your medium to bleed through. These are pre-primed and textured during the manufacturing process, making them a perfect surface option that will not bleed or allow smudging.
Types of Oil Pastel Paper
There are many papers out there that can be used with oil pastels; the trick is to find the ones with good tooth and texture ratings. The tooth and texture of paper will determine the natural surface area and how rough it is. When starting out, sketchbooks and artist books will work well enough, but they will need to have thicker pages as this is a heavier medium than what you would usually use to sketch with.
Ingres Oil Pastel Paper
Paper with a higher tooth content will usually have a texturized feel to it and be thicker than average paper. Oil pastel papers or Ingres papers are made for use with pastels and are treated in order to allow your pastels better adhesion. These thicker papers are available in singles or pad booklets with various color options. You would choose Ingres paper if you are looking to add layers and blending to your work.
Sanded Paper
This paper, sometimes referred to as a board option, has been coated with gesso or primer to achieve a hard and rough surface. This is the best surface for any pastel work as you are able to apply more pressure and often more layers to your work without any bleeding or smudging. This is because the rough surface sticks better to your oil pastels, leaving less chance of gaps between colors and aiding in absorption.
Sandpaper options may be more difficult to work with in the beginning, however, as they are not smooth. You may have trouble controlling lines and details on the rough surface, but they do allow for amazing coverage. Another benefit to using sandpapers is that they do not require the use of a fixative to protect them.
Textured Honeycomb Paper
This is similar to Ingres paper, although the shapes and textures form a honeycomb. The texture and pattern offers better grip and is not as common as the other paper styles, thus making it a more expensive option. This paper is wonderful for blending and layering with your oil pastels.
Watercolor Paper
The benefit of using watercolor paper for oil pastels is the smooth texture. Yes, thicker textures are better for gripping your oils when adding layers, but if you are looking to obtain very smooth blending results, then watercolor paper is the best option for you. This paper is thick enough that no bleed will occur and your oil will not stain the paper either. The surface is void of those thick textures made for pastel papers, making it much smoother. This allows for flowing colors and smooth blending and color mixing.
Now that we know the types of pastel paper available, let us take a look at what to look out for before making a purchase.
What To Look For When Buying Oil Pastel Paper
When working with a new medium, it always helps to know what tools it is compatible with. Your paper is no exception. When looking to purchase the best paper for oil pastels, there are a few things you need to check.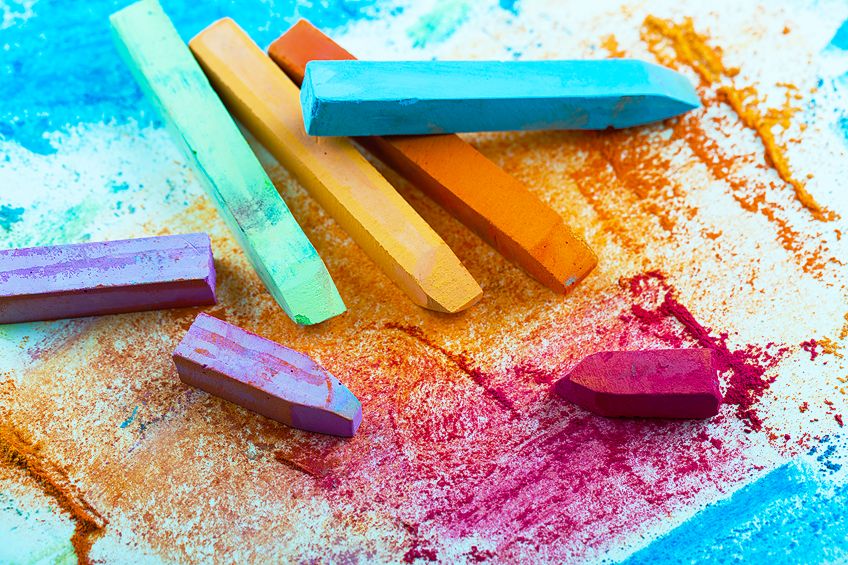 Compatibility
First check the brand and quality of the paper – the packaging should specify what mediums work best with that specific paper. Most will also say if they are not compatible with certain mediums. This is where the tricky part comes in, as some sketchbooks will be compatible with oil paints but not pastels. You do not want to waste money buying paper that you cannot use.
Paper Texture
The grit and texture of your paper are what keeps your oil medium on the surface. There are paper options that range from light to heavy textures, depending on what you are using your paper for. Blending and color mixing work would do better on a heavier textured paper as it will be tougher and less prone to smudges. These thick-textured papers can also work well for oil or acrylic paints of a heavier body.
Light-textured papers are great for producing a smooth application and finish. These papers can be used for blending but not heavy or layered work, as they have more of a tendency to rip or warp. Many prefer using these lighter papers as they find they can achieve better, more consistent coverage. Light-textured papers also work well with watercolor paints and light acrylics.
Paper Thickness and Quality
The thickness and quality of your pastel paper will also be of importance. These determine the weight and thickness of the paper by a certain gsm (grams per square meter) or pound weight. The thicker your paper, the heavier and higher these ratings will be. Your average white A4 papers are around 80 gsm, giving you an indication of how thin they are.
The best thickness when using oil pastel papers would be over 160 gsm in order to avoid tearing or smudging. The thicker papers will absorb more of your oil pastel medium, therefore eliminating bleeds and smears more than a thinner paper option would.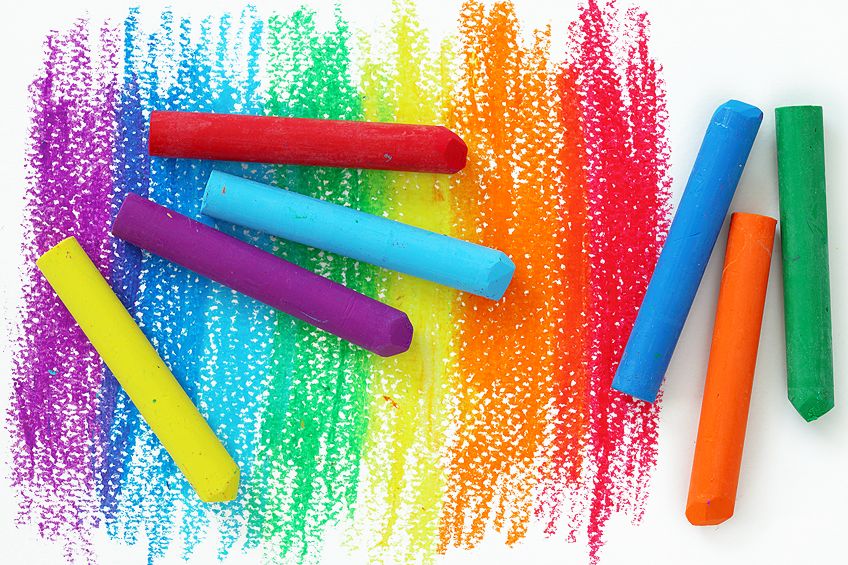 Paper Color and Size
Oil pastel papers come in various sizes and colors too. Depending on your project, you could opt for a smaller or larger size than your typical A4 varieties. The paper colors that you choose can also work well in complementing or adding to your artwork. Choosing darker colors for your paper will allow you to add in depth and highlights. Black card and paper options are very striking when using lighter pastel colors or when combining other mediums such as gel pens, metallic or glitter options.
Budget
Your new hobby should match your budget; there is no point in breaking the bank for something you may try once and not enjoy or possibly realize you do not have the time for. So, it is perfectly alright to look for products that have good reviews but are also within your price range. Many reputable brands supply entry-level or beginner ranges that come with a few tools you may need while saving you a few bucks. Sketchbooks and pastel papers are not very pricey to begin with, but some brands are directed more at professional artists and will be of a higher quality, and therefore more expensive.
To summarize, we know that thicker paper and rougher surfaces work best at holding your oil pastels. Here is our table comparison below based on the paper and other surfaces we have spoken about today.
| | | |
| --- | --- | --- |
| Type Of Paper | Can Be Used With Oil Pastels Without Bleeding | Not ideal for Use with Oil pastels |
| Normal A4 Paper | | |
| Sketch Paper | | |
| Watercolor Paper | | |
| Sanded or Grit Paper | | |
| Texturized Paper and Board | | |
| Ingres Paper | | |
| Primed Canvas | | |
| Stretched Canvas | | |
| Canvas Paper | | |
| Illustration Board | | |
| Pastel board | | |
The Best Oil Pastel Paper Brands
Now that we know what to look for in our paper, let us explore some of the best oil pastel papers available so that you can get started.
The Best Quality Oil Pastel Paper: CANSON Mi-Teintes Dual-Sided Pastel Paper Pad
This dual-sided pastel paper from Canson is a must for any oil pastel artist. It comes in different color pad options including white, earthy shades, and black. These consist of either 16 or 24 double-sided textured pages. This allows for one side to be used for lighter work and the other, thicker side for heavier and more layered applications. The thinner paper will work well for smooth blending applications, while the thicker, more textured side will allow your layers to hold well.
The textures provided on each side allow for more versatility and effects. This range comes in single papers as well, so you can pick and try certain colors without needing to buy a whole pad. Canson paper is made from 50-percent cotton and is gelatin-sized, allowing for better absorption and lightfastness. Thus, your work will not fade over time.
Recognized worldwide as the preferred papers for pastels

Dual-surfaced paper with a heavy and light textures on either side

50% cotton, gelatin-sized, light-fast, and colored at pulp level
View on Amazon
PROS
Two different texture options in one pad
Different paper colors available
Come in singles or pads
Made from cotton and will not fade over time
Great for blending
Will not bleed
CONS
Price is higher than competitors
The Most Cost-Effective Oil Pastel Pad: STRATHMORE Series Pastel Pad
Strathmore is a quality name in the art world. They have a range of wonderful products to choose from, including this quality pastel pad. This range has one of the biggest varieties when it comes to sizing, coming in three different size options, so you can choose between travel-friendly sizes or larger pads to stay at home. It can also be used with different mediums such as pastels, acrylics, or even colored pencils.
These pads also come in different color options, from off-white to a light grey, offering a subtle variation of earthy tones based on your needs. While these may not be the thickest oil pastel papers around, they do have enough tooth and texture that you can blend and layer without worrying about bleeding. These pages are acid-free, meaning your work will not fade or smudge as easily. This pad is also priced very well for students and beginners so you can save money without having to compromise on quality.
Heavy-weight and acid-free paper is the best quality for artists
Sheets have a textured finish with six assorted tints in each pad
Ideal for grabbing pigment and aids in blending
View on Amazon
PROS
Affordable
Comes in different sizes and colors
Can be used for blending
No smudging, bleeding, or tearing
Can be used with other mediums
CONS
Some users report issues with the binding in this flip cover pad
The Best Sanded Oil Pastel Paper Pad: SPEEDBALL Premier Sanded Pastel Paper
This sanded paper pad by Speedball is made with 100% cotton. It has a medium-grit surface and is double-primed and coated with aluminum oxide. This makes this paper great for oil pastels and even oil painting art. Due to its thick texture, this paper works well for both dry and wet media, allowing around 25 layers of color. This pad comes with eight pages that are 9 by 12 inches each. They also come in six different earth tones including terracotta and slate.
This sanded pastel paper by Speedball is great for blending and because of the medium grit, you will not have gaps or areas that are lacking in coverage. The texture and feel of this paper is similar to that of sandpaper, and it is this that grips and holds your oil pastel pigments, preventing smudging. This pastel paper may be pricey, but if you are looking for quality, then it just may be worth it.
100% cotton paper is double-primed with an aluminium oxide coating
Medium-grit surface is ideal for pastels as well as other mediums
Includes eight individual sheets of white paper in a "pochette"
View on Amazon
PROS
Medium-grit surface
Double-primed and coated
Can be used with various mediums
Great for adding lots of layers
Good coverage
No bleeding or smearing
CONS
Pricey
Only eight pages
The grit will eat your pastels much faster than paper will
How To Use Oil Pastels On Paper
Techniques to use with oil pastels are no different than those used with many other mediums. Oil pastels are very versatile, thus allowing for a broader range of creativity and projects. Below are some popular techniques you can add to your oil pastel art.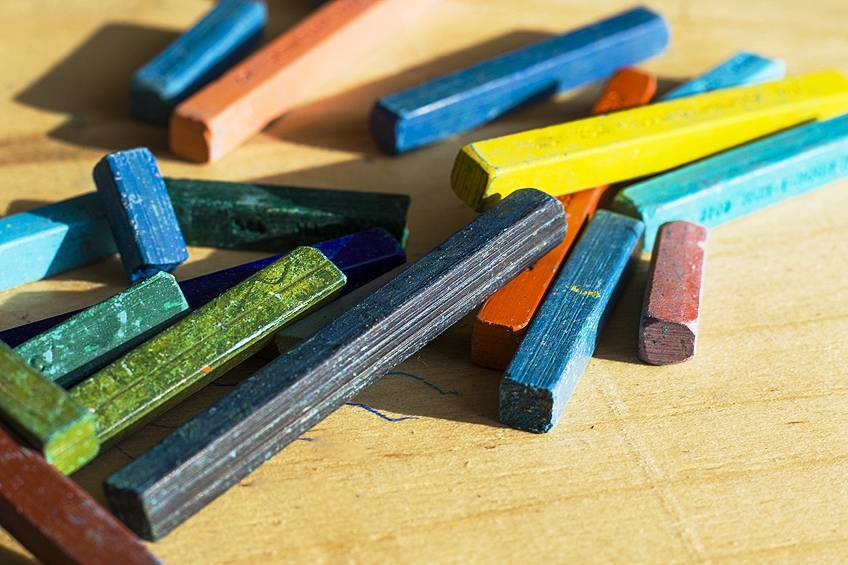 Underpainting with Oil Pastels
Underpainting is a technique used in painting with oils, acrylics, and even watercolors, although this technique is certainly not limited to the use of only wet mediums. This is the process of doing a rough sketch of your picture in your oil pastels.
Underpainting can consist of one or two colors, and these are generally quite light. The goal is to serve as a base for you to build on with color, adding layers and textures. This step can also be done using a different medium as your base such as hard pastels, acrylic paints, or colored pencils. Once done with your underpainting, you can use a blending tool to gently smudge the outline for a more natural look.
Layering
This step involves adding colors to the base drawing. Start with one color and continue to build up your layers. This way, you can achieve depth and tone within your art. Starting with darker colors is always beneficial as this allows you to blend or alter these colors later by adding lighter hues and whites for contrast.
This step should not be rushed. It is crucial to give your oil pastels time to dry in between layers. The time it takes to dry will depend on the paper being used. Using a sand or grit option means much less time in between layers. If you keep adding layers and the previous ones are still wet, this will cause smudging and muddy colors.
Blending
Blending with oil pastels is much the same as blending with oil paints. Both mediums are very flexible and easy to work with, and by using an oil medium, you can easily blend your oil pastels just as you would your paints. Oil pastels can be used with natural oil mediums or thinners just like oil paints can, but because of their consistency, it is not advisable to use a lot.
Using some baby oil with a cotton swab will wet your pastel colors, making them easier to blend naturally while also providing a silky finish. You can lightly wipe this over certain elements or over your entire picture so as to create a smooth and sweeping effect. If you prefer not to use oil or a medium when working with your pastels, you can also make use of artist blending tools, tissue, or your finger to try out different blending techniques.
Doing Your Background
Whether you decide to do your background first or last is up to you, but there are benefits to adding this part in last. Focusing on the outlines and details of your main figure first will allow room for mistakes. This way, if you happen to go outside the lines or use an incorrect color, then your background will hide these errors later. Of course, if your background is in a lighter shade than the rest of your design, this may cause a problem in hiding darker colors.
For the background, it may be beneficial to invest in some hard pastels. These are much firmer than oil or soft pastels and most have more of a point, making them ideal for outlines, sketching, and background work. Once you have done a base cover of the background with your hard pastels, you can then add in layers with your oil pastels to aid with depth and detail.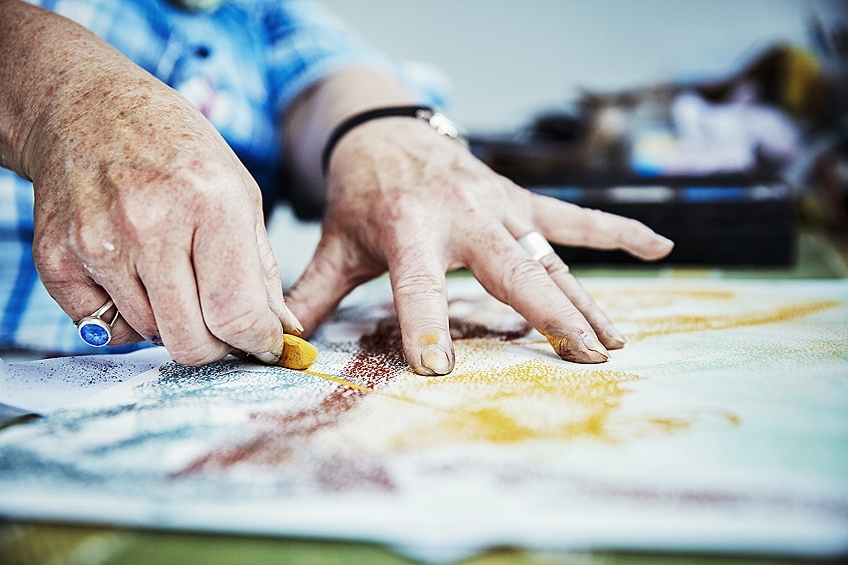 Tips to Remember
Now that we know how to use oil pastels on paper, let us look at some final tips to remember when working with oil pastels on paper and canvas.
When picking the best oil pastel paper, remember to consider what type of project you are doing. If you are focused more on blending, then a smoother paper option may be better for you. If you like to add lots of layers and textures, then a sanded or textured heavy paper option is better for that.
Try to avoid any pastel papers that contain acids. These tend to eat away at your colors and will not protect them from fading over time.
When picking paper colors, try to think about the color scheme of your work. If you are looking to do a nature scene, then earth or green shades of paper will assist in accentuating that imagery. If, on the other hand, you are keen to have more of a color contrast, using black paper with lighter pastel colors will certainly stand out.
Try using a combination of mediums with your pastel papers. This could include getting some soft and hard pastels for outlines and underpainting purposes. The harder pastels or colored pencils work well for outlines and finer details, as they are much firmer than your other pastel varieties, giving you more control.
Try to avoid using a solid black outline, as this can bleed into your other areas and ruin lighter details when you add more color.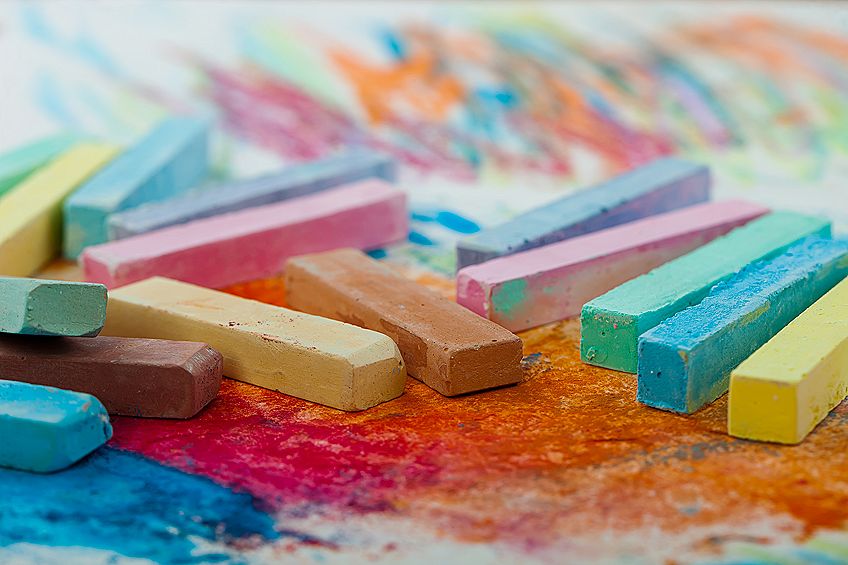 Start your picture with lighter colors, adding more layers and darker colors as you go along. This creates more room for shading, blending, and shadows. Using your hard pastels for the underpainting will provide a flat image to work off of and build onto with your oil pastels.
Try separating aspects of your picture into blocks; this will help with applying even color and better coverage over each area, allowing you to focus on one aspect at a time.
Always start with an underpainting. This creates a base for your artwork, allowing you to build up color and texture so as to make your work more lifelike. Underpaintings should be done in one or two primary colors, which can then be smudged into the outline of your image using a blending tool to add a more natural look.
Always do your background last to hide or correct any mistakes. This layer should be done thicker than the rest, unless you are wanting to blend or add in different colors there too.
Sealing your oil pastel art is not always necessary; again, this will depend on the paper option you have chosen. If your paper has a high acidity or is of a thinner texture and weight, then you will need to seal them. If you have chosen a primed canvas, sanded paper, or other tougher option, you do not have to worry.
Now you know what paper to use for oil pastels as well as how to use oil pastels on paper, canvas, and board. We hope you found this guide helpful, and remember to have fun experimenting with different oil pastel papers!
Frequently Asked Questions
What Is the Best Paper to Use for Oil Pastels?
Oil pastels work well on most surfaces, including paper. The thicker the paper, the better your results when using oil pastels. The thin paper will soak up the oil, leaving a residue which will rip and tear if too much pressure is applied. Because oil pastels are great for blending and layering, a thicker paper, canvas or board would be thicker and provide more support.
Can You Use Oil Pastel on Canvas?
Oil pastels can be used on canvas, although normal stretched canvas may be a bit flimsy. This medium often requires more force to obtain certain textures and effects. This can cause a canvas to sag and warp. This will also require the use of a fixative to prevent your pastels from smudging. Using a specialty oil pastel canvas will work better, as these are primed or are coated with a sand-like grit for better grip. This coarse surface may be harder to use initially, but it will not allow any gaps for your pastels to bleed and allows for quick drying, so smudging is not a factor.
How to Use Oil Pastels on Paper?
Pastels are easy to use on paper, granted that you have chosen the right type of paper. If you are using thick papers or textured boards, oil pastels can easily be used for layering or blending, and mixing colors.
Larissa Meyer is a 32-year-old mother and creative spirit since childhood. Her passion for painting and drawing has led her to train as an illustrator and pursue a career as a freelance graphic designer. Larissa is a talented artist who is able to master a wide range of styles and techniques to bring her artistic vision to life.