Best Oil Pastels – A Guide on Oil Pastels for Beginners
This post may contain affiliate links. We may earn a small commission from purchases made through them, at no additional cost to you.
We have all used a type of pastel at some point in our lives, be it in the classrooms of our younger days or as a regular preferred medium. Although to some pastels may seem like an 'easier' medium option, oil pastels and pastels in general do require their own technique and understanding just like any artist tool. Pastels come in different forms, colors, and consistencies just like paint and they are best suited to different projects. If you are just starting to explore the wonder of oil pastels, then you have come to the right place! In this article, we will narrow down some key tips, techniques, and the best oil pastel brands in order for you to get the most out of your art.
Oil Pastels for Beginners
Created in 1925, the very first oil pastels were a combination of oil, wax, and color pigment. The idea was to create an alternative to wax crayons that would be safe for children too. Thus, the first oil pastels for children were invented. These days, the recipe remains the same, mostly using an oil such as linseed mixed with the wax and color pigments. This is what makes these 'oil crayons' different from other stick pastel mediums, which are made using a binder or gum, and even from wax crayons which are made with just wax and color pigments. To better understand what sets oil pastels apart from the rest, let us further explore the different types of pastel mediums below.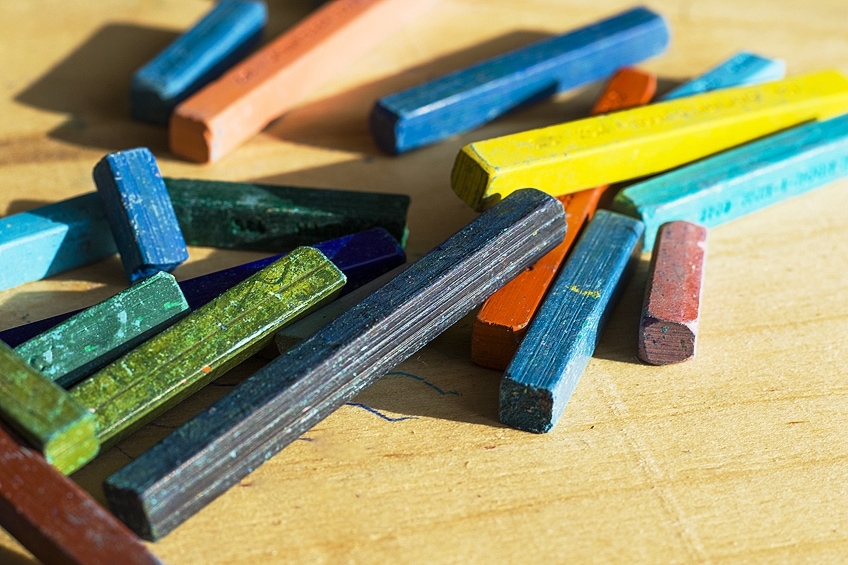 Soft Pastels
These pastels are readily available and widely used. They are made up of Arabic gum, white chalk, and color pigments. What makes soft pastels different is that they are made using more color and less of the binder. This is what gives them their intense hues and almost crumbly effect. The white chalk also assists with the brightness of the colors, hence why these are often so rich.
Pros
Easy to blend and smudge because of their consistency
Vibrant colors
Readily available
Fun for the whole family
Cons
Lots of residue or dust left over
Messy on the hands
Can melt in extreme temperatures
Will need to spray seal art for protection
Cannot be left unframed or stored incorrectly
Hard Pastels
These are the opposite of the softer pastels, consisting of more binder and less pigment. This produces a harder drawing-specific tool, which is helpful with finer and more detailed work such as edges and accents that you would not be able to achieve using soft pastels. Hard pastels are also naturally pointed to assist in creating those fine lines. Because of this, many of the best oil pastel artists use a combination of pastel mediums to achieve their mindblowing results.
Pros
Great for drawing outlines, adding accents, fine detail work, and sketching beforehand
Travel-hardy and will not break easily
Helpful with background work
Not as messy on the hands
Cons
Restricted range of colors
Colors are dull; not as bright as soft pastels
Cannot be used for smudging or blending
Pastel Pencil
Pastel pencils have many great reviews as possibly being the best pastel medium for beginners. They are easy to work with and come in a beautiful color variety just as your regular colored pencils would. Essentially, they are made with pastel leads, producing an effect similar to that of soft pastel. Because of this, your colors can still be layered and blended quite easily without getting your hands dirty!
While all this seems great, it is also helpful to know that some pastel sticks and pastel pencils may contain toxic pigments. Breathing in pastel dust can be very toxic and harmful to your lungs and nasal passages. Some pastel mediums are dustier than others, but it is always better to look out for non-toxic products where you can. Rather be safe when using certain materials and chemicals materials in your artwork.
Pros
Easy for beginners
Comfortable to grip
Helpful with fine details and lines
Great colors
Similar effects to soft pastel with none of the mess
Cons
Best suited to small scale projects
Time-consuming for larger pieces
Toxic if inhaled
Can be pricey
Oil Pastels
These pastels are softer and more buttery due to their linseed oil base. This also contributes to their brighter and glossier finish. Because of their formulation, oil pastels are much easier to use for obtaining smooth results for kids and beginners. Another great thing about these is they will dry permanently on fabric if left to dry for long enough, just as they do on canvas. Simply use your oil pastels to design directly on to your fabric. Then, place a clean sheet of paper or cloth over the design and press with a hot iron to set.
Pros
Intense colors
Easy to spread using spirits
Does not require a fixative to protect
Can be used on multiple materials
Cons
Can be more expensive
Heavier on the paper
Stickier consistency makes it more difficult to blend or smudge
Which Pastel Type Should You Use?
So, we can now see that with soft pastels vs. oil pastels, both would give you the colours you are looking for. However, soft pastels are messier, require fixatives, and usually leave a crumbly residue on your work and surrounding surfaces. On the other hand, oil pastels will not crumble or release airborne dust that can be harmful when inhaled. Oil pastels are easier to work with and will provide you with a glossy finish without the use of a spray, coating or frame.
The hard pastel and pencil pastel options are both great for creating the 'bones' of your artwork before filling it in with your softer pastel mediums. This is especially the case when finding a non-toxic range to use. Also, for a finer and more detailed piece, you can use these two mediums on their own too. Now that we know what our options are, we can explore some of the best oil pastel brands.
The Best Oil Pastel Brands
With so many brands out there, it is always helpful to have a good direction to go in when purchasing your first set of oil pastels. Because these come in entry level and professional options, the pricing and quality will vary greatly between products. They key here is to find the best oil pastel brands that are still affordable without compromising on the quality of your art. Because whether you are just starting out or you have been at it for years, your art should be something you are proud of and that reflects your skills and talents regardless of your budget. Below, we will highlight the best oil pastels for kids as well as the best oil pastels for beginners.
The Best Oil Pastels for Beginners: MUNGYO GALLERY Soft Oil Pastels
Mungyo gallery has produced this creamy, soft range of oil pastels that is perfect for beginners and professionals. Being so smooth, they are easy and simple to use and contain a high level of pigment for some brilliantly vibrant colors. These oil pastels also leave a low residue and are not as messy as some others in the same category. Although this is not the only set they offer, this one from Mungyo Gallery comes with 48 amazing colors and is reasonably priced compared to other professional quality pastels. These oil pastels can also be blended with either dry or liquid solvents to achieve some real silky results.
Because of their consistency, these are great for techniques such as impasto, blending, and scraping. An added benefit of these oil pastels is that they do not crumble, allowing neater and more accurate art. They can be used on paper or canvas as they do not stick and their finish is a lot smoother and brighter. Having such a great reputation, it is no surprise that these oil crayons have even been recommended by oil pastel artists on Youtube and other social media platforms. Mungyo gallery oil pastels are non-toxic and safe for kids to use too!
Outstanding smooth touch and consistent colors

Intense colors and high covering power

Smoothness and low-residue allow neat and accurate works
View on Amazon
Pros
Smooth texture
Easy to use
Priced well
Variety of colors
No fixative required
Great for kids and beginners
Not crumbly
Cons
Fixative may need to be applied
Will melt if exposed to heat or direct sunlight
Best Oil Pastels for Kids: FABER-CASTELL Blendable Oil Pastels in Durable Storage Case
Faber-Castell has long been around as a reputable and well-known artist supplies manufacturer. Their oil pastels for kids feature bright, pigment-packed colors and surprisingly smooth textures. These are a child- and beginner-friendly art medium as they are softer than crayons and are easily blended to cover larger areas quickly and easily. These kid-friendly oil pastels also come in a hexagonal shape which makes them easier to hold and grip for little hands.
Let your child's imaginations run wild! With these pastels, they can create watercolor effects, texture rubbings, scratch art, and so much more! The package also comes with a blending, shading, and tinting guide for you and your little one to explore together! All of this comes packaged in a nifty carrying case, keeping your pastels neat and safe from breaking. Faber-Castell oil pastels are non-toxic and acid-free, making them the best oil pastels for kids. They also clean up well from clothes and surface areas once you are done.
24 bright pigment-packed oil pastel colors
Versatile with an ergonomic pastel shape
Comes with a snap-in carrying case for easy travel
View on Amazon
Pros
Safe for kids
Hexagonal shape
Easy to use
Portable carry case
Blend well
Cost effective
Set comes with tools
Cons
Not as smooth as professional-grade pastels
Not that many colors
Best Value Oil Pastels: PAUL RUBENS Oil Pastel Set
Paul Rubens is one of the best oil pastel brands for artists of all ages and skill levels, from kids and students to professionals. These oil pastels are made with high-quality and eco-friendly materials, making them safe and non-toxic to use. Paul Rubens' special formulation also contributes to your oil pastels having a stronger adhesion to your canvas or paper, preventing your art from fading, and it is also what gives these superior oil pastels their highly smooth and even pigment.
Their colors are beautiful, following a 'fresh macaron' theme of 36 blue and purple tones as well as three extenders or spare whites. Just like using oil paint, these pastels can be overlayed, blended, and mixed with multiple colors, which can result in some really eye-catching textures and designs. These oil pastels by Paul Rubens are easy to work with and are ideal for drawing, coloring, or painting, thus making your options endless!
36 fresh, vivid macaron colors and 3 extenders
Pastels are soft and smooth
Eco-friendly, fade-resistant, and even pigmentation
View on Amazon
Pros
Vibrant colors
Similar to using oil paints
Easy to use
Non-toxic
Smooth finish
Can be used to create texture
Will not fade
Now that we have a basic direction to follow on brands and which are the best oil pastels to use, we can take a look at some steps to get started!
How to Use Oil Pastels
When using oil pastels for the first time, you will notice how different they feel in your hands compared to a pencil or paintbrush, for example. Some brands are shaped differently for better grip, and some have sharper points on the ends to make them easier to use.
You will notice that this medium may require a little more effort or a firmer hand when applying the oil pastel to your paper or canvas. It will also take some time to get used to the texture and feeling of blending and smudging your work. Luckily, there is no rush, and with a little preparation and practice you will be an oil paint artist in no time! Below are some steps to assist you in starting your first oil pastel project:
First, it is important to create an area where you will have space to move freely without having to worry about messing. Sometimes it is helpful to use an old sheet or some newspaper to cover your workspace first. An art apron will also help to protect your clothing.
Some people do not like touching certain textures or materials with their hands. If you are concerned that pastel is not for you because it can be quite a finger orientated paint technique, then do not fret! There are still ways to enjoy this medium and feel comfortable. Some good options to try would be to use a glove, tissue, or chamois when smudging for the first time instead of your skin. You could also use a cotton bud with an oil to better blend your work if oil-based. Try these tricks and see what works best for you.
Professional oil pastel brands tend to have very good coverage. This means that if you make a mistake or use the wrong color for example, you can go back and use a tool to remove it, such as a scraper or painting knife. You can then go over it again with your oil pastels to correct the mistake.
When using oil pastels of different colors, be careful not to mix or overlap them too much, as it can cause the picture to look messy and thick.
If colors to become stuck, resulting in an uneven distribution of color, you can try erasing them with your tools. You can even use some paper for this and then go over the area again in the color of your choice.
When blending and smudging, oil pastels and soft pastels will work best. Oil pastels are also the best choice for achieving a glossy shine.
When working with outlines and fine line work, hard pastels and pastel pencils are better options.
Remember, oil and soft pastels need to be kept cool and away from moisture, sunlight, and high temperatures in order for them to last.
Oil Pastel Techniques
Any artist will tell you that all art mediums have specific techniques one needs to follow if they truly want to do great things. Pastels also have their own techniques that you can use to add some details or accents into your work just like the professionals do!
Heavy Pressure Blending
This is when you use the pastel in one direction on your paper. With broad, heavy strokes, you add layers of colors on top of one another to create a rich, blended look. You can experiment with black or white pastel colors too for shadowing and highlighting effects.
Light Pressure Blending
Opposite to the above technique, this method calls for you to add pressure lightly to your pastels on paper. You can then keep adding more colors to achieve various highlights and hues.
Stippling
Usually a pen or pencil is used, but harder pastels can be great for stippling too. If you are using blunt or round-edged pastels, it would be better to sharpen them a little or use the side of the tip for the best results. Next, use quick and choppy strokes for a textured effect on your paper. The more colors added, the more depth that will show through in your technique.
Scumbling
This is the technique of using controlled scribbles and marks of oil pastel on your page. Just like stippling, it can also be built up with the addition of various colors to reach your desired result.
Sgraffito
For this technique, you will need a sharp object, paperclip, or coin. This is the practice of overlapping thick layers of different pastel colors on top of one another on paper. Then, you would use your object to scratch or scrape line designs, uncovering the colors underneath.
Oil
This method is used to thin or spread your oil pastels. You can use a cotton swab soaked in linseed or baby oil and apply it over your pastel art. This will create a smoother and glossier blended color to your final design. Let this dry overnight to prevent smearing and damage.
With so many exciting techniques and possibilities, we hope this article gave you the push you needed to get started on your oil pastel adventure!
Frequently Asked Questions
What Is the Difference Between Pastels and Crayons?
As we discussed above, the difference between these two mediums is based on their individual composition and ingredients. Crayons are mostly wax-based, while pastels combine wax and oil to form a softer alternative and brighter result to wax crayons.
What Are Oil Pastels Best Used For?
Oil pastels are used as a fast alternative to paints because they are easier to use, quicker to dry, and more convenient to carry. For this reason, they are often used for paper and canvas, but can also be used on other materials like wood, rock, and glass.
Are Oil Pastels Messy?
All soft pastel mediums are messy to their own degree. Oil can be wiped from surfaces easily using a thinner or some linseed oil, and gloves can be worn if you prefer to protect your hands. It is not generally easy to remove from clothing.
Which Is Better: Soft Pastels vs. Oil Pastels?
Soft pastels are not great at sticking to the surface of your paper because they do not contain any oil or moisture, which allows them to be easily brushed off. Oil pastels, though, are similar to oil paints except that they will not ever harden as such. Just like the paint, oil pastels can be thinned and blended to make them easier to work with.
Larissa Meyer is a 32-year-old mother and creative spirit since childhood. Her passion for painting and drawing has led her to train as an illustrator and pursue a career as a freelance graphic designer. Larissa is a talented artist who is able to master a wide range of styles and techniques to bring her artistic vision to life.