Epoxy Paint for Wood – Choosing an Epoxy Coating for Wood Floors
This post may contain affiliate links. We may earn a small commission from purchases made through them, at no additional cost to you.
If you are looking for a durable and long-lasting paint option for wood, then epoxy paint is a great idea. Using epoxy paint for wood provides many benefits; it can help to protect the wood from damage, extends the lifespan of the wood, and it just looks great. Epoxy paint works with a wide variety of surfaces and can provide a resistant enough finish for flooring areas. We will take a deeper look at epoxy paint for wood floors below, and how this paint can be used.
Finding the Best Epoxy Paint for Wood
When it comes to finding the right epoxy paint for wood floors, there are loads of different options available. With such a variety out there, it can be tricky to know exactly which one to choose. Epoxy paint for wood needs to be used alongside a primer to make sure that you get great results. We will explore some of the best options below in order to help you find the ideal wood floor epoxy paint and primer for your project.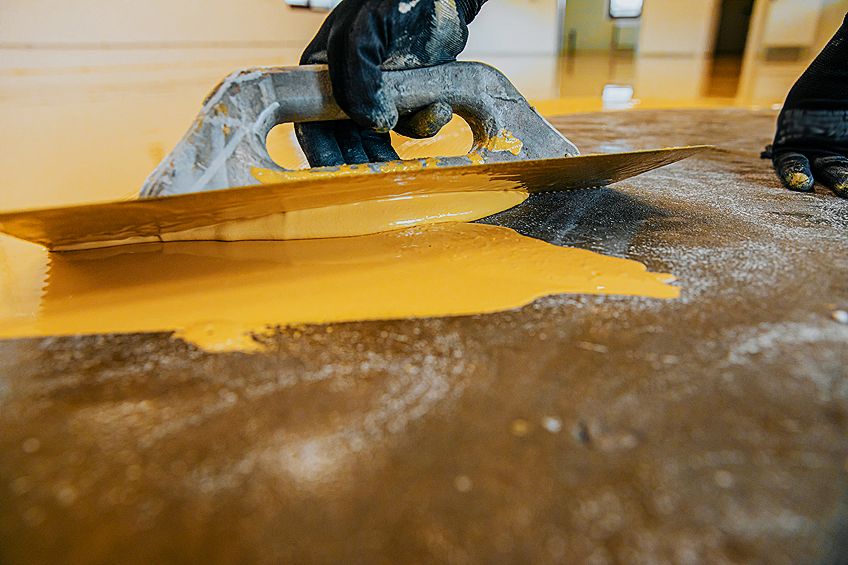 Epoxy Primer for Wood Floors
While epoxy paint is very durable, it will not properly adhere to a wood surface if applied directly. In order for it to stick properly, you will need to apply a layer of acrylic latex primer first. There are various color shades of primers available, so it is important to choose one that matches the shade of the underlying wood.
Best Wood Floor Epoxy Primer: RUST-OLEUM Bondz Maximum Primer
This water-based primer by Rust-Oleum doubles as a sealer too. It works perfectly on different wooden surfaces and can be used over most types of topcoats. The weatherproof formula is suitable for indoor and outdoor use. This primer has amazing wet adhesive properties, which makes it a good product to choose for items in humid conditions. When applying this to wood, you get maximum adhesion between the paint and the wood surface. This primer is easy to apply and quick to dry.
Easy and simple-to-use kit

Water-based primer-sealer

Great wet adhesion in moist environments
View on Amazon
Pros
Easy to apply
Can be used for interiors and exteriors
Quick-drying
Works great in humid and wet conditions
Cons
Not suitable for some surfaces
Epoxy Paint for Wood
Just like epoxy resin, this style of paint comes with two separate parts that need to be mixed together. After they are combined, a chemical reaction takes place. This is what allows the paint to harden to a seriously durable finish.
Epoxy coating for wood floors is glossy and attractive, while still being resistant enough for lots of use. When working with epoxy paint for wood, you need to be quick, because you only have a very limited time after mixing the paint until it dries.
Overall Best Epoxy Paint for Wood: RUST-OLEUM Marine Topside Paint
This marine topside paint by the renowned brand Rust-Oleum is an excellent choice thanks to its oil-based properties. This makes it particularly durable and weatherproof for all kinds of conditions. It is also UV-resistant and self-leveling for easy application. This epoxy floor paint for wood dries to a glossy finish and works well with most types of underlying wood. The paint will dry in about two hours and can cover a 100-square-foot area. This is our top choice of epoxy wood paint due to its durability, strong weather resistance, and smooth, glossy finish.
Pros
Easy to use and apply
A very durable epoxy paint
Has good UV-resistance
Fast-drying
Maintains a smooth, glossy finish
Cons
A few thin coats are required
A more expensive option
How to Apply Epoxy Floor Paint for Wood
The first step is to make sure the wooden surface is properly prepared for the paint. Then, the epoxy paint needs to be mixed together, after which it can be applied to the wooden floor. When you apply an epoxy coating for wood floors, the following steps should be taken in order to achieve the best results.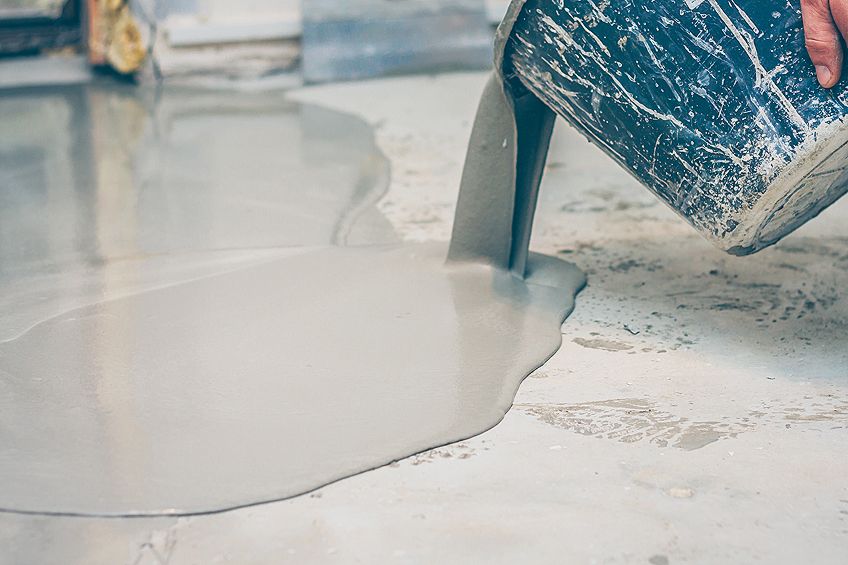 Safety First
Before epoxy paint dries, it can be fairly toxic. The paint releases harmful odors and can cause skin irritations if you come into contact with it. For this reason, always start by taking the necessary safety precautions before using epoxy paint for wood. Wear a respirator mask, protective goggles, and proper gloves. Also, try to work in a well-ventilated space if possible.
Preparing the Wooden Surface
Epoxy paint for wood cannot be applied directly to the wooden floor if there is already some kind of sealer or varnish on it. This needs to be sanded away before you can start to apply the new epoxy paint for wood.
Be sure to sand down the wooden surface completely, then clean off all dirt and dust. When sanding, make sure to follow the same direction as the wood grain. Some woods release oil when being sanded down, so it is important to wipe this dry. The wooden surface needs to be completely clean before it can be primed and painted.
Priming the Wooden Surface
You cannot paint wood floor epoxy directly over the bare wood. First, it needs to have a coat of primer in order to create enough adhesion. Once the wood has been sanded down and cleaned up, you can add the primer.
This is best done with a roller for an even and smoothly painted coat. You will need to apply a few layers of primer before painting. This may be a lot of work, but it is necessary for a perfectly painted floor. Let the primer dry completely.
Primer not only helps the epoxy paint to adhere to the surface of the wood, but it also makes it look great. You can choose between a variety of different colors when picking a primer. Always choose one that matches the color tone of the wood underneath as well as the paint that you will use (do not use a dark primer for light paint and vise versa).
Mixing the Epoxy
Now, the surface is ready for painting. To start this process, you will need to combine the two parts of the epoxy paint for wood. Make sure that you get the correct mixing ratio for the epoxy and hardener. Ensure that you stir the components together well in order to get a paint finish that dries smoothly and evenly.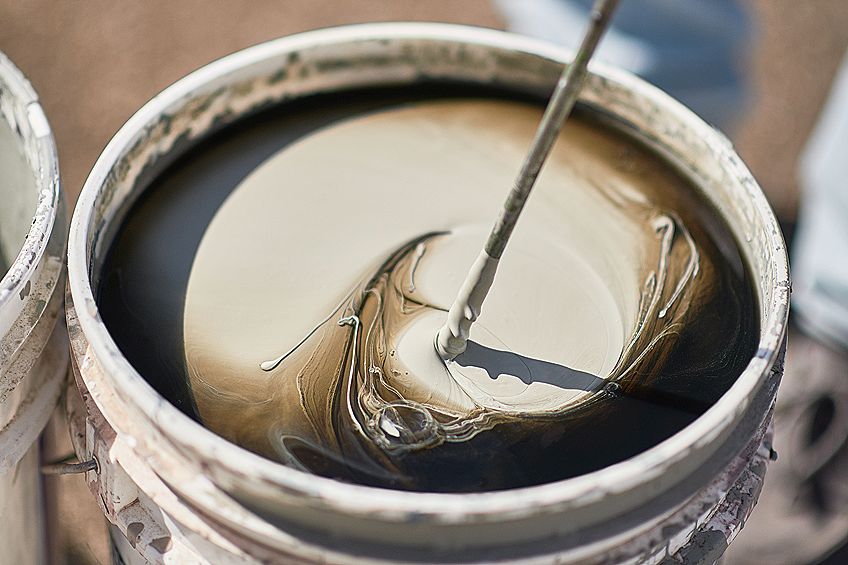 Apply the Epoxy Paint for Wood Floors
You can now start to paint. Using a roller attached to the end of a long pole is the best way to apply epoxy floor paint for wood. This allows you to get an even and smooth coat without unwanted brush marks or loose bristles. You will want to add two or even three layers to reach the best results.
Be sure to paint quickly, because you do not have a lot of time when working with epoxy. As soon as the paint is mixed, it will not take long before it starts to harden. You will usually have around an hour to get the painting done.
Sometimes, the epoxy paint for wood will lift or split the wood fibers of certain types of wood. If this happens, then do not paint until the layer underneath is completely dry first. Any rough surfaces can be sanded down again until completely smooth, after which they can be painted over.
Tips and Tricks for Epoxy Paint for Wood
Make sure that you properly prepare the wood surface. It needs to be sanded down of any pre-existing sealers, cleaned, dry, and dust-free.
When painting a floor, start in the corner furthest away from the door and work backwards. This will stop you from having to walk back over wet paint.
When using a paint roller, you will need between 2 to 4 coats of paint.
Never apply paint over wet paint. The previous coat needs to be dried (it can still be a little bit sticky) before being painted over.
If you are painting an outdoor floor, you will need to add a layer of UV protection. This can be added over the last layer of paint and will help to protect the epoxy from yellowing under sunlight.
Epoxy floor paint for wood is a brilliant substance for all kinds of rooms and areas. This paint is durable, smooth, and looks great. It works well with many different floor types and should stand the test of time. We hope to have answered any of your questions on epoxy paint for wood in the article above.
Frequently Asked Questions
Do You Get Epoxy Paint for Wood Floors?
Epoxy paint is highly adhesive and can be used over just about any surface. As long as you prime and prepare the wood first, this paint is a great choice for wooden floors. It is durable, smooth, and highly resistant.
Is Epoxy Paint for Wood Waterproof?
One of the highlights of working with epoxy paint is that it is durable and water-resistant. This makes it a great surface for flooring and can be used in areas where there is lots of water exposure.
Does the Wood Need to be Sealed Before Applying Epoxy?
Wood is porous, which means that sealing it before adding epoxy paint is always a good idea. This helps to stop bubbles from forming. A lot of primers will work as a sealer too, which will allow you to avoid adding both.
Does Epoxy Paint for Wood Need Varnishing?
While epoxy coating for wood floors is durable, adding a layer of varnish will enhance the overall strength. It will also help to improve the finish with a clear varnish coating.
Larissa Meyer is a 32-year-old mother from Michigan and creative spirit since childhood. Her passion for painting and drawing has led her to an education as an illustrator and a career as a freelance graphic designer. She has a Bachelor of Fine Arts in Illustration and a degree in Graphic Design. Larissa is a talented artist who is able to master a wide range of styles and techniques to bring her artistic vision to life. Her greatest passion is currently fluid painting and epoxy resin art. Larissa's love for art and her knowledge and experience in illustration make her the perfect Creative Director for our fluid-painting.com team. She is the creative head of our team and shares her passion and knowledge with our community through articles and tutorials.
As a mother of a 2-year-old daughter, Larissa also understands the importance of fostering creativity in early childhood. She uses her experience and knowledge to help other parents inspire their children and develop their artistic skills as well.
Learn more about Larissa Meyer and about us.