Acrylic Paint on Paper – Reviewing the Best Paper for Acrylic Paint
This post may contain affiliate links. We may earn a small commission from purchases made through them, at no additional cost to you.
A beginner painter might look at all the various types of paint in the market today and feel overwhelmed. Acrylic paint is a popular option, and has several benefits. You have probably wondered to yourself: Can you use acrylic paint on paper? The good news is that you can use it on a variety of surfaces, which frees you from the traditional idea of painting on a canvas only. Acrylic paint on paper works wonderfully too! It is also a very versatile paint, because you can create different effects with it to resemble either oil paint or watercolor, for example. To do this, you can use techniques like thinning it with water or mixing it with other mediums. So, if you are eager to try acrylic paint on paper, stick with us and we'll show you the ropes (or in this case, the paper).
How to Choose Your Acrylic Paper
Before you start, it is important to know how to go about choosing your paper. Your paper should be very durable, as the wrong type of paper could get damaged, ruining your art project. Acrylic paper should be able to endure scraping and other techniques like glazing. A good must-have to look out for is paper made from linen pulp or cotton, which deliver sturdy paper. Take a look at these things to take note of when buying.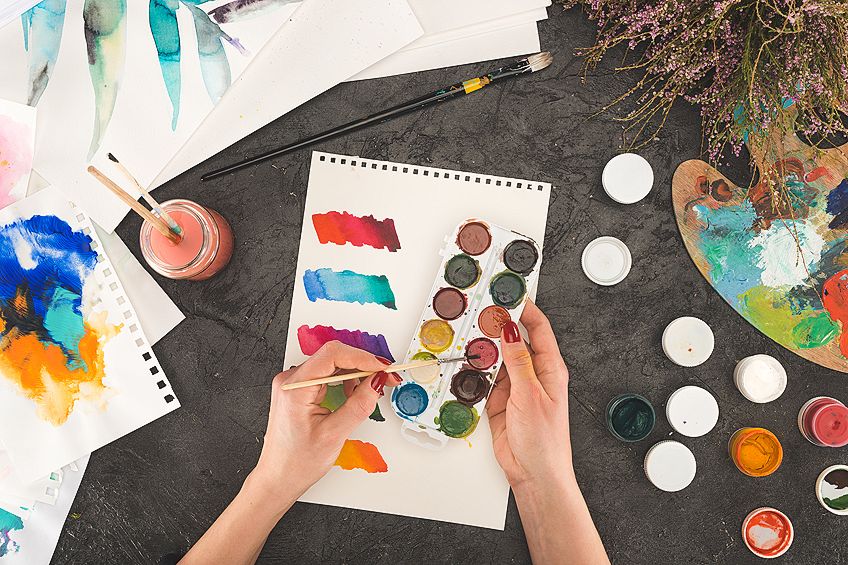 Acid-free
Acid-free or pH-neutral paper will last much longer and will preserve your painting well. Acid in paper can result in your paint changing in color over time, and it can also cause the paper to become frail and tear. So, take that extra moment to study the label and make sure your paper is free of acid, even if it might mean coughing up a bit more to purchase it. You can, of course choose to use paper even though it does not indicate being acid-free, but it will not guarantee that your artwork will remain intact for a long time. However if you are still learning or experimenting and you do not necessarily require a paper with a long durability, it might not affect your choice in paper.
Weight
Heavyweight is your first and best option, because it means durability and substance. Using heavyweight paper for your acrylic painting will prevent paint and water from warping the paper, or the paper to become distorted or curl up.
The ideal weight is 300-400 gsm (that means grams per square meter). This class of paper will also be easier to frame or mould onto an easel, should you want to do so.
Color
Depending on your goal and desired end-product, the color of the paper can play a large role in your decision making. You can use a specific color in the background as part of your painting, in which case you should consider the color carefully. Alternatively, you can also paint over the entire page, so that you can choose a different background color. It also depends on whether or not you choose to gesso your paper.
Texture
The texture of your paper is crucial, because it plays a big role in the appearance of your end result. Acrylic painting on paper has a very specific look and feel so paper with a texture that is too coarse, too smooth or shiny will not be a good fit.
A mildly rough texture is desirable for good adherence and absorption of the paint, so it would be wise to choose paper that specifically states that it is designed for acrylic paint. However it is not an absolute must and you can also work with watercolor or other types of art paper if you would like.
If you opt for watercolor paper, you need to choose between cold-pressed and hot-pressed. We recommend going for the cold-pressed, because it usually has a rough texture. Then, make sure the weight is heavy enough to avoid paint seeping through or distorting the painting.
So, if those options sound good to you, here are some final considerations before you go ahead. Remember, if you finally decide paper is not the right thing for you, there is always canvas or even wood.
Why Use Paper for Acrylic Paints?
When it comes to painting with acrylic, there are several options for canvas, including paper, wood, and canvas. The question is, why should you choose to paint on paper rather than these other options? Below we have a list of the benefits and downsides of using paper for acrylic paint.
PROS
Paper is relatively cheap
It is easy to store and travel with
More beginner-friendly
Easy to frame
CONS
Heavyweight paper can be more expensive
Using the wrong paper could damage your project
Different Types of Paper
There are a few different options that will work well for acrylic painting on paper. Let's take a look at how each one of these will affect your painting, and then you can decide which one might work best for you.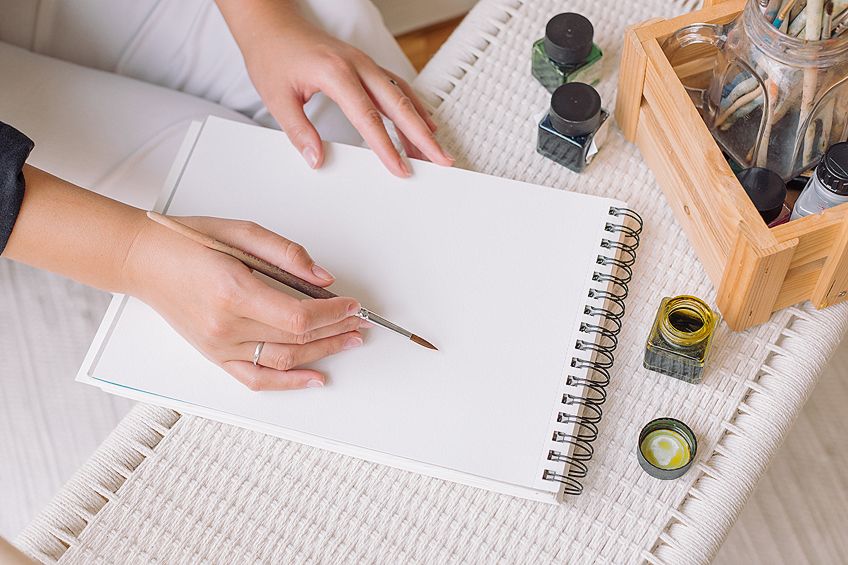 Synthetic Paper
Where most paper is made of natural fibers, synthetic paper is made from polypropylene. This means the paper is very durable, but might not be as absorbent. A good aspect is that the paper is pH-neutral, so your paint should keep its normal color. However, synthetic paper might be more expensive.
Acrylic Paper
For obvious reasons, this is a good choice because the product has been specifically manufactured for acrylic paint. It already ticks all our boxes: Coarse texture, acid-free and easy for paint to adhere to. It will also be the correct weight to avoid the pitfalls we discussed above. Some brands even offer heavier class paper, like Canson's 400 gsm paper.
This option should also not be too pricey, and a good quality brand will not crumble or distort after time or when in contact with water and paint.
Cartridge Paper
Cartridge, or drawing paper, is usually more optimal for ink, pencil, charcoal or other mediums, but could work for acrylic too if you want to give it a whirl. Again, make sure of the weight and texture, so you can achieve the best end-result with your art project. With this type of paper, however should apply a primer before painting.
Weighted Watercolor Paper
Watercolor paper is a really nice alternative, as it is absorbent and does not need any extra preparation work before you can use your acrylic paint on it.
The texture is also good for acrylic, as you get watercolor paper with a rougher texture. However you will need to make sure of the weight, as this type of paper might not be heavy enough if you don't search for the heavyweight class.
Cardboard
Cardboard is a good option if you are watching your budget, as it is typically more cost-effective. It is also easily acquired from most arts or stationery stores. However, again, make sure what weight you get, as it might not be sturdy enough to handle acrylics. If you do choose cardboard, we recommend applying gesso on your paper to give it a more solid substance.
Preparing Your Paper Before You Start Painting
Depending on the paper you chose, you might have to do a little preparation work before you can start painting. But if your paper meets all the requirements of being heavyweight, acid-free and coarse, you should be able to start directly with your acrylic paint on paper.
If, however, you choose a type of paper that is not specifically made for acrylic, you will need to apply one or even two layers of gesso on the paper – a white or clear binder mixed with chalk, gypsum, pigment, or any combination of these. Gesso on paper will ensure a good adhering surface.
We recommend using this acrylic gesso by Handy Artesso, which is a good value-for-money product. It has a matte finish that makes for a sturdy background surface. If you do not want to use gesso on paper, you can also use a sealer to prepare the surface.
Recommended Paper for Acrylic Paint
Acrylic paper is an obvious recommendation, but an important one. Paper for acrylic paints are designed to display your artwork in its optimal form and is resistant to crumbling, distortion and yellowing. A good thing to keep in mind is that you can usually also use other types of paint and art mediums on acrylic paper too, so you are not bound to acrylic paint. Here are our top acrylic paper brands for different experience levels and budgets.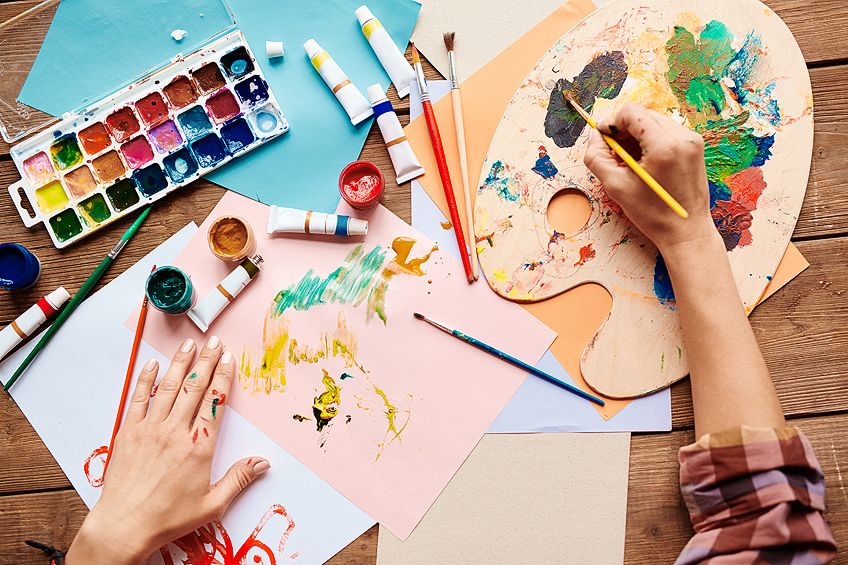 Best Budget-Friendly Paper: STRATHMORE Canvas Pad
This brand is budget-friendly, as well as beginner-friendly paper for acrylic paint. It is also a good option for those who are more experienced but want to experiment or try something different, and not use very expensive paper. This product is known to have a very canvas-like feel, which is great for acrylic painting. Its weight is 170 gsm which is not necessarily heavyweight enough if you want to use a lot of paint and water, so keep that in mind. It comes in a 10-sheet pad. This product is also suitable for oil painting.
Heavyweight 115 lb. canvas paper with a canvas textured finish

Suitable for a range of paints, including oil, watercolor, and acrylic

Pad includes 10 tape-bound sheets of 9 x 12 inches
View on Amazon
PROS
Good texture
Similar to canvas-feel and look
Budget-friendly
CONS
Lighter than the recommended heavyweight paper
Best Expert-Level: ARTEZA Acrylic Pad
This product is a solid 400 gsm heavyweight paper for acrylic paint, with exactly the right texture and absorbency for acrylic. The biggest plus point is that other mediums like gouache paint, oil paint, and acrylic paint markers also work well on this paper. This pack contains two paper pads, meaning you get 32 sheets for a very reasonable price. The paper is linen-textured and has a very professional feel. The pad is glue bound, not spiral, so it is easy to tear your sheet off from the pad for framing. Most users are extremely happy with the amount of tooth and grip the paper provides. However, some users have found that the paper sometimes can curl up if not gessoed before use.
A pad of 400 gsm heavyweight paper that does not buckle or curl
Paper has a linen-like texture to absorb acrylic and other paints
Pad has an easy-to-pull design so you can easily remove a sheet
View on Amazon
PROS
High quality
Good value for money
Glue bound and easy to tear off
Works well for other mediums too
CONS
Might need to use gesso before use
Does not show that it is acid-free
Best Entry-Level: CANSON XL Oil and Acrylic Paper Pad
The Canson XL Series is great for beginners or entry-level artists who might want to experiment with different paper for acrylic paint. Its claim to fame is that it is bleed-proof, so you do not have to worry about your paints running or getting mixed. The weight is 290 gsm and it is acid-free. Users are satisfied with its amount of tooth and another drawcard is that it comes in three different sizes.
A bleed proof pad of paper with a canvas-like texture

Suitable for oil or acrylic paints without priming or preparation

Each pad contains 24 sheets of 136 lb/290 gsm acid free paper
View on Amazon
PROS
Very budget-friendly
Bleed-proof
Acid-free
Does not require gesso or primer
CONS
Some users reported high absorbency
Top Choice: CANSON Foundation Series Canva-Paper
This brand is one of our top choices when it comes to paper for acrylic paint, for both quality and value. It is primed, and has a good canvas-like texture. It absorbs products like oil and water evenly. It works well with other types of mediums too. The 290 gsm acid-free paper is a great alternative to canvas, and easy to tear off as it is glue-bound. However, some users have mentioned that these sheets do not perform well in a printer, should you want to make prints of your work.
The paper is primed for oil and acrylic paints to avoid curling

Features a canvas-like texture that is close to linen cloth

A high-performance barrier to absorb oil, glues, and water evenly
View on Amazon
PROS
High-quality
Primed
Canvas-feel
Acid-free
CONS
Not good to print on
Slightly pricey
How to Prevent Your Paper From Curling
One of the major struggles with acrylic paint on paper is the dreaded curling or warping that sometimes occurs, despite even the highest quality paper. However, there are a few things you can do to prevent this. Keep these tips in mind.
The weight of the paper really does make a big difference, so do keep to the recommended 200 to 300 gsm, even if it is a bit more costly.
After painting, keep your paper flat against a surface by holding it down with weights on the corners, or adhere it to a solid background to work on like a board.
Applying primer or gesso, or buying a product that is already prepared, might help to minimise any warping during painting.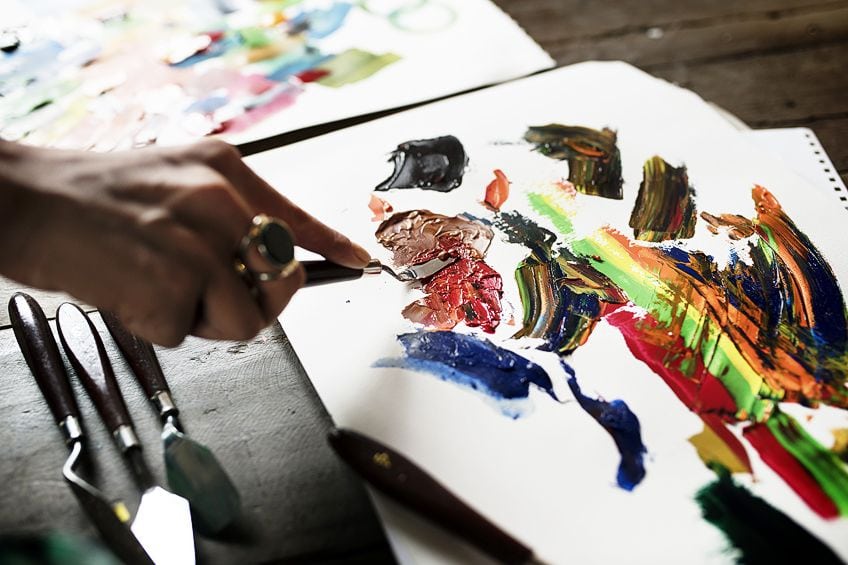 Another option is painting or using gesso on the backside of the paper to create even more solidity.
Try not to work in a humid or moisture-rich environment. Seaside environments often worsen curling of paper. Try to keep your workstation as dry as possible, and use an extractor fan if you live in a humid area and you are really desperate.
Remember that low cost products will be more likely to warp, so if that is a concern, paying a little extra for good quality will go a long way.
Painting on paper is a great option for any artist. Paper is easy to prepare and does not come with the commitment of a stretched canvas. There are several things to consider when choosing the best paper for acrylic painting, including weight, acid, and texture. With our suggestions and tips, you should be able to create beautiful acrylic paintings on paper.
Frequently Asked Questions
Can You Use Acrylic Paint on Paper?
Yes, you can! Painting, and especially acrylic is not just meant to be confined to a canvas. However, you'll need to make sure you have the correct acrylic paper.
Can You Use Acrylic Paint on Regular Writing Paper?
No. It is strongly recommended that you use a specific paper for acrylic paint, like one of the types mentioned above if you want to use acrylic paint on paper, as they are acid-free and have a range of properties that are unique to the product. This will ensure that your end product looks professional and can be preserved well.
Do You Need to Apply Gesso to Acrylic Paper?
This depends on the specific brand of paper you use. You won't go wrong by using gesso on paper. Some acrylic paper brands are primed, in which case gesso is not needed but you can apply it if you prefer an extra layer for a smooth texture. Some brands also come prepared with gesso, so you do not need to apply anything. If the brand you use is not prepared in any way, applying gesso is a good idea.
What Is the Best Paper Type for Acrylic Paint?
The best paper to use for acrylic paint is a heavyweight, sturdy paper that is at least 200 gsm (300gs is optimal). It should be specified as acrylic paper and preferably indicate that it is acid-free. Thick and bulky paper with a good amount of tooth is best for acrylic paint. Other types of art paper can also be useful, such as watercolor paper or synthetic paper, so you're not completely limited when you want to go for acrylic paint on paper.
Larissa Meyer is a 32-year-old mother and creative spirit since childhood. Her passion for painting and drawing has led her to train as an illustrator and pursue a career as a freelance graphic designer. Larissa is a talented artist who is able to master a wide range of styles and techniques to bring her artistic vision to life.