Best Pastel Pencils – Looking at the Best Pastel Colored Pencils
This post may contain affiliate links. We may earn a small commission from purchases made through them, at no additional cost to you.
Pastel pencils are similar in their drawing texture to hard pastels and can be used wet, dry, or mixed with other mediums for different results. Many artists use pastel pencils for preliminary sketch work or to add finer details and layers to pastel drawings. The best thing about using pastel pencils is that you can still achieve that blended and layered effect as you would using traditional pastel mediums, except without the mess.
Different Types of Pastel Pencils
As with pastels themselves, there are a few different variations of pastel pencils. In this article, we are going to look at the different types of pastel pencils and how to use them. We will also cover the best pastel pencil product recommendations so that you can get started!
Soft Pastel Pencils
These colored pencils offer the same smooth finish of conventional soft pastels without the mess and residue left over. Soft pastel pencils are made with a thin stick of pastel encased in wood and usually come in bright colors. The reason that these are a favorite is because they make it easier to achieve depth and tone within your work through smudging and blending. This also works as a disadvantage, however, as sharpening them can be difficult as a result of their softness.
Using soft pastels will add a smooth texture to your pastel pencil drawings and allow you to create more detailed and controlled works of art. Because of their consistency, high quality soft pastel pencils will also provide you with great toning and blending potential. For best results, a fixative is sometimes necessary to preserve your artwork once done.
The Best Soft Pastel Pencils: KOH-I-NOOR GIOCONDA Pastel Pencils
Made in the Czech Republic, KOH-I-NOOR is a name known among artists for professional quality art materials and supplies worldwide. These soft pastel pencils are of a professional quality, which is evident in their high pigment content, unlike lower-quality products which often contain more filler than pigment. These pastel pencils have a smooth consistency and are also lightfast and fade-resistant, ensuring that your pastel pencil drawings last longer.
This 24-color soft pastel pencil set is perfect for beginners as it is easy to use. The pencils can be mixed with water or added to watercolor paintings to add in details. This beautiful set comes encased in California cedar wood and a includes a tin to protect your pencils. These are softer pencils and could be prone to crumbling or breaking when using a traditional sharpener, therefore an electric sharpener could be a nice option to use.
Pros
Professional quality
High color pigment
Lightfast and fade-resistant
Come in a tin for easy storage
Cons
Crumble easily
May not be easy to sharpen
Chalk Pastel Pencils
Chalk pastels are very versatile, and can be dry-blended or smudged just as you would traditional pastels. These are great for beginners to use too, as a chalk eraser will easily remove any mistakes, making it easy to achieve your desired results with minimal fuss. Or they can also be wiped down with a wet cloth if using your chalk pencils in conjunction with acrylic paint. Chalk pastel pencils have a more subtle range of colors compared to the other pastel mediums, and their texture is drier.
However, if used with a brush and some water, you will be able to enhance the colors and texture of your chalk pastel pencil art. These pastel pencils are usually water-soluble, which means that this medium can be worked with a brush and water in order to enhance or alter colors and shades while your lines are still visible. For the best results, you can apply a fixative in order to preserve your chalk pastel artwork once it is finished.
Best Chalk Pastel Pencils: STABILO CarbOthello Chalk-Pastel Colored Pencil Set
Stabilo's CarbOthello chalk pastels have a naturally high color pigmentation with additional lightfastness to better protect your work. These pastel pencil drawings will last longer if used with a fixative to prevent smudging. This set of colors works well on darker backgrounds and thinner papers, where using your white pencil will assist with highlighting and outlines. This set contains 12 differently colored pastel pencils.
These chalk pastels are easily blended and highly workable, whether using your fingers or tools. They can also be easily erased if need be. Mixing their colors with water or using them with other mediums will bring out more vibrant hues from these colors.
Set of 12 beautiful color shades
Highly pigmented and lightfast colors
Can be used wet or dry
View on Amazon
Pros
Good range of colors
Not too pricey
Great for any artist level
Easy to clean up
Versatile if used with other mediums
Cons
May be difficult to sharpen
Set contains only 12 colors
Not good on thicker papers
Oil Pastel Pencils
Oil pastel pencils differ from the rest because they do not crumble or break as easily, nor do they give off airborne dust like soft pastel and chalk mediums do. Oil pastel pencils have the same buttery texture and rich colors as traditional oil paints and pastels, but are easier to use when adding fine detail and color accents. Oil pastel pencils are usually available in more intense colors and, being more stable than other pastel mediums, using a fixative is not necessary but rather optional.
The Best Oil Pastel Pencils: SCHPIRERR FARBEN Professional Oil-Based Soft Core Pastel Pencils
With 96 amazing colors to choose from, Schpirerr Farben oil pastel pencils are a must-have for any professional oil pencil artist. These pencils are made with a soft break-resistant lead, which provides you with an unmatched and even lay-down of color and texture, making it great for beginners to get comfortable with. This set comes in a carrier tin consisting of 4 layers. Each pencil has its own color name and number for easy reference.
The best part about Schpirerr Farben is that they offer a 30-day money-back guarantee should you be unhappy with your purchase – no questions asked. These pastel pencils do not leave a dust residue as some others would and are very easy to use. Their rich oil make-up allows for better grip on your paper and other art surfaces.
96 richly saturated professional-grade pigments
Pencils are named and numbered for easy color identification
Made of durable wood with a strong core
View on Amazon
Pros
Extensive range of highly pigmented colors
Break-resistant lead
Easy-fit carry tin
30-day money-back guarantee
Cons
High price for beginners
Limited selection of different color hues
Wood may be prone to cracking and splintering when sharpening
Pastel Colored Pencils
Pastel colored pencils are made normally but are available in a range of pastel shades. These may sometimes feel softer, as they still add less filler to get the beautiful pastel colors, although they are not of the same composition as pastel pencils. They will also not have the same effects when used, such as blending, layering, and smudging.
The Best Pastel Colored Pencils: MARCO Neon Pastel Colored Pencils
These neon, pastel colored pencils can be used for a variety of projects. This includes coloring books, drawing, sketching, and painting. These are also a good medium for shading as they have the advantage of creating tones and depth. Marco's pastel colored pencils come in a range of 24 neon colors and are smooth and easy to use.
They are made with an oily, soft core, which provides that smooth glide on your paper and a subtly different design to prevent them breaking easily. Colored pastel pencils can also be used with watercolors and acrylics in order to better blend your colors and create a softer finish.
Extra-smooth, soft, and easy to blend
High-quality premium-grade wood with a soft core
Set of s

weet, vibrant pastel colors
View on Amazon
Pros
Good range of neon colors
Versatile medium
Smooth finish
Good for blending and shading
Good price
Cons
Colors do not show up as well on lighter paper
Now that we know the different types of pastel pencils available, let us take a look at pastel pencil drawing techniques as well as some other tips when using your pastel pencils.
How to Use Pastel Pencils
Although drawing with pastel pencils is not very different to using colored pencils, there are a few tips that one may find useful in producing the best pastel art possible. For instance, to create thick, heavy lines, using the side of your pastel pencil is best. The point of your pastel pencil, on the other hand, will produce more defined and controlled lines for more delicate work.
For those who have used traditional pastels in the past, you will notice that pastel pencils produce less powder residue into the air and onto your page. This makes them a little bit safer to use in more confined spaces.
This also also means that when blending, you will need to add more layers and work a bit harder to achieve the same results with large areas. As we mentioned before, pastel pencils can also be used with other mediums to enhance and alter their colors, or they can be applied as different shades layered on top of one another to form various hues.
The pressure you use with your pencils will also make a difference on your technique and tones. A softer approach will make it easier to make alterations and corrections in the beginning. Once you are comfortable, you can use a steady, firmer hand when adding highlights and tones to accentuate different features as well as detailing outlines, as this will make your work more defined and realistic. Take a look below for some steps on holding and using your pastel pencils for the first time:
Hold your pastel pencils in the same way you would any other pen or pencil.
Before you start using your pastel pencils, make sure they are sharp. Although needle-like points will most likely be more prone to breaking.
When working on intricate lines and very fine details, it is best to position your pencil at a slight angle. This way, you can use the side of it to add in more details with your lines and strokes.
When shading, an angle will also work if your fingers are closer to the lead of your pencil, which will help you achieve better grip and control.
When working on large areas or wanting to cover an area, remember to use a large diameter point for the best coverage.
The goal here is to be comfortable when drawing or painting. So, try to relax and enjoy the process. Remember to give yourself time to become comfortable with various techniques and mediums.
How to Sharpen Pastel Pencils
Did you know that pastel pencils come in different sizes too? The lead diameter is possibly one of the most important features when deciding on these pencils. The diameter of the lead of any pencil is helpful in determining control over your chosen medium – the larger the diameter, the less control and accuracy you will have. These bigger pencil options are great for background work or covering and shading larger areas., whereas pastel pencils that naturally contain a narrower diameter point are better for precise and accurate detailing.
Most pastel pencils are too large to fit in regular pencil sharpeners. The best way to combat this problem is to use a sharp blade to sharpen it. The tricky bit is not to damage the point while cutting away at the wood of your pencil. This can be difficult, as the pastel centers are much softer than your usual lead pencils and may crumble easily.
Once you are happy with how much wood you have chipped away, you can use a small piece of sandpaper to gently sharpen your pastel pencil to their desired point. Using blunt pencils or over-sharpening will cause damage to your lead when trying to use it in the future. When storing your pencils, it is best to place them in a case or pencil box to keep your leads from getting damaged or breaking off.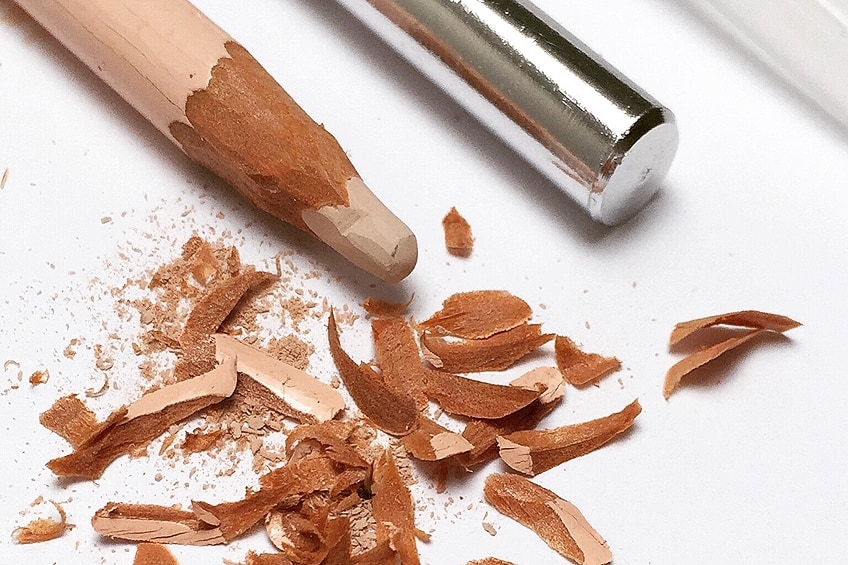 Surfaces for Drawing with Pastel Pencils
Pastel pencils, as we have mentioned, are very easy to work with. This is partly because they can be used on a few different surfaces, such as artist paper, sketch paper, cartridge paper and illustration board. Just because they can be used on most papers, however, does not mean you will get the same results when using thinner paper options. Pastel pencils, much like conventional pastels, are best used on a heavier textured paper or board, as they absorb the medium more easily, which leads to better results.
A great example of pastel paper would be Canson Mi-Teintes, which is a brand that is recognized by artists globally as the preferred papers for pastel pencil drawing. This may be because of their dual-textured page,s which allow for the use of different mediums on each side. Or it could be because of their unique 50% gelatin and cotton composition, which better absorbs your pastel mediums.
Other paper options include watercolor paper and papers with a heavier tooth. These are usually readily available in different colors, however the watercolor options mostly only come in white. The rougher option will also work better with pastels than the cold-pressed ones. A primer can also be used to prepare your paper for pastel use. This allows the medium to properly adhere to the surface of your paper by creating the tooth it needs to grip onto, much like a pastel board.
When going for a more professional art look, it is better to use a high-quality surface for your pastels, such as those that are acid- and lignin-free. This paper is easier to obtain and is available in individual sheets or as a pad to frame your work for that professional feel.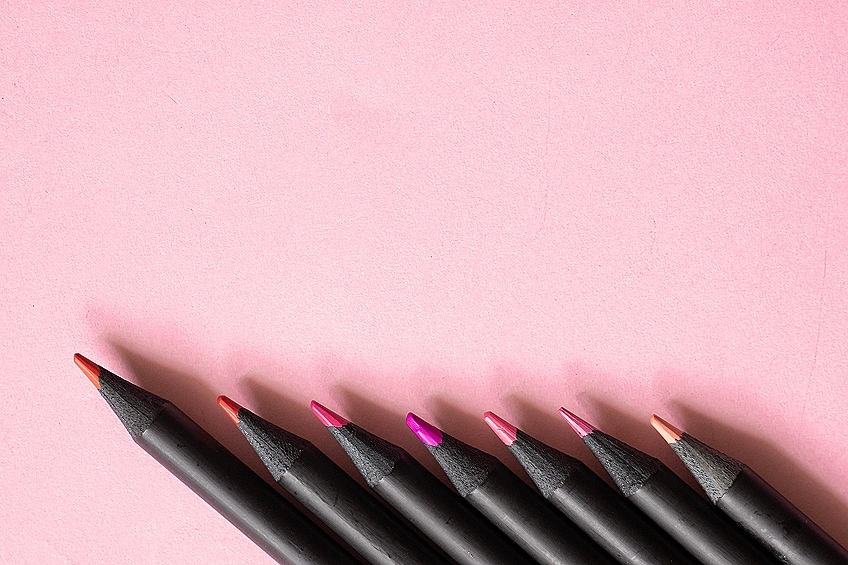 Important Factors to Consider
With so many options to choose from, it is no wonder pastel pencils are such a popular and easy-to-use go-to for artists. There are some other important factors one should consider when purchasing pastel pencils. Let us take a look below.
Color Range
A largely important requirement is the range of colors you will need for your pastel pencil drawing. Whether you are purchasing single pencils or a set, each pastel pencil medium will come with different color variations. For those who focus on portraits and wildlife art, natural earth and skin tones would be best. They would not have much need for the brighter hues, at least not in every art piece.
This can make buying a collection of pencils a bit more challenging, as they may not include all the specific tones you need. Buying individual pencils can become pricey, though, and will not last as long as purchasing a full set. So, it would be more cost effective to try to find a brand that includes everything.
Textures and Variants
As we have established, pastel pencils come in different mediums and therefore will produce different textures based on their composition. Chalk pastel pencils, for example, are firmer on your surface, providing more controlled lines than you would get from soft pastel pencils. Then, of course, you get the oil pencils that give you a very creamy and smooth glide over your surface, allowing one to blend and layer more easily.
There are drawbacks to each medium, however, such as the softness of the leads. This factor can also impact your work, in addition to the fact that these pencils are more difficult to sharpen as they often crumble easily. The thicker-diameter leads are often more stable and seem harder. While this means that they will not break as easily, it can also hinder your ability to smudge and blend because of the harder medium.
Versatility
As we have seen, pastel pencils are a very adaptable choice as a medium and can be used alongside other mediums. This can impact your buying choice too, as you may be prone to watercolor painting and can now mix in your pastel pencils in order to add highlights and definition to your fine details. Acrylic, oil paints, and even chalk board art can all be beautifully enhanced with the added feature of using pastel pencils.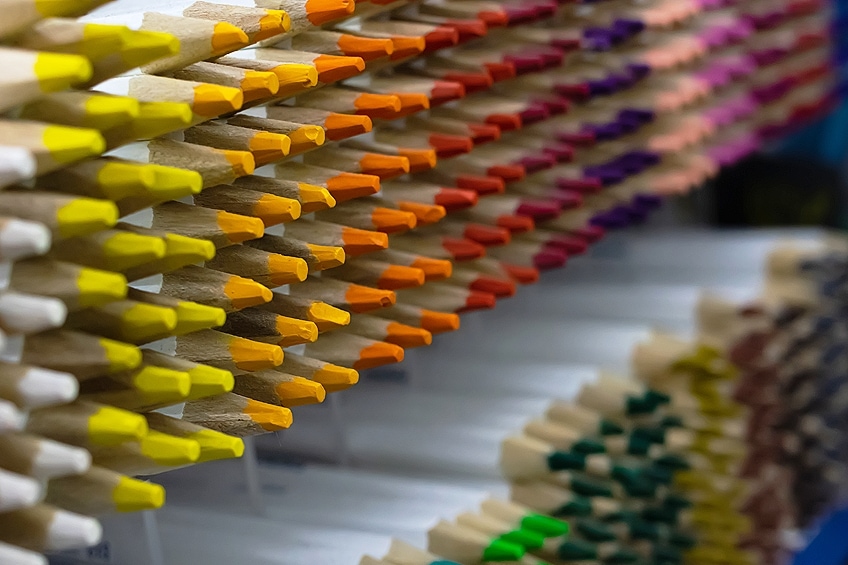 Quality and Brand Reputation
With the multiple brands out there, it can be difficult to choose one you would like to start with. But just like anything else, you cannot go wrong by using a brand that is well-known and has good product reviews by other artists. You may not get the exact same experience with one product as someone else, but start small and try different pastel pencils until you find the ones that are right for you.
Budget
This is of course a priority when purchasing anything for the first time. There are some brands of pastel pencils that are directed toward professional artists and these can cost a small fortune. So, when starting out, it is important to know that you do not have to break the bank when looking for art supplies. Pastel pencils come in a range of high-quality and cost-effective options for first-time artists or even students. So, do not feel pressurized to go all out and get the best pencils the first time around unless you are comfortable doing so.
After all this useful information, we hope you will feel more comfortable using your pastel pencils. Now, you can enjoy their benefits in your own artwork!
Frequently Asked Questions
What Is the Difference Between Pastel Pencils and Colored Pencils?
Pastels are made with a different formula than colored pencils, which is one that does not include wax. This makes their consistency much drier or oilier, whereas colored pencils are waxier and therefore do not have the same blending or layering effects.
What Are the Best Pastel Pencils?
Just like other mediums, this will depend on what you are using your pastel pencils for. Soft pastel pencils are great for blending and adding layers, chalk pastel pencils add unique texture and tones, and oil pastel pencils give a smooth and seamless transition and are the easiest to blend.
Are Soft Pastel Pencils Oil-Based?
Soft pastels are made with a mixture containing no oil. They are made with chalk, color pigments, and gum, all of which provide more of a matte finish than their oil-based counterpart.
Where Would You Use Chalk Pastel Pencils?
These can be used the same as you would any other pastel medium. They are versatile enough to use on thicker papers and boards, as well as on canvas. Chalk pastel pencils can also be used on chalkboards alongside markers and gel pens.
How Do You Sharpen Pastel Pencils?
Because of their softer lead consistency, pastel pencils can crumble and break very easily. Using the incorrect sharpener will damage your leads in the long run. Some sets of pastel pencils come with their own sharpener, which is helpful. In other cases, you can also use an electric sharpener or a cutting blade and some sandpaper to get the desired point.
Larissa Meyer is a 32-year-old mother and creative spirit since childhood. Her passion for painting and drawing has led her to train as an illustrator and pursue a career as a freelance graphic designer. Larissa is a talented artist who is able to master a wide range of styles and techniques to bring her artistic vision to life.