Best Watercolor Sketchbook – A Guide to Keeping a Watercolor Journal
This post may contain affiliate links. We may earn a small commission from purchases made through them, at no additional cost to you.
Art has been around for years and has been enjoyed by professionals and beginners alike. Watercolor art is no exception and is one of those arts-and-crafts hobbies that seem to be gaining in popularity. Some started when still a child and others have begun to tap into this amazing and creative art form in their later years. So, whether you are an expert in watercolors or just starting, you need to have the best watercolor sketchbook available. This is one of the most important items you will need, and this article will focus on helping you find the right one.
What Is a Watercolor Sketchbook?
A watercolor paper journal is a pad of paper in book form, which is slightly different from an ordinary paper pad. A watercolor book needs to be capable of holding watercolors properly without the colors bleeding through the paper or causing the paper to buckle or curl. All you need to do is lay the sketchbook or journal flat on the table or, if your sketchbook is large, on an easel. You can then start painting without being concerned that the colors will bleed through to the other sheets of paper in the pad.
Watercolor books are an amazing creative tool that you can use wherever you go, such as for jotting down ideas or capturing beautiful scenery. A watercolor journal is also a good idea for keeping all your paintings and sketches together in one place, for example, recording all your traveling experiences and then referring back to them at any time.
You can see that the watercolor sketchbook is not only meant for the professional artist, but also for the beginner, as anyone can enjoy the experience and learn new techniques.
The watercolor sketchbooks that are used by more professional artists will go for the artist-grade of watercolor sketchbooks, which are the more expensive brand. Also referred to as professional-grade, these watercolor sketchbooks have much thicker watercolor paper – around 300 grams per square meter (or 200 pounds) in weight – which is usually made up of 100 percent cotton.
However, if you are a beginner, then there are watercolor books that are more affordable, known as student-grade pads. The student-grade watercolor sketchbook uses slightly thinner watercolor paper, but it is ideal for beginners. It is great to practice with and learn how to paint with watercolors. There are two types of watercolor sketchbooks, depending on what you plan to paint.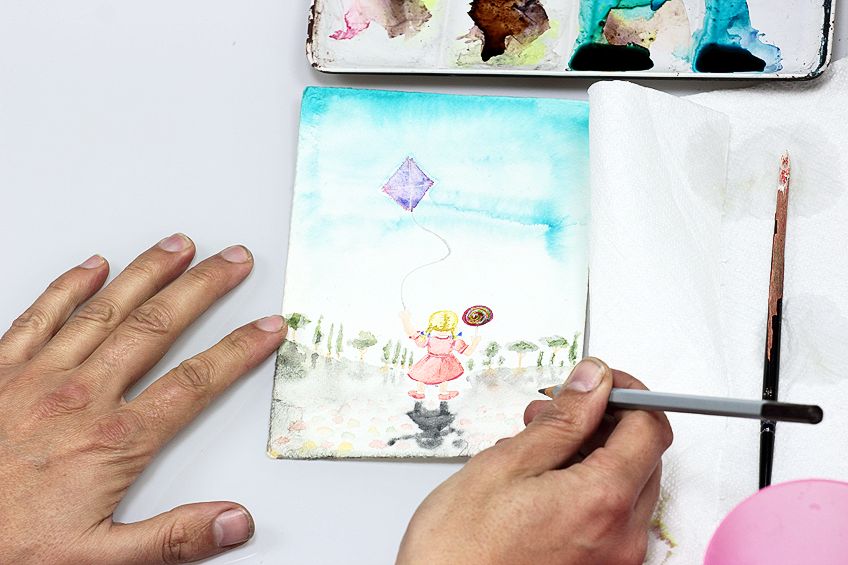 Watercolor Paper Sketchbooks
Sketchbooks are big pads normally used by artists and students who love painting portraits or scenery with watercolors. These pads are bigger and can be supported by an easel. You can also mount the pad on the wall once your painting is completed.
Watercolor Paper Journals
Journals are great for the hobbyist who enjoys creating decorative journals to a professional artist on the move. These journals are smaller in size, which makes them easier to carry around with you wherever you go, allowing you to record your travels.
What Are the Best Watercolor Sketchbook Brands?
Finding the best sketchbook is not an easy task, as each individual has a different preference and a different reason for using a watercolor book. Some of them prefer bigger paper for sketching expressive images, while others prefer smaller pocket-size paper that can be taken around with them at all times. Whatever your preference, you need to get the right watercolor sketchbook for your particular needs. We are now going to give you a few of the best watercolor sketchbook brands in order to help you find the right one for your needs.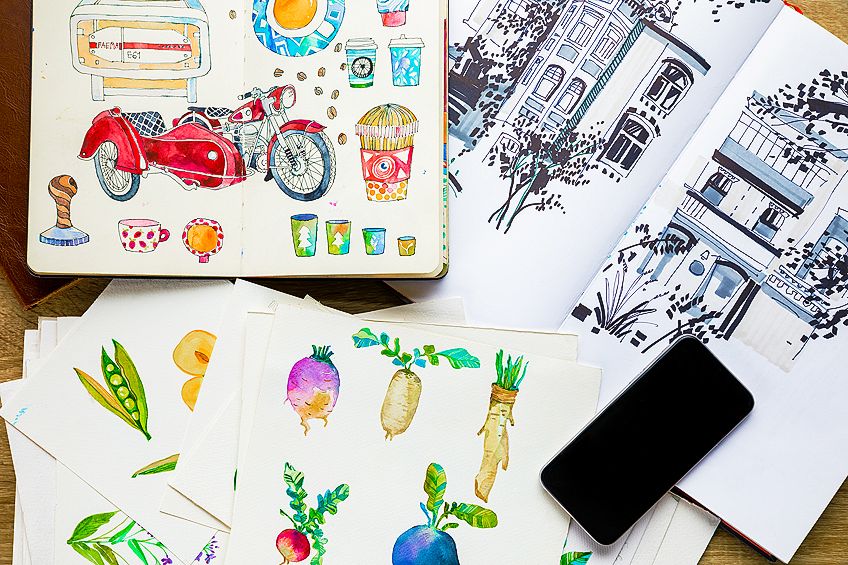 Best Watercolor Journal Overall: ARTEZA Watercolor Sketchbook Journal
This watercolor journal by Arteza is widely used by both professional artists as well as amateurs. The journal is the perfect size – it is not too big or too small and is referred to as a medium-sized sketchbook. This means that it is small enough to be a journal while also being big enough to be a sketchbook. So, you can use it to do small sketches or paintings as you would in a journal, but you can also use it to paint a larger portrait or landscape scenery.
Watercolor sketchbooks are the perfect size for on-the-go sketchers

Cold-pressed 110lb (230gsm) paper that will not buckle or warp

A sturdy and durable hardcover to protect your pages from damage
View on Amazon
The watercolor journal comes in a set of two sketchbooks, saving you a lot of money. The sketchbook measures 8.25 x 8.25 inches, making it portable and ideal for any size bag. The journal has a strong hardcover that protects your pages from tearing and folding. There is also a ribbon bookmark as well as an elastic band that keeps the book closed when not in use. In addition to all of this, the journal is also equipped with an inner pocket where you can store all your small artworks and cards.
Arteza offers one of the best watercolor journals available, as it is made of good quality, cold-pressed, 112-pound weight paper, which gives texture to the surface.
The product is acid-free, which prevents the paper from yellowing. The sketchbook is made of 34 sheets of paper, and the manufacturers are so confident of the quality that they will give you a 100 percent guarantee. The pages of the sketchbook are very thick, which allows you to paint on both sides of the paper and make the most out of your sketchbook. The paper is ideal for dry media, wet media, or even a combination of both. Finally, the sketchbook is bound with a natural linen cover to keep all the pages in place.
There does appear to be one disadvantage with this sketchbook, however, and this is that the paper pills easily, especially when painting with heavy washes that have too much water. Thus, we recommend only using light washes when using this sketchbook.
PROS
Comes with an elastic band, inner pocket, and a ribbon bookmark
A medium-sized sketchbook, making it easy to carry around
Cold-pressed paper provides a slight texture
Acid-free paper will not yellow
Has a strong hardcover to protect your pages
Contains a natural linen binding that keeps the pages intact
Pages are dual-textured, so you can paint on both sides
CONS
Paper pills easily when using a heavy wash
Best Student-Grade Watercolor Book: CANSON XL Series Watercolor Pad
The Canson XL Watercolor Pad is designed for the student or beginner that enjoys watercolors, allowing you to practice all different types of techniques. The pad acts as both a watercolor sketchbook and pad because of its fairly large sheets of paper measuring 9 x 12 inches. It is also available in sizes like 11 x 14 inches, 12 x 18 inches, and 18 x 24 inches, allowing you to paint bigger illustrations and scenery.
Acid-free, cold-press textured paper has a natural white color

Recommended for use with watercolor and mixed media techniques

Durable, heavyweight sheets can withstand repeated washes
View on Amazon
This 140-pound pad is made up of 30 sheets of durable, cold-pressed, student-grade paper. The paper has a lot of texture, which provides the opportunity for watercolors to glide across beautifully. In addition to watercolor, you can also use dry materials such as pencils and pens, which can hold onto the paper firmly. The paper allows you to use multiple washes without pilling or buckling.
The paper used for this watercolor sketchbook is acid-free, so you do not have to be concerned about your pages yellowing over time. Colors will also remain vibrant and bright for a long time. One major advantage of this watercolor sketchbook is that it is spiral-bound, which makes it easy to turn the pages without damaging your other finished artworks. One disadvantage, however, is that due to it being a student-grade product, the paper sheets are not made from 100 percent cotton, but instead from cellulose material.
Thus, this is the ideal paper for any student or beginner wanting to practice their watercolor skills.
PROS
Cold-pressed paper offers more texture
Paper surface is very durable, allowing you to do multiple watercolor washes
Pages are poster-sized, allowing for large portraits or scenery illustrations
Versatile sketchpad is suitable for both wet and dry media
Spiral-bound, making it easier to flip the pages over
Paper is acid-free, so will not yellow
CONS
Paper is not 100 percent cotton, but is instead made from cellulose material
Best Artist-Grade Watercolor Book: PAUL RUBENS Watercolor Paper Block
The artist-grade Paul Rubens Watercolor Paper Block journal is designed for the artist who loves to do watercolors while on the move. The paper comes in a convenient size for travel and is perfect for professionals. However, if you are still a beginner, you will also be able to use and enjoy it. The watercolor journal is easy to carry with you at all times, so you can make use of it whenever and wherever you find yourself.
Artist-quality watercolor block made of 100% cotton, acid-free paper
Hot-pressed paper offers an extremely smooth surface for fine detail
Cover made from

premium leather featuring a ruggedly smooth finish
View on Amazon
The paper is of very high quality, made from 100 percent cotton, which allows the watercolors to sink into the paper without shifting. The journal has 20 sheets of 140-pound weight paper measuring 10.63 x 7.68 inches. Because it is so thick, you can use both sides of the paper without the paint bleeding through. The paper is acid-free, so it will not yellow or fade over time.
The paper used for this journal is hot-pressed, which gives it a much smoother texture. This makes it versatile, as you can use both wet and dry media effortlessly.
The Paul Rubens journal is stitched together using thread, which makes it very durable and strong. Thus, you will not have to worry about the pad falling apart as some of the glued sketchbooks do. However, the book is designed to allow you to remove the thread if you want, producing much larger sheets of paper. The journal is available in either black or pink leather, offering a premium cover that will suit all kinds of artists.
This product is a little different from a normal journal because all the paper sheets are glued down on the four sides, which means you will not be able to flick the page over and start working on another page until you have removed the top sheet first. This is the procedure to follow when removing the paper from the glued block:
First, allow the paint to dry completely. Then look for a small section where the paper is unglued.
Use a knife or letter opener and insert the blade into the gap to remove the top sheet.
Now, run your knife around the edges of the paper sheet while rotating the book in an anti-clockwise direction, moving the knife in the other direction.
Continue until the sheet of paper comes off, and then remove any glue that is still on the paper sheet.
You are now ready to use the next sheet of paper.
If you intend to do any masking, taping, or scraping, the paper used in this journal is able to take a beating. You can also spray off a section that needs correction, and the smooth texture of the paper makes it ideal for detailed artwork. One disadvantage of this journal is that the paper tends to make the solid colors slightly duller. So, we recommend that you use your opaque watercolors without thinning them too much so that the colors can shine through.
PROS
Journal is small enough to carry around with you on your travels
Paper sheets are thick and allow you to use both sides of the paper without bleeding through
Paper is made from 100% cotton, allowing the paint to hold firmly to the paper
Paper is hot-pressed, giving it a smoother texture that lets your colors glide over the paper
Comes in two colors: pink or black
Strongly bound with thread that can be removed if you want to have bigger sheets
CONS
Paper may make solid colors slightly duller
Factors to Consider When Buying Your Watercolor Sketchbook
There are certain factors you need to consider before you go out and buy your watercolor sketchbook. This is to ensure that you have the right one that meets your particular needs and situation. Whatever type of sketchbook and paper you choose is an individual choice, which means that what works for one person may not work for another. So, to make the choice a little easier when choosing your watercolor notebooks, here are a few questions and pointers to help you out.
What Is a Watercolor Book?
A watercolor sketchbook or journal is a pad that is specially made up of watercolor paper sheets, making it different from an ordinary sketch pad. The sketchbook can hold watercolor paint properly without curling, warping, or allowing the colors to bleed through to the next page. A watercolor pad works similarly to individual watercolor paper, except that it is in a book or journal format. You just lay the sketchbook down on a table or an easel and start painting, all without the fear of the colors bleeding through to the next page or dripping down off the sheet.
Student-Grade vs. Artist-Grade
Anyone who loves painting and who wants to explore different techniques can use watercolor books. This can be the art student, a professional artist who specializes in wet media, or just someone who enjoys painting as a hobby. However, there are various grades of watercolor paper, and this will determine the overall quality of the product.
Student-grade paper is slightly thinner and is ideal for the beginner who wants to practice watercolor painting. You will find that there are better student-grade products than others, and you will be able to move up the rankings as you progress.
Professional artists and those with more experience will likely make use of professional- or artist-grade watercolor paper and sketchbooks. This is the top-of-the-range option, where the paper will most likely be 200 pounds in weight and made of 100 percent cotton.
Different Types of Watercolor Books
There are two main types of watercolor pads, being large sketchbooks and small- to medium-sized journals. The one you choose will be an indication of what you want to achieve. The larger sketchbooks are used more by art students and professional artists who enjoy painting and sketching vast scenes and portraits, as they are bigger and can be mounted on the wall after completion. The small- and medium-sized watercolor journals are used more by the amateur artist or by those who like to paint while on the move, as they are the ideal size for travelling.
Paper Thickness
Your sketchbook or journal must have thick sheets of paper, as it will be more durable and can handle wet media much better. The thicker the paper, the more resistant it will be to pilling, bleeding, and warping, even when using multiple watercolor washes. Most of the watercolor notebooks and journals show the paper thickness on the front cover.
Try to use paper sheets that weigh between 140 and 200 pounds. This is the perfect thickness to ensure that your watercolors hold onto the paper.
Heavier paper will undoubtedly make your sketchbook heavy too, so you will have fewer pages in the book. Lighter paper, on the other hand, is prone to tearing or ripples when you use too much water. This does not mean that thinner paper is of a lower quality, but simply that you will need to take greater care when using it.
Number of Pages
If you are an art student, this factor is of vital importance as you will need lots of paper to practice on. The more pages you have, the better you will be able to work. You do need to keep in mind, however, that the more pages there are in your sketchbook, the heavier the book will be. Another aspect to consider is dual-sided sheets, which means that you can use both sides of the paper, saving you space and weight.
Paper Material
The best quality paper for your sketchbook is made from 100 percent cotton, which is the highest quality paper for use in watercolor sketchbooks and journals. Cotton paper sheets can hold your watercolors perfectly, keeping the colors vivid and vibrant. This also reduces the possibility of bleeding and buckling as your paper can absorb more water. When using cotton paper sheets, you can edit your artwork by reactivating your watercolors with a little water.
Acid-Free Paper
Ordinary sketchbook paper has a certain amount of residual acid in it, which causes the paper as well as the paint to fade and yellow over time. However, watercolor sketchbook paper is acid-free, which enables you to keep your artwork for many years without yellowing or fading. The acid-free paper keeps your pages white for longer periods and keeps them in pristine condition with the colors remaining vibrant, which is very important for the professional artist.
Paper Texture
Watercolor paper comes in a large variety of sizes, qualities, weights, and textures, which can make it very confusing when trying to find the best watercolor paper to suit your needs. There appears to be no fixed standard for the texture of watercolor paper, which means that one manufacture may call it cold-pressed while another may call it rough. There are two methods used when manufacturing sketchbook paper sheets, being cold- and hot-pressed paper.
Cold-Pressed Paper
Most watercolor sketchbooks are made from paper that is cold-pressed, and it is this type of texture that you need to look for in your watercolor sketchbooks and journals. This process makes the paper rougher in texture, which will allow the paint to hold onto the paper better without sliding off, all the while giving your artwork a more professional look. This paper texture also has a very high absorbency rate, ensuring that your pigment and water do not leak through to the other pages in your book.
The watercolors on cold-pressed paper may appear to be slightly paler, as the bumpy surface scatters the reflected light, thus causing the colors to diffuse slightly. However, this type of paper is far more dimensionally stable when wet and allows you to make small corrections by lifting off the paint before it dries properly. The texture of the cold-pressed paper will give your final painting a much more aesthetically pleasing appearance.
Hot-Pressed Paper
This form of paper texture offers a much smoother surface and is perfect for those wanting to use dry media for their artwork. Using this paper for watercolor can show a very high level of your brush details. This type of paper is also very good for glazing purposes, although you need to take care not to overload the paper with too many layers.
Due to the high density of the paper fibers, hot-pressed paper is a lot less absorbent than cold-pressed paper, which allows you more time to adjust your paint before it dries properly. This type of paper also makes your colors more vibrant due to the light being reflected directly off the paper surface, making the colors brighter. Hot-pressed paper provides a small window of correction by allowing you to lift off the paint once it has dried properly.
Below is a table showing you the differences between hot- and cold-pressed watercolor paper.
| | |
| --- | --- |
| Hot-Pressed Paper | Cold-Pressed paper |
| Smooth surface texture | Bumpier (rougher) surface texture |
| Colors appear to be brighter | Colors appear to be paler |
| Less absorbent | More absorbent |
| More time to adjust your paint | Less time to adjust your paint |
| Excellent and precise brush detail | Excellent for all styles of watercolor painting |
| Small corrections are easy once the paint is dry | Allows for small corrections by lifting off the paint when still wet |
Construction of a Watercolor Sketchbook and Journal
We have already seen the different types of paper used in watercolor sketchbooks and journals. Different types of construction also go into the making of each type of watercolor sketchbook. Some make the book hardwearing where others allow you to lay the book down flat. Many different types of book constructions make it cheaper by using cardboard covers or more expensive by making use of hardbound book covers.
All of these differences depend on your preference, comfort, or purpose of use. You will have to decide between books that have hardcovers, spiral-bound books, stitched softcover books, or glued books. Let us now consider some of these different types of book constructions.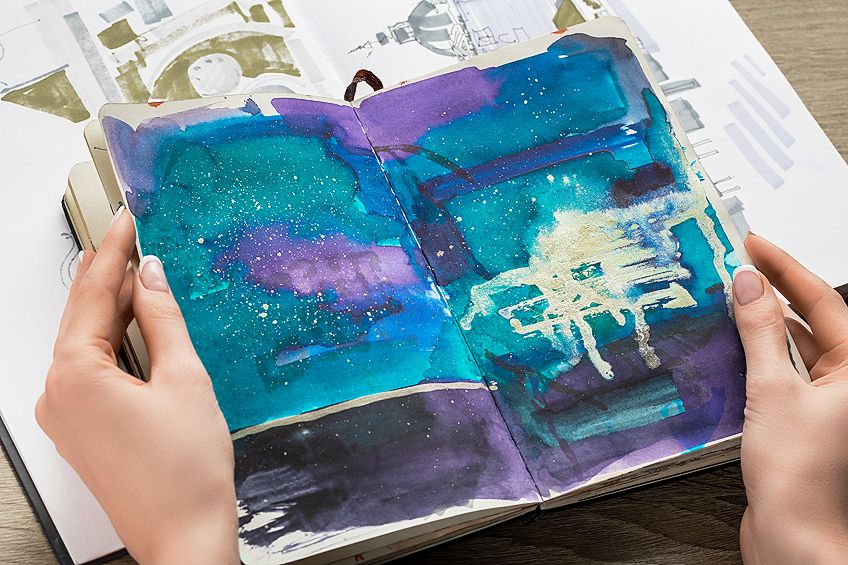 Hardcover Binding
This type of binding is very durable and will allow your book to stand upright on your bookshelf or desk without the worry of it tearing or wearing out. However, these are not able to lie down flat on the table or desk, and the center of the book where the curve of the binding is found cannot be used for your artwork.
Stitched Softcover Binding
The stitch-bound books take several pages that are sewn together and bound with soft paper, leather, or synthetic cover material. They can open flat on your table or desk, which will enable you to use them as a double-page art book. They are much lighter than hard-covered books but are also susceptible to bending, which could cause damage to the paper.
Glue Binding
This type of product is often referred to as a watercolor sketch pad, as it is glue-bound and much cheaper. The pages are easier to remove and come off cleanly and ready for framing. Glue binding enables you to work in a horizontal or vertical position without the pages falling out or moving around. This is a great product to use when you want to practice your painting skills outdoors or use on your travels. There are also watercolor sketch pads that are bound using tape, which also allow you to remove the sheets easily.
Spiral Binding
The spiral-bound watercolor sketchbook is great if you need to have your pages lying flat all the time while you are busy painting. The pages are also easier to flip over without folding the other paper sheets. The pages are all perforated, making it easier to tear out pages from your book.
These spiral-bound books use lighter-weight paper, but many find that the spiral wire often comes unwound at the edge of the book or catches in your clothing. Since the pages are perforated, the holes in the paper can easily become worn with use. The spiral wire also does not allow you the benefit of using a double page for your artwork.
Why You Should Use Watercolor Sketchbooks
Using a watercolor sketchbook or journal is very much the same as keeping a diary; it is simply a place where you can record your emotions, thoughts, and memories. However, instead of words, you can use art and images. Watercolor books are also ideal as there is no pressure – there are no deadlines to stunt your creative flow, so you just sketch when you feel like it.
The best watercolor journals are not only for sketching, but you can also experiment with different colors, techniques, designs, and almost anything that inspires you. Here are some more reasons as to why you should use a watercolor notebook:
Using a watercolor paper journal is less intimidating than a huge white sheet of paper.
The smaller size allows you to experiment with your paint. You can also experiment with different colors, amounts of water, and runs.
Your watercolor sketchbook will help to record your progress, so you can refer back to the beginning and see how you are improving. You can also use your watercolor journal to record all the places you visit.
Use your watercolor book to experiment with colors and styles, which can lead to bigger paintings.
Remember, your sketchbook or journal is private, and can be beneficial in helping you work through some very difficult emotions and experiences. It can be your oasis or safe place.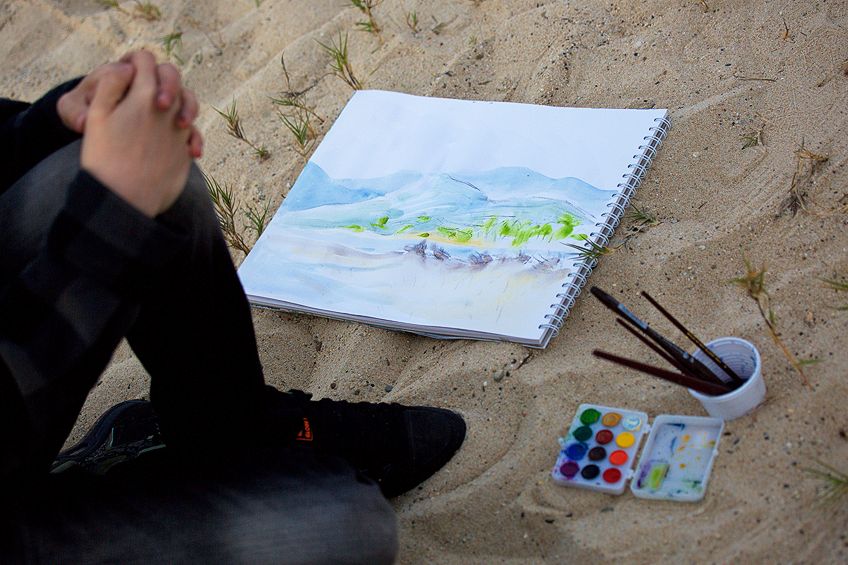 Some Tips for Using Watercolor Journals
Many have the idea that watercolor painting is for kids having fun or for serious artists. However, you can also record all your thoughts and ideas in your watercolor sketchbook or journal. Painting with watercolors can prove to be quite daunting, as it is hard to control watercolors and get the techniques right. However, with a little practice, you will soon love the experience. Here are a few thoughts and tips that may help you.
Consider what painting style you want. Think about using only light washes, watercolors mixed with gouache, heavier washes, or some additional media such as acrylics, ink, or charcoal.
Choose a watercolor book with easy-to-remove pages if you want to frame your artwork.
If you want the watercolor book to close properly, you will need a tie-down feature.
Thicker paper is more absorbent than thinner paper.
Choosing the right paper will depend on what techniques you use, like lifting or scrubbing.
If the watercolor book is for practice and experimentation, then the quality of the paper is not that important.
Determine what it is you wish to paint; this will help you choose the correct size of a watercolor book.
When buying the best watercolor sketchbook or journal, you need to make sure that it fits into your art style and personal preference. Try to buy what suits you best by choosing the correct size, binding, and thickness for your artwork. Now all you need to do is to let your creativity loose and enjoy the ride!
Frequently Asked Questions
Can I Use a Normal Sketchbook for Watercolor Painting?
If you love watercolors but use an ordinary sketchbook that is not designed especially for wet media, your work will be a mess. The paper in these sketchbooks is not able to absorb the watercolors and they will bleed or shine through. The paper may even start pilling if you make use of too much water. This will then lead to your paper warping and losing its shape. This can then also form holes in the paper that has too much water on its surface. This is why watercolor paints require a special type of paper.
Can You Use Watercolors in a Journal?
Yes, it is recommended that you make use of a sketchbook or journal to do your watercolors instead of using loose sheets of paper, as they may not be able to take wet media and your artwork could be destroyed. A sketchbook is always better as it keeps all your work tidy and in one place, and you can always refer back to it to see how you have progressed.
How Do You Use a Watercolor Paper Journal?
You first need to ensure that your paper is flat and does not move around, and that you have the right watercolor paints with all your other equipment. You can start by mixing your colors and creating your perfect artwork in your sketchbook or journal. You can use your sketchbook page by page with your watercolors or any other dry media if the paper permits it. Then you can close the book once the paint has dried, and all of your painting sketches will remain safe until you want to create another piece of artwork.
Is It Possible to Make Your Own Watercolor Notebook?
Yes, you can if you are working on a tight budget or if you just want to make your sketchbook more personal. You first need to buy some loose, good-quality watercolor paper and cut it to the size you want. Consider whether you want a portable journal size or a larger size for a poster. You then need to bind the pages together, which you can do by gluing them. You can also spiral bind the pages if you want. You need to complete the binding by choosing a soft or hardcover material and add some extra features such as an inside pocket or elastic band.
Where Can I Purchase a Watercolor Journal?
Most arts and crafts stores stock some of the best watercolor journals. You can also purchase watercolor books online at Amazon, which stocks many good-quality products. The latter may be the best option as you will have all the information at your fingertips with ample reviews, ensuring that you buy the best watercolor sketchbook or journal for your needs.
Larissa Meyer is a 32-year-old mother and creative spirit since childhood. Her passion for painting and drawing has led her to train as an illustrator and pursue a career as a freelance graphic designer. Larissa is a talented artist who is able to master a wide range of styles and techniques to bring her artistic vision to life.