Shades of Teal – How to Use Greenish-Blues in Art and Design
This post may contain affiliate links. We may earn a small commission from purchases made through them, at no additional cost to you.
Color is all around us, as we know – the world is made up of color. Every color comes in a variety of different shades. Teal is a blue-green color, and generally falls under the blue color family. However, teal has its own shades, with a few different teal color names. Let's find out what shades of teal there are and how to use them in art and design.
The History of the Color Teal
Teal is a blue-green color, which is a shade of cyan. It gets its name from the Eurasian Teal; the Eurasian Teal is part of the duck family. This bird has a colored area around the eye that is the color of teal. The use of the word teal was not recorded prior to 1917 and the first use of "teal" to refer to a bluish color only occurs in 1927. The color teal could symbolize clarity and open communication. The color has different meanings for different cultures.
Every color has a few shades of its own. As we can imagine, there are a few shades of teal in the color chart. In the color chart, shades of teal are part of the cooler tones.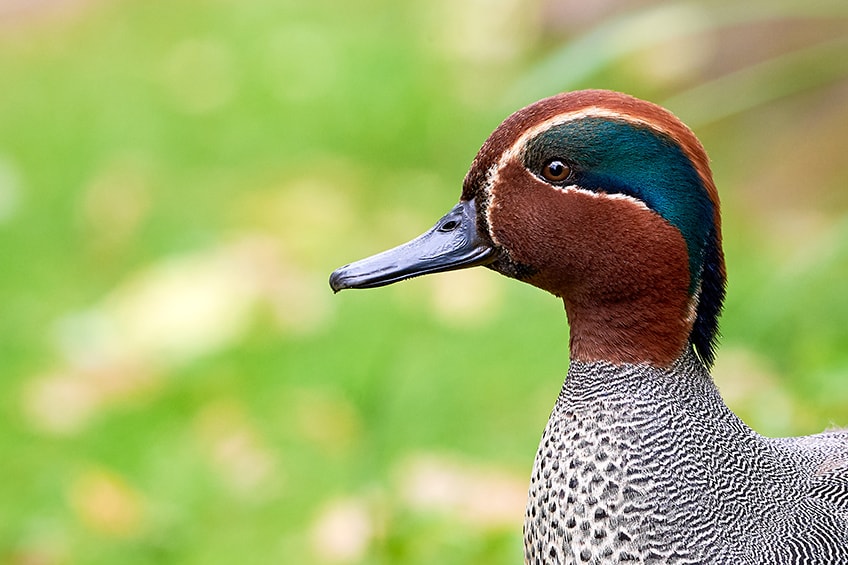 Teal Color Palette
In the color chart, there are quite a few shades of teal, namely; dark, bright, common, deep, teal blue, tropical, Egyptian, crystal, dull, dusty, empress, gray, marine, navy, pale, trumpet, and also teal bayou. Each of these shades in the teal color palette has its own hex color codes, RGB values, and its own teal color names of course.
For those of us who are unfamiliar with the terms hex color code and RGB values, a hexadecimal or hex, is a base 16 system that is used to make binary representation simpler. The values in the hex are actually a specific code that shows color values from 0 to 255. When we see color on a screen, it is made up of a RGB (red, green, and blue) color model or system.
The screen makes use of red, green, and blue light to come up with the colors we see.
Below in the table are some of the teal colors in a teal color palette, along with the color hex codes, the RGB value, and CMYK code of each one:
| | | | | |
| --- | --- | --- | --- | --- |
| Teal Color Names | Color Hex Codes | RGB Value | CMYK Code (%) | Shade |
| Teal | #008080 | 0, 128, 128 | 100, 0, 0, 50 | |
| Dark Teal | #045D5D | 4, 93, 93 | 96, 0, 0, 64 | |
| Bright Teal | #00B5B8 | 0, 181, 184 | 100, 2, 0, 28 | |
| Common Teal | #009193 | 0, 145, 147 | 100, 1, 0, 42 | |
| Deep Teal | #005F5F | 0, 95, 95 | 100, 0, 0, 63 | |
| Teal Blue | #01889f | 0, 124, 128 | 100, 0, 42, 25 | |
| Tropical Teal | #008794 | 255, 0, 0 | 100, 9, 0, 42 | |
| Egyptian Teal | #008c8d | 0, 140, 141 | 100, 1, 0, 45 | |
| Crystal Teal | #00637c | 0, 99, 124 | 100, 20, 0, 51 | |
| Dull Teal | #5f9e8f | 74, 119, 119 | 38, 0, 0, 53 | |
| Dusty Teal | #769393 | 118, 147, 147 | 20, 0, 0, 42 | |
| Empress Teal | #10605a | 16, 96, 90 | 83.33, 0, 6.25, 62.35 | |
| Gray Teal | #5e9b8a | 94, 155, 138 | 39, 0, 11, 39 | |
| Marine Teal | #008384 | 0, 131, 132 | 100, 1, 0, 48 | |
| Navy Teal | #20576e | 255, 0, 0 | 71, 21, 0, 57 | |
| Pale Teal | #82cbb2 | 130, 203, 178 | 36, 0, 12, 20 | |
| Trumpet Teal | #5a7d7a | 90, 125, 122 | 28, 0, 2, 51 | |
| Teal Bayou | #57a1a0 | 87, 161, 160 | 46, 0, 1, 37 | |
Shades of Teal That Are Popular Among Designers
Teal colors are quite popular among designers, especially those who specialize in interior design, and work with decorating homes. The color can bring a room to life, while also providing a calming space.
Some of the shades of teal names that designers absolutely love, and we could use to decorate our homes would include largo teal, Lafayette green, teal ocean, Boca Raton blue, Capri teal, Caribbean blue water, ballroom blue, sublime, Montego bay, tempest, and surf city.
These are the more popular shades of teal names that designers prefer, of course, and there are others as well. Below, we can see what these shades of teal names look like:
| | | | | |
| --- | --- | --- | --- | --- |
| Teal Color Names | Color Hex Codes | RGB Value | CMYK Code (%) | Shade |
| Largo Teal | #23777b | 35, 115, 123 | 71.54, 3.25, 0, 51.76 | |
| Lafayette Green | #486055 | 72, 96, 85 | 25, 0, 11.46, 62.35 | |
| Teal Ocean | #29777b | 41, 119, 123 | 66.67, 3.25, 0, 51.76 | |
| Boca Raton Blue | #82a3a3 | 130, 163, 163 | 20.25, 0, 0, 36.08 | |
| Capri Teal | #7ab6a9 | 122, 182, 169 | 100, 25.10, 0, 0 | |
| Caribbean Blue Water | #007b8e | 0, 123, 142 | 100, 13.38, 0, 44.31 | |
| Montego Bay | #3fbabd | 63, 186, 189 | 66.67, 1.59, 0, 25.88 | |
| Surf City | #87d1d2 | 135, 209, 210 | 35.71, 0.48, 0, 17.65 | |
The Best Ways to Use the Color Teal in Your Home
Some of the best ways to use teal colors are in your home. The different shades of teal work well in the living space as they can make a room appear more spacious, and also provide a calming effect. No matter which shades of teal you use, you cannot go wrong with this color!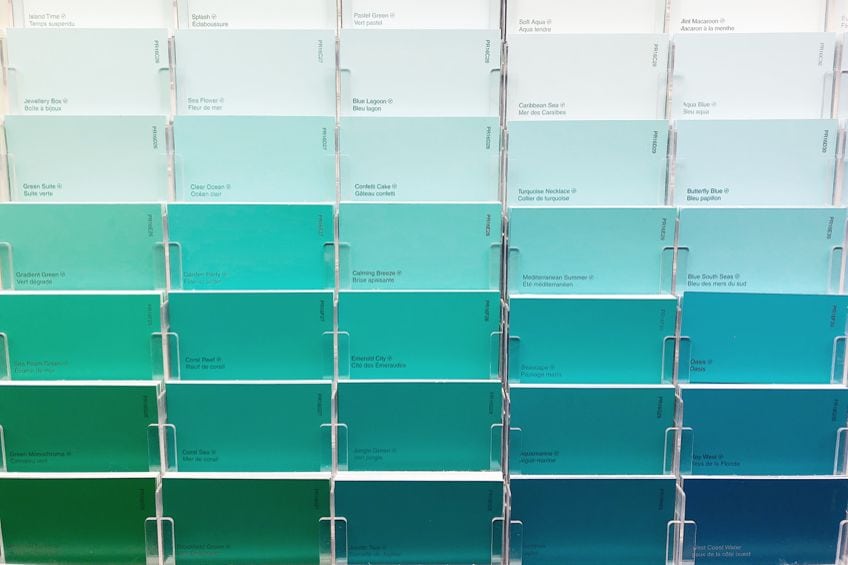 Teal has been known as a statement color when it comes to interior design. Less is more when it comes to the different shades of teal. It should be used to contribute to the beauty and space of a room. Shades of teal are not meant to be painted on every wall, too much of this color can easily be overwhelming.
Although teal is a bold and also understated color, designers just cannot get enough of it.
Teal colors are often used in the home when it comes to furniture, and also painting rooms. Although different shades of teal can complement each other, teal colors could also complement other soft tones. They work well with colors like soft pinks and purples, mauve, and other pastel colors as well.
Another way to use shades of teal in your living space is by trying color blocking. Color blocking provides a sense of divided space. If your room is painted in a teal color, use furniture with a bold color to put next to it. An example of this would be to have a huge sofa in white perhaps, up against the teal painted wall. You also want to have big pieces of solid elements in the room, like a rug in a bold color. When you color block, try not to let any single color take over your space.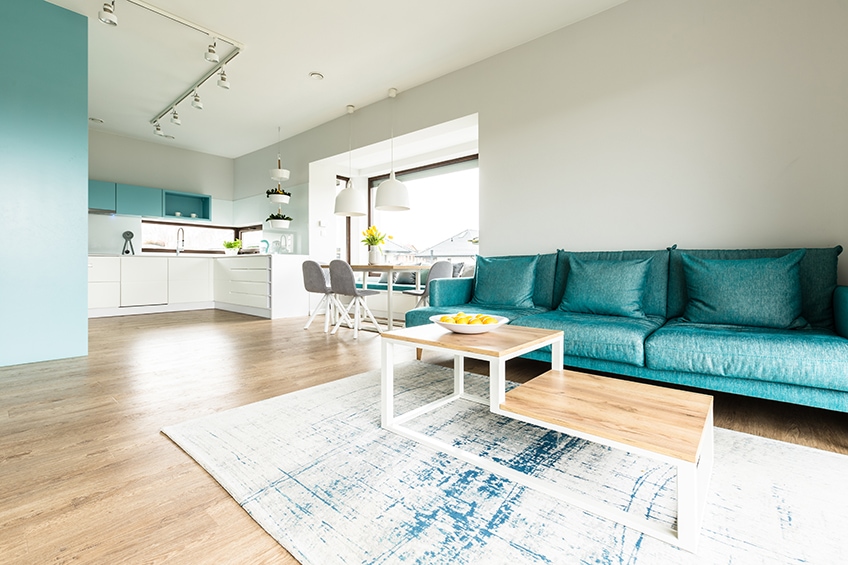 As we know, teal is a blue-green color, a shade of cyan. Saying this, it would make sense to match up our shades of teal with the color green. You could use a bold piece of furniture, like a sofa in the color green, a painting, or even a house plant. The teal colors will bring cool tones to the green furniture. Using teal colors in a neutral room could really make it pop.
In a space where we have colors like gray, beige, or even white, a shade of teal could help makes things stand out a bit. It will give off a contemporary feel to the room.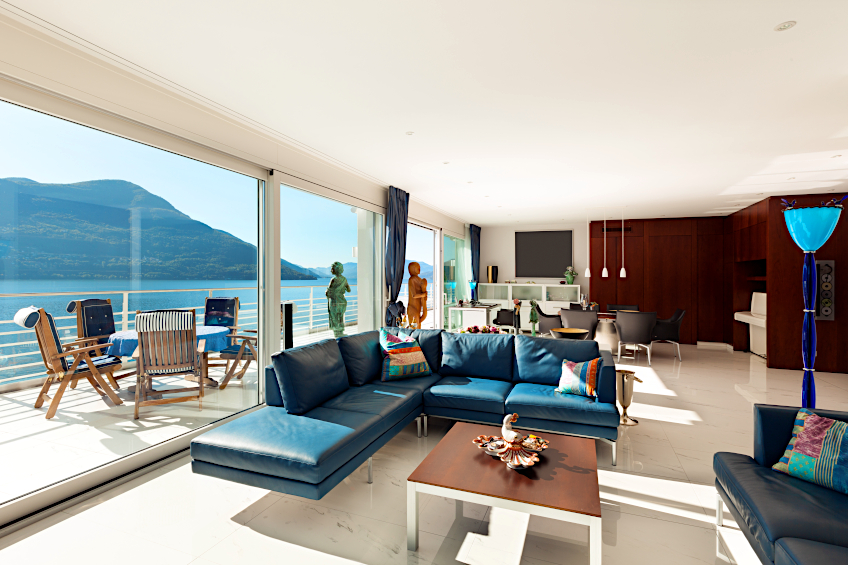 Other colors that go well with shades of teal include crisp whites and other luxurious colors like chocolate brown. These specific combinations are well-suited for bedrooms or entertainment areas. Shades of teal can appear even more luxurious in a textured material. Teal colors and velvet especially go well together. Shades of teal and yellow will complement each other quite well, especially dark shades like mustard.
Although these are both bold colors, using them together can really make a room pop. It is quite an interesting combination to see the two colors in a room.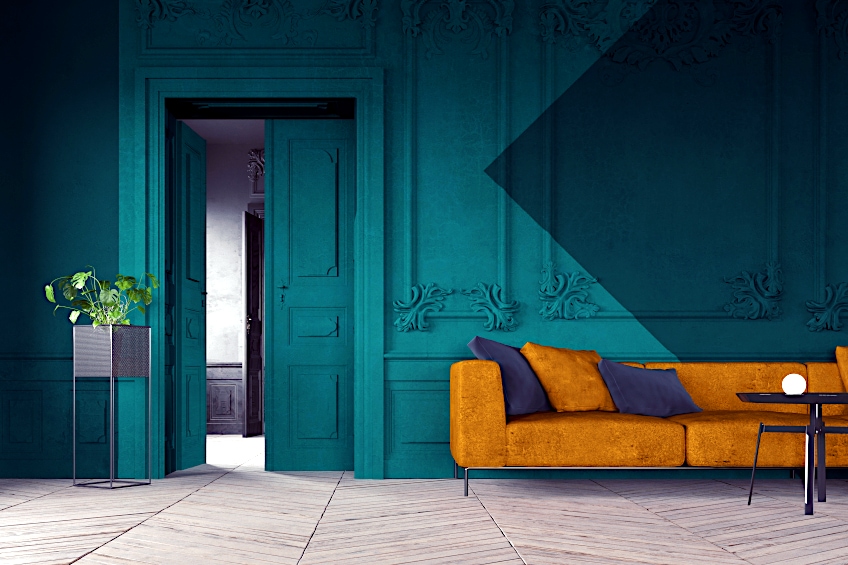 We cannot go wrong with a classic white and black combination; these two colors can be used to mix with pretty much anything. A good color to use to bring your white and black room to life is a shade of teal. You could use a darker shade of teal to create a more modern space, and a lighter shade of teal to brighten up the room.
If you have a room in your home that has gray painted walls, or even gray pieces of furniture, you may consider using the color teal to bring out the cooler tones. Using teal colors with gray could help bring a bit of personality to the room.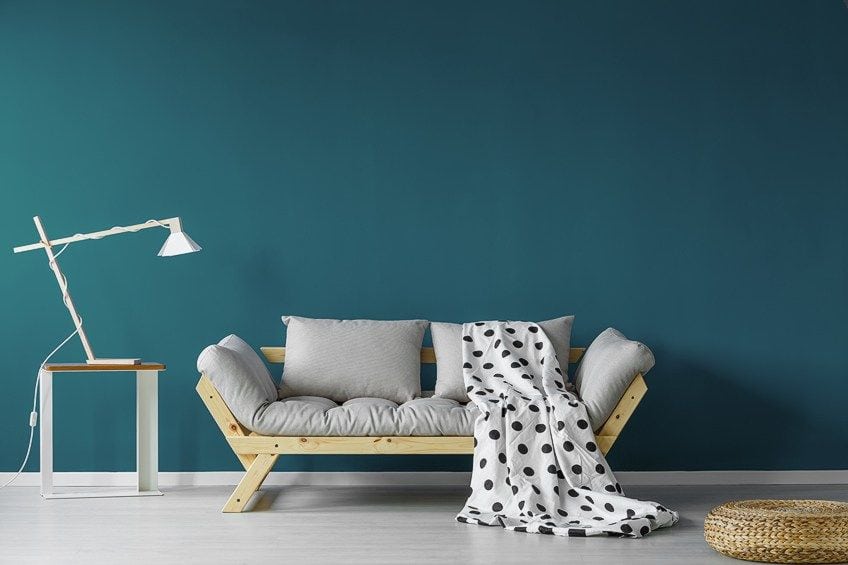 If we look at the color chart, shades of teal are opposite to orange. Surely, we must have heard the saying "opposites attract"? That being said, orange and teal are quite the good match. Use a darker shade of teal when bringing these two colors together. This mix of colors would look especially good in your kitchen, or bathroom.
Do you have red clay-colored tiles in your home?
If you do, you probably know this is a tricky color to pair or work with. Your struggle ends here! Teal is actually a really good color to use to pair with a warm red shade. The coolness that the color teal provides will help to soften the warmer undertones that come through in your red tiles. The same goes for gold and teal.
Have you considered mixing shades of blue with teal colors? This combination will create a beachy feel in the room. Blue is often associated with feelings of calmness, relaxation, and being serene. Consider using lighter shades of blue, like a powder or baby blue to accomplish this look.
Using the Color Teal in Art and Architecture
The use of the color teal in paintings dates all the way back to around the year 1528. The oil painting Carmignano Visitation (c.1528-1530) by artist Pontormo, has depicted Mary wearing a teal-colored robe. This teal robe contrasts with three other women's robes. We could also use the color teal to paint parts of our buildings, as it provides a contrast to our blue skies and stormy clouds.
Over the years, as we may have noticed, teal has been used in landmark buildings like churches and mosques, and even in some sculptures and monuments.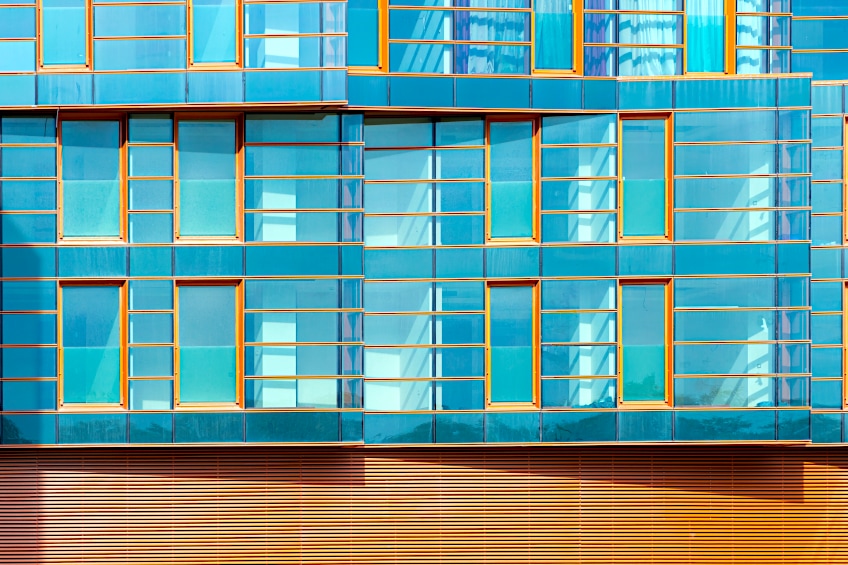 What once was copper in color, the Statue of Liberty is now one of the biggest symbols in the United States to exist in a shade of teal. The statue was gifted to the United States by France in the year 1886 as a goodwill gesture. It was originally copper in color, but has since turned a shade of cyan due to the patination of the metal from exposure to the elements. If you have not noticed this before, you definitely will now!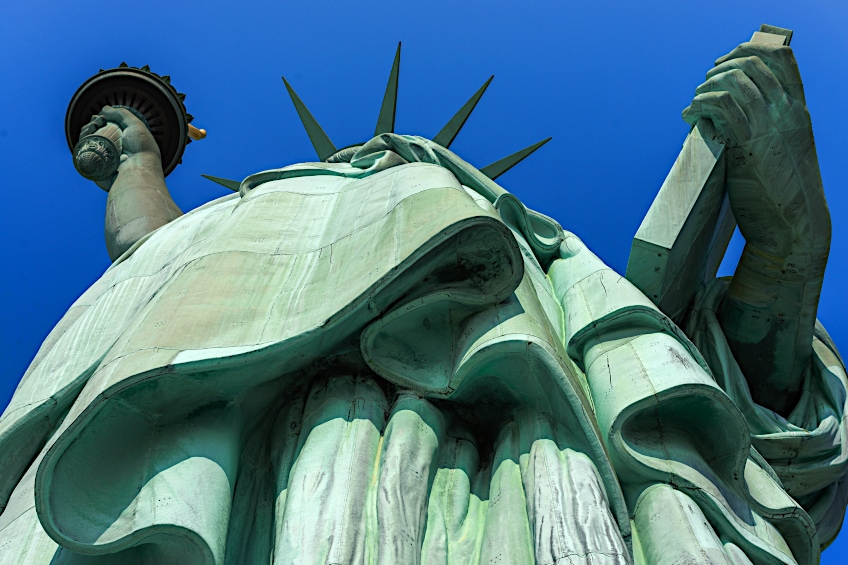 We can also find shades of teal in architecture in places like the Greek islands. Over here, they use colors like cobalt blue and turquoise to paint the doors and window frames of the white buildings, which would represent the color of the Mediterranean Sea.
The Color Teal in Nature
We might not even realize it, but we have seen shades of teal in nature before. Sometimes we do not register the colors around us, because it has become such a natural thing to us. Here are some of the things that are teal colors in nature: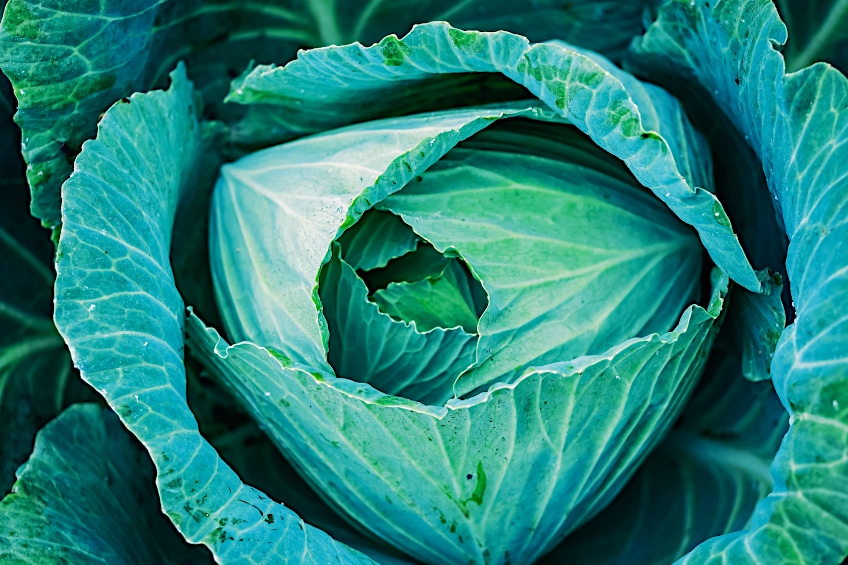 The Ocean
You are probably thinking that the ocean is blue, and yes, you are right. However, the ocean is only mostly blue. There are times when it will also appear a bit green, or even teal. This happens because the water in the ocean takes in the longer wavelengths of colors from the visible spectrum.
This simply means that the ocean is acting as a filter, that leaves behind the color blue, green, or sometimes both, creating a teal color.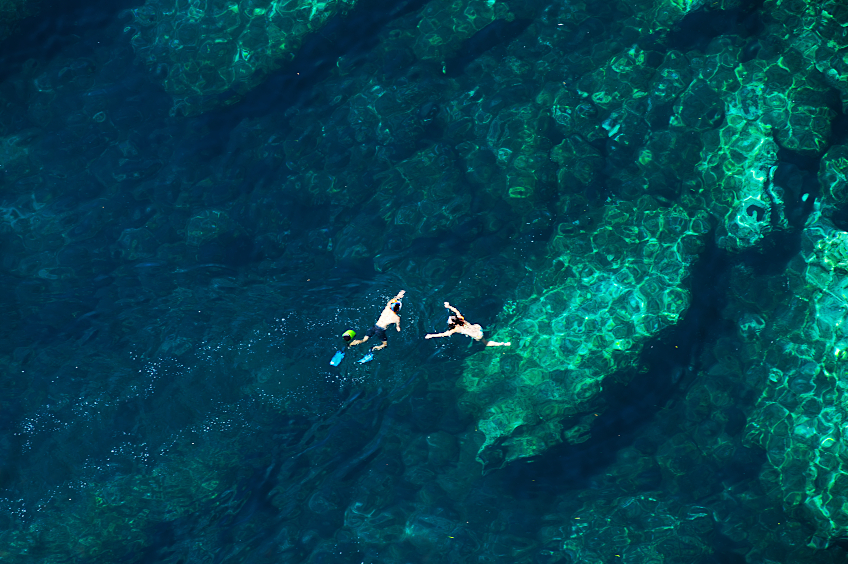 The Color of Eyes
If we look closely enough, we will see that some people have a combination of blue and green eyes. Now we know that having teal-colored eyes is not actually a real or scientific thing, but this combination of the two colors in the eyes can make it appear that way.
Icebergs
In the colder regions, where we have icebergs and glaciers, we will notice that they have a few colors in them. Colors like white, blue, and even a bit of green. Light will hit snow particles and bubbles, once it reaches the boundary between ice and air. If there aren't many bubbles, the chances of light scattering are less. This then means that red wavelengths are being taken in by the ice, with some blue light, and even green.
The light that is being taken in will scatter and leave the iceberg, which in turn creates the teal color we might see.
The Northern Lights
The Northern Lights, or Aurora borealis, are bands of light that can been seen in higher latitudes. These lights can show many different colors, even teal. If you have ever seen the northern lights, or even a picture of them, you can see that they mostly consist of solid colors.
Below, we can see an example of these lights in teal.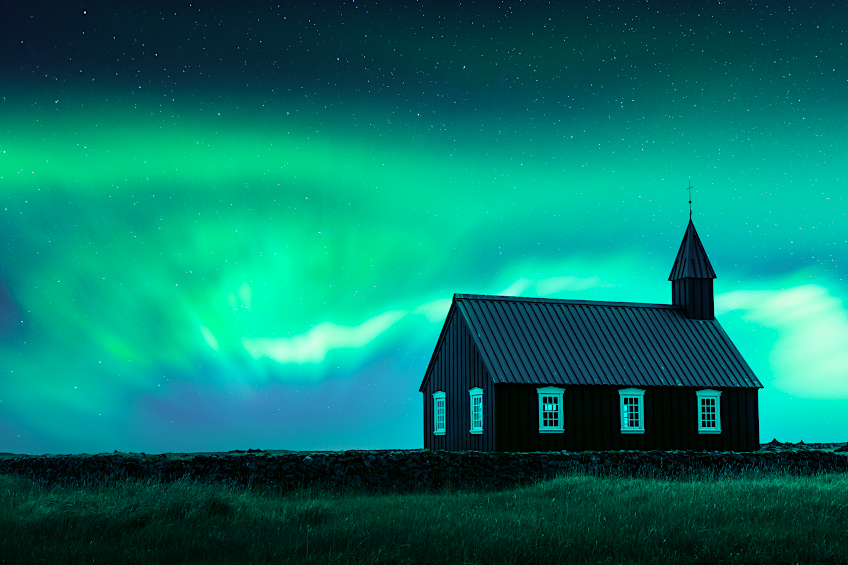 Blue Brazilian Apatite
There is a stone called the Blue Brazilian Apatite, which is a blue-green stone that is rather pricey. The more color this stone contains, the more expensive it will be. This stone is better-known as the gemstone aligned with the Gemini zodiac sign.
It can be used to assist in creativity, learning, and even decrease your appetite.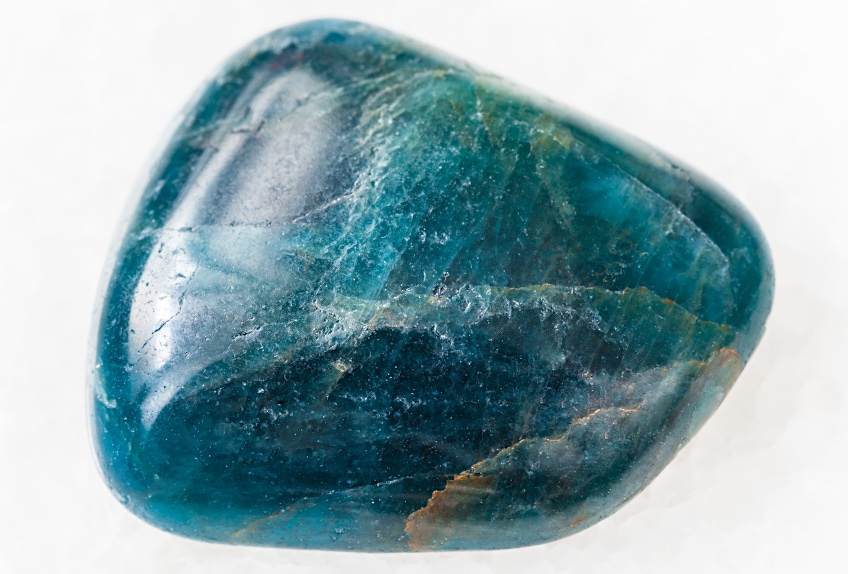 The Puya Flower
We also have plants that show off the color teal in nature. The Puya flower, which can also be known as the sapphire tower, is native to South and Central America.
Not only do they resemble colors of teal, they also grow quite tall, the flower stalks could grow up to six or seven feet.
Echeveria Elegans
There is also the Echeveria Elegans, also known as the Mexican gem, is a succulent that is native to semi-desert areas in Mexico. This plant displays teal to pale green colored rosettes with a flesh-type shade for leaves, and then long, thin pink flowers.
Although shades of teal are more popular when it comes to decorating your home, and also in furniture, you will also find different shades of teal in the occasional painting. As we may know by now, teal provides a sense of calmness, as well as serenity. There are a few shades of teal in the color chart that can be used to accomplish this feeling.
Frequently Asked Questions
Can You Wear Teal in Your Clothes?
Shades of teal are more popular when it comes to decorating your home, and also painting, but you can definitely wear the color as well. You just need to pair it well with colors that complement it. Some of the colors you could wear with it would include dusty pink, reds, caramel brown, plaid, mustard yellow, pale pink, electric green, metallic, gray, white, black, beige, burnt orange, mint green, a touch of orange, and shades of blue.
What Does Teal Mean in Design?
Teal is a refreshing color, the blue-green color brings both calming and renewal feelings to a room. It can create space, and could also carry over clarity and the thought of open communication. By being a calming color, it could also represent mental and spiritual balance, which could, in a sense, make you want to be in the room, and just enjoy your space.
Can Teal Colors Be Both Warm and Cold?
If we look at the color wheel, teal would fall under the cooler colors. Blue and green are known to be cool colors, so it is only natural that the shades of teal would fall as part of cooler tones as well. It can, however, give off the feeling of warmer shades in some cases. If you want to use teal as a warm color, you could pair it with complementary warm colors, but do not use too much of the color.
Larissa Meyer is a 32-year-old mother and creative spirit since childhood. Her passion for painting and drawing has led her to train as an illustrator and pursue a career as a freelance graphic designer. Larissa is a talented artist who is able to master a wide range of styles and techniques to bring her artistic vision to life.