Can You Use Watercolor on Canvas? – Watercolor Painting on Canvas
This post may contain affiliate links. We may earn a small commission from purchases made through them, at no additional cost to you.
Painting on canvas is common when using oil and acrylic paints, but can you use watercolor on canvas? Of course, there are many watercolor papers you can use, but to some, canvas seems to be more appealing. However, your normal canvas, which is specifically for oil or acrylic paints, will not work as well with watercolor paints. This is why there are now watercolor canvases available on the market. If you wish to convert to canvas, there are some things that you will need to learn in order to make your watercolor painting on canvas experience a good one.
Watercolor Painting on Canvas
So, can you use watercolor on canvas? The simple answer is yes, however, you will have to consider the type of canvas. Your average canvas is great for your oil and acrylic painting, but watercolors will not work on this type of canvas. In this case, preparing canvas for watercolor is necessary. You will need to apply a gesso to your canvas, which will prime the surface so as to absorb the watercolors better.
There are also watercolor canvases available at stores that come in the form of canvas pads, watercolor on canvas board, and the popular stretched canvas. Of course, there are a few advantages and some disadvantages when it comes to using canvas as opposed to watercolor paper.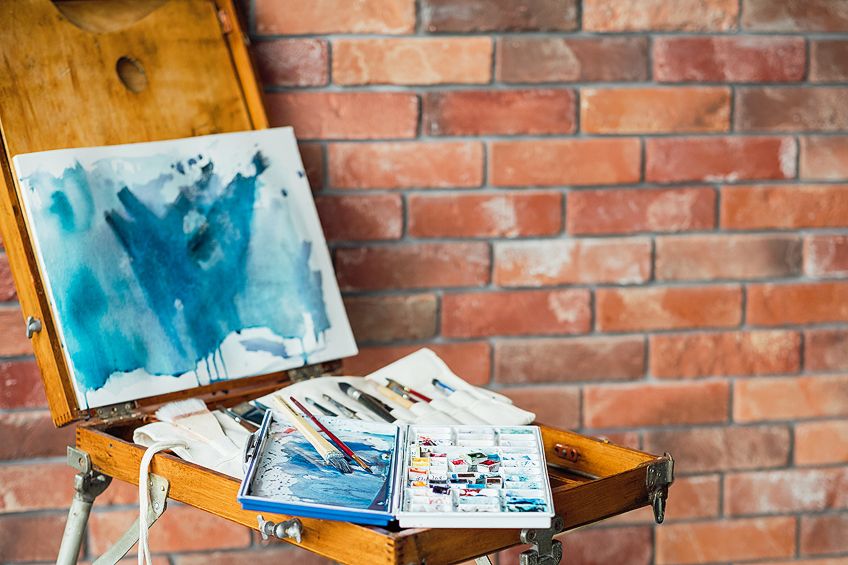 Pros and Cons of Watercolor Canvas
Watercolor paper is specially designed to be absorbent and therefore supports watercolor paints, while canvas is usually a non-absorbent surface. You will need to prepare the canvas surface so that it can absorb the watercolors better, hence the gesso. Since watercolor paper and canvas are two different surfaces, you will need to develop or adjust some of your watercolor techniques. So, what are some of the pros and cons of using watercolor paints on canvas?
PROS
Canvas is more durable than watercolor paper and will not tear as easily.
No warping or curling of the edges occurs on canvas, unlike watercolor paper which is prone to warping.
You can lift watercolor paints off the canvas – you might even be able to start over by washing or lifting the paint off. Watercolor paper, on the other hand, absorbs and fixes the paint pigment.
Watercolor paints will stay wetter on canvas than on paper, so you can work for longer. This also plays a role in blending.
A canvas is easier to mount and display, while watercolor paper is more delicate and needs more protection.
You can make any regular canvas into a watercolor canvas simply by applying gesso.
Canvas is usually 100% cotton, acid-free, and has excellent archival properties.
CONS
You will need to adapt or develop your watercolor techniques for canvas, as the paints will not react the same as on watercolor paper.
Pooling can occur due to the non-absorbent surface, whereas watercolor paper absorbs the paint.
The watercolor paint does not remain fixed on the canvas, and it can easily be lifted off. You might need to use a clear acrylic medium to prevent this, although even this sometimes does not work.
Because of the easy lifting of the paint, glazing and other watercolor techniques can be difficult to achieve.
If you are a watercolor artist but have never used canvas before, it might be a good idea to experiment first before trying to create a painting. This will help you to familiarize yourself with how the surface reacts to watercolor paints, and to see whether it is something you wish to try out.
Note: Lifting the paint off means removing it with a brush or sponge that has been dipped in some clean water. Brushing or wiping the paint will then take away some of the paint pigment. This means that you can start over if you have made a mistake.
Purchasing Watercolor Canvas
When you have decided to work with watercolor paints on canvas, the best option would be to look out for specific watercolor canvas products. There are different types available, from applying watercolor on canvas board to canvas pads, and the pre-stretched canvas as we have recommended above. The watercolor canvas should specifically say that it can be used with watercolors on the label when purchasing. Most watercolor canvas products are 100-percent cotton and acid-free, offering good archival properties.
However, you can also choose a regular cotton canvas according to the budget, brand, and size you want. Since the surface is not suitable for watercolor painting, you are going to have to prime the canvas with gesso before you can use the watercolor paints. We also suggest including a paint absorbent ground for the best results. The absorbent ground is usually an acrylic liquid that, when applied to the canvas, dries to an absorbent and porous surface. The surface then acts like watercolor paper on which you can use your watercolor paints. Once done, to make your painting waterproof, you can purchase a spray varnish to seal and protect the painting.
When purchasing a watercolor canvas, make sure that the canvas is of good quality. It should also be stable enough to paint without the use of an easel, and you will need the canvas to be able to handle layers of color without any problems. Always check to see if it is a watercolor canvas and not simply gessoed board.
Recommended Canvas for Watercolors
There are two main options when it comes to watercolor canvas art: You can prime a regular canvas in preparation for painting with watercolors, or you can purchase a ready-to-use watercolor canvas. The ready-made variety is fairly new on the market and has already been primed with a special gesso coat. All you have to do is start painting. Below is our recommendation for a pre-stretched watercolor canvas as well as a few other options.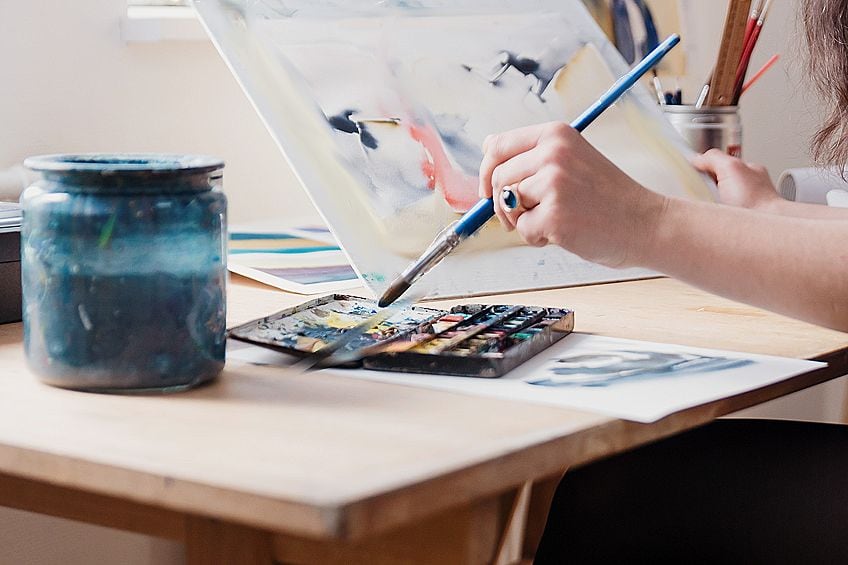 Recommended Watercolor Stretched Canvas: PHOENIX Blank Cotton-Stretched Artist Watercolor Canvas
The Phoenix watercolor stretched canvas is made from 100-percent cotton and provides excellent water-absorbing capabilities. The canvas also has effective diffusion effects, and it is simple to make corrections if necessary. You can also use additional painting materials like pastels, acrylic, gouache as well as tempera. The canvas comes highly recommended with both CE and AP (Approved Product) certifications.
The canvas is made with triple-primed gesso that is ready to paint with watercolors and other water-soluble paints. The canvas displays great transparency and colors will bloom effortlessly, working perfectly in creating shadows, color hues, and other painting effects. The standard size is lightweight, which makes it easy to hang and carry around.
PROS
Ready to paint with watercolors
Lightweight and easy to transport
Easy to hang up on the wall
Excellent water-absorbing capabilities
Suitable for beginners as well as the more advanced artist
CONS
Water may pool on the surface
Best Watercolor Canvas Board: U.S. ART SUPPLY Liberty Professional Artist-Quality Panel Boards
The U.S. Art Supply canvas panel boards are triple-primed using acid-free gesso. The 100-percent cotton canvas is hand-stretched and attached to superior-quality MDF (Medium Density Fiberboard). The canvas board weighs in at 8 ounces and is considered a heavy-weight board, ready for you to paint on.
The canvas board is multipurpose and can be used with watercolors, acrylic, gouache, tempera as well as airbrushing and acrylic pouring. These canvas boards can easily be used by professionals as well as students. Children can also enjoy painting with these boards, and they are great to use for fun activities like parties.
Each Panel is pre-primed, acid-free, and ready to be painted on

Hand-stretched 100% cotton canvas glued over durable MDF boards
Quality panels can be used with acrylic, oil, watercolor, and more
View on Amazon
PROS
Boards come in different sizes
Triple-primed
Perfect for beginners and professionals alike
Lightweight and easy to work with
CONS
No wooden back frame
May not be the best option for pouring
Best Watercolor Canvas pad: ARTEZA Foldable Watercolor Paper Canvas Pad
The Arteza watercolor canvas pad is easy to use and is a great way to display your work. All you have to do is follow the marked instructions to create a folded canvas frame for your artwork. The heavy-weight sheets are 300 grams and can handle many layers of watercolor.
You can also use acrylics as well as mixed media without worrying about the paper buckling or warping. There is also no bleed-through of paint. You can also separate each sheet for easy use. Each sheet is dual-sided, where one side has a cold-pressed texture and the other a hot-pressed texture. Whatever you prefer, you have a choice as to what you want to do.
Paper sheets can be folded into a ready-to-display work of art

Cotton pulp sheets withstand multiple layers of watercolors and more

Dual-textured perforated sheets can be detached with ease
View on Amazon
PROS
Patent-pending paper folds into an instant frame for hanging or displaying your piece
Versatile – can be used with watercolors, acrylics, and other mixed media
Bleed-resistant and will not buckle or warp
Acid-free
Dual-sided sheets
CONS
Might be more expensive than other watercolor canvas pad options
Using Watercolor Paints on Canvas
Now that you have decided to try your hand at watercolor painting on canvas, you will need to learn how to prepare a canvas surface. Of course, you can purchase the ready-to-use watercolor canvas, however, it is always good to know how to use regular canvas as well. We will also be going through some of the basics when it comes to the actual painting process.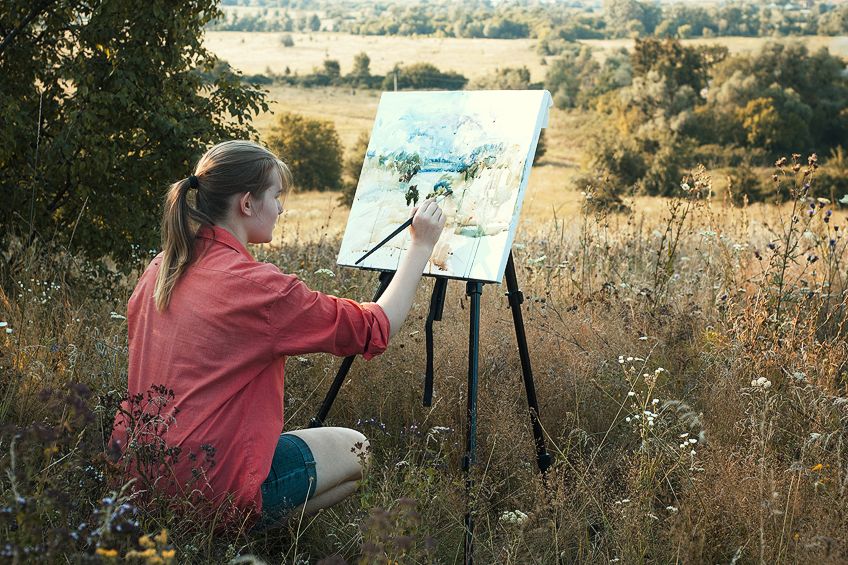 Preparing Canvas for Watercolor
Since a regular canvas surface is not absorbent enough for watercolors, preparing canvas for watercolor is important. You have the choice of only priming with gesso; however, this will not be as effective as including a watercolor ground as well. You can also use the ground to prepare other surfaces, such as wood and metal.
The result after an application of ground is a surface that has a satin-like texture and is absorbent – perfect for watercolor paints. This product is available from different brands, and you can get the watercolor ground in different colors or as transparent. Follow these steps to create the best watercolor canvas art.
Apply two coats of gesso as the first step, which provides a better surface for the watercolor ground.
Some will skip the gesso layer and go straight to applying the ground. You might have to experiment to find what works best for you.
Once the gesso is dry, you can then apply a thin coat of undiluted watercolor ground with a brush or roller. If there are lumps, simply go over the coat with a brush that has been dipped in clean water.
You can leave it at one coat, although the more coats, the more absorbent it will be for watercolors. You can even try five to six coats. Let each coat dry before doing the next one. Doing this will cover up the original texture of the canvas, so if this is not what you want, leave it at one coat.
Let everything dry for 24 hours, after which you can then paint.
Once completely dry, the finished painting can be sealed with a spray varnish. Do not use a brush-on varnish as this could lift the paint off.
Hang the painting on the wall, no need for glass.
Note: The watercolor ground might also make the creation of finer details a little more difficult, as it might allow some bleeding at the edges. Glazing can also be difficult to do. However, the ground does make it easier to repair any mistakes. You might also notice a chalky residue after the ground has dried, which could affect the paint colors. Before you start painting, take a clean, wet, and lint-free cloth to wipe the surface down so as to remove the residue.
Watercolor Painting on Canvas: A Basic Tutorial
Once you have prepared the canvas surface and applied the watercolor ground, it is time to paint. The surface is now as close to working on watercolor paper as you can get – it may not be completely the same, but it is close enough. When applying a wet-on-wet technique, the result is extremely similar to that on paper. This includes the watercolor bloom, as well as achieving hard edges.
The watercolor pigment will remain stable, so layering is possible on canvas. However, you can also lift or wash and redo areas if needed. Some techniques that you would use on watercolor paper might have to be adapted for canvas. As mentioned, glazing can be difficult because it is easy to lift the paint; even though the ground does hold the paint, the paint is not absorbed. You might want to try using a softer brush for glazing and brush very lightly over the surface.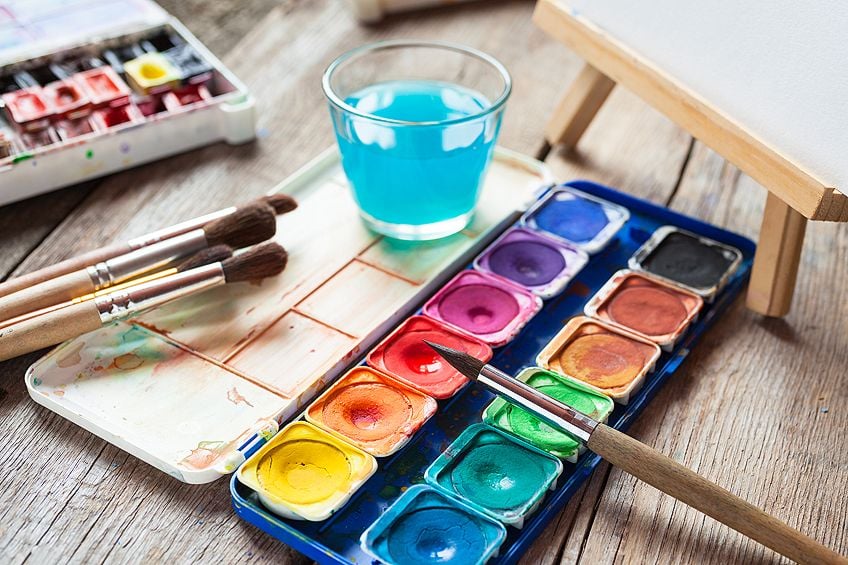 Your first step after the canvas has been prepared is to use a light pencil to transfer your drawing onto the canvas. The best choice is to use artist transfer paper, which leaves a less greasy residue behind. You can then apply masking fluid if you want to protect and leave any white areas. Next, you can apply a background wash as the base for your painting. Continue to add layers, glazing, and details.
You can also scrape or scrub areas to produce texture or to remove any mistakes. Tools you can use for this include a toothpick, a spatula, or earbuds. One of the advantages of working on canvas is its durability, so you do not have to worry about tearing like you would with paper. You can also use mixed media and collage techniques without problems.
If you make a mistake, no problem! You can simply wipe or lift the color and redo it. This can be done to small areas or even the entire surface if you want. Correcting mistakes is easy as long as the watercolor painting has not been sealed.
Once you have completed your watercolor canvas art, protecting your masterpiece is the next step. To do this, you can use a clear acrylic spray that is UV-resistant. Apply about three coats, letting each coat dry before adding the next. Each coat should only take about 20 minutes to dry properly. After this, you will not need to frame or place the piece behind glass, you can simply hang it up as it is.
Tips for Using Watercolor Paints on Canvas
Watercolor painting is a form of expression and sometimes requires a bit of experimentation to get what you are looking for. Even more so when it comes to watercolor painting on canvas, as it is not quite the same as watercolor paper. One of the best advantages of using watercolor canvas is the fact you can easily fix any mistakes, so you can continue working towards the painting you have in mind. You can easily re-coat any problem area with a little watercolor ground, wait for it to dry in about 24 hours, and then start over again.
Remember, once you have completed the canvas piece, leave it to dry for 24 hours before you apply the spray varnish. The spray varnish will usually dry quickly in about 10 to 15 minutes; however, you should wait at least a few hours before handling the sprayed canvas. You cannot paint over the canvas once it has been sprayed, so ensure that you are satisfied with your final painted piece before you seal it.
If you are not sure that your painting is completely done, allow the painted canvas to sit for about a week and come back to it. If it needs more work, you can add to it, and then finally apply the varnish. Another advantage of painting on stretched canvas is that it can be painted on the surface and on all four sides or edges, so you can hang it without framing.
One last tip, depending on how you feel and what you want to do with your painting, is that some people will take some fine-grit sandpaper and gently rub it over the watercolor ground. This will give added texture and dimension to the surface.
Watercolor paper provides a surface where watercolor paints work at their best. The paper is ideal for bringing out the transparent and shimmering quality of watercolor paints. However, sometimes you might not achieve the effect you are looking for. This is when you might consider breaking away from the traditional ways and trying other methods, such as painting with watercolors on canvas. Since there are now ready-to-use watercolor canvases, it is a lot easier to experiment and find your unique way of expressing yourself through this art!
Frequently Asked Questions
Can You Use Watercolor on Canvas?
You cannot use watercolors on regular canvas unless it has been prepared using gesso and watercolor ground. This will make the canvas surface more absorbent and acceptable to watercolors. You can also purchase ready-made watercolor canvases that have been especially pre-prepared.
Can You sketch on Canvas Before Watercolor Painting?
You can sketch directly on the canvas or apply a transfer onto the surface. This simply lays out the painting idea better and helps with the placement of objects before you begin painting. You might consider using a white watercolor pencil as it is more visible.
Is Any Preparation Needed for Pre-Bought Watercolor Canvas?
No, there is no preparation needed for watercolor canvas. The canvas has already been prepared with a special gesso and you can start painting immediately once you have it. However, it is quite simple to prepare a regular canvas.
Are There Different Types of Watercolor Canvases?
There are three main types of watercolor canvas products, being the stretched canvas, canvas boards, and canvas pads. The stretched canvas is a popular choice, as you can get a variety of sizes, allowing you to produce smaller or larger art pieces.
Can You Use Mixed Media with a Watercolor Canvas?
Yes, it is easy to use mixed media with watercolor canvas as it is much more stable and durable than paper. For example, you can draw with ink and then paint with watercolors. Finally, you can include highlights with a colored pencil, which creates a mixed media painting.
What Is a Watercolor Ground?
A watercolor ground is an absorbent primer that you can use on several surfaces. The ground will help you to use watercolors as well as acrylic paint on these surfaces. The ground also builds up texture on the surfaces. The more ground you apply onto a canvas surface, the more absorbent the surface becomes. Once applied, leave the ground to dry for about 24 to 72 hours before you begin painting.
Larissa Meyer is a 32-year-old mother and creative spirit since childhood. Her passion for painting and drawing has led her to train as an illustrator and pursue a career as a freelance graphic designer. Larissa is a talented artist who is able to master a wide range of styles and techniques to bring her artistic vision to life.