Epoxy Spray Paint – Selecting the Best Spray Epoxy Resin
This post may contain affiliate links. We may earn a small commission from purchases made through them, at no additional cost to you.
Epoxy spray paint is a type of sprayable paint that is composed of a hardener that needs to be combined with a resin. What results is a highly durable epoxy coating that can resist stains, chemicals, grease, and other kinds of dirt. It can also stick to most types of surfaces and materials, making it a popular choice amongst many DIYers.
What is the Best Spray Epoxy Paint?
Selecting an epoxy spray paint for metal or other surfaces can be an intimidating task on account of the wide variety of products on the market. We have selected three of the best epoxy spray paint products, all of which are of a high quality and are approximately the same price.
VHT Epoxy All-Weather Paint Can
VHT offers an epoxy spray paint that can endure all weather conditions, making it ideal for both indoor and outdoor use. This paint is also resistant to chemicals, corrosion, rust, and salt. This product is available in Satin Black, Gloss Black, and Gloss White. You will not require a primer to apply this epoxy spray. You will be left with a finish that appears to be "baked on", with an appearance similar to that of porcelain. The paint will become dry to the touch within half an hour, and will have cured completely after 24 hours.
All weather

Self-priming

Chemical-, rust-, and salt-resistant
View on Amazon
Pros
Weatherproof
Chemical-, corrosion-, rust-, and salt-resistant
No primer required
Quick to dry
Extremely durable surface
Cons
Difficult to apply additional coats
RUST-OLEUM Appliance Epoxy
You can use this epoxy spray paint for metal, appliances, cabinets, and other indoor pieces to add a smooth and elegant finish to your pieces. This paint offers great resistance to abrasions and scratches, and is also resistant to rust and moisture. This product is ideal for most interior metal surfaces, although it cannot be used on stovetops and other surfaces exposed to heat. You can use this spray on appliances such as dishwashers, refrigerators, cabinets, and tables. This epoxy spray is available in colors such as Black, White, Stainless Steel, Biscuit, and Almond.
Elegant and smooth finish

Abrasion- and scratch-resistance

Tough and durable epoxy coating
View on Amazon
Pros
Resistant to abrasions and scratches
Rust- and moisture-resistant
Great value for money
Attractive finish
Cons
Cannot be used outdoors
Heat sensitive
KRYLON Specialty Appliance Epoxy
You will receive a tough, durable coating to protect your surfaces against peeling and chipping when you use this epoxy spray paint. This product is formulated specifically for use on metal, and will resist most chemical cleaners, as well as stains, grime, grease, and other forms of dirt. This paint will dry to the touch within just 20 minutes, and you will be able to handle to object after 2 hours. You can purchase this product in White, Black, Bisque, and Almond. This is a great product for quick repairs, upgrades, and fixes to your appliances and indoor surfaces.
Provides a tough, protective coating

Withstands stains, grease, and grime

Ideal for use over metal
View on Amazon
Pros
Durable epoxy formula
Resistant to chemicals, stains, grease, grime, and dirt
Easy to use
Quick-drying
Cons
Not suitable for outdoor use
Small area coverage
Important Considerations When Purchasing Spray Epoxy Resin
There are several factors that need to be considered when choosing your epoxy spray paint, such as the epoxy spray paint colors, durability, and how much of the epoxy spray you require.
Epoxy Spray Paint Colors
You can choose to purchase a clear epoxy spray paint, or you can select a color of your choice out of a wide range of different pigments. You can test the color by spraying the paint onto a scrap piece of wood, allowing you to compare a variety of shades once they have dried.
If you are planning on using your epoxy spray paint for metal appliances, you can test the color on a spare piece of metal or on an area of the appliance that will not be seen.
Epoxy Spray Durability
Spray epoxy varies in terms of its strength and durability. Some can only be used indoors, which means that to place them outside or in sunlight will result in UV damage. Other brands can be used both indoors and outdoors, but you need to ensure that the product clearly states that it is resistant to rust, moisture, and UV light.
The Amount of Epoxy Spray You Need
Before you can start using your spray epoxy resin, you will need to ascertain exactly how much of the epoxy paint you will need. You must ensure that you have the correct amount of epoxy paint available and on hand.
If you do not do this, you will have to go back and forth to get more paint, during which time that which has already been sprayed will have started to dry already. Thus, you will be left with an uneven surface.
It is always better to have too much paint than not enough.
Useful Hints for Using Epoxy Spray Paint
While the process of applying epoxy spray paint is not particularly difficult, it is important to follow certain steps so as to guarantee a professional-looking surface. We have compiled some helpful tips and tricks for using epoxy spray paint.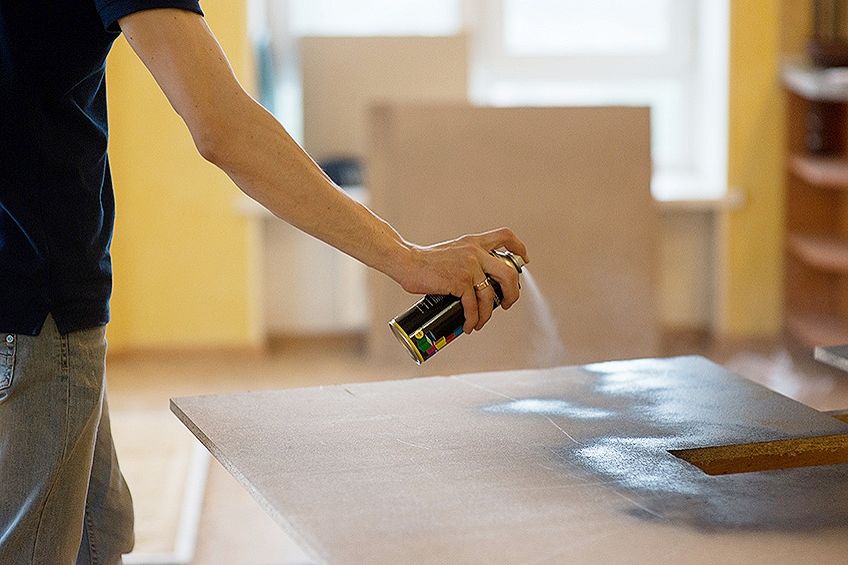 Read the Instructions Carefully
Ensure that you always read the back of your epoxy spray can before purchasing, as many brands will include specific instructions for using their particular product. You may find that some directions are too complicated, in which case you are better off selecting a different product that is easier to use. Make sure that you read all of the manufacturer's instructions carefully before attempting to use the product.
Ensure That Your Surface is Clean and Dry
Your epoxy paint will not adhere to a surface that is not completely clean and dry. If you are using epoxy spray paint for metal, you will need to use a wire brush or some sandpaper to scrub away any rust present on the metal surface. If you are using epoxy spray on a wooden surface, ensure that you sand it until it is smooth and even. All surfaces must be cleaned thoroughly with a soap-and-water solution, and allowed to dry properly before continuing.
Take Safety Precautions
When using spray epoxy, you need to be aware that this material will produce volatile organic compounds (VOCs) into the air around you, which can be harmful to your health. To protect yourself, you must ensure that you work in a well-ventilated area with open windows and doors. Wear a respiratory mask, protective goggles, and unused nitrile gloves to ensure that you are not exposed to any of the epoxy's toxic fumes.
The Paint Nozzle Must Be in Constant Motion
The paint nozzle of your epoxy spray can must always be moving, which can be achieved by using even, sweeping motions with your hand. Stopping at any point will cause the paint to build up in a single spot, which will result in an uneven surface.
Note that epoxy spray paint tends to have a thinner consistency than usual epoxy paint, which means that it is more likely to run if applied too thickly.
Avoid Sunlight
Clear epoxy spray paint that is frequently exposed to sunlight is likely to fade and become yellow over time as a result of the sun's UV rays. Unless your epoxy spray paint is specifically formulated to be UV-resistant, you can expect your paint to lose its sheen and dullen in the sun. Sunlight can also cause the paint to become brittle and chip off. Thus, epoxy spray paint is ideal for indoor appliances and objects. If you do decide to use an epoxy spray outdoors, we suggest applying an additional clear UV-resistant coat for protection.
Store the Spray Epoxy at Room Temperature
Spray epoxies are highly sensitive to extreme temperatures, where too hot or too cold a temperature will shorten your paint's shelf-life. It is best to store your unused spray epoxy at room temperature. You cannot store an epoxy spray paint once it has been used already, as the hardener in the paint will cause it to cure and harden.
Frequently Asked Questions
Is Spray Epoxy Resin Durable?
Spray epoxy paint is ideal for providing a durable finish to smaller objects and appliances. The best epoxy sprays are resistant to dirt, grime, and scratches, and will adhere to most kinds of surfaces.
How Long Will My Spray Epoxy Paint Take to Dry?
Epoxy spray will dry to the touch within 2 to 4 hours, and can be handled within a period of 5 to 9 hours. The paint will be completely cured and dry within a 24-hour period. You can apply an additional coat either within 30 minutes of application, or after a week has passed.
What is Epoxy Spray Paint Used For?
Spray epoxy resin is an easy-to-use means of applying a durable coating to a piece of furniture or appliance, as it contains only one step as opposed to the usual two that are associated with epoxy resin. Epoxy spray paint will offer a durable, porcelain-like finish that will resist rust, corrosion, and dirt.
Larissa Meyer is a 32-year-old mother and creative spirit since childhood. Her passion for painting and drawing has led her to train as an illustrator and pursue a career as a freelance graphic designer. Larissa is a talented artist who is able to master a wide range of styles and techniques to bring her artistic vision to life.