What Colors Make Purple? – How to Make the Purple Color
This post may contain affiliate links. We may earn a small commission from purchases made through them, at no additional cost to you.
Purple is a beautiful color, whose history is rich and spans back to the era of antiquity. Historically, it is the color of regality and high status. If you are interested in learning more about the colors you may combine to produce various shades of purple, whether vibrant or muted, you have come to the right place! Here, we will be giving you a crash course on exactly that.
A Brief History of Purple
Historically, the color purple has been closely associated with royalty as far back as the era of antiquity. For the Romans, purple was the most costly color to produce, hence the value placed on it by the nobility of the time. Not only was the color purple worn by nobles to indicate their status within society but it was also the color of the ink they used when writing and signing edicts. Tyrian purple was used by the Romans to dye the clothing worn by their emperors and it remains to this day one of the most expensive shades of any color to exist.
The color was so closely tied to nobility, in fact, that some Roman rulers even saw fit to execute any people of a lower class caught donning purple garbs.
What Two Colors Make Purple?
If you have been keeping up with our recent posts, you should now be familiar with some of the more notable purple names and their shades. It is thus time to discuss how to mix purples when painting, and more importantly what two colors make purple. This may come in handy given how many more shades of purple you can make from a single pigment when you know what to mix it with and how.
One of the best purple paints to keep for this purpose would be dioxazine purple.
You can also find several uses for purples when mixing other shades as well. You can add purple to red or blue should you wish for a darker shade of either color. Additionally, you may also choose to mix purple into your oranges and yellows should your goal be to mute the brightness of these warm colors. If you want to know more about what colors make purple, read further for more information.
Using Acrylic Paint to Make Purple
What colors make purple? Well, purple is produced through a combination of blue and red. However, a combination between a blue and a red will not always produce purple. Whether or not the combination of these two primary colors will create a purple depends in large part on the color biases of either or both colors. As we have touched on earlier in this article, some color combinations will produce muddied, browned colors when mixed given that all three primary colors are involved.
This is why, when blending reds and blues, it is important to take note of whether or not either color contains yellow.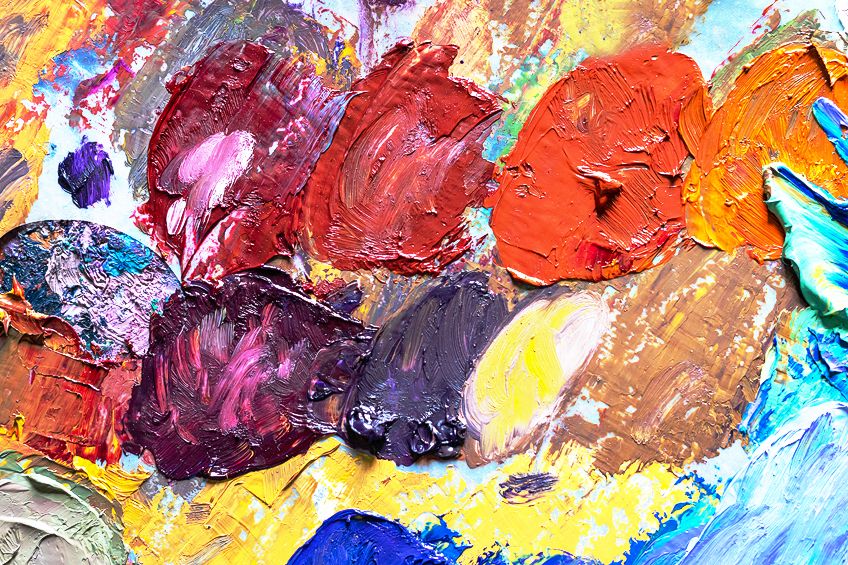 If you want to make an aesthetically pleasing shade of purple through the mixing of a red and a blue, be sure that neither color contains a bias towards the color yellow. If you accidentally combine a red and blue in a mix where one or both originate from a mixture containing yellow, you will get an unpleasant, muddy purple instead. You should also make sure that there is no color bias towards green in either the red or the blue too since green is made using blue and yellow.
How to Make Purple With Watercolors
If you want to learn how to make purple with watercolors, here is a section just for you. When it pertains to the creation of purple shades using watercolors, you may exploit the same principle values of color theory. There do, however, lie some key differences in how one would go about mixing watercolors into any shade compared to other paints. This is because of the high concentration of water, which makes the solution somewhat transparent as it holds the pigments inside a binder that is soluble in water. You might notice that, when mixing watercolors, they appear to separate before or instead of blending. This is especially true of colors with polarizing temperature values.
If you want to avoid your watercolors from separating, you would want to closely inspect the labeling of your paint products to ensure that they only contain a single pigment.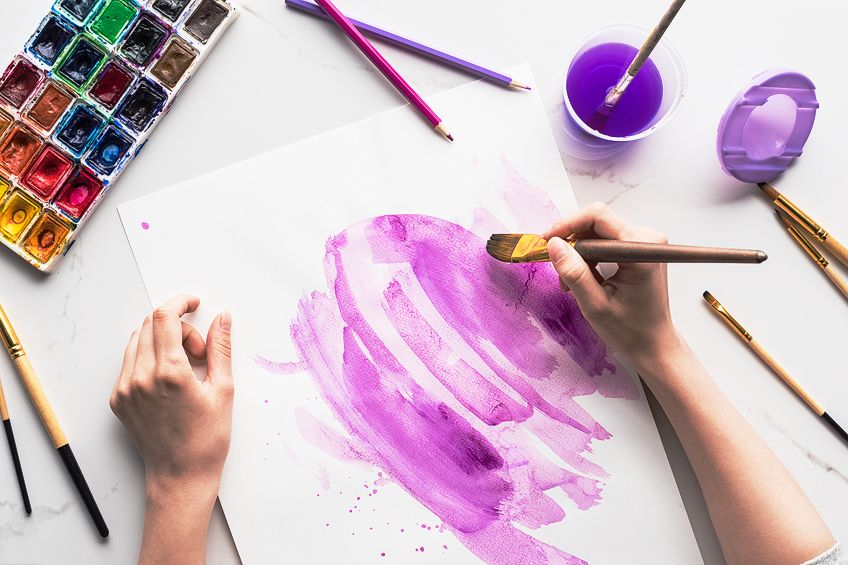 Many watercolor varieties that contain more than one pigment may separate when you attempt to blend them. Thus, for an easier task of blending, make sure that all your watercolor paints are made with single pigments. Another thing to take note of is the fact that particular watercolor pigments will penetrate and stain a substrate much more quickly than others. If blended with a color that lacks these properties, they will settle faster and better than the latter addition. Painting on a smoothed surface or mixing in less water ought to deter such issues from occurring. Then again, you might struggle a bit more to mix a thicker paint.
Determining if Blue Paint Contains Yellow
A really simple way to test if a blue paint of any shade carries a yellow bias is by mixing it with some white paint. Start by adding a bit of white to the blue. Little by little, keep adding white paint to your blue while you mix it evenly. As you do so, keep an eye out for the change in the shade of your blue paint. If it becomes turquoise or begins to develop a green tint, you then know that the shade has a bias towards yellow.
Shading and Tinting Purple Colors
If you want to work with purple shades, your options are as abundant as with any other color. Here are a few examples of some of the most famous or commonly found shades of purple along with their hex codes, CMYK percentages, RGB codes, and how they look.
| | | | | |
| --- | --- | --- | --- | --- |
| Purple Color | Hex Codes | RGB | CMYK (%) | Shade of Purple |
| Tyrian Purple | #66023C | 99, 3, 48 | 0, 97, 52, 61 | |
| Han Purple | #5218FA | 82, 24, 250 | 67, 90, 0, 2 | |
| Royal Purple | #7851A9 | 86, 29, 94 | 9, 69, 0, 63 | |
| Mauveine Purple | #8D029B | 141, 2, 155 | 9, 99, 0, 39 | |
| Red-Violet | #C71585 | 199, 21, 133 | 0, 89.4, 33.2 | |
| Electric Purple | #BF00FF | 191, 0, 255 | 25, 100, 0, 0 | |
When working on a painting, you might need to tint or shade your colors depending on the complexity and style of the piece. If you are creating a painting that involves lighting, shadows, depth, and dimension, you are going to at some point need to tint your colors lighter or shade them darker. Before we get to explaining how to do so with purple, we would like to provide brief definitions for both of these methods of color mixing.
Shading
To create a darker hue of a color, you will mix in the color black in a process of color mixing called shading. Obviously, the color will progressively darken the more black is mixed into it. This can range from small additions of black to slightly darken the color all the way to almost completely blackening a color until just a slight tinge of said color remains. In painting, shading will often be used to illustrate how colors darken when covered by shadows or when light exposure decreases or is otherwise obstructed.
An easy way to think about it is by comparing it to the effect that literal shade from the sun has on a color's vibrancy.
How to Shade Purple Colors
When artists need to create or add elements of shadow and depth to their painting, it comes time for some shading. This usually involves, as discussed, the addition of the color black. By creating mixes of purple with varying ratios of black added in, you will end up with all the shades of purple you are going to need to add the definition you are looking to achieve. One thing to note, however, is that most black paints are produced using a green base. This is important to take note of when shading purple because it is produced through a combination of blue and red whereas green is a mix of blue and yellow.
Mixing colors that contain all three of the primary colors (red, blue, yellow) typically leads to the creation of muddy, browned colors.
In the case of purple, however, shading using a black containing green will produce a dark grey color on account of both colors (purple and black) containing blues. If you want to avoid muddying your purple palette and creating some disastrous shades, try creating your own black color by mixing phthalo green with alizarin red. The resultant shade should be a near-absolute black that would be suitable for shading purples.
If you want a dark purple with richer tones, then you can experiment with mixing in some burnt umber instead. Just keep in mind that burnt umber will increase the warmth of whatever purple shades you mix it into. If you are working with acrylic paints, mixing cool reds mixed with warm blues is just about the best way to go about creating vibrant shades of purple. The warm shade ultramarine blue, for example, can be combined with either of the cool reds alizarin crimsons and permanent rose to produce a stunningly vibrant purple.
You are still, however, encouraged to explore as much as you like until you find something you love. Just remember to avoid mixing all three primary colors.
Tinting
Although tinting also involves the altering of a color's hue, this process focuses on the addition of white paint instead of black paint. Instead of increasing the darkness of a color, adding white will increase its lightness. This is because the addition of white will increase a color's relative saturation. Keep in mind, however, adding white does not make your colors brighter despite how they may appear. Instead, the addition of white to a color bumps its paleness. Much like with shading, there are degrees to which a color can be tinted. This starts from subtle additions of white to bump the saturation and add poor exposure but can scale all the way to a nearly entire whitewash with tinges of the original color.
How to Tint Purple Colors
By slowly introducing white into a purple color, it is possible to produce lighter shades of purple. With enough patience or practice, you can even infuse white into a color for this purpose without altering the hue. Although, there are other effective methods of lightening and brightening all types of purple. One such method involves mixing in a yellow, preferably something along the lines of a cadmium yellow. One thing to note, however, is that excessive additions of yellow can cause muddiness in your color.
For this reason, you are encouraged to use light yellow colors. Instead of cadmium yellow, you could use something similar yet brighter such as cadmium lime yellow.
Tints and Shades of Purple
If you want to create something like a light purple, produce a deep purple color, or perhaps even a dark purple color then you should know a thing or two about the principles of tinting and shading. Typically, one would use a dark purple color alongside a light purple in the same palette to create a visually impactful sense of depth. This pairing of light and dark is likewise used to give a painted artwork its sense of dimension.
Using Color Bias to Make Different Shades of Purple
Yes, you can get purple by mixing blues and reds but the particular shades of either that you choose to combine with each other need to be congruous in terms of their temperature. Both colors have an immense wealth of shade variance, but you cannot expect to mix them in any pairing you choose and expect to create a decent shade of purple if what you end up with could be described as a shade of purple at all. The key to understanding what two colors make purple goes beyond simply knowing that it requires the pairing of a blue and red color.
You need to combine a blue and red with different temperature values. For instance, you should pair a warm blue with a cool red.
To understand why this is the case and how it affects the color derived from a combination between a blue and a red, we must first explore the theory of color bias. You cannot expect to produce perfect shades of purple by mixing blues with reds willy-nilly. You must first understand that, as a secondary color, purple is produced through a combination of two primary colors, which in this case would be blue and red.
Besides pure red and pure blue, the many other shades of these colors carry their own color biases depending on where they rest on the color wheel. Warm reds tend to have a color bias towards yellow, meaning they contain a bit of yellow in them. The same goes for the color bias of cool blues. Thus, combining warm reds with cool blues leads to a combination of all three primary colors. This may produce a muddy color that could sometimes pass as a purple.
However, to get the most vivid shades of purple possible you should instead combine warm blues with cool reds to avoid combining your primary colors.
Warms Reds and Cool Blues
It does not take a savant to recognize whether a shade of blue is warm or cold using your eyes alone. Our warm blues tend to lean toward the color purple while the colder hues, such as manganese, appear to rest quite closely to having a green tint. To aid your understanding, perhaps it may be of benefit to list for you some popular examples of blue shades arranged to start with the warmest and work its way to the coolest.
Cerulean Blue
Indanthrene Blue
Ultramarine Blue
Phthalo Blue
Your cobalt's, ultramarines, and indanthrenes will be the prime choices of blue shades should your intention be to produce more vibrant shades of purple. However, your choice of reds to pair with these blues is equally as important. As we have discussed, your warm blues need to be paired with cool reds in order to produce a purple with no deficiency of vibrance. If it helps your understanding, here are a few examples of red shades, ranked from warmest to coolest, that one could pair with blues to make fantastic purples.
Naphthol Red
Cadmium Scarlet
Quinacridone Rose
Alizarin Crimson
Vermillion
Spectrum Crimson
Permanent Carmine
Cadmium Red Light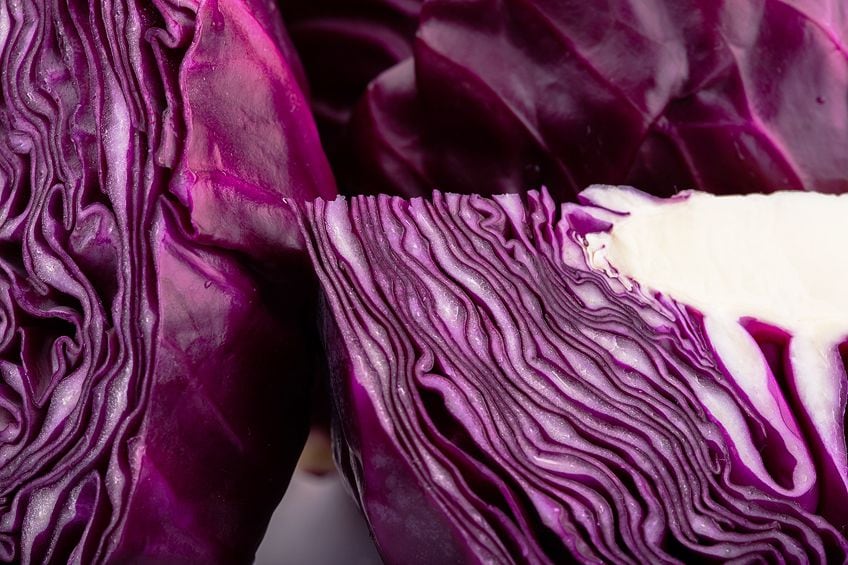 If you are going for a pure and vibrant purple, some of these colors will work better than others. spectrum crimson, permanent carmine, alizarin crimson, and quinacridone rose ought to do you the most justice when paired with one of the aforementioned warm shades of blue.
Different Shades of Purple Temperature
Whilst on the discussion of color temperatures, it may be prudent to drag the conversation toward the color purple itself. Whether you want a dark purple color, a deep purple color, or whatever else, having an understanding of how one may adjust the temperatures of their purples will afford you a greater degree of control over your palette. This will assist you in achieving greater values of realism in your paintings. For the remainder of this piece, allow us to teach you how to get different shades of purple with varying temperatures. For the purpose of clarity, our base color for everything pertaining to this topic will be pure purple.
To create this quintessential shade of purple, you want to combine ultramarine blue with alizarin crimson.
How to Make a Cool Purple Color
The easiest way to make your purple cooler in temperature is to increase the volume of blue within the mixture. One thing to take into keen consideration here, however, is what shade of blue you decide to use. Most ideally, you would just want to use whichever blue was used originally to produce the purple you are working with. Most importantly, however, you need to ensure that the blue you are working with is of a warm temperature. Otherwise, you will be mixing all three primary colors and end up with a muddier shade of purple.
If you are attempting to cool down your purples with blue, you would lend yourself many favors by only adding dashes at a time.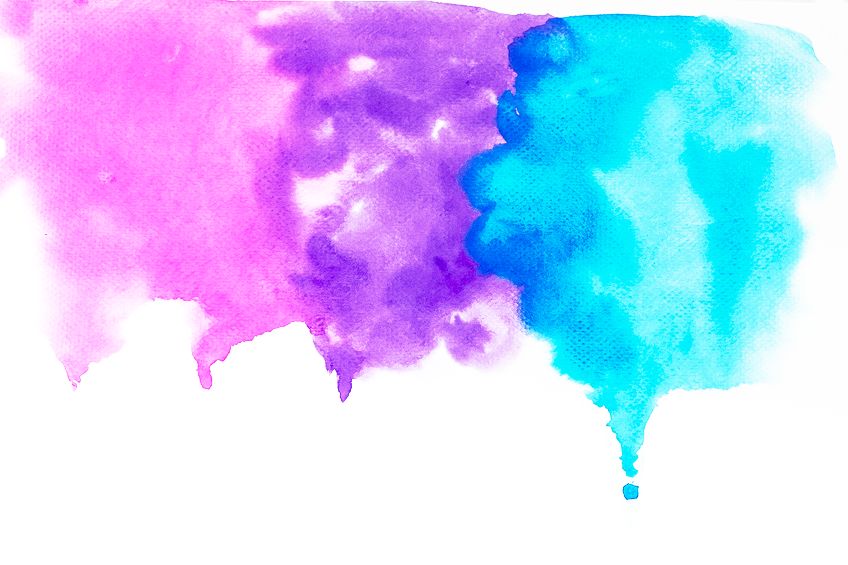 If you are not all that familiar with mixing colors, you would be surprised to find how easily a small addition could considerably change a shade. The gold rule here is that you can always add, but never subtract. If, however, you find that you have added too much blue then you could start adding red until the color balances out to where you want it.
How to Make a Warm Purple Color
As you may have already guessed at this point, the means through which you may produce a warmer shade of purple involves adding more red in similar quantities until you have reached your desired shade. To prevent muddying your purple in the process, we recommend that you stick to using the same red used to produce the purple you are working with in the first place.
Using Complementary Hues to Mute Pure Light Purple
Okay, so maybe a bright purple is not quite your style, or maybe your palette demands more variance. In this case, you might prefer a more muted shade of purple. Especially in painting, muted shades play a key role in bringing out the vibrancy of brighter colors. It is equally important to know how to mute your shades of purple as it is to mix them to begin with. If you want to mute purple – or any color for that matter – you would want to mix in a dash of its complementary color, which in this case would be yellow.
A modest addition of yellow to the purple will reduce its vibrancy and leave you with a more muted, natural shade.
Be sure to apply the yellow modestly, however, as it can be quite easy to overdo it. As in every other aspect of color mixing, the temperature of the complementary color is important. A warmer yellow that is closer to orange will mute your purple but keep it fairly warm. If you want a more earthy muted purple color, try mixing it with a little bit of yellow ochre. Be sure to keep in mind that the temperature of the yellow you use will influence the final product. While warm yellows that lean towards orange will indeed grant you a muted shade of purple, such a hue will end up adding warmth to your color.
This is not a bad thing, however, as it entirely depends on what you are hoping to achieve. Mixing warm yellows into purple will not only mute the shade, but will also produce an earthier color. We would recommend you use yellow ochre for this as it is one of the most popular warm shades of yellow out there. If instead, you decide to use a cool yellow for muting your purple then you will achieve the opposite effect. Our suggestion is that if you are using pure purple then you should consider mixing in some cadmium yellow to achieve a cooler muted effect.
Just keep in mind that each and every shade of purple has its own corresponding complementary shade of yellow, even though the two colors and their shades are complementary to one another in a general sense.
How to Use Purple
The color purple is a vibrant and versatile color that can be used in a variety of ways to add depth, richness, and personality to any space or outfit. Here are some ideas for how to use the color purple in art, home decor, fashion, and interior design. Purple is as vibrant as it is versatile. The color can be used in a variety of ways to add richness, depth and personality to artworks, spaces, and outfits.
Here are some ways in which purple can be used in art, home decor, fashion, and interior design.
Purple in Art
Purple can evolve a wide range of emotions in art, from passion to spirituality. If you want to add depth or a sense of intrigue to your next art piece, consider employing some shades of purple. if you are working with cool-toned art pieces, you could use purple as an accent.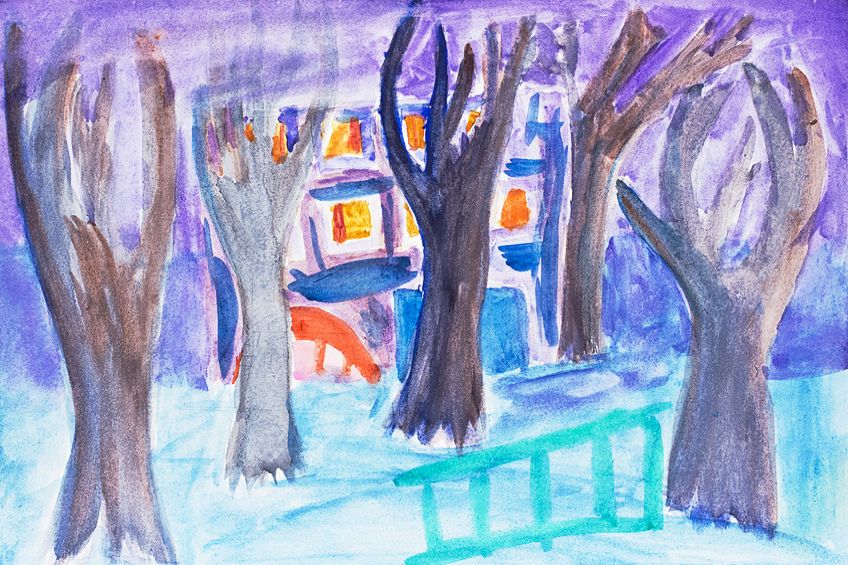 Purple in the Home
Purple is a great choice of color should you wish to bring some interest and personality into your home. Deep shades of purple work especially well if you want to go for a bold and dramatic look. Feature walls painted in purple are an excellent choice. You can also use purple in the form of things like lavender should you wish for a good statement piece in your household. lilac shades of purple are good for interior walls to give a space an air of calmness.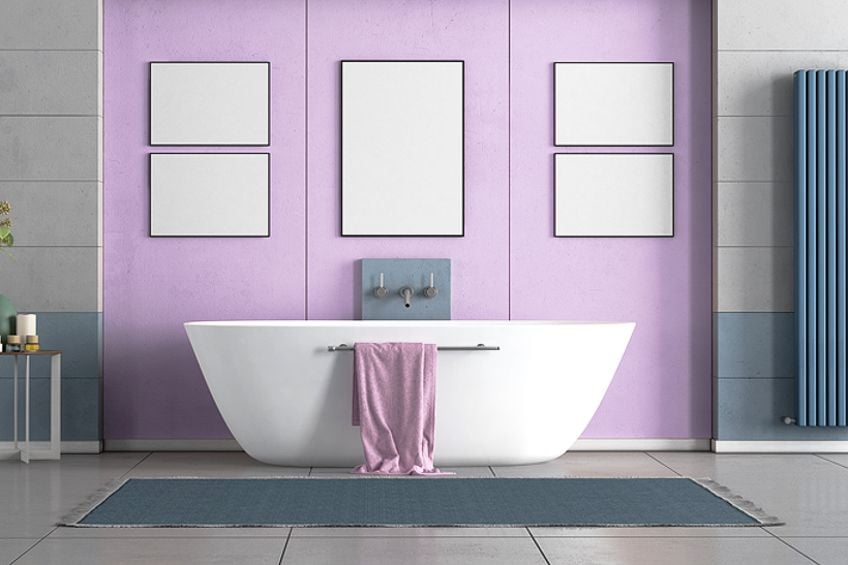 Purple in Fashion
Purple makes for a good color as a statement piece in your outfits as it adds vibrancy to your look. Paired with neutral accessories, a purple blouse or dress can make for an intriguing outfit. If you are going for subtlety, purple accessories are the way to go.
Purple in Interior Design
Depending on the shade and intensity of the color, purple can create a range of moods in interior design. If you want a sense of luxury or sophistication, deep purples are the way to go. Lighter shades of purple are suitable for whimsical, playful atmospheres. To add a dash of personality to any living space, purple can be used in the upholstery, rugs, or pillows of a living space.
Congratulations are in order should you have made it this far. We hope in earnest that this article has in some way or another assisted your development of a deeper understanding of not only what two colors make purple, but also how other colors can be added to purple itself to produce different shades of this color.
Frequently Asked Questions
What Two Colors Make Purple?
If you want to know what colors make purple, you should know that it is produced through the combination of blue and red, which are both primary colors alongside yellow. The most important thing to ensure when mixing reds and blues together to create a purple is that neither has a color bias towards yellow. If either of the colors you are mixing contains yellow, you will be mixing all three primary colors and be left with a garish, brown mess.
How Do I Make Blue Purple Paint?
Provided that the paints you are mixing are all of the same opacity, you can produce blue-purple, or purple blue, by combining four parts magenta with three parts cyan. You can then add two parts white and one part black to end up with a beautiful blue-purple shade.
Larissa Meyer is a 32-year-old mother and creative spirit since childhood. Her passion for painting and drawing has led her to train as an illustrator and pursue a career as a freelance graphic designer. Larissa is a talented artist who is able to master a wide range of styles and techniques to bring her artistic vision to life.